Hi guys, thought I'd share a fascinating story that I was lucky enough to be a part of recently.
A few weeks ago, I was called out to a home to remove a Mozambique Spitting Cobra, which was hanging around by someone's backdoor.
When I arrived, the snake had taken refuge in a drain pipe. I bent down to look at the trapped snake, with my visor protecting my face, but it didn't spit at me, even though my head was so close to it. "Strange", I thought. I then pulled the snake out with a stick, and my heart sank. It appeared to be dead, until I saw a very feint bit of movement. My anger levels rised! "What did you do to it?" I asked, as calmly as I could. I assumed they had tried hitting it with something, although I couldn't see any visible injuries. "Nothing, we just poured Jeye's Fluid on it".
It is commonly believed here in SA (not sure about the rest of the world) that Jeye's Fluid works well as a snake repellent, but it DOES NOT. It will not keep snakes away from your property. However, if poured directly onto a snake, the toxic substance will kill it.
On my way home, I phoned my friend and fellow snake-catcher, Jason Arnold. I remember hearing something about applying dishwashing liquid in situations like this, so I thought he may know. He told me, "Yes, Sunlight (dishwashing liquid brand) liquid works miracles", and he told me how to apply it.
Needing to act as quickly as possible, I did what he said I should. I restrained the lifeless snake behind the head. That may sound easy, and it was, but it still required the same amount of concentration as if it was alive- didn't feel like a fang poking into my finger!
While I was holding it, I commanded my patient/helpful/tolerant mother to fetch the Sunlight Liquid and ear buds. The snake wasn't breathing, I couldn't see the trachea opening. I poured the liquid onto the snake, and started rubbing it all over its body. My mum then rinsed the Sunlight off with water, and we repeated the procedure. I used an ear bud to rub sunlight on top and beneath the cobra's head. We did it as thoroughly as we could, three times. As we did this, it started showing signs of life. That's when holding it got really tricky, especially with the slippery soap all over it!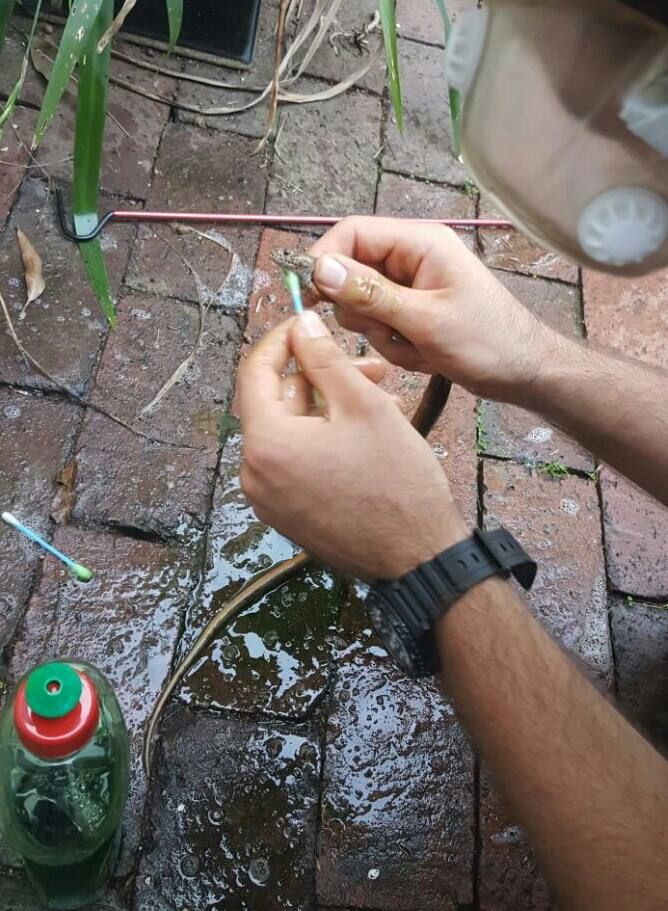 Jason explained that it would take some time for the Sunlight to kick in, but it would be trying to breathe. I opened the mouth, and saw it's trachea open up once. It didn't have the strength to open its mouth, and there was still residue from the jeyes fluid blocking the nose. I held the mouth open with a straw, and the snake was desperately trying to breathe. It took huge gasps of air, as if I had been holding it under water for a while!
At one point, we got a bit desperate, so my mum came up with a clever idea!
There's a delicious kids cereal here, chocolate-flavoured Corn Flakes. It comes with a funny slurpy spoon, where the spoon acts like a straw to suck up the milk. So I used that to give the snake CPR, by placing the spoon end in it's mouth, and the handle end in mine. I did the same with a straw, trying to gently inflate some air into the snake.
Not something you do every day, but I was desperate. It appeared to be working!
The snake started to squirm around, and its strenght had picked up dramatically, it was almost pulling out of my hand! So I left it alone. But it would quickly lose that strenght, as it was still struggling to breathe. So every 5 minutes , I would hold the head, and keep the mouth open with the straw. As soon as I would open the mouth, the cobras trachea opened up wide, gasping for air, and the strenght kicked in again. Everytime I did this, it slowly became more lively. I repeated this countless times over the next hour and a half, until finally, I could then see the tongue flicking out, and that's when we knew it was gonna make it!
An hour and a half after treating it with Sunlight, it started to move around freely. In fact, it was now desperate to get out of the tub I had it in! All of our efforts had paid off!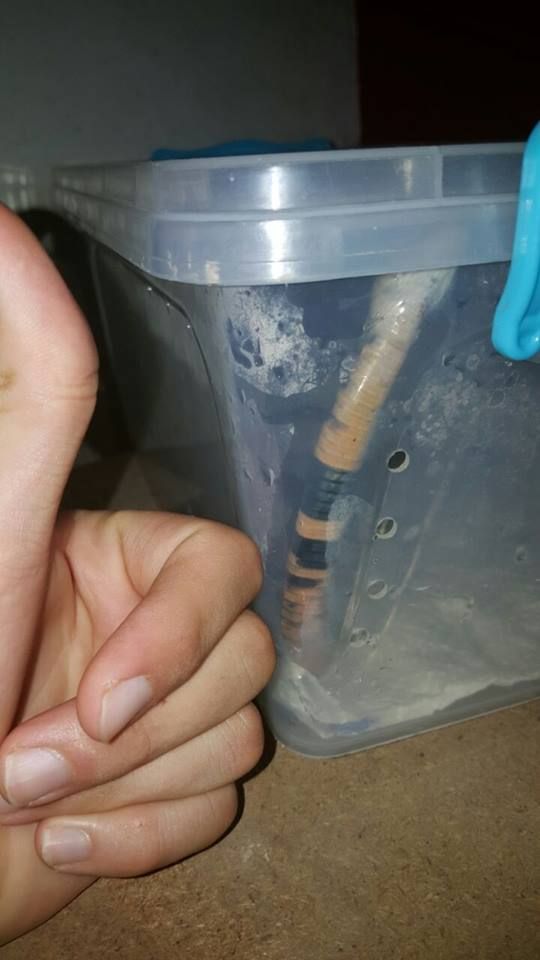 I opened up his container the next day, and as you'll see in the pic below, it was ready to say thank you by hooding up and spitting at me. There's no payment like a nice thank you!
I owe thanks to Jason for his advice, and my dear mother for her patience and quick thinking!
It was one of the most remarkeable things I have ever seen. A snake brought back from the dead, by something we all use everyday to clean the dishes? Don't ask me how that works, but it clearly does, what a miracle!
The snake was soon released, far from people!
To follow more of what I do, you can like my facebook page 'KwaZulu-Natal Amphibian & Reptile Conservation':
https://www.facebook.com/KZNHerpConservation/
www.kznamphibianreptileconservation.com