Saturday morning, December 4, North Kuching. We're enjoying a humongous English breakfast at Phil & Jani's house next to the Sarawak River, watching the sunbirds buzz the hibiscus bushes, and the water hens stalk the soggy lawn. I'm on my umpteenth slice of juicy bacon, my fifth fried tomato, and even the baked beans taste amazing. I'm about to compliment Jani on her kitchen magic, when Phil suddenly drops a bomb: "You know, we went to that Chinese restaurant on the way to Santubong the other day. It sits on stilts in a mangrove swamp, and we saw three snakes during our last visit. We didn't even have to get up from our meal, they were sitting right there on the mud, stalking the mudskippers." Barely avoiding sudden death by choking on a fried sausage, I eventually regain my color. "Uhh...did you take any pictures?" Phil fires up his laptop and shows us a series of Eden-like scenes: Dog-faced Water Snakes (
Cerberus rynchops
) sitting on a mud flat in low tide, surrounded by oddly undisturbed-looking mudskippers. "What time of the day was that?", I ask in a pinched voice. "Lunchtime, but I think they're always there", says Phil.
Mental pandemonium ensues, the genial, relaxed atmosphere deteriorates quickly. Hans and I wolf down the rest of what's left on our plates, paying no further heed to the Lucullian experience and Jani's efforts, and bid our puzzled-looking hosts a hasty goodbye. It's only fifteen miles to that restaurant, but I gun the little car's underpowered engine as if chased by a pack of hellhounds. After twenty minutes and a good quantity of abuse hurled at me by other drivers, I screech to a dusty halt in the parking lot of the "Beach Seafood Cafe". Tongs and hooks in hand, we make our way on to the dining platform: we're in luck, it's low tide! Thirty seconds later we spot the first snake. Then a second. Then a third, fourth and fifth. We're delirious. In eighteen weeks, this cursed island has grumpily granted us twenty-one live snakes, and now we find FIVE in TWO MINUTES?? This can't be right. The God of Herpetology is surely mocking us. There must be a cosmic reason for this, and I already fear the karmic price we'll eventually have to pay for this treat.
But in the meantime, there they are. All over the place. Half a platoon of Dog-faced Water Snakes, patiently lying in the muck, watching the mudskippers around them peacefully digging their little foxholes, spitting out little grey blobs to form a little surrounding wall. The snakes are completely oblivious of the noisy Chinese families watching them from eight feet above, and only when I lean down too far with the 300mm lens, one of the snakes slithers under a piece of wood. We can't believe our luck, but curse the fact that there's no access to the mudflats, so I can only take aerial photos. The grey-in-grey palette (mud, snakes, fish, weather - all the same color) is useless for long lens action, so the pix are all a bit, uh, muddy.
We never got to actually see a snake feed or attack. But we'll be back!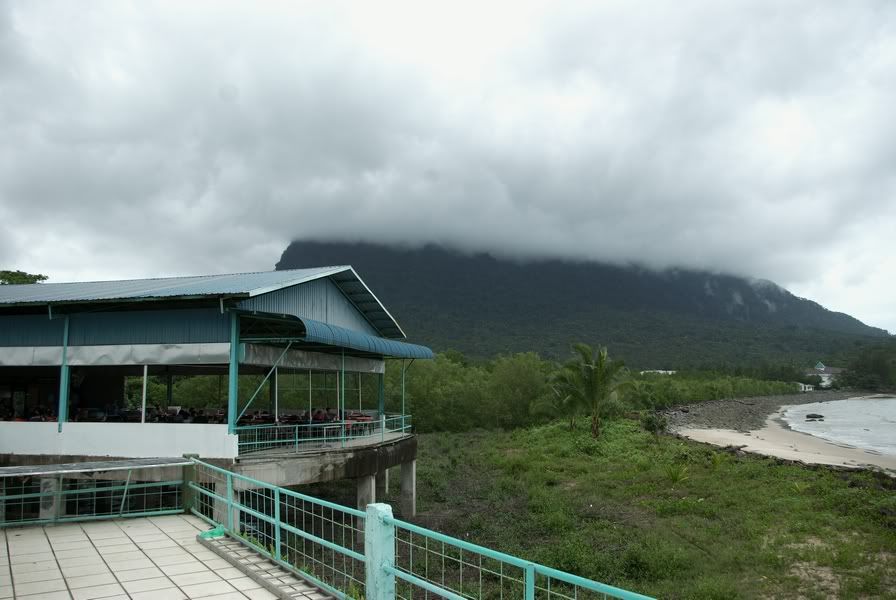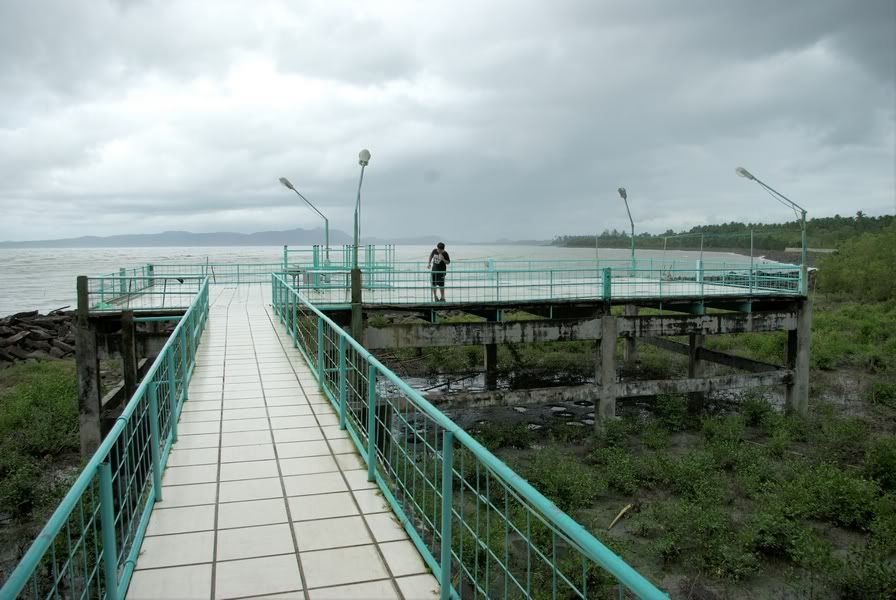 Spot The Snake!
<sings>...live together in perfect harmony </sings>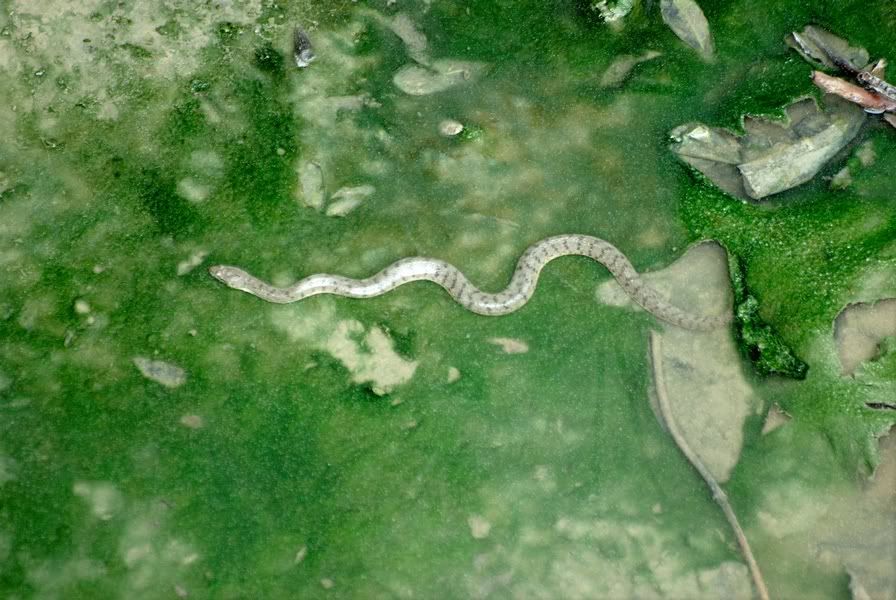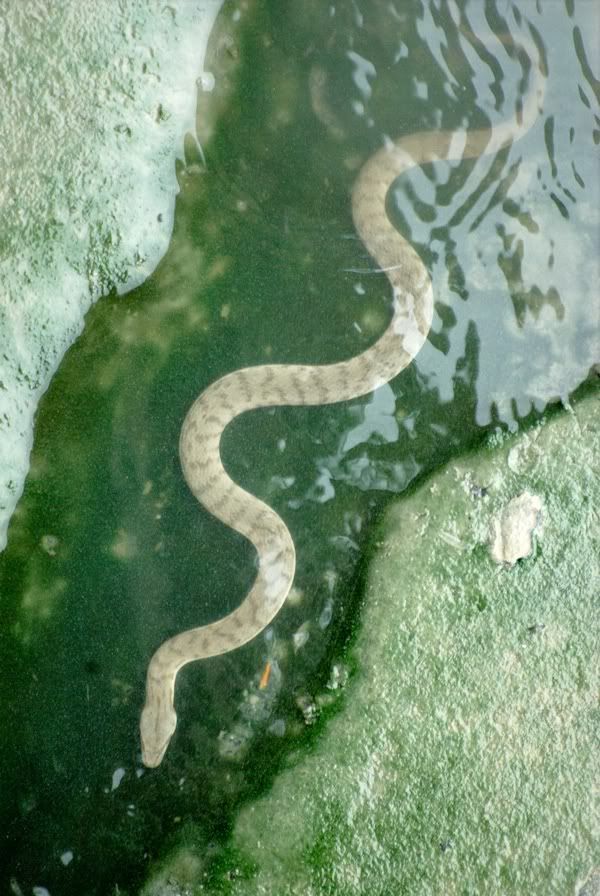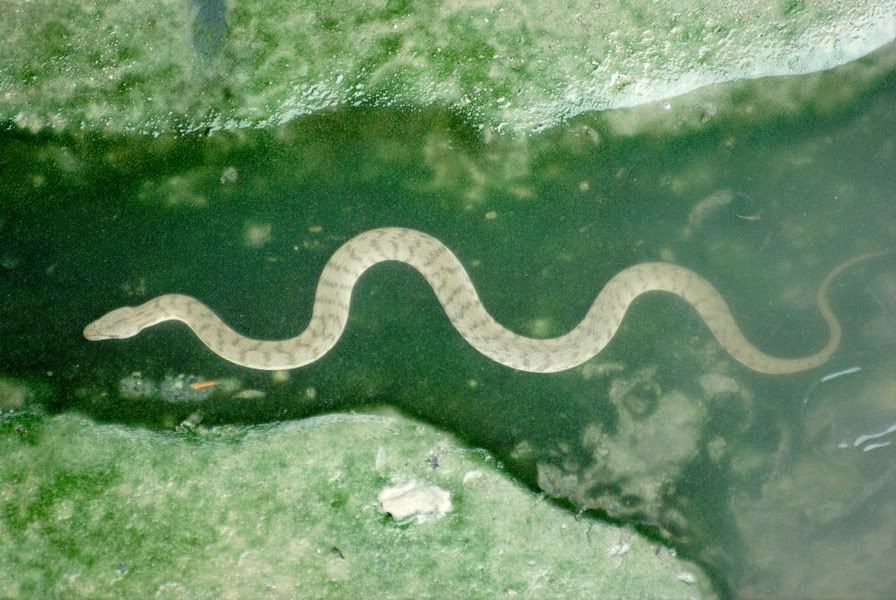 Le Prey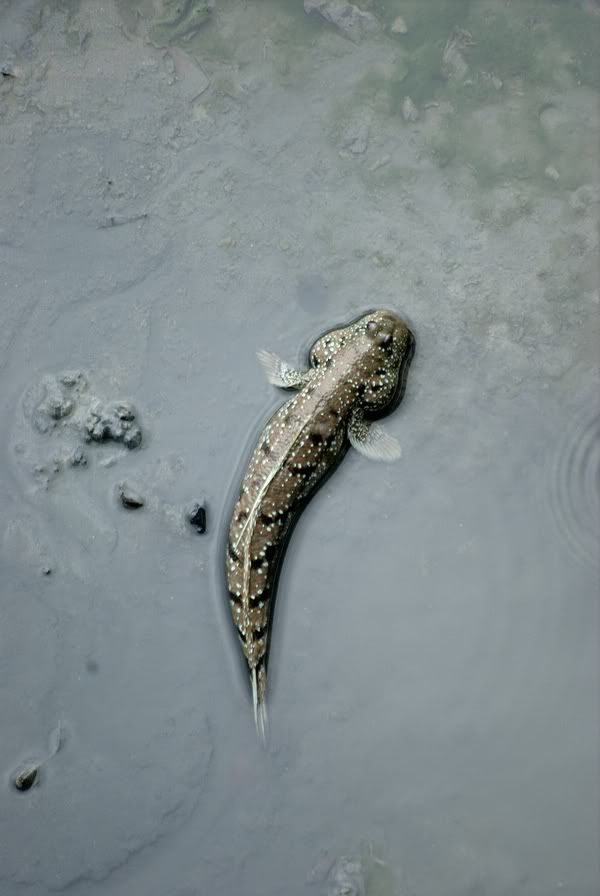 On a less happy note, later that afternoon we also found a small Bornean Bean Snake (
Fabaeformia borneensis
). Sadly, DOR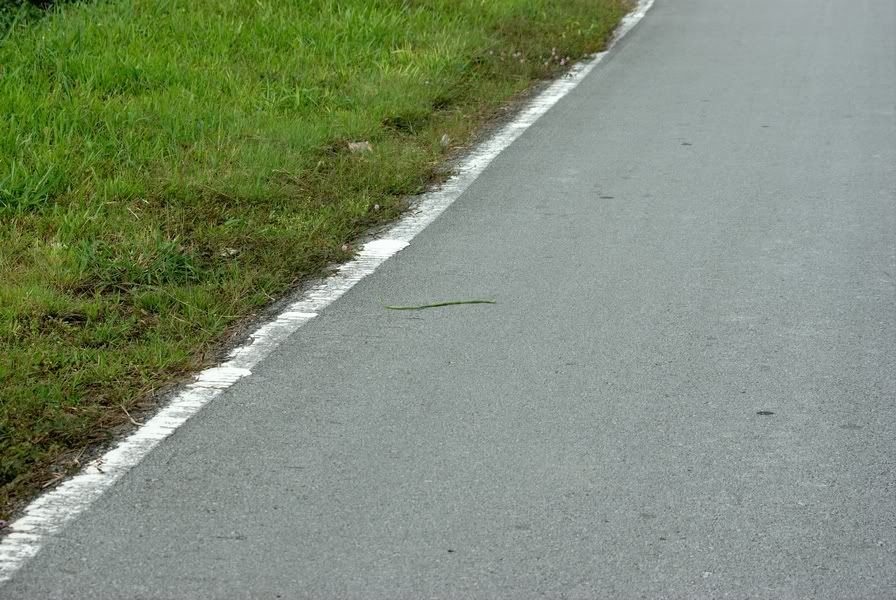 (Incidentally, that was not the end of that amazing snake day: we found a little Wagler's in a bush an hour later, and cruised a Banded Krait hatchling later that night - and his sister 24 hours later. But that's a story for another post
)