The Malaysia Nature Society is a venerable old community of very enthusiastic people concerned about the natural beauty of their homeland. Since its inception 70 years ago, the MNS has kicked off countless conservation campaigns, many with tremendous and far-reaching success. So it was with great pleasure that I accepted their invitation to lead, later this month, a reptile-themed nightwalk in
Permai Rainforest Resort
, a beachside rainforest resort north of Kuching. As I was not familiar with the trail the MNS had selected for this event, we agreed to do a recce walk with a few Permai guides to see the lay of the land and to check for hotspots that should not be missed during the actual walk. We reconnoitered the trail last Friday morning, and at first, things looked quite bleak. It's the beginning of the rainy season: it had rained the entire the way to the resort that morning, the skies were grey, and the forest was dripping like mad. While these are perfect conditions for nightwalks, the chances to see any herps during the day (any animals at all, in fact) are slim. Quite a bummer, as I'm currently trying to show my high school buddy Marcus, on a two-week visit to Sarawak, as many natural wonders of Borneo as possible (all photos in this post courtesy of Marcus Kloft, by the way - I was too lazy to bring my camera
)
For the first fifteen minutes we just ambled along the narrow trail, getting thoroughly soaked by the thoroughly soaked greenery. Then I spotted this
Gonocephalus liogaster
on a trailside tree, and things started to look up. Cameras were hauled from bags, and a nice 20-minute photo session ensued, before the saurian decided he'd had enough of the smelly primates and their intrusive ways.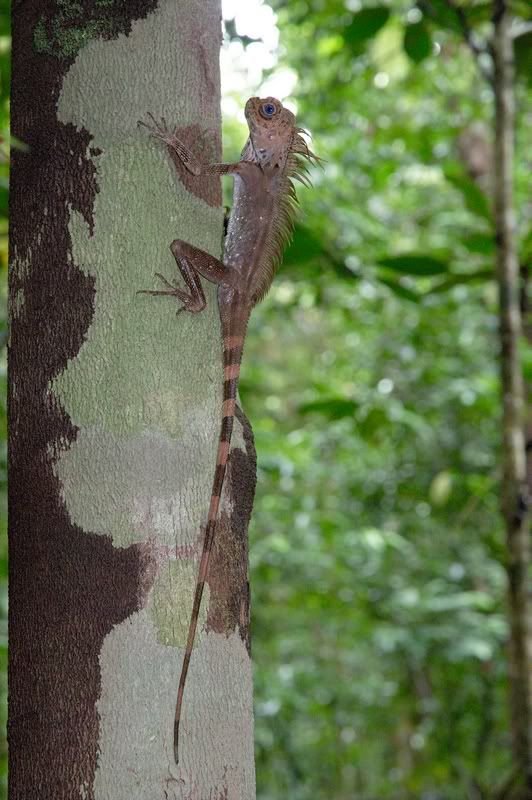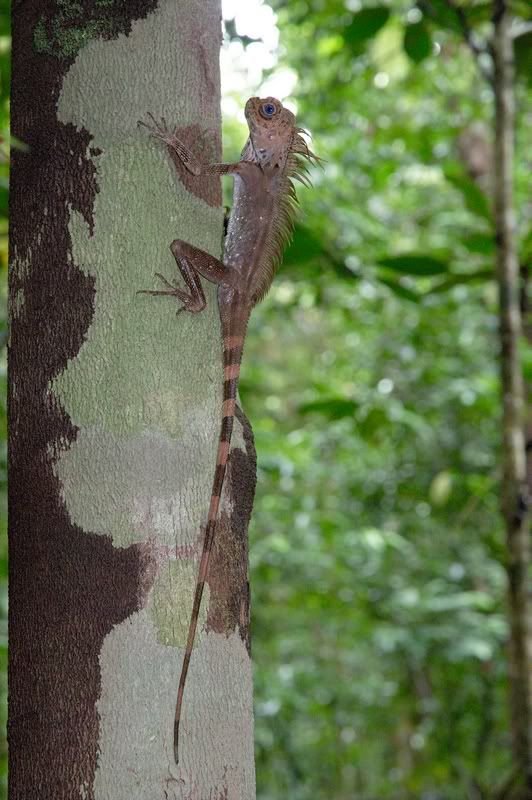 After that, more ambling along the trail, and eventually we reached a narrow creek, barely five feet wide and less than a foot deep. My son Hans was walking point, gingerly stepping over the mighty smooth and slippery (think ice) rocks. As he was about to take the third step across the stream, he suddenly gave a blood-curdling yell and pulled back his foot only inches from the next stepping stone. Like a child possessed, he raced back over to our side, screaming distinctively unprintable expletives in four languages. At first, I didn't understand what the fuss was all about. I couldn't see anything untoward where Hans had been treading, and my eyes, scanning for the danger that had triggered such a violent reaction, came up empty. Finally I realized that one of the rocks in the creek sported two nostrils and one whitish eye, and then my brain zoomed in on the rest of the animal. It was an image that hit me like a sledgehammer: just below the surface, a sixteen-foot
Python reticulatus
lay stretched out along the middle of the creek, its tail end disappearing from sight somewhere upriver. In spite of its colossal bulk, the snake's camouflaged hide was just barely visible underwater. Only the head stuck out, and in the visual confusion of the dizzying jungle textures, it didn't really register as anything else but a wet rock.
Once we had digested what we were looking at, frantic activity broke out. Marcus whipped out his Nikon, took a few shots of the snake, but wasn't really sure how to proceed. To be honest, neither was I. I'm not exactly a total greenhorn anymore when it comes to snake handling and photography, but this was the first time I was presented with the problem of dealing with a reptile more than twice my length, probably more than half my weight, and definitely ten times my strength. I took a deep breath, tried to maintain my calm, and attempted rational thinking: This was just a snake. Okay, it was the hugest fricking snake I'd ever seen, but a snake nevertheless. Pythons are also ambushers rather than foragers, meaning that the thing would probably react just like a pit viper - staying immobile, relying on its protective markings. A pit viper the size of a fire hose, to be sure, but still. I grabbed Marcus' camera and my snake hook and approached the leviathan. He hadn't moved an inch during the commotion and was behaving just as I had predicted. I knelt next to his head, took a few photos, took some more, and the snake still didn't move.
Then I made a mistake: for no particular reason (probably because that's what you do with snakes) I tried to lift the python's head out of the water. That didn't go down quite as well: firstly, the snake's immense muscles didn't budge an inch - it was a sensation akin to prying loose a well-nailed floor board with a pipe cleaner. Secondly, Mr. Retic now became miffed at my intrusion of his privacy, slowly U-turned his humongous body around, and started upstream, where we couldn't follow him. At first, he probed a few shoreside hiding spots with his nose, but no hole in the immediate vicinity was large enough to accommodate his mass, so he just moved on and away from us. A few yards further, he found a large dead tree straddling the creek and decided to hide underneath. By now, about ten guys from the resort's head office had scrambled up the hill to see the monster. This was the largest retic anyone had ever seen in that forest, and they were just as excited as we were. A few of them sloshed into the creek to snap a few cellphone pix of the snake under the tree, but eventually the beast got sick of the humans monkeying around and glided into the depths of the jungle.
Our encountering such a humongous specimen in broad daylight (retics are nocturnal) can be attributed to the fact that it had recently shed, but one of the old eye scales was still attached. The eye was still milky, so the snake had opted for a long soak in the creek to facilitate proper shedding.
The reason why we didn't get any good photos of the snake, apart from the head shots, was its position in the creek, and our reluctance to follow it into the water. So please no bellyachin' about the crummy pix
Although the python was very sluggish (onaccounta its bath in the cold mountain stream, I assume), the resort management later closed off that trail for non-guided visitors; at least for the next two weeks, to give the animal time to sort out its eye issues.
And that, boys and girls, was the most awesomely awesome herping experience of my entire life. I sure hope we see that thing again on our night walk!
Footnote: Hans had begged me to allow him to tag along, and being the weak parent that I am, I had given him permission to skip his tuition school that morning. And a good thing that was: had he missed this Find Of A Lifetime, he would have hated me for the rest of my days...