I like Mexico. A lot. After our previous trip to Baja in the Spring, Scott and I decided to make a repeat trip this fall. We planned ahead, carefully selected our dates (the new moon period in September). Perfect, we thought. We'll mop up everything we missed in the spring and have enough time to get back out to Isla Angel de la Guarda. Well despite our optimism, mother nature had different plans. All summer we diligently watched the weather. Surely, any day now the hurricanes would march north delivering a deluge of life-giving moisture that the peninsula desperate needs. We wait and wait and wait.
Well shit. No hurricanes. Now what? SONORA! of course! I'd fly into Tucson and we'd spend 8 or so days in Sonora. So I buy my plane ticket. Turns out, Sonora hasn't gotten much rain either and in two previous short trips, Scott had pretty much gotten spanked down there. Then came Mike's epic post. But they had 7 or 8 guys, 4 vehicles and 9 days. I then received word from the office that both Scott and I were scheduled for a mandatory work training in San Diego right in the middle of our planned trip. FAK!. That also meant that I would lose out on my non-refundable return airfare from Tucson back home. Our trip is now cut to ~5 days. So now we shift into bang-for-the-buck mode. It was decided. We'd head as far south as was necessary to ensure we'd get into the moisture. Sinaloa.
I arrived into Tucson ~ 21:00 on Friday. We cruised up into the Catalinas directly from the airport. Since nothing was out, we called it an early night because Saturday would be a long day.
We woke up at 05:30, got into the truck and headed south. Crossed the border in Nogales at ~07:30, got our visas, imported the vehicle and back on the road. We drove another 12 hours straight south before reaching out destination outside Mazatlan just after the sun had set. Of course it wouldn't be Mexico if we didn't start up some go-nowhere road where the canopy slowly closes in on you until we were forced to find a turn-around as we were serenaded by some wallowing pigs. The first herp of the trip was a Ctenosaur lounging on a fence-post. No time to stop to take pictures of that trash-lizard - there'd be plenty more where that one came from - there weren't.
We began cruising a road that we would become intimately familiar with over the next 60 or so hours - the action began immediately - although not the way we'd like.
I'll preface the photos with this caveat: I do not shoot every animal we come across, it's not my objective to voucher everything. As a photographer, my objective is diversity, not quantity. Also, while I believe all my ID's to be correct, if you see any mistakes, please bring them to my attention.
Mexican short-tailed snake (
Sympholis lippiens
) - DOR
Within a mile, our second snake of the evening:
Mexican long-nosed snake (
Rhinocheilus lecontei antonii
)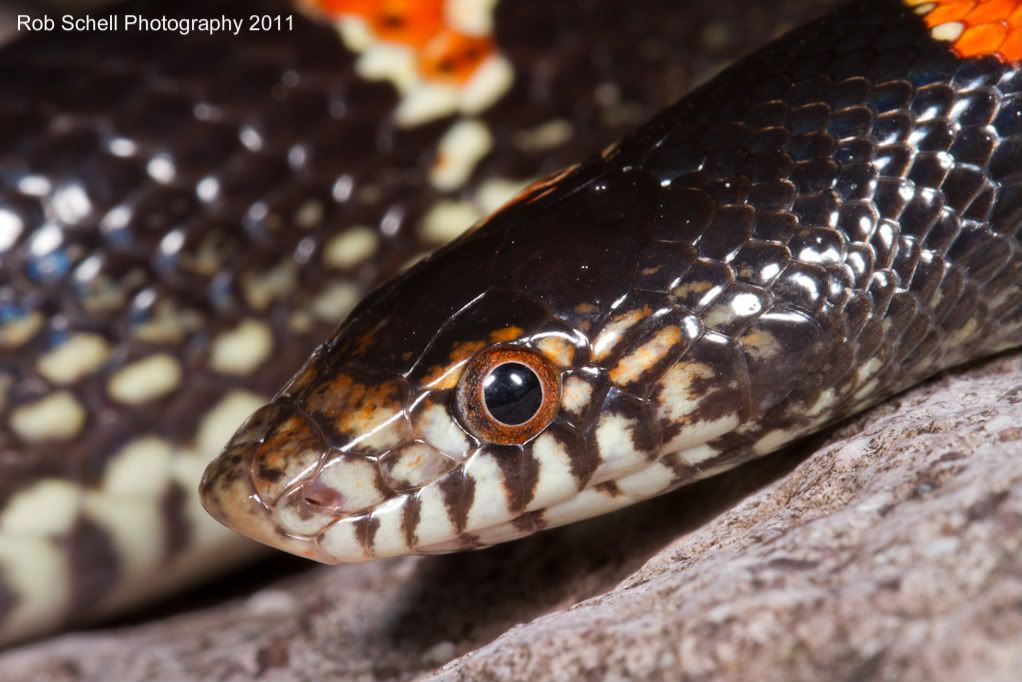 At this point, we're saying to ourselves "at least we know things are moving"...
A few miles later... STOOPPPP!!! Senticolis!!! I jump out and run after it. The serpent disappeared off the road into the impenetrable tangle of vines and thornscrub on the shoulder with no hope of recover. That would have been a lifer for me... Oh well... moving on....
The next find was a real heart-breaker. Scott in his last three trips had struck-out on this species so to find a DOR really stung.
Mexican beaded lizard (Heloderma horridum horridum) - DOR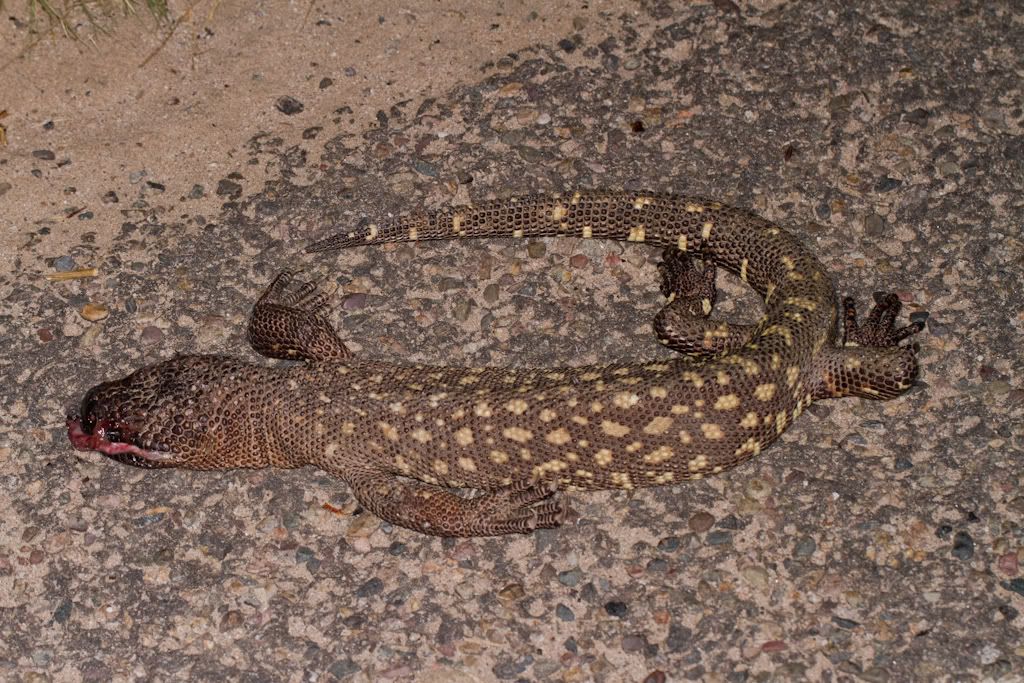 We also found 2x DOR Drymarchon, but they were in pretty bad shape - not even worth of a voucher shot. No matter - we found two recent DORs - surely we'd find one alive this trip - wrong again!!
Our chosen cruising road was loaded with two things: Big-ass Orthopterans and a boat-load of Anurans. So after a couple of hours of cruising without finding any more of our scaley quarry, we decided that we'd slow down and take a look at a few of them. I really like amphibs - Scott will tell you that he doesn't, but neither will he miss the opportunity to photograph them if convenient. I spend most of my time studying amphibians, and one of my largest targets for our "Sonora" trip was Ambystoma rosaceum. I was seriously bummed that we wouldn't be seeing any on this trip, fortunately, Sinaloa had plenty of slime to go around.
By far, the most commonly encountered anuran was the Sinaloa Toad (
Ollotis mazatlanensis
)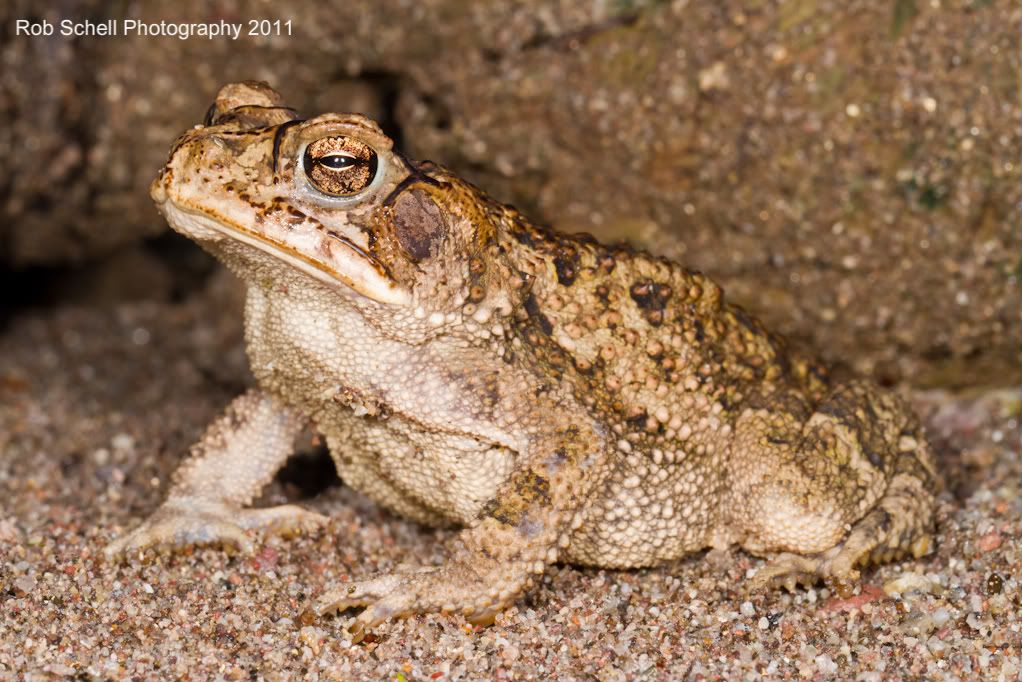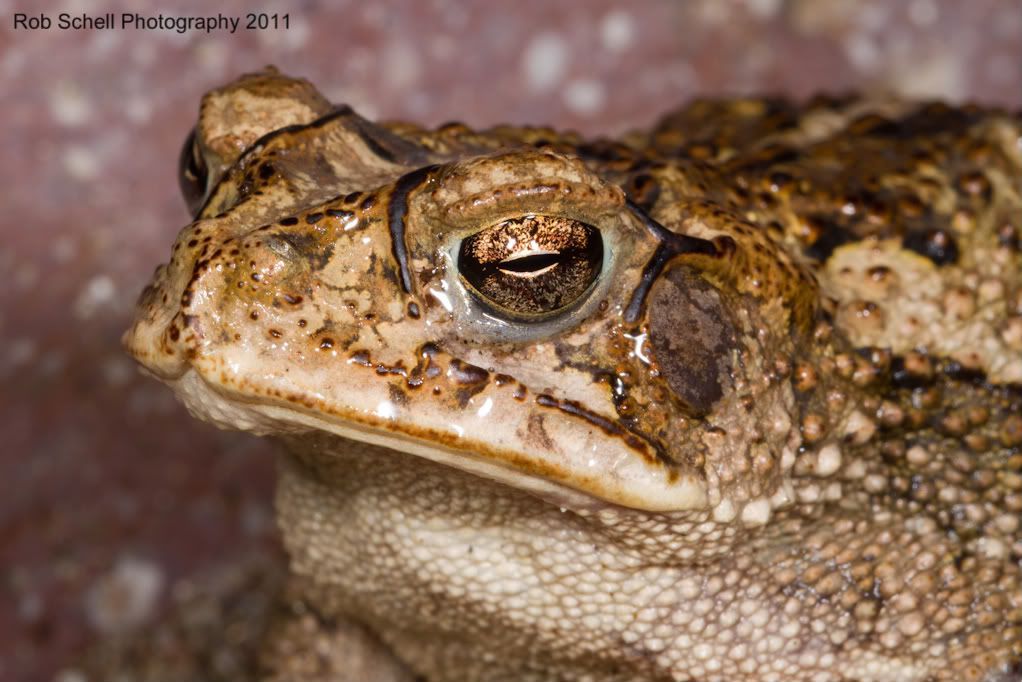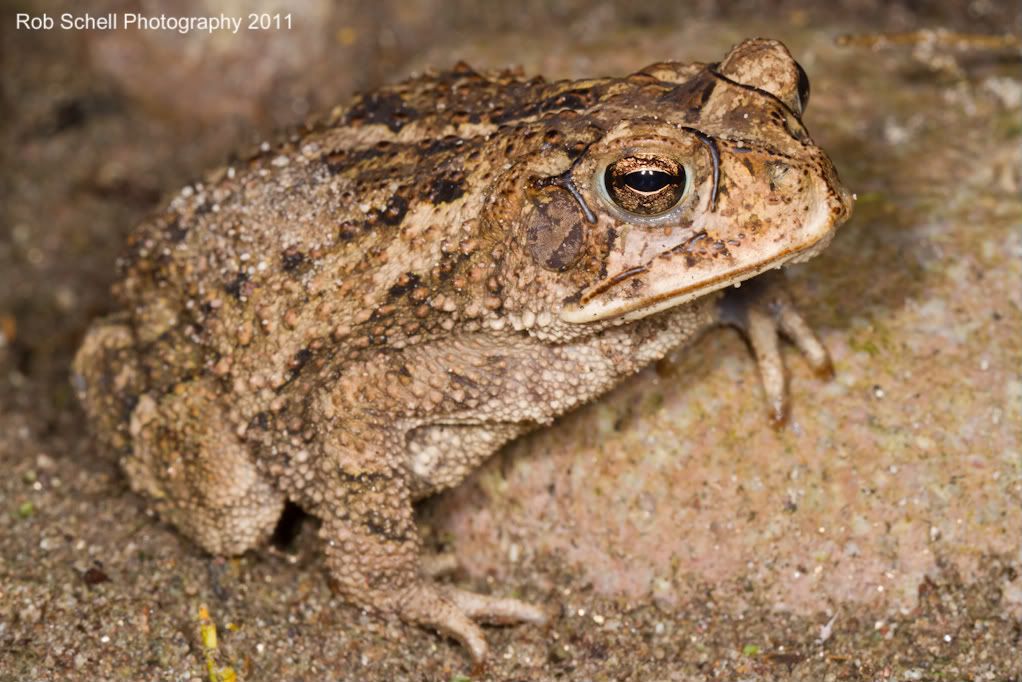 Ollotis mazatlanensis
juvenile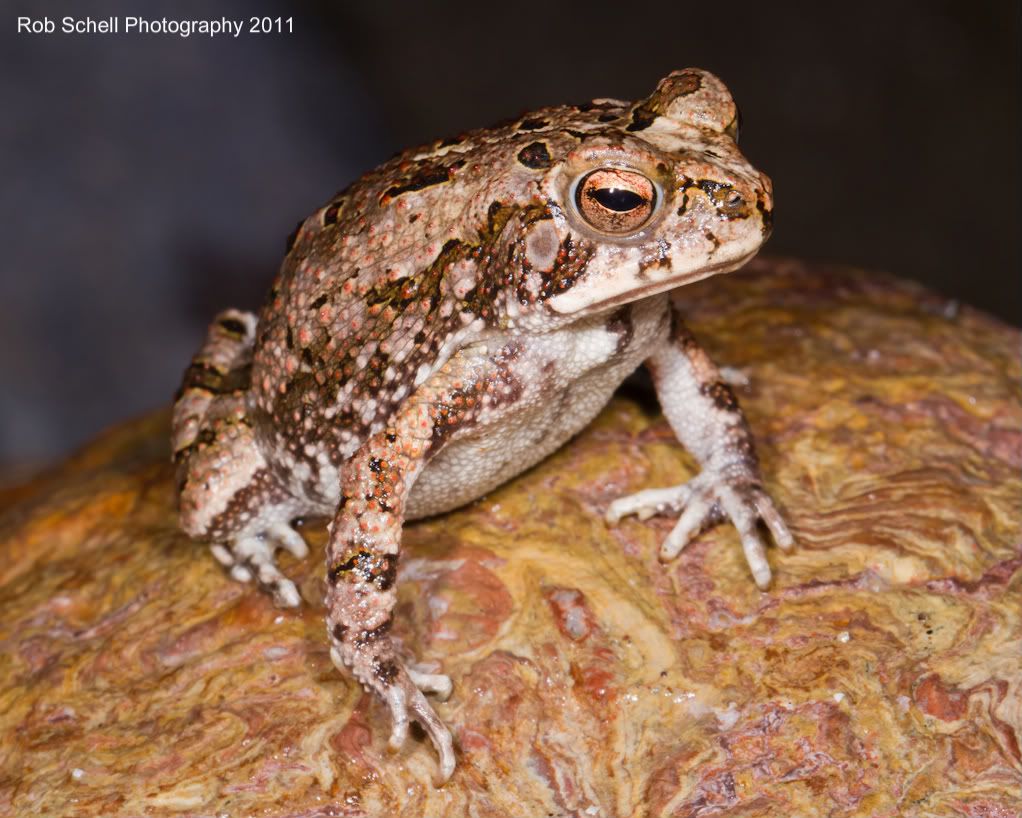 The second most abundant was the impressive and occasionally grotesque Cane Toad (
Bufo marinus
)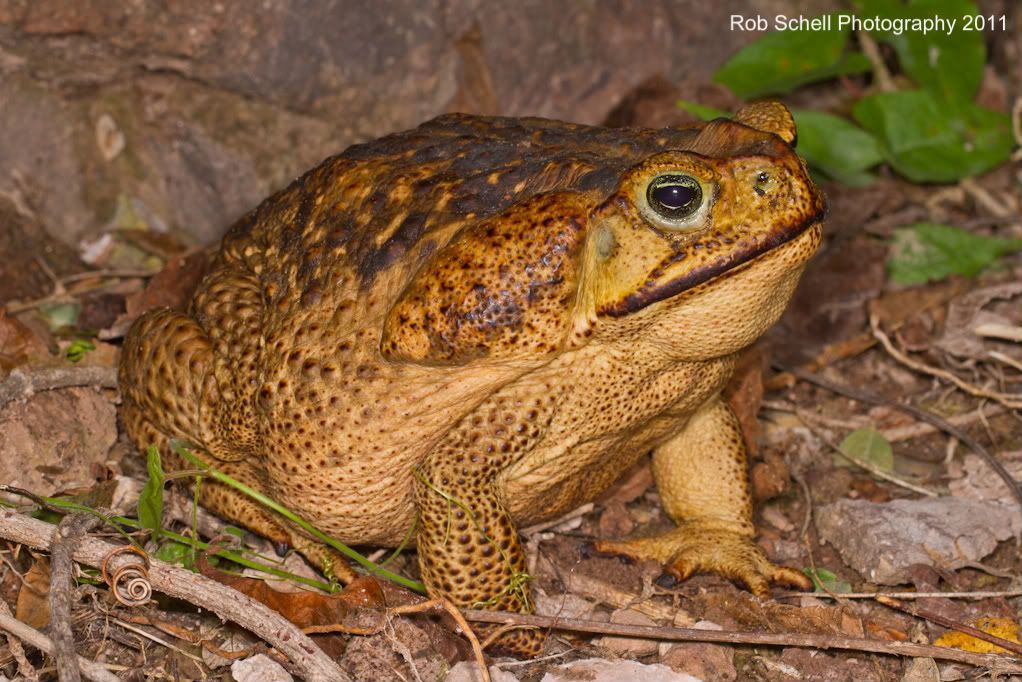 Cane Toad (
Bufo marinus
) juvenile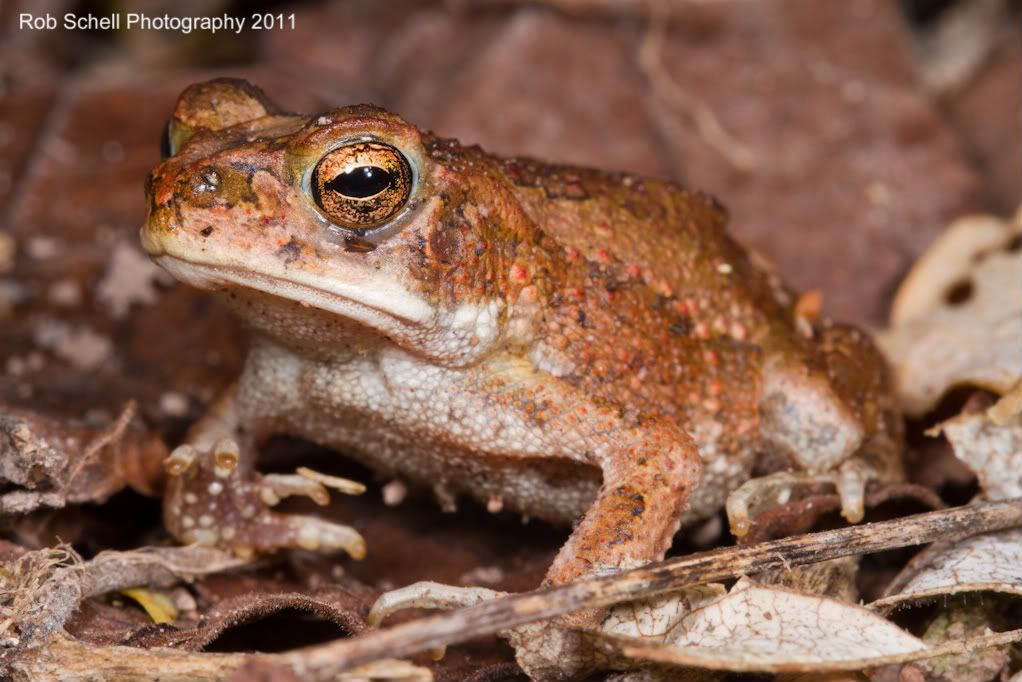 About 4 hours of cruising had past, we were both starting to get tired. Really tired. We had now been driving for 18 hours consecutively. We were about to start looking for a pull-out when we came around the corner and saw this impressive beast splayed across the road:
Mexican West-coast Rattlesnake (
Crotalus basiliscus
)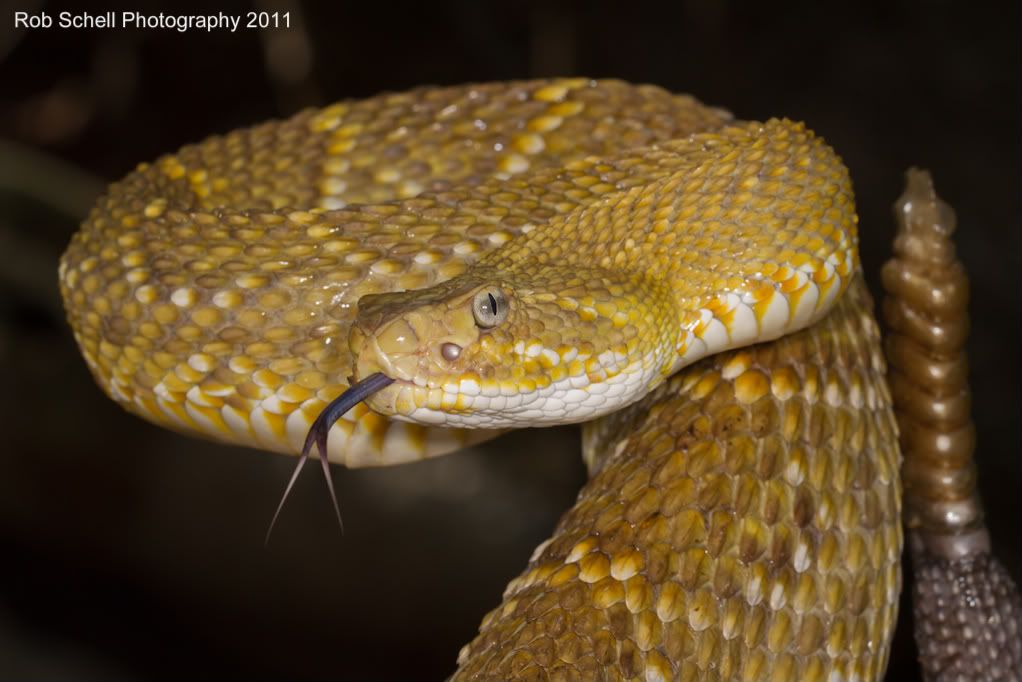 We wanted to take some wide-angle shots of this animal, so we held it over until the next morning. Rejuvenated by our find, we pressed on and passed a little too close to the nearest large town and found ourselves at a military checkpoint. Its not the established military checkpoints that you have to worry about - its the impromptu, temporary checkpoints where you're likely to get robbed or worse. However, there was nothing to worry this night - although one of the soldiers manning the station did try to peddle me weed. I don't know what would have happened if I were to accept, but there is no way I was going to find out. After ~19 hours of driving, Scott finally decided he'd had enough, so I took over driving duties.
Although the road we were cruising closely followed a stream, as much as road and stream sinuosity would allow, there definitely seemed to be distinctly higher numbers of anurans on the lower sloped of the road. In fact, right where we had turned onto this road, I noticed a couple of puddles within the road itself that looked fairly froggy. I thought they warranted a second look and since I was driving at that point, that's exactly what we did.
These puddles happened to be right next to an occupied house. As we pulled up, I hopped out with my flashlight while Scott greeted the family and explained to them why the strange gringos were searching the puddle in their side-yard in the early morning hours. As I searched I hear the woman SHREEK.... evidently Scott had decided to show them the 4.5 foot-long basiliscus in the tub in the bed of the truck. They were frightened, but still very interested in the animal. In Mexico, regardless of how rural things seem, there seems to be a universal appreciation of National Geographic, and you'd be surprised how many people when they see critters + cameras, ask us "Nat-geo?"
While this is going on in the periphery, I continue to see whats in the puddle. Every other Ranid I've ever had experience with, when approached at night, either relies on its camouflage and stays put or jumps into the safety of the water, except this one. This one broke every rule I knew to be true about Ranids. When approached, this species turned and jumped away from the water. It jumped continuously and erratically until it reached the cover of nearby vegetation. Fortunately for the observer, once it found cover, it stayed put making capture easy.
The Ranid in question is the Forrer's Grass Frog (
Lithobates forreri
)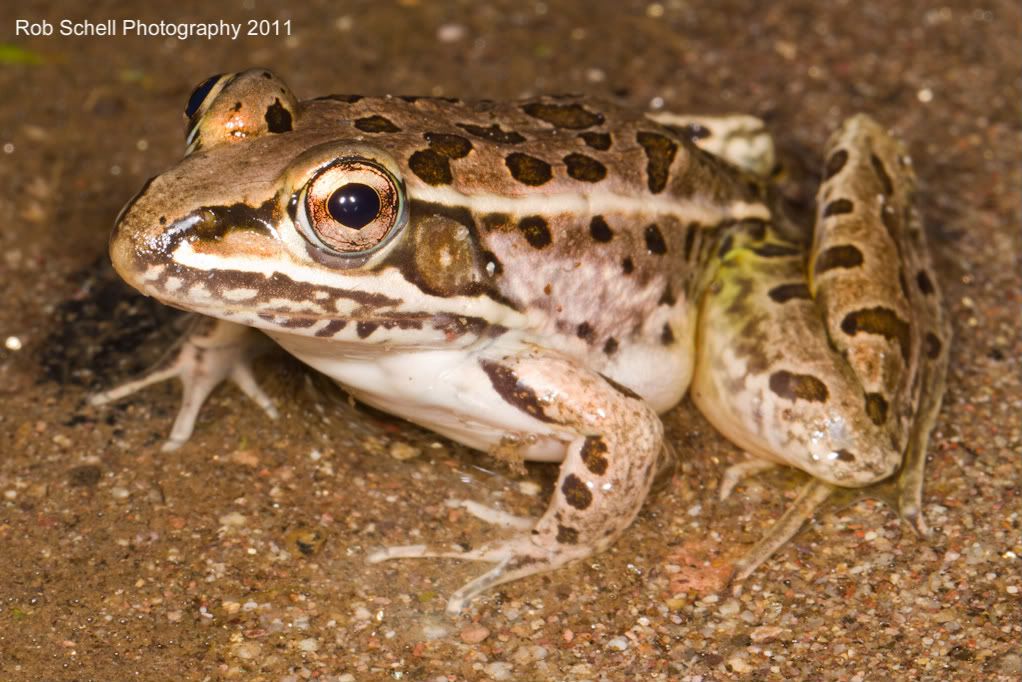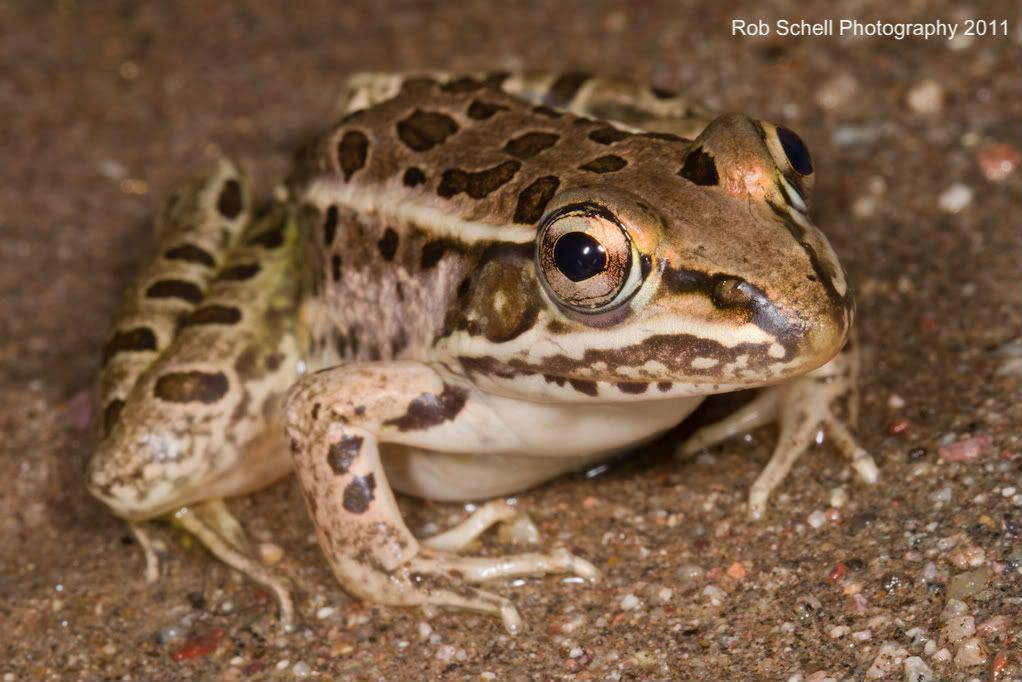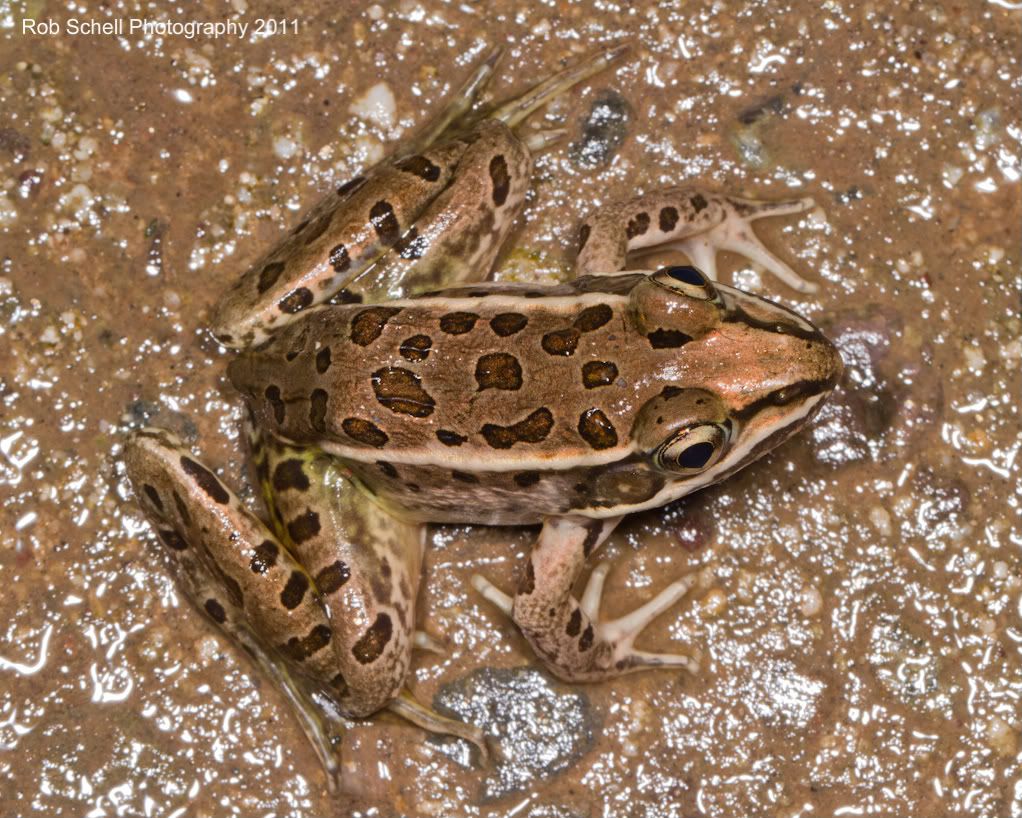 Also sharing the puddle was two very different looking individuals of the same species:
Juvenile Mexican Treefrog (
Smilisca baudinii
)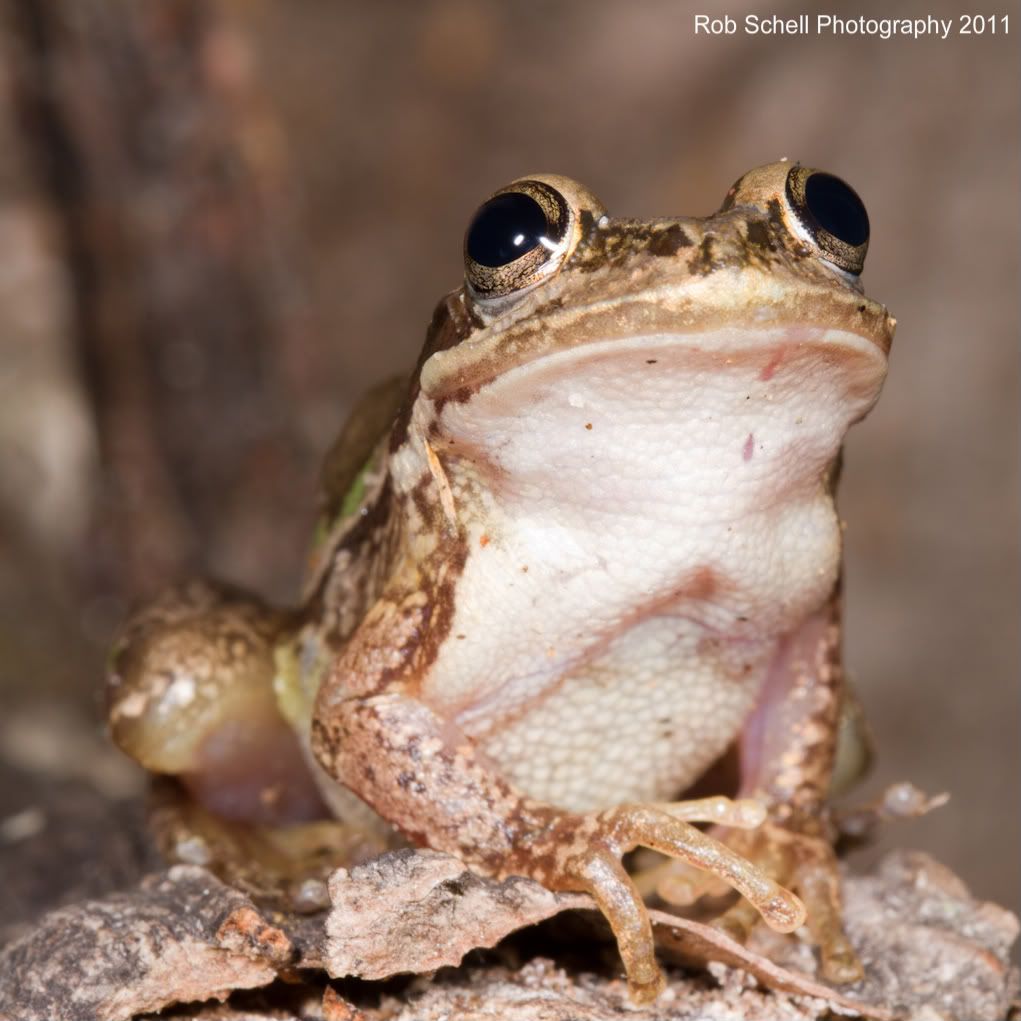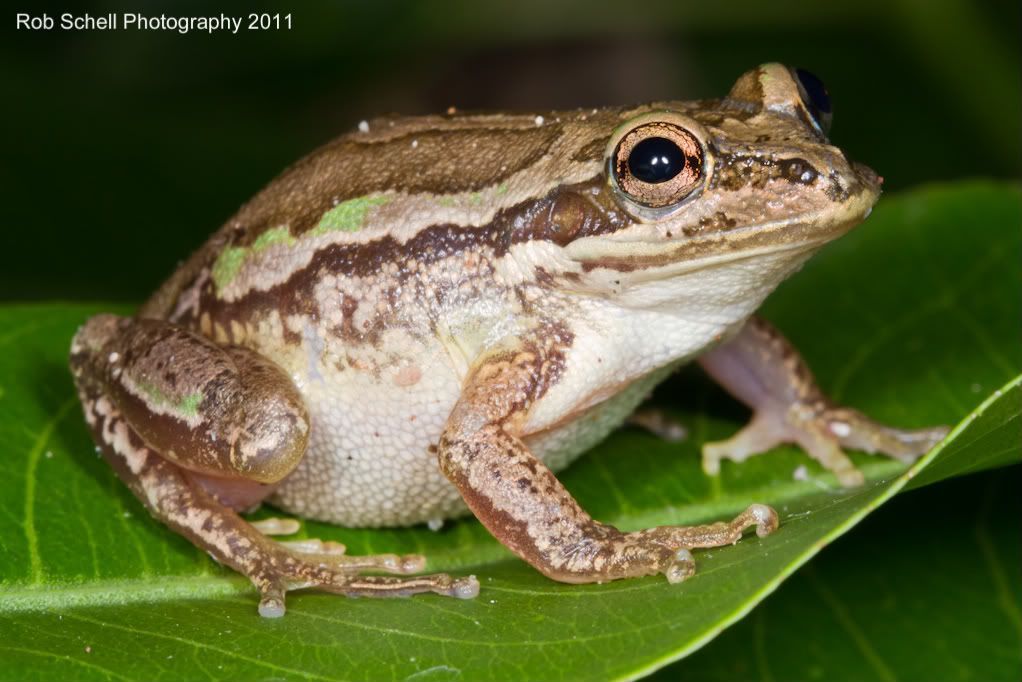 Adult Mexican Treefrog (
Smilisca baudinii
)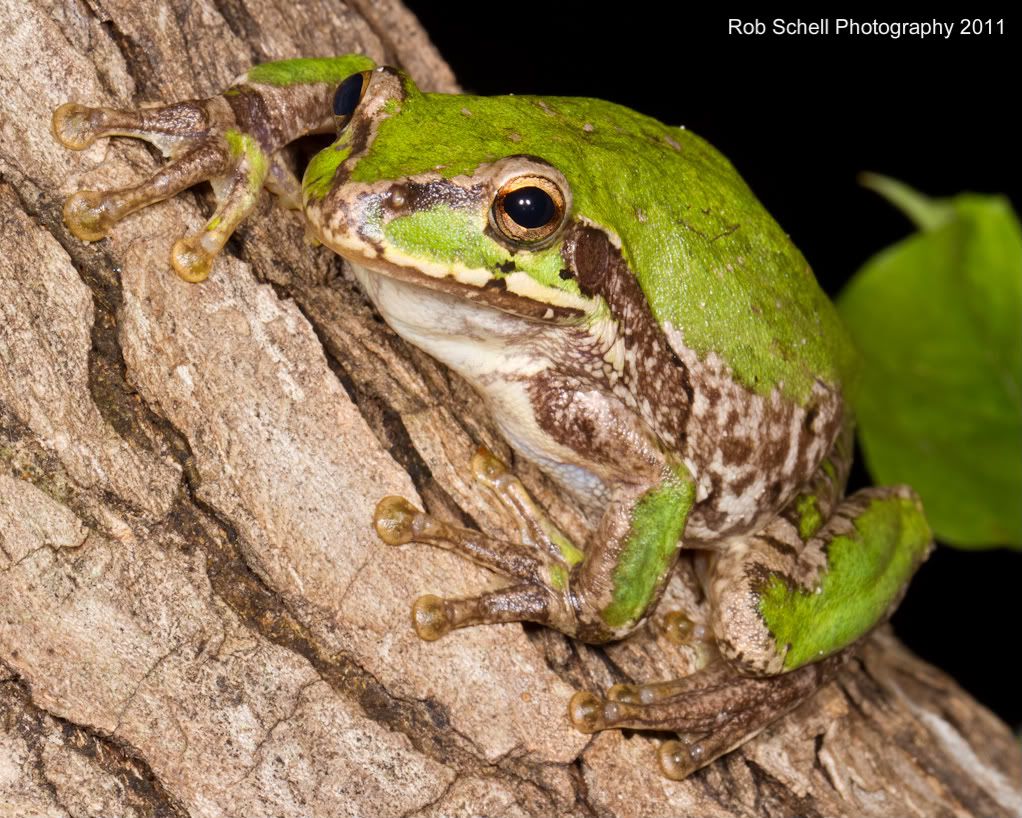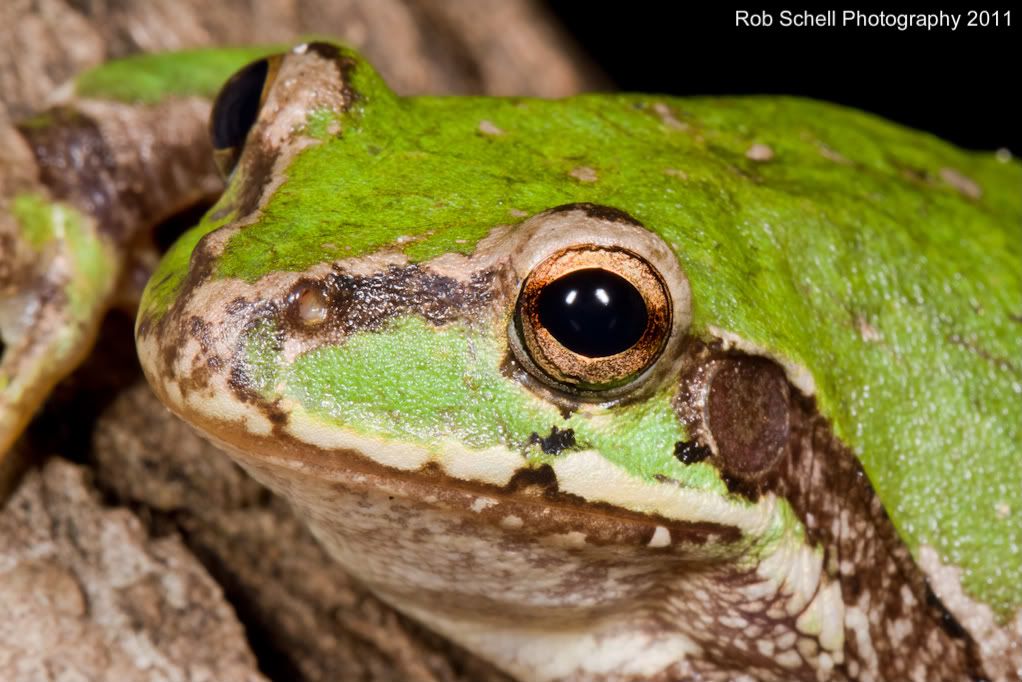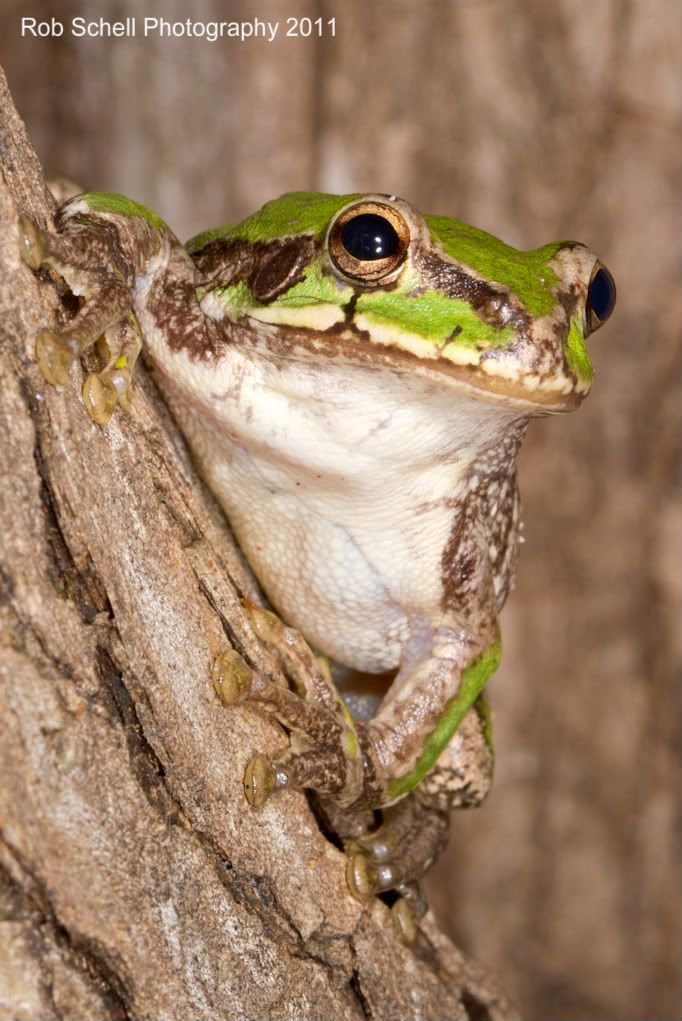 Midnight had come and gone and we decided to turn in. We headed back up the hill to find a spot to sleep. Scott was nodding off at this point, so I was taking my time, stopping for all the frogs for a closer look. Because I insisted on being annoying, we ended up with three more anurans on the night.
Western Barking Frog (
Craugastor augusti cactorum
)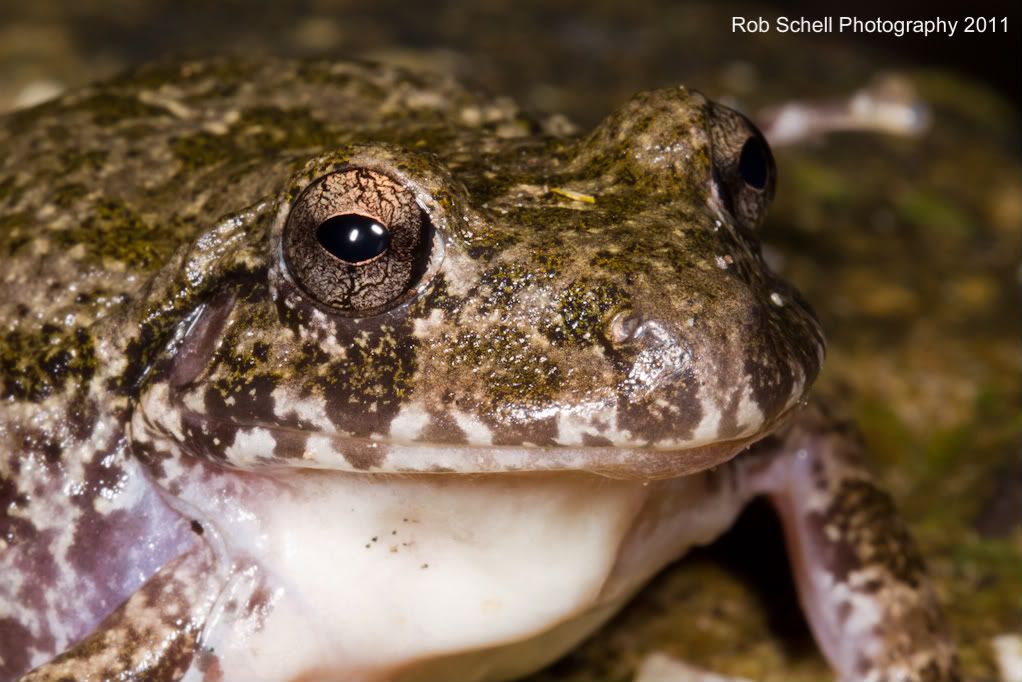 Taylor's Barking Frog (
Craugastor occidentalis
) - we mis-ID's this animal about three times before we figured it out.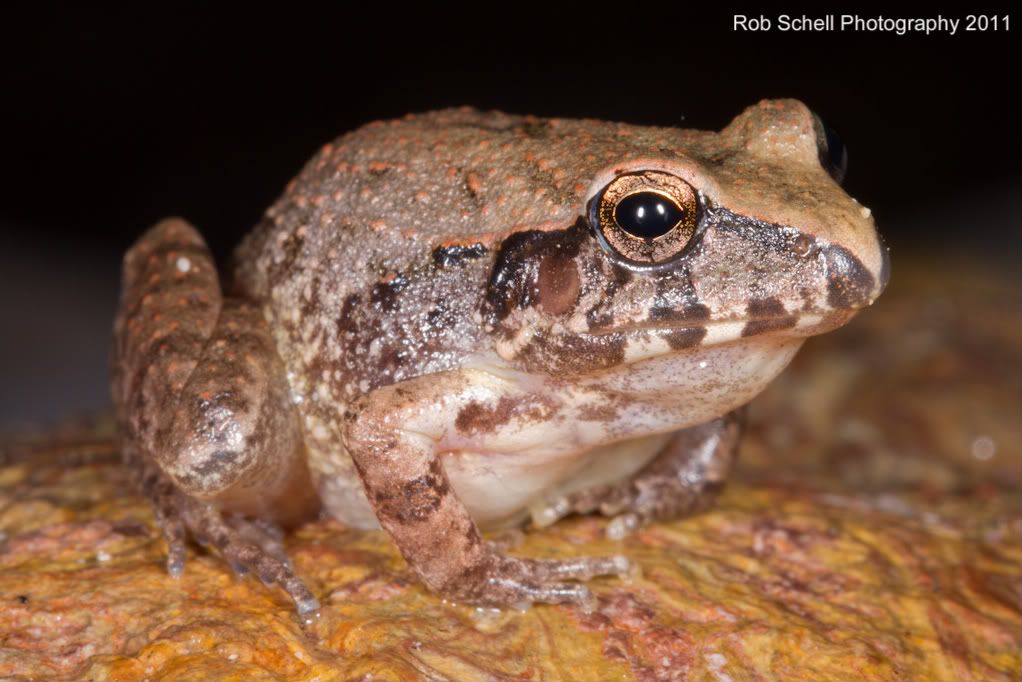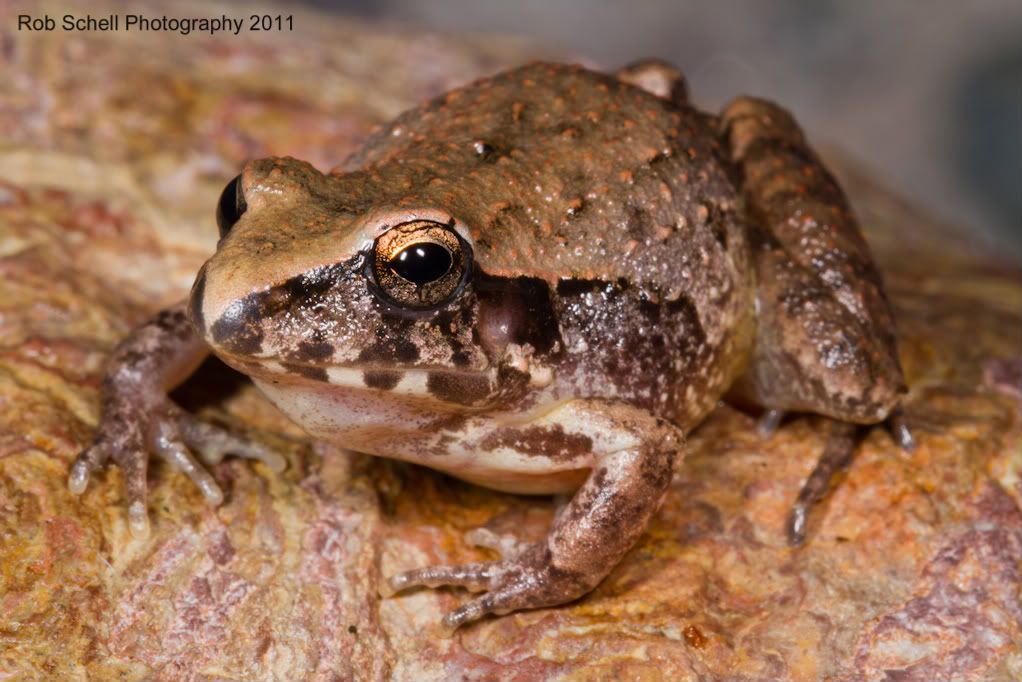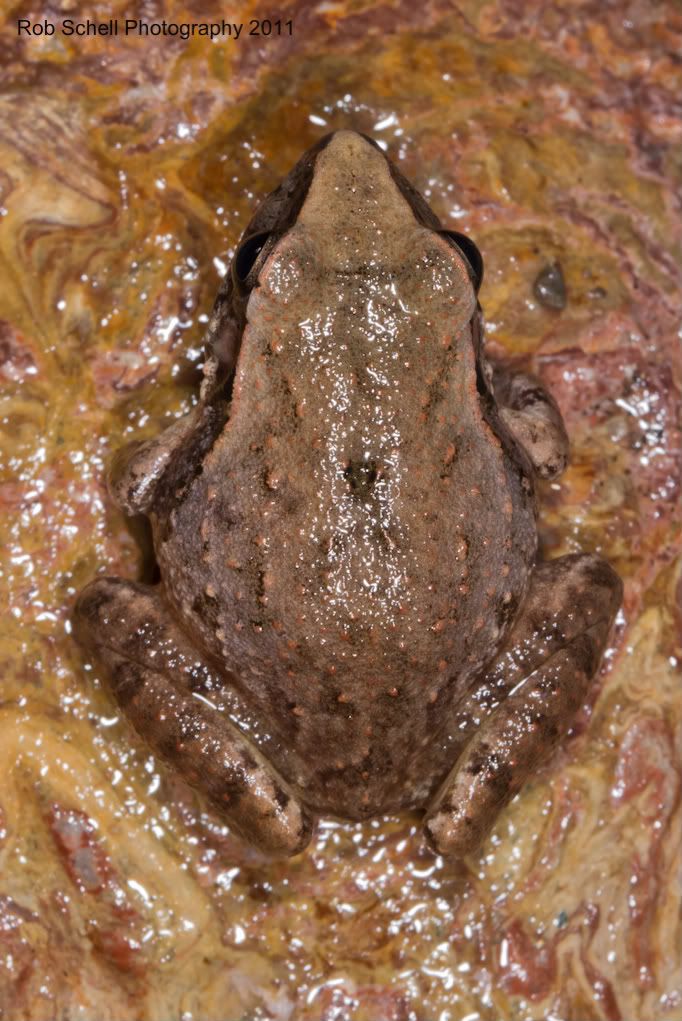 And one of my favorite finds of the trip:
Mexican Leaf Frog (
Pachymedusa Dacnicolor
)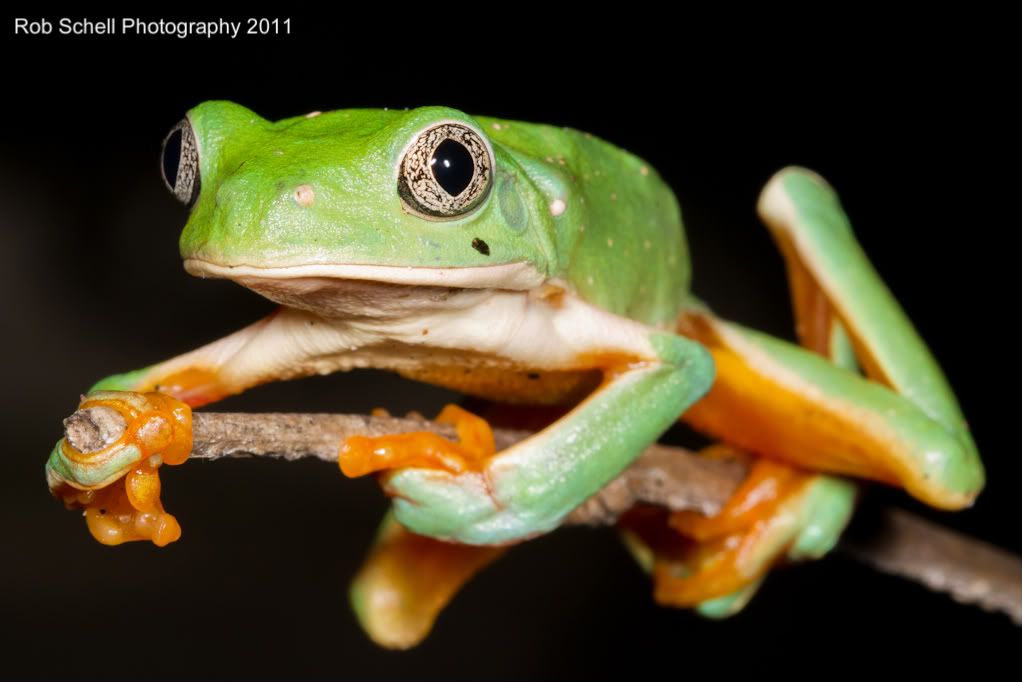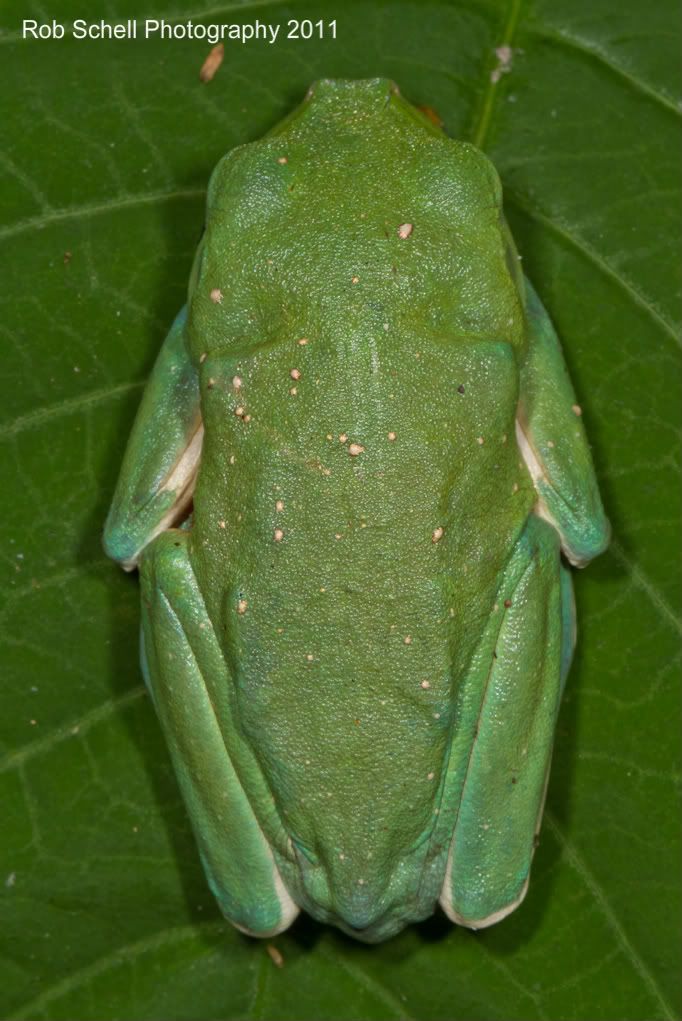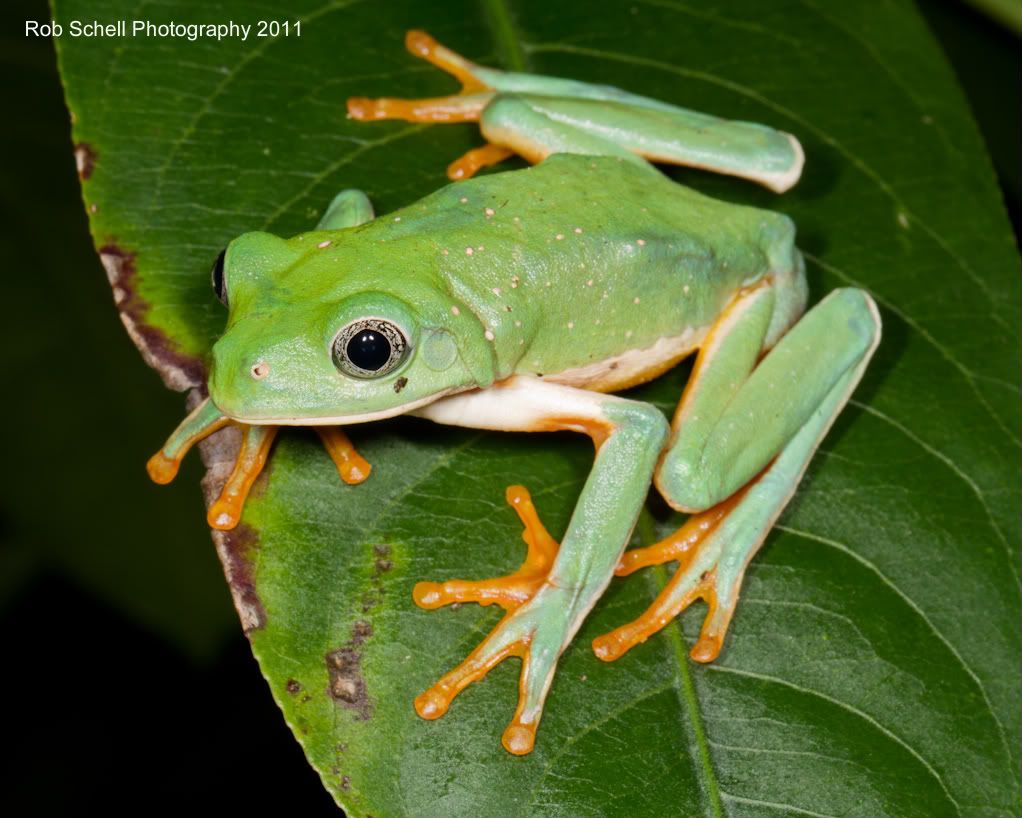 We found a small spur-road to pull off the road and get some Z's - sleep, not zonata
. For those of you who have never been to the tropics (before this trip-I never had), its really tough to appreciate how miserable it can be. At 02:30, the temps were in the mid-80's and the humidity is 95%+. Without A/C, you sweat. You sweat and sweat until you're clothes are soaked through and then you sweat somemore. We rolled down the windows and closed our eyes. Mercifully, within a couple of hours, it started to rain and the temps dropped to the mid-70's making sleeping in a vehicle much more pleasant.
At 06:30 I opened my eyes. The truck was surrounded by cows and two men on mules appeared very annoyed at the fact that we were blocking their road. We apologized and went on our way. We did a couple of passes along our road hoping to get an indigo or heloderma. After a couple of hours with no luck, we found an area to shoot the previous night's finds.
The rain had caused the rivers to swell, but we still managed to find a spot to shoot the basiliscus. I was having technical difficulties getting a wide-angle shot in broken lighting without a hot-shoe flash, so I won't be posting any here - perhaps Scott got something worth sharing. I also had trouble shooting the 4.5 foot long rattlesnake with a 100mm macro lens and marco-flash without getting crappy results. The best of are posted above, but I kinda like how the "feel" of this one turned out: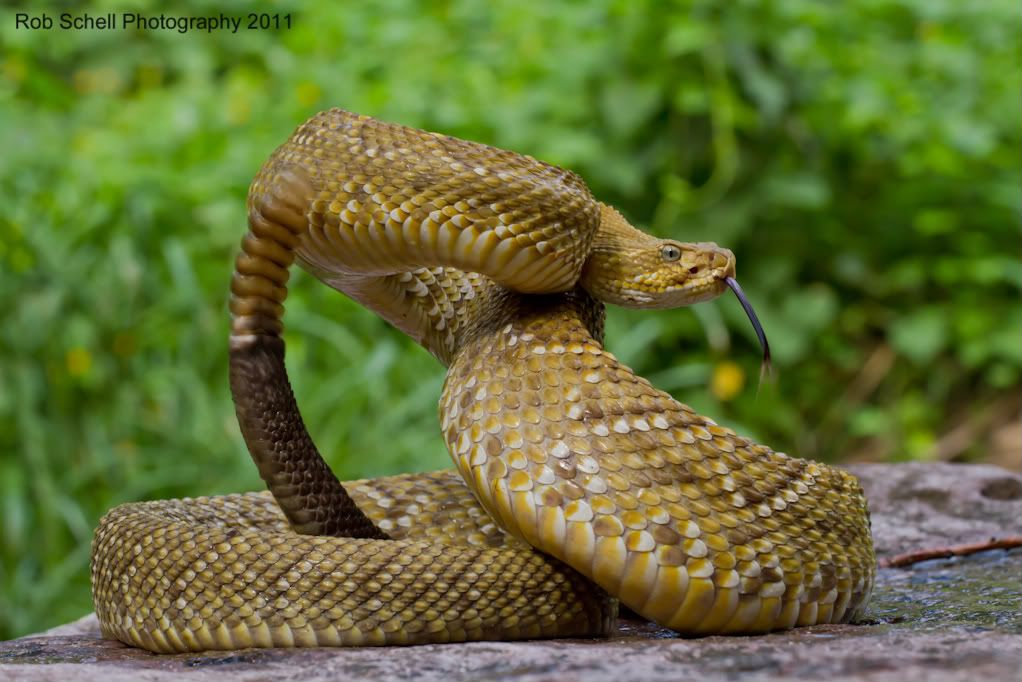 After releasing the basiliscus, Scott had dragged the tub back up to his truck. I saw a butterfly that seemed compliant enough. I was determined to at least get a couple of invert shots this trip. It landed, I'd take it's picture, It's fly off, land somewhere else, I'd snap off a few more shots, and repeat. Then it landed on an ill-advised blade of grass, resulting in what I think is one of my best photos of the trip, and perhaps one of my best ever photos.
Banded Peacock Butterfly (
Anartia fatima
) with a Green Lynx Spider (
Peucetia viridans
)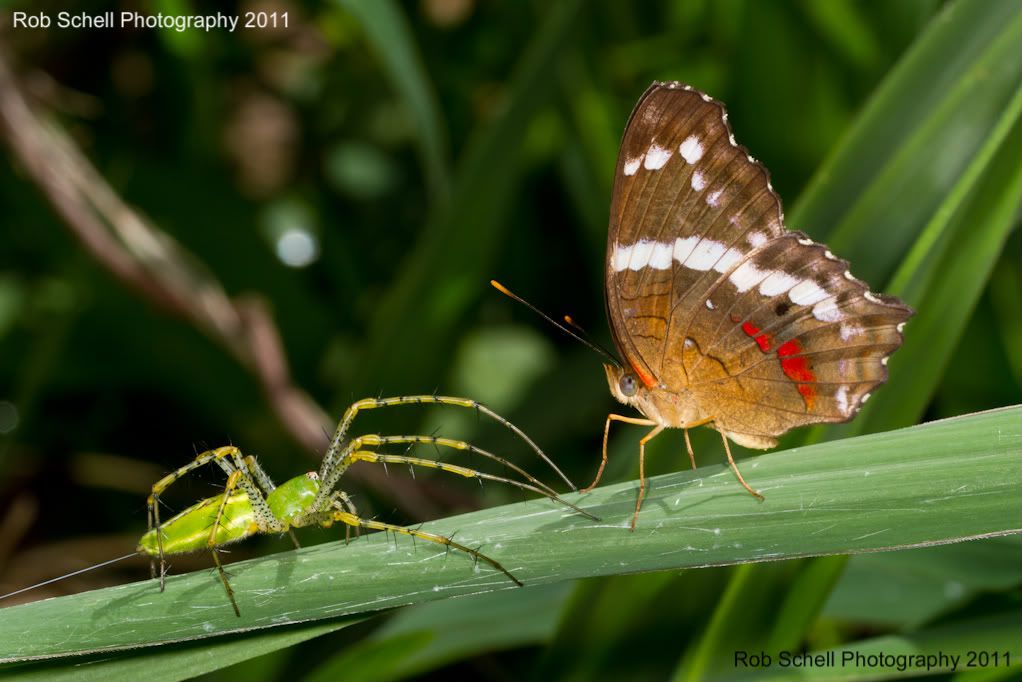 In case you're wondering, the butterfly got away.
We wrapped up our morning photo-shoot and got back on the road. We saw a couple of Ctenosaur that shot off as soon as you'd stop the car and then found this:
Mexican beaded lizard (
Heloderma horridum horridum
) - DOR number 2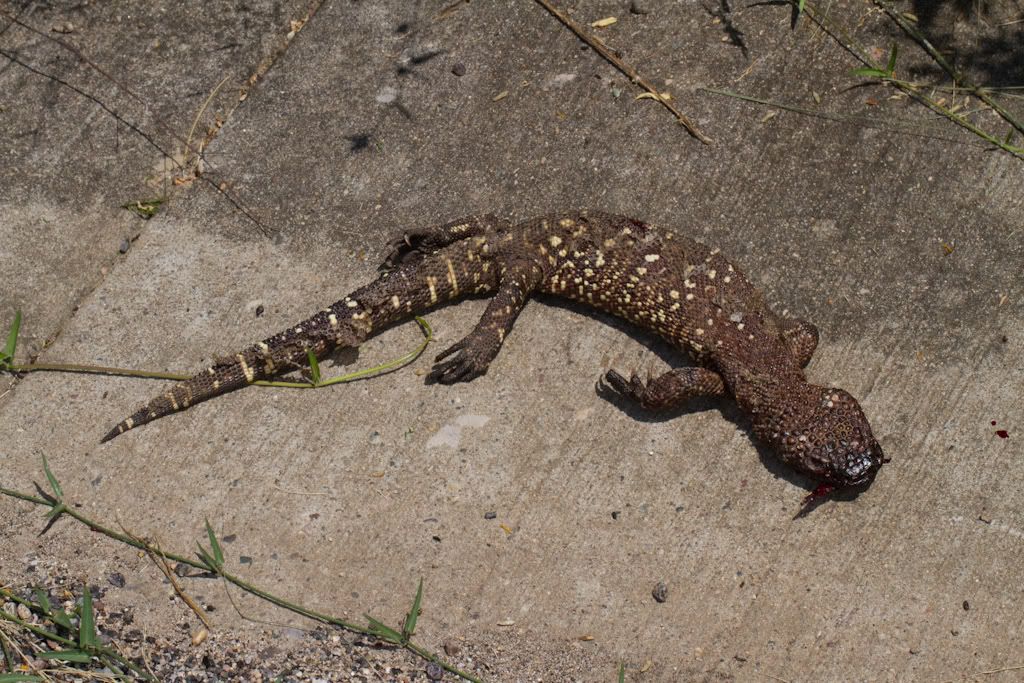 We continued to cruise for a couple more hours. We saw several Masticophis, but they shot off the road well before we could get to them. Slightly disparaged about not finding the Indigo that were fabled as common, we headed into town to get our first real meal of the trip and a hotel room to avoid a repeat of the night prior. In these small towns it serves visitors well to not piss off the locals. Oh and remember what I said about the sweating? We were both in desperate need of a shower.
After cleaning up, we hit the road again about 17:00. A couple more passes with no sightings went by. The sun was going down and Sunday evening traffic was picking up. With the shadows getting long on the road, it was becoming difficult to see anything between the heavy contrast. We rounded a corner with a pick-up full of locals riding our ass when about 200 yards up the road we spot something moving from left to right in heavy traffic.
Scott accelerated up to the beast and slammed on the breaks. He jumped out of the truck ran up and swooped the animal off the road just before reaching the right shoulder. The truck behind us apparently wasn't as excited as we were and swerved around us, honked their horn and gave us a colloquial hand gesture to convey their feeling towards us at that moment.
Scott with his target - the truck is in the background - haha.
I will launch into this now considering it seems like as good a place as any to explain a few things: When you have two photographers on the same trip and you're both working with an animal, its unavoidable you will get some very similar shots. No problem right? Well, turns out, not so much.
Scott and I are both in the business of getting our photos published. Occasionally we receive compensation for said photos, but mostly we take satisfaction in seeing our work used. Recently, we began posting our photos to the same sites. It's not advantageous for either of us to have the same exact shots of the same animals in the same settings. We came to the agreement that whenever possible, we would independently work with and shoot our animals separately, that way, we would generate our own unique photos and avoid this situation.
However, prior to this trip, we had never been inundated with animals. We literally had more critters to shoot than time to shoot them. Each night, we'd find 8-10 animals to hold over and shoot them the next morning. If you only have two hours to shoot 8-10 animals by yourself, that is a herculean task. Throw in the heat, humidity, lack of sleep, dehydration, a grumbling stomach, an uncooperative animal and whatever other annoyance du jour and it makes for an extremely frustrating situation.
Today my *extra* frustration stemmed from my flash. Between the ambient humidity and the constant sweat rolling off my nose and landing on the control unit, my flash was soon shorting out. I got a couple of photos of the heloderma, but since my flash wouldn't fire and the animal would not stop for nothing, these were the best I could muster. I can't really say I'm happy with them, but that's what return trips are for, right?
Mexican beaded lizard (
Heloderma horridum horridum
)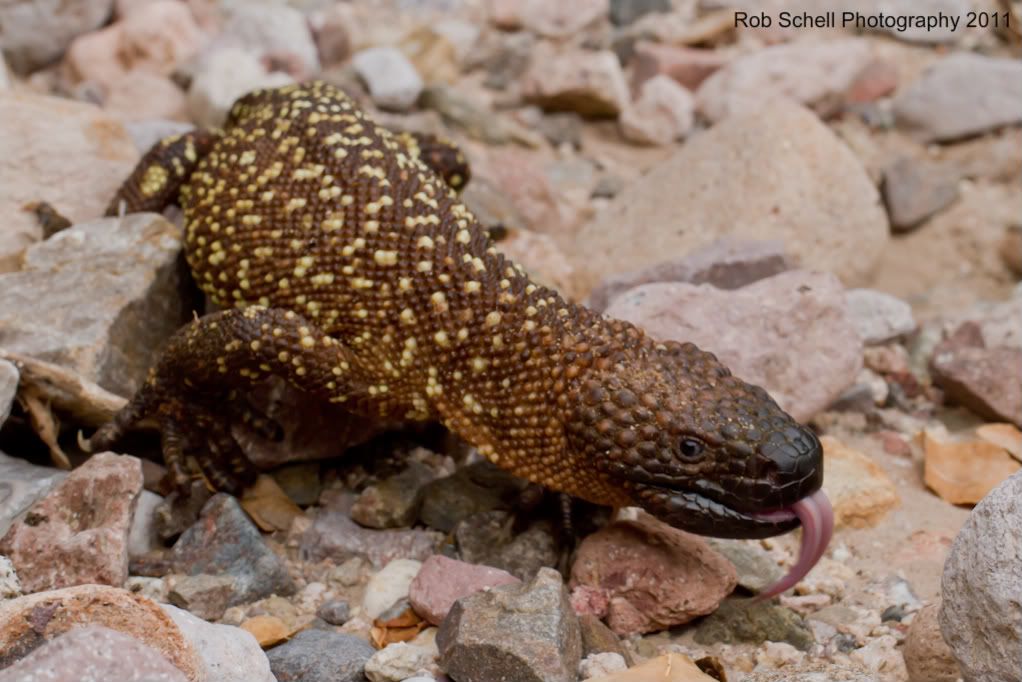 The sun set and we were cruising once again. We had a productive night. Ticking off another half-dozen species or so.
We had gotten a couple of these the previous night and about 6 overall, but picked up a particularly large and photogenic specimen:
Sinaloa Lyre Snake (
Trimorphodon paucimaculatus
)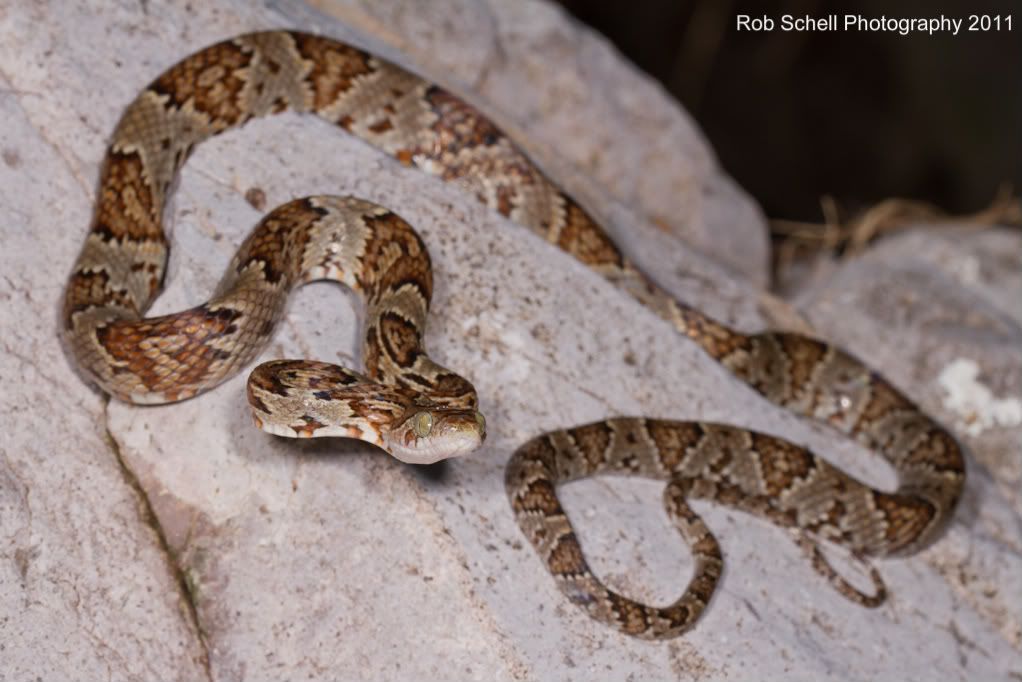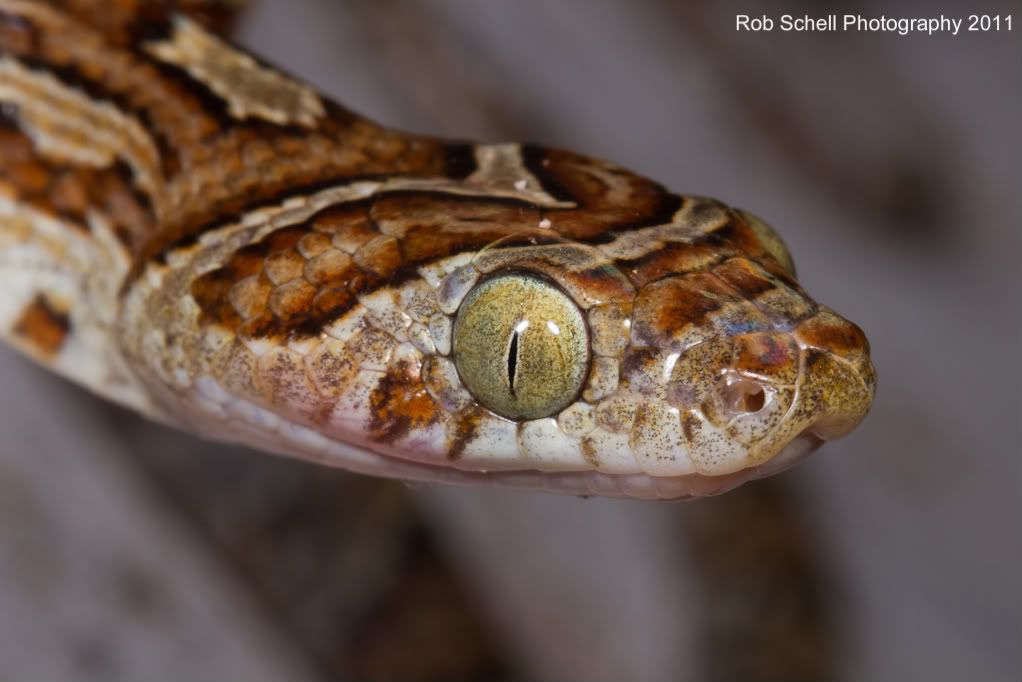 Also found on night 2 was this relatively common
Collared Night Snake (
Hypsiglena torquata torquata
).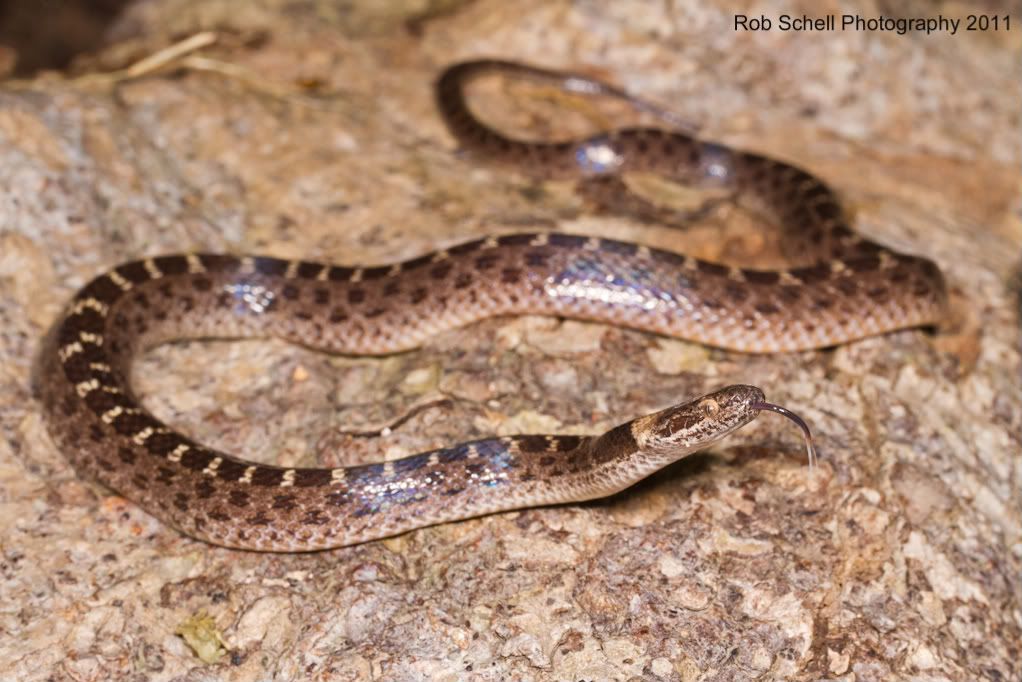 We saw a few more Rhinocheilus, a couple more Trimorphodon and a couple of interesting DORs.
The first of which we initially thought was a Tantilla ssp. Black head, right? what else could it be? Well turned out to be a:
Black-headed Stripeless Snake (
Coniophanes lateritius lateritius
) - DOR
Evidently, according to IUCN website, there are only 13 specimens of this species known to science - too bad we could not collect it.
And a familiar, but puzzling night snake:
Hypsiglena ssp. - looks like a H. chlorophea, but sympatric with another Hypsiglena species? If any of you have any insight here, I'd like to hear it. Seriously, I don't know what this is.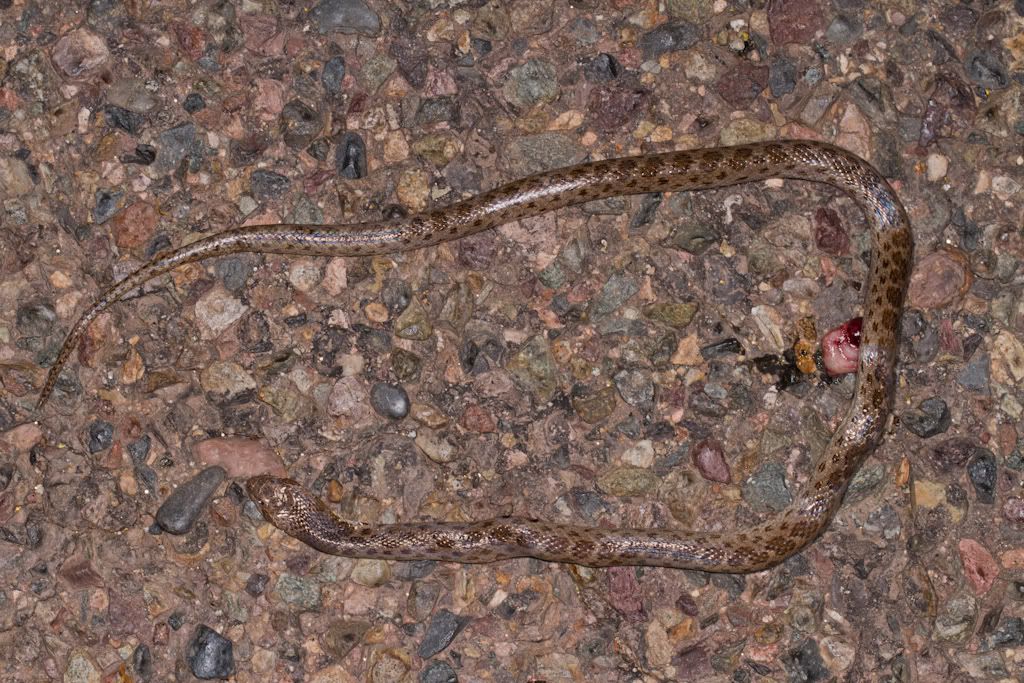 I also got my Senticolis' revenge, unfortunately, so did he. It nailed me in the back of my hand and in my thumb, where I believe a tooth or two still remains lodged.
Green Rat Snake (
Senticolis triaspis
)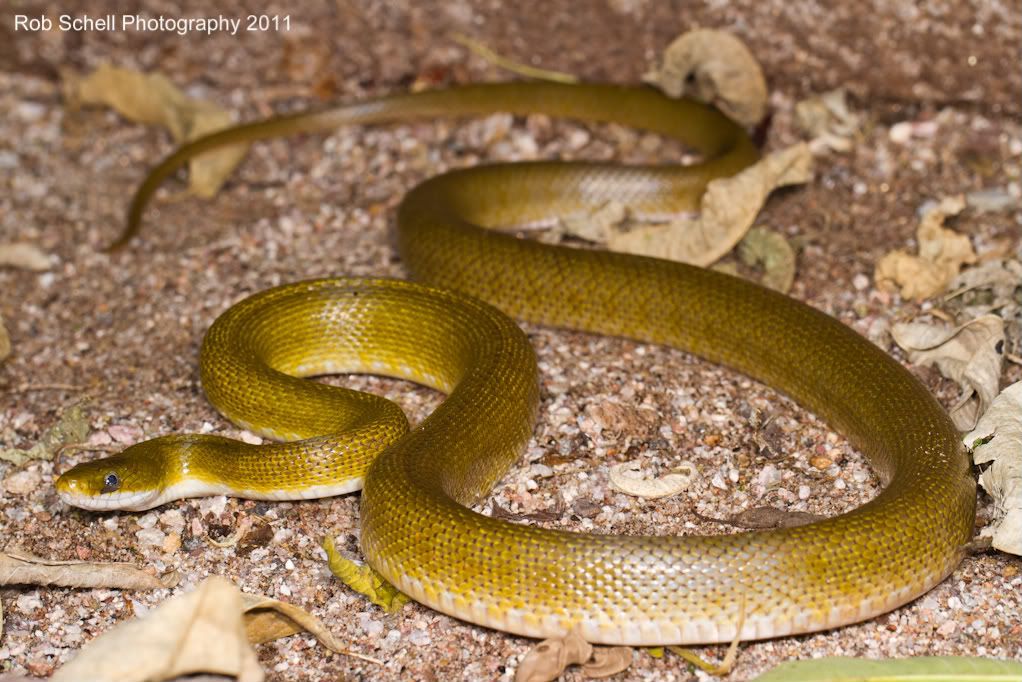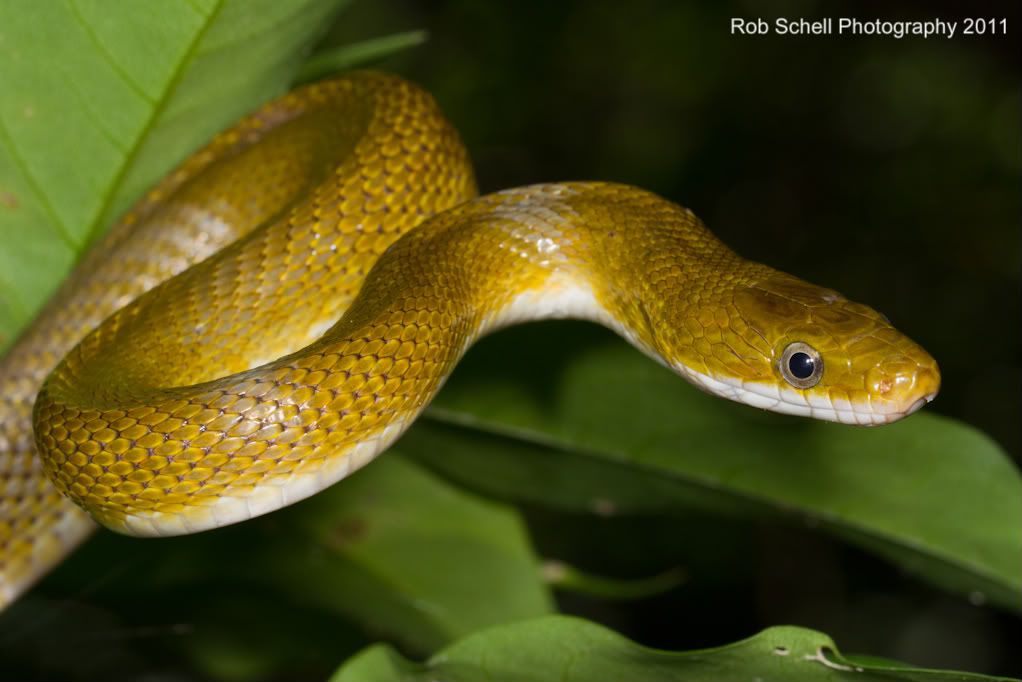 Scott and I have a slightly different version of how this next story went down, and since truth is dictated by those that write history, my version must therefore be correct. Scott was once again at the helm. We come around a corner that is situated on the top of a hill. Around the corner Scott swerves to miss a snakey-looking stick. I then spot an actual snake about 50 yards further up the road. It is at this point, I yell snake just in time for him to run over, what was one of our targets of the trip. His version alleges that I yelled snake prior to he stick causing him to swerve into the actual snake. Let me just say, that he was driving and tends to spot about 90% of the small snakes we come across before I do. I'll leave it at that.
Central American Tree Snake (
Imantodes gemmistratus
) - DOR(now)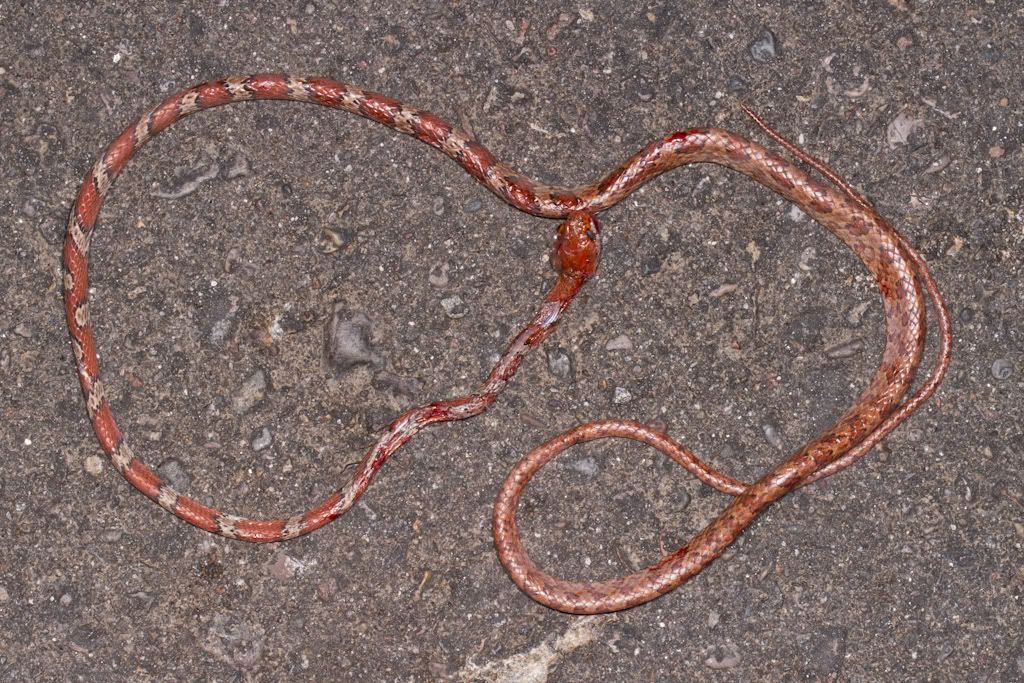 There is another portion to this story, however. As we got out of the truck to survey our kill, Scott had left the drivers door on his truck open. We hadn't seen another vehicle for hours. The brights and HID off-road lights were left on and we were slightly left of center on the road. Fortunately we were both behind the truck, but while we were vouchering the carcass, a banged up maroon sedan came around the corner and hit the open door of the truck and without hesitation, drove away. It was technically a hit-and-run, but what are you going to do? The guy is likely dirt-poor, probably has no insurance, and was more than likely under the influence. At best, it was a joint-fault accident, perhaps even with fault teetering towards us given the circumstances, but an apology would have been appreciated. The damage was limited to the bottom corner of the door and was not extensive, but another good reason to buy mexican insurance.
At this point, Scott had upset the herping gods and had gotten his truck bashed up in return. I assumed driving duties for the remainder of the evening and most of the next day/night. The night wore on, and the herping gods were punishing us for our misdeed. YAWN.... haha. Actually we were still having a great time, getting cocky, even. Talking about how we just need so many more species before we'd be done with Sinaloa. Just then, a flash of red, yellow and black.
West Mexican Coral Snake (
Micrurus distans distans
) - as found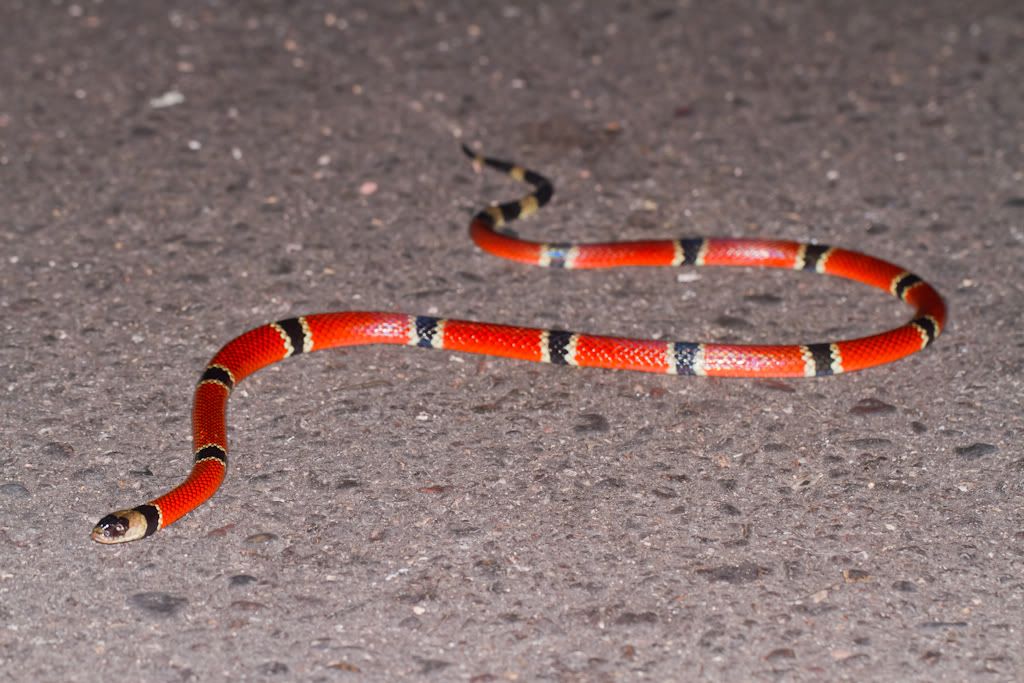 Not as found, but a better makes for better photos: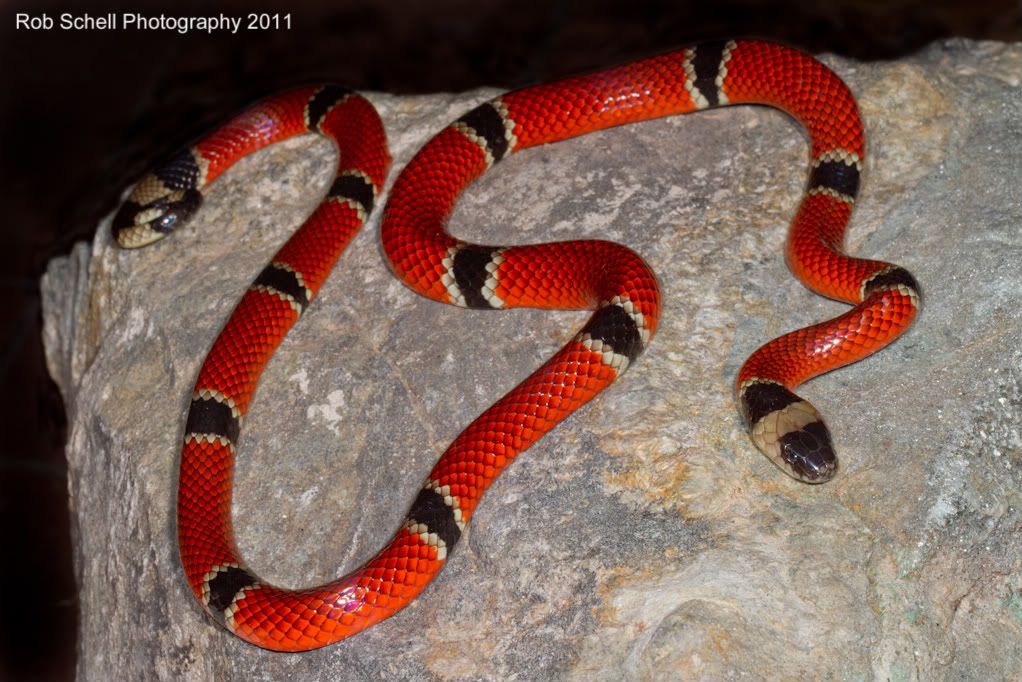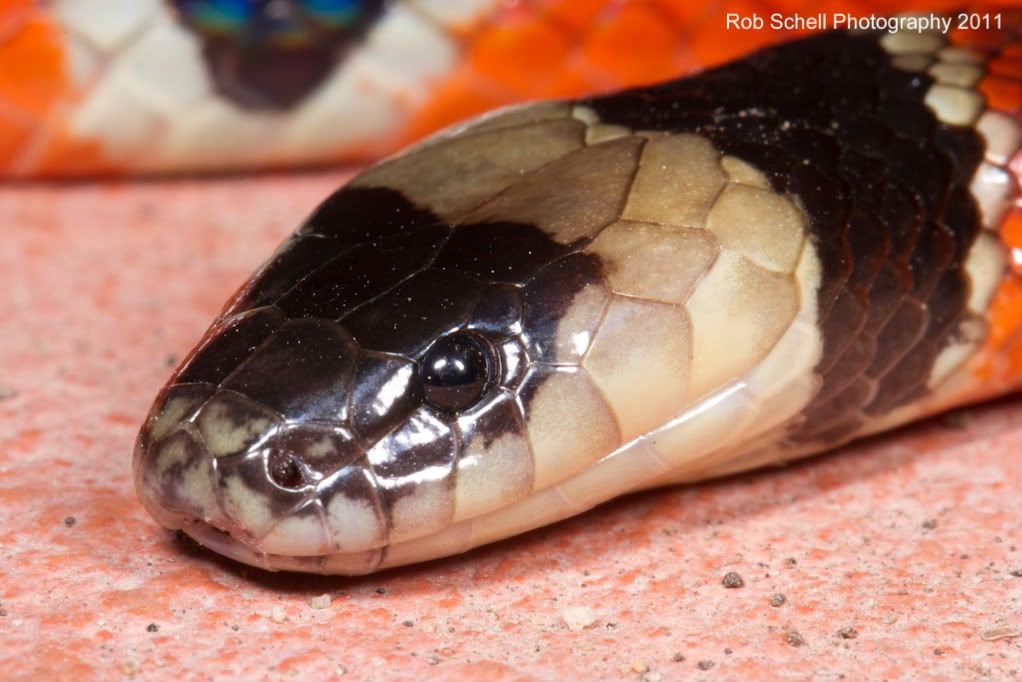 It was 01:30 at this point, so we decided to head back to the hotel and get some rest.
We accidentally slept in the next day, but I can't say the extra rest wasn't welcomed.
We pretty much struck out that day and so enter night #3.
Storms were brewing around us the entire day. It rained a small amount in a few, localized spot, but we didn't get the deluge we'd hoped for, we were instead teased by lightning. Close enough to think that maybe it might make it our way, but far enough to know that it likely wouldn't.
The previous two nights, I had seen an old friend on the lower slopes of the road. While it didn't warrant an extensive photo shoot, I did want to get a voucher. I got out, snapped a couple shots and got back on the road. It wasn't until I downloaded my photos that I noticed, this individual was missing his front foot.
Couch's Spadefoot (
Scaphiopus couchii
)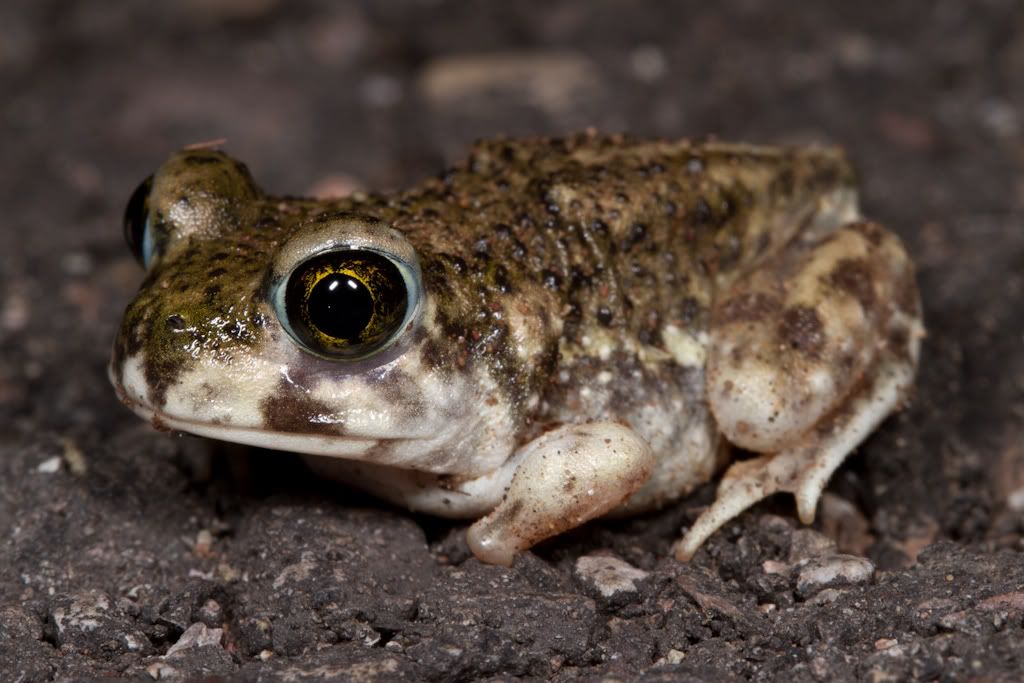 We continued hunting throughout the night, turning up several more awesome snakes.
We came across this neonate on the crawl. I was becoming very conscience of the next day's time constraints and thought it best to shoot it that evening sand spare ourselves from holding it over.
Mexican West-coast Rattlesnake (
Crotalus basiliscus
) neonate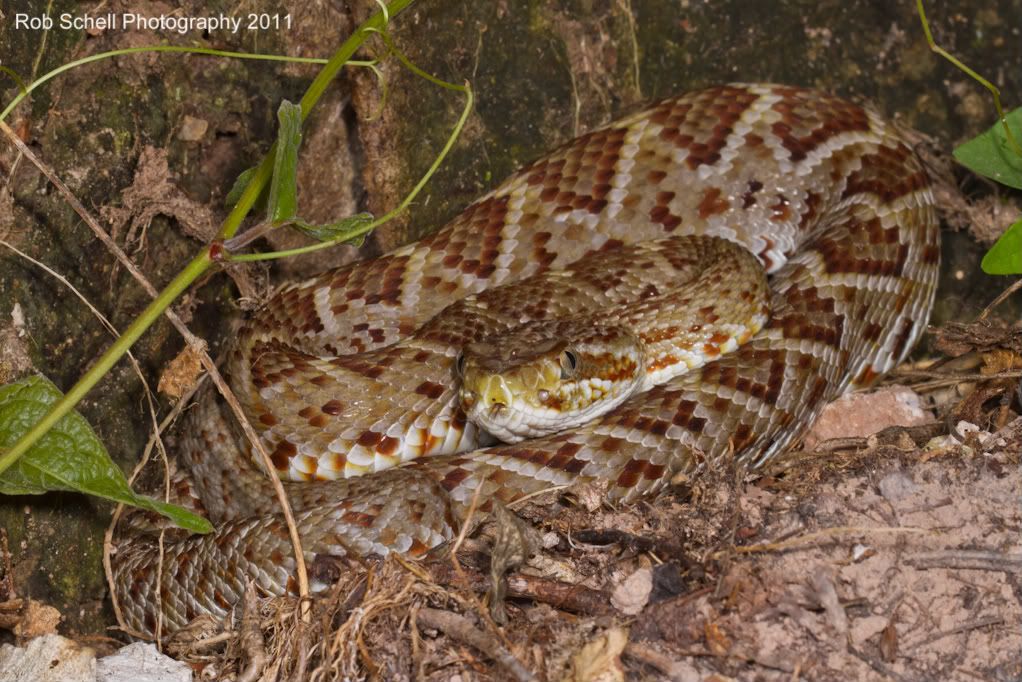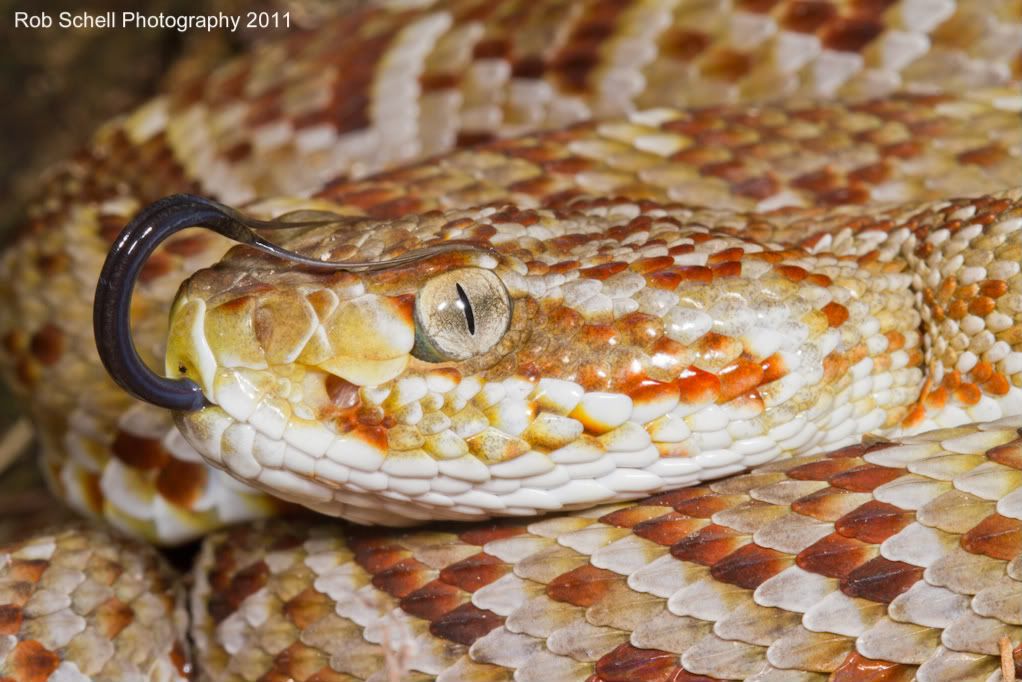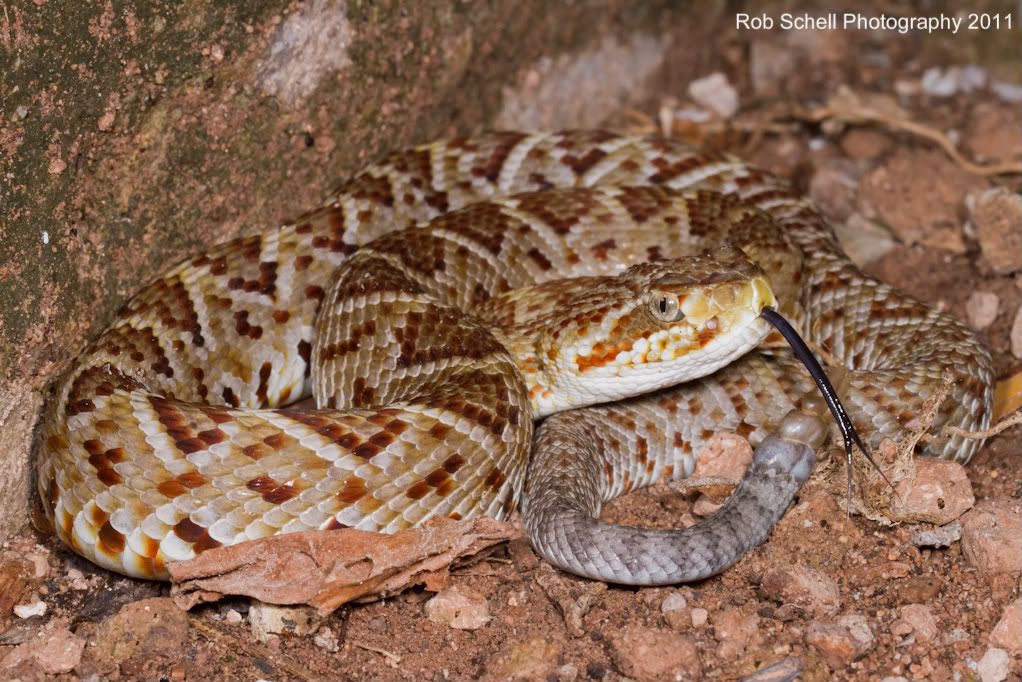 We were very pressed for time the next morning when we shot the previous night's captures. We had to get back to Hermosillo to meet the insurance adjuster about Scott's door by 18:00 so that only afforded us a couple of hours for our final Sinaloan photo-shoot. Suffice it to say, I got marginal results and I'm not very happy with any of these shots:
Mexican short-tailed snake (
Sympholis lippiens
)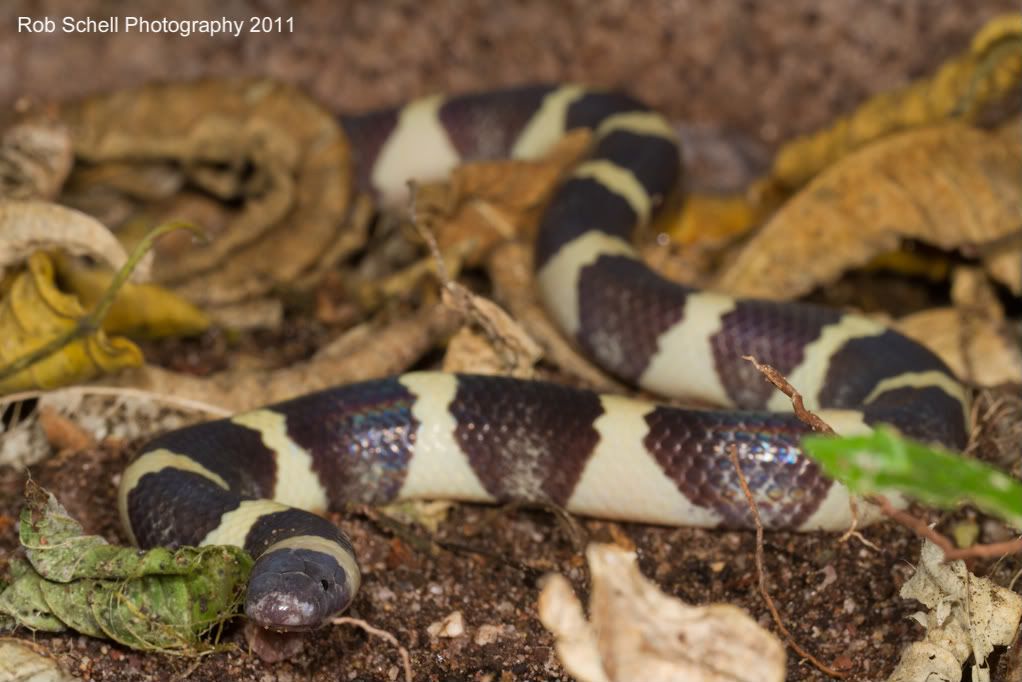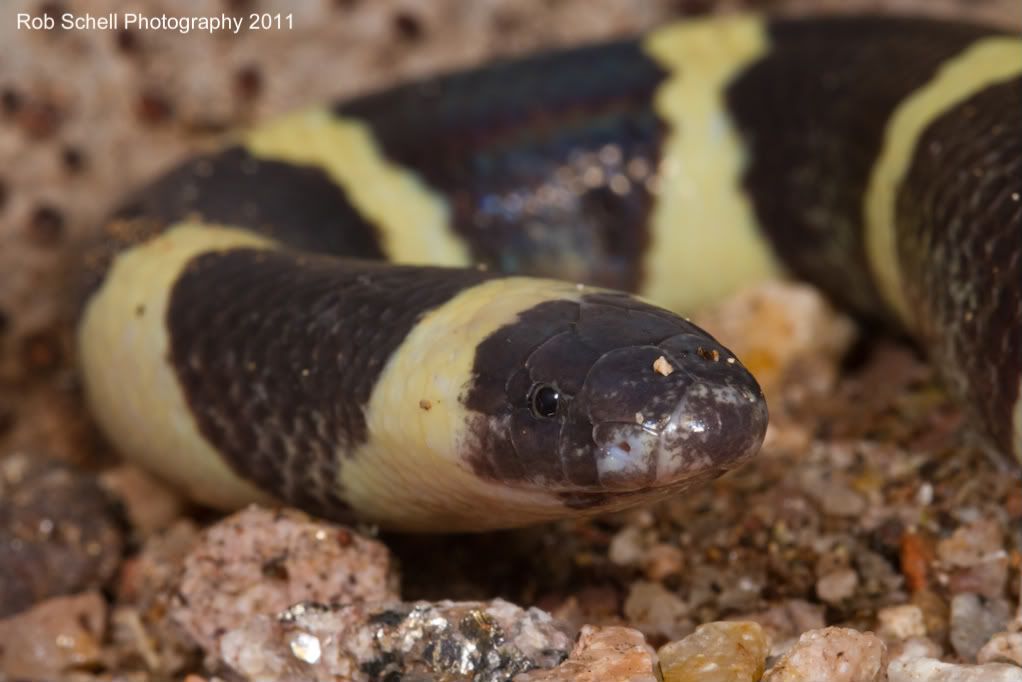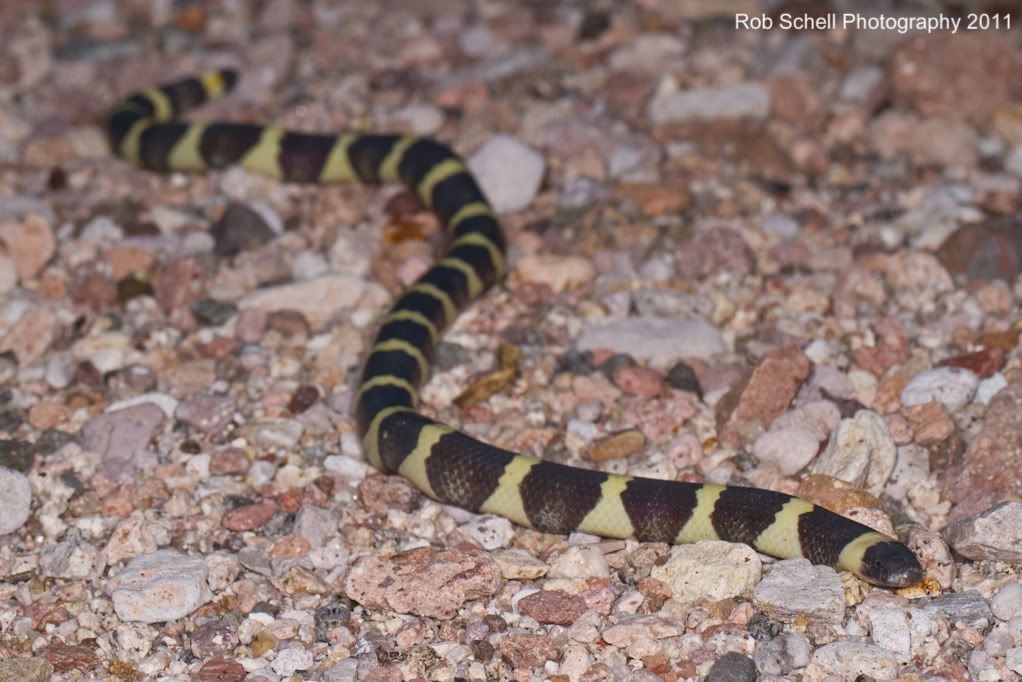 Sinaloan Saddled Leaf-nosed Snake (
Phyllorhynchus browni klauberi
)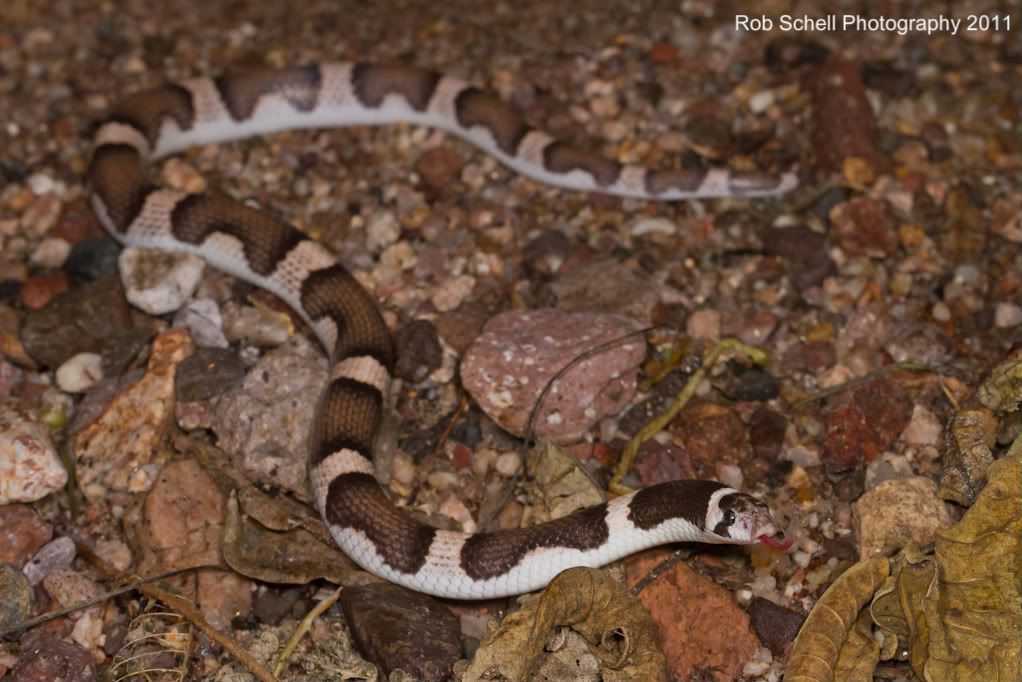 I was very excited to find one of each of these snakes alive.
And I take back what I said. I'm reasonably happy with these:
Black-headed Stripeless Snake (
Coniophanes lateritius lateritius
)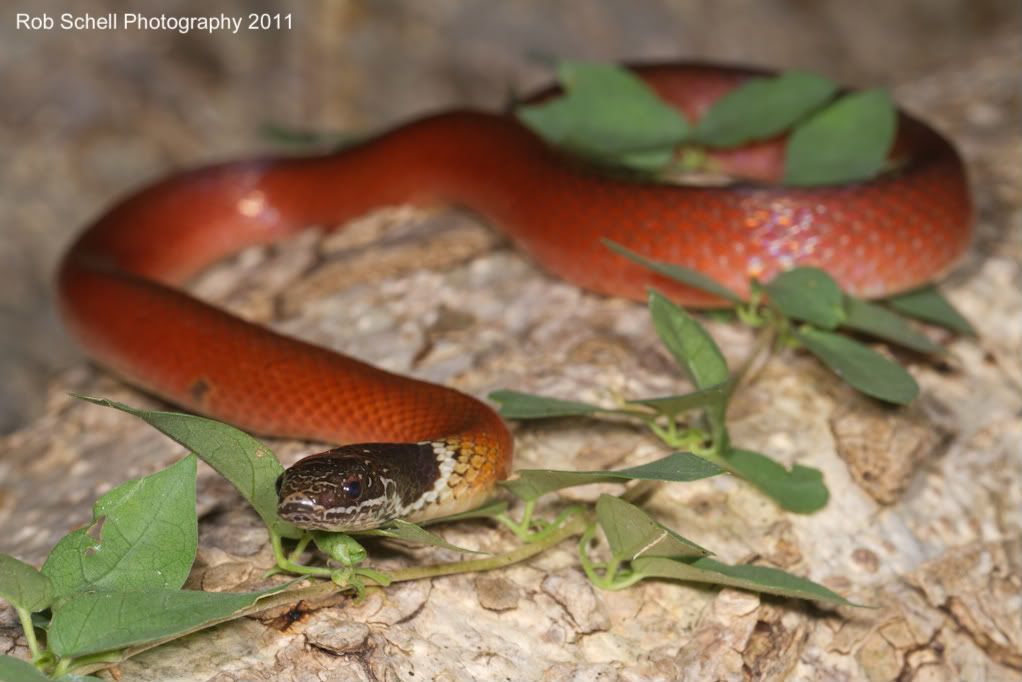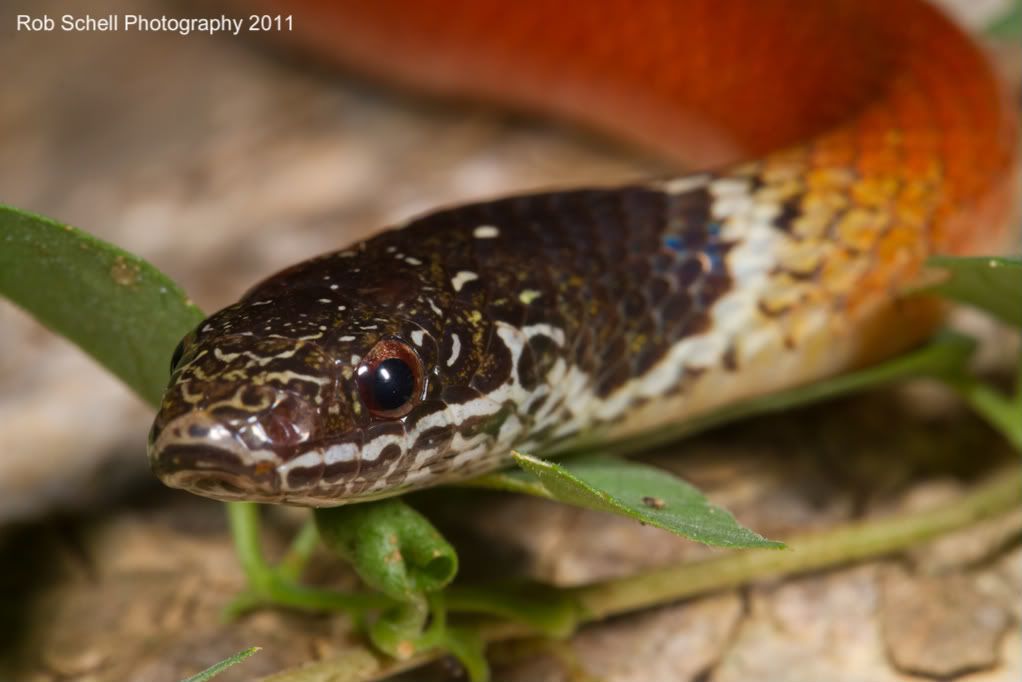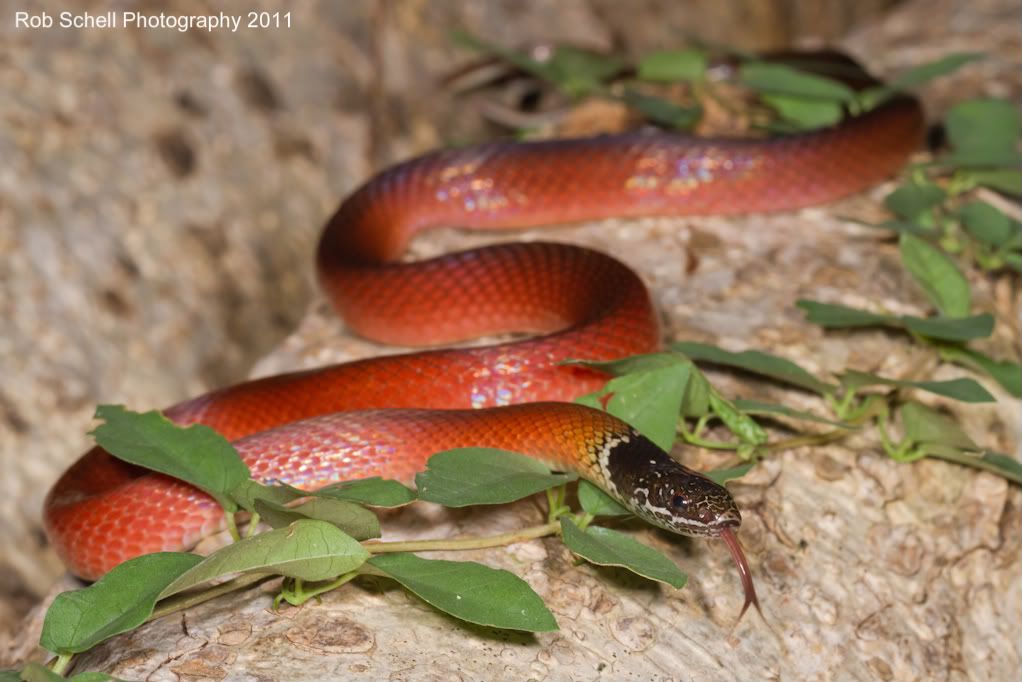 And finally: Central American Tree Snake (
Imantodes gemmistratus
)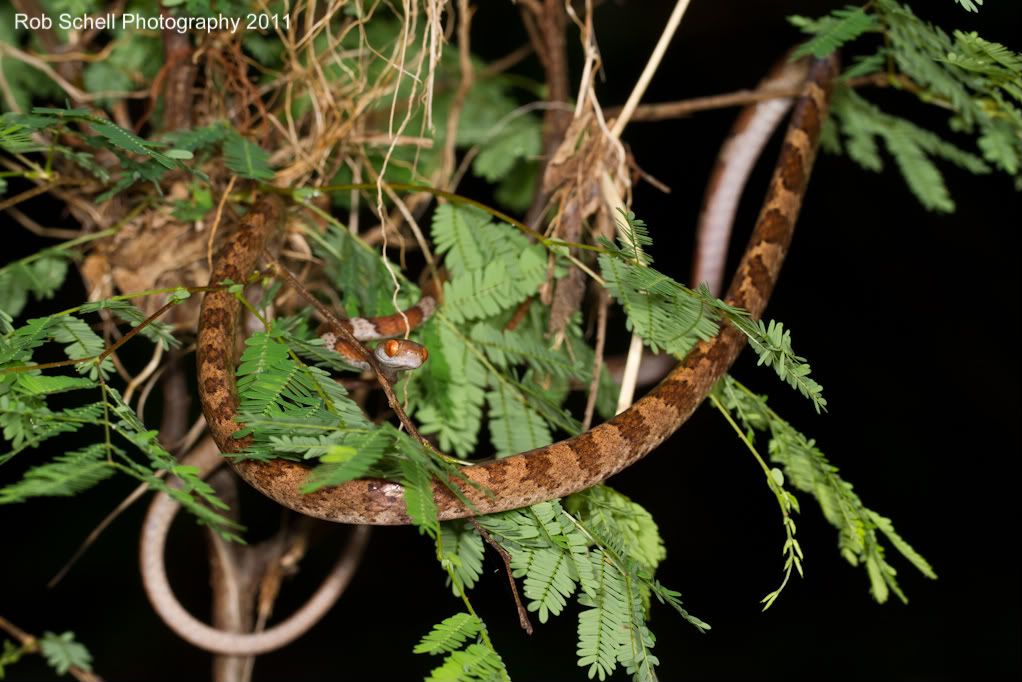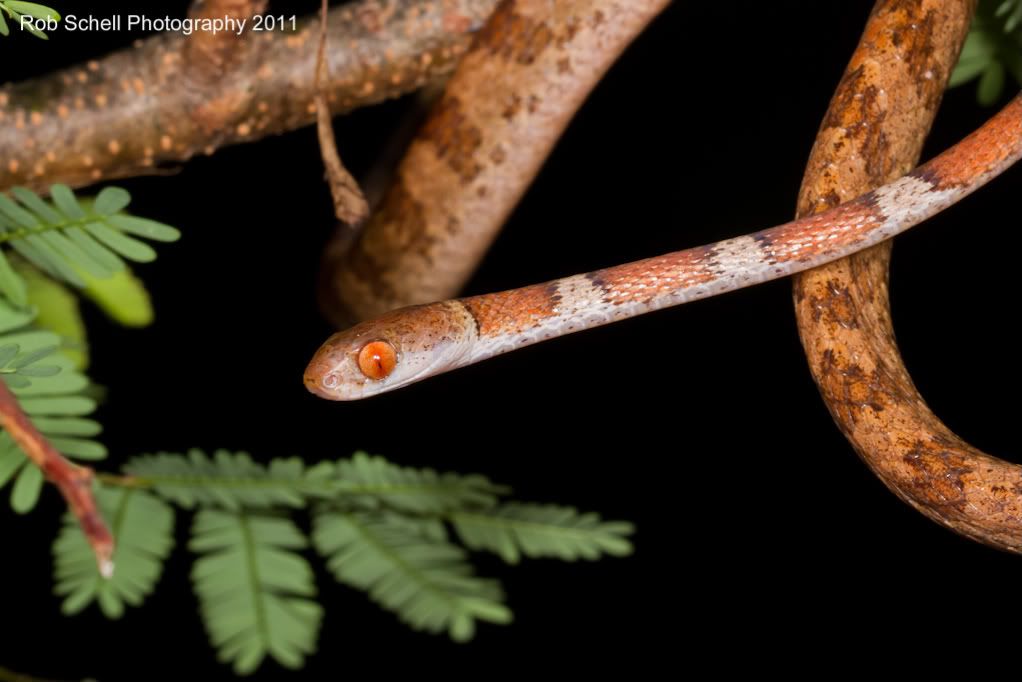 This snake was a nightmare to shoot. It's a tree-snake right? It should climb trees. Evidently, this snake never read that. Everytime I'd put him in a tree, his first move was to go to the ground?!? I spent an hour (if not more) with this snake trying to get it in a natural pose and to stop moving. Ok, one more story. Scott had much better luck than I had this last morning and got his shots in a reasonable amount of time. I however had a very bad morning. My flash was shorting out again, I had stepped in the creek, so my boot was soaked, I hadn't eaten and was sweating profusely, so I was dehydrated and light-headed, in retrospect, I've probably never been so close to passing out in my life. In an attempt to conserve time, I asked Scott to wrangle the snake while I went and shot another one. While he was doing to, he was distracted by an inch-worm. I know right? who has an Imantodes and gets distracted by a damned inch worm??? Anywho, he picks up his camera and snaps a photo of the little-guy only to look back and the snake is gone. Gone. Oh well. Time was up and I got what I got. like I said before, that's what return trips are for.
We pile into the truck, I down a couple liters of water and a couple bars and we make our way back north. We arrived in Hermosillo just in time to meet the adjuster, spent an hour doing paperwork. Went and grabbed dinner at a local spot and checked into the shittiest Mexican hotel I've stayed at to date.
The next morning we woke up early to try our luck for a species that is near and dear to my heart. We only had a couple hours to spend looking, so we'd have to make our time count. I was fortunate. Although I didn't get to spend as much time as I wanted to with this species, I did get a couple of shots that I'm happy with.
Subadult female Dickerson's Collared Lizard (
Crotaphytus dickersonae
)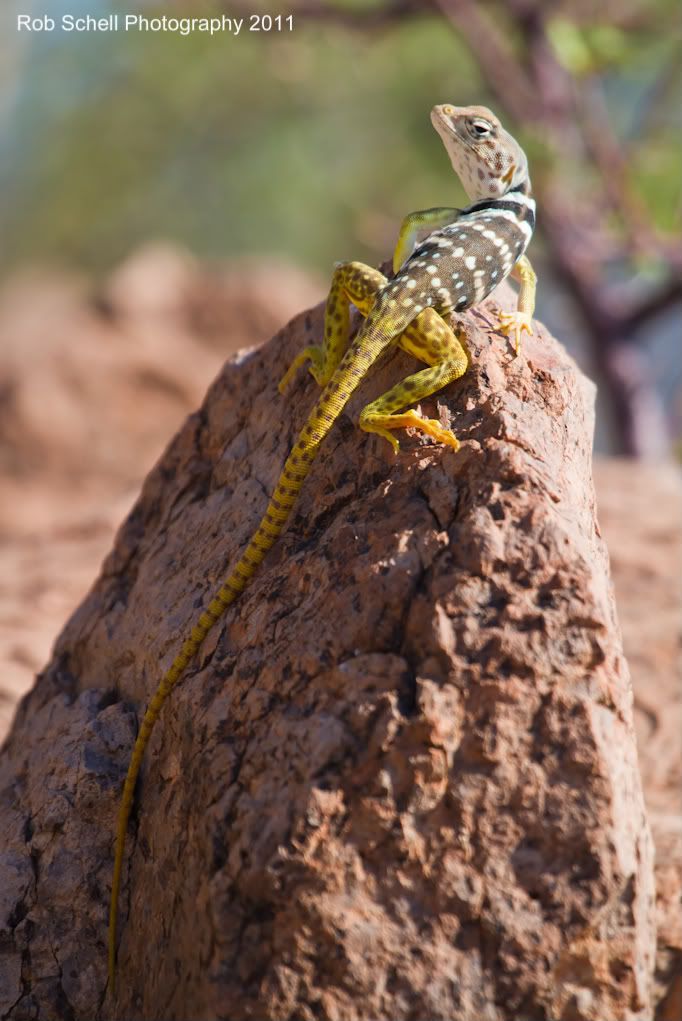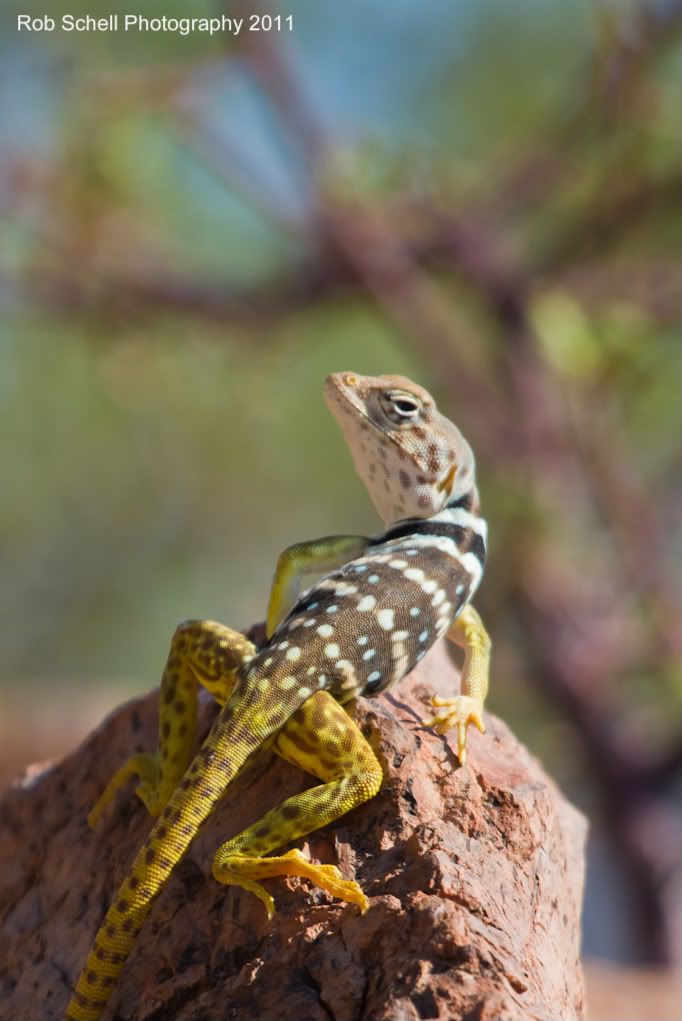 We left around 10:00 and headed back to Tucson. From there we drove to San Diego that evening, arriving ~01:30 and made it to our training at 07:00 Thursday morning.
For the record, we did shoot down for a whirlwind trip to Baja that weekend, and without rain, that place is desolate. We saw a handfull of Uta, Aspidoscelis and one D. dorsalis and one C. cerastes the entire weekend. I did not take a single photo the entire trip.
This post was not intended to be this long or verbose, but it accurately portrayed the trip, so if you held on this long, I appreciate your attention and hope you enjoyed it.
Also, If any of you are on Facebook, swing by and like my photography page at:
http://www.facebook.com/pages/Rob-Schel ... 3213035821
Cheers,
Rob