Over the weekend I decided to do a spot of herping.
Friday was a warm, sunny day. I decided to hit a spring not too far away. Nestled in a grassy meadow surrounded by rocky, piñon/juniper woodland, this lovely little mesic site rarely fails to produce, this day being no exception. I parked the ATV and strolled over to the spring and immediately spotted an
elegans
.
Wandering Garter enjoying a dip in the cool water.
I snapped off several photos and headed up hill a bit to flip some old car parts.
Turned up two of these little beauties, always a treat to find.
Great Basin Skink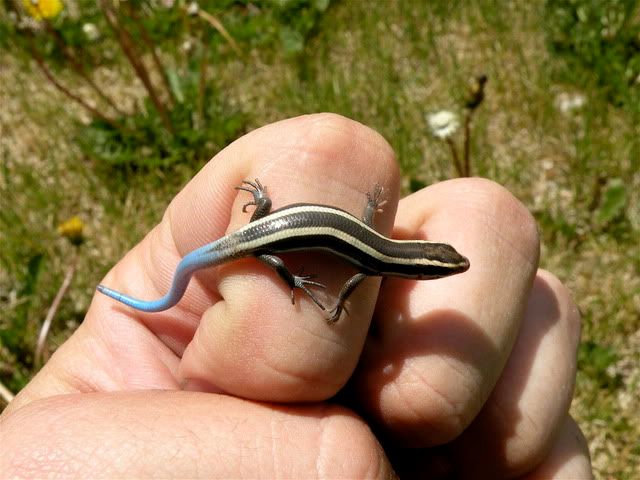 Brand-new skinklet, as I fondly dubbed it.
Carrying on up the hillside I spotted movement on an outcropping.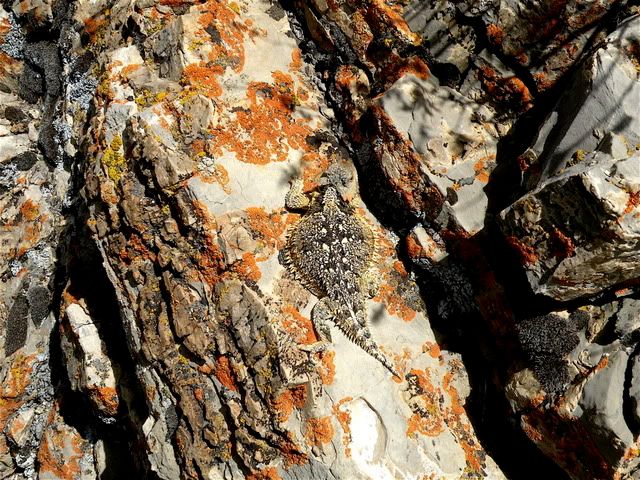 A pretty little short-horned, with much more yellow than I commonly see.
The rest of the day passed rather uneventfully, with trolling mountain trails on the ATV with an eye for tin and boards. Turned up a few
Sceloporus graciosus
and
S. occidentalis
, but little else.
Saturday brought with it a high in the upper 40s and overcast skies that were very liberal in dumping freezing rains over the desert and snow on the mountains. So no herping for me. That night ushered in gusty winds and more rain saturating the ground and dousing my hopes of having any luck the next day.
Regardless, Sunday morning I hopped in my truck and headed to dry, narrow, rarely visited canyon on the western slopes of the Egan range. The skies were still mostly cloudy, the high was to be no more than 60, so I popped in a CD and prepared more for a leisurely drive than a day of herping. I reached my canyon at 10:00, parked my truck and got out to start hiking. I made it no more than 10 feet before a sudden gust slapped me in the face with frigid air. A shiver prompted me to don a jacket. I set my camera back in the truck, doubting that I'd find anything worth photographing. The temperature was 58˚ at 6,800'. I spent about 10 minutes flipping rocks and checking the bases of trees, but of course found nothing. I decided to head back to the truck and call it an early day. Rounding a bend in the road I saw what I knew could only be one thing, though I refused to let myself get my hopes up at what I was seeing.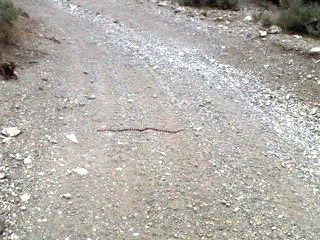 Taken via cell phone, but this is the sight that I'd been awaiting for 3 long years and hundreds of hours of consistent searching.
I slowly approached, refusing to stop as I repeatedly muttered "No.." to myself.
After the daze wore off, I moved in. About 10 feet away the animal started vibrating its tail in the gravel. When I reached a distance of about 4 feet from the snake it suddenly, and with much more feeling than one would expect a reptile outside at 58˚ to move, jerked into a striking pose, lunged once, and proceeded to writhe and twist violently on the road, popping its cloaca and musking profusely.
Once in hand it calmed down considerably, but this didn't prevent it from using its final defense mechanism. I watched it eye my thumb for a moment, then slowly and steadily it inched forward, opened its mouth, and clamped it down. Very calm and controlled, not at all like the whipsnakes or gophers that have nailed me in the past.
I grabbed my camera and relocated the snake a little way off the road to tray and snap photos. This proved to be more difficult than expected, the animal didn't enjoy sitting still.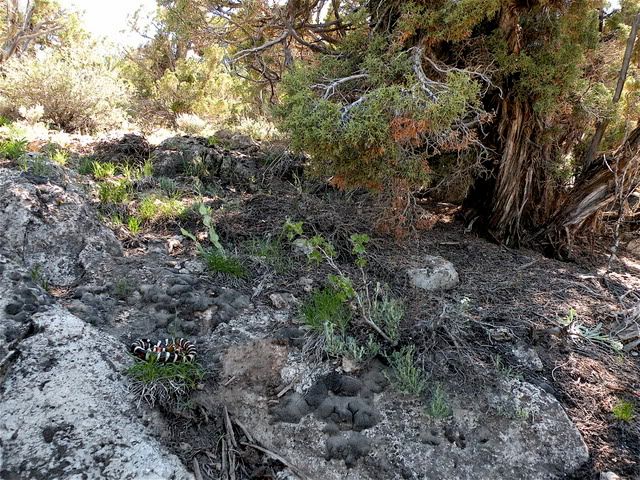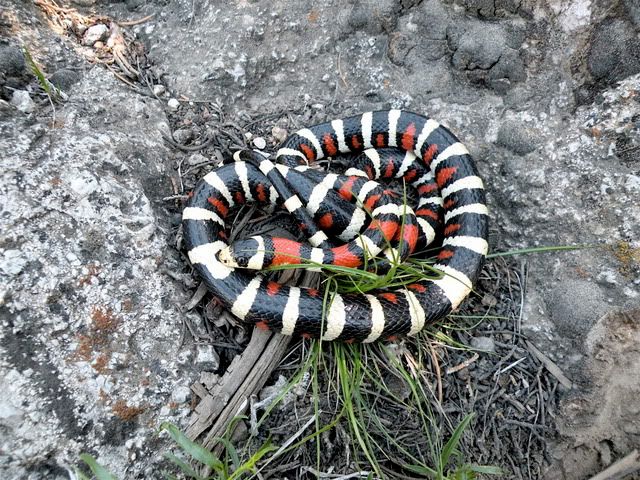 Utah Mountain Kingsnake,
Lampropeltis pyromelana infralabialis
My lifer
infralabialis,
and the first pyro I've seen in 14 years.