Howdy folks,
I'm back in college and here to report on my second half of 2017.
The board line I set up with my Dad last year has continued to produce snakes. Usually, the two of us are too busy to routinely check the place every week, so our visits have started to become sporadic.
The site still looks pretty healthy.
The board from the previous picture produced this Dekay's Brown Snake (
Storeria dekayi
). Later in the summer, we flipped several Northern Water Snakes, and a few Eastern Garter Snakes, all of which skidded away before we could get vouchers.
The rural roads that traverse Southern Maryland provide excellent road cruising opportunities for herps, especially during the hot summer months when the temperatures rise up to the mid-nineties during the daytime and slowly cool down around nighttime. It's prime season for Copperhead (
Agkistrodon contortrix
), so it was no surprise when I road cruised three individuals in a span of two hours on a mid-July night.
Some summer google earth scouting led me to investigate spots along Maryland's piedmont. I flipped my first Eastern Milk Snake (
Lampropeltis triangulum
) of the year under a piece of tin at one of these sites. An unusual find, given that the weather was sunny, with a high peaking at 87 degrees.
On the Coastal Plain, I flipped a board and found eggs. Of what species I'm not sure. They're most likely Black Racer eggs.
Further north but still on the Coastal Plain (New Jersey), I went herping with my dad for my 19th. The weather was cooler, dropping into the high seventies, with passing rain. Not the best weather for basking snakes, but good enough for snakes to be undercover. After around half an hour of cover flipping, I noticed something very peculiar about one of the bricks I was about to flip. My second "Coastal Plains" Milk Snake (
Lampropeltis triangulum 'temporalis'
) of the year.
My guess was the snake couldn't fit underneath the rock, so it utilized one of the cracked spaces to squeeze inside for shelter. Either way, it's one of the more peculiar ways i've found a snake. And typical of the Pine Barrens, I didn't see a single snake after finding it.
More luck was had on a trip to Southern Maryland. Within five minutes of grabbing my potato rake and exiting the car, I flipped a fresh adult Mole Kingsnake (
Lampropeltis rhombomaculata
) underneath a board.
Several trash sites around my area have a dense population of Smooth Earth Snakes (
Virginia valeriae valeriae
). Many of the individuals I found this summer appeared to be gravid females, large in size with wide girth near their posterior region.
Later in August, I made my first trip to Maryland's Eastern Shore for vacation before school. One day was reserved for herping, so I tried to make the most of it. The flies and ticks were horrible, some of the worst i've ever experienced. I walked out to the first spot and received thirty fly/mosquito bites. The next spot was more forgiving, and rewarded a Black Rat Snake (
Pantherophis obsoletus
) flipped under a large sheet of tin.
Towards mid-day, I found another piece of tin, around 1ft x 2 fit in length. I didn't think much of it, but got my potato rake and flipped it anyways. Underneath was my first Maryland Eastern King Snake (
Lampropeltis getula
). I'd never seen a juvenile kingsnake before. The peach colored spots along the lateral side of the body made me think I was a few hundred miles south – in Georgia. The king was followed by a swarm of seed ticks – the devil's spawn. Fortunately, they crawled up my pants, instead of my legs, and were dispatched by a fast acting lint roller.
Moving to the Western Shore, I found more mosquitoes and more seed ticks. Instead of another Eastern King, I found the most beautiful Eastern Box Turtle (
Terrapene carolina
) I've ever seen in my entire life.
Along with the first Red Salamander (
Pseudotriton ruber ruber
) i've found away from water.
Towards September, when the weather began to cool into the 70's, I had several opportunities to go snake hunting. A new site I discovered on Google Earth looked great for more Mole Kingsnakes (
Lampropeltis rhombomaculata
).
Turns out I was right on the mark....
The area also had a lot of other snakes I haven't seen in a long time, like a juvenile Eastern Ribbon Snake (
Thamnophis sauritus sauritus
), found on the crawl near a beaver pond.
I've always found Ribbon Snakes where there are high densities of Northern Cricket Frogs (
Acris crepitans
). As predicted, we saw several, but I only stopped to photograph one individual.
Marbled Salamanders (
Ambystoma opacum
) were also plentiful.
This beautiful young-of-year Hognose Snake (
Heterodon platirhinos
) was spotted by a friend of mine. We were taking pictures of a deer skull found in the middle of the woods, when he detected some rustling in the leaf litter nearby. While most of us continued pushing forward to get back to some hiking trails, he yelled back for us. This was the first Hog i've seen this year.
A single Six-lined Racerunner (
Aspidoscelis sexlineata
) was also seen the same day, which was a welcomed find. These lizards reach their northern terminus in Southern Maryland, and have declined in some regions throughout the state. Only a few sites along the Western Shore seem to have viable populations.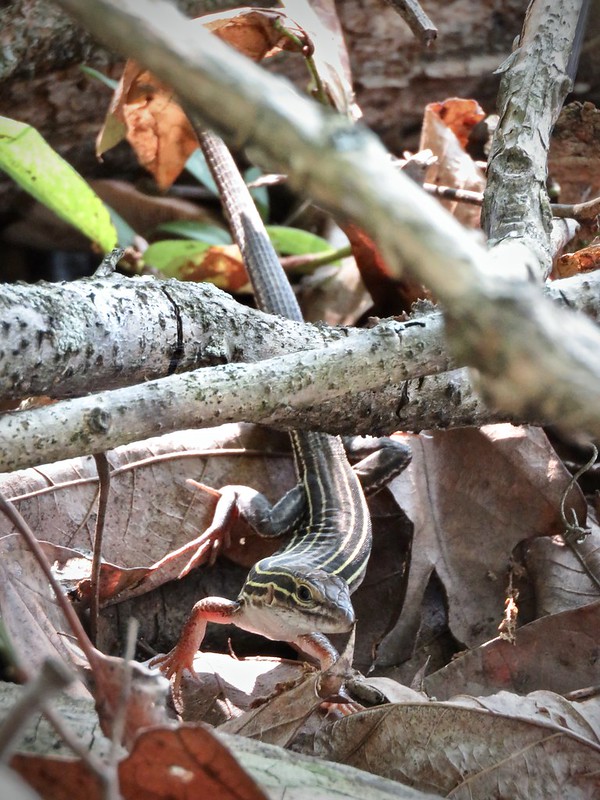 Perhaps the most exciting amphibian find of the year for me was found in mid-September. The Eastern Mud Salamander (
Pseudotriton montanus montanus
) is an anomaly in the Northeast United States. People in New Jersey and Pennsylvania have searched for this species for years at historic sites with no results. Because of their rarity in my home state, the species has become a holy grail of sorts to me. Further south in Maryland and parts of Delaware, Muds are a bit more common – that is to say, there's more than two records of them for the state. By no means are they easy to find, but at least I had a fighting chance to go search for them now that I'm in a state with recent observations.
Their habitat is very interesting – muddy seeps, high in iron content, skunk cabbage growing everywhere and plenty of rotten logs. Very fun to herp in, if you don't mind getting your boots full of muck.
Two hours of carefully sifting through leaf litter and flipping logs went by before I uncovered the prize. Actually, we found two individuals. The first one, however, managed to escape from our hands and disappeared once it hit the ground (coincidentally, a series of crayfish burrows littered the ground where we dropped it). About an hour later, we found another, larger individual. Honestly, I never expected to find so many in so little time. I had heard stories of people spending weeks of searching before finally finding a larva, and I found two in just an afternoon trip. I hope to visit the site again soon, and monitor the population.
Later in the season, we had a large dry spell, which made flipping conditions sub-par. Nevertheless, I found another Milk Snake (
Lampropeltis triangulum
) with a nice skin coat, unfortunately in shed.
The new spot which produced a baby Mole Kingsnake (
Lampropeltis rhombomaculata
) also produced this adult.
And a juvenile Black Racer (
Coluber constrictor
)
Northern Ringneck Snakes (
Diadophis punctatus edwardsii
) are super cool, but are smelly and uncooperative for photographs.
Later in the week on the Maryland Piedmont, we went hiking at a spot I haven't been to in years and discovered one of the crazier
in-situ
finds I've had. The juvenile Eastern Hognose Snake (
Heterodon platirhinos
) had entered a rotten log in search of toads.
Surprisingly, we found two Four-toed Salamanders (
Hemidactylium scutatum
) under logs nearby. Even though we were in perpetual drought and most of the logs were very dry in nature.
A rocket run back to the Western Shore in October was slower in nature. The only snake I found was this Northern Red-bellied Snake (
Storeria occipitomaculata
) flipped under a large piece of carpet that looked appetizing for King and Milk Snakes.
Also had a nice double flip photo-op with these Eastern Smooth Earth Snakes (
Virginia valeriae valeriae
)
This Northern Black Racer (
Coluber constrictor constrictor
) was just about to turn black, you can still see his blotches reminiscent of his juvenile youth.
My point-and-shoot camera has it's flaws, but one of the great things about it is its "super zoom" capabilities. It's great for photographing birds... it's also handy for things you don't want to get close to.
Exhibit A: European Hornets
Come November and the weather cooled down but the drought remained. It would be a few more weeks before some substantial rainfall came back. When it did, we had some salamander activity.
Spotted Salamander
(Ambystoma maculatum)
Eastern Newt – Eft Phase
(Notopthalmus viridescens viridescens)
Not a salamander, but a salamander hunter. Eastern Garter Snake
(Thamnophis sirtalis sirtalis)
Some friends wanted to go see some more salamanders now that they moved to the Northeast US, so I took the opportunity to travel a few hours into Western Maryland near the Pennsylvania/West Virginia border. I had a few things on my mind: Green Salamanders, Valley and Ridge Salamanders and many more potential things in an area I rarely visit.
The trip took us into some strange Appalachian Towns. For lunch, we stopped in Accident, Maryland. Famous for being ranked one on the "52 Weird Names Of Places In The United States That You Just Can't Believe Are Real" list.
The town is small: less than 500 people live there. There's a general store, a few churches, houses, a hardware/industry store, and a country restaurant which made a great chicken dinner.
The churches seem to have a sense of humor.
So did the nearby gas station.
We didn't find any of the targets. But the salamanders were out and about. My college (University of Maryland) happened to be the headquarters of Richard Highton and his students, several of which contributed immensely to Maryland salamander knowledge and Salamander knowledge in general. I'm pretty sure we hit the same hillsides and roadside north-facing slopes as they did long ago, so it's pretty fun to continue his legacy.
The most abundant species (shocker) was the Eastern Red-backed Salamander (Plethodon cinereus).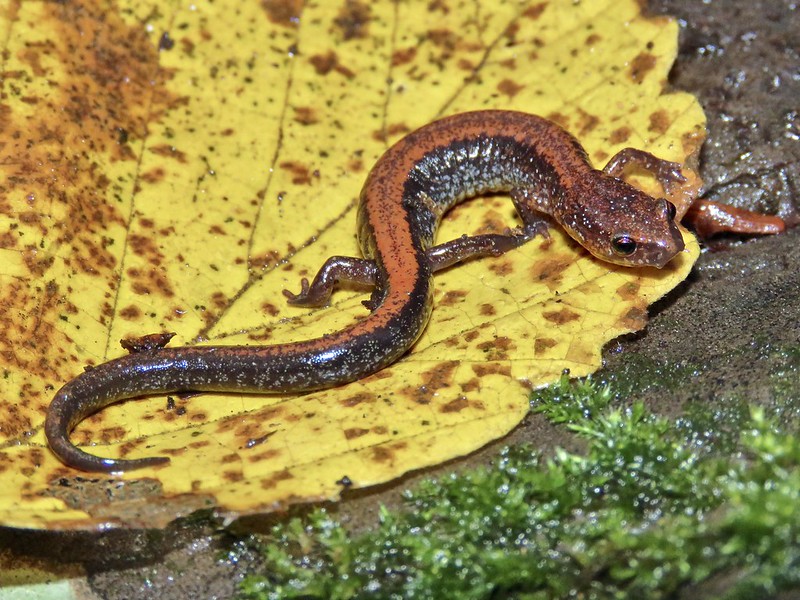 There were also Slimy Salamanders
(Plethodon glutinosus)
.
And Spring Salamanders
(Gyrinophilus porphyriticus porphyriticus)
. My first adult too! Awesome!
Here's the habitat. Which supposedly also has Seal Salamanders in the creeks as well as Valley and Ridge Salamanders plus Wehrle's Salamanders on the hillsides above. Grr... I'll get back to those species soon. The microhabitat was probably too moist for the latter species.
During Thanksgiving Break it's become a tradition to go look for Tiger Salamanders. The search ended anti-climactically – with no Tigers. But as a consolation prize I flipped three New Jersey Chorus Frogs
(Pseudacris kalmi)
underneath a piece of plastic.
So I'm a bit early when it comes to End of the Year posts, but I've just decided to end it there, even though in late December I always try and fit in some herping and birding in Florida and adjacent southeast states with my dad. But what I'll likely end up doing is saving whatever I find there in a separate post covering winter's herps. Anyways, I'm composing this super late and there's final exams to study for. So until next thread, I hope you all enjoyed. Try not to kill eachother.
– Justin