While driving down from St. Louis, I encountered this male Eastern Box Turtle crossing the road.
As a neared Snake Road, I stopped at waterway and found this Midland Water Snake.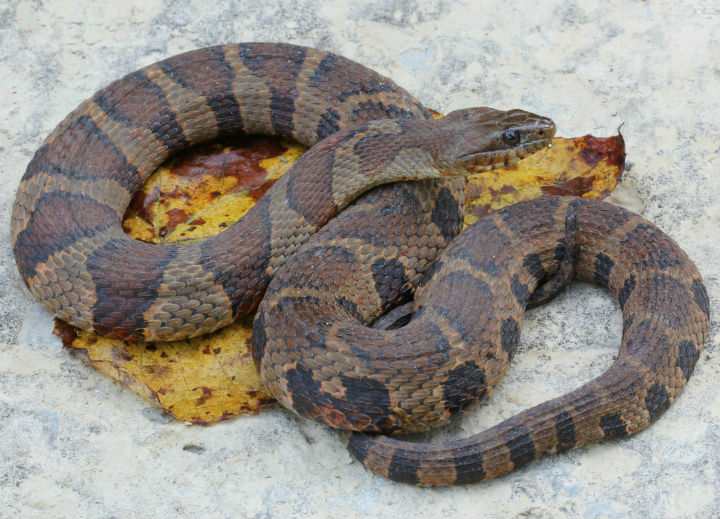 A drab Green Frog hanging out in a creek.
Eventually I made it to Snake Road.
Southern Leopard Frogs are very common there.
Cave Salamander.
A tiny Ringneck Snake.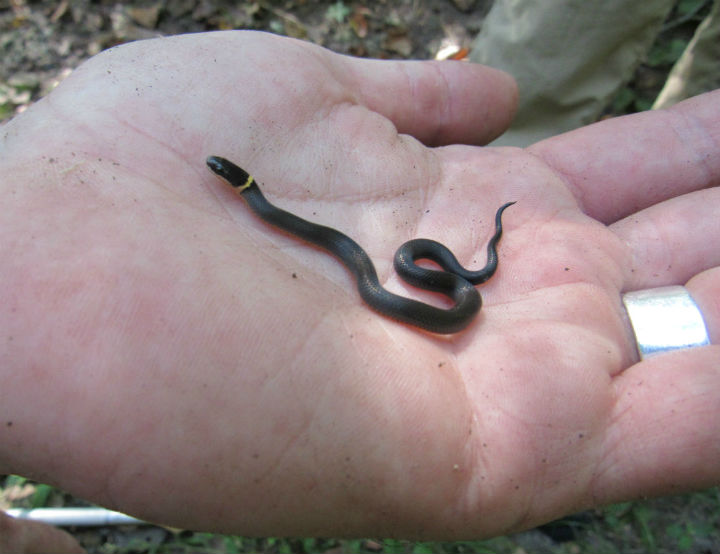 A view of the swamp that borders parts of the road.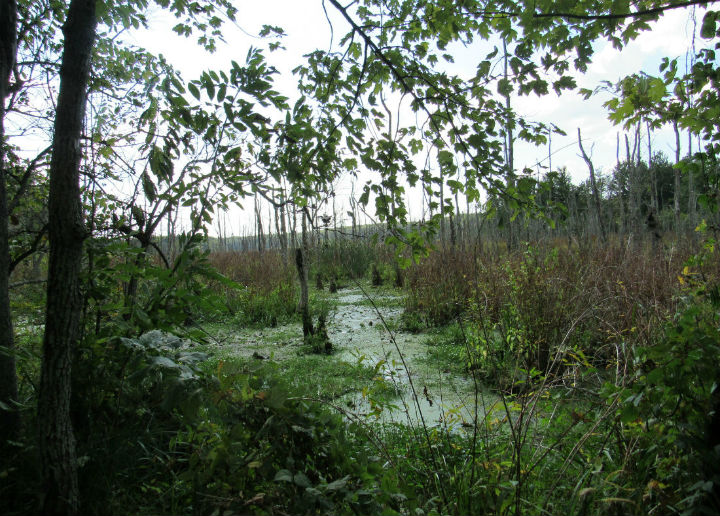 Eastern Garter Snake.
Cricket Frogs were regularly seen hopping through the undergrowth.
A handsome Black Rat Snake.
Blue Lobelia was in bloom.
Longtailed Salamanders were easy to find along creeks.
Later that night I saw this Timber Rattlesnake crossing the Big Muddy River levee.
On the following day I checked out the Cache River.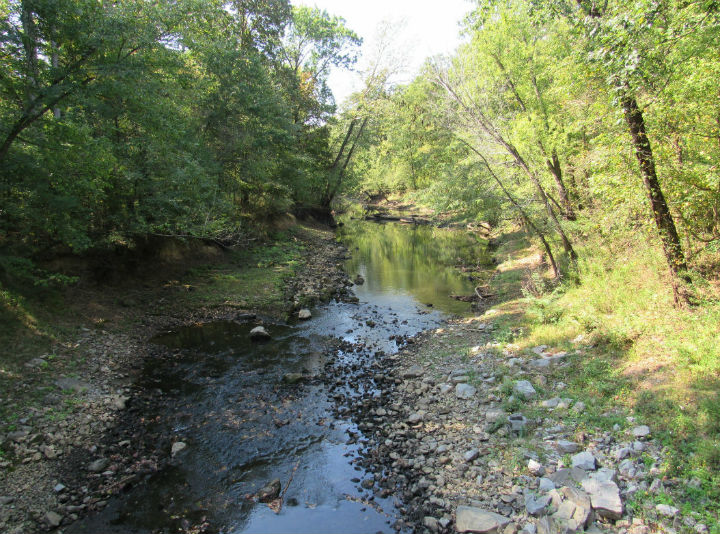 A Bess Beetle watching a mosquito bite me.
One of two Copperbelly Water Snakes seen on the hike.
Red-ear Sliders can usually be seen basking on logs in the river and there were a fair number of them out.
The area's cypress swamp was rather dry. The weather for the entire trip was warm and dry.
But that didn't stop me from finding a few amphibians, like this Mole Salamander.
Central Newt.
A good looking male Marbled Salamander.
Southern Leopard Frog.
This juvenile Cottonmouth was rather well marked.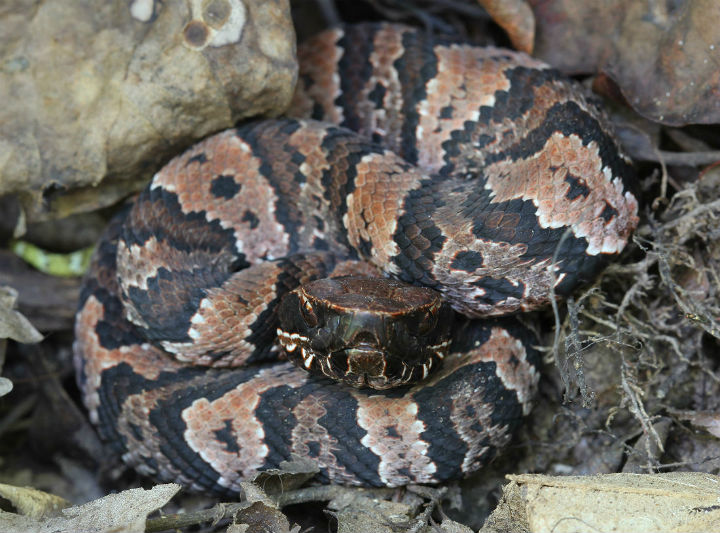 Mole Salamander
The following day I went back to Snake Road.
Yellowbelly Water Snake.
Winter's Pond, on the north end of the road.
Young Cottonmouth.
There were a lot of fungi to be seen - this is Chicken-of-the-woods - named because of its edibility.
I saw this nice-sized Rough Green Snake.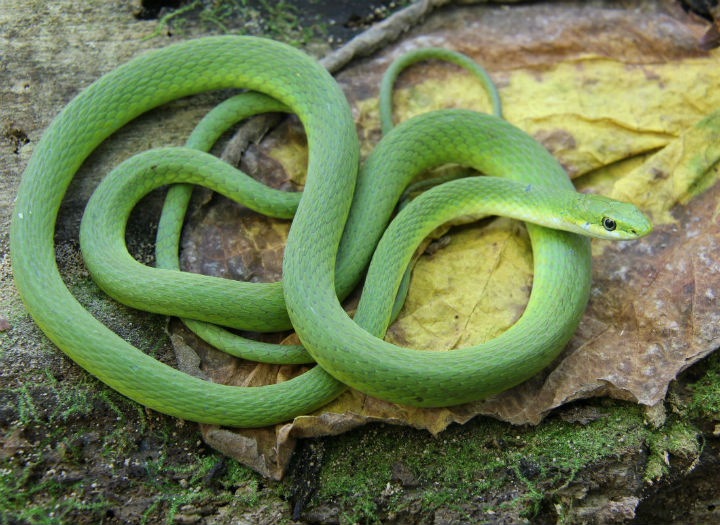 Eastern Fence Lizards were seen every once in awhile.
My second Black Rat Snake of the trip.
I had my first encounter ever with a Thread-legged Bug (Emesaya brevipennis) - and it was good.
The second Timber Rattlesnake seen on the trip, this one was hiding under a log.
A green Cricket Frog (most were brown).
A young Yellowbelly Water Snake.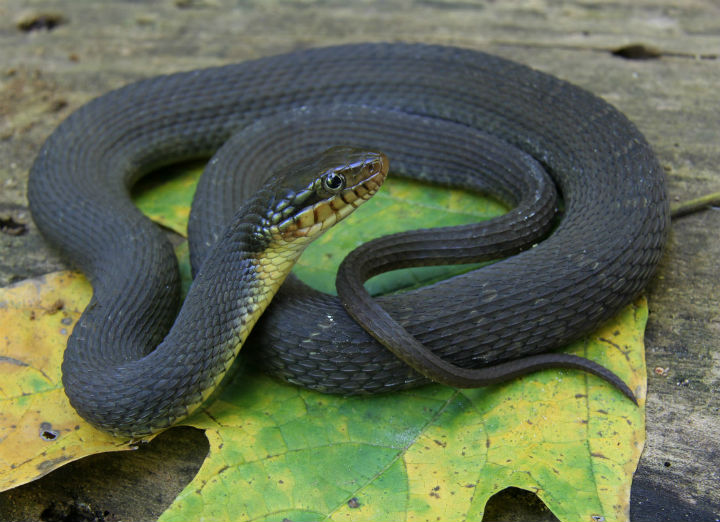 I took a trip out to a State Park known for its impressive rock formations.
Slimy Salamanders were easily found.
A Cricket Frog showing how variable they can be in color and pattern.
This was a pretty good place for Five-lined Skinks.
Spring Peeper.
These Jack-O-Lantern Mushrooms were hard not to notice.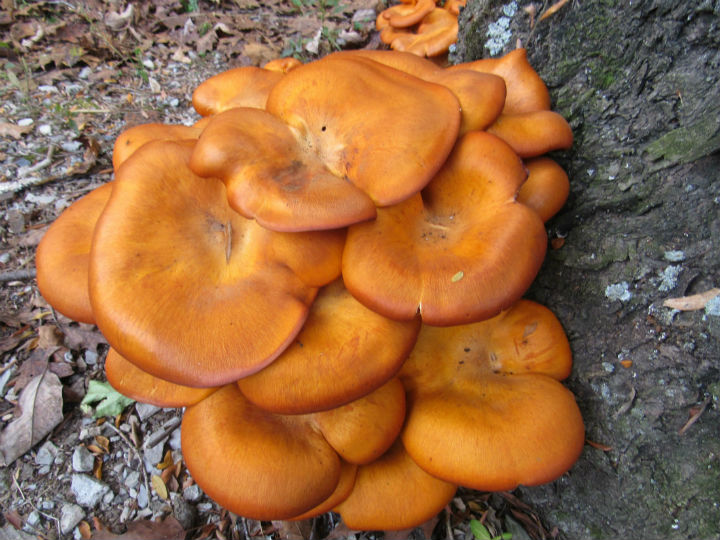 American Toad.
Green Frogs were commonly encountered in creeks.
Upland Chorus Frog.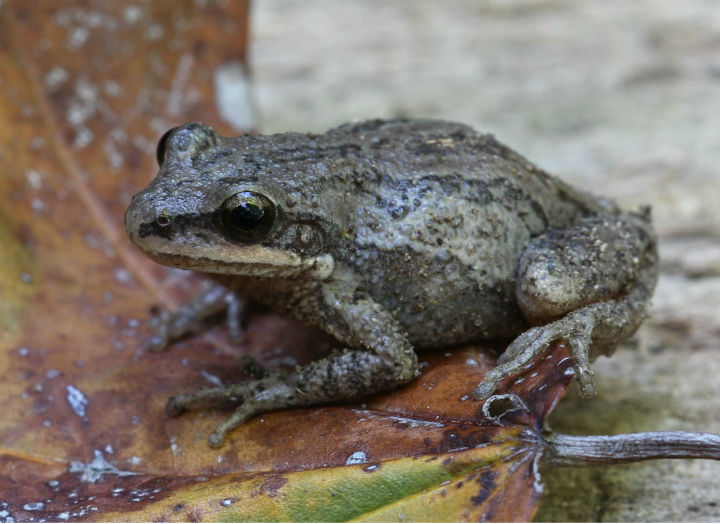 Carbondale humor.
The next day I took a drive to the Mississippia River. Along the way, I checked out this roadside pond.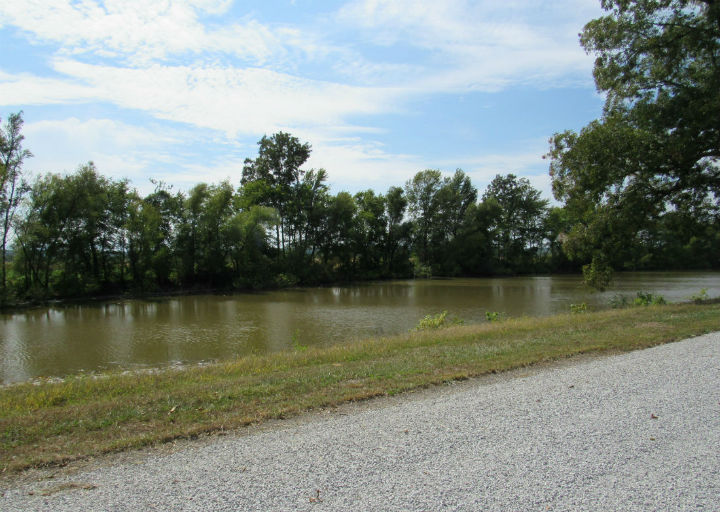 Turtle Island (mostly Red-ear Sliders).
Yellowbelly Water Snake.
Midland Painted Turtle.
A Great Blue Heron/Turtle combo.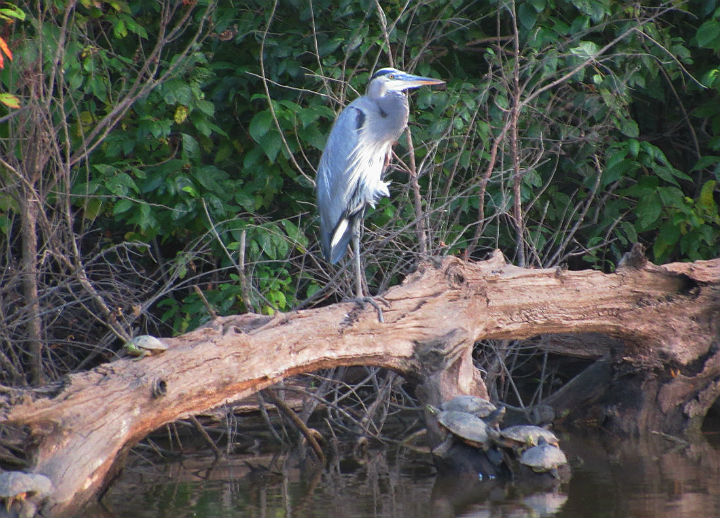 This ditch that I came across later didn't look like much, but it had herps too.
A huge Midland Water Snake.
Red-ear Slider.
Eventually I made it to the river.
Painted Lady.
Spotted Salamander.
Turkey Vultures.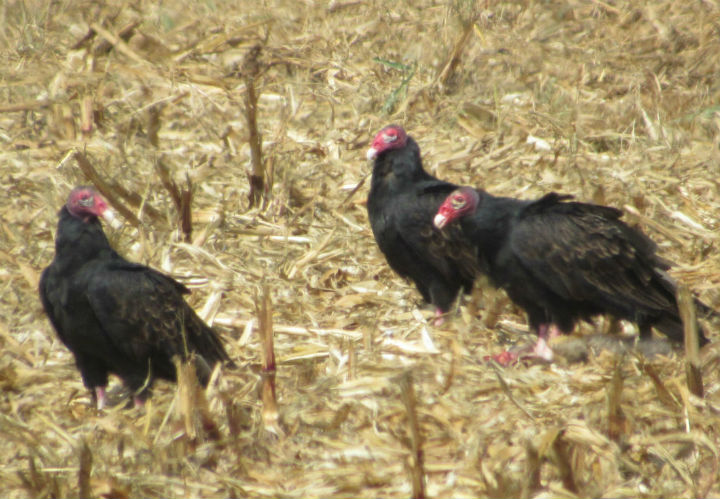 A late night Leopard Frog seen on the way back.
The next day I went back to Snake Road, where Asters were in bloom everywhere.
A Cottonmouth saying "cheese" for my camera.
Yellowbelly Water Snakes were the second most commonly encountered snakes after Cottonmouths.
Green Treefrog.
Rough Green Snake.
Fowler's Toad.
The third Black Rat Snake of the trip, crossing the road.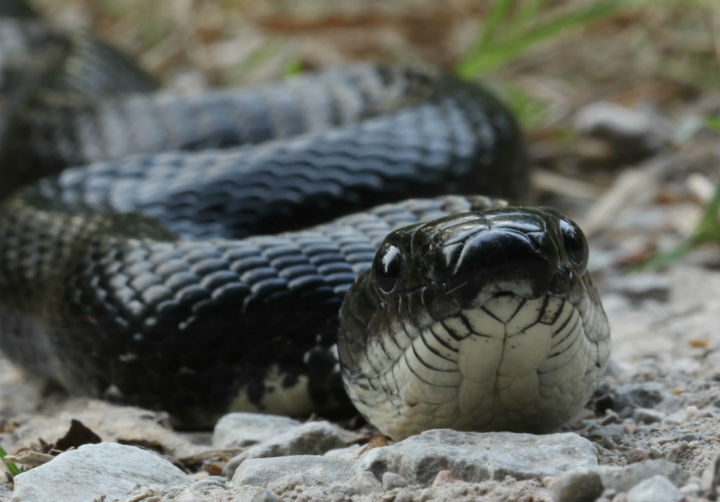 Earth Boring Beetle.
The third Timber Rattlesnake of the trip, a junenile.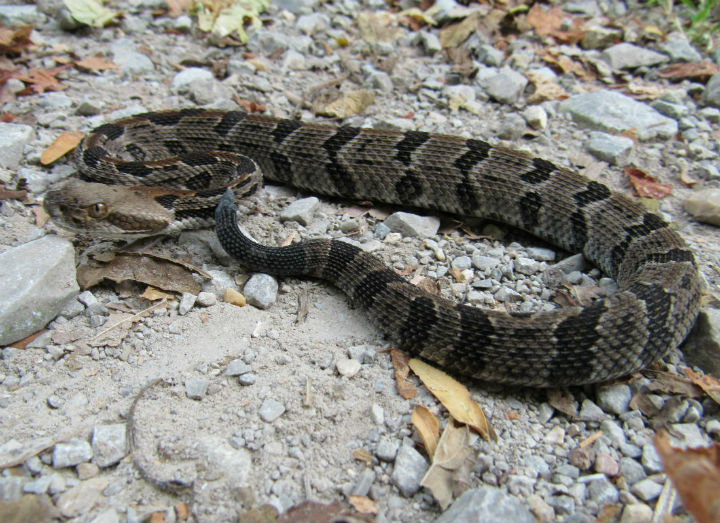 It seemed that juvenile Cottonmouths were much more frequently seen than adults compared to my previous seven trips to Snake Road.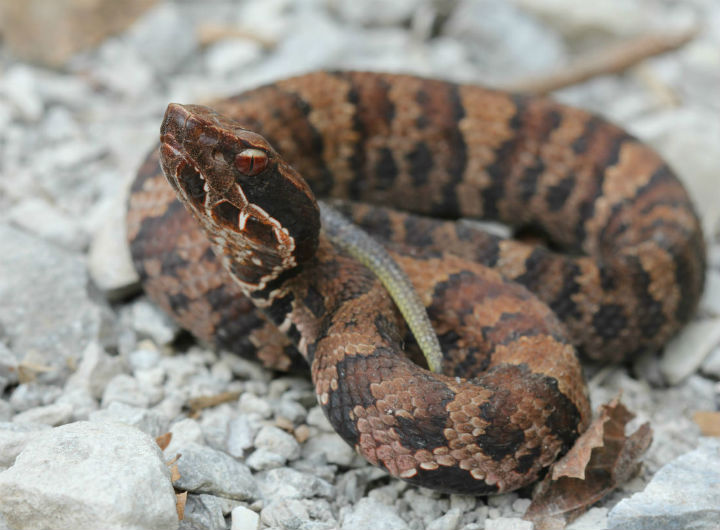 Before long the herping day was over.
The following day I did one last hike on Snake Road.
Cottonmouths were a common sight, we saw over twenty on that day.
Dragonflies were out and about.
A Rough Green Snake in a tangle of vegetation.
American Toad.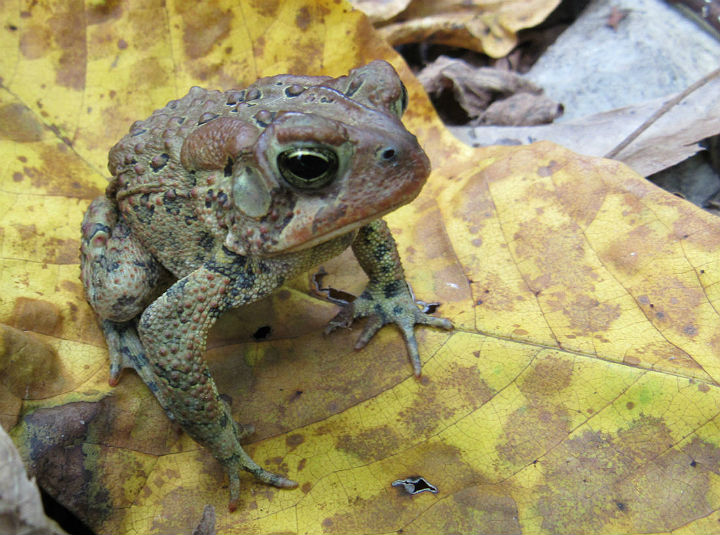 The only Western Ribbon Snake that I saw on the trip was this juvenile.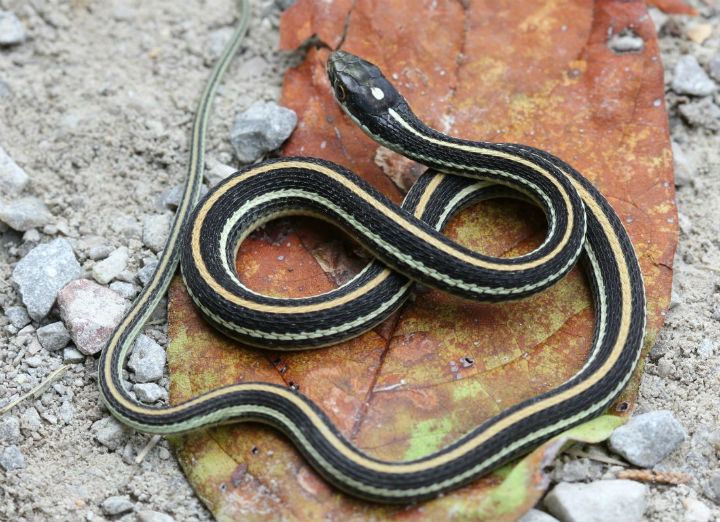 A cool rock formation that can be seen from Snake Road.
Courting Cottonmouths contemplating making babies for next year's trip.
The End.