Last Friday, winter semester ended, and it saw me cruising south along I-81 to the music of Allison Krauss and George Strait toward what may be properly called "Salamander Mecca," the hills of Western North Carolina. As I rolled south, I noticed a tanker truck for Sheetz that had the words, "Hottest coffee on the interstate," etched on the back of the tanker, along with a flammable placard. No kidding about that hot coffee, I thought! Only later did it hit me the truck was hauling gas but advertising for the coffee!! Upon reaching the heart of Appalachia off the interstate, the lush foliage of the Shenandoah Valley disappeared with the elevation increase along the Virginia-Tennessee border, and by the time I reached my quaint motel destination, none of the deciduous trees had any leaves on them, and only the evergreens high on the ridges hinted at life's persistence in the steep stream ravines. Since this trip was a joint mission with my girlfriend Bethany Avilla (Rich in Reptiles--Even a blind squirrel gets a nut sometimes I suppose), I went out that night to scout for good herping habitat and likely logs for our foremost target species, the Yonahlossee Salamander, but didn't turn any.
Upon Bethany's arrival, we hit a road known to have Yonahlossee Salamanders but didn't turn any up. In the process of looking for the chestnut-backed plethodon, however, we came upon Northern Gray-cheeked, Blue Ridge Dusky, White-spotted Slimy, Seal, Eastern Redback, and Blue Ridge Two-Lined Salamanders, three of which were lifers for Bethany. Despite the lack of Yonahlossee, spot #1 was an unmitigated success. With that, we headed off to a high mountaintop of spruce-fir and craggy cliffs to search for the Weller's Salamander, so named for the Ohio naturalist Worth Hamilton Weller, who died at age 18 collecting specimens of his new species. After hiking about a mile through the rocky woods and galax underbrush, a group of logs and rocks yielded a treasure trove: three Weller's Salamanders, jet black below with brilliant golden blotches above. Euphoric but with stomachs growling like Doberman Pinchers in a James Bond movie, we headed back down the mountain to have lunch and plan our next offensive. So it was that we drove the narrow, winding mountain roads north from Yonahlossee country into the hinterlands north of Boone to an isolated little-known mountaintop where Southern Ravine Salamanders inhabit the summit's dry rocky situations without the confusion of being alongside Redbacks. Bethany flipped a Southern Ravine under her first rock....it took me over 100 last year!!! The last spot of the day was a spot reputed to have P. yonahlossee, but we once again struck out, finding only slimies and multitudinous Blue Ridge Duskies as a thunderstorm rolled in over the hills. Unfortunately, the rain didn't last for long, and a road cruise proved to be in vain, as most of the water on the roads had evaporated.
Day two was my chance to get at least some lifers while continuing to help Bethany add to her list, and I capitalized. The first spot was in the South Mountains of North Carolina, a region that can't seem to decide whether it wants to be in the mountains or the Piedmont. In a beautiful riparian zone of a trout stream where I submerged myself to fully wake up, we found a couple of behemoth Garter Snakes and a South Mountains Gray-cheeked Salamander, my first and only lifer of the trip. These salamanders live only in a few square miles of the South Mountains and are uncommon in most of that area.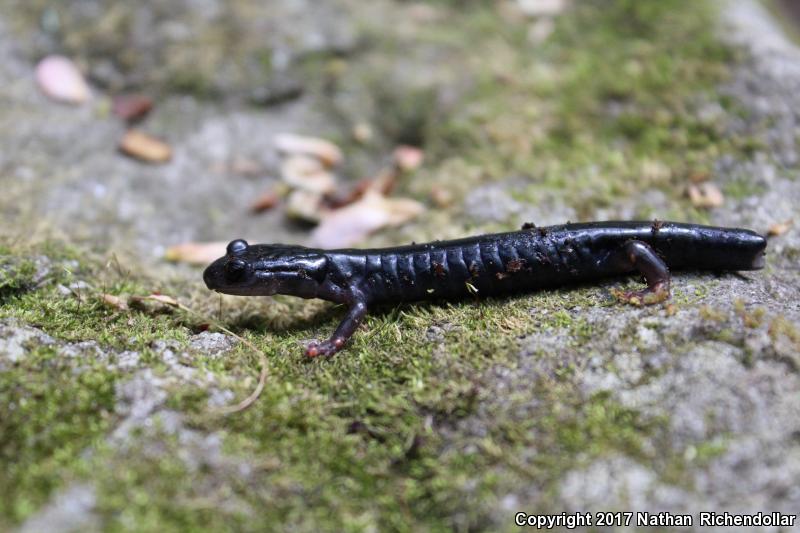 South Mountain Gray-cheek
An attempt thereafter to find a Blue Ridge Gray-cheek while dodging county mounties (it's a miracle we weren't pulled over with our Virginia tags on such rural roads) proved unsuccessful despite multiple attempts, though we did see a huge Ring-necked Snake beside a campground stream before the presence of an Ursus Americanus deterred any further search. Conceding defeat on Plethodon amplus, we headed back up into the mountains around Asheville and hit the parkway, observing three or four rainbows in the valleys below as we went. I can't recall ever standing above a rainbow before, and I must say it was one of the most gorgeous things I have ever seen to gaze out over the imposing Blue Ridge and see a rainbow with smoke rising from the hills around it. High on the slopes of Mt. Mitchell, we netted a host of Carolina Mountain Dusky sallies and a Northern Pigmy, both lifers for Bethany.
Our last day was spent in sole pursuit of Plethodon yonahlossee. We decided to re-visit the road from day one and do an all-out exhaustive search of multiple spots along the road, which turned up more than 125 salamanders, but no Yonahlossees were to be had there. At lunch, we did some last-minute research to try to pin down P. yonahlossee somewhere else and found a spot along the TN-NC border that looked promising. After a drive that tested my transmission, engine, and patience, we arrived at a high-elevation rhododendron forest, where we found a gaggle of Weller's Salamanders and Slimies along with a few Redbacks but no Yonahlossee in the drizzle and fog. This finished up the trip's herping in fitting fashion: it left us something to see next time, and I'm not about to complain about having to return.
Final count: 13 species of salamander, 8 lifers for Bethany, 1 for me, across 8 counties in Tennessee and North Carolina. Over 200 salamanders total.
All in all, it was amazing to get back into North Carolina's mountains and see some classic Appalachian endemics. This is one part of the country that never loses its charm for me. The bulk of the pictures for this trip will be posted by Bethany, but you can see a few of them right now on naherp.com by searching my name, "Richendollar, Nathan." Happy herpin' you all!
Jefferson