This past November (2016) my wife and I made a 3 week drive, crossing Australia from south to north. We were always on the lookout for herps, but also for other wildlife to photograph. This installment will cover our travels and finds from the remainder of our trip. Links to the first 2/3 of the trip are provided below:
Part 1 can be seen here:
http://www.fieldherpforum.com/forum/vie ... =2&t=24025
Part 2 can be seen here:
http://www.fieldherpforum.com/forum/vie ... =2&t=24035
This map shows our route through the Top End and the yellow circle is the area covered by this post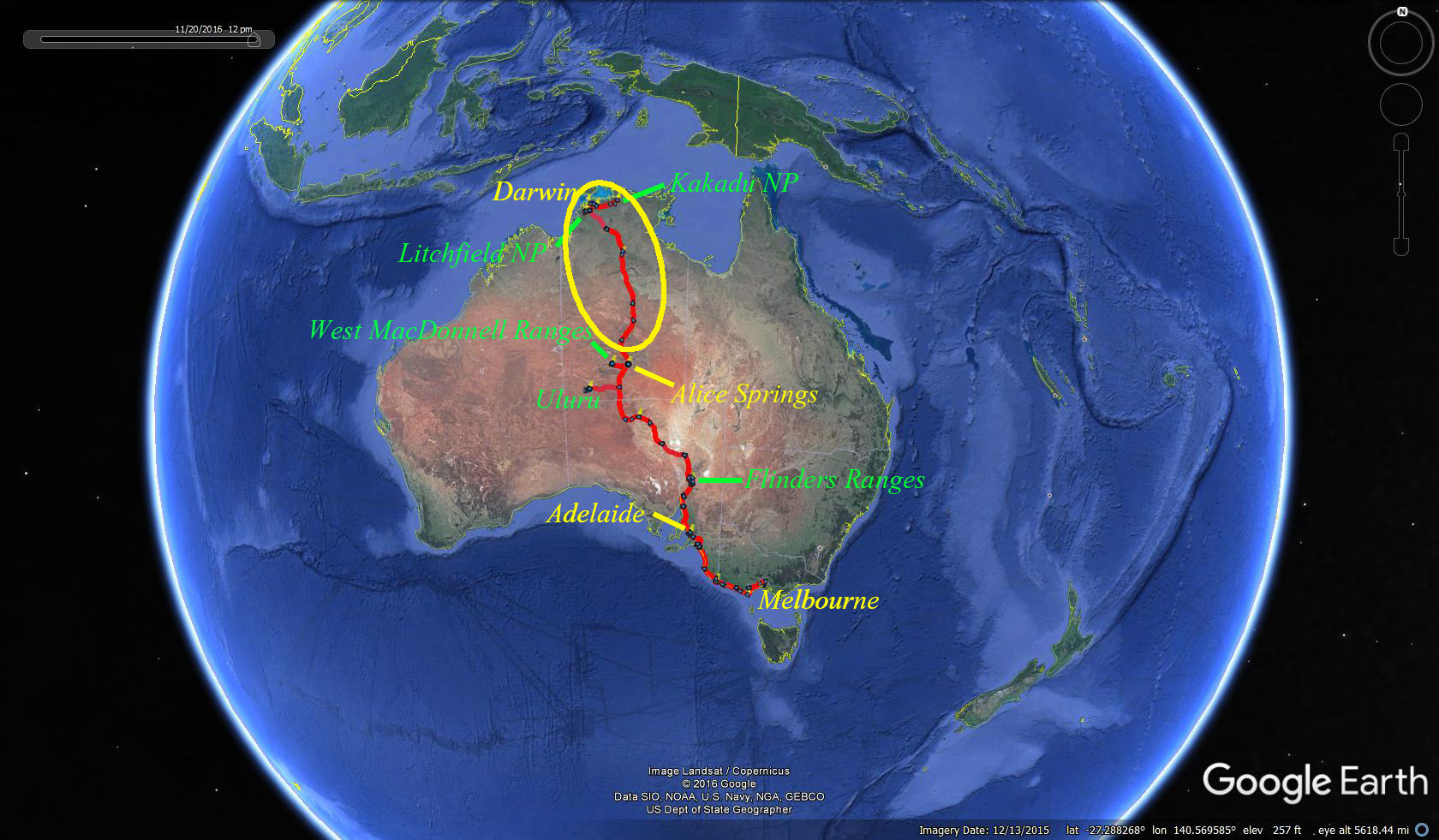 We put in a long day of driving from Alice Springs to Daly Waters, finishing the final half-hour or so dodging wallabies in the dark. When we awoke in the campground the next morning, it was clear that we were now in the tropics. The change from desert to tropics was subtle, but one measure was the number and size of termite mounds visible from the highway, which brings up an issue. It has become a popular habit of travelers in this region, to throw a shirt over a termite mound, creating a humorous sculpture of sorts. Well, at least it was funny at first; after a thousand of them, not so much! Some were more clever than others, but all become red dirt-stained and tattered with time. The Northern Territory has a littler problem on its hands.
'Decorated' termite mound
The Daly Waters area had some interesting birds.
Red-winged parrot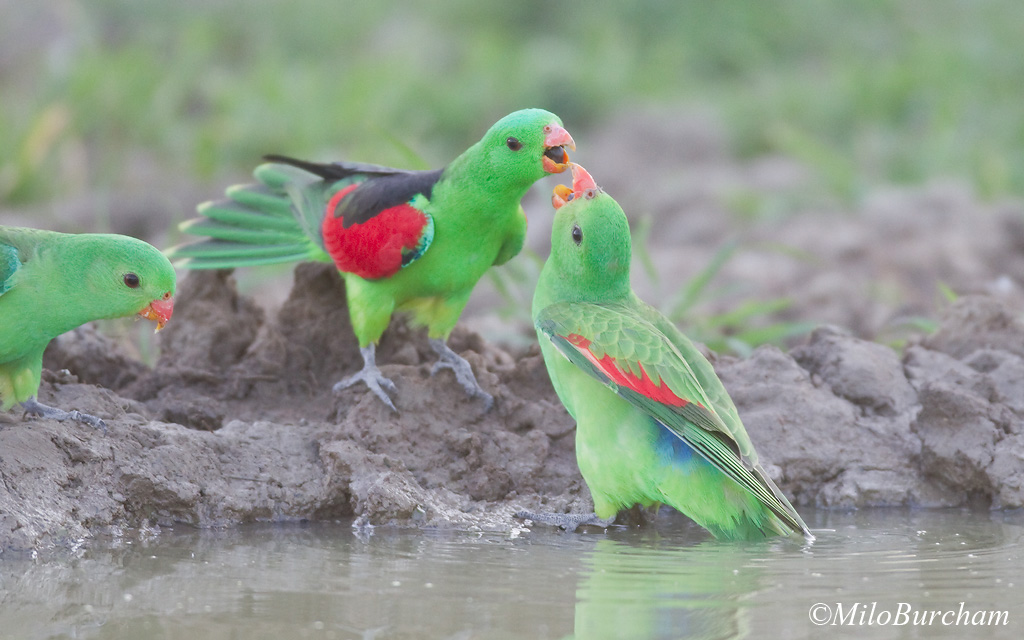 So you don't see anything special about the Great Bowerbird?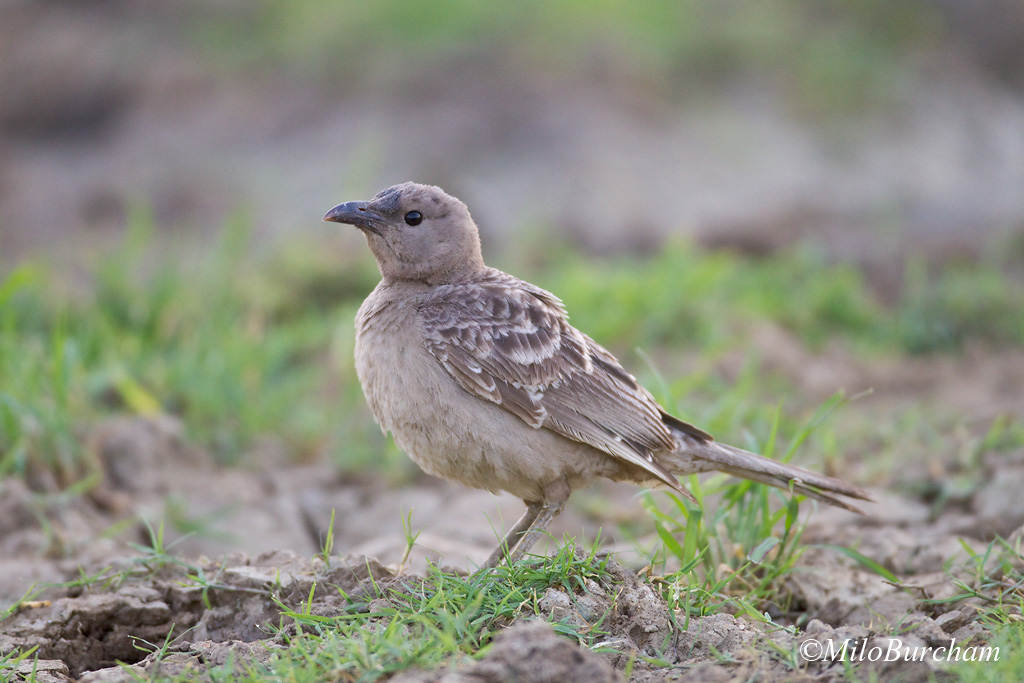 ... then take a look at the bower the male constructs to attract a mate, complete with decorations (white rocks and green glass in this case)!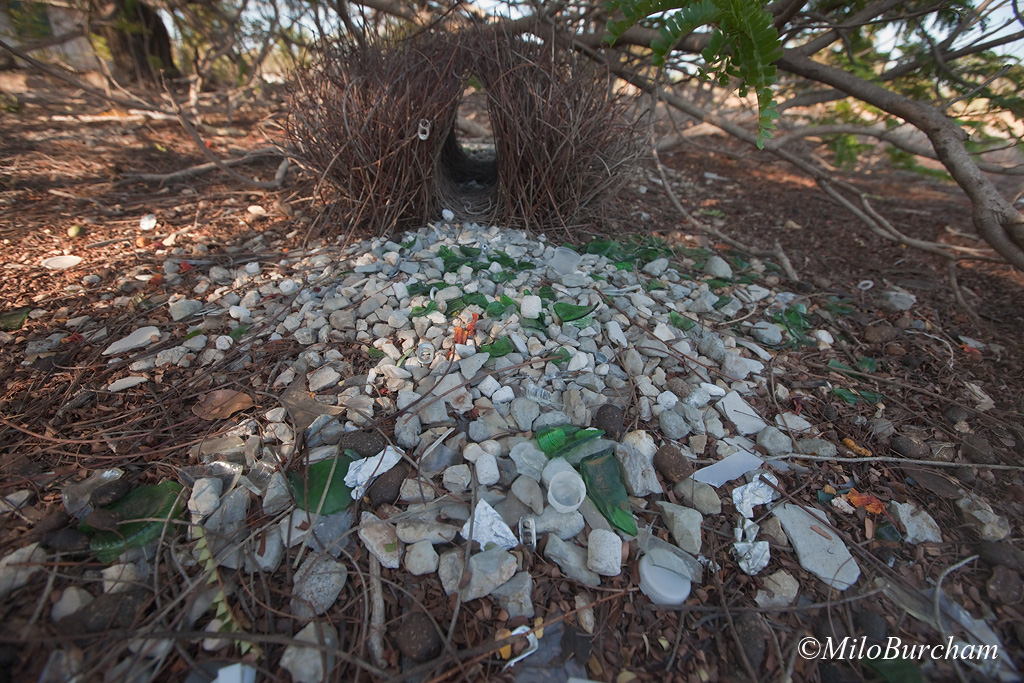 And shortly after we started driving on this day, we spotted one of the most spectacular lizards basking in the middle of the Stuart Highway. Had I not seen and photographed this species 3 years before, this would have easily been the highlight of the trip. Still, this specimen was large and colorful, and posed for several photos, before running up my leg! We were to see a total of four before the end of the trip.
Frilled Lizard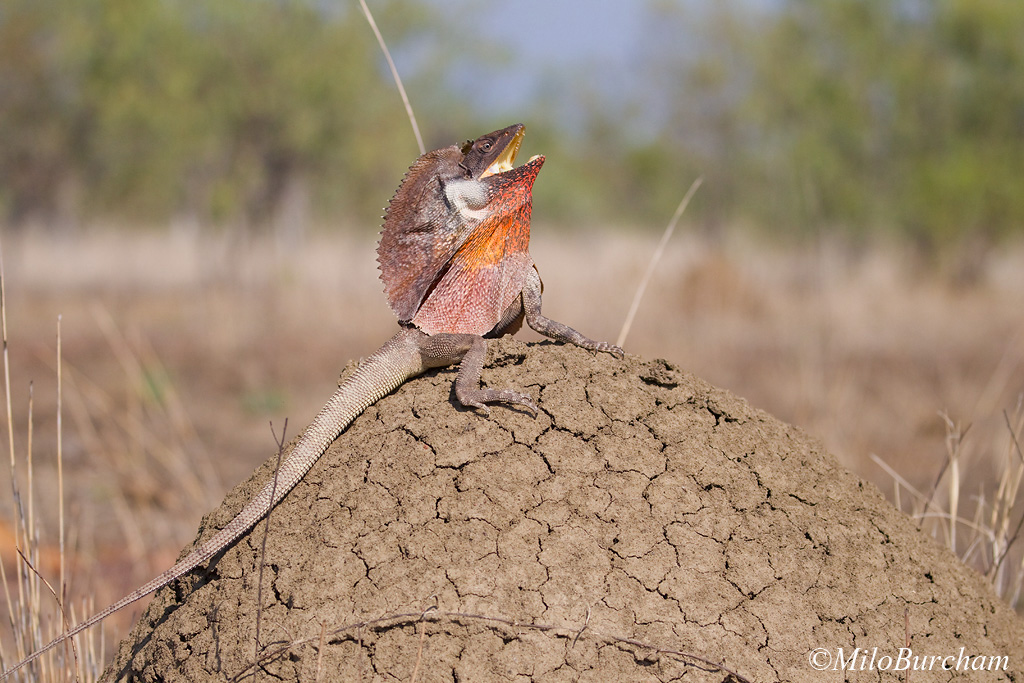 Frilled Lizard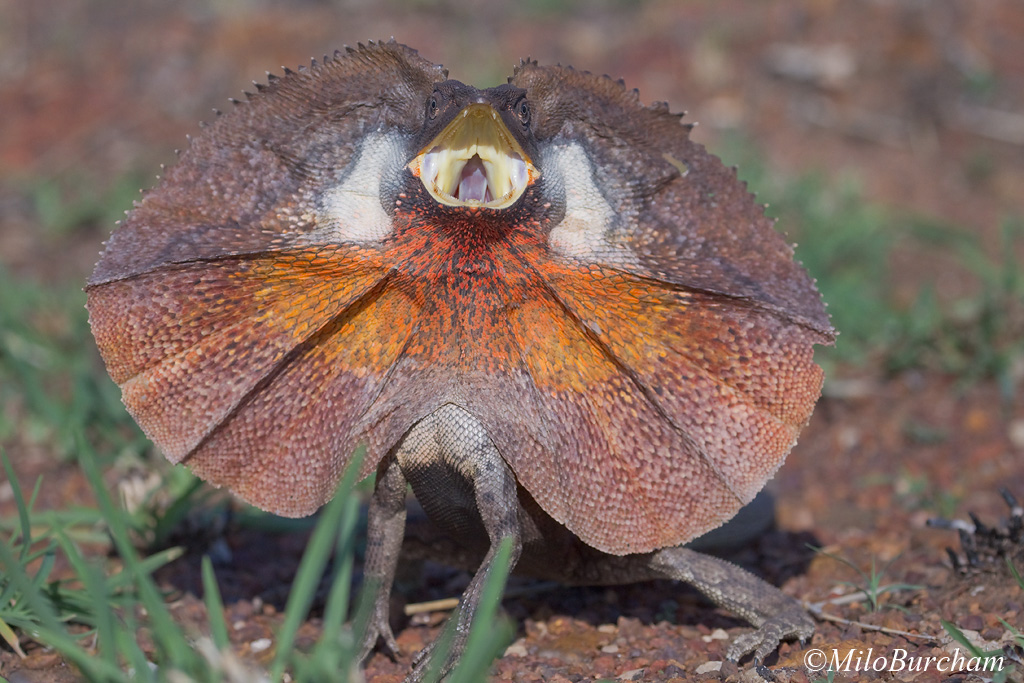 Frilled Lizard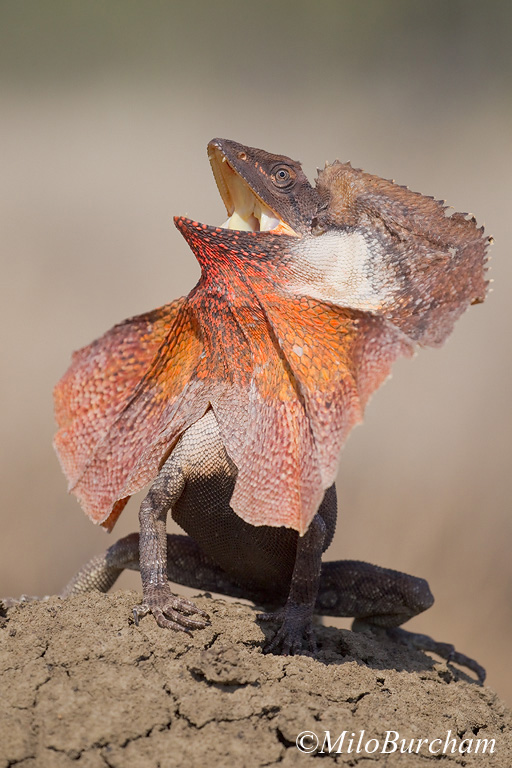 And another frillie, this one later the same day in Litchfield National Park
Frilled Lizard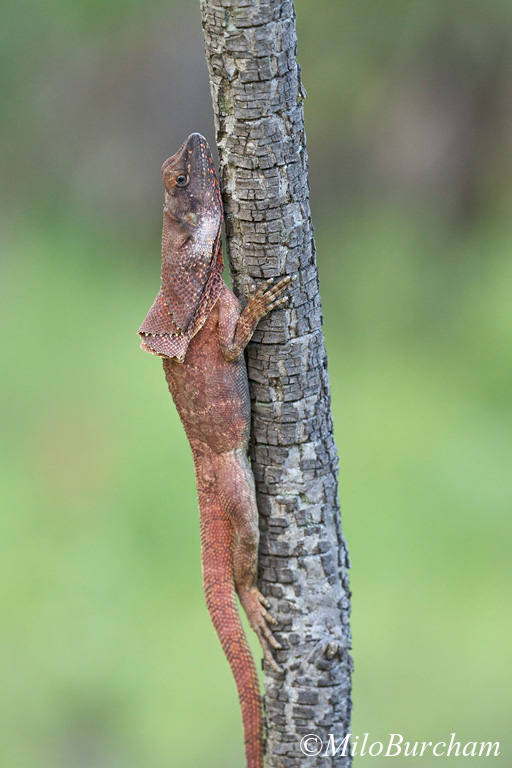 Frilled Lizard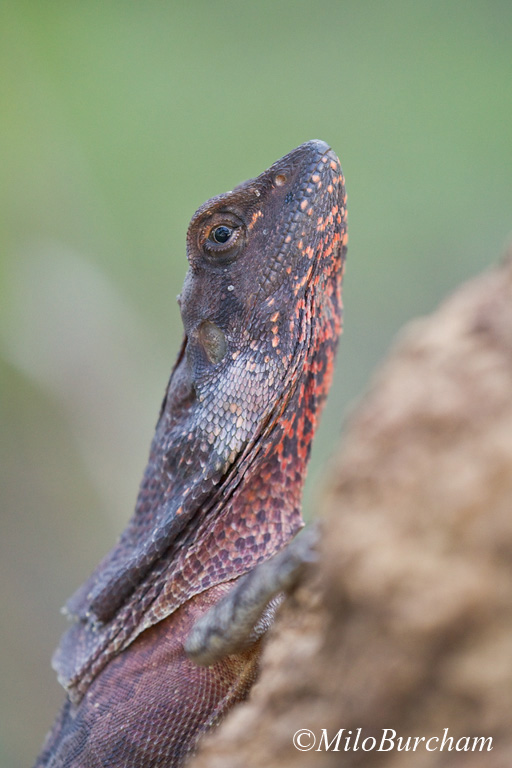 Frilled Lizard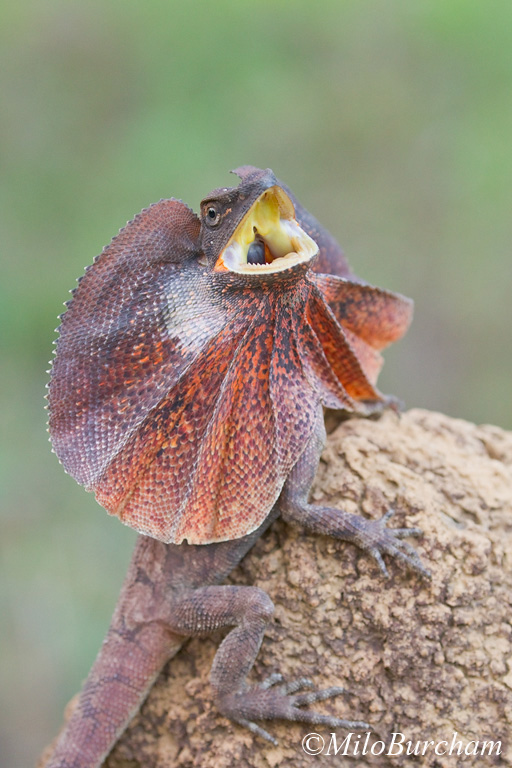 Night cruising turned up some great herps:
We found 2 young pythons within minutes of each other on the first evening.
Children's Python with neat grasshopper/katydid on neck. Please confirm python ID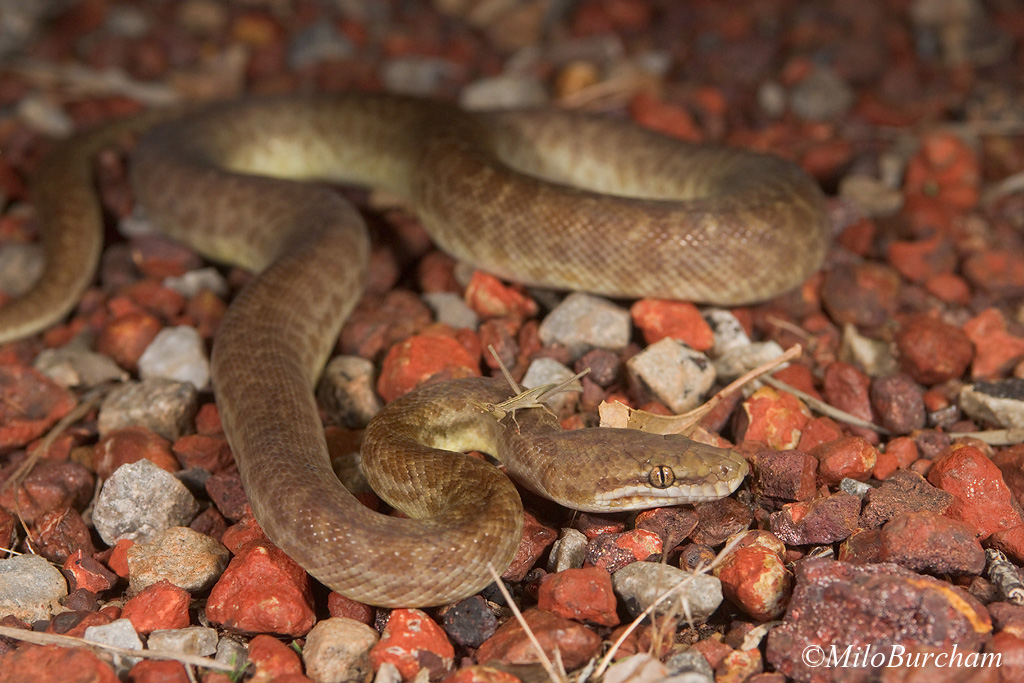 Children's Python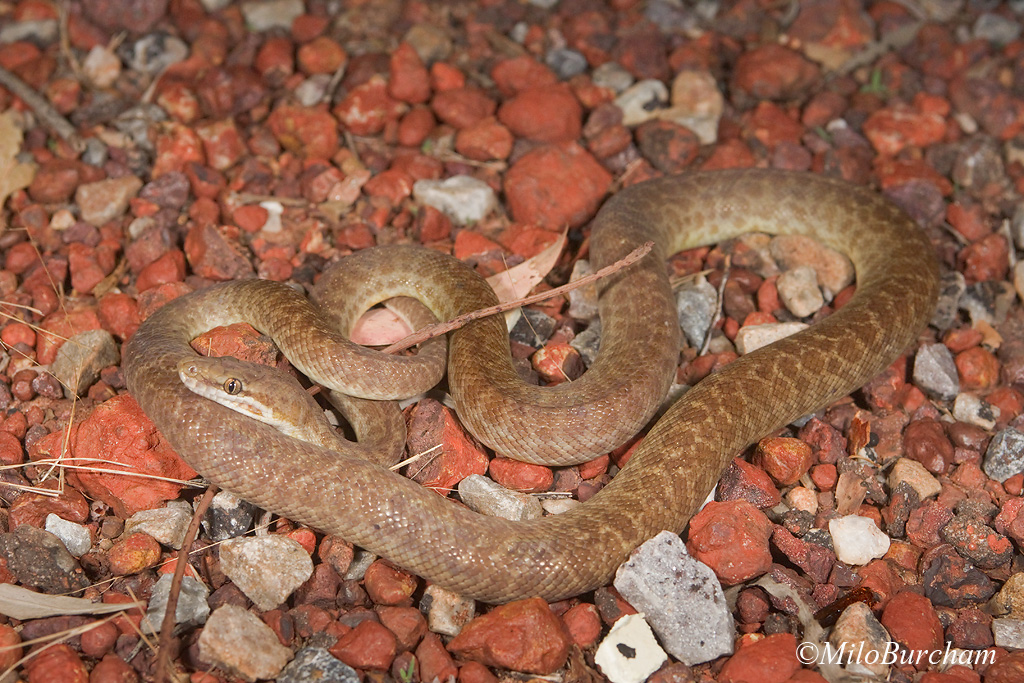 And, a real stunner!
Black-headed Python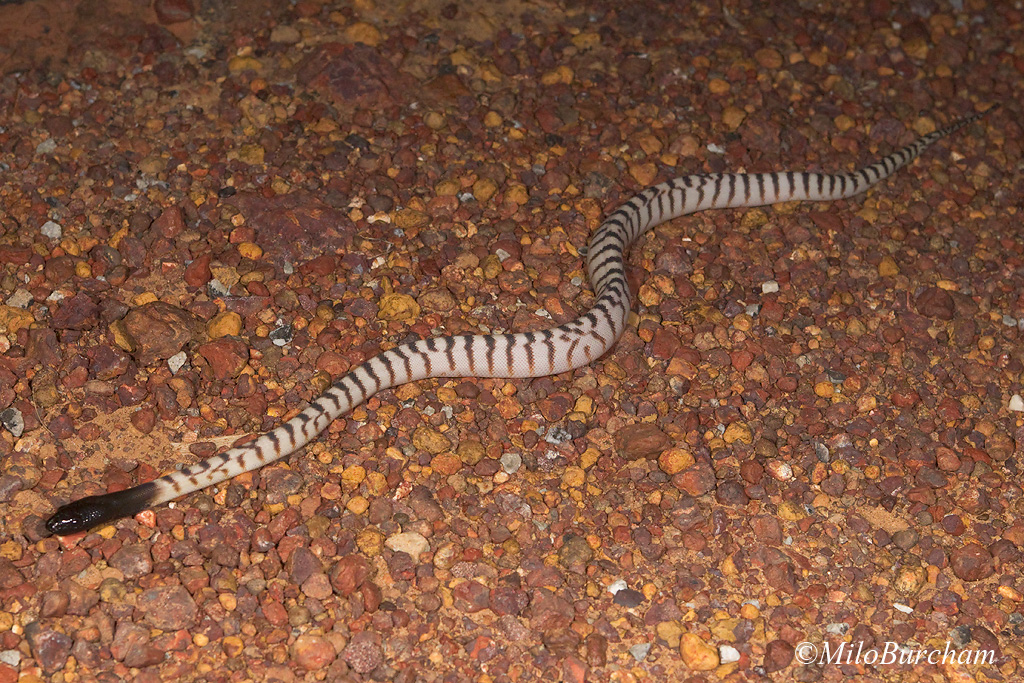 Black-headed Python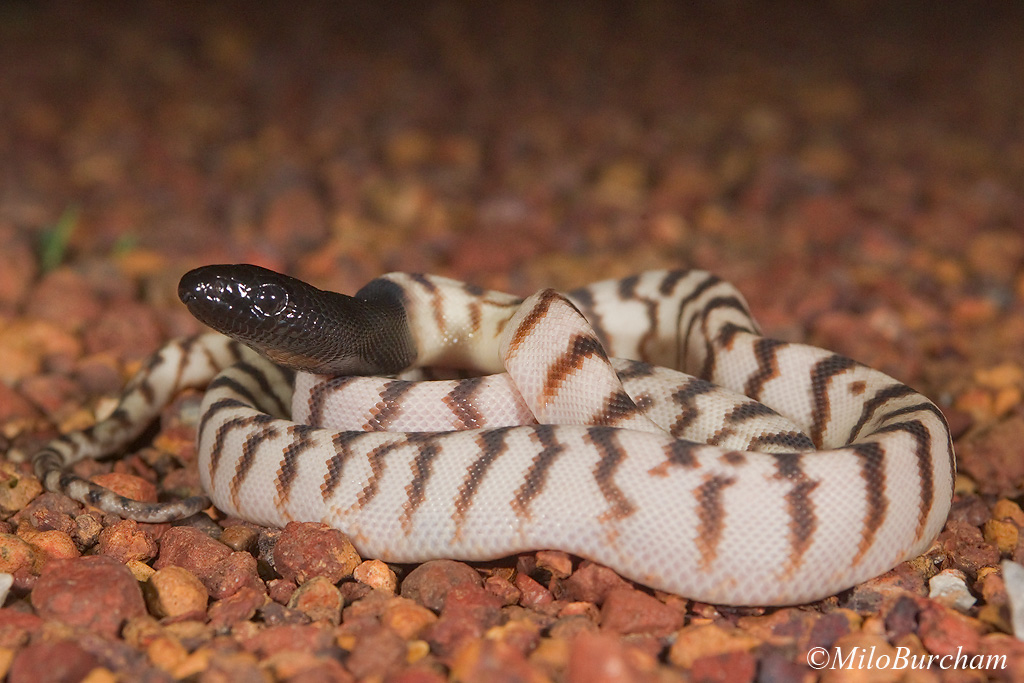 Black-headed Python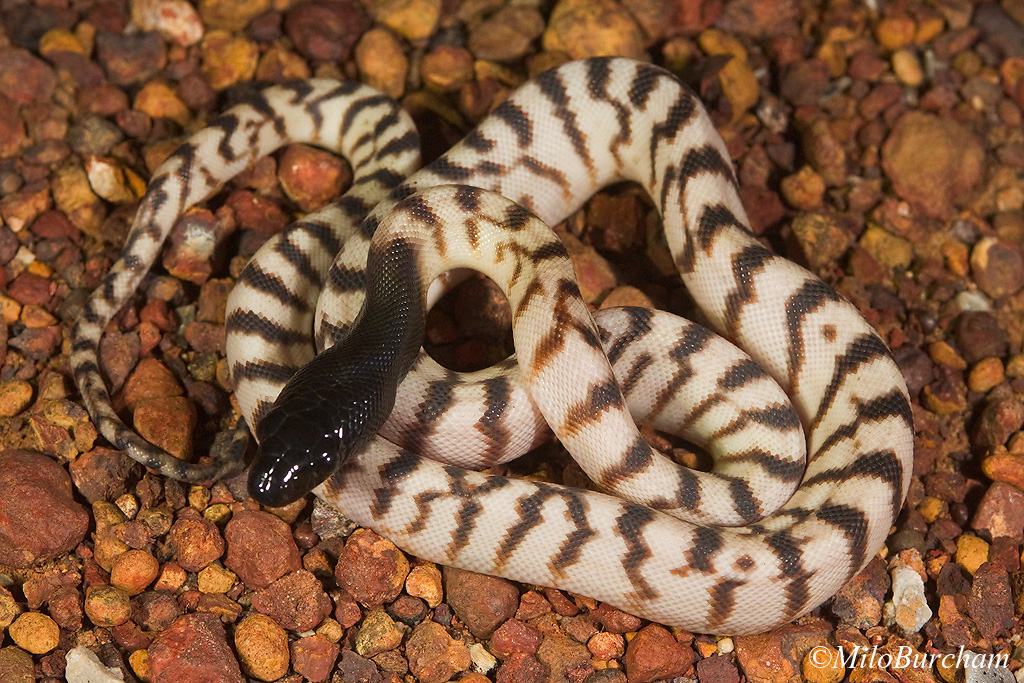 And soon afterwards, while walking through the forest near rock outcrops by headlamp, this spectacular gecko!
Marbled Velvet Gecko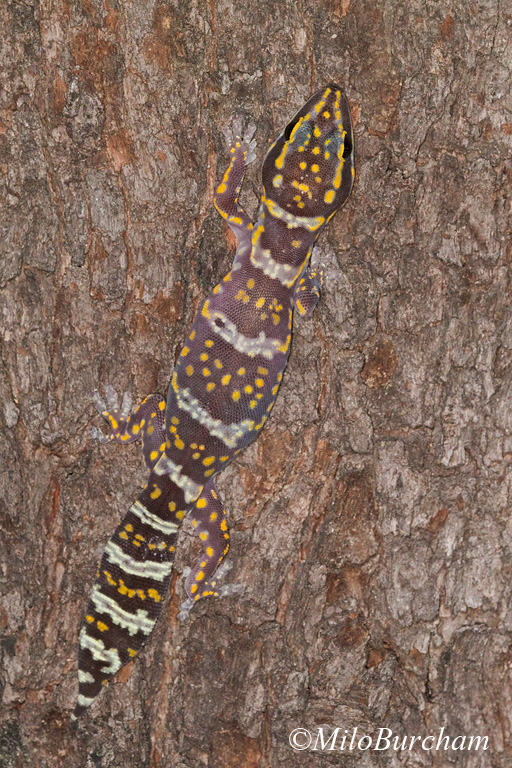 Marbled Velvet Gecko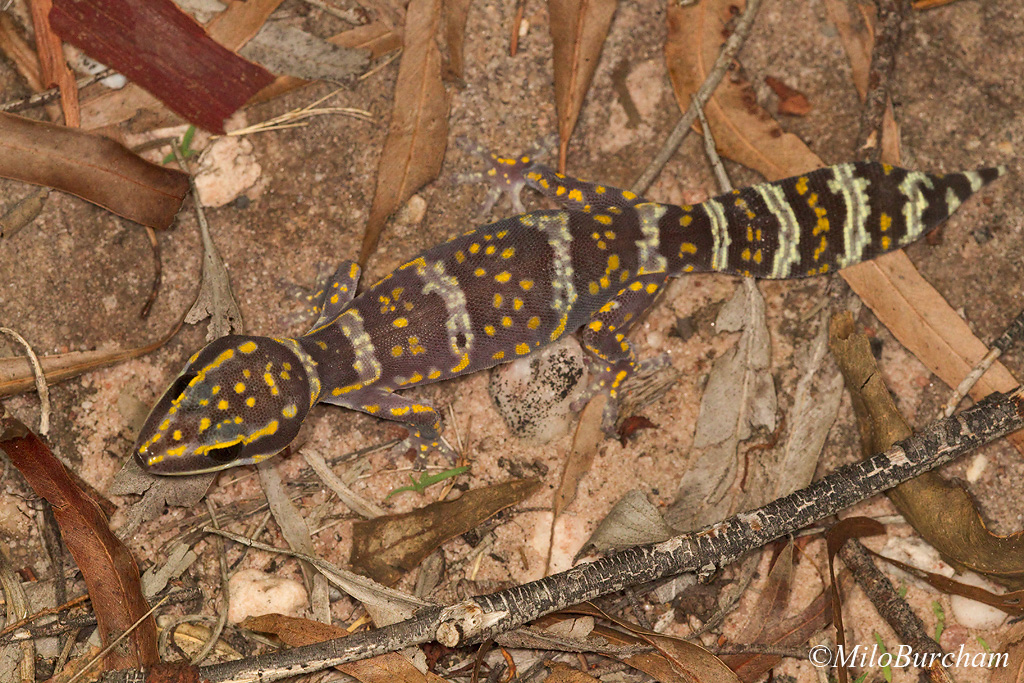 Marbled Velvet Gecko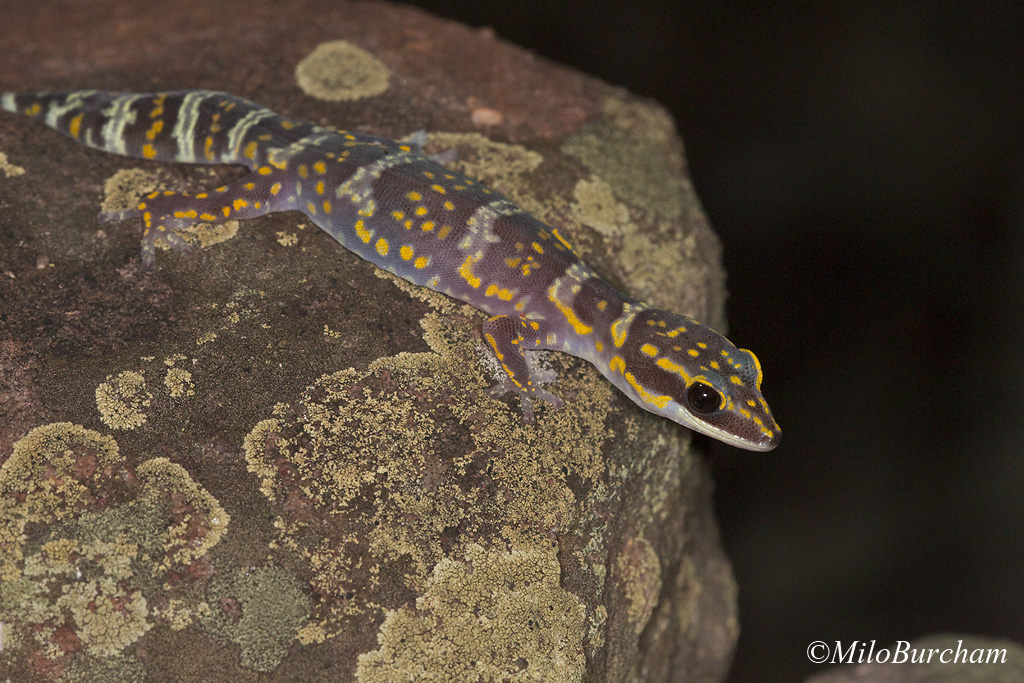 Marbled Velvet Gecko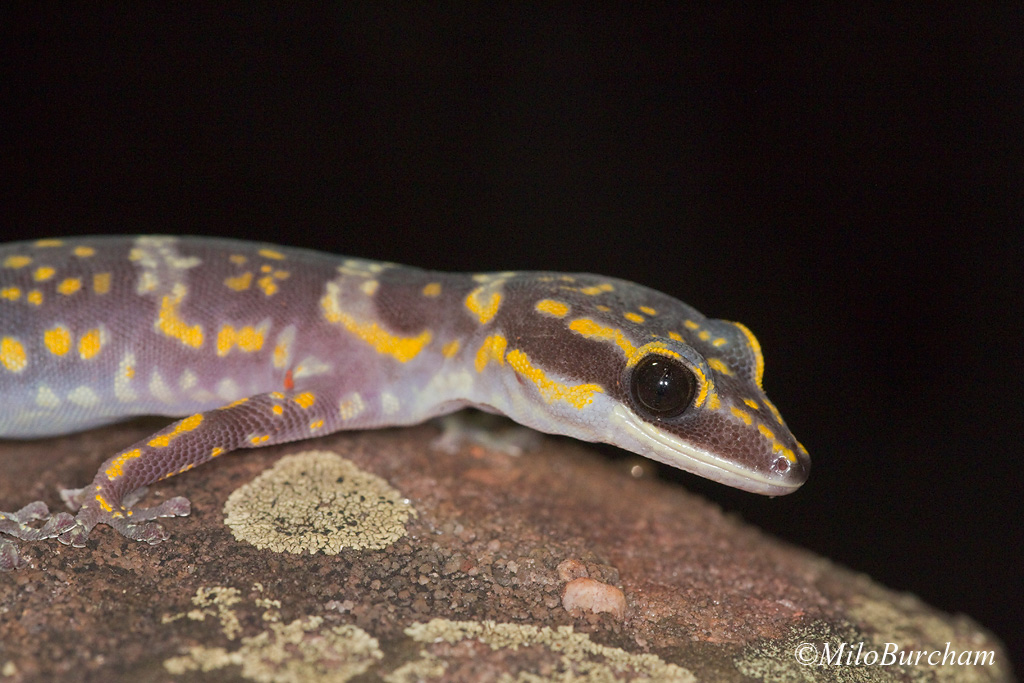 Burton's Legless Lizard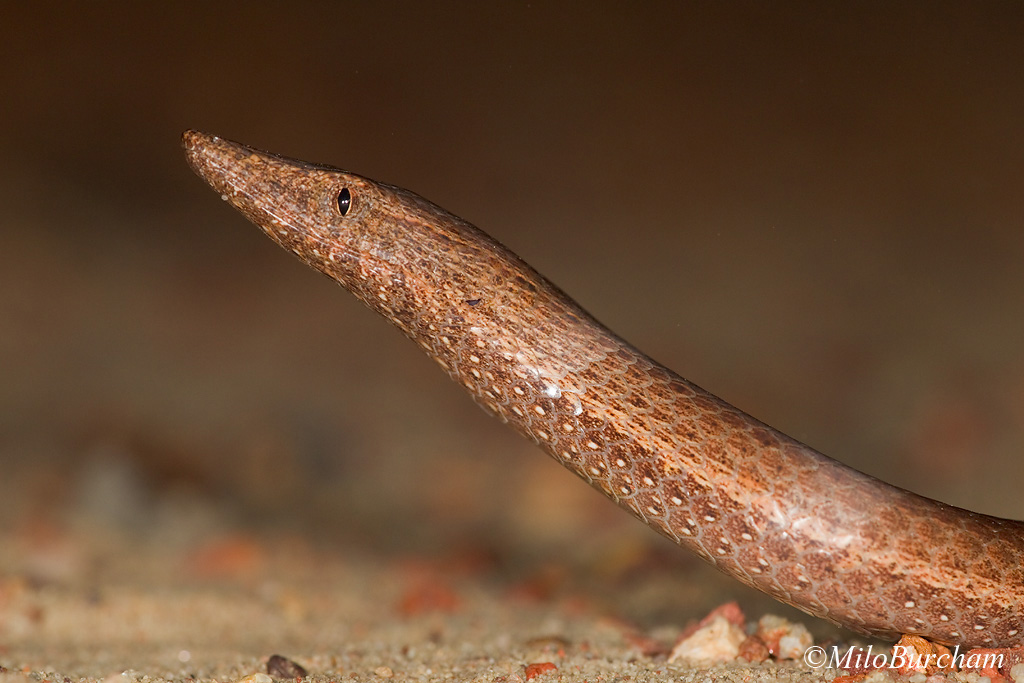 And some of our favorite landscapes and activities. While I was digging the reptiles, Paula loved the swimming holes!
Bitter Springs. A beautiful hot spring near Mataranka where you can swim approx. 200m of this crystal clear stream.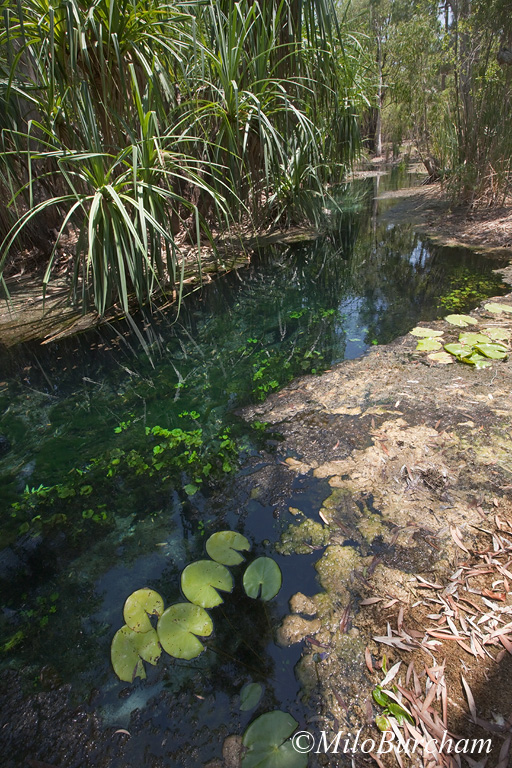 Magnetic Termite mounds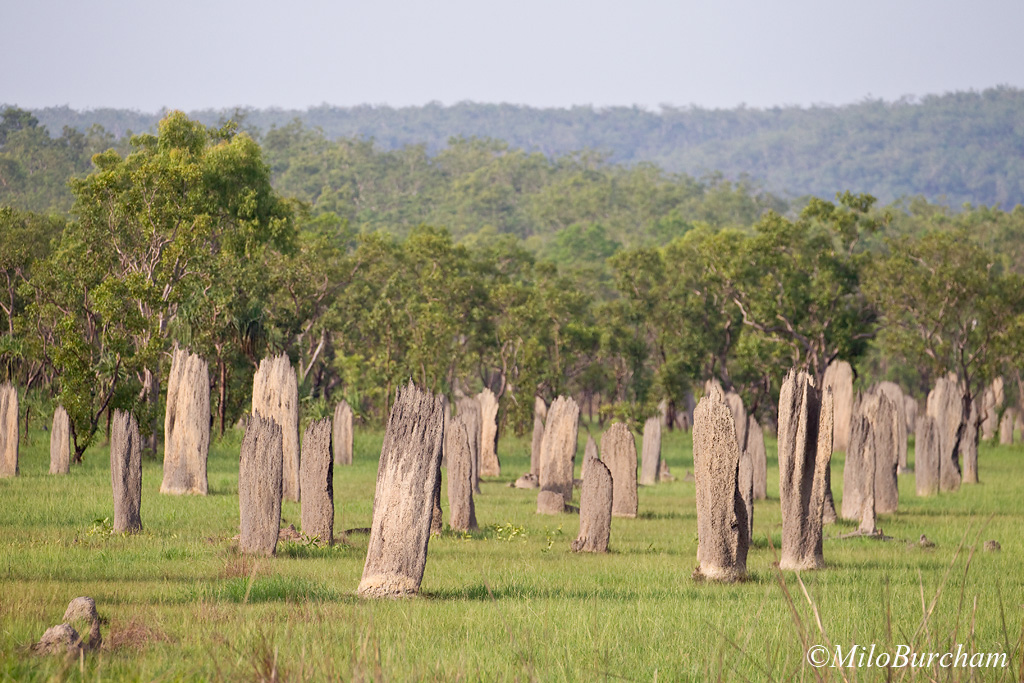 Paula enjoying one of many swimming holes: Florence Falls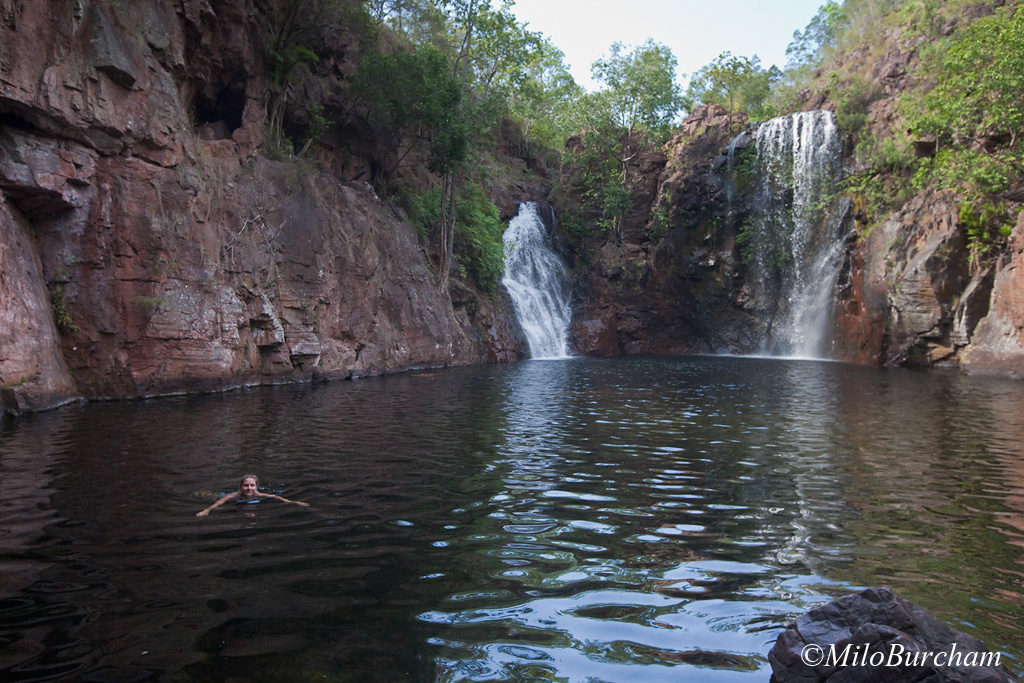 Wangi Falls came with many warnings which are a prelude to an adventure of ours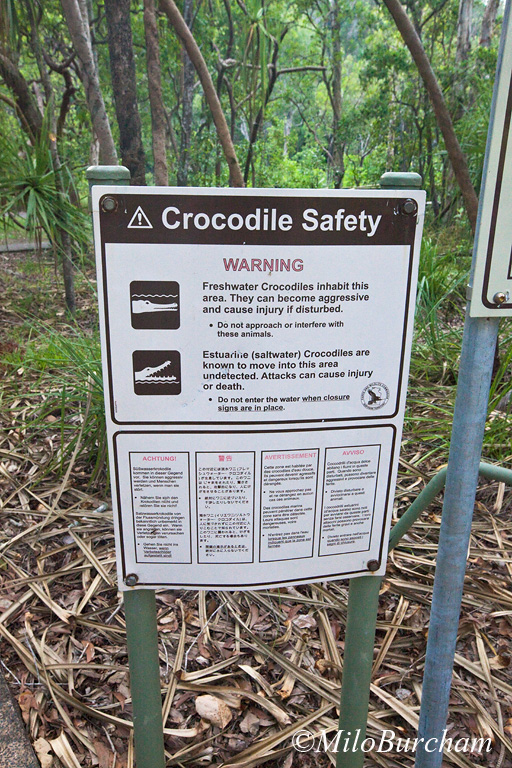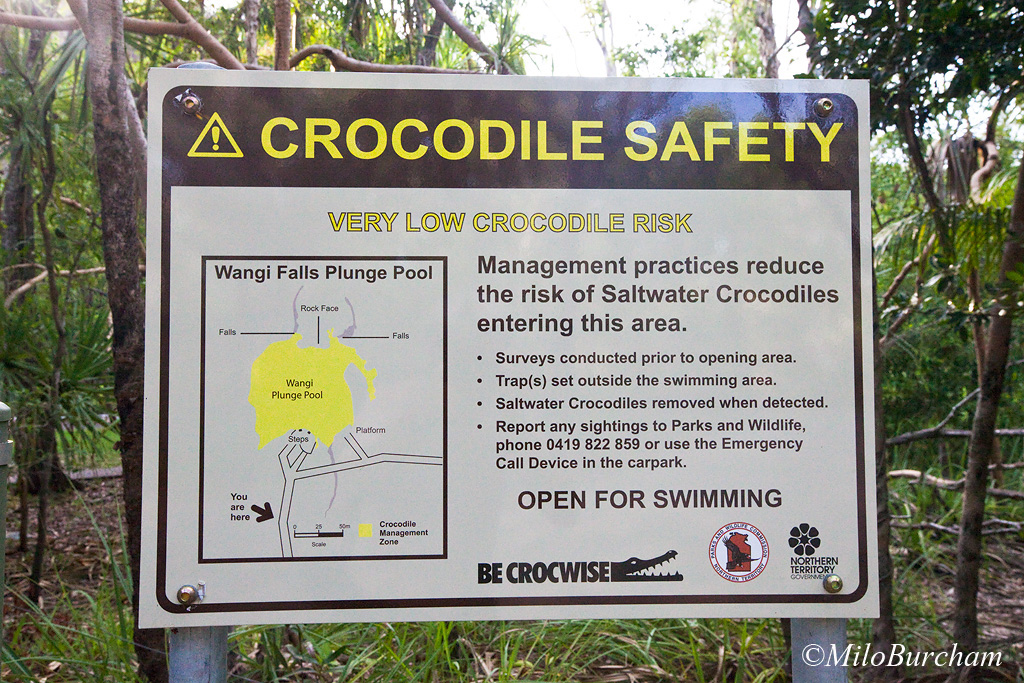 View of the popular swimming hole at Wangi Falls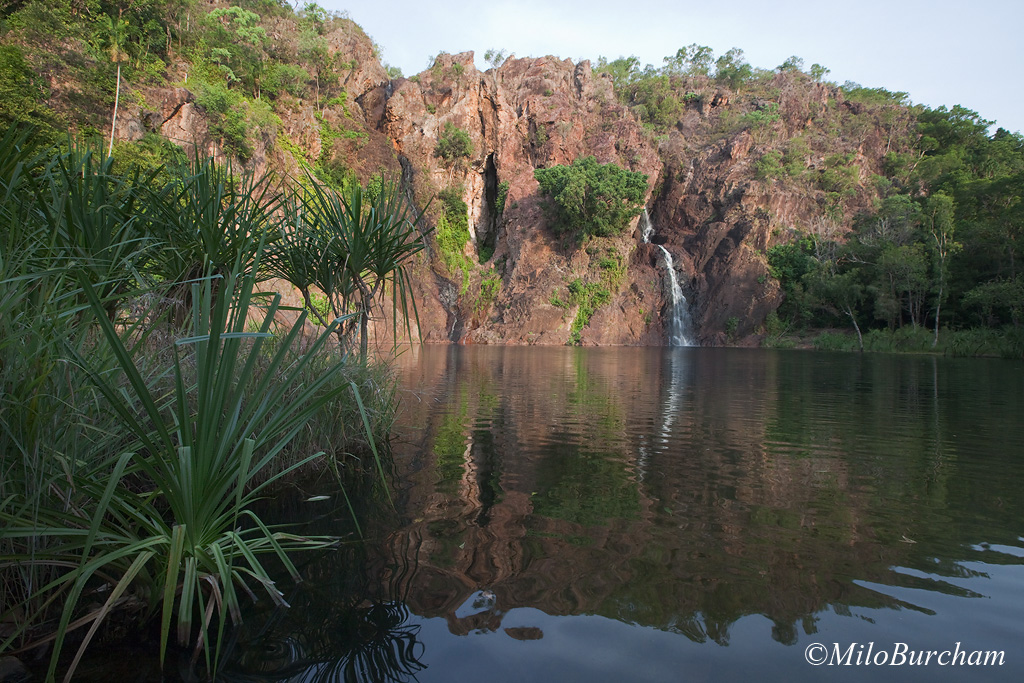 Not content with lounging in a swimming hole, I swam the backwaters looking for wildlife. A Black Flying Fox roost was adjacent to the pool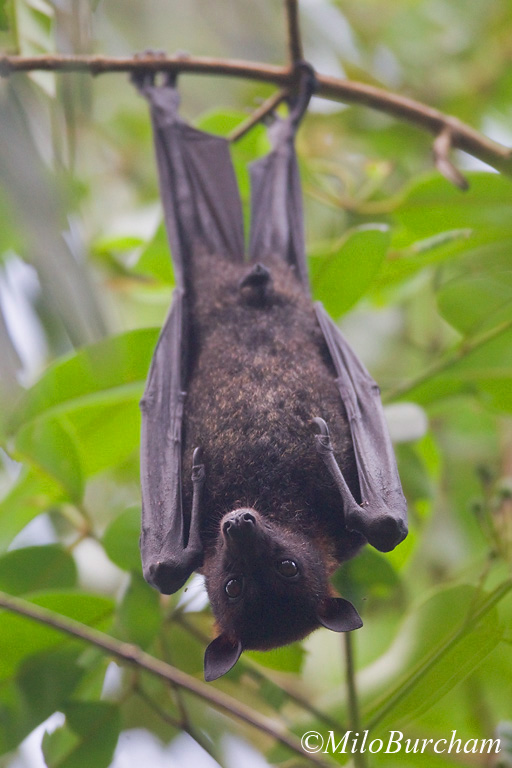 Our surprise came soon afterwards. While swimming and scanning the shoreline for critters, I noticed a lizard on a log near the waters edge. As I approached it for a closer look, 3 others I had not noticed dropped into the water! I then saw that it was not a lizard, but a baby croc, with mom's head just barely visible in the water below. I immediately reflected on the habits of American Alligators which defend their young, and backed up, to the middle of the channel about 10m away. I told my wife to swim over to me, and that I would show her a baby croc. She reluctantly agreed. When she got to where I was, the croc (a small Freshwater Crocodile about 1m long) popped out of the water with jaws agape, and skated across the surface towards us! That was good enough and we got out of there as fast as we could!!!
That evening we lounged at the edge of the swimming hole with another couple, watching the Flying Foxes exit their roost. Spectacular!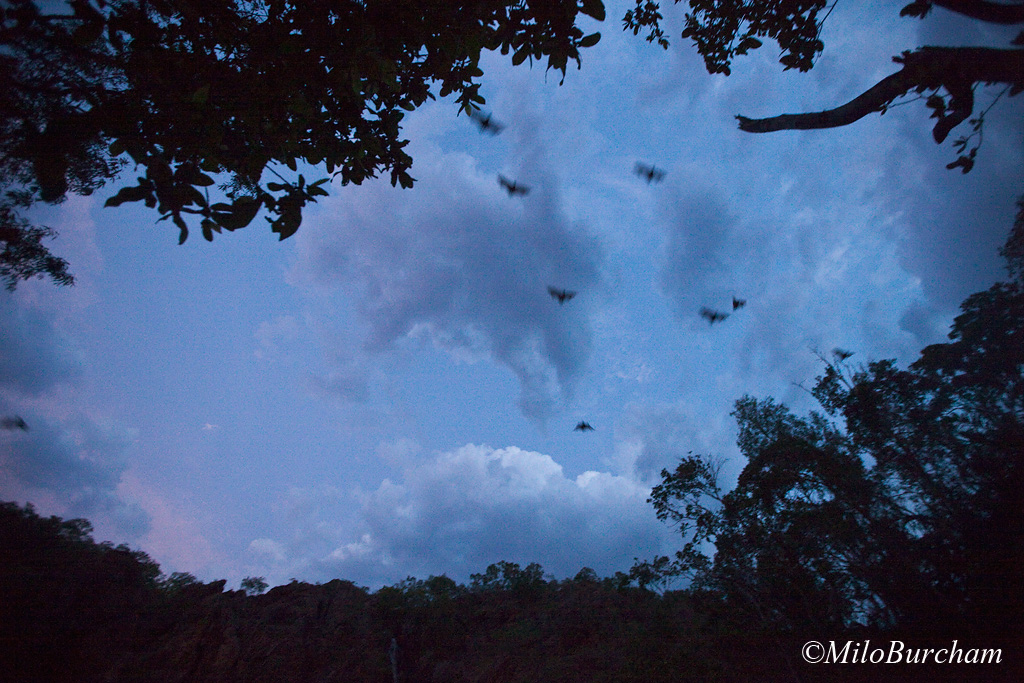 Notorious Green Ants which deliver a nasty bite, but taste like lime if you lick their butts. Really!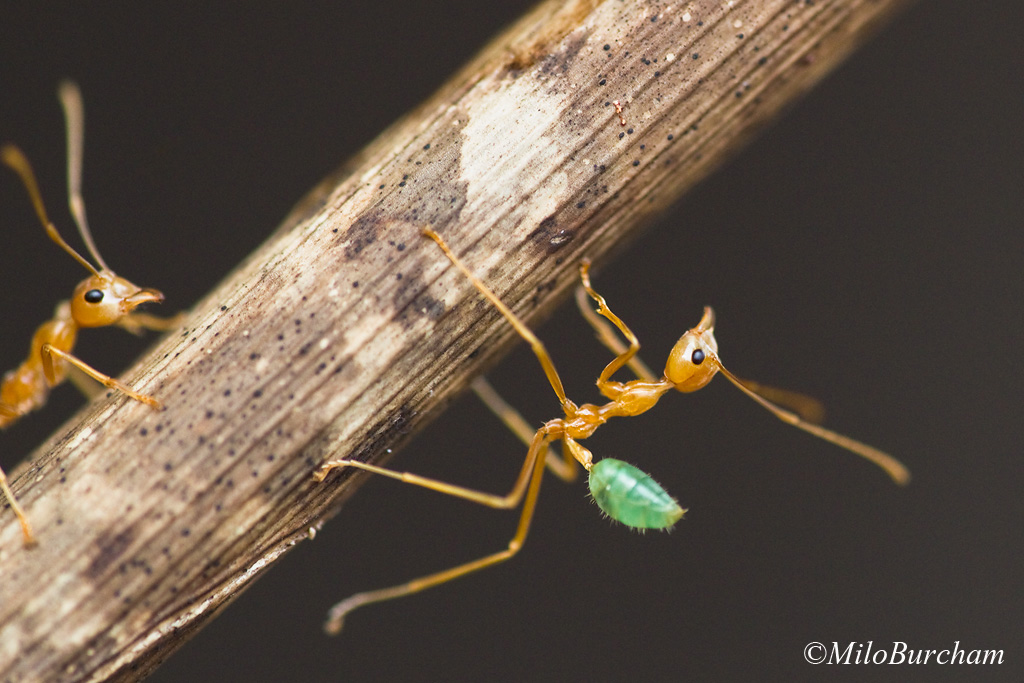 We next drove the Arnhem Highway into Kakadu National Park, stopping at several places along the way.
Fogg Dam was great for birds and some herps. Not pictured is a Water Python I found at night but was unable to set up and photograph.
Crimson Finch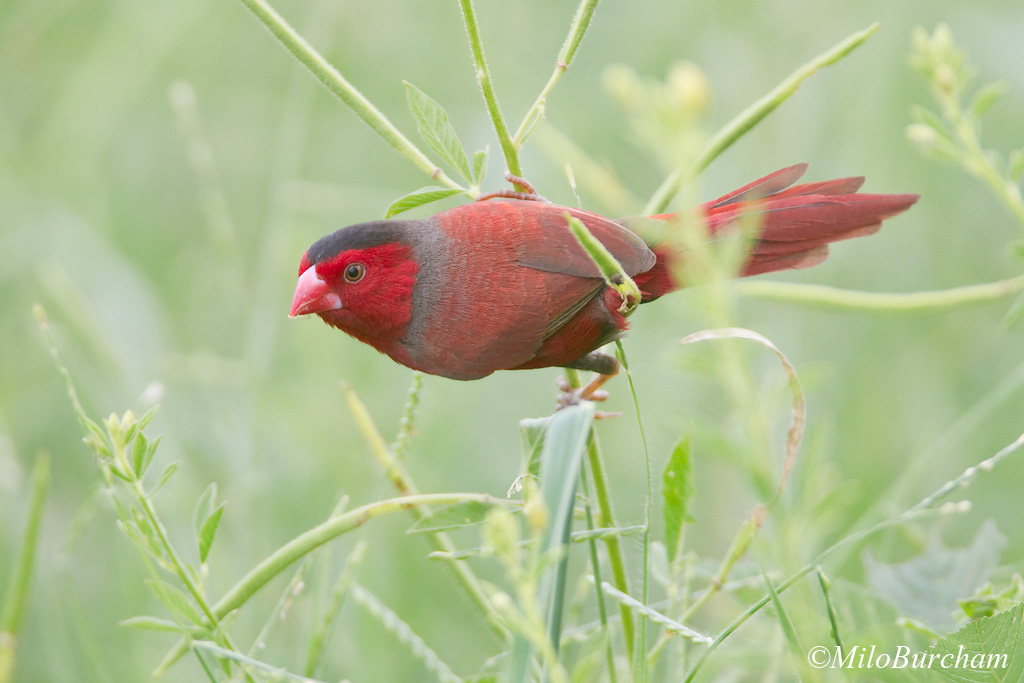 Swamp Lashtail
The only 'tourist' activity we did on the entire trip was take a crocodile tour on the Adelaide River.
Adelaide River. DO NOT SWIM HERE!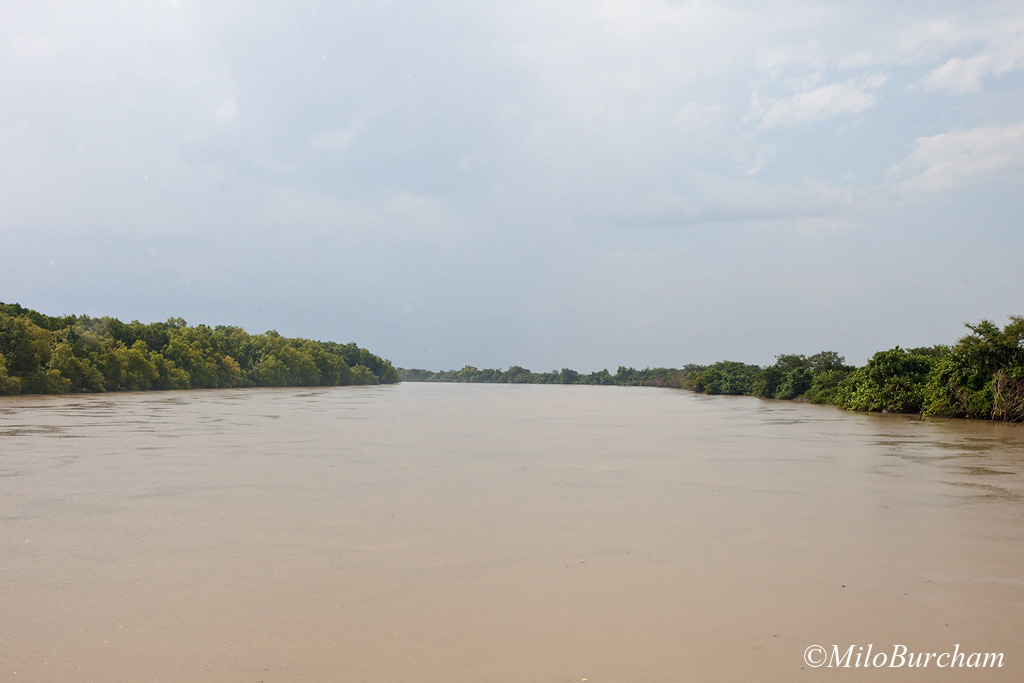 Estuarine Crocodile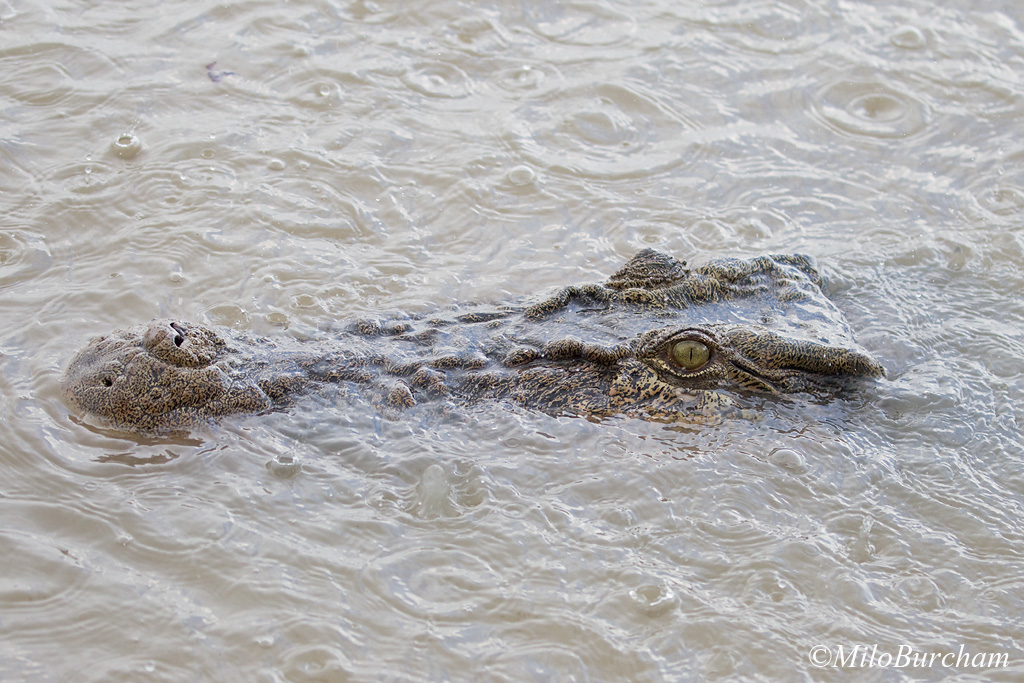 Nice lizard...nnnnnnniiiiiiiiiiiiicccccccccce lizard!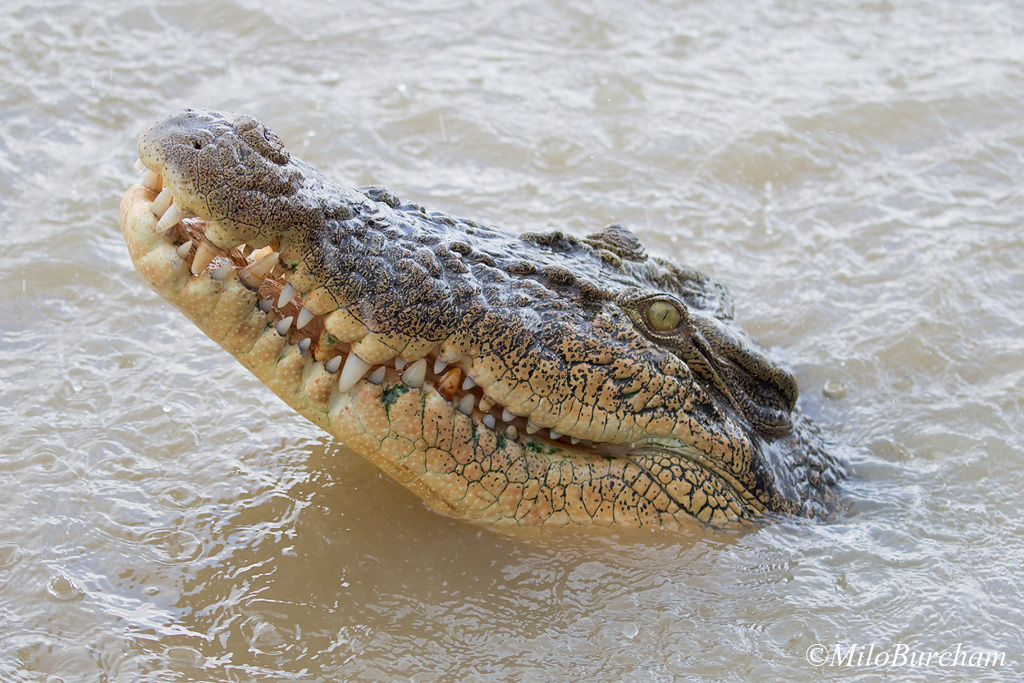 Estuarine Crocodile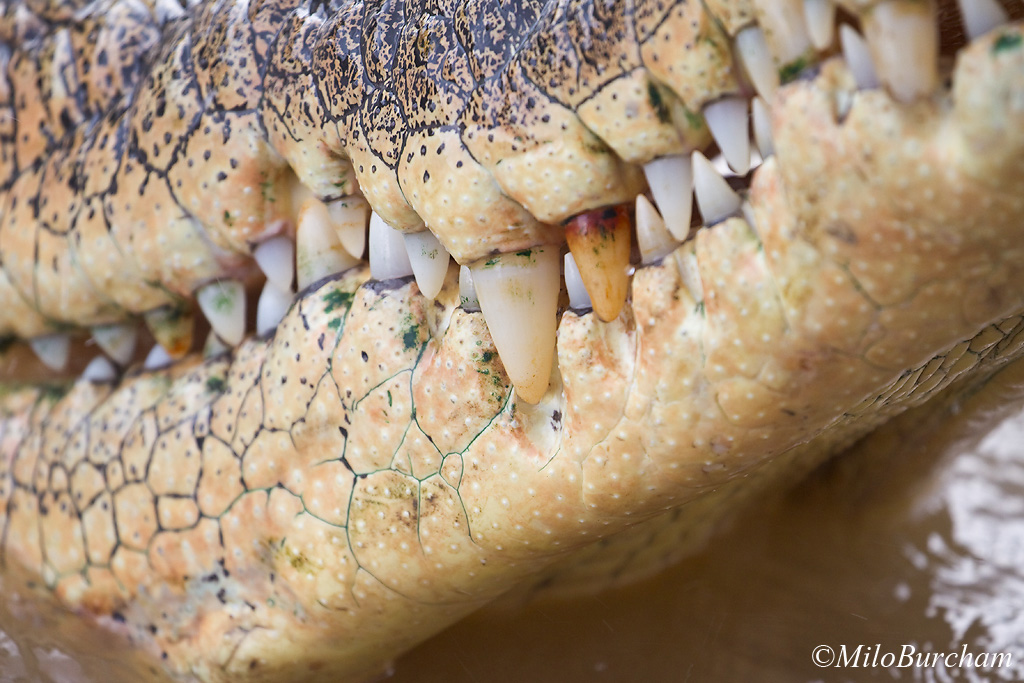 Estuarine Crocodile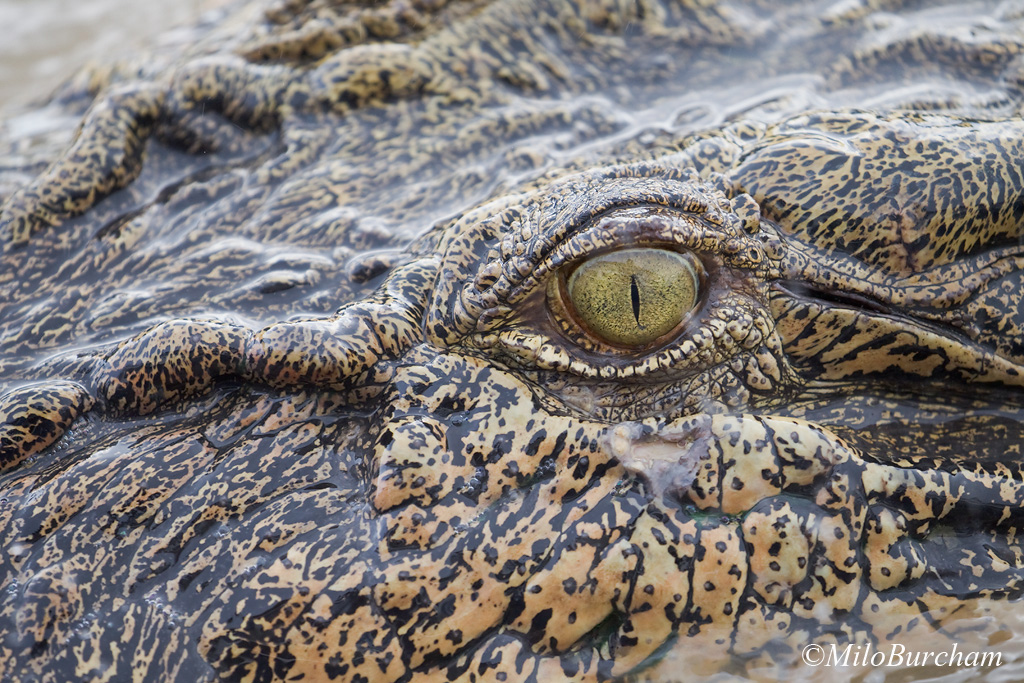 Wild pig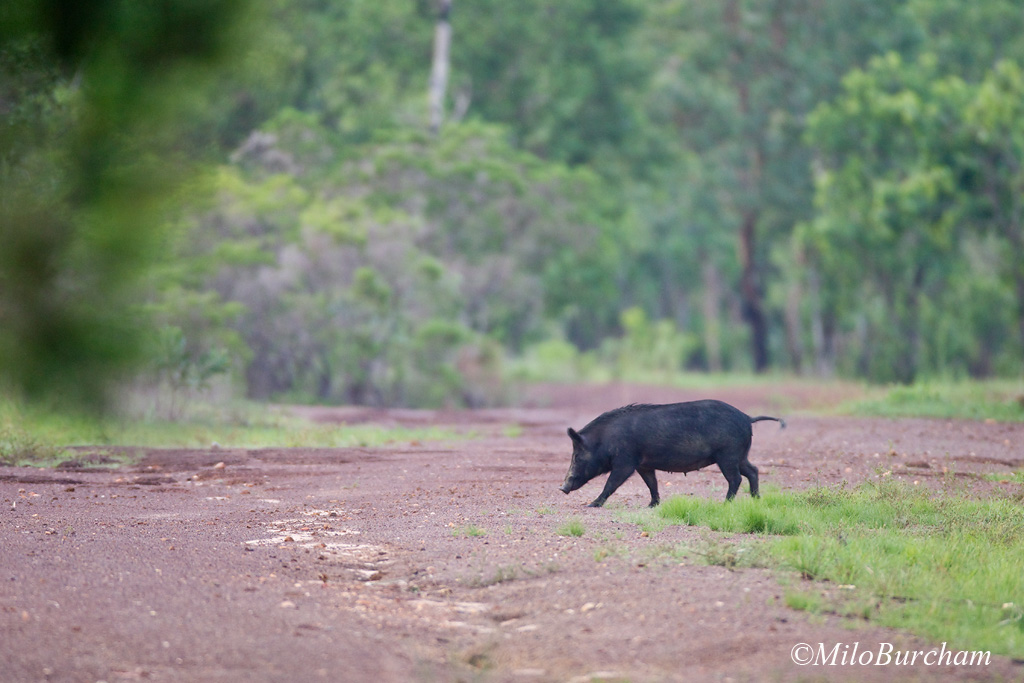 Agile Wallaby. Totally ripped male with female and joey in background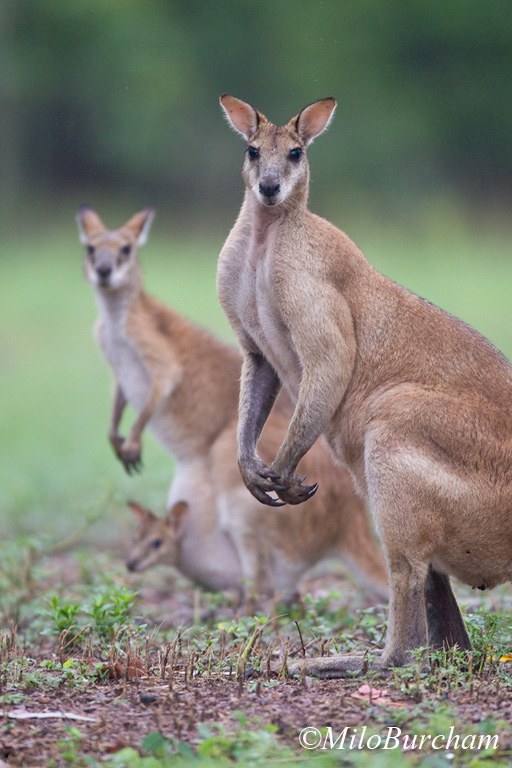 Agile Wallaby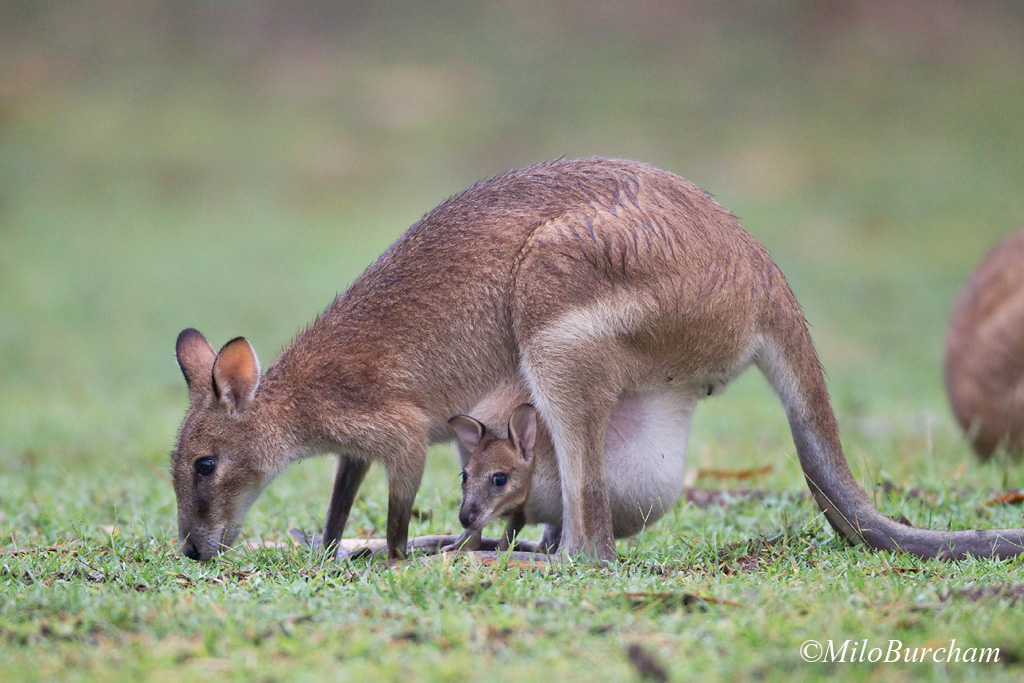 Agile Wallaby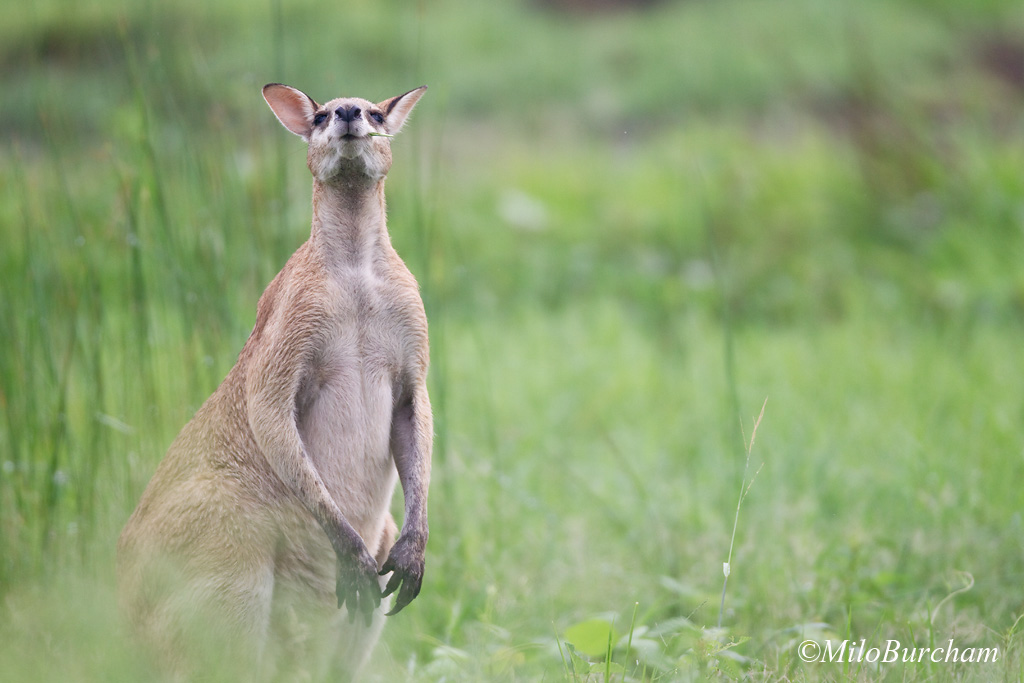 Blue-winged Kookaburra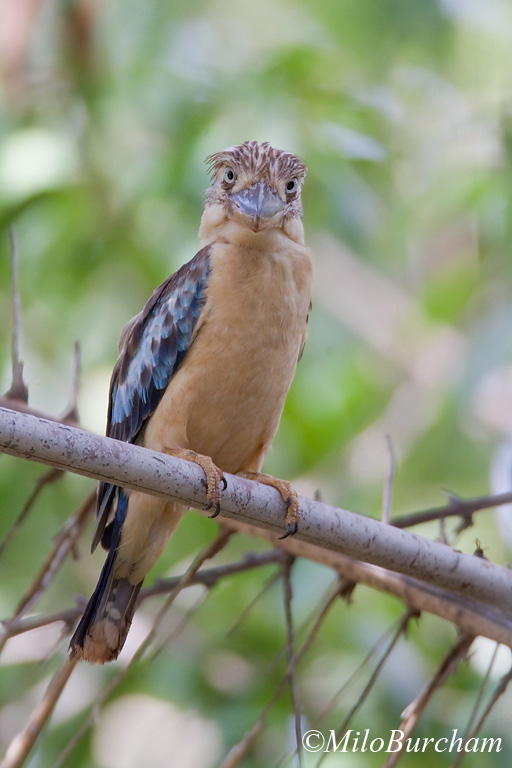 Herp art at Ubirr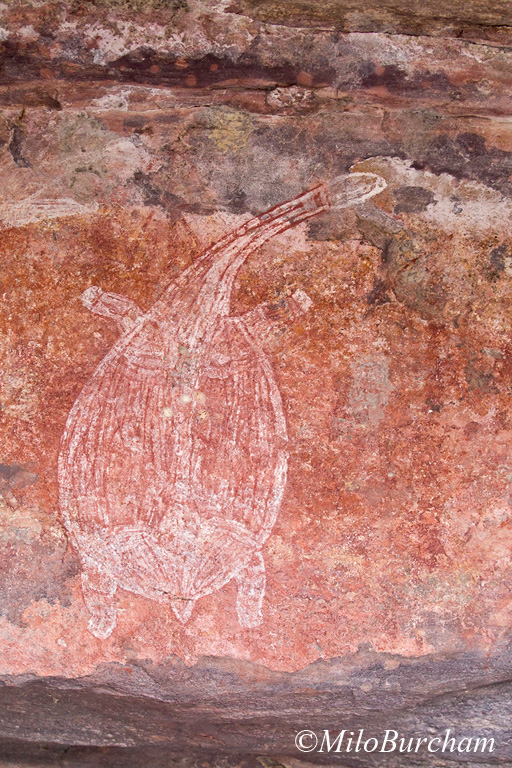 Rock art at Ubirr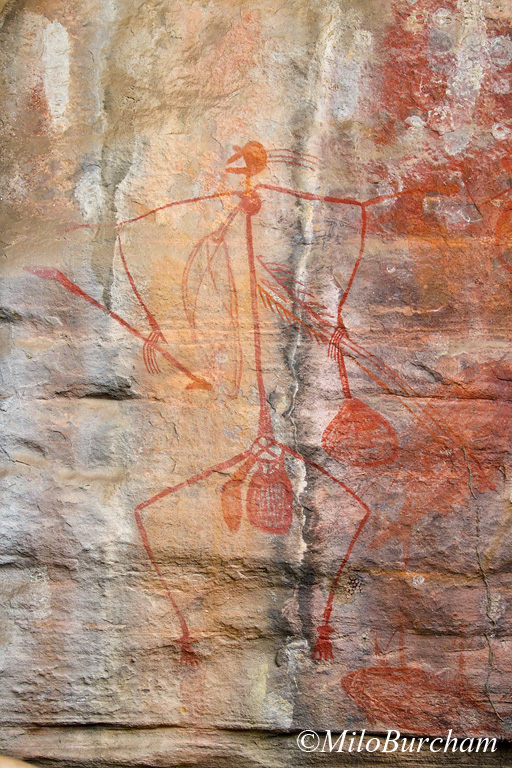 Rock art at Ubirr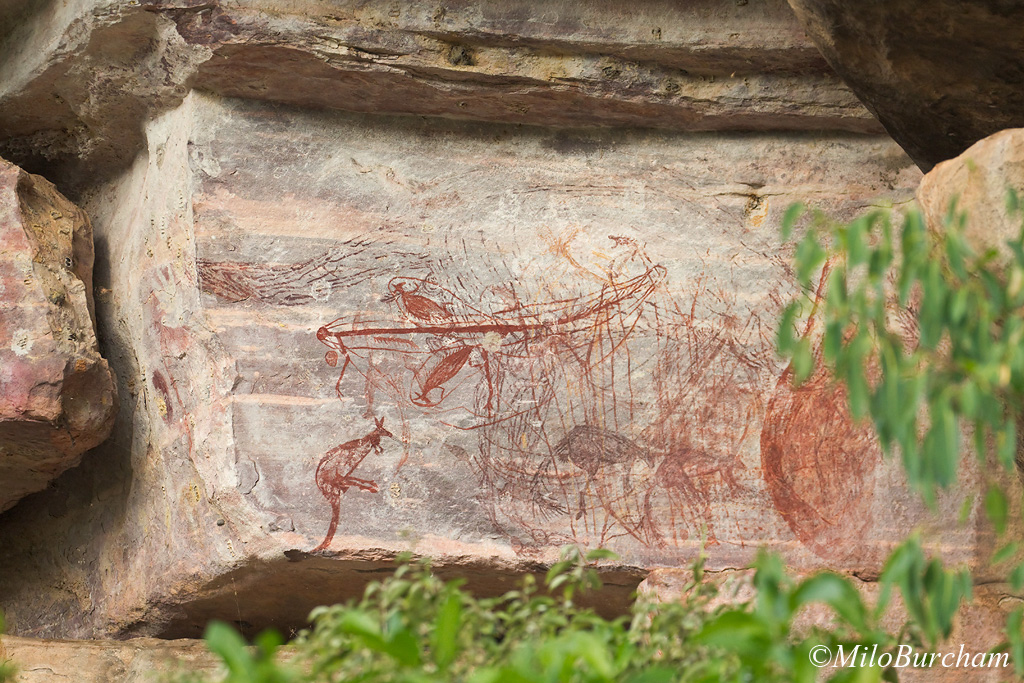 Our trip was rapidly drawing to a close. We spent our final evening in the field watching the sun set at Ubirr
Little Corella at sunset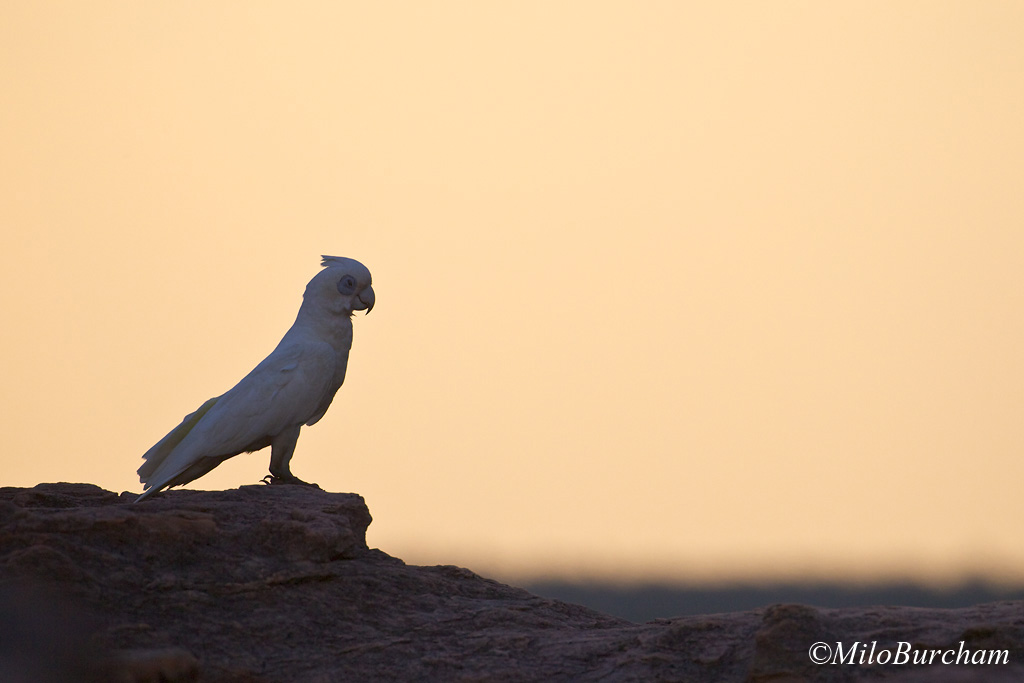 Paula and I at sunset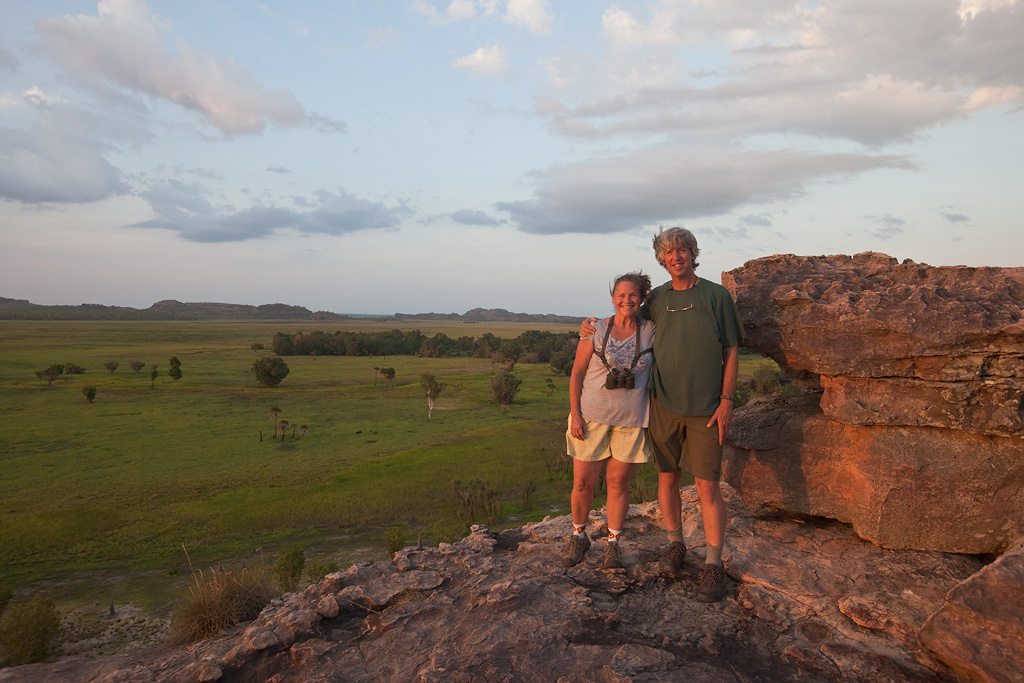 That night we cruised up another Burton's Legless Lizard, much more strikingly marked than the first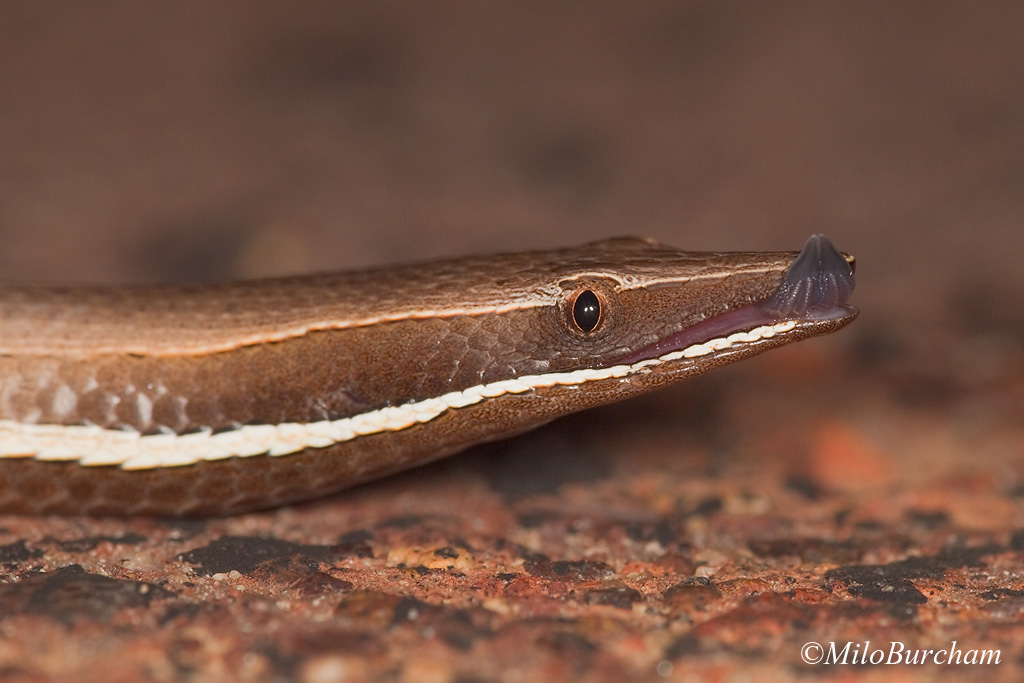 Burton's Legless Lizard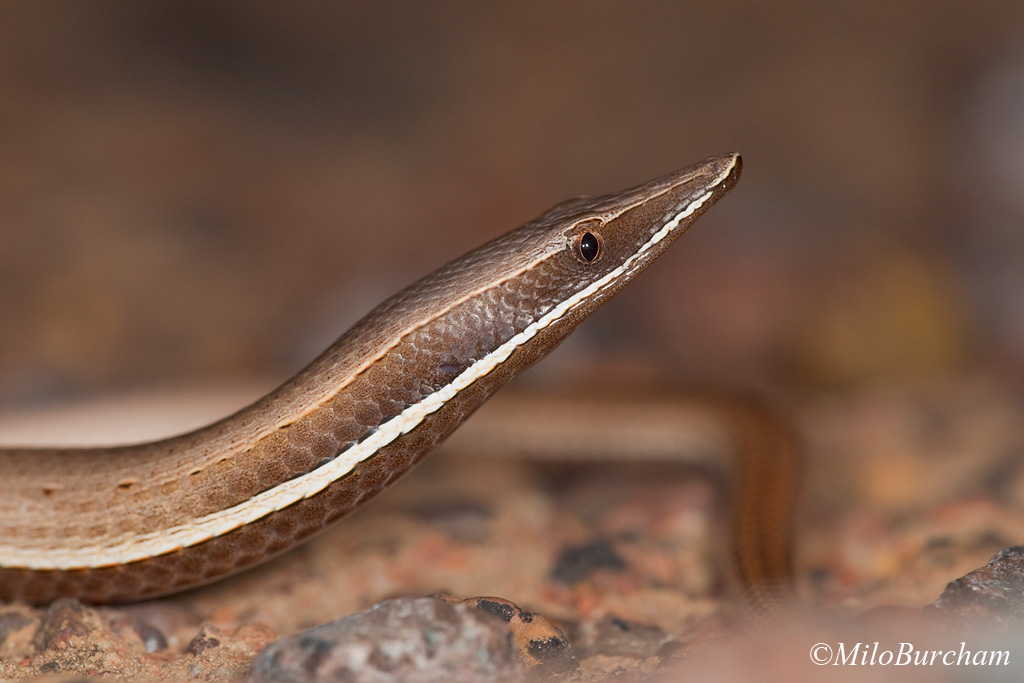 One more croc, this one from the Alligator River
Estuarine Crocodile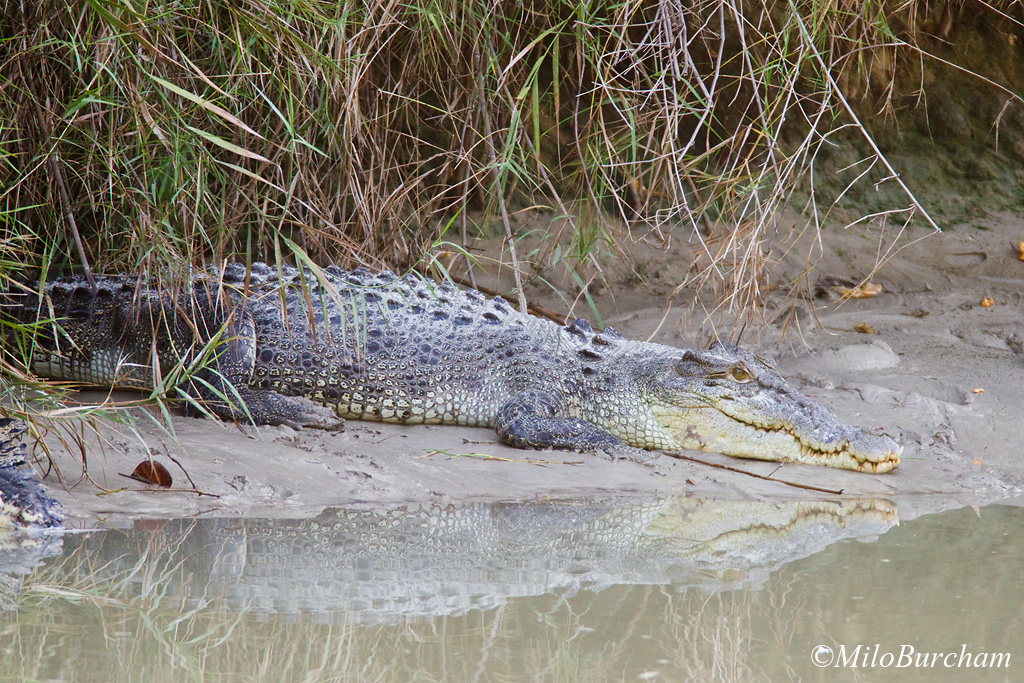 Azure Kingfisher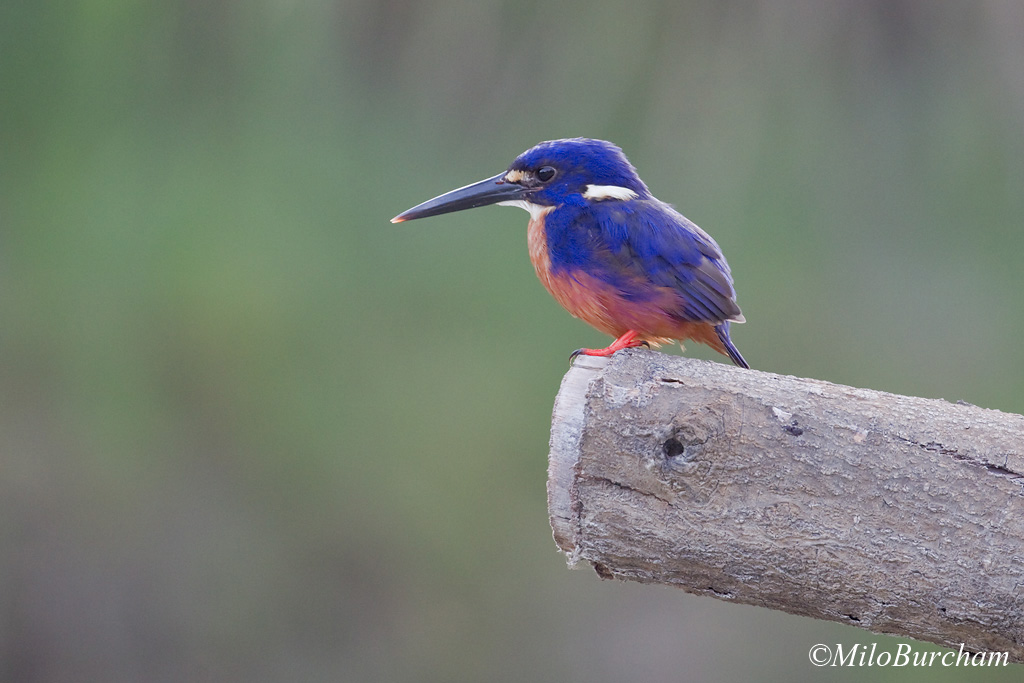 On a hike near Ubirr, we bumped into this Swamp Buffalo that demonstrated some attitude before running off!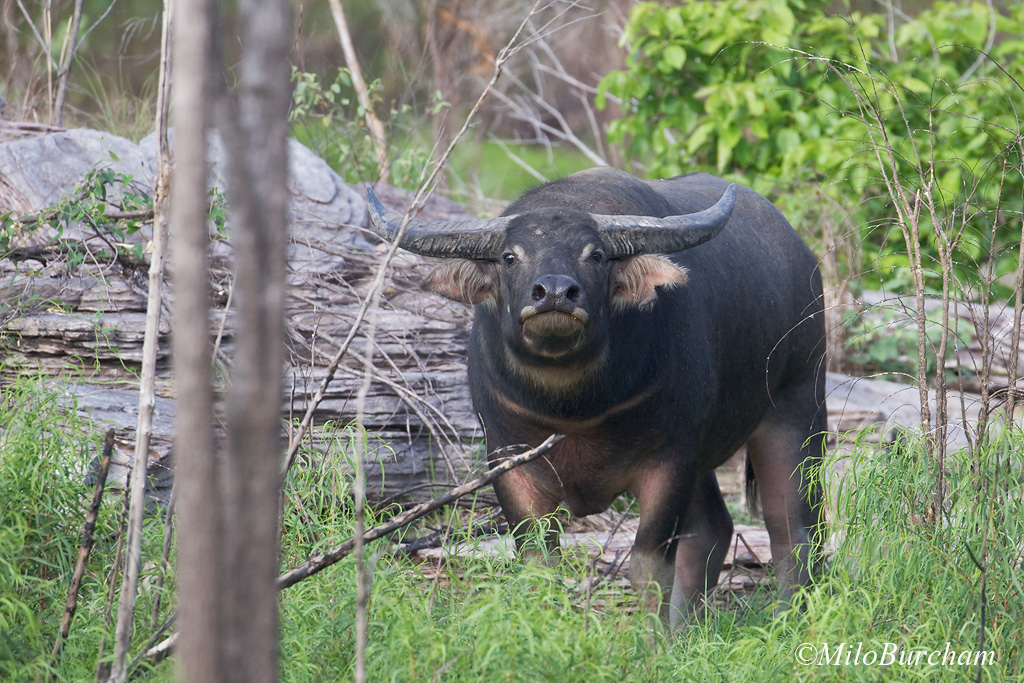 We saw this large frillie that escaped to the safety of a tree.
Frilled Lizard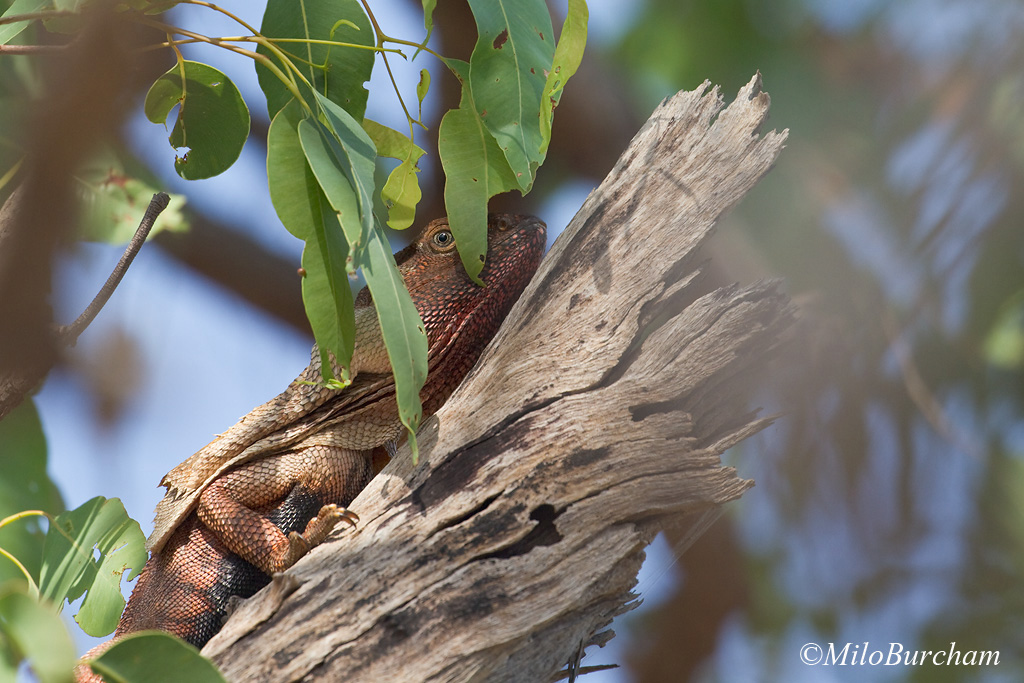 Another Swamp Lashtail, just outside Darwin. The length of the tail is amazing and due to resolution loss in resizing the image, I pointed out the very end of the tail for you.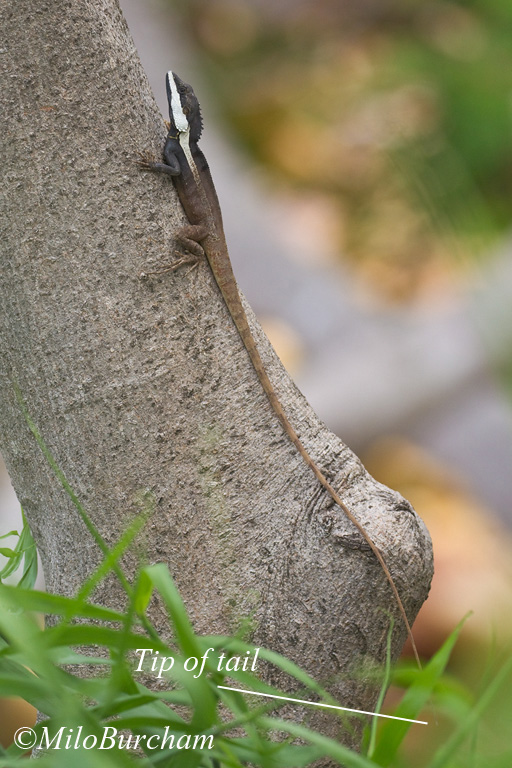 Masked Lapwing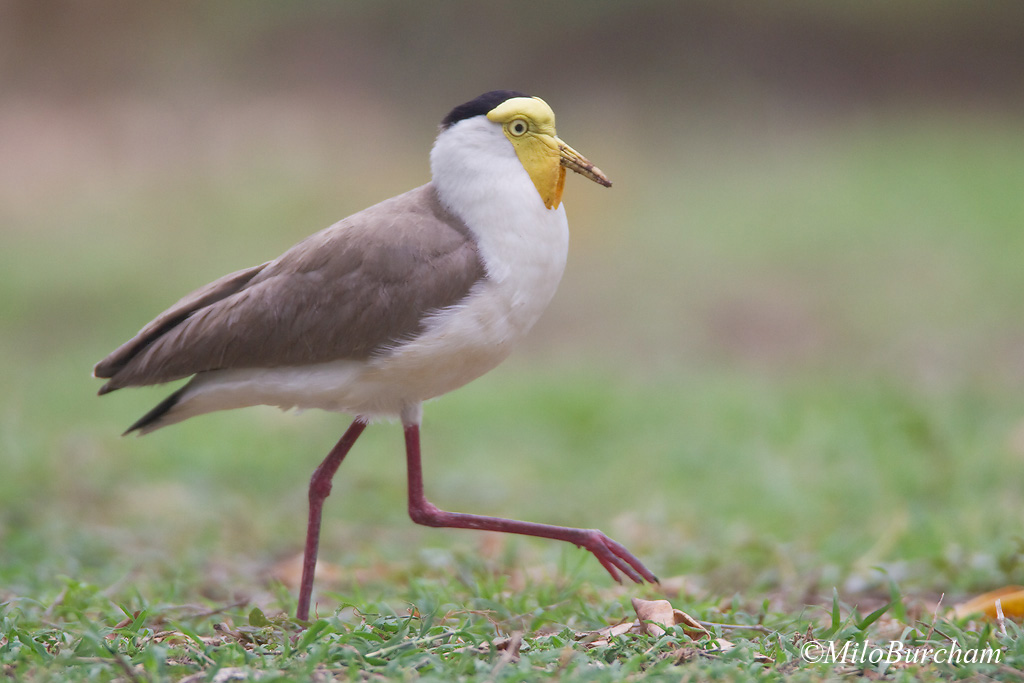 I had hoped that on this last evening near Darwin, I might see a bird I had missed on our trip 3 years ago. Sure enough, I found it!
Beach Stone Curlew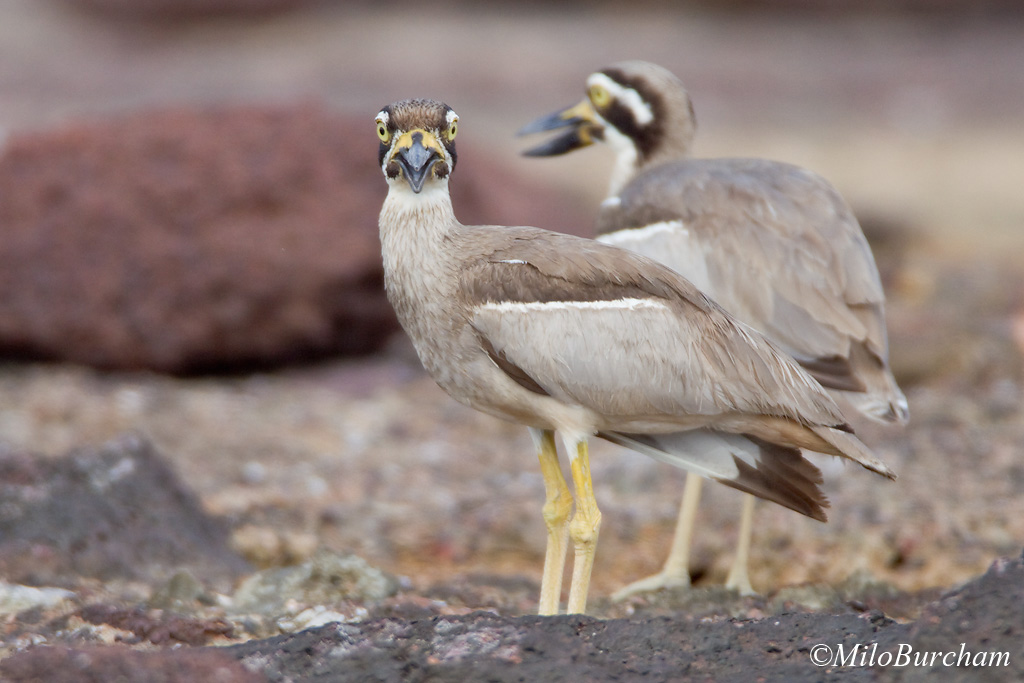 And on our last evening in the country, we got a hotel in Darwin. Only our second room in 3 weeks of travel. It turned out to be a nice one. It had beach access, showers, and air conditioning. No mosquitoes or ants were biting us; no flies buzzed our faces; we were not dripping with sweat as we crawled into our bed. But something was missing! We could not see the stars overhead; we did not have kangaroos or wallabies grazing nearby; and no chorus of Australian Ravens or Kookaburras woke us up.
We missed it already.
While gassing up our rental car on the way to the airport, I noticed this headline at a newspaper stand. It is the headline of the state newspaper: the Northern Territory News. I thought it made a nice statement about this country; that a man hooking himself in the head while fishing, could be the top story. In this day and age, that such a story makes the news at all, points out a certain naivety and charm. Australia is a fantastic place.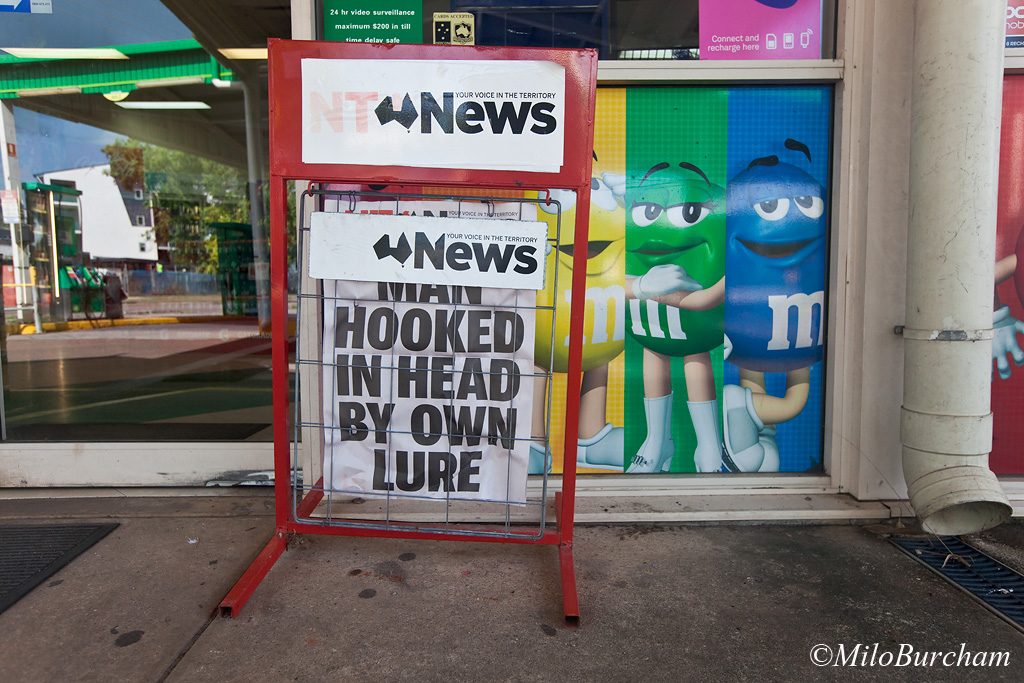 We can't wait to go back!