To kick off part 2 of my year review, I picked this photo to mark the first herps that I found with a new herping friend that lives near me. We went out and started herping around Santa Rosa county and he showed me a nice spot. We quickly began finding Pine Woods Tree Frogs and a couple Barking Tree Frogs.
Some in-situ Pine Woods Tree Frogs:
Side-by-side to show some color diversity within Pinewoods Tree Frogs:
This barker would have gone unseen, had he not been calling. We had tried to leave the bark in-tact, but it cracked and fell as we peered in at the barker.
A shot of an ephemeral pond before night fell.
My lifer Cope's Gray Tree Frog. It was heard calling from an upland swamp along a roadside ditch.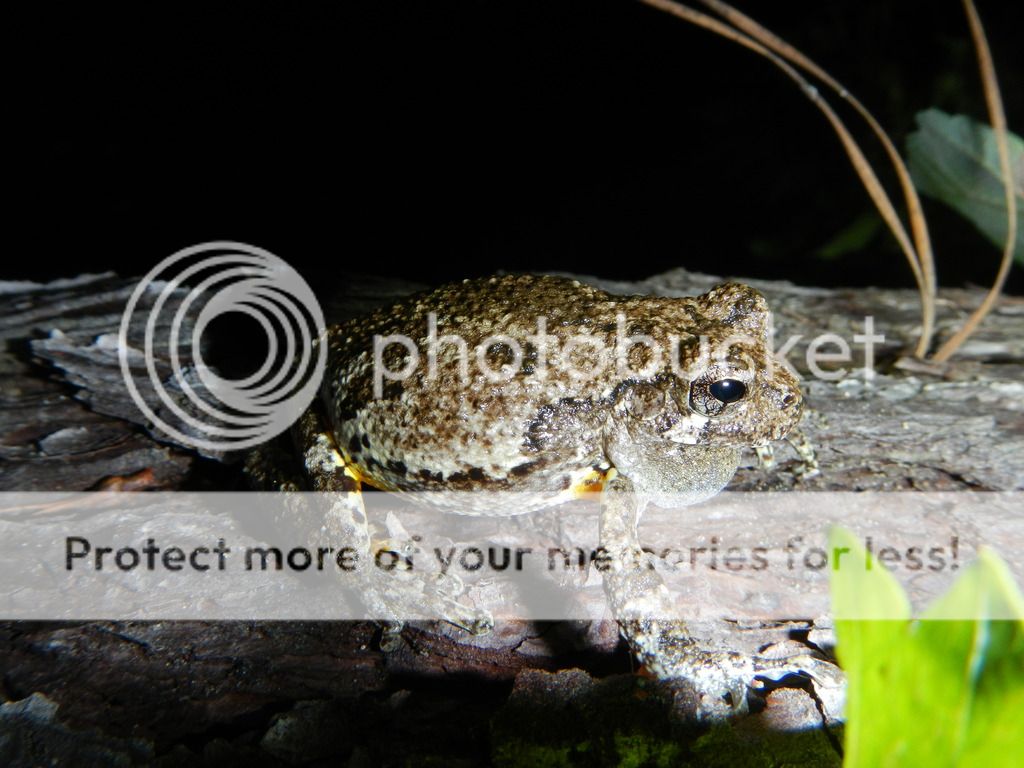 Later that night, being a slow night, I decided to stop and photograph this Green Tree Frog.
Eventually, we kept going and found this fat Oak Toad hopping around some debris.
Then later that night, my lifer Florida/Okaloosa Bog Frog.
Later during the week while working, I found this Mole King cooked alive in the sun. No, it wasn't actually gray. It was in-shed when it had died and kind of "caramelized".
The next weekend I headed back out and started the night off by cruising up this little cottonmouth.
Shortly after, I had found the Pine Barrens Tree Frog spot that I had been given and saw my lifer Pine Barrens.
That night I also managed to find some snakes, including this Gray Rat Snake.
As well as the first copperhead that I've seen in 4 years! As the summer continued, I became jaded with copperheads. Apparently about a month later, I may have found a Walton county record. I thought nothing of it though as I had been seeing so many, so I failed to photograph it.
Back at my old job again, this nice and bright Eastern Coachwhip.
Another, smaller one, from later that day:
While moving from A to B, I also drove past this cottonmouth that had just moved off the road. I took a few photos and moved on.
I started a new job for the University of Florida. My first night on the job, I found a Pine Barrens Tree Frog as night fell. Over the next few weeks, I found many more. Unlike the other spot that I was given that has some, this spot has hundreds.
Other than appreciating lizards more, I began to try to appreciate Southern Toads and Bronze Frogs some more this year.
Other than amphibians, my new job with UF has given me a new found appreciation for the vegetative beauty of Seepage Slopes.
Finally, a few more herps from the slopes:
I eventually made it up to Conecuh National Forest for the first time to recreationally photograph herpetofauna. My first snake did not disappoint, a nice chunky Copperhead.
About 4 hours of nothing later, my lifer Scarlet Snake!
Followed quickly by another as I called it a night and started to head home down towards the lower end of Okaloosa county.
Later that week I began my S-130/190 L-180 training to be certified to operate on prescribed burns in the state of Florida. One day while coming home from class, I found this Western Painted Turtle walking up the street in Okaloosa county Florida. He was a little far from home I'd say! Luckily, I was able to find him a new home with my old boss.
A few days later I was back out cruising for snakes to clear my head during some turbulent times in my mind. I found this nice little copperhead on a road. I pulled over, moved it off the road, and took some photos of it.
About a week after that, I went out with a friend of mine to show her some of the neat places that I see while herping, including the wide creek in the bottom of a ravine.
Some wire-grass regeneration 1-week post-burn where I did my S-130/190 training burn at.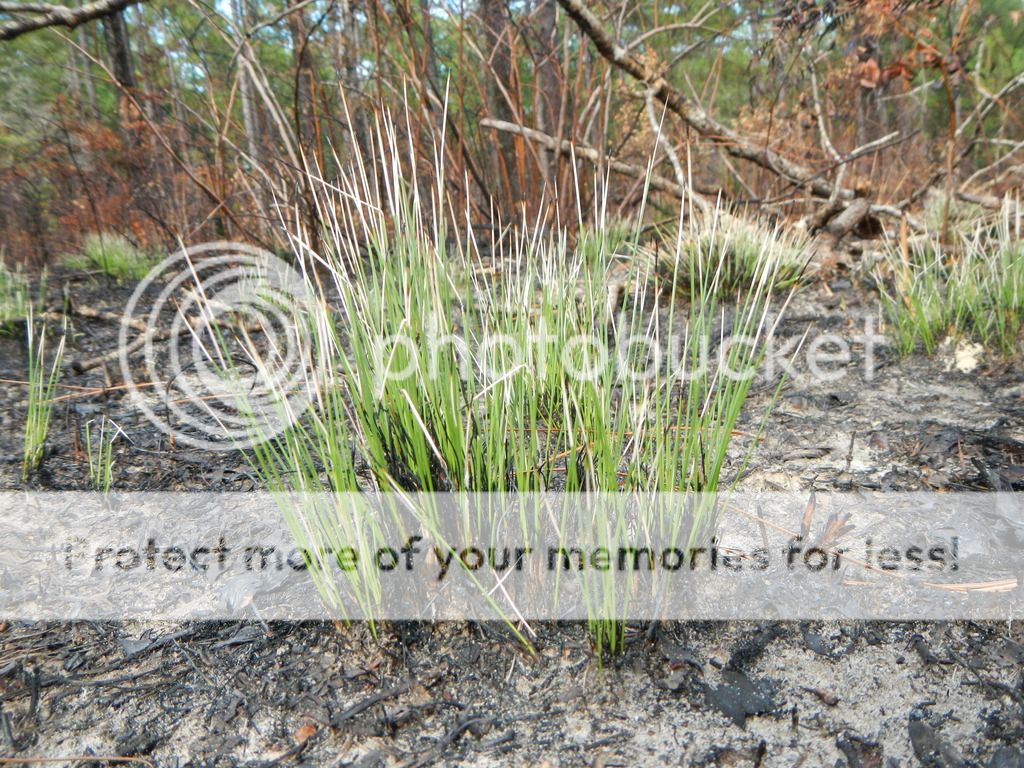 Some yellow and red pitcher plants:
The rare purple pitcher plant. I had no idea what type of pitcher plant this was when I stumbled upon it. I had to do some asking around with some of my friends that a carnivorous plant enthusiasts to find out.
Then to top the trip off, I couldn't bring a friend out without finding at least one snake! I found this pretty little Banded Water Snake. This location has the prettiest banded water snakes of anywhere that I have ever been. They are in a wide range of color combinations, but they have the brightest colors.
A little while later, I went looking at my local waterdog spot to no avail, but I found a mud turtle and a peculiar salamander larva.
This larva, despite having spots, is apparently a Southern Two-Line Salamander larva. According to Pierson Hill, the Eurycea cirrigera larva will have spotting and dark coloration in seepage streams that have a sandy bottom.
Later that night I went herping with another friend, and we found this Gray Rat Snake in her driveway.
Then, just a few days later at my internship, this Gray Rat was out and about in the morning. Perhaps it just shed and was hungry because he was looking mighty nice.
A week or so passed and a herper from Illinois came down and was staying in Navarre Florida with his dad for a week. I met up with them one night to try and cruise some late July night-time Timber Rattlers up in Conecuh. No luck there, but we got his lifer Cope's Gray Tree Frog.
As well as his lifer Northern Scarlet Snake, of which we found two. One in Florida and one in Alabama.
We also found a little Banded Water Snake up in Alabama.
A few weeks later I was at a cookout with some friends at a creek that has my favorite Banded Waters. I wasn't disappointed by this one at all. Especially so, as this one was the first incident of me witnessing periscoping like a cobra by Banded Water Snakes. This wasn't a good photo, but I did capture some footage that showed it nicely.
One of my friends wondered off from the cookout to take a leak when he shouted my name. He had walked up on this Gray Rat Snake.
Later that night I was cruising yet again. It was a slow night, with almost nothing out. As I was walking along a beaver pond though, I took this in-situ picture of a large and fat Northern Scarlet Snake, almost 20 inches long.
A couple of weeks later I met up with some other herper friends from North Carolina and East-Central Alabama in Conecuh National Forest for some camping. One of them has been looking for pygmies in NC to no avail. His two top targets of the trip were Eastern Diamondbacks and Dusky Pygmies, of which we turned up none. Our first night was off to a rocky start, where we all got to add one of those police-meets-herper stories to our list. However, the next morning started off nice with my second Timber Rattlesnake at around 10am in the morning!
The day warmed up and became hot, herping slowed down. I took some habitat shots to pass the time though as we herped in-vein for hours.
At this second spot though, we found a nice Florida Pine a few days later, a lifer for my four "guests".
During the trip, other neat herps that I helped my friends find where this Northern Scarlet Snake in Conecuh, a lifer for two of them.
These chunker Gray Rats where I intern at in Florida, a lifer for at least 1 of them.
Finally, some common herps that they didn't seem to care about but I still enjoy finding. Although one of them was quite enamored with this little Southern Ringneck Snake.
Dwarf Salamander:
Cottonmouth - they were actually quite happy with this one.
I buggered the living daylights out of my car on that trip, so I found myself stuck as a domestic herper for a little while again. I took that time to start focusing on suburban and urban herping. Around houses, there is no shortage of Southern Toads.
Or Green Anoles (can you find him?)
Once the Fall semester of school fired up again, I began seeing juvenile Broadheads around campus.
School labs / field trips began producing some nice common snakes as well.
Also some neat stuff was turned up on labs like this larval Two-Line Salamanders.
Some virgin long-leaf habitat while on a field trip for one of my classes. Unfortunately, most of the old-growth trees were taken out by a hurricane, but the plot had never been logged. The knocked down trees were simply salvaged. I was more enthralled and focused on the amazing ground cover.
I was also quite pleased to find this nice little Diamondback with minimal effort, just by showing up.
A few weeks passed and I was inspired to make a pass down a dirt road for pygmy rattlesnakes, which have given me a very difficult time this year! This was a recent post here, but I love it none the less. My lifer Southern Hognose greeted me almost as soon as I turned down the road!
After I walked her off the road:
I came back 2 days later to try for more. I only got a few snakes that day. It was worth it in my book though, as Hognoses always make any trip worth it.
I later stopped by a riparian area and found this Spiny Softshell at the base of a mound with a freshly hatched turtle nest. Egg pieces were still scattered everywhere and I saw little tracks leading towards the water. This one hadn't gone far when I had arrived, leading me to believe they may have hatched that morning or the previous night.
The day after that was a good Diamondback day, with 2 cruised and 1 hiked Diamondback.
A few days later I came back to cruise with a friend and I found this coachwhip that wasn't very afraid of me at all.
A box turtle along a road.
A hatchling Black Racer, of which there was dozens of every day on this road, all October.
Oh, and another lovely Florida Pine Snake.
A young gray rat snake:
A little pygmy, the species that first attracted me to this place.
Then lastly some more Florida/Okaloosa Bog Frogs.
The next day yielded a Southern Ringneck Snake
A crushing, dead, Southern Hognose. I was fuming from the ears for the rest of the day. Had I not gone to a different spot out of boredom, I would have been there to see the hognose before whatever killed it, killed it. Or so I like to tell myself.
Then later that night, hoping for whatever on a final pass after school, around 9pm, a Corn Snake.
Back again, I hiked up this Fence Lizard on a cool morning.
I also found a pancaked DOR Eastern Hog from the day before, or so I imagine as the birds hadn't gotten it yet.
After a while, I felt like changing it up, headed out and focused on some watery areas instead. I found another spiny softshell at the same place as the previous one.
Then, it was back to the uplands where I found yet another Southern Hognose. Perfectly alive, but he'd like use to think otherwise.
He woke up eventually and crawled away into the bushes.
As evening drew closer, I headed to the bottom lands to look for whatever I could find. I found this nice Florida Cottonmouth.
Then later, making a wide swing north on my way back home, to the south of where I was with the first cottonmouth, I found this Eastern Cottonmouth in Alabama.
November came and so did cool weather. Herping slowed down, but not entirely. I headed out to my softshell spot and found this Gray Rat Snake starting to slink onto a busy backroad.
A littler farther down the road, another baby Black Racer.
Later while exploring a floodplain I found a Southern Ringneck Snake.
Then, while walking along the edge of the water, my lifer Scarlet King!
A habitat shot looking at the river, from where I found it.
A few weeks passed of no herping because of abysmal weather. Eventually, a lab for school came up. As usual, some good habitat shot opportunities came up as well as some herp-shot opportunities.
A nice spring-fed creek.
A Southeastern Slimy Salamander profile.
Another habitat shot of a different part of the same creek. That is some particularly blue water!
A shot of the Conecuh River. This was a very dry fall. Rivers that are normally deep could be waded across.
We eventually came to a dry cypress pond where this little Two-Line Salamander was just out walking around.
The spot also provided an unexpected lifer, an Upland Chorus Frog!
A short distance away at another ephemeral site, I rolled a log to see my lifer Marbled Salamander! This species has been on my radar for years. I was extremely stoked when I saw it.
A few days later, on a warm day, it was back to herping for me. Not much that day, but I saw this Green Tree Frog.
As well as this Eastern Ribbon Snake.
Then a nice habitat shot of an isolated wetland.
A week later and it was back to another school trip. Not many herps this trip except for this beat up old Box Turtle.
There was some nice looking aquatic habitat on the edge of the Perdido River though.
There was also some nice looking upland habitat too.
Back to my internship, one day while showing some students from northern Alabama around, there was some Fence Lizards out and about.
A few days after that, back to Conecuh for some herping. It was a cool morning, so I hiked around a bit. I found this cricket frogs hiding under a log on the side of a pond.
This toad was already out hopping around for whatever reason.
I also found a Dwarf Salamander beneath some pine bark laying on the ground.
I walked up on a Banded Water Snake sitting along a little trickle feeding into a pond.
Later on, I took this habitat shot of a sink hole pond. I saw some chicken turtles down in the pond, but my camera wouldn't zoom in far enough.
On the way back home, I saw this Southern Toad out hopping across the road.
Later in November I had a field trip for school. I headed out a few days early so that I could visit Wakulla county on a warm day right as a cold front was hitting the area. I was to meet up with some other herpers that day to show them around. I got there early that morning though, so I had a while to myself to poke around.
I started off quickly by finding this Pygmy basking while elevated off the ground in some grass.
I later flipped another pygmy under a palm frond.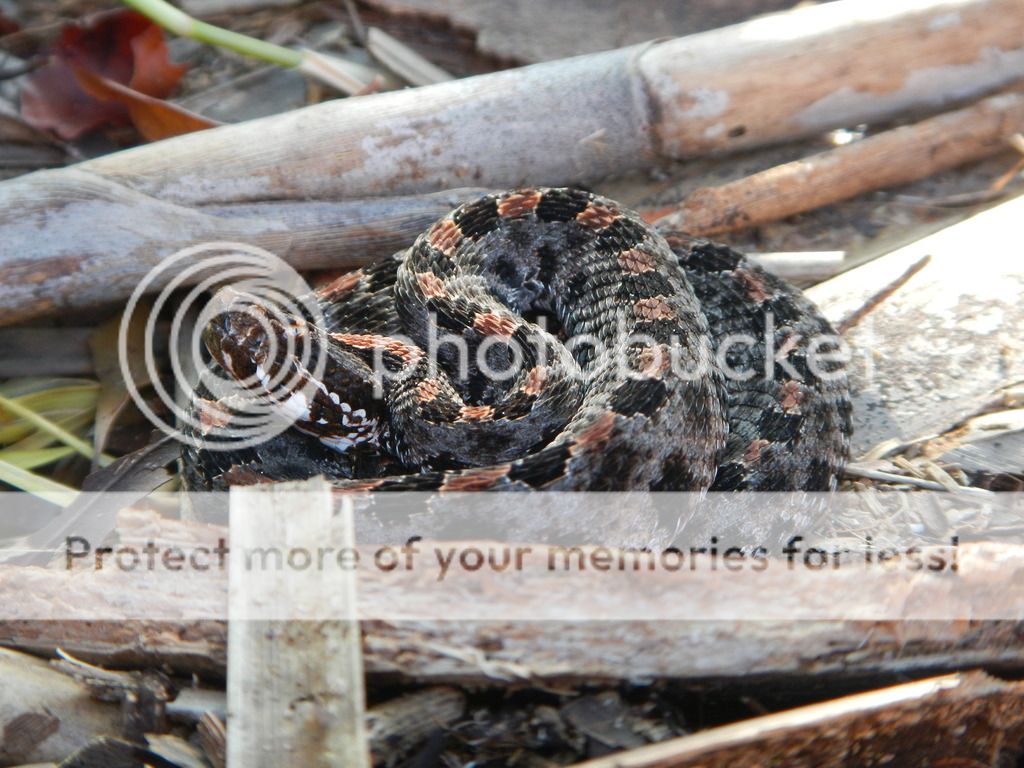 Lots of fiddler crabs were out. There was so many that I could hear them from the other side of the trees before I ever saw them.
While looking through rocks for snakes, I found one of my other targets. I had found one of these back in January, but this was the first time I could photograph one with my SD card (I had forgot my SD card the last time!). A tailless whip scorpion.
Later while exploring, I parked my car. I hadn't realized it until I got out, but I parked right next to the female cooter, I'd imagine Florida cooter.
Then, while walking along, I found yet another, old male cooter with his melanin starting to develop with old age.
Some alligators, they're always nice. Even though they are common, they're just simply fun to see.
A very pretty scorpion that I saw under some debris.
While walking along a trail, I looked down into a ditch and saw this critter poking its head out. I jumped down to move it to the trail so that I could take some photos without it escaping. My lifer blue-stripe ribbon snake!
After that I met with the other herpers that I was meeting. We headed out to where I saw the pygmies so that they could photograph them. While poking around, I found a 5-line Skink.
One of the other herpers found another blue-stripe ribbon. Sadly, the one appeared that a vehicle may have hit it, and that it crawled off the road to die. It was acting very funny, and it's head was always tucked down and cocked slightly to the side, as though it had a severed spine.
Some Gulf Salt Marsh Snakes were turned up shortly after though, which was nice for everyone there.
While walking a nearby trail, I found a gray rat snake out sunning. I posed it for some photos and then turned it loose, back on its way.
The other herpers invited me to camp with them and have some steak for dinner. I couldn't say no to that! We set up camp at a camp site. We asked permission and were granted to build a little bone fire. We lit one to cook the steak on, but then we were hit with a problem. What to cook the steak on? Luckily, I had an idea. Stick them on the potato rake that I keep with me! Despite not being able to check their temperature and cooking them over an open flame, they actually turned out really good. Not under-cooked, not over-cooked. I just held them on the fire until I stopped seeing bits of fat drip off.
The next morning was cold. Very cold. Despite that, we headed out to the Apalachicola River to look around for some stuff. On the way there, at about 53 or 54 Fahrenheit, I cruised up this Eastern Garter Snake. I almost went the whole year without seeing one!
Later on at the river we saw some cooters basking from afar.
We flipped a couple of Southern Two-Line Salamanders.
A neat moth that I started landed on me.
And I found one of them their lifer Brown Watersnake!
We kept looking around for a bit. We found a few more anurans, a Southern Toad and a Bird Voice Tree Frog.
Eventually, I had to head out early because I had an overnight lab for school to attend! There was some amazing habitat up in Gadsden county, but no herps to be seen.
A few days later, temps came back up and I went out to Conecuh again. Not much was out, but I took one of the clearest pictures that I've ever taken of a cooperative Copperhead.
Several hours later, my last herp of the day was an Eastern Legless Lizard.
A few days later I did some herping closer to home. Some bronze frogs were seen under a bridge.
A brown water snake was also seen hanging from some tree limbs. It was a cool morning in the lower 70s and had been raining all morning. I guess it didn't bother this snake too much though.
Later that day I stopped by a river and took this stormy day shot that also featured some cypress saplings.
That night, I tried to cruise some salamanders to no avail. I did find some southern toads though.
I ended up calling the night early due to kneeling down in a fire ant mound for about 3-4 minutes without realizing it. Not fun, not fun at all!
A few days later, I snapped this picture of an Eastern Ribbon Snake atop a 5 gallon bucket behind my house. I was just out walking around when I saw it sitting in my yard.
A while passed. The friend-of-friend from part one that lives on a ranch had since became my friend and invited me to a bonfire he was hosting. It was nice, and I also poked around for some herps. Not much was out in the upper 50s, but this Bronze Frog had failed to get the notice that cold temps were coming.
I had decided to stay sober as I was planning to do some herping over night, as I was meeting up with the same herpers that I explored around Wakulla county with just a few weeks prior.
While trying to stave off sleep, I was checking out the neat ravine from the head of this post and found this Southeastern Slimy Salamander.
I eventually succumbed to sleep, and found a spot to pull over and get a couple hours. I woke up early as hunters were driving by me. I decided to check out a spot that one of my friends with FL Forestry told me about. It was a neat little oxbow lake. No herps were seen, but it was pretty none the less.
Later that morning I met up with the herpers, from Mobile AL, in Blackwater. We checked out some ponds and found some Easterns Newts.
Later, we made it to some beaver ponds where we found this nice Cottonmouth.
A little while after that we found what will likely be my final snake of the year without some sort of miracle tomorrow. Funny. My first snake of the year was a baby banded water snake. My last snake of the year, was a baby banded water snake.
As I'm sure many herpers know, the 24th was a warm day this year. I decided to give my local waterdog spot another whirl. Firs that day, I stopped by a friend's property to check some AC that he let me place early this year. Not much, but I found this strikingly colored Southern Two-Line Salamander.
Some pretty red sphagnum was also seen.
I stopped by a river for some log rolling where an old local told me that he use to catch mud snakes when he was a kid. I was skeptical until he described perfectly them without any prodding from myself.
I decided to take this habitat shot as it was so peaceful out.
A while of log rolling produced no snakes, but I found a Southeastern Slimy Salamander and a metamorph River Frog.
I eventually made it to my waterdog spot. My first salamander has recently caused a bit of debate, but again, according to Pierson Hill this is indeed a Southern Two-Line Salamander. As I mentioned before, apparently they are darker and develop spots when the habitat conditions are correct. The physical form of the salamander is incorrect for a Desmongnathus. The head, legs, gills and tail would all be different.
It didn't take long before I found my target at varying ages from YoY to adult.
YoY Waterdogs:
Adult waterdogs: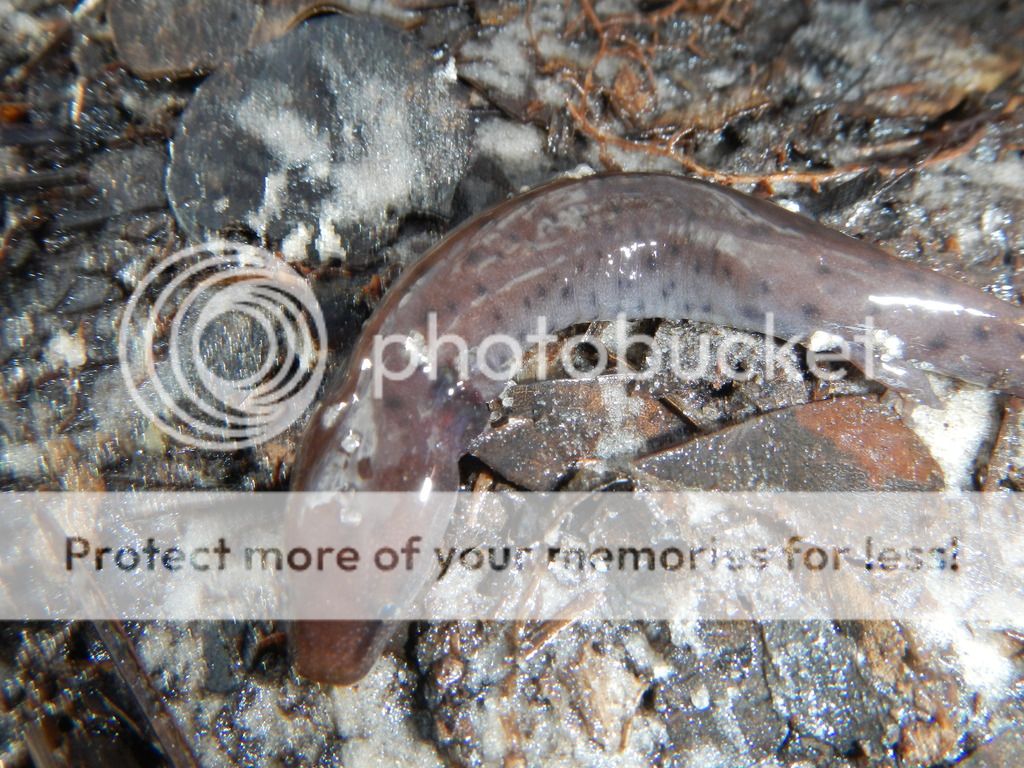 Also, I found a neat crayfish.
On the 25th, I got a nice new headlamp. I went out with my dad that night to test it out. I wasn't expecting to see much at 61 Fahrenheit at night. However, I shined two Loggerhead Musk Turtles out foraging.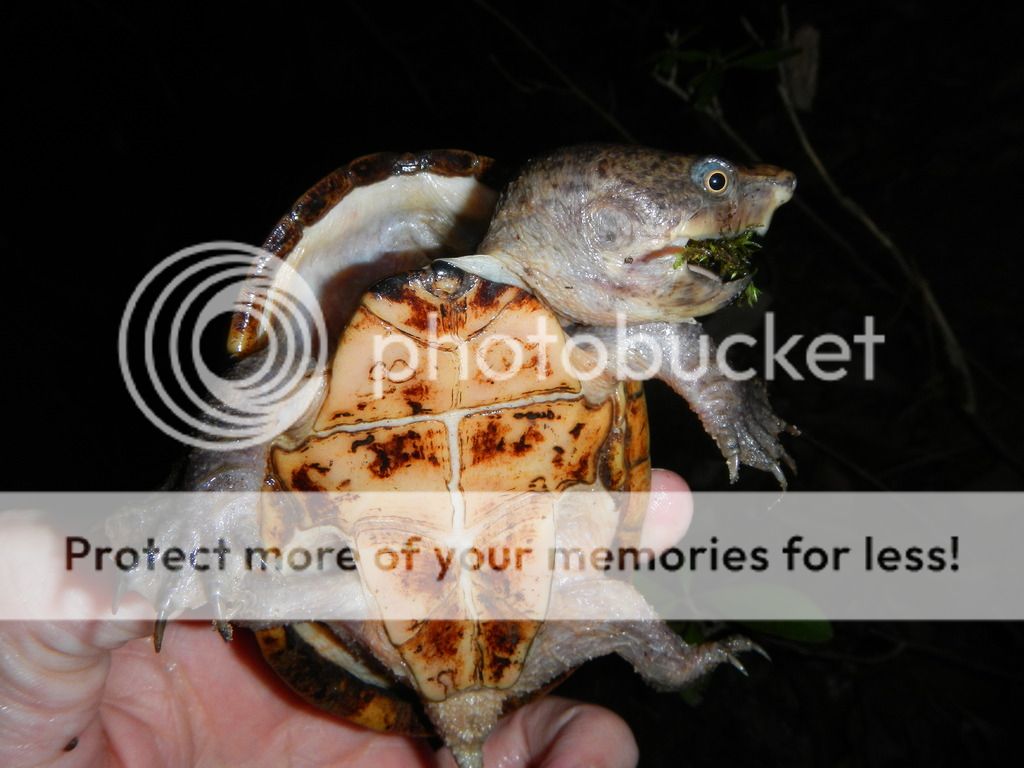 My final herping trip for the year was 2 days ago. I was mainly just scouting new spots.
A nice creek that I found.
A nice section of river.
At the river section, I flipped a Three-Lined Salamander.
Then, my last herp of 2016 I flipped at a spot that I had found the night of the 25th with my dad. I went back to check it out in daylight. It looked amazing for when warmer weather comes around. It also looked like a fly and mosquito nightmare. The herp, the final herp of 2016 for myself, a Southeastern Slimy Salamander.
I had a great year herping, despite all the other BS I had to deal with. I could only hope that 2017 is just as great of a year for herping as 2016 has been. I hope you all had a good year too, and that next year is just as great if not better.
Happy New Year everyone!
Link to part 1:
http://www.fieldherpforum.com/forum/vie ... 11&t=24016