Our Corsican adventure began on the evening of Friday 27th May when I realised that I didn't actually know the location of the house we had rented.I had seen it advertised on a few websites and the map showed the same house every time, however a look on google earth street view didn't match the photos shown.I quickly sent an email asking for directions but got no reply, checked at midnight ,no reply, 6 am..no reply,Heathrow airport..no reply,Frankfurt airport..no reply, Bastia airport..no reply. We collected our rental car,drove to Borgo and parked at the location on the advertisment. I rang the owner, who spoke no English and tried to explain in my schoolboy French that I learnt 40 yrs ago that we were nearby and could he meet us. His reply was just too fast and I understood maybe one word in ten and when I stopped him and said I couldn't understand, he just repeated it louder.Eventually we understood each other and he turned up in his car and took us to the house and a very welcome bottle of wine in the fridge.
Sunday 29th
We woke early to thunder and rain coming from the hills behind the house and the first job of the day was to get some shopping for the week so we headed to the local supermarket.At the bottom of the road was a small ditch with shallow water,I noticed some tadpoles here and also some newly metamorphosed froglets , I turned a stone in the water and found a Tyrrhenian painted frog
Discoglossus sardus
, a great start to the trip, a new tick under the first stone .I had come to Corsica with a tick list of ten species for the island, I had seen the islands other species elsewhere.
Back at the house after shopping, the sun was shining and a small pile of rocks in the garden gave a couple of Italian wall lizards
Podarcis siculus
.
Our destination today was the area around Fango on the west coast with a mixture of coast, marsh and hill habitats. In the hills above Borgo we found plenty of Tyrrhenian wall lizards
Podarcis tiliguerta
(tick 2) and Moorish geckos
Tarentola mauritanica
on roadside walls. After driving through the hills for while we stopped for a coffee at a small cafe, I said to Suzanne that I hoped to find a snake today and she said"Don't worry darling , if anyone can find a snake it will be you" I then paused in the car park to flip a log and found a beautiful blue Western whip snake
Hierophis viridiflavus
! I have seen a few Western whip snakes before but never this colour.
After the coffee we stopped to photograph some rain erosion in the soil and I turned round to check my footing and spotted a pair of Tyrrhenian wall lizards on the fence in what appeared to be a mating ritual.
A stop at some roadside ponds gave us a few Italian pool frogs
Pelophylax lessonae bergeri
(tick 3), damselflies and Tyrrhenian wall lizards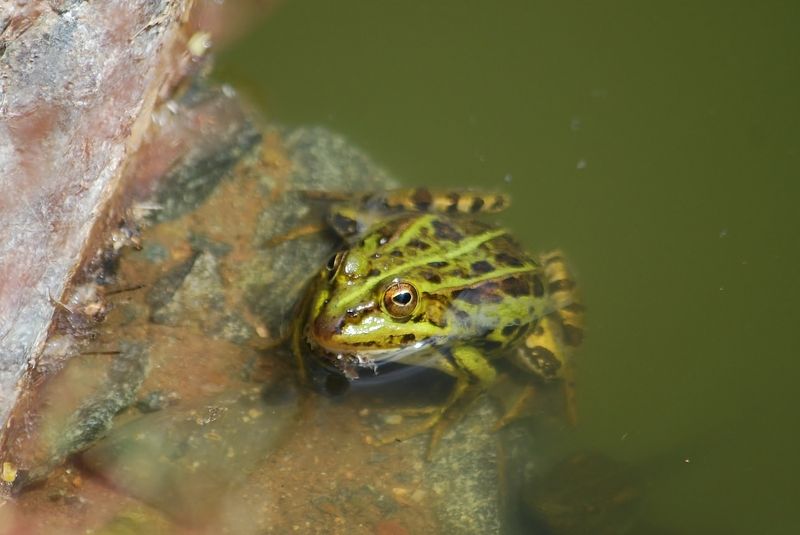 We checked out a small stream in the hills above Fango where once again we found Pool frogs and also another Painted frog. I took a few pictures of this one as I knew they are hard to tell apart but I was still not convinced it was a Corsican painted frog
Discoglossus montalentii.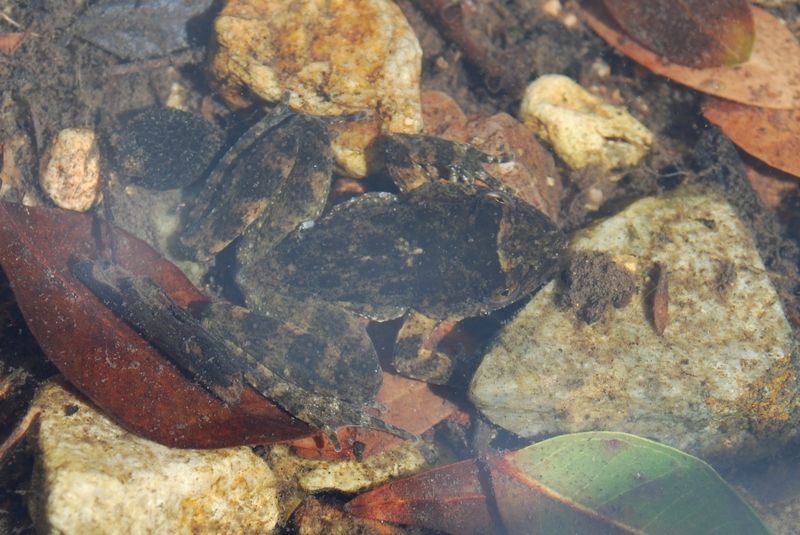 We the drove down towards the coast and walked to the beach through a nature reserve where I spotted a Grass snake
Natrix natrix corsa
sunning itself on the path.
We stayed for a while and had a swim but found only Tyrrhenian wall lizards among the scrubby bushes and so walked back the car spotting a wild boar in the marsh.
Monday 30th
Today started with the usual Italian wall lizards and Moorish geckos in the garden and then we drove north to Cap de corse where in a small stream I spotted a European pond terrapin
Emys obicularis
basking.
There were several Pool frogs calling from the stream and I was hoping to find a Grass snake but the only other sign of life were plenty of dragonflies.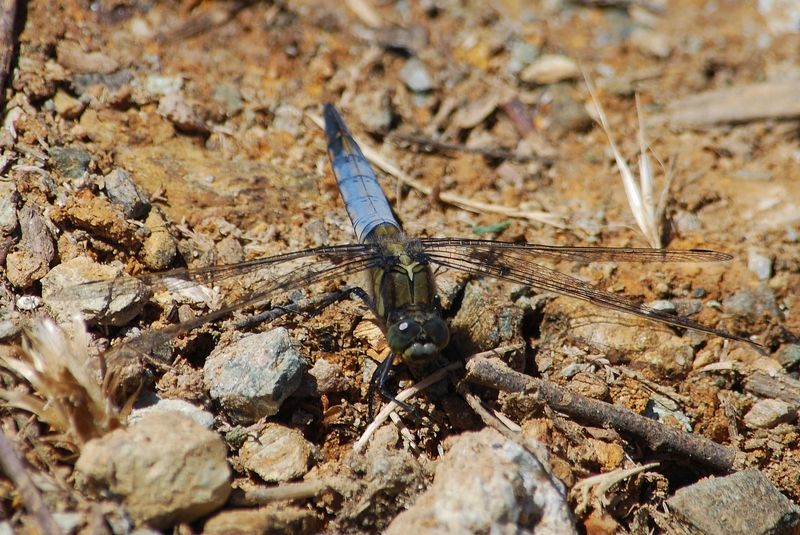 We walked up a track and explored some ruined houses but found only some Italian wall lizards and a walk through town for lunch and then along the beach gave Italian wall lizards and Moorish geckos.
A hot but very windy afternoon left us feeling sandblasted on the beach but it was great fun playing in the surf and as we returned to the car I almost stepped on another Western whip snake.
Tuesday 31st
After reading all the Corsican trip reports we decided that the Cascade des anglais would be a great place to tick off a few species in one go. We stopped in the hills above Corte to check out a roadside rock face finding Tyrrhenian wall lizards and a small Western whip snake before searching a beautiful woodland stream where as usual we found nothing. We eventually arrived at the Cascade but despite searching the pool edges, flipping every log and scouring the rock faces all we could find were a few tadpoles and a single Tyrrhenian wall lizard. We decided to return to the car via the lower path as there was a snack bar advertised but as expected, it was closed. I checked out a small puddle below a boulder and found a few Corsican fire salamander larvae
Salamandra corsica
, which although were tick 4, it wasn't the same as finding a nice adult salamander.
June 1st
Today was my 52nd birthday and I hoped to get a few special ticks today, we headed to a pond near a campsite on the east coast where I hoped to find some Tyrrhenian tree frogs
Hyla sarda
but despite wading through the shallow water and searching through the vegetation we could only find hundreds of young Pool frogs. I am sure that the pond would have been an ideal location in the evening but we had other places to go and so continued our travels. Back to Corte again and up the Restonica valley, using some clues from a trip report we stopped at a small stream and began the search for the Corsican brook newt
Euproctus montanus
. The first stone turned gave a newt larvae and the second stone gave an adult (tick 5).I quickly found 3 adults and 9 juveniles, this is what proper birthdays are like, not that cake and balloons nonsense.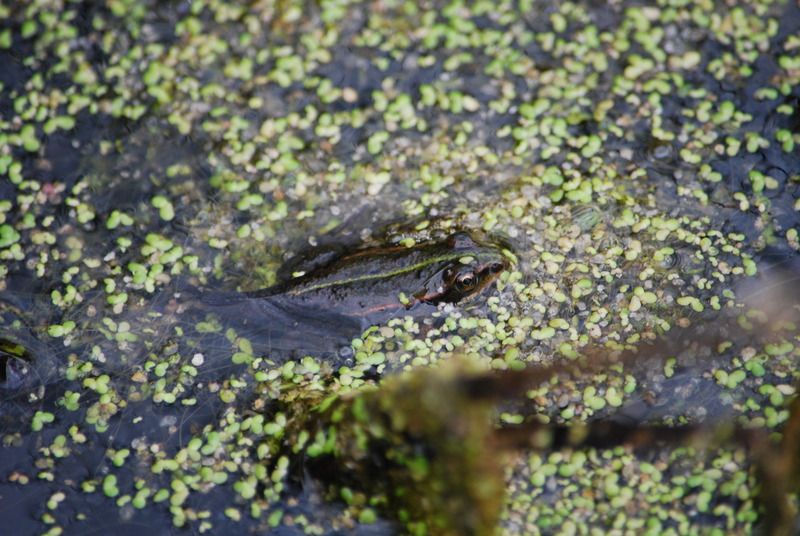 We left Restonica on a beautiful sunny afternoon and drove high into the hills to begin walking towards Lac Nino hoping to spot a Tyrrhenian rock lizard
Archaeolacerta bedriagae
but it started raining heavily as we reached the car park. The target species quickly changed to Corsican fire salamander and we began to walk through the woods but we were disappointed to see the woodland floor was all turned over by pigs/boar. We walked on through the rain for half an hour flipping logs and stones but saw nothing so turned back for the car. We were almost back and with water running down our faces, I stopped for a moment confused at the splash of yellow on the floor quickly followed by a shout of pure birthday joy, a Corsican fire salamander.
Thursday 2nd
My plan today was visit some ponds and a river mouth near the airport and then visit a tower at Campomoro to look for European leaf toed gecko
Euleptes europaeas
. The tower visit would be a 7 hour round trip and as Suzanne had been diagnosed with cancer a week before our holiday I didn't want to put her through that ordeal. The day at the beach was cold and cloudy and the area gave only Italian wall lizards so Suzanne suggested we drive south, book a hotel for the night and look for geckos.
Back to the house, pack a few things, she got online and booked a hotel in Propriano, this put a smile on my face as I remembered that Peter Oefinger had mentioned finding Tyrrhenian rock lizards on the coastal rocks here. The rest of the day was spent driving south and after booking into the hotel we had a walk around town trying to match up the landscape with report photos. A few Moorish geckos and Tyrrhenian wall lizards were basking in the evening sun and we decided to check out a rocky area the next morning.
In the evening it began to rain again and we drove to the tower to begin our search. We had no idea what to expect but we did not expect a locked door and high wall surrounding it. We worked our way around the wall through the soaking wet bushes with our torches searching the walls for geckos and we were almost back to the beginning when I finally spotted one (tick 6) high on the wall above me. I realised that I would have to change my camera lens so quickly switched my torch off. I switched it back on and as you have probably guessed, it was gone! 3.5 hr drive, a night in a hotel, soaking wet and it was gone! I tried to console myself that at least I had seen it but it felt a hollow victory. We stood for a moment looking at the space it had occupied and then decided to check the last 5 metres of remaining wall. We found another two geckos and although small and far away I managed to get a poor photo of one of them.
Feeling very happy with ourselves we walked back down the hill and headed back to the hotel pausing only to photograph a Tyrrhenian painted frog sitting in the road.
Friday 3rd
In the morning we drove to the other side of the bay and in the sunshine checked out a large rocky area of the beach where once again we found plenty of Tyrrhenian wall lizards and many Moorish geckos but no rock lizards. We then drove to Bonifacio stopping to look for a lake next to a dirt track I had spotted on google earth. We didn't drive far enough up the track and so failed to find the lake but I noticed a manhole cover and after finding one full of geckos in Lefkada a few years ago I lifted the lid on this one. Of course I didn't have my camera ready and it was full of Turkish geckos
Hemidactylus turcicus
which quickly disappeared. I got into the pipe and noticed a shed snake skin hanging from the ladder and also one in the undergrowth outside, I said to Suzanne "There has been a snake in here, hang on, there IS a snake in here". In the narrow gap between the wall and the lid sat a Western whip snake that had no doubt been feeding on his captive supply of geckos.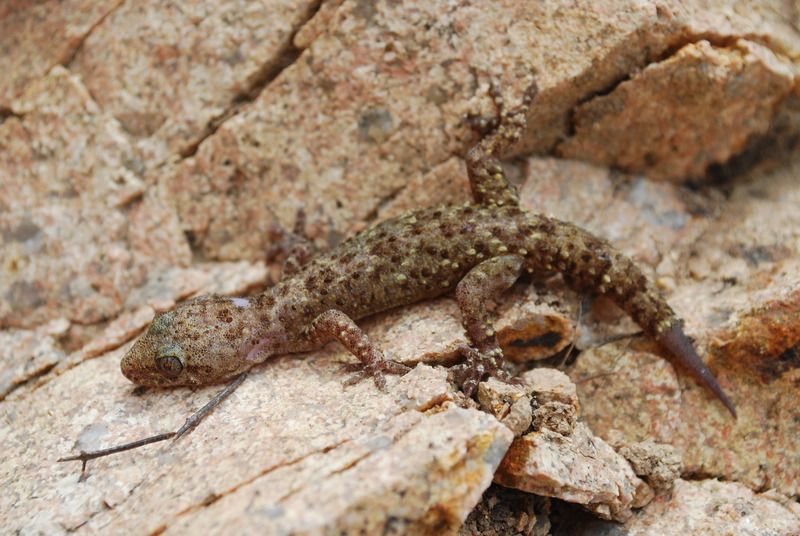 Returning to the road I noticed a small ditch containing water where we quickly spotted some Pool frogs and then a Tyrrhenian tree frog (tick 7).
Moving on to Bonifacio we headed to an area above the town where Robin Duborget had suggested we may find the Pygmy algyroides
Algyroides fitzingeri
. We parked the car next to a stone wall and a few metres away we found one basking (tick 8), this was lucky as it was the only one we found!
We moved further uphill to some old military buildings where on the step of a water filled room I spotted a juvenile Grass snake, no doubt waiting to feast on the hundreds of tadpoles in the water.
Another Western whip snake was spotted among the bushes and lots of Tyrrhenian wall lizards but our time here was up and we had a 3 hour drive back to Borgo.
Saturday 4th
Our last day on Corsica and luckily a late flight out which gave us time to hunt our remaining two ticks, the Tyrrhenian rock lizard and the Corsican painted frog. The walk to Lac Melo had given my friends Matt Wilson and Carl Corbidge both species and so it was back to the Restonica valley again and the narrow twisty road to the car park at the top. We arrived at 9 am and already the car park was filling up with a steady stream of people heading up to the lake. We sat for a while eating our way through our remaining supplies of food and wine and I went for a look at the rocks in the car park. A couple of Tyrrhenian wall lizards confused me for a few minutes but then I spotted the real thing, a single Tyrrhenian rock lizard
Archaeolacerta bedriagae
(tick 9) among the other lizards.There was no mistaking it now.
Right then, that just leaves the Painted frog, off to the lake. We began our walk to the lake passing lots of Tyrrhenian wall lizards on the path edge and pausing at the small streams to look for frogs but with no luck. Near the small cafe we spotted another Rock lizard living in a stone pile.
We finally reached the lake and desperate to find the frog I began to turn over stones at the water edge finding to my surprise Corsican brook newt.
Soon it was time to go and we took the other route back via the chains and ladders finding another group of Rock lizards which were quite approachable.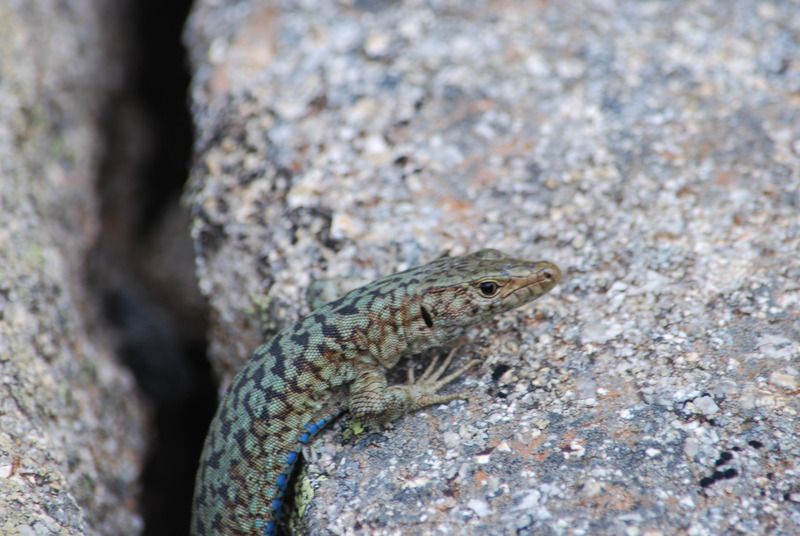 Arriving at the airport Suzanne tried to cheer me up saying "You should be pleased with 9 out of 10, it's a good score" but it was no good, deep down I knew that 9 out of 10 was rubbish and it meant a return trip to Corsica. As we sat at the airport we were told that our flight was delayed which then meant that we missed our connecting flight from Frankfurt to Heathrow. We had to spend a night in a hotel in Frankfurt and flew home Sunday morning.
When I got home and posted my pictures on Facebook I was very pleased when Matt Wilson wrote "Nice montalentii" in relation to this picture.
If this is right then I had a clean sweep, got all my target species and don't have to return.