Hey guys,
I know it's quite late in the year for me to post early spring stuff, but I only just got around to going back through my photos, so here it is. During this period, in addition to local herping in central Kentucky, we attended the Conecuh indigo snake hunt, and took a trip to the coastal plain of Georgia. Hope you all enjoy:
During the winter months in central Kentucky, we often get warm spells, when temperatures reach the high 40s and 50s fahrenheit. During weekends which coincided with these spells, we would search for streamside and spring salamanders along the Kentucky River Pallisades. This year, we searched several creeks we had never been to before, in an area of the pallisades which we frequent. I will be posting quite a bit from this area, but I would prefer to keep its location confidential, so I will refer to it as "Area 51".
Unfortunately, most of the creeks we searched in Area 51 ended up being less than ideal - many were semipermenant, muddy and steep, whereas our target salamanders seem to prefer more flat, rocky, permenant streams. Here is an example of the kind of stream we herped: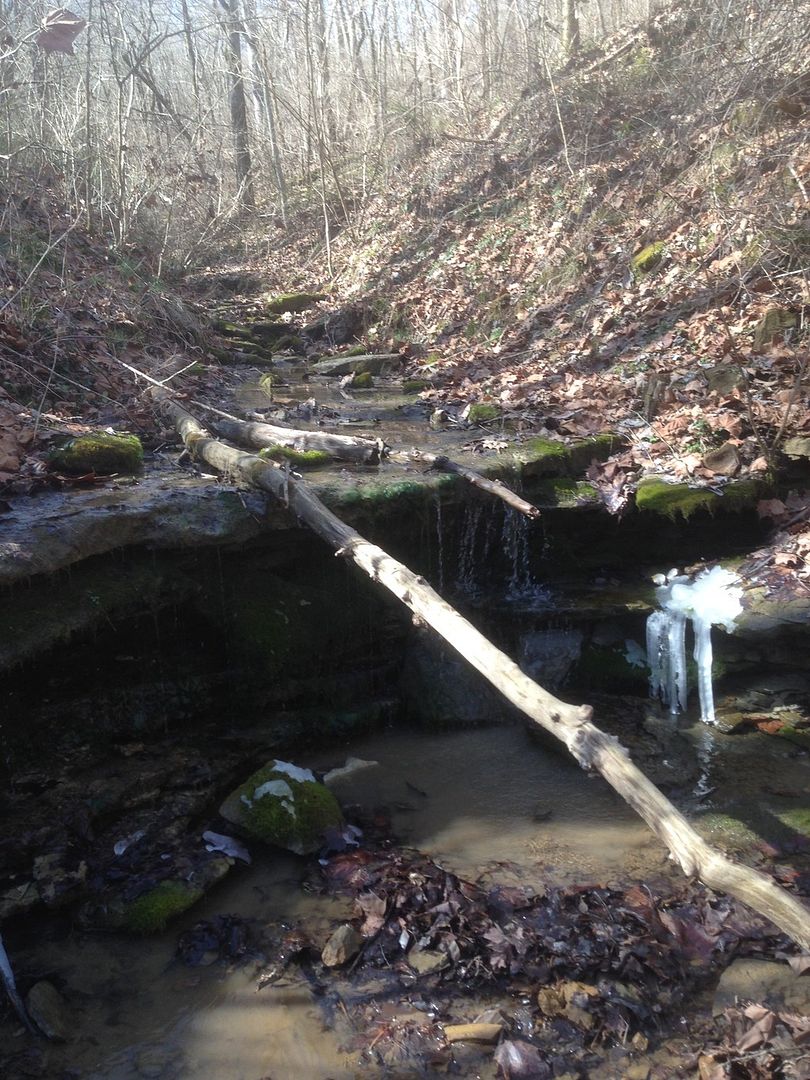 Luckily, the scenery often made up for the lack of interesting salamanders. Although we found mostly northern dusky and two-lined salamanders, we did manage to find a single spring salamander. Of course, that was the one day I forgot my camera!
On another day, we decided to search a more reliable spot of ours, in a different area of the pallisades. We began the day with a common but nonetheless cool stream find: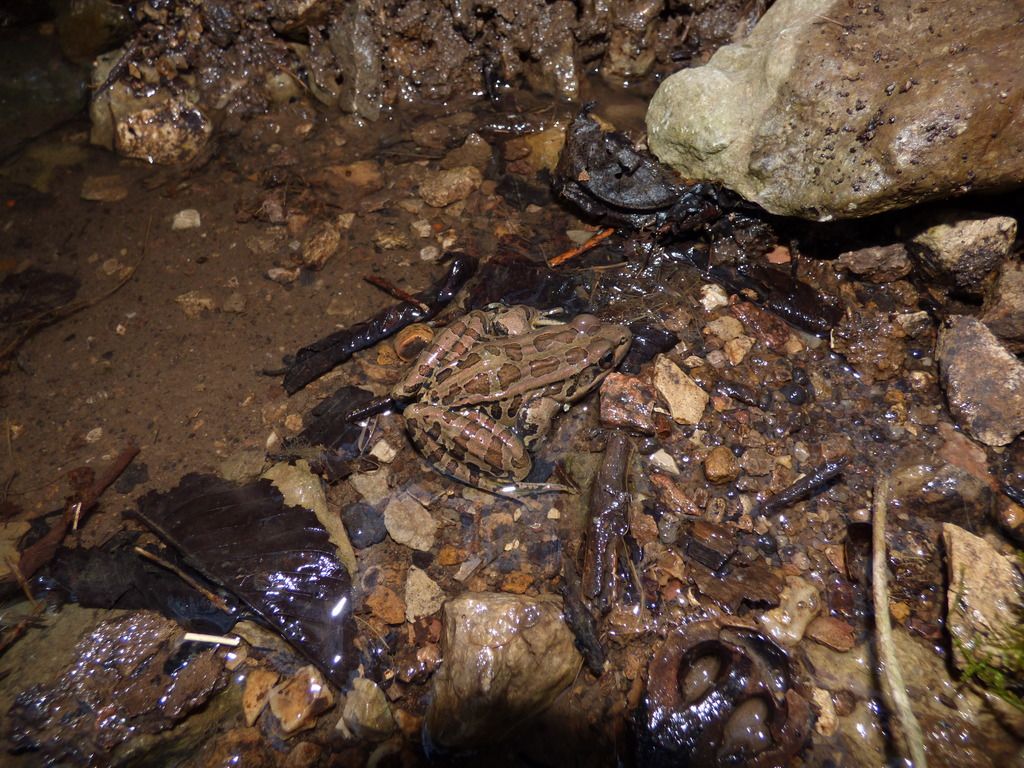 pickerel frog - found under a rock in very shallow water. When we began the day, the temperature was around 35 or so, but the sun came out and it warmed up quickly, and soon we were finding two-lined salamanders.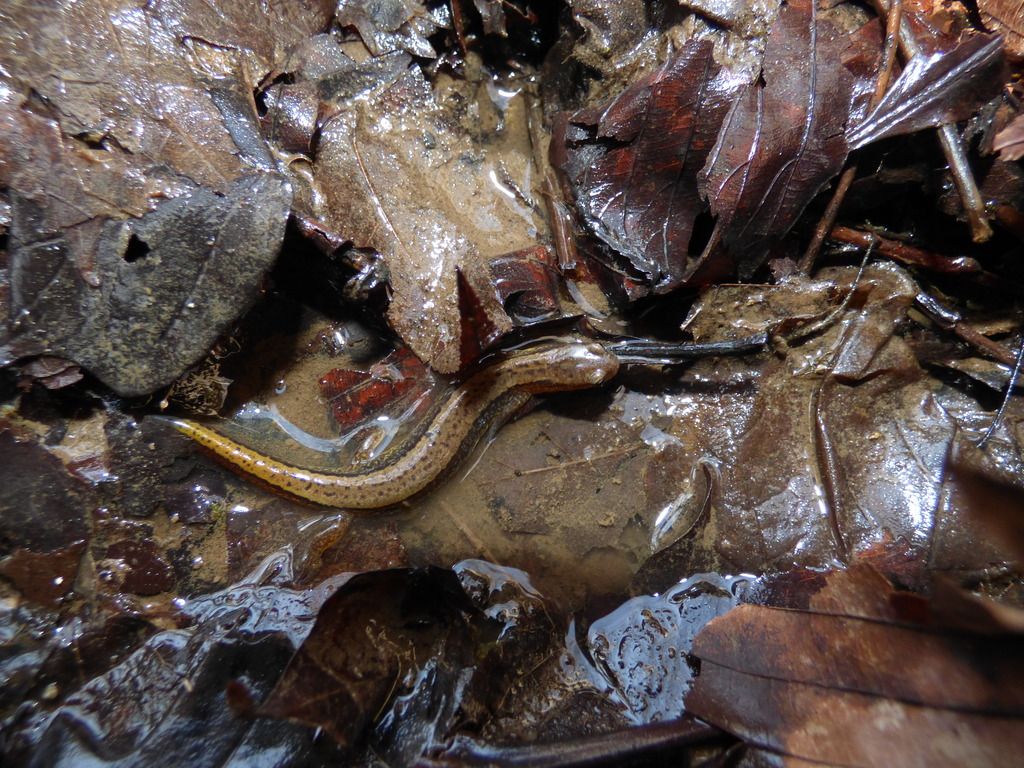 A couple minutes later, as I approached a likely looking rock, I noticed a dead salamander on top of it. This was a streamside salamander - it appeared to have been killed by the recent cold temperatures while migrating to the stream. As if to prove how close it was to survival, beneath that very rock was our first live streamside of the day: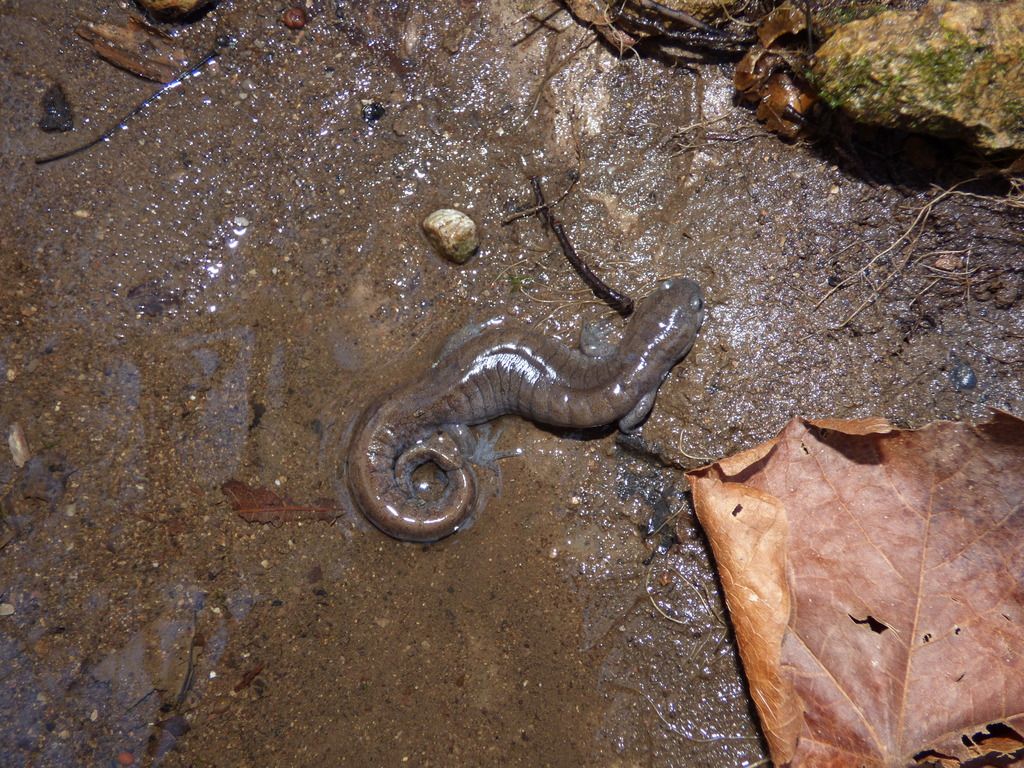 By the time we got to the best section of the stream, we were finding streamside salamanders left and right. In fact, nearly every large rock lying flat against the stream bottom in shallow, placid areas held a streamside. We ended up with 23 total - the most we've ever found in a day! We also found quite a few egg clumps on the undersides of submerged rocks: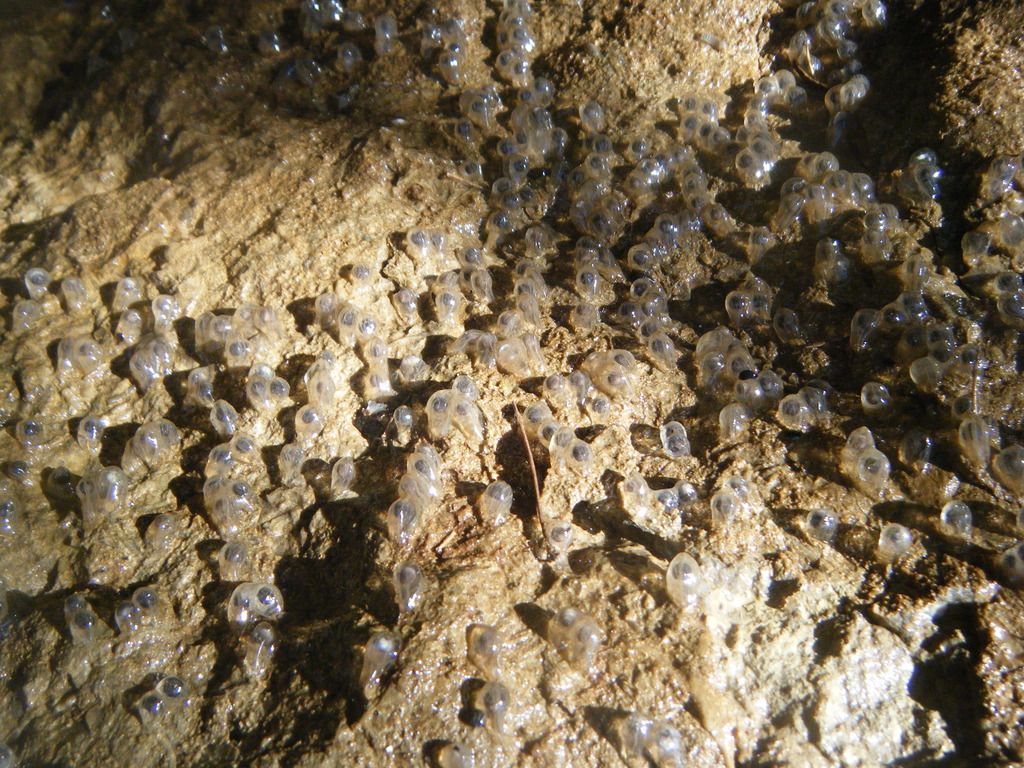 Along the way, we found several green frogs. These guys seemed to prefer rocks with leaf matter beneath them. They were also found under submerged rocks.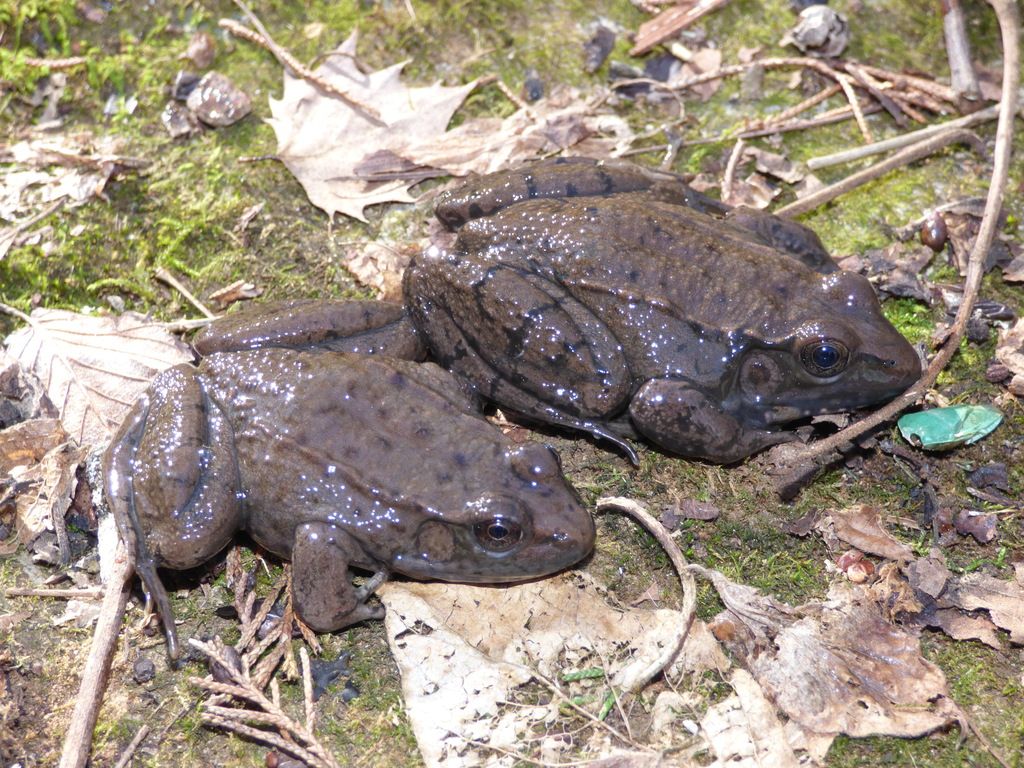 Due to recent cold temperatures, most of the rocks that weren't submerged had frost underneath them. However, in one wet area of streambank, perhaps fed by a seep, this was not the case. Here, my dad flipped up the find of the day - a beautiful spring salamander:
By the end of February, we were very tired of winter, and we were itching to find snakes, so we decided to make the long drive down to Conecuh National Forest to attend the indigo snake search, along with my good friend Kevin Hucheson and his dad. Although we were not part of the group that found the one and only indigo, we had the great opportunity of seeing it.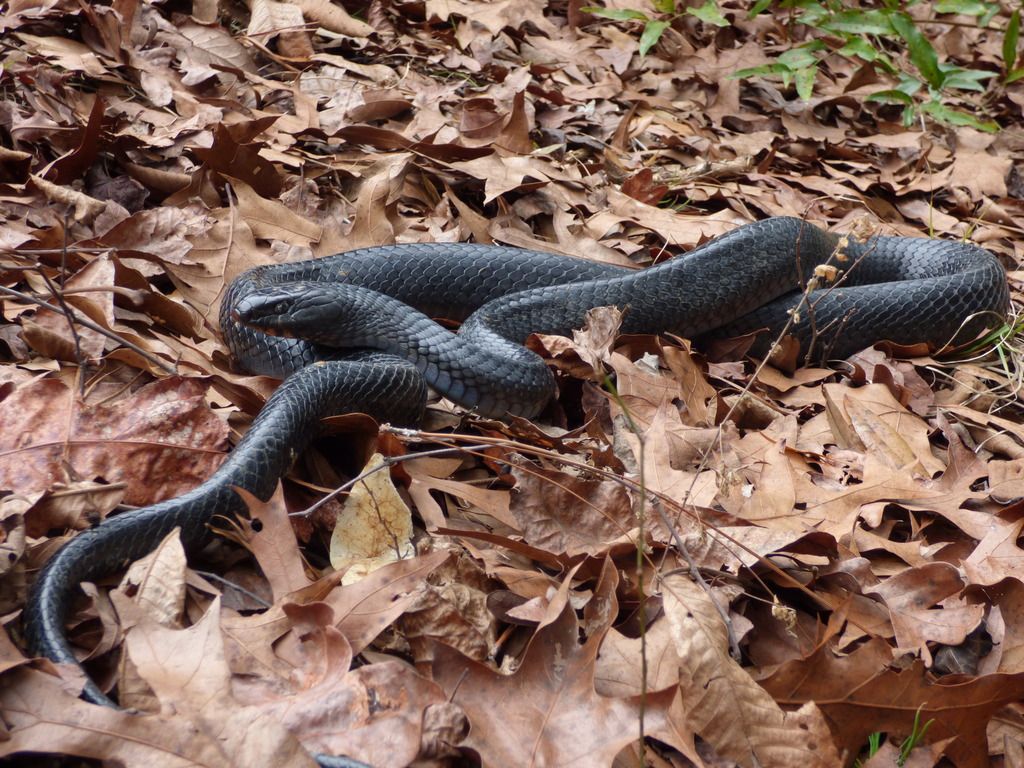 Kevin and his dad Bruce with the indigo: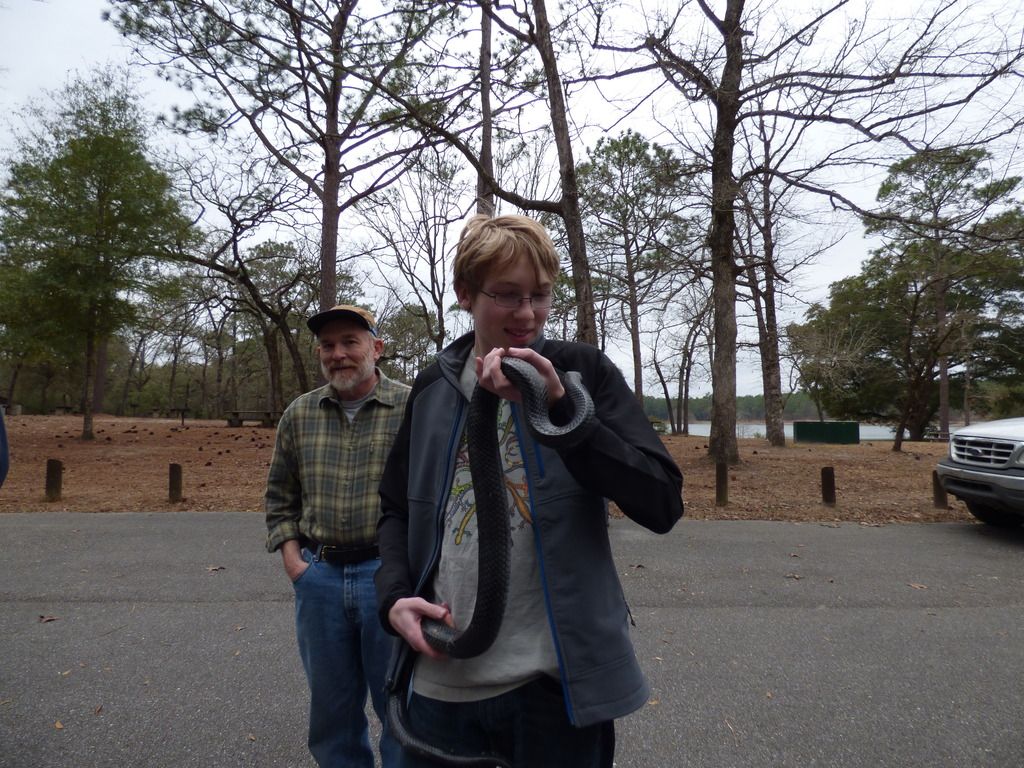 Luckily, we were able to see a couple of snakes in situ that day - racers: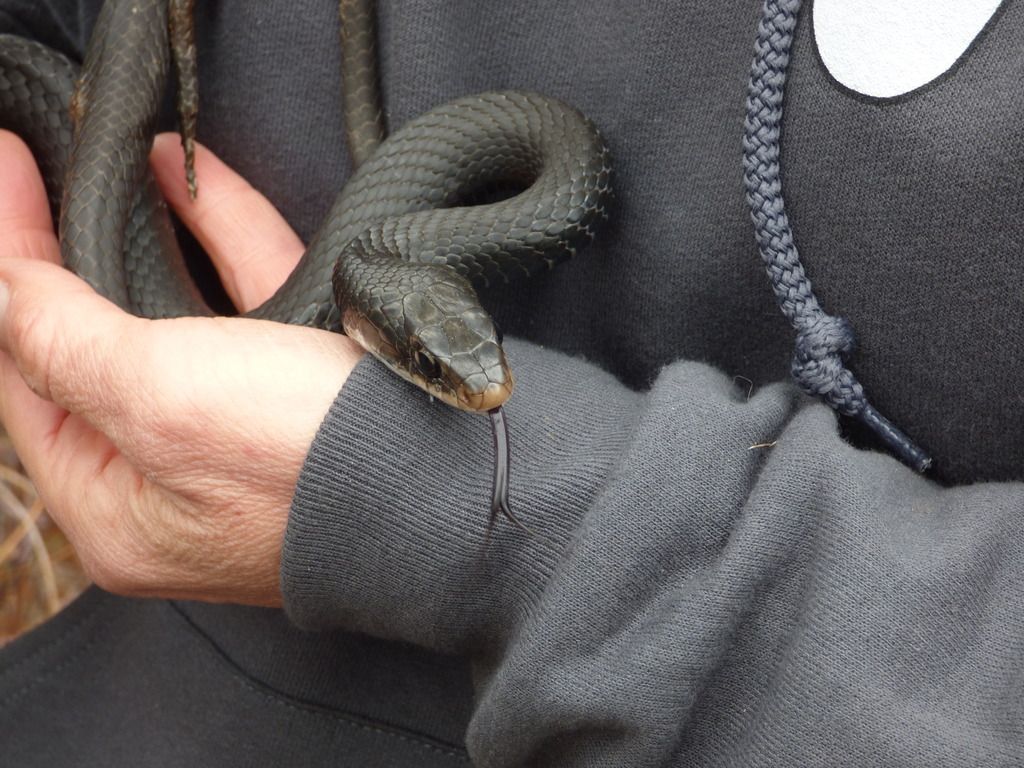 I also finally got a photo of a southeastern slimy salamander: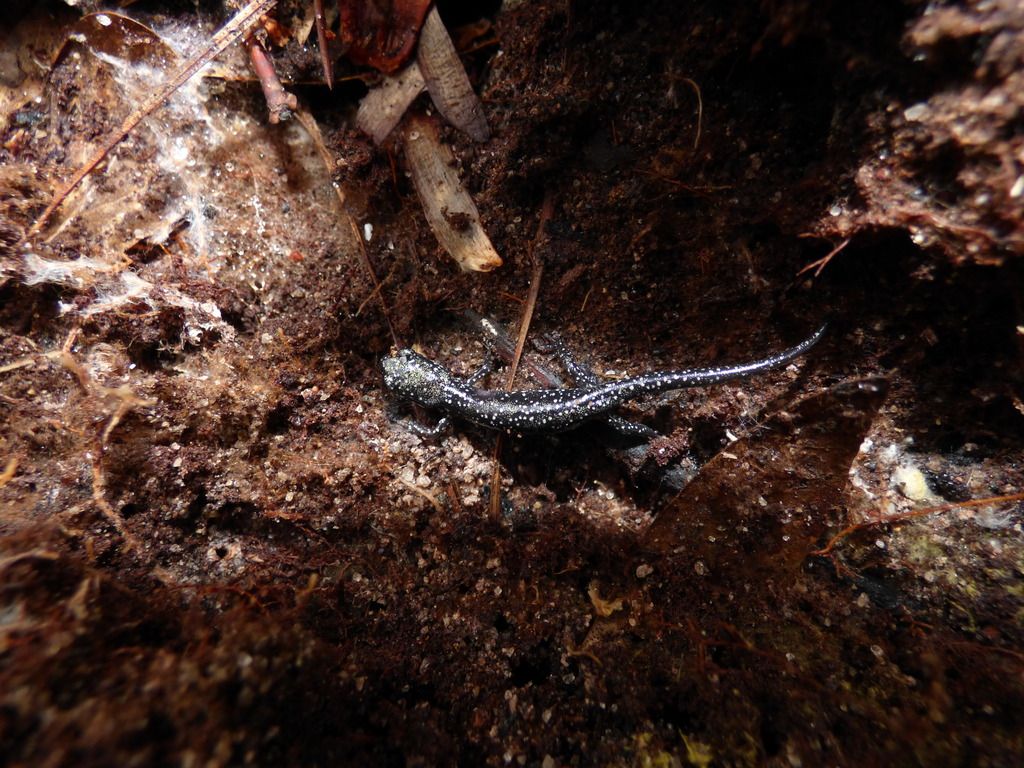 That night, we decided to search for some calling frogs. Although we failed to locate any southern or ornate chorus frogs, we did find some southern cricket frogs and spring peepers, as well as a couple of newts in the ditches (no photos, sorry).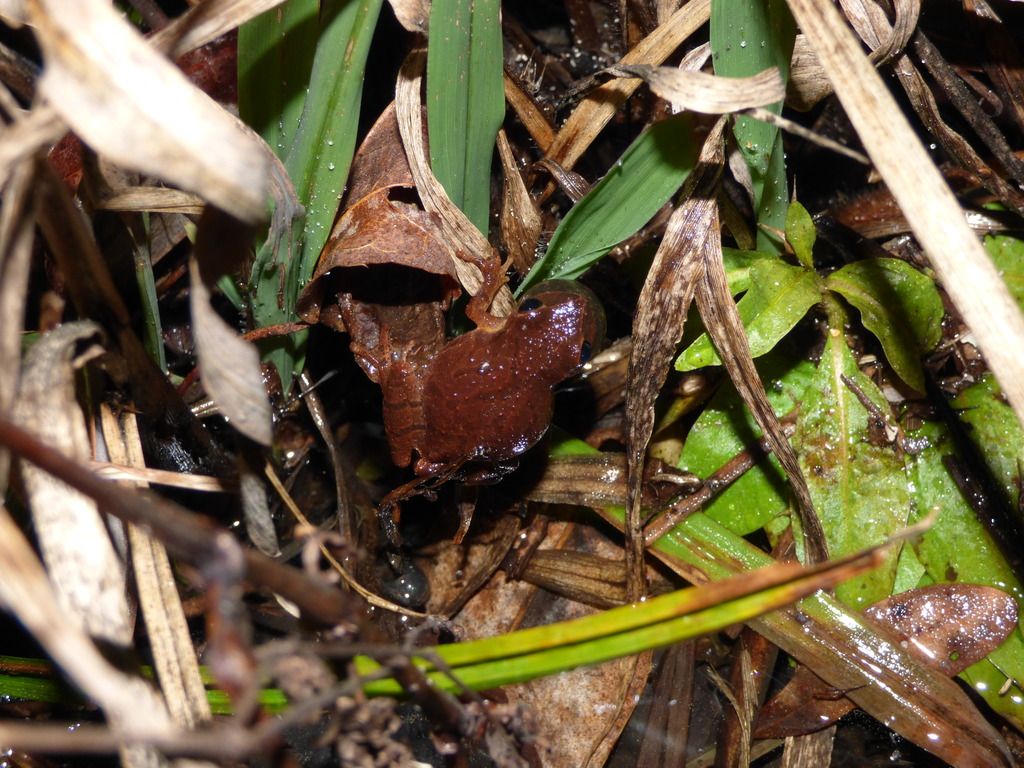 Two spring peepers and a cricket frog: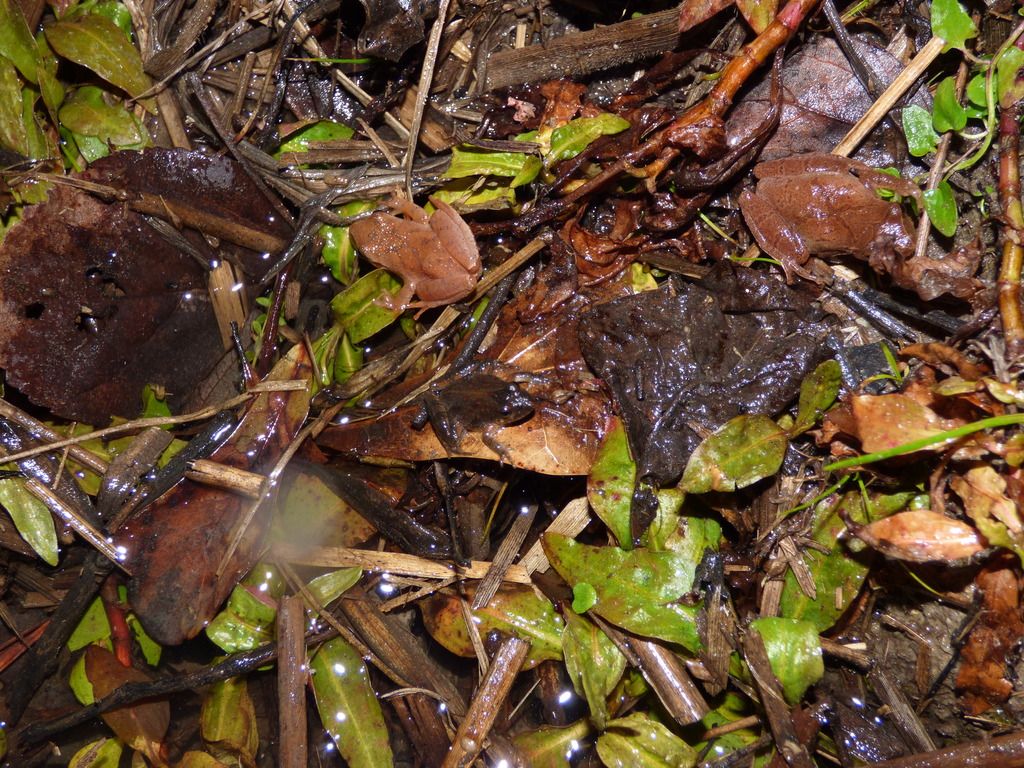 The next day, after Kevin and Bruce left, we decided to search for some salamanders in a floodplain forest. There we managed to get a lifer and the find(s) of the trip for me, several chamberlain's dwarf salamanders: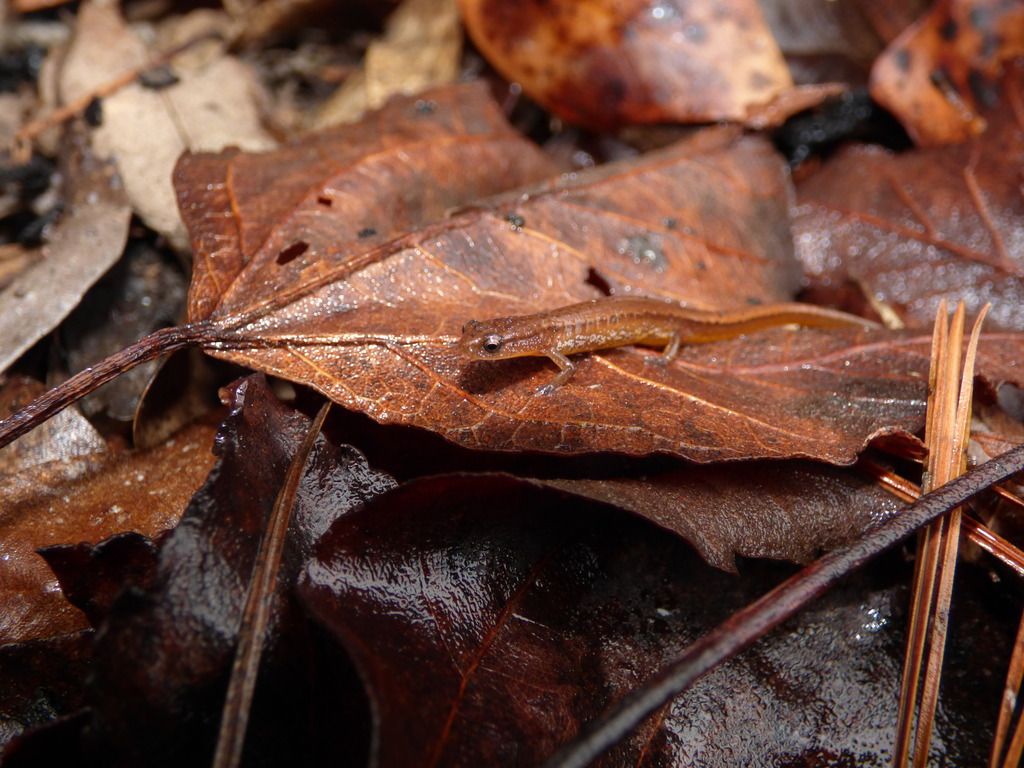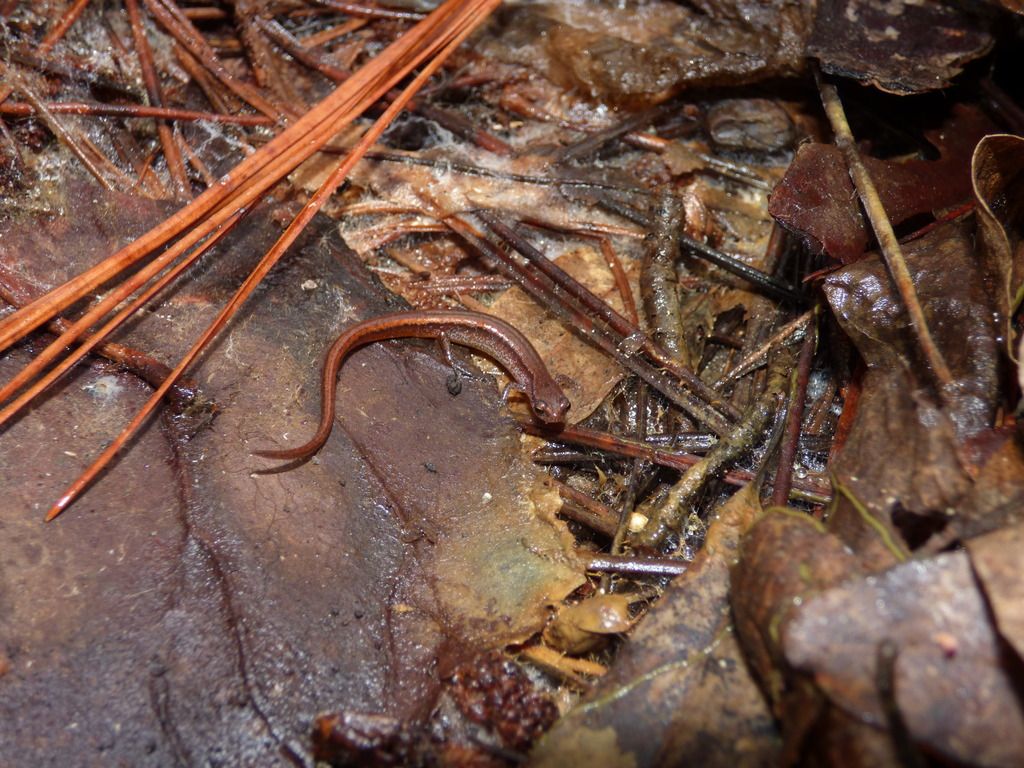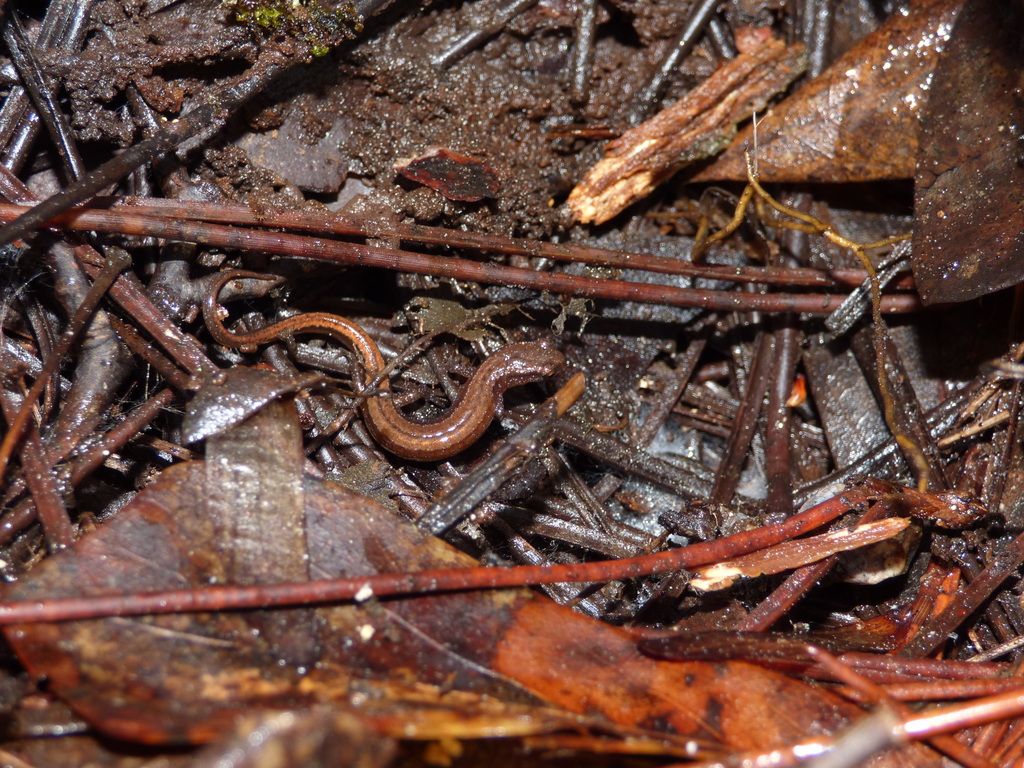 We also found a ringneck snake under a log: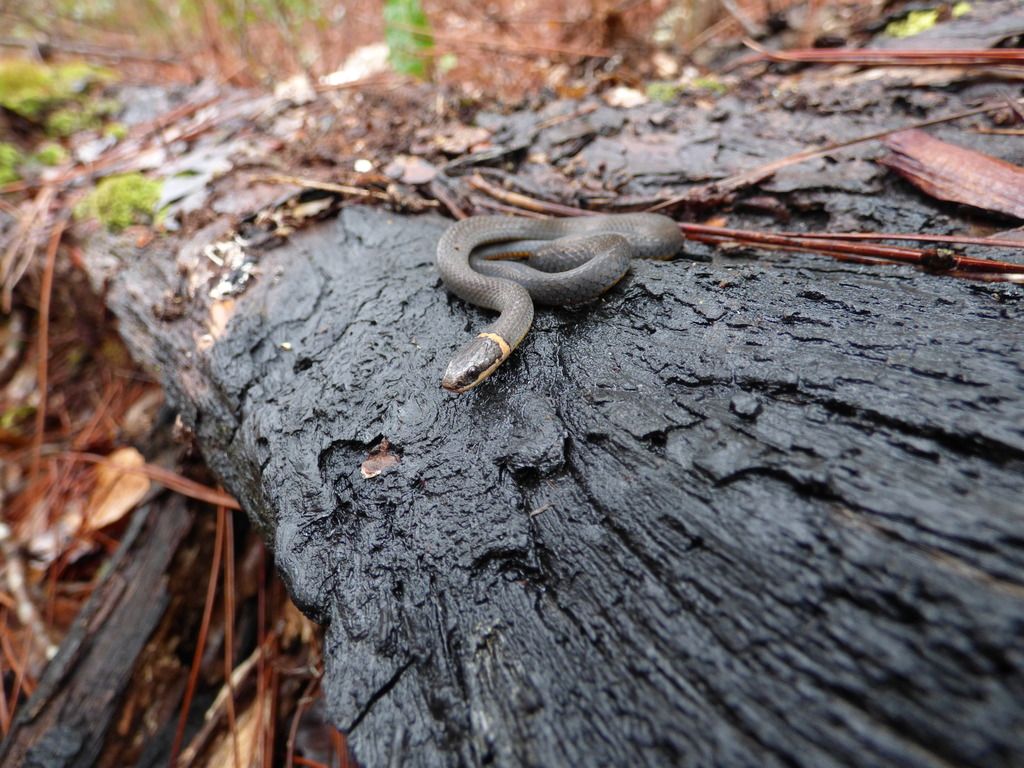 While we were in the floodplain, we noticed severe habitat damage. Being the rash person that I am, I stupidly blamed several forum members who had been there the previous day. Once again, I am very sorry guys!
Back in Kentucky, March began with a snowstorm which closed schools for almost a week, and brought us back to the misery of herpless wintertime. However, about two weeks later, spring finally began, with sunny days and temperatures rising into the high 60s. The first warm day, Kevin and I went to a local lake after school to find some turtles: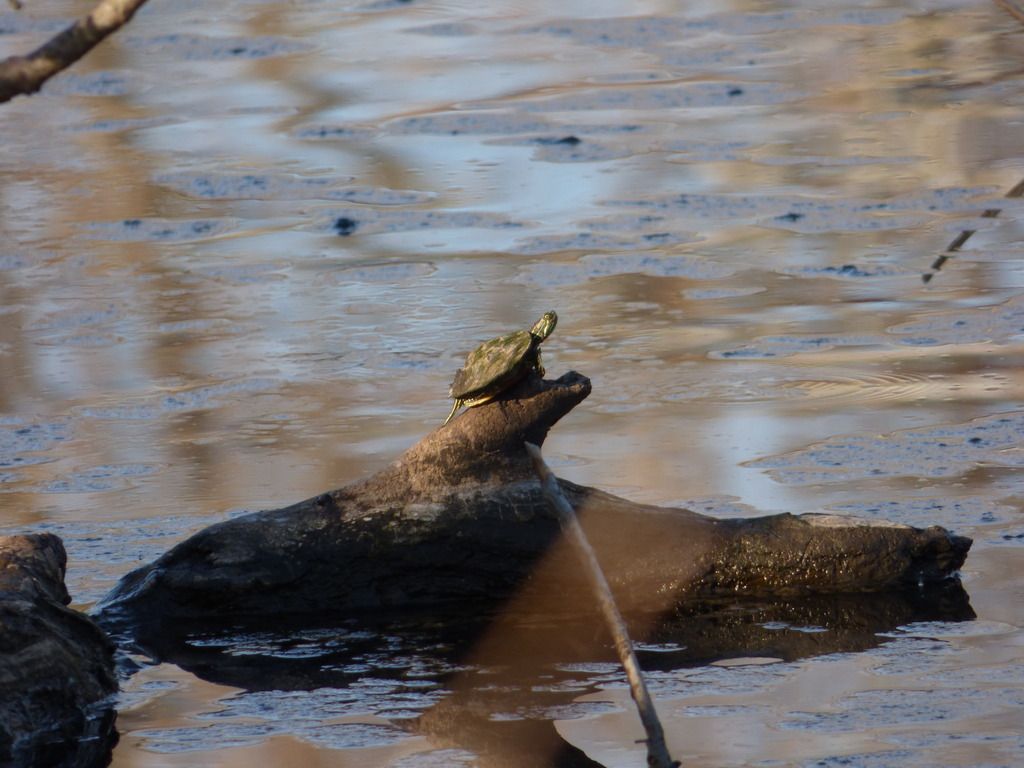 Although we only found red-eared sliders that day, we were happy to find anything at all! The next day, my dad agreed to take us to area 51, where we hoped to find some early-waking snakes and perhaps ambystomids.
Our first spot was a pond surrounded by fields, with several sheets of tin along the field margin, placed there by Nigel Smith. Under the first sheet of tin, we were surprised to find two garter snakes, as well as this: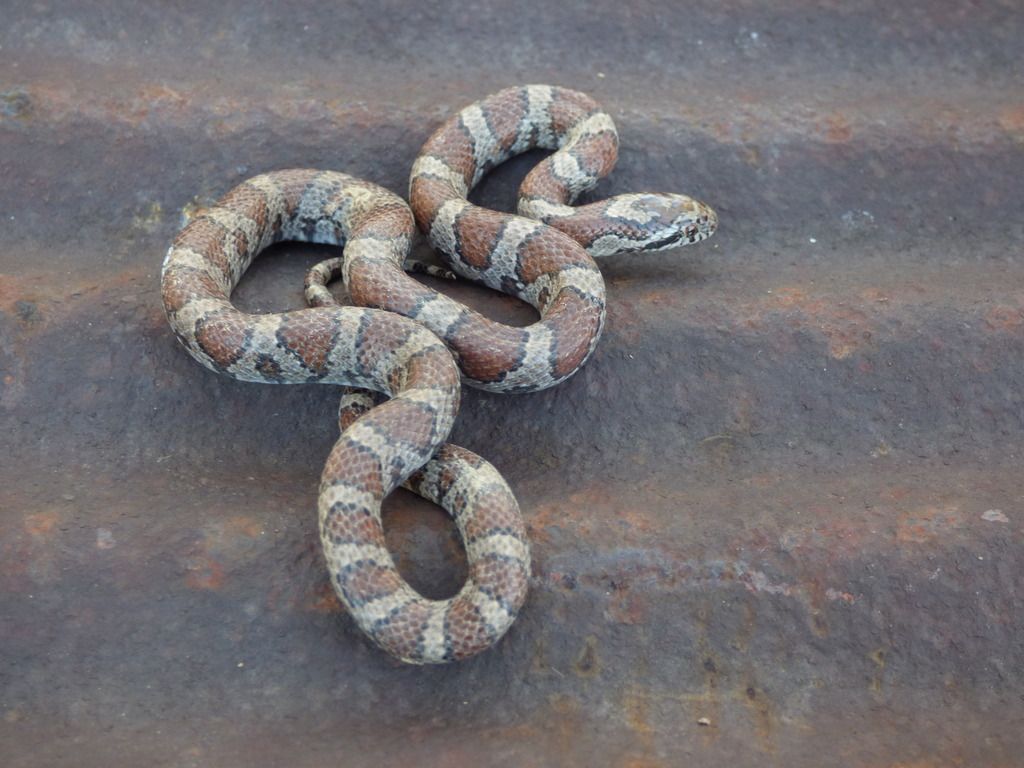 A milk snake on the second day of spring! Although we flipped tons more tin that day, we didn't find a single additional snake. We noticed that the sheet of tin under which we found the three snakes had a large crayfish burrow beneath it, which may have served as the snakes' hibernaculum. This would explain how they came out so early in the season.
We dipnetted the pond without much luck, and decided to move on to the stream draining out of it. This small stream cut a wide floodplain through a small patch of woods, before emptying into the Kentucky River. Adjacent to the stream, under logs, we found two streamside salamanders: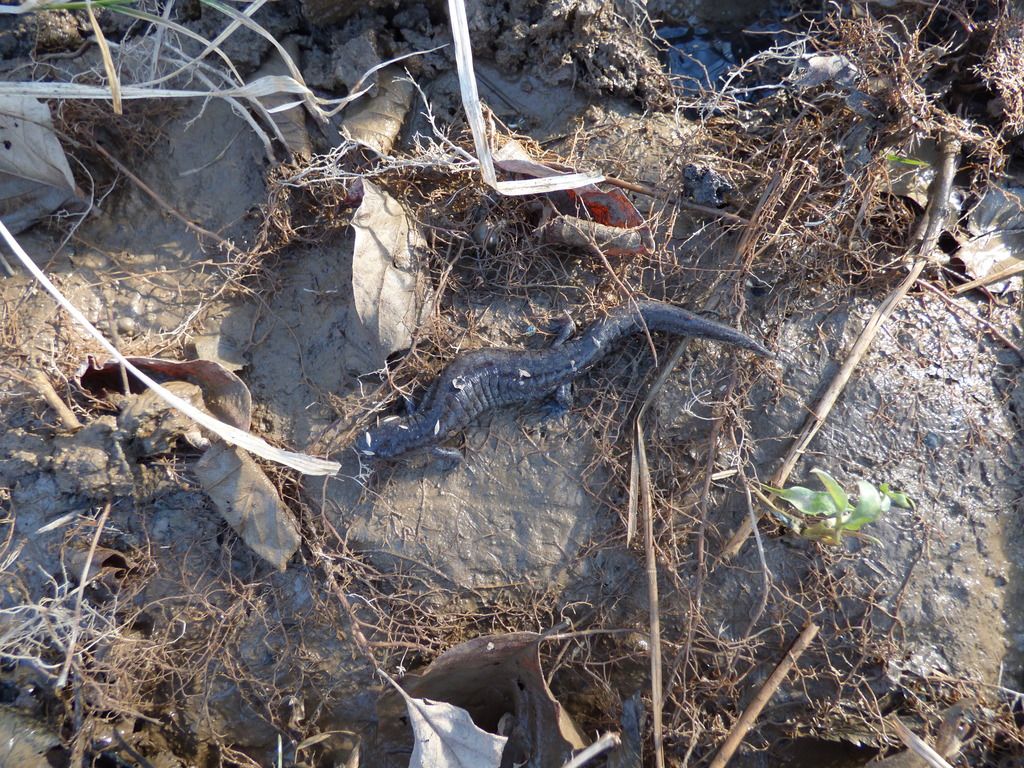 Next, after flipping more tin with no luck, we decided to check out a vernal pond we had found during our winter stream exploration. This pond is a small, artificial pond in a ridge-top forest. This pond was of interest to us because during the past year, we had found a spotted salamander and a jefferson's salamander under tin in an adjacent field, and we suspected that they bred in this pond. When we reached the pond, I began dipnetting, while Kevin and my dad flipped rocks along the berm surrounding the pond. I soon found this very odd-looking newt, the first newt we had ever found in area 51: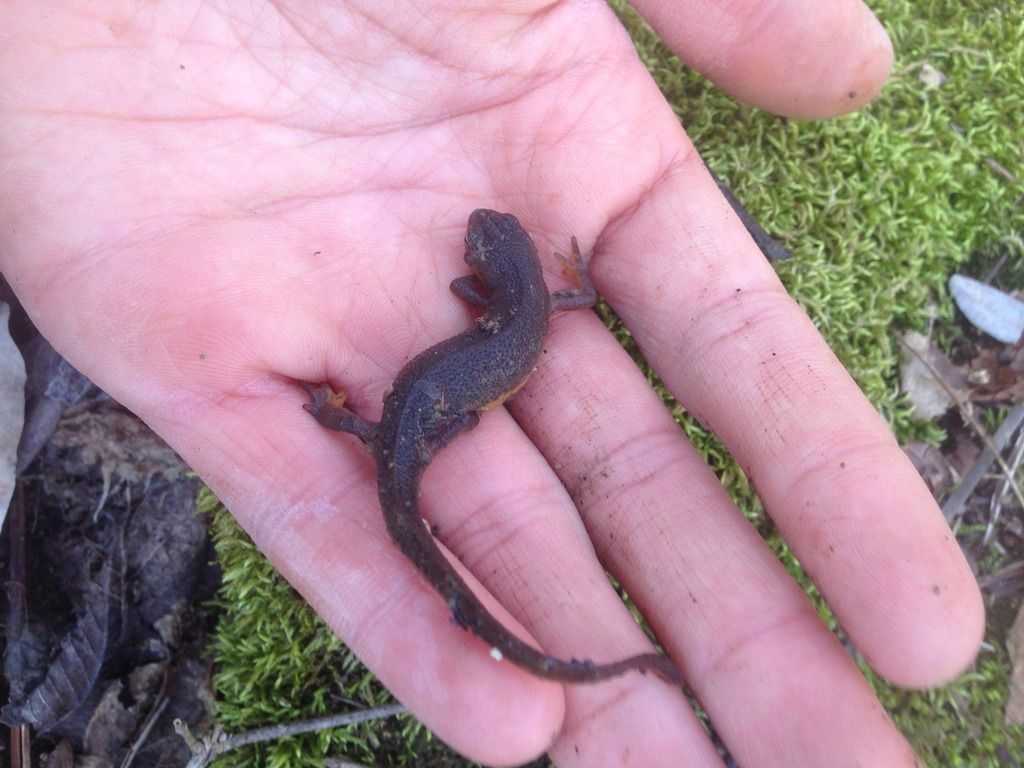 Has anyone seen newts that look like this? At first glance it almost looked like some kind of newt from the pacific coast.
Meanwhile, Kevin and my dad began finding zigzag salamanders:
and ravine salamanders: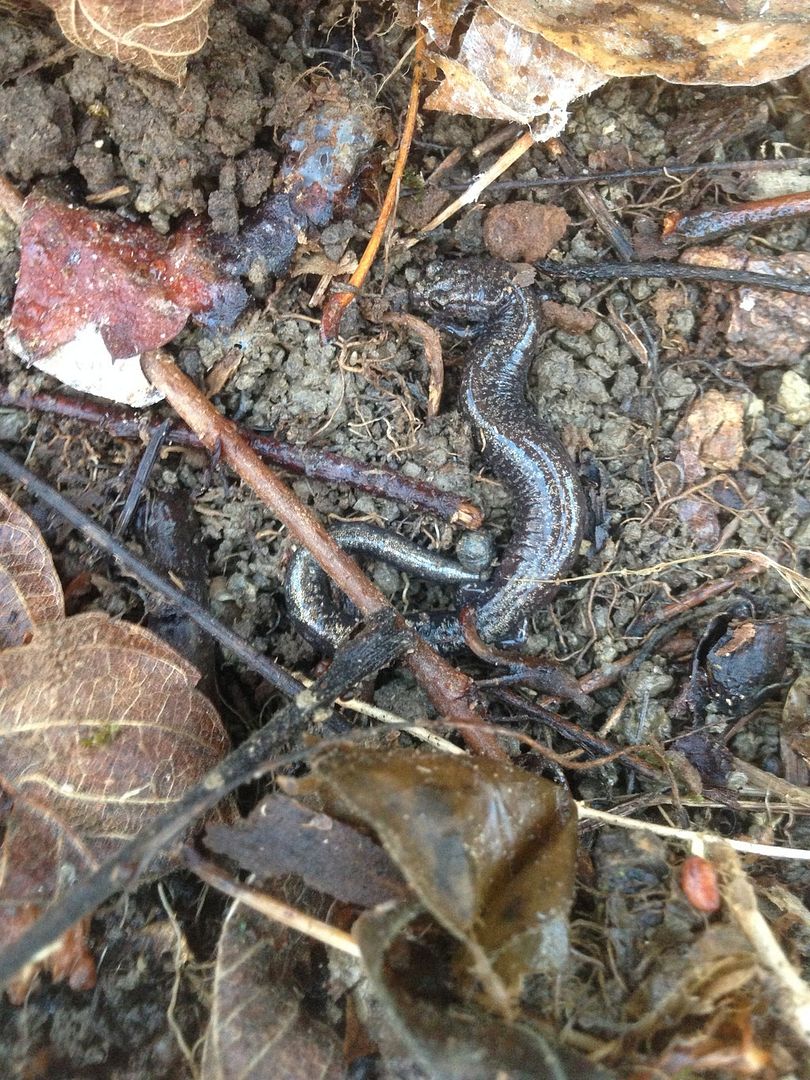 Finally, my dad flipped a huge rock to find this jefferson's salamander, the find of the day and a lifer for Kevin: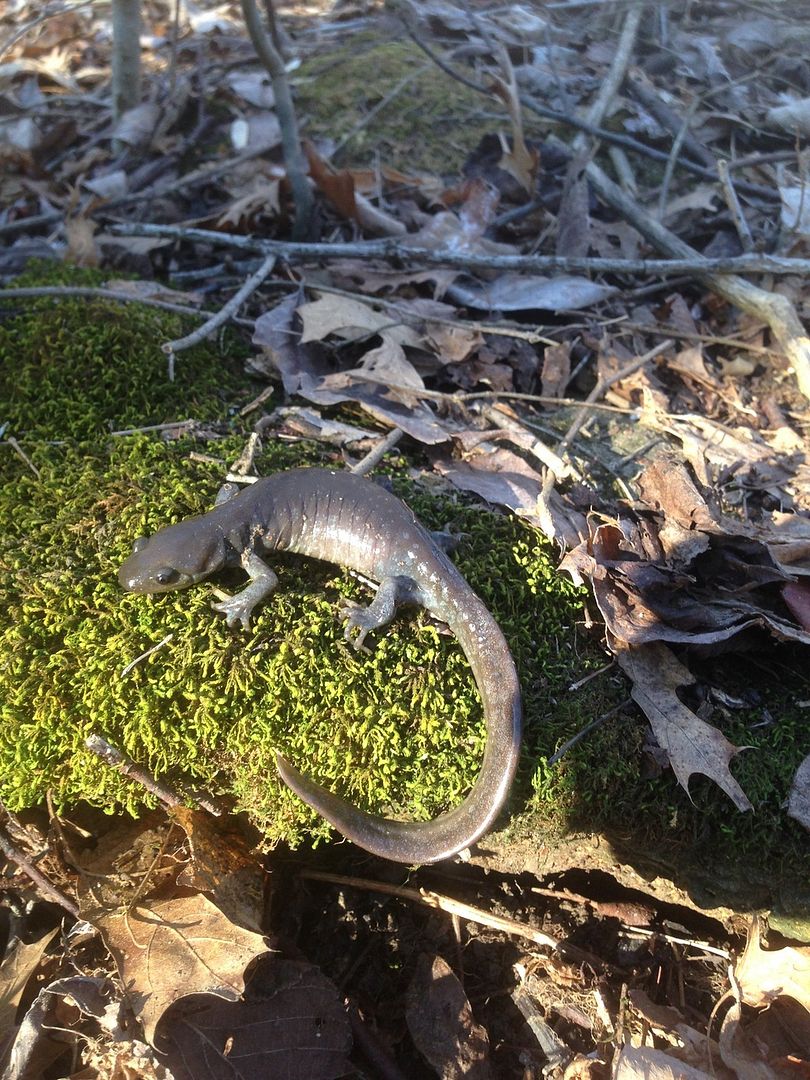 Of course, I once again forgot my good camera, but luckily I was able to get a couple of phone pictures.
Later that week, Kevin and I did some herping in a stream in our neighborhood. Along the banks, we saw 4 water snakes sunning, and were able to catch one of them: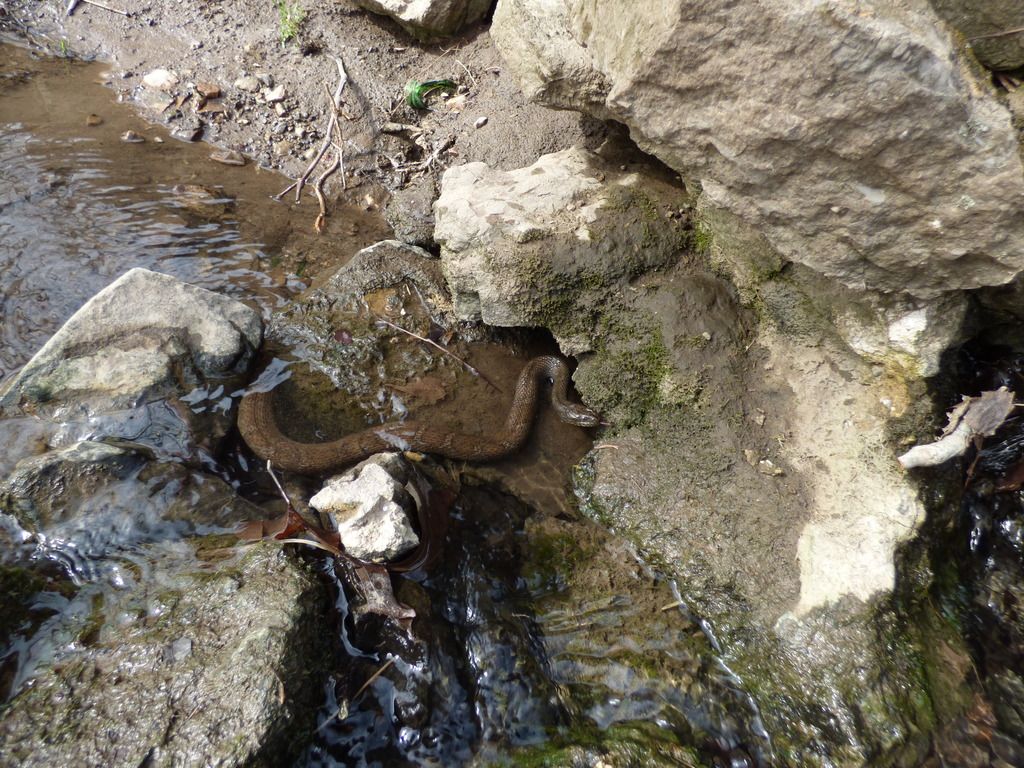 While we were admiring the water snake, and how it was (amazingly) not biting, we saw a garter snake swimming across the stream: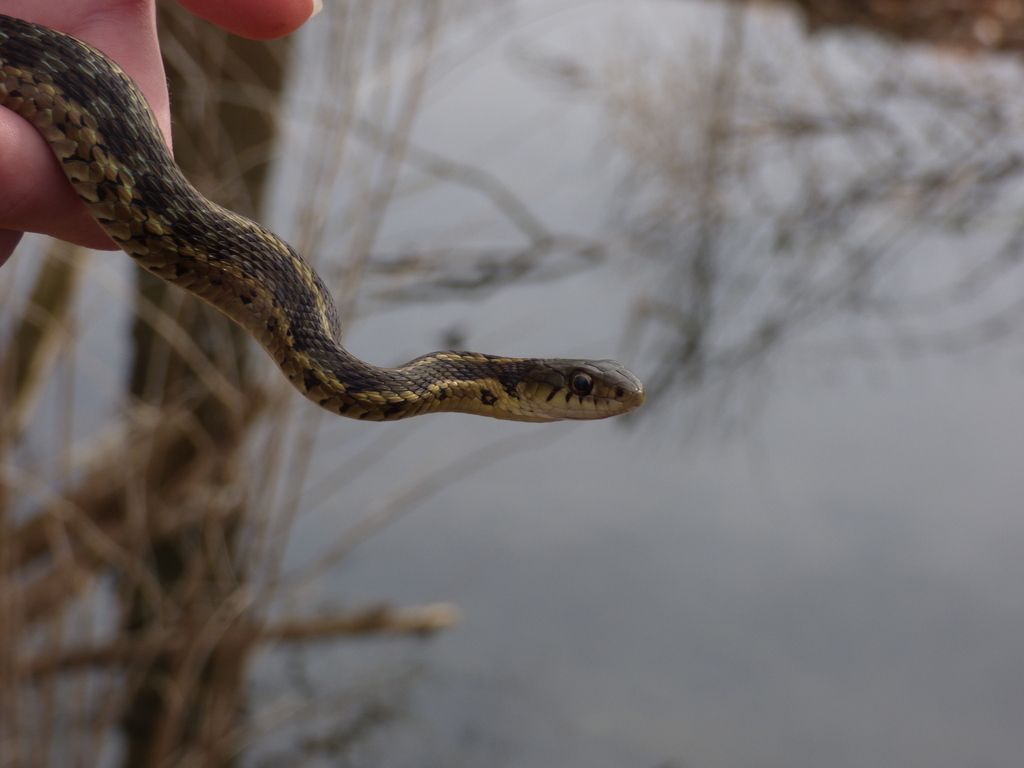 We called my mom over so she could see her first snakes of spring. My mom and Kevin with the snakes: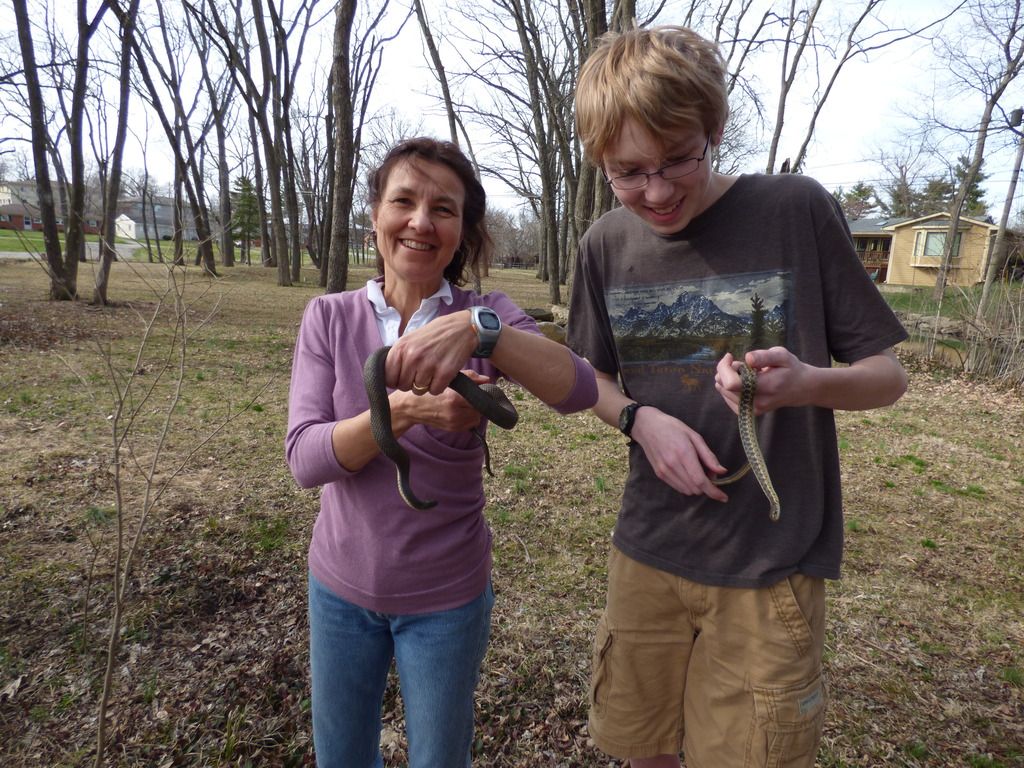 The next weekend, my family and I went to visit my cousins in Illinois. This seemed like unfortunate timing to me, given that the ambystomids were breeding while we were gone. However, things were also starting to come out in Illinois, and since one of my cousins was mildly interested in herping, we decided to take him on a search for ambystomids. In some places there was still snow on the ground, and near the vernal ponds we searched most of the logs were either flooded or frozen underneath. However, my mom nonetheless managed to make this great find: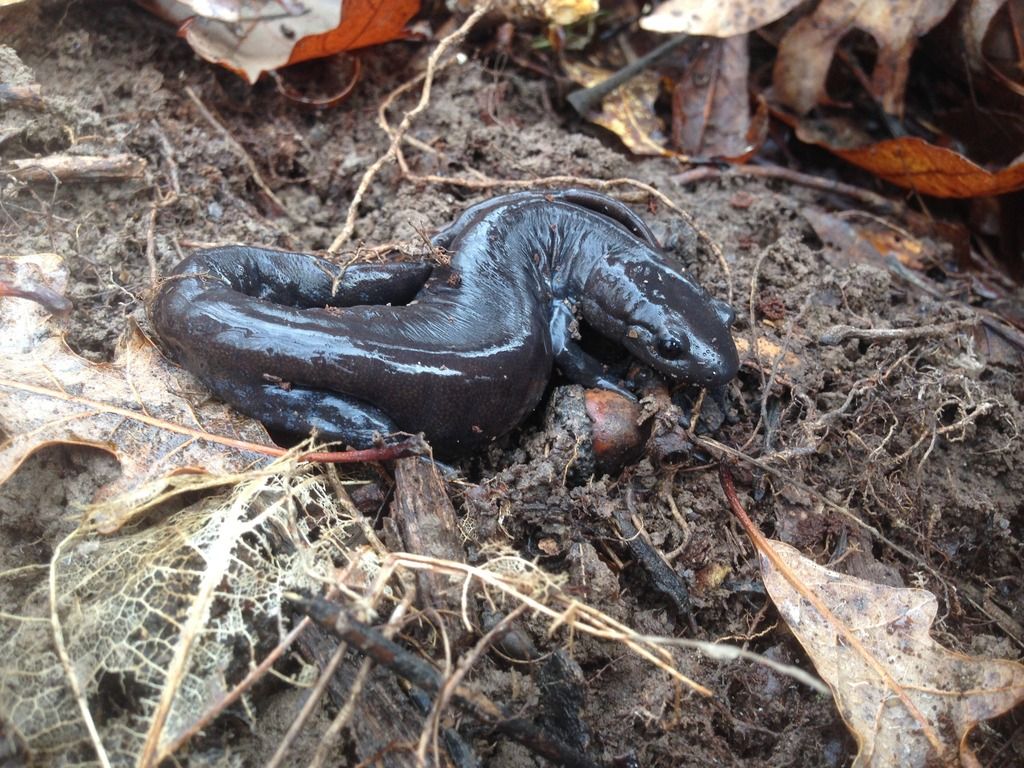 A silvery salamander (in this population a jefferson's/blue spotted/smallmouth hybrid). I also managed to find this leadback phase redback salamander: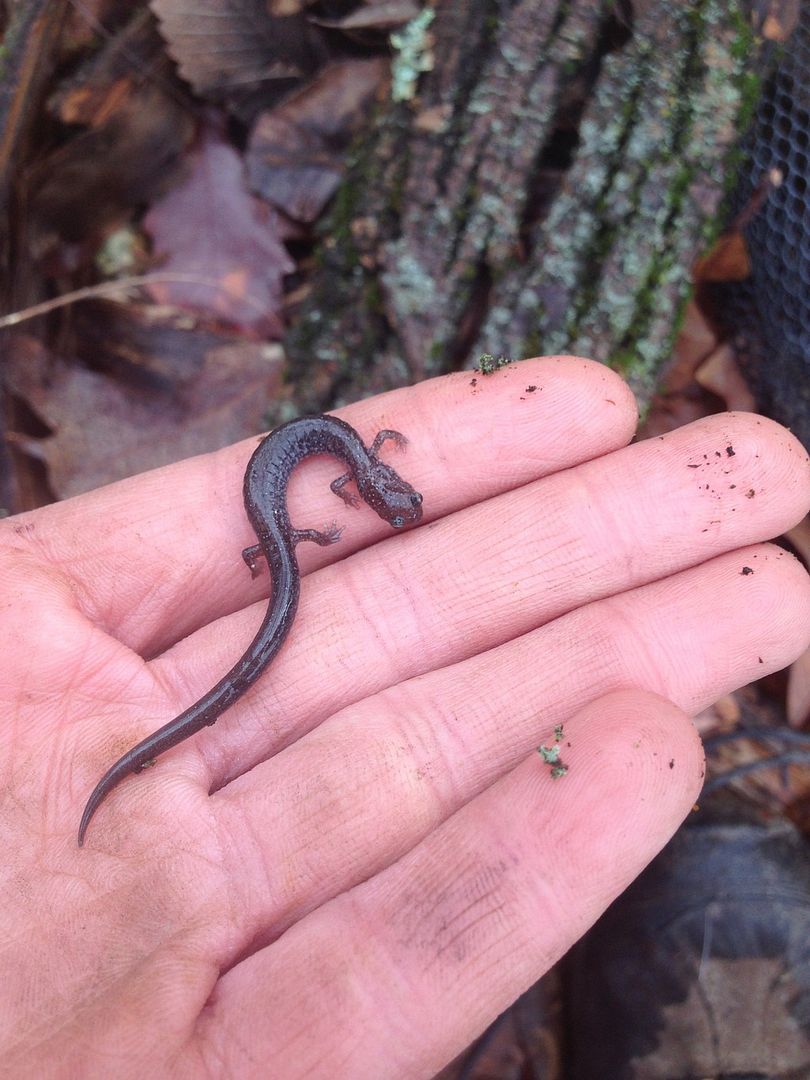 The next weekend, back in Kentucky, Bruce (Kevin's dad) was willing to take us back to area 51 to search for some snakes and ambystomids. Although Bruce is not an obsessive herper like Kevin and I, he enjoys seeing the herps, and on this day we found out that he has a hidden skill.
When we got there, we again checked all of the tin, but found only a single garter snake which escaped. However, at one tin site, we heard a spring peeper calling from the nearby woods, and decided to check it out. The call led us to another artificial vernal pond in a wooded area. Once we reached the pond, Kevin went in with his dipnet, and I began walking around the margin of the pond flipping rocks and logs, while Bruce stood still for a moment and looked around. After I got about halfway around the pond, Bruce walked straight towards a log I had already flipped. "I already flipped that", I called out, just as he flipped the log. "Oh, well here's a big, blueish-gray salamander", Bruce responded. I couldn't believe it - he had found a jefferson's salamander under his first piece of cover, a log I had already flipped!
After photographing the jefferson's salamander, I continued around the pond, finding a couple of ravine salamanders, while Kevin continued to dipnet. Bruce stopped and looked around again, then walked straight towards a large log, too big for one person to flip. "Hey Ananth, can you help me with this one?", he asked. Togehter we flipped the log, and to my amazement, there were not one, but two spotted salamanders beneath it! Bruce had flipped exactly two logs, and found 3 ambystomids of two species!
And what had Kevin and I found? A couple of ravine salamanders and larvae.
Bruce's amazing finds: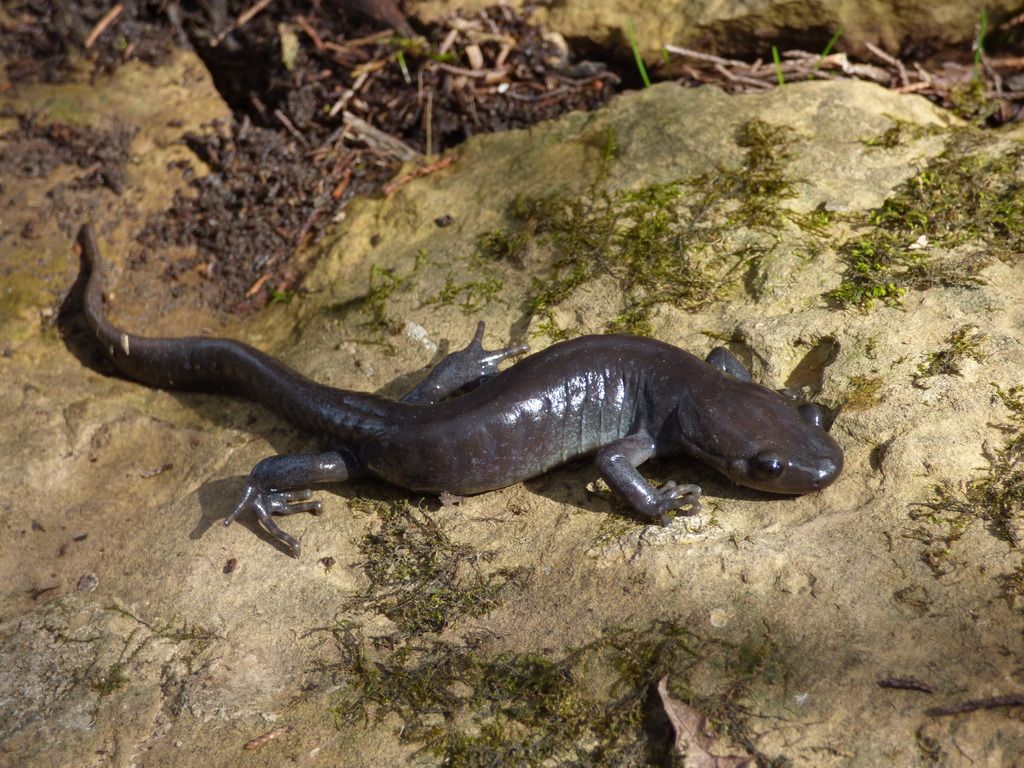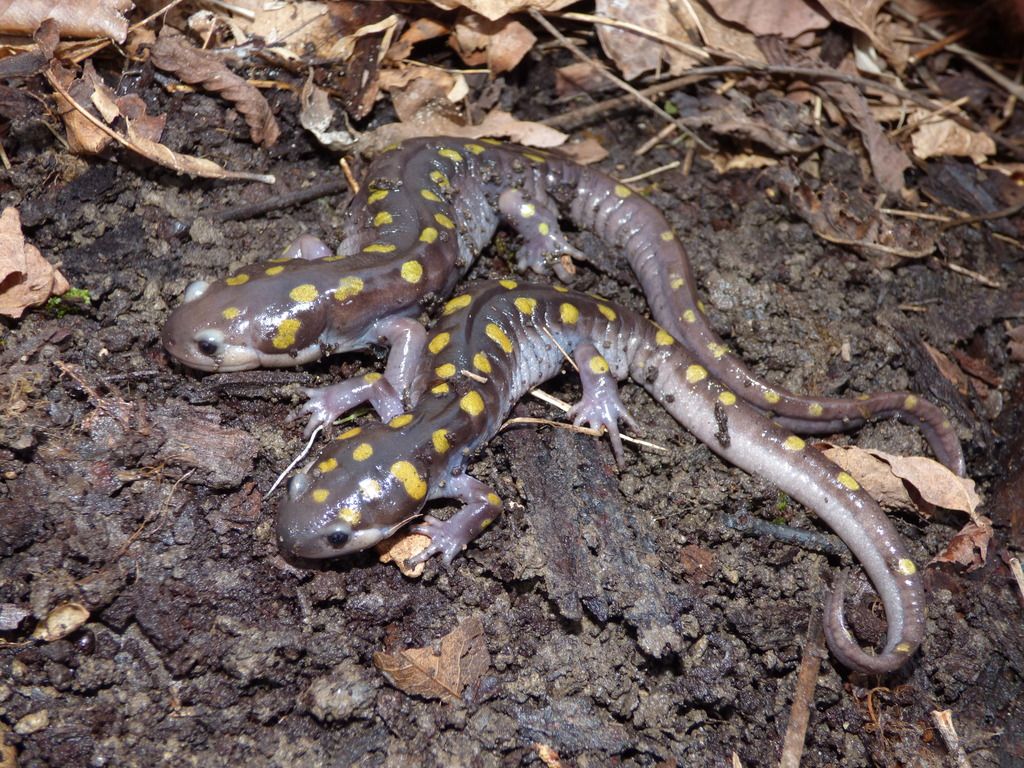 After that, we moved on to some other vernals where we had found spotted salamander metamorphs the previous summer. Sure enough, 3 more spotted were found, as well as many zigzag and ravine salamanders, and 2 nice spring peepers: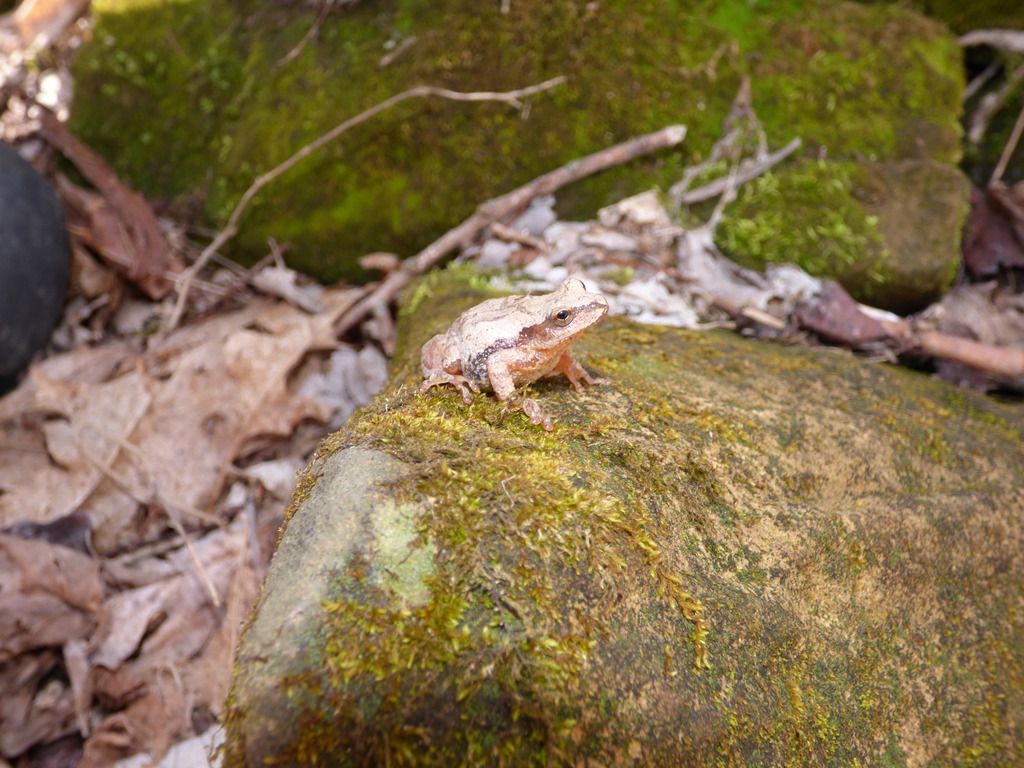 Our spring break occured during the last week of March and beginning of April, and Bruce very generously took Kevin and I on a week-long trip to the coastal plain of Georgia, an area we were both interested to visit. Our trip centered around Okefenokee Swamp, a fascinating place, and one of the largest freshwater swamps in the country, but we also did quite a bit of herping in other areas.
On the night we arrived, Kevin and I were so excited to be in the coastal plain that we decided to look around the hotel for any herps. Behind the hotel was a large pond, and in the outflow of the pond, we found a juvenile florida cooter trapped in a sewer tunnel beneath a metal grate. Luckily, we were able to fit a dipnet through the grate, and pull the turtle out:
The next morning, we went to a nice swampy area on public land, yet not frequented by many people. We began by walking out a long boardwalk, running first through shallow, forested swampland, then through deeper, more open swamp. We began with some very common herps of the coastal plain, fun to see for us Kentuckians: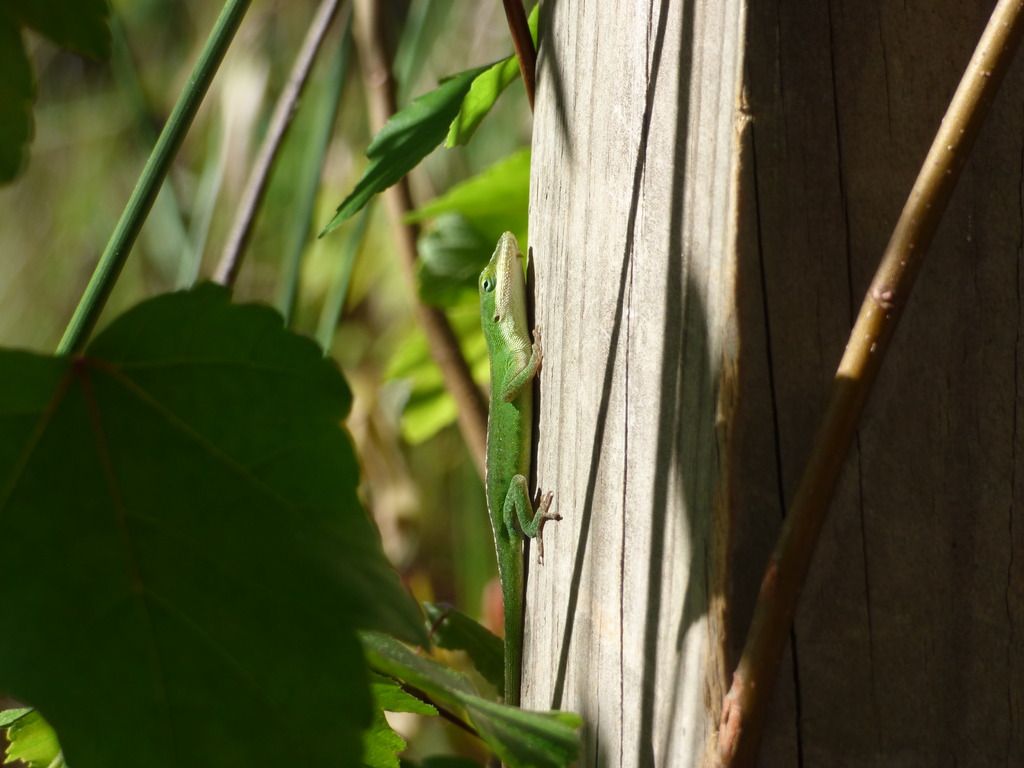 Green anole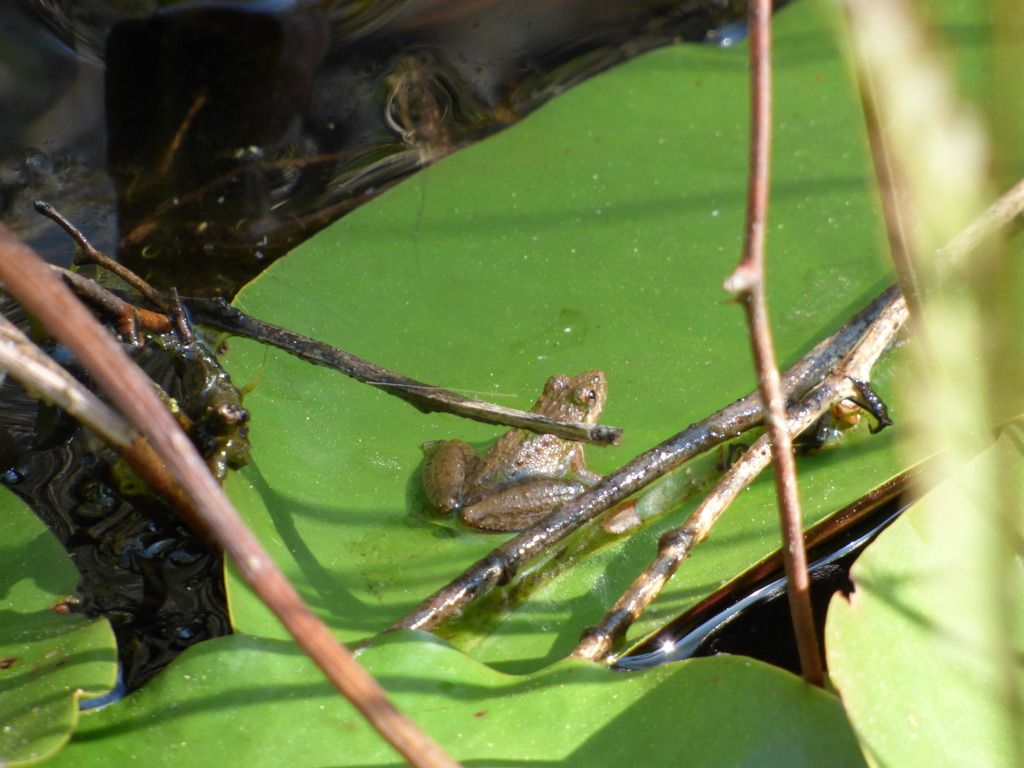 Southern cricket frog. While photographing the frog with my long lens, I noticed that something didn't look quite right on a branch above it: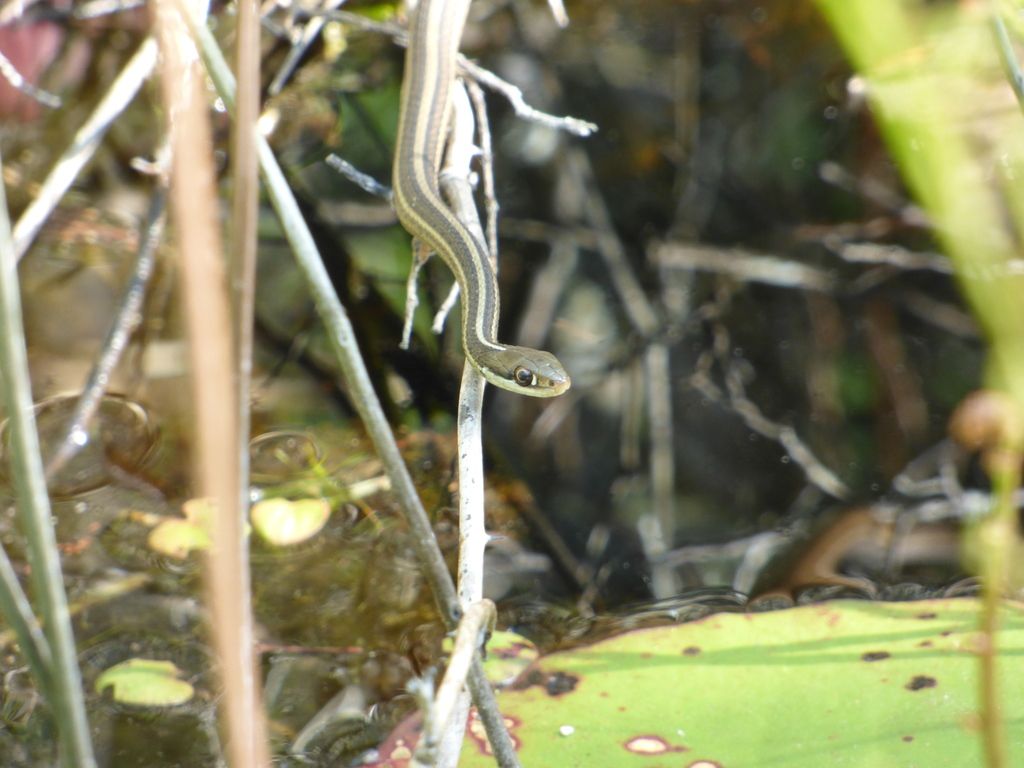 Eastern ribbon snake - our first snake of the trip. Further along the boardwalk, we spotted a couple more of these sunning.
Once the cypress and tupelo trees closed in around us, we were surprised to find several green treefrogs sitting in full view on branches: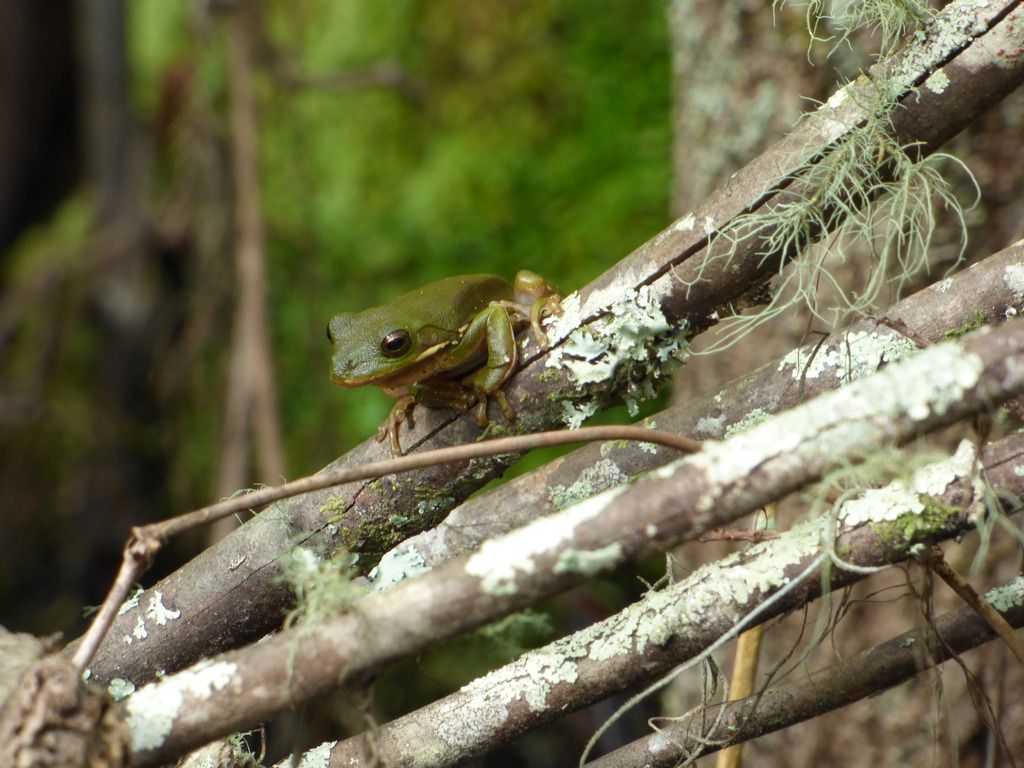 This dumbo was sitting in full sunlight: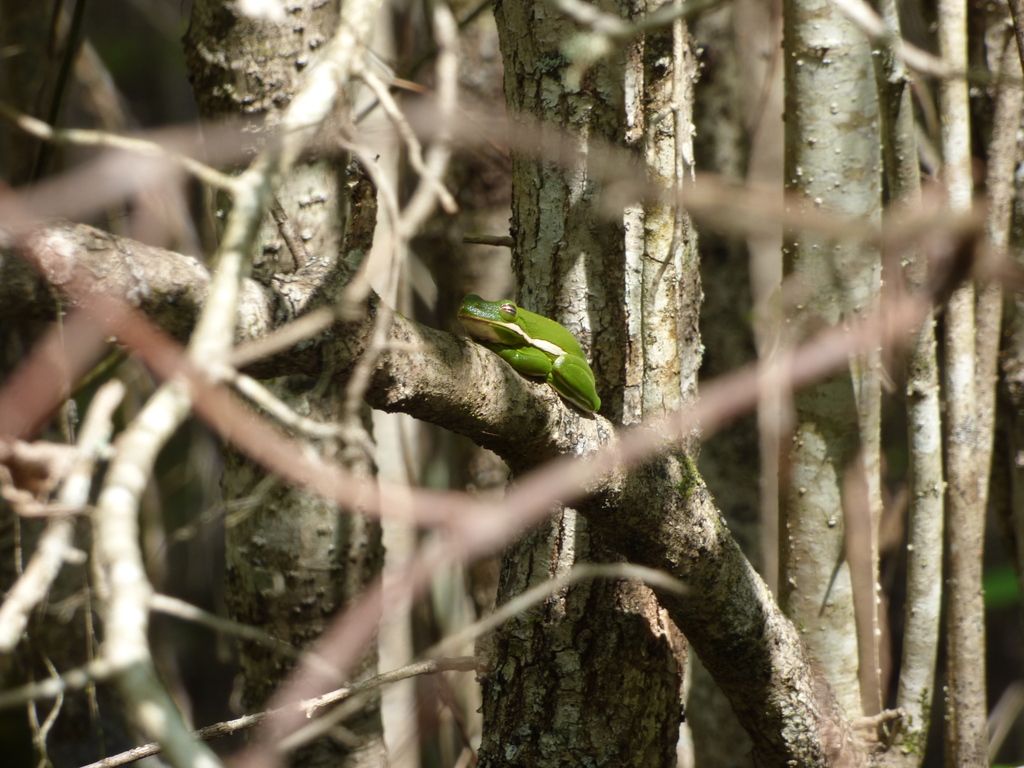 We went to the end of the boardwalk without seeing much more herp-wise, although the veiw was very nice. On our way back, Kevin spotted our first ever banded water snake, emerging from a hole near the water's edge: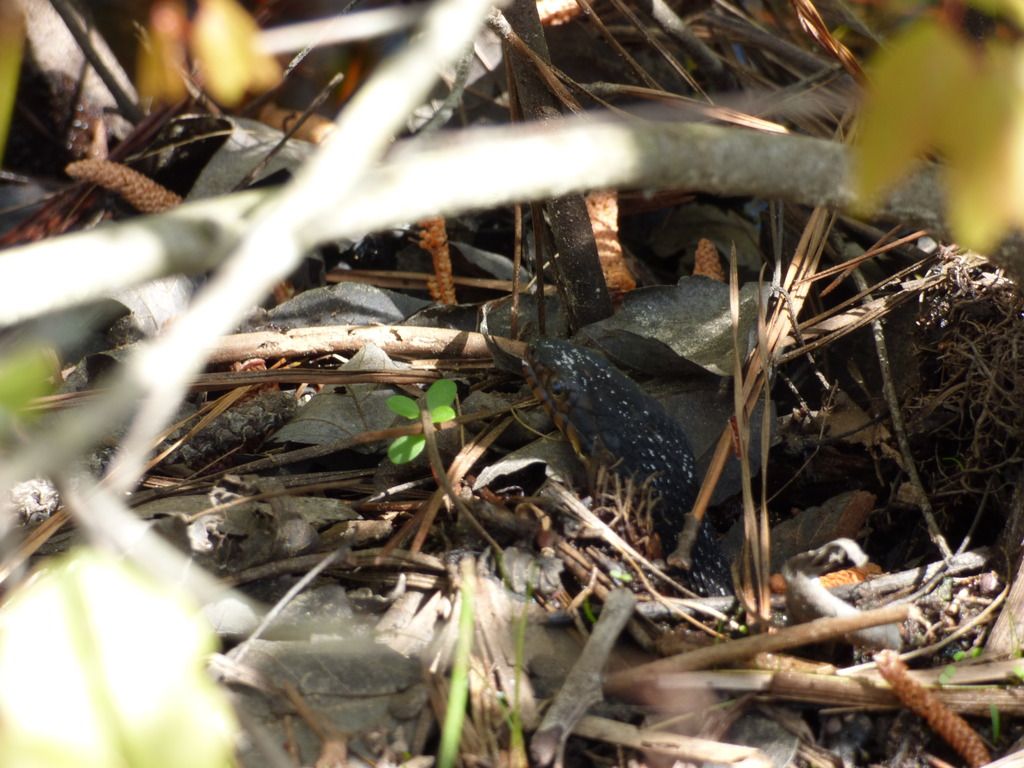 Next, we decided to walk out a dirt road running along the edge of the swamp, hoping to find some suitable shallow, vegitated water to dipnet for sirens in. Unfortunately, the road followed a very deep ditch, before entering some longleaf pine forests. We could see the tops of the trees at the edge of the swamp from the road, but getting there would require bushwacking through a palmetto thicket. Eventually I convinced Kevin and Bruce, who were not keen on getting scratched, to go in towards the swamp. After a bit of buswacking, we found the habitat we were looking for: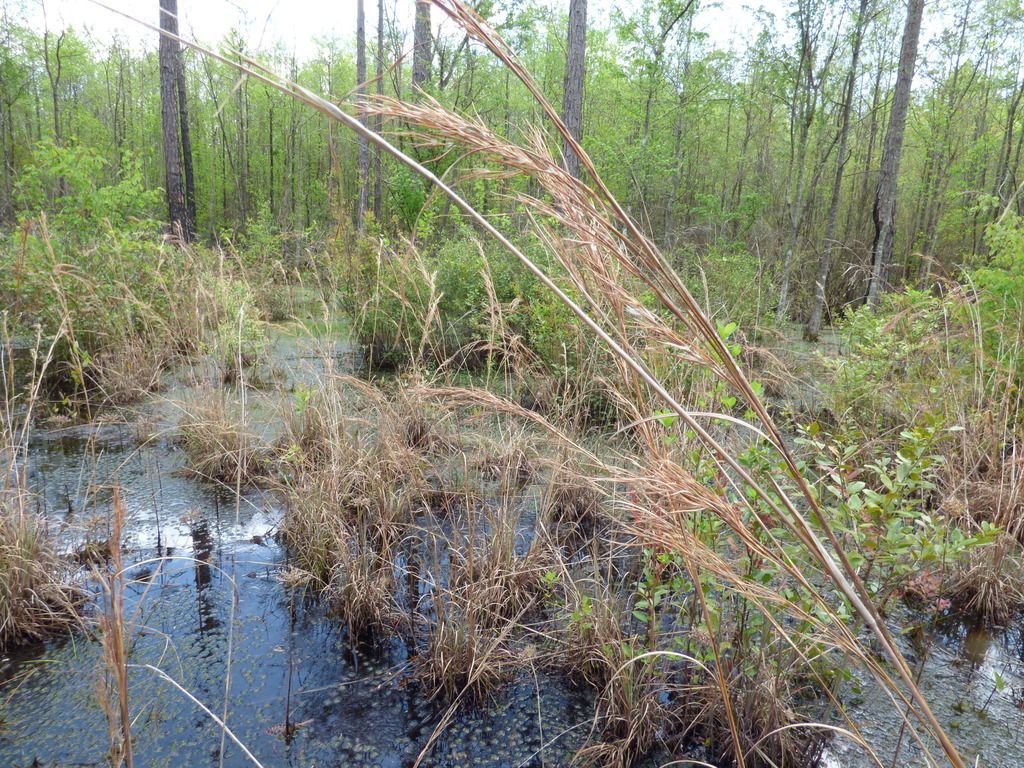 And amazingly, on my first sweep of the net, I came up with this: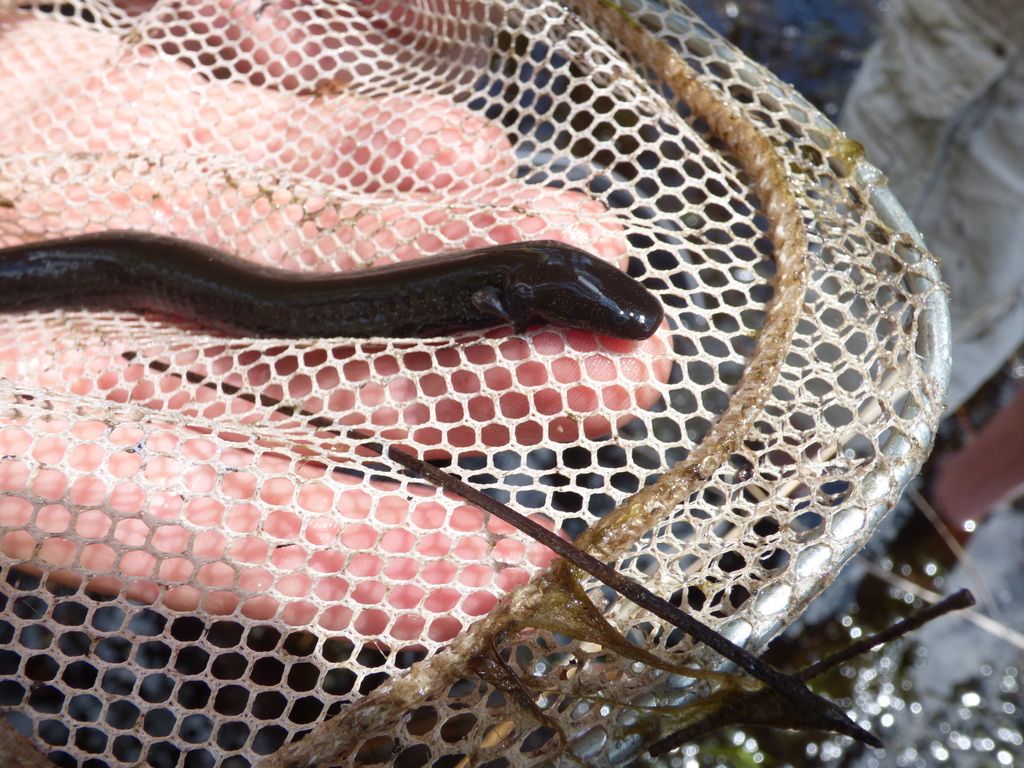 A lesser siren, perhaps my favorite find of the entire trip! Soon Kevin came up with yet another (Bruce did not have a net):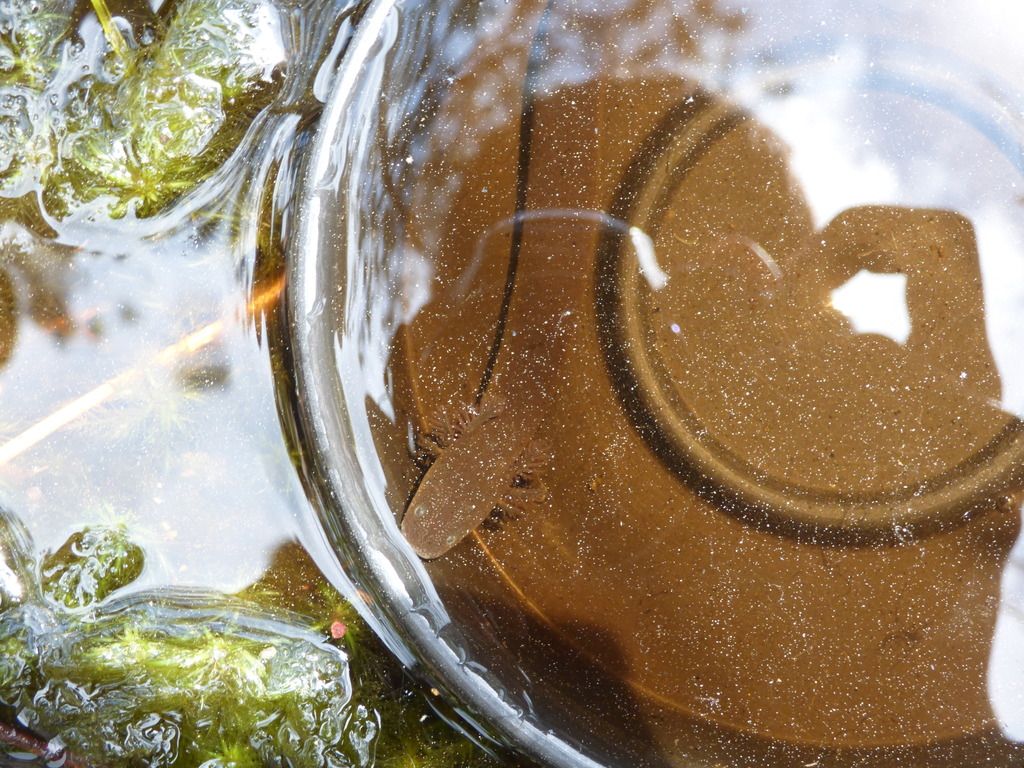 After taking some photos, we decided to move on to a spot at the edge of Okefenokee Swamp. After some driving, and a quick stop in which I failed to catch a racer, we were there. I went to use a restroom, and by the time I came out, Kevin had found this pretty ribbon snake: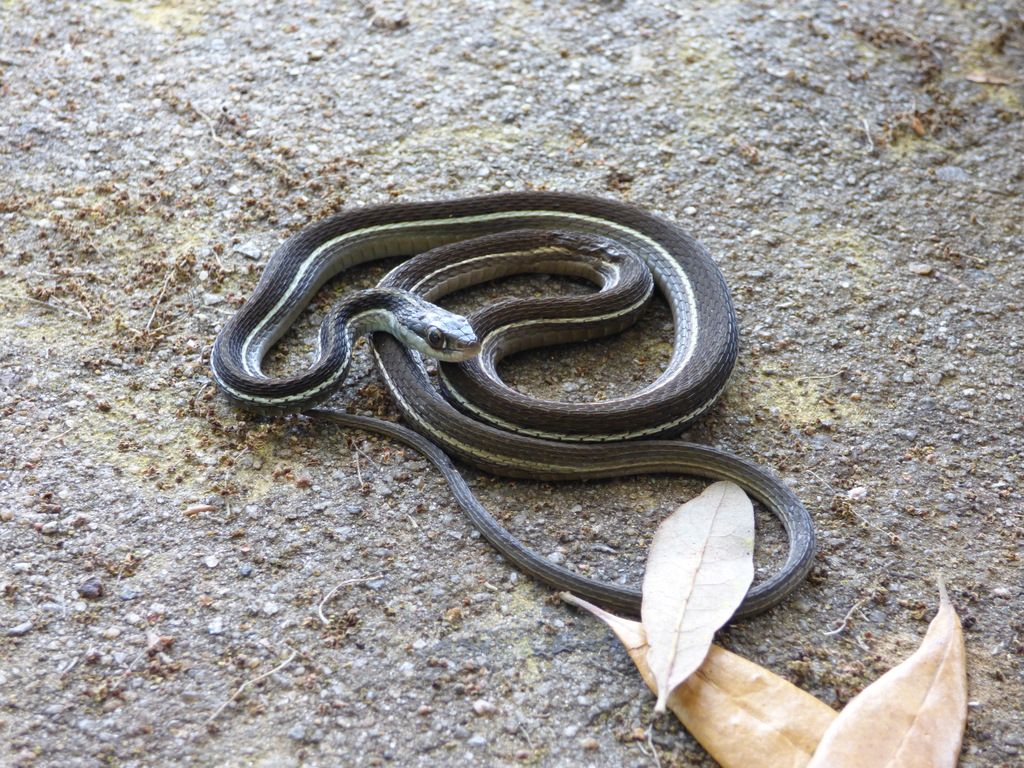 Kevin also spotted this squirrel treefrog on the restroom wall, which I had completely missed: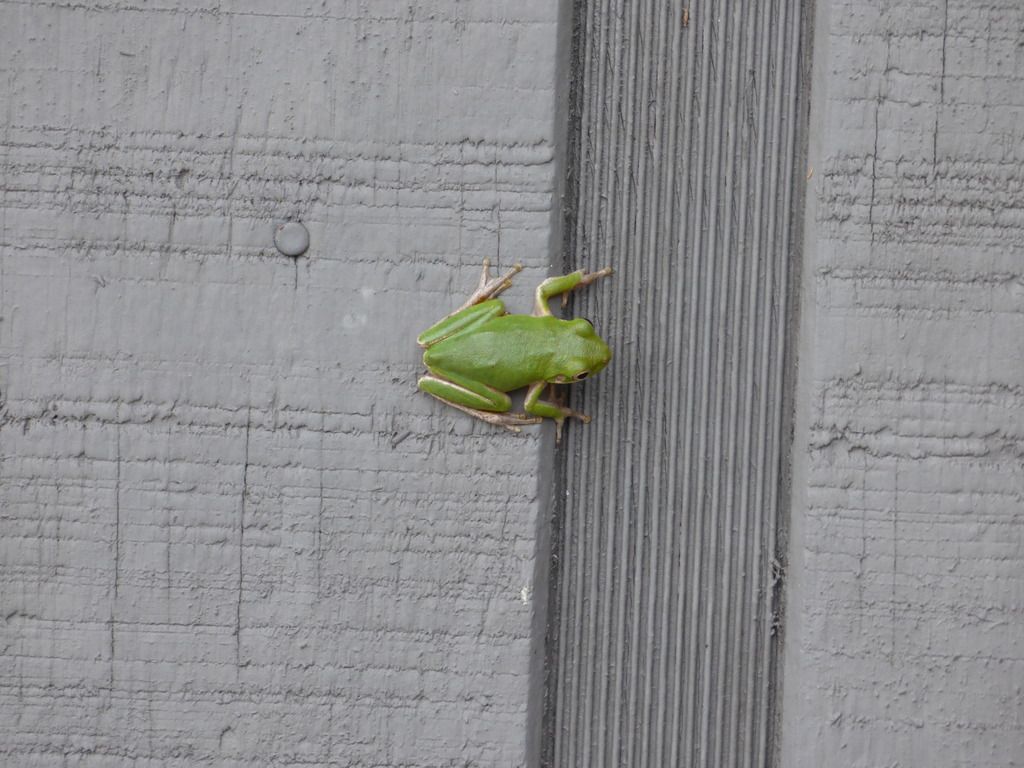 Along the margin of the swamp, I spotted this guy: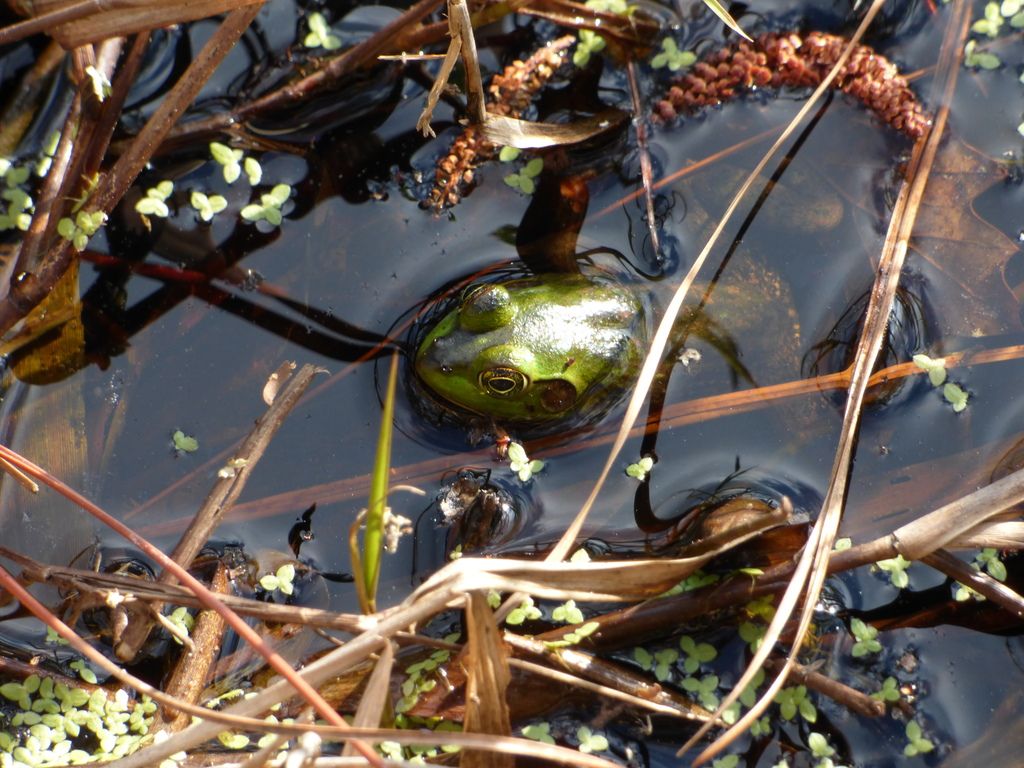 We caught it just in case it was our lifer pig frog. It turned out to be a bull frog. We also saw a few sunning banded water snakes. Although very common, these snakes can be quite pretty (certainly prettier than Kentuckian water snakes):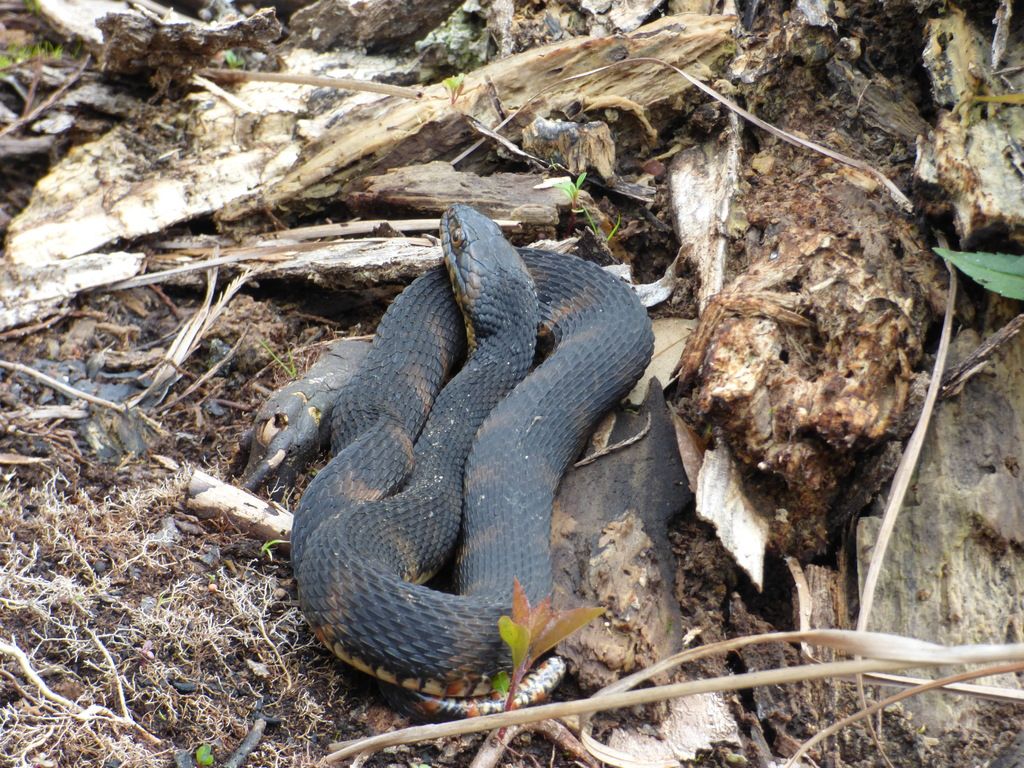 In a low moist spot, Kevin flipped a log to find two dwarf salamanders, a lifer for him. Under an adjacent log, I found a third: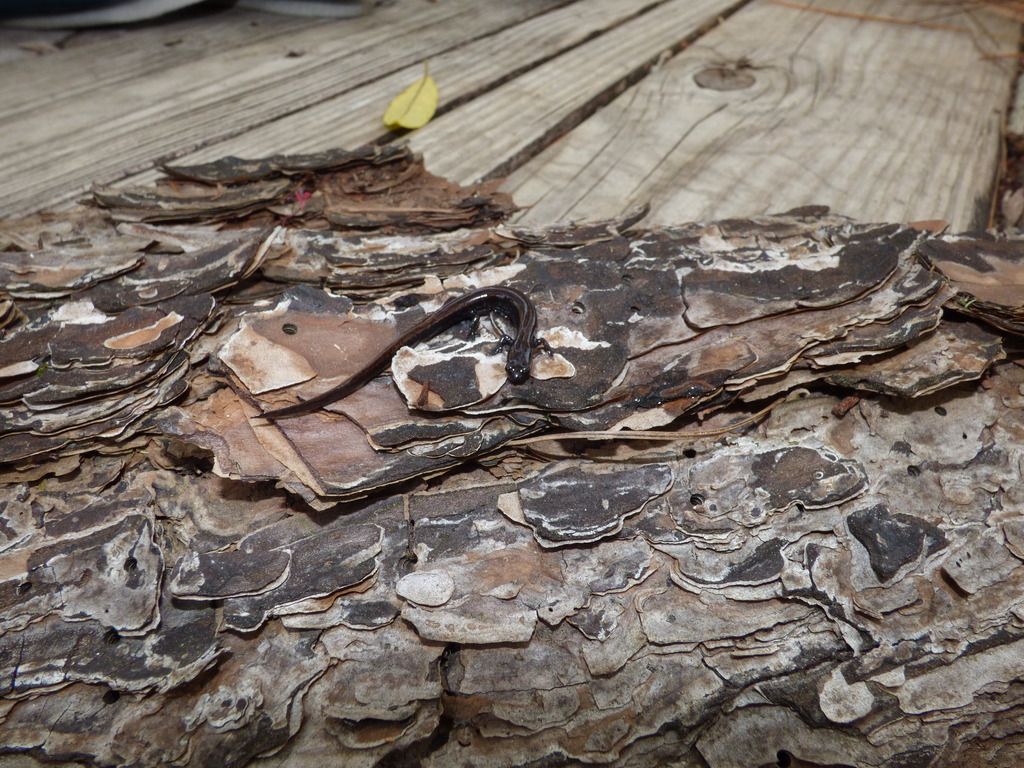 And of course, since we were in southern Georgia, how could we not see alligators?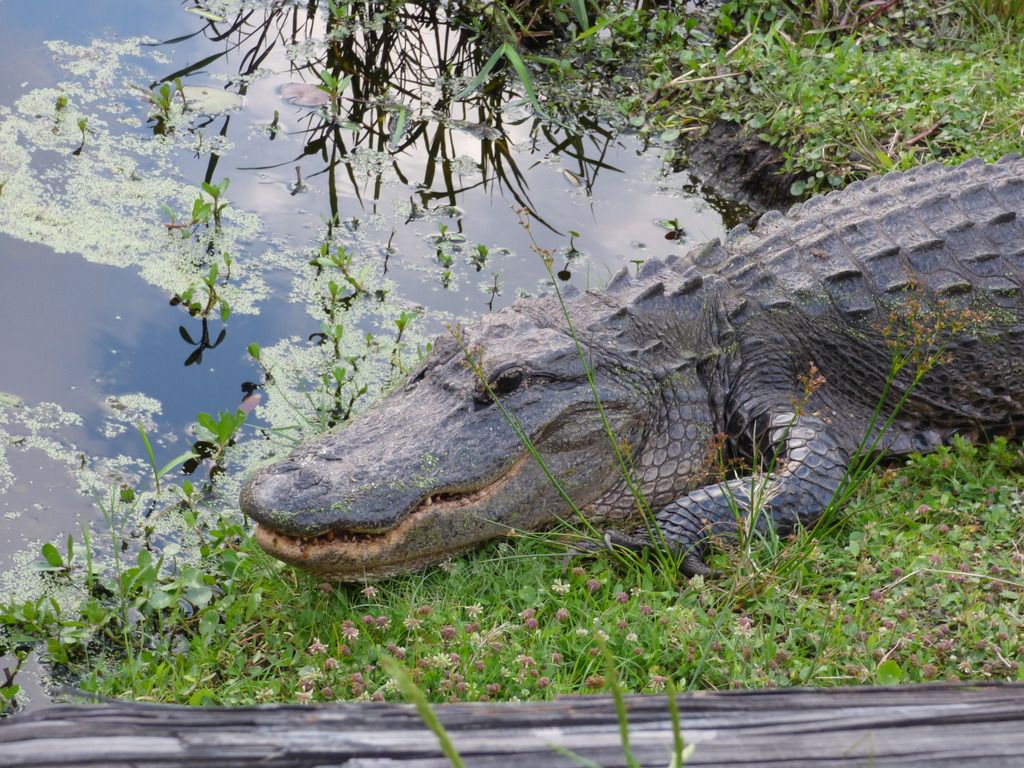 That night, we went road cruising on a road at the edge of the swamp. We found a couple of ribbon snakes at dusk, and several banded water snakes: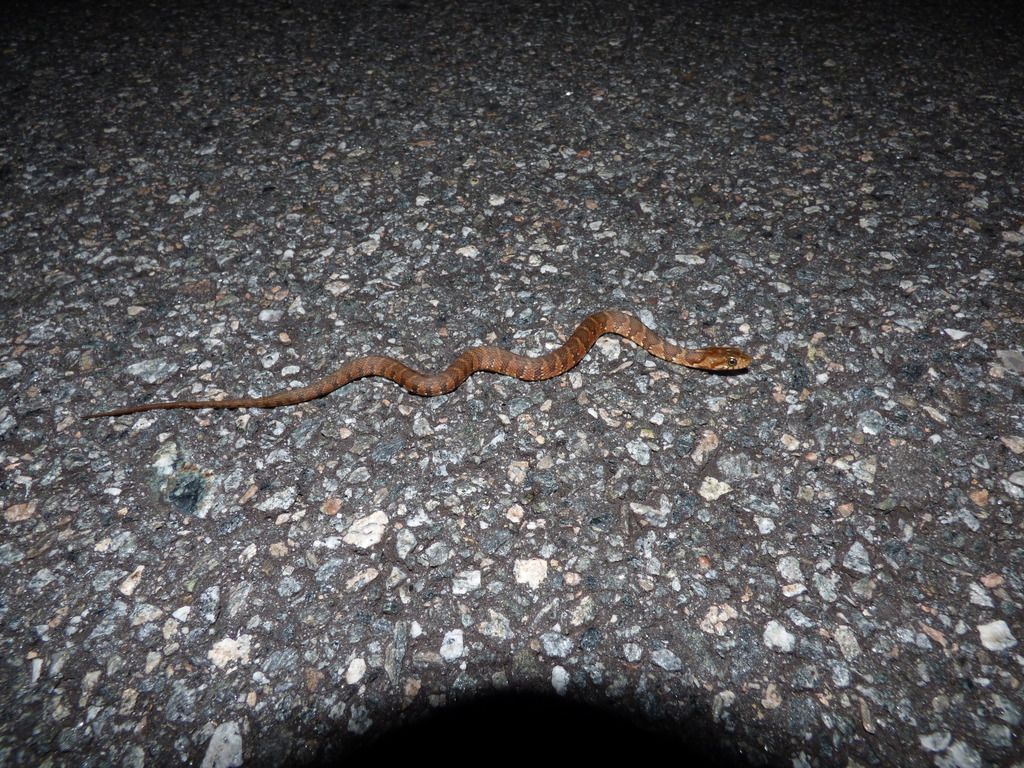 As well as the highlight of the night, this striped crayfish snake (a lifer for all of us):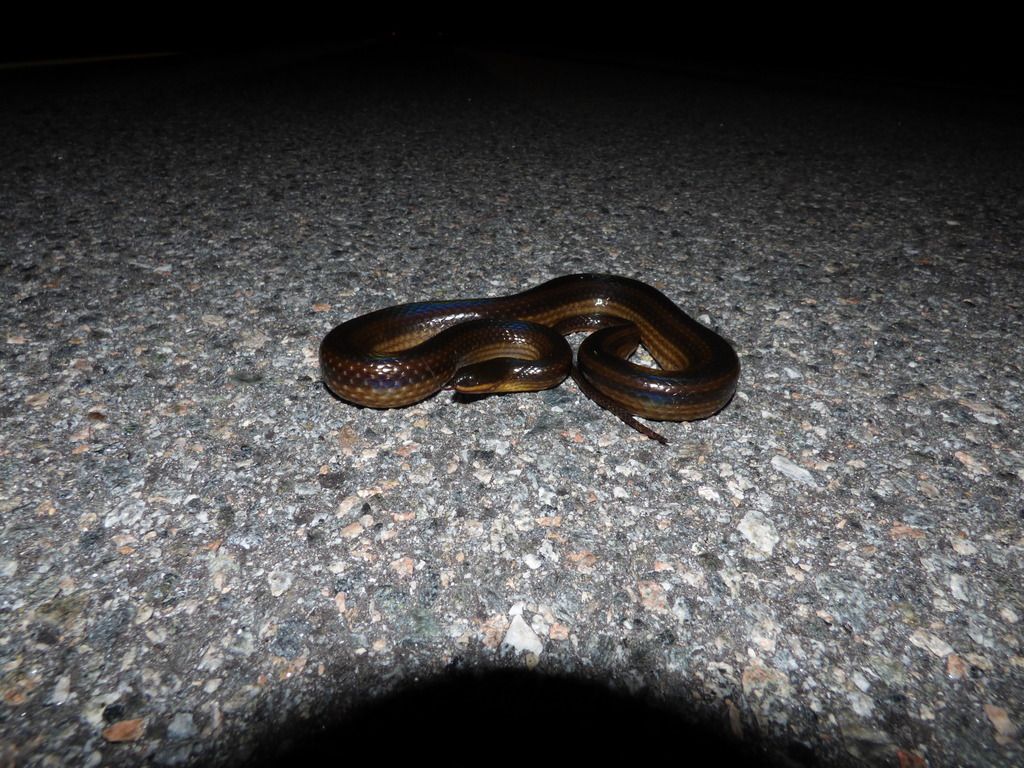 The next day, we searched a different area at the edge of the swamp: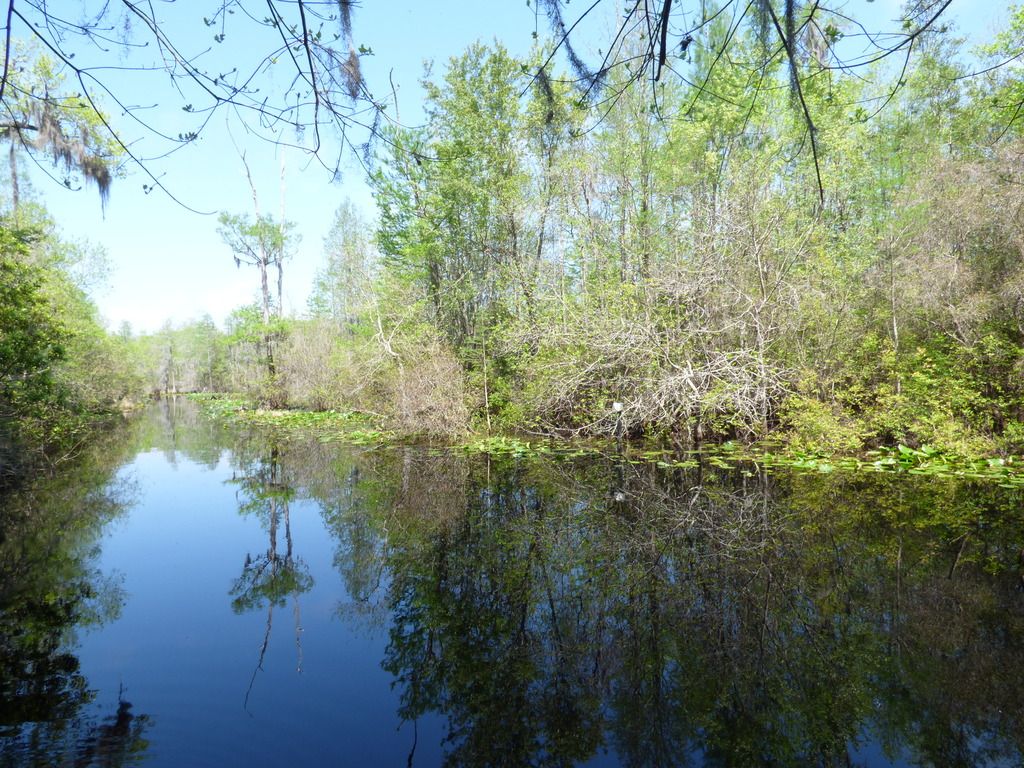 At the water's edge, we began with what I believe is a bronze frog. Any other thoughts on the ID of this guy?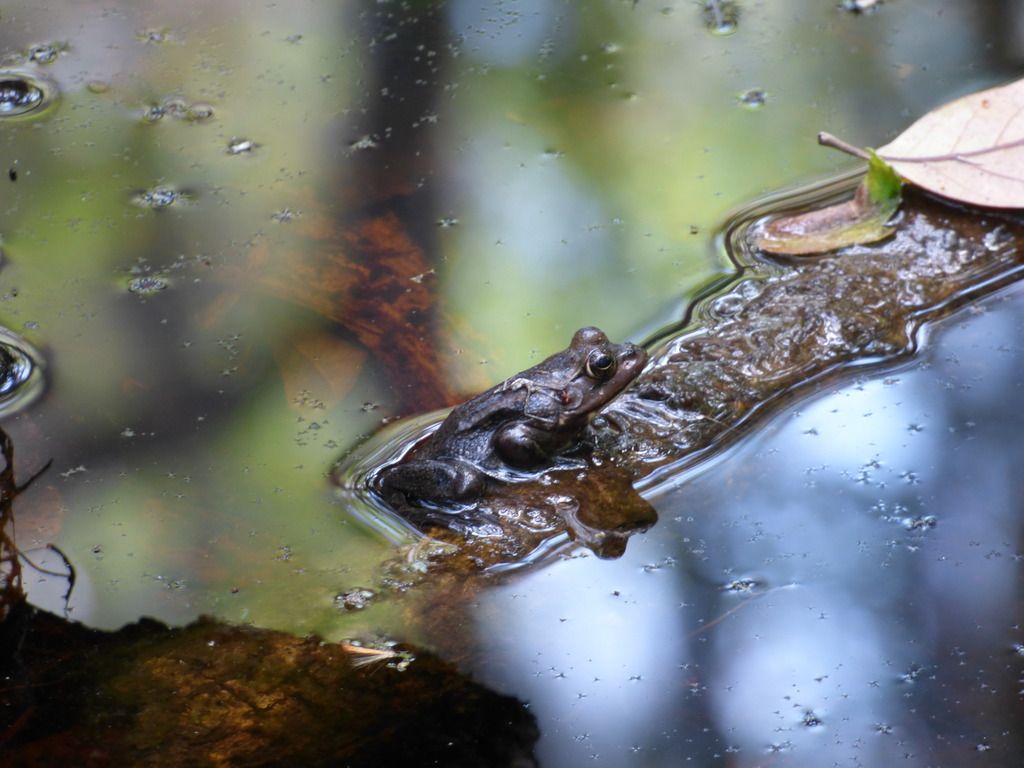 Moving into the uplands, we found this southern toad under a palm frond: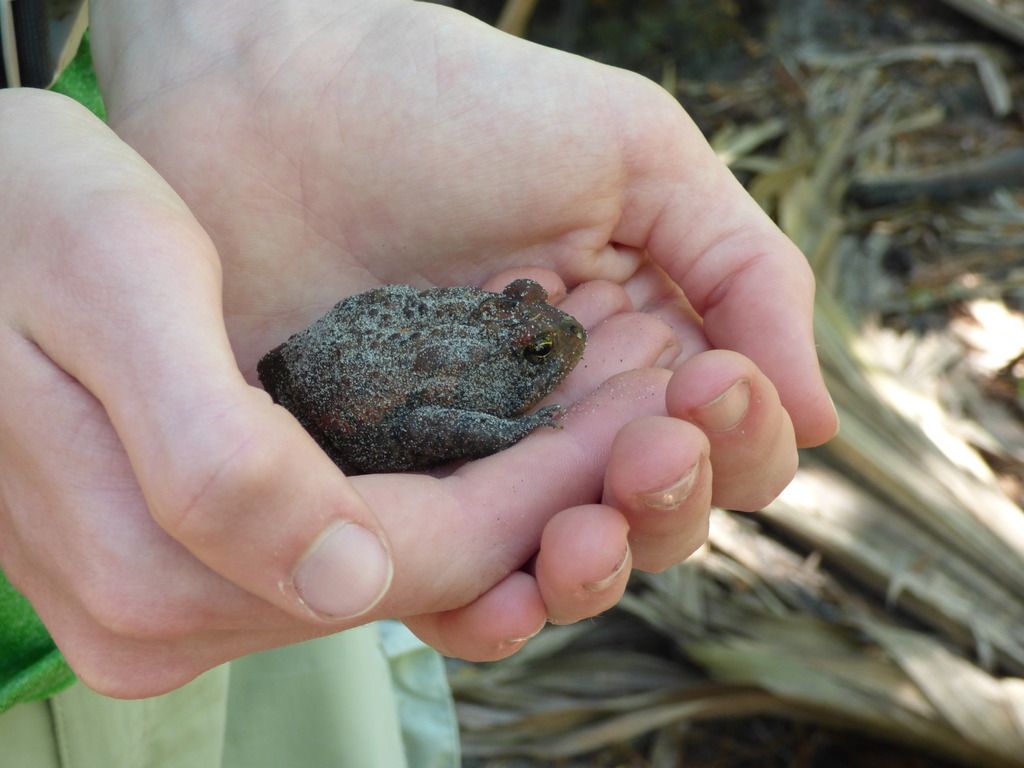 And under a log, this narrow-mouthed toad: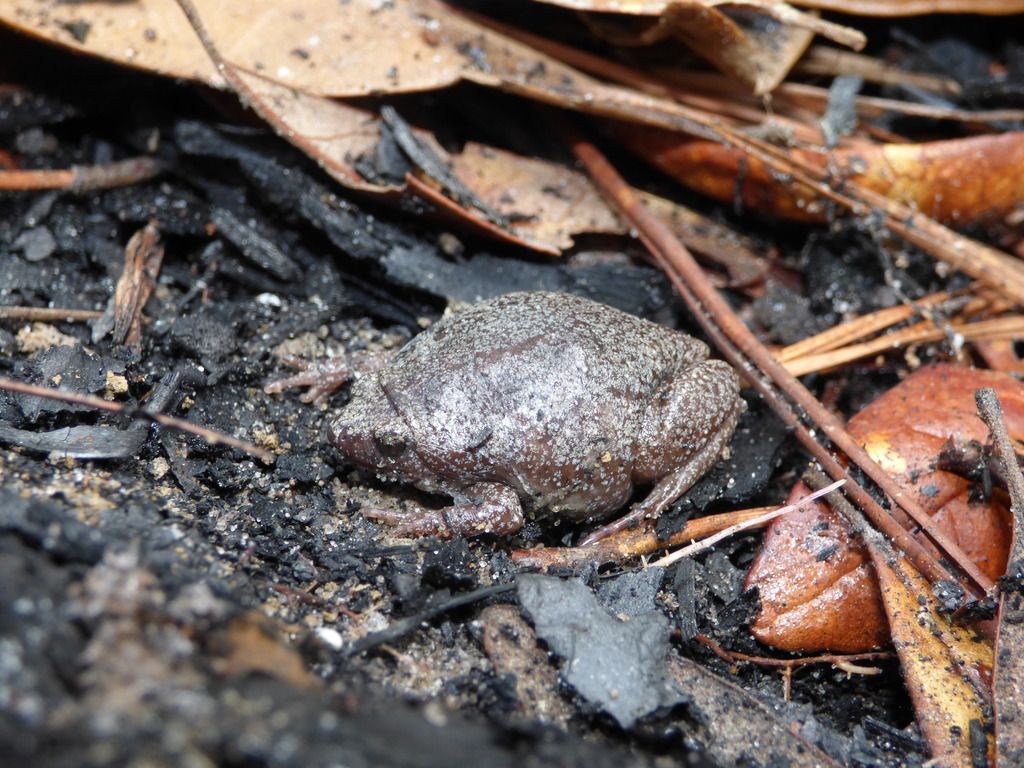 We searched a mix of longleaf pine and palm hammock habitat for the rest of the day, but we were unable to find anything else besides a couple of skinks. Only a week before, another group of herpers found scarlet kingsnakes, canebreak rattlesnakes, rough earth snakes, and racers very near where we were. I guess this shows how inexperienced we are at herping in the area.
However, that night, we did fairly well road cruising. This time we cruised through a mixture of swamp and upland habitat. We again found several banded water snakes, and a ribbon snake at dusk. However, later at night we entered an area which had just experieced a light shower, which apparently brought out another ribbon snake, and this tiny juvenile red-bellied snake: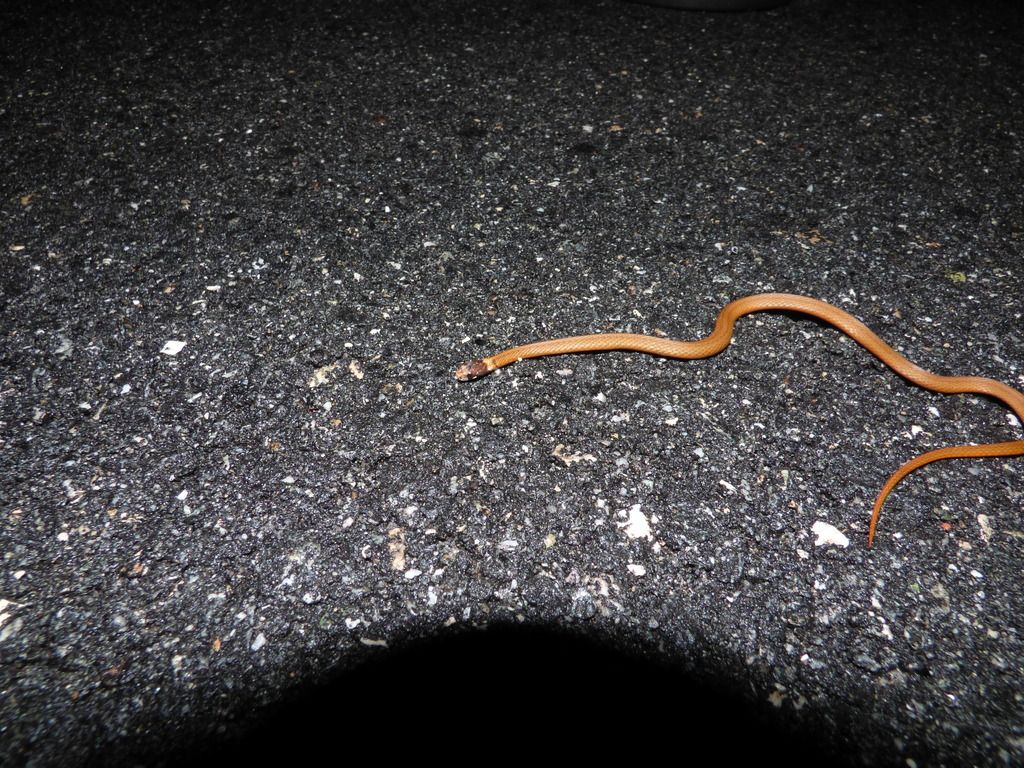 The next day, we moved on to another part of the swamp. We began by hiking through a section of longleaf pine forest reputed to have hognose snakes and canebreak rattlers. Our first find, though not a herp, was this cool moth: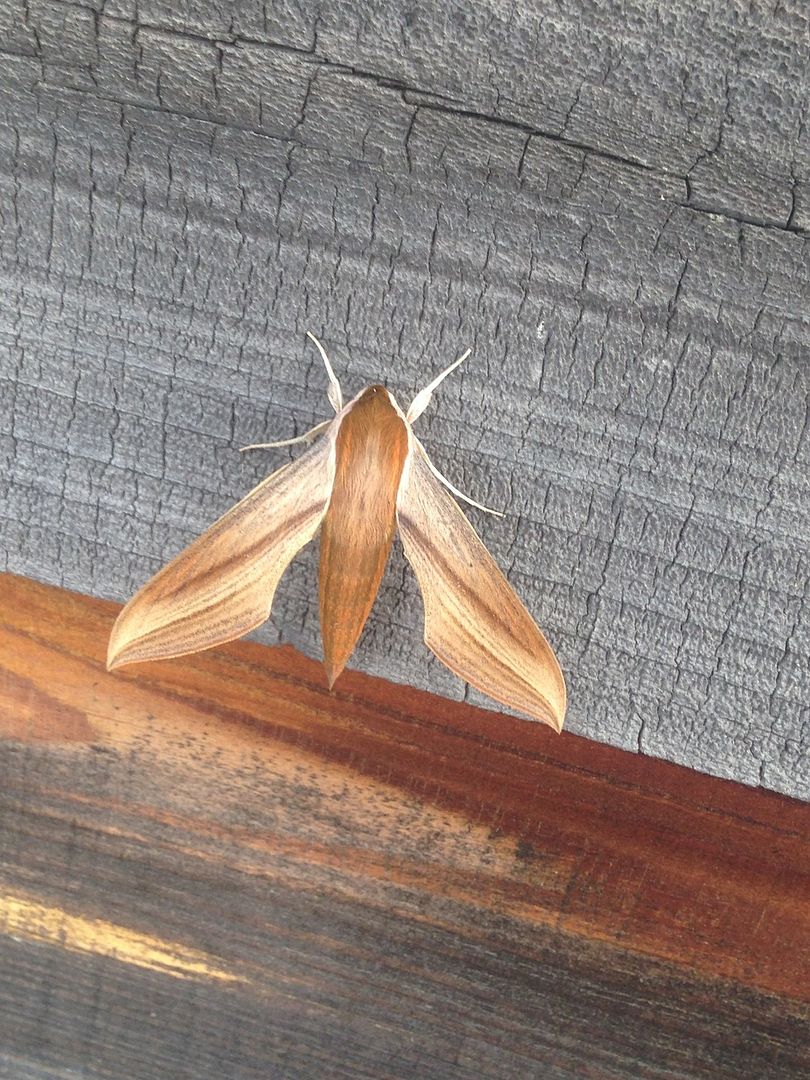 In a small pond, we saw a couple of florida cooters sunning: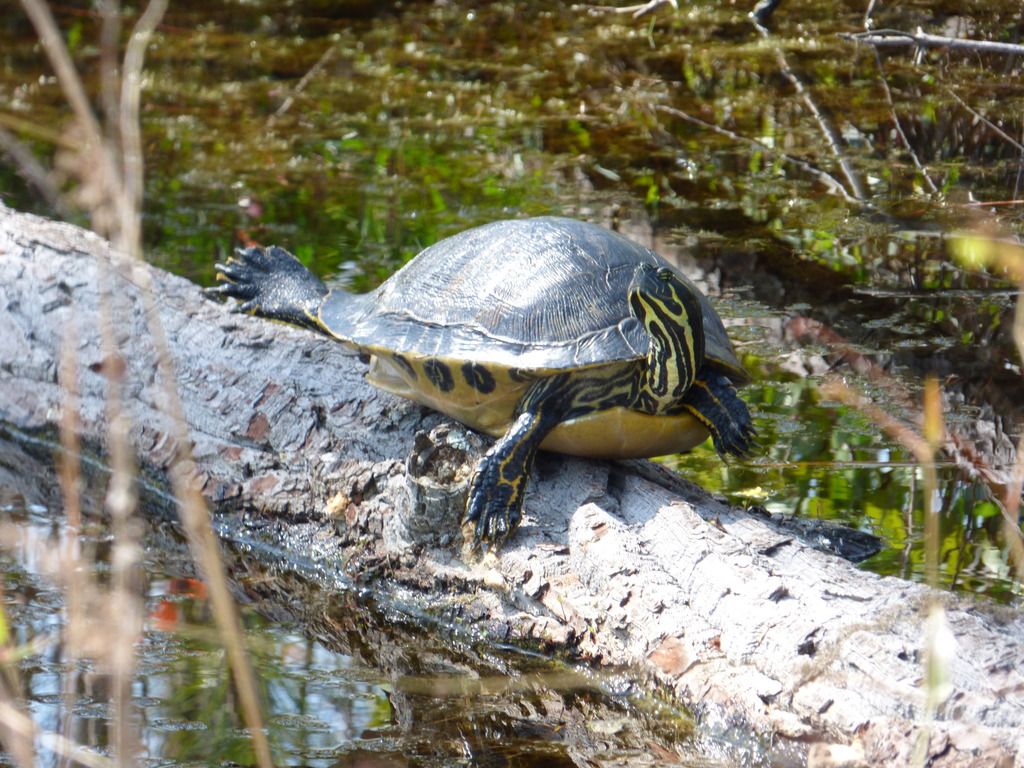 We moved on through the woods, finding a couple of skinks and fence lizards. We also found several snake skins on the bark of standing dead pine trees. Finally, I gently peeled back some bark on a tall stump to find this beauty:
A juvenile corn snake!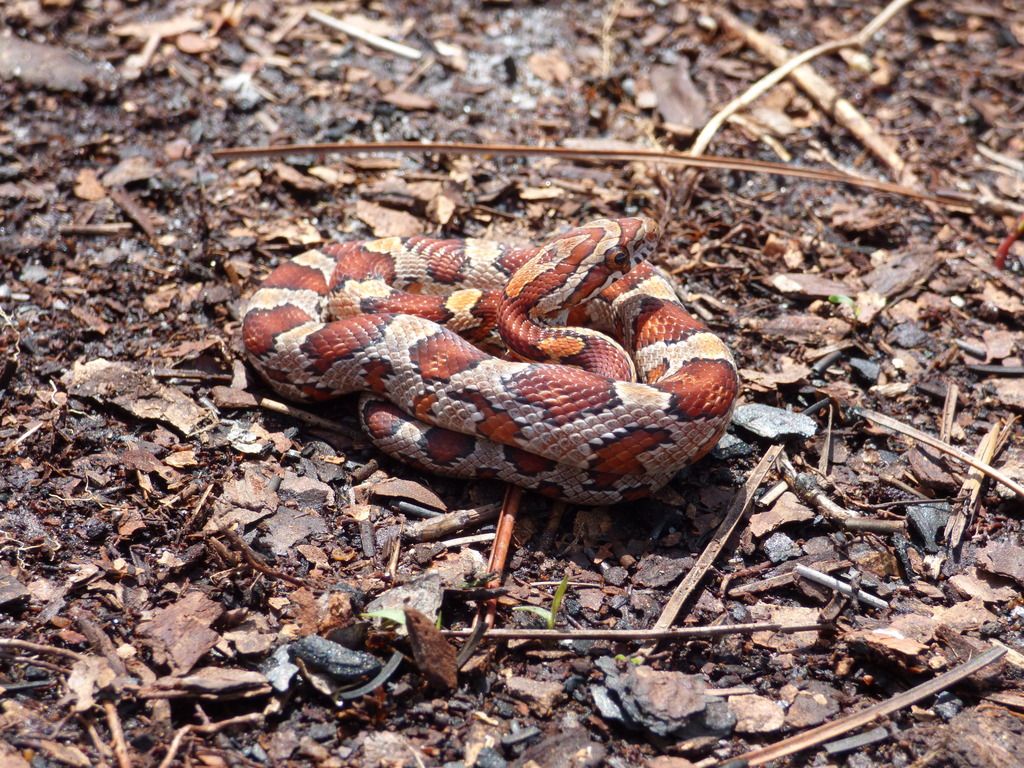 Next, we moved on to another boardwalk. Again, banded water snakes were very common. I think we saw 13 in total at this spot. In fact, Bruce even noticed a pair courting: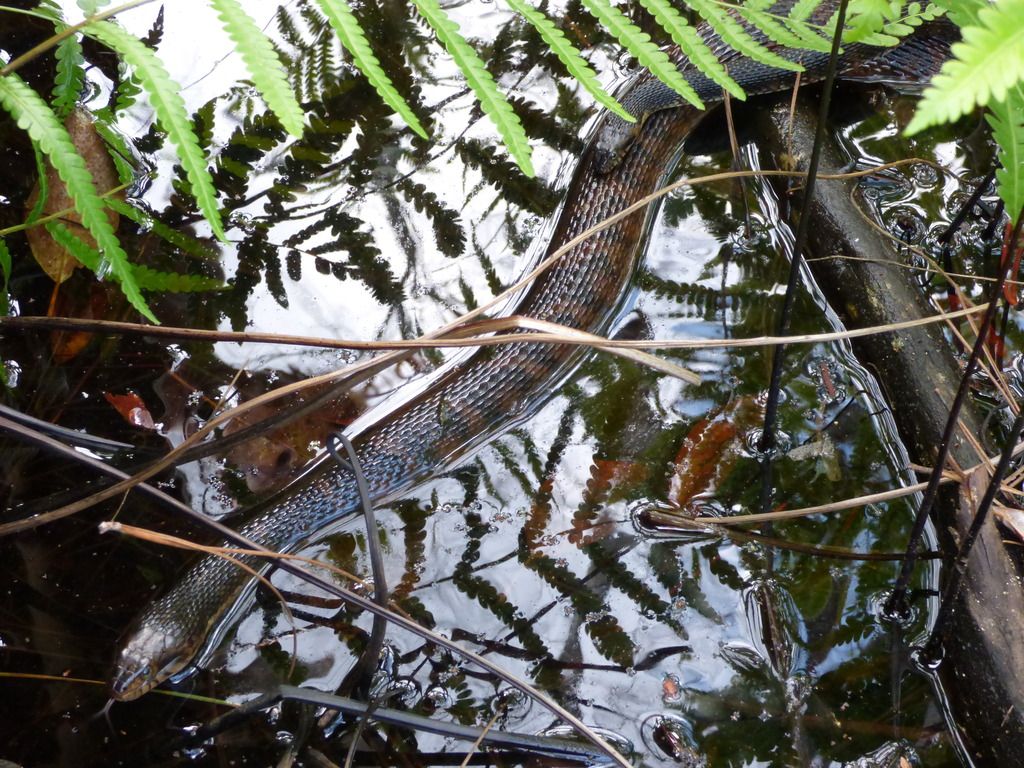 Right beside the boardwalk, we saw this bittern perched on a log: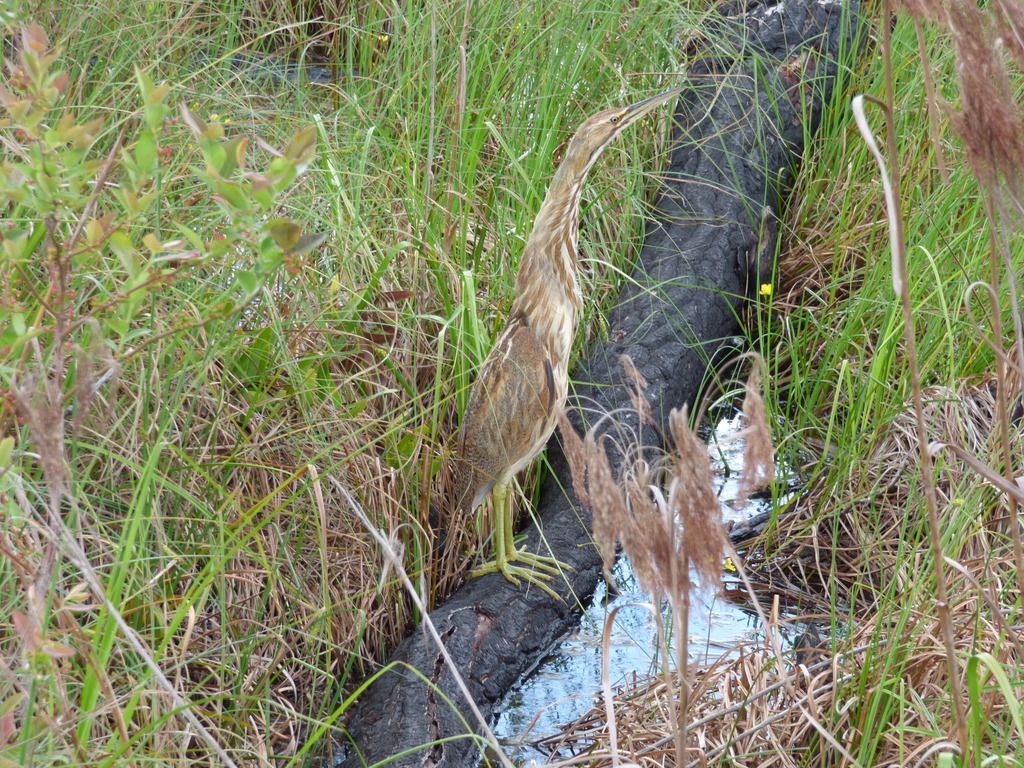 As we moved further along the boardwalk, we entered an area of deep water, with clumps of bushes here and there. Sitting beside the boardwalk among some weeds was this florida red-bellied turtle: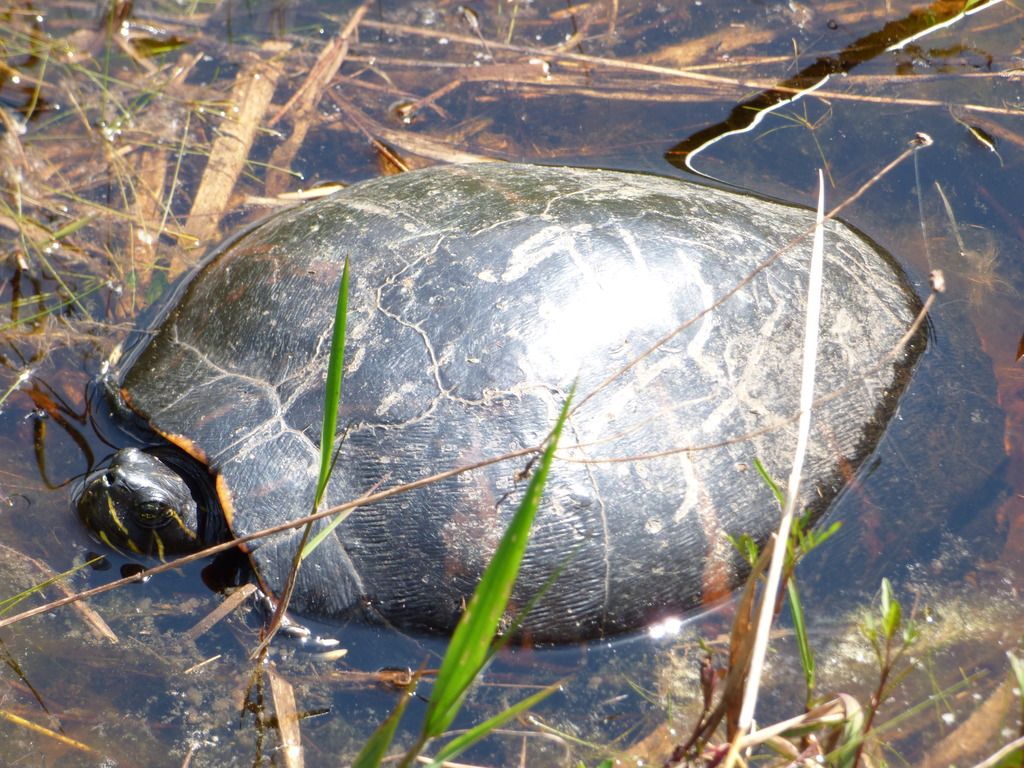 And this huge pig frog (lifer):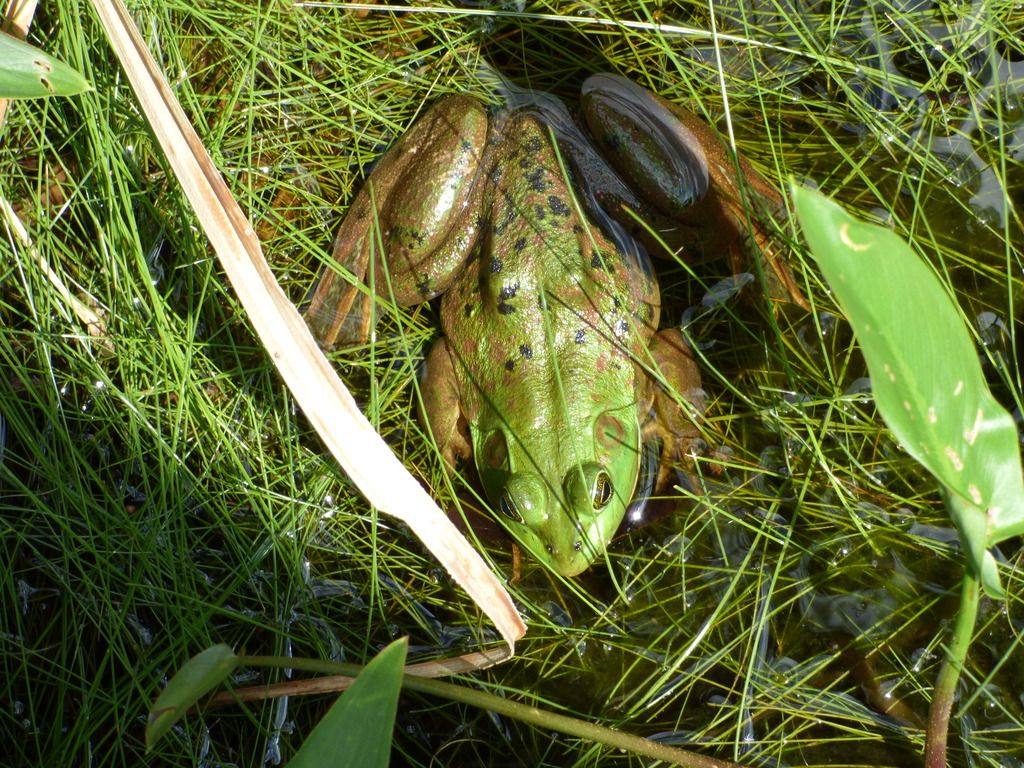 Where the boardwalk neared a clump of bushes, I noticed a vine that was vibrating in a weird way. I realized that this was not a vine at all, but a rough green snake: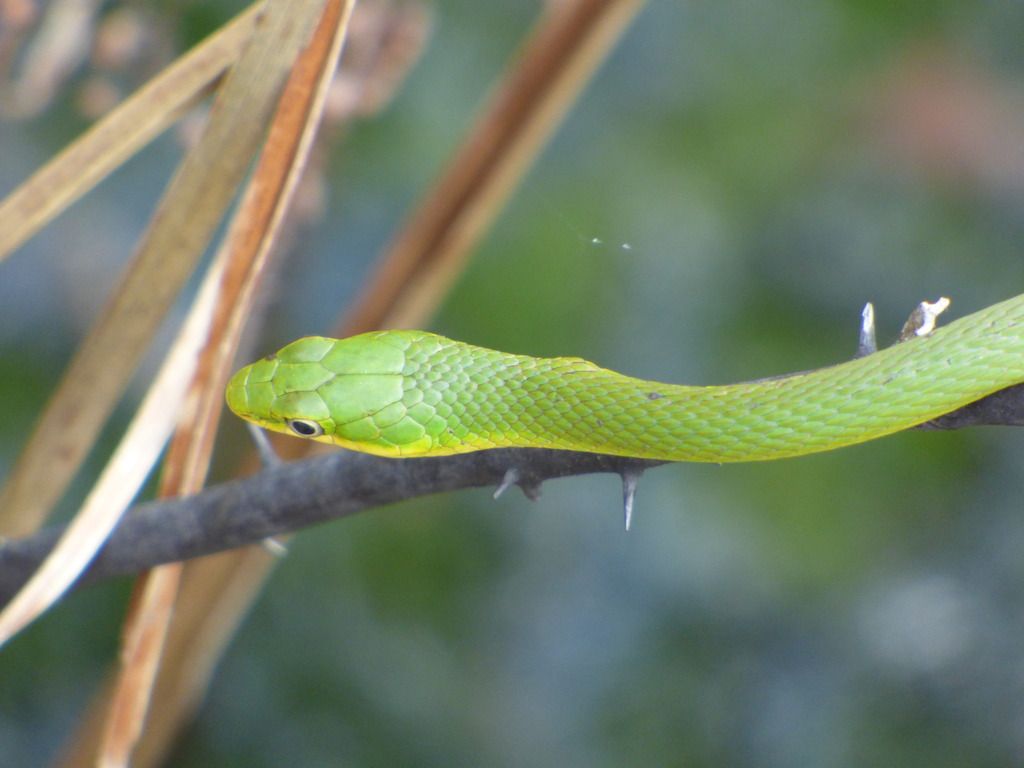 Looking closely at the surrounding bushes, we noticed two more! I had no idea that rough green snakes could live in the middle of a swamp, half a mile from dry land.
As we neared the end of the boardwalk, we entered a small grove of cypress trees. Here, in the shaded section, we found several bronze frogs, and a few carpenter frogs (lifer):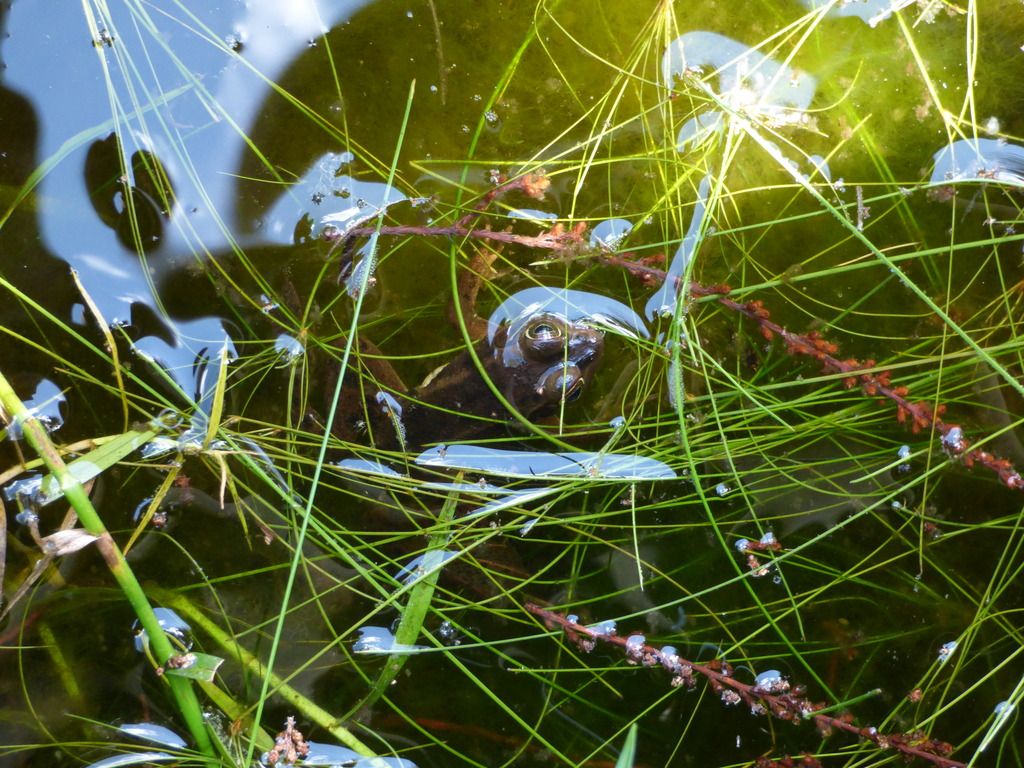 The view from the end of the boardwalk: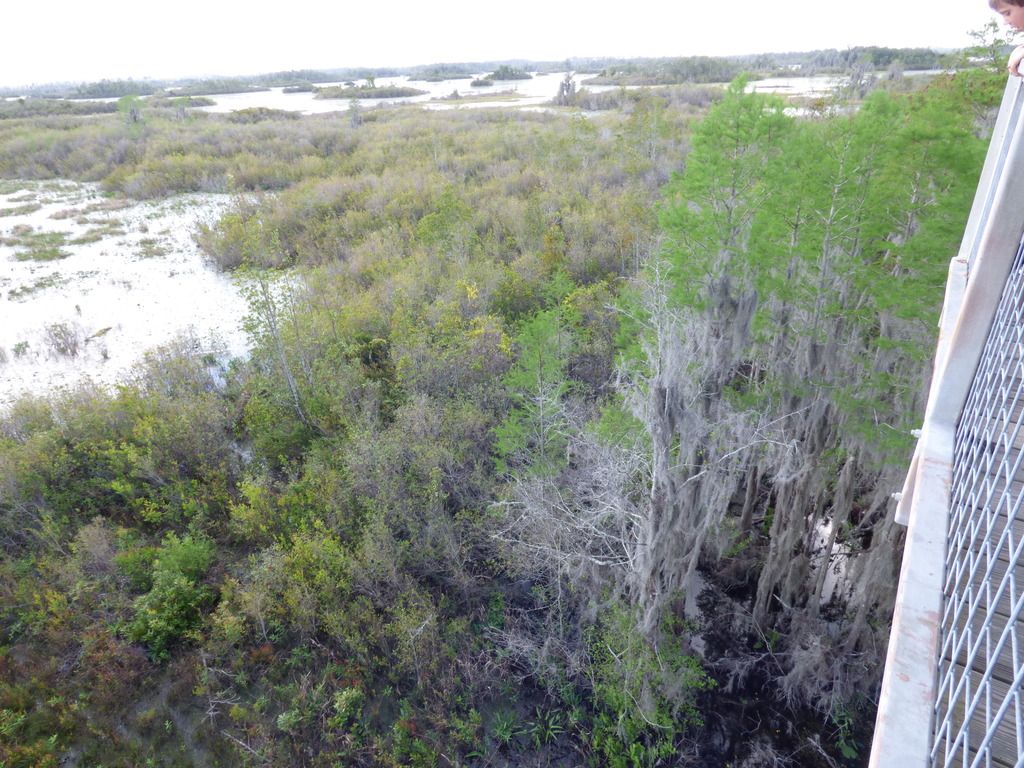 Next, we moved on to an upland, sandy, longleaf pine area, hoping to find mole skinks. On our way in, we met a group of gopher tortoise researchers, who reported having just seen a coachwhip and a rattlesnake of some sort, as well as several gopher tortoises.
Our first find was a large racer, which I again failed to catch. Soon we began finding fence lizards and skinks, although none were mole skinks (and I again failed to get photos). We also saw many anoles (as usual), including a mating pair: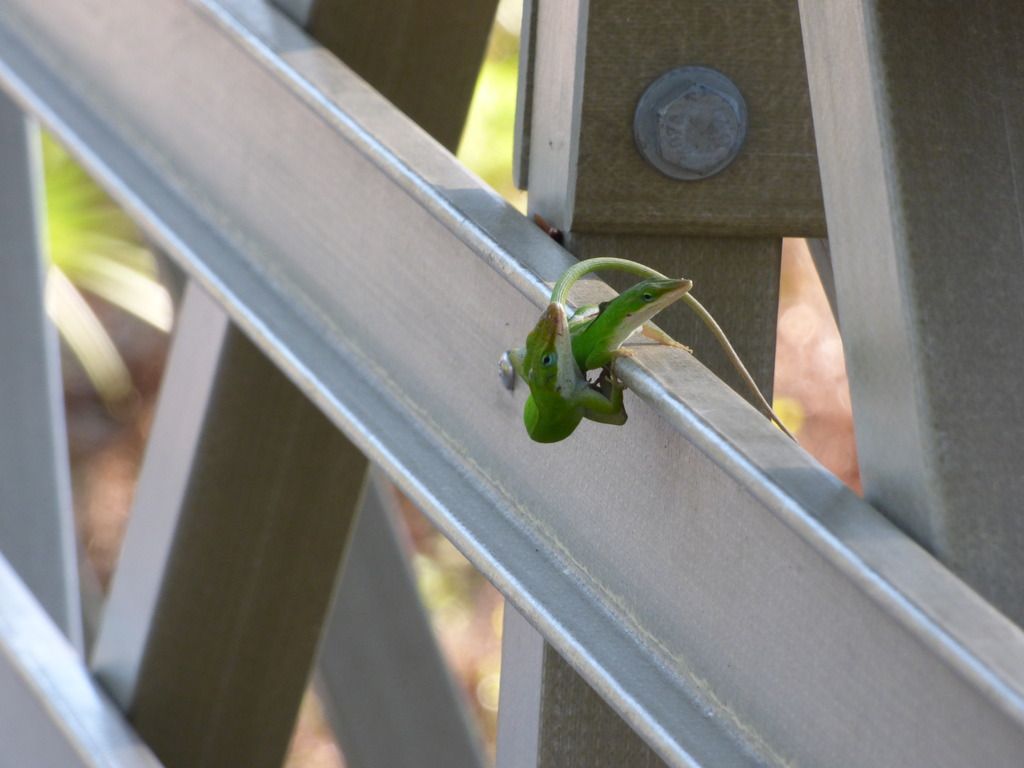 Bruce had brought a GoPro camera along on the trip, and on this occasion we decided to tie it to the end of a snake hook, and use it to see into the gopher tortoise burrows. At one burrow, after we inserted the camera some distance into the burrow, we heared a repeated thumping sound. When we played the video from the camera, we found out that, to our surprise, a gopher tortoise was actually charging the camera! At one point, it stopped at the enterance of the burrow for long enough for us to get mediocre photos: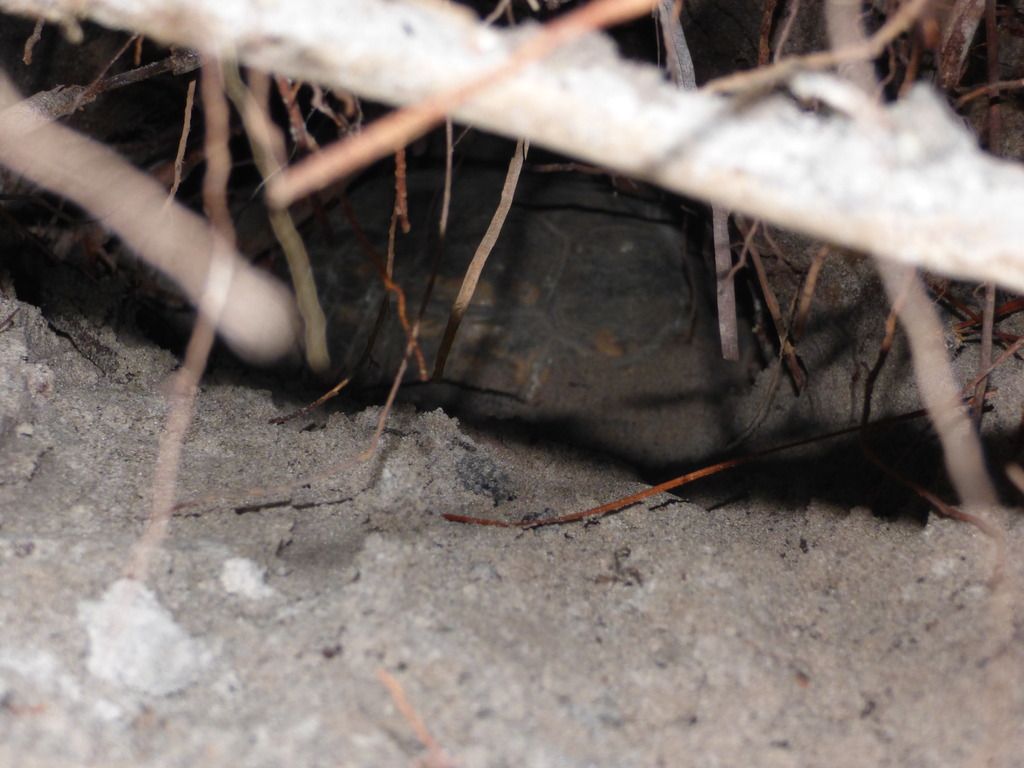 We moved on, but did not find much else for the rest of the day. At one point, Bruce heard the distinct rattling of a rattlesnake from a palmetto thicket he walked past, but we were unable to see the snake. Eventually, we called it a day and headed to our hotel.
The next day we herped in a mixture of swamps and palm hammocks. At the beginning of the day, Bruce saw a glass lizard, but it escaped into some thick brush before Kevin and I could get a good look at it. Anoles and leopard frogs proved to be very common on this walk, as well as fence lizards. We saw some very pretty individuals: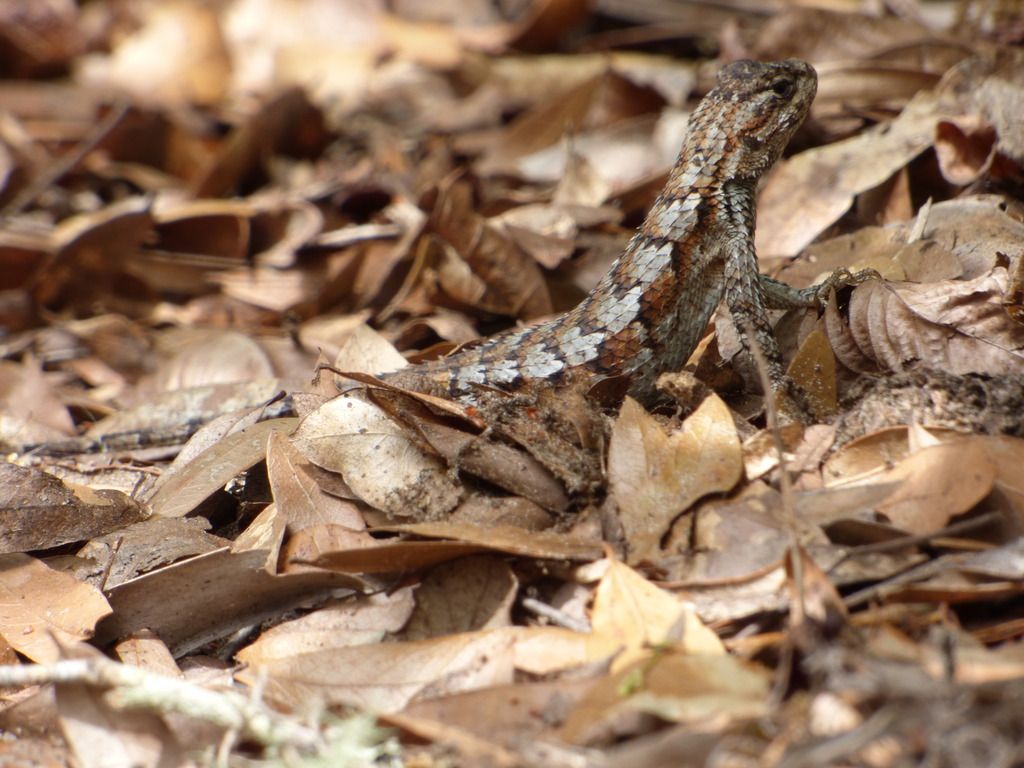 On our way back along the trail, snakes began appearing. We saw a large black snake slide into the water, and a few seconds later it stuck it's head up, which looked distinctly like that of a cottonmouth. We had no choice but to move on. Our next snake was this racer, which kindly sat still for us: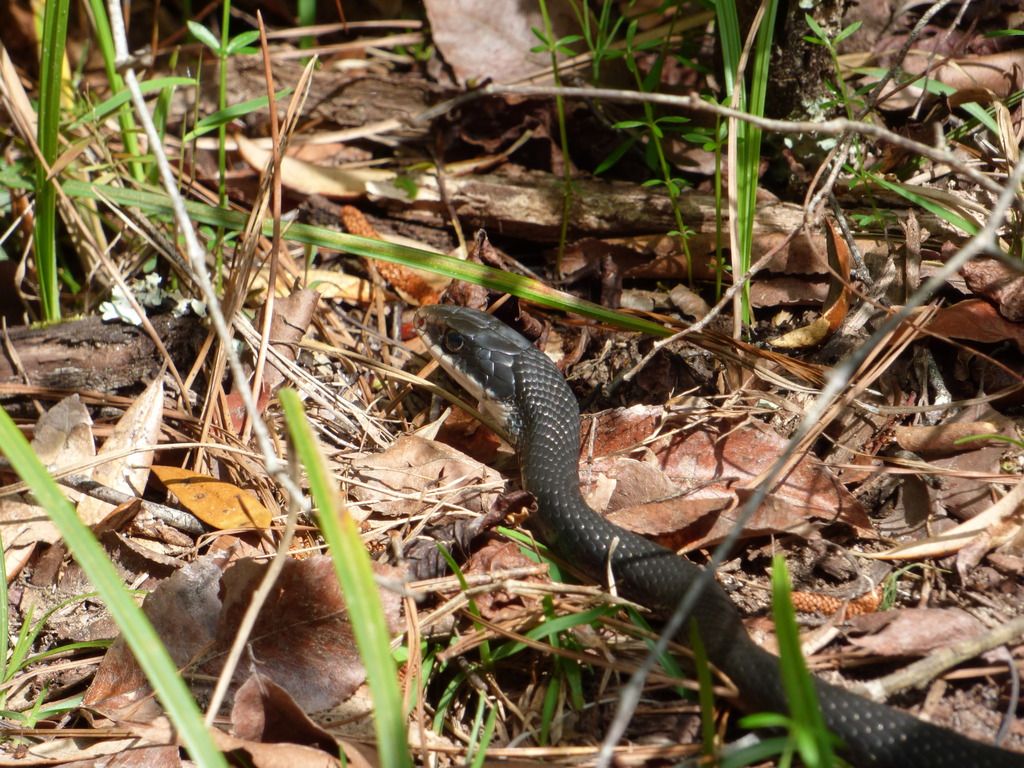 Next, Kevin spotted this juvenile ribbon snake, which had just eaten a large meal: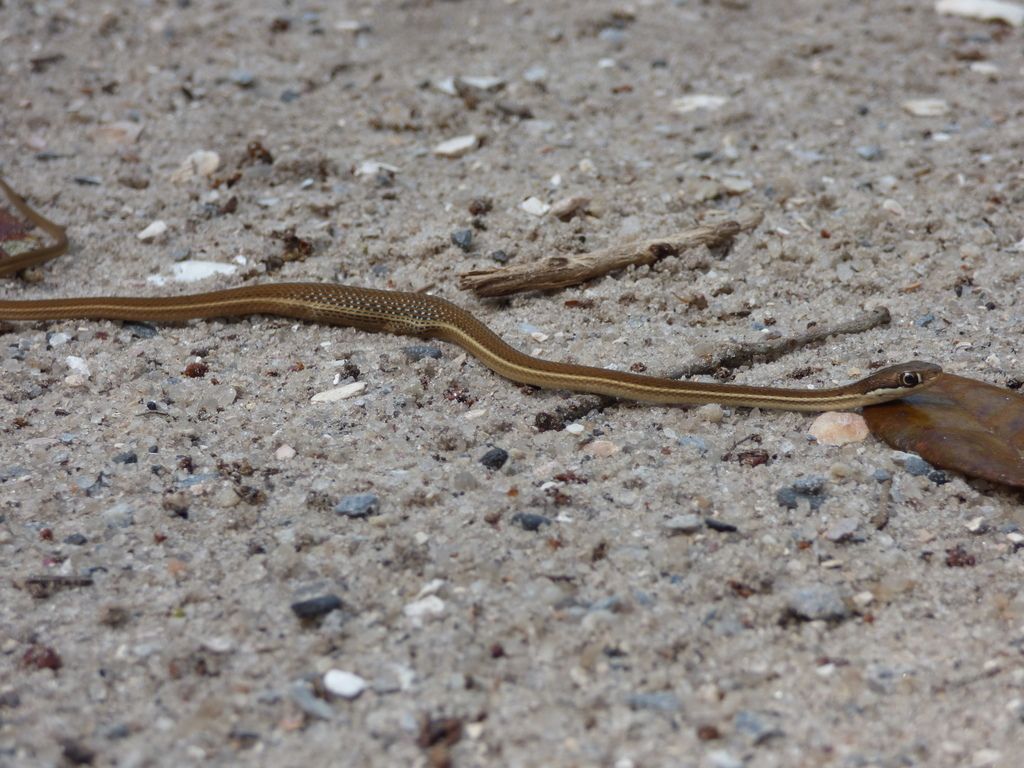 And that was it for the day. The next day, we had the wonderful opportunity of meeting Dirk Stevenson of the Orianne Society, a great guy who is very experienced with herps. That day, he took us to several of his salamander spots, each a slightly different kind of swamp, with different salamander species from the others. The first spot was a swamp fed by muddy seepages coming down from a small but steep hillside. We found quite a few three-lined salamanders, but due to the savage mosquitos that inhabit that swamp, I didn't spend a lot of time taking photos, so the few photos I had were total trash: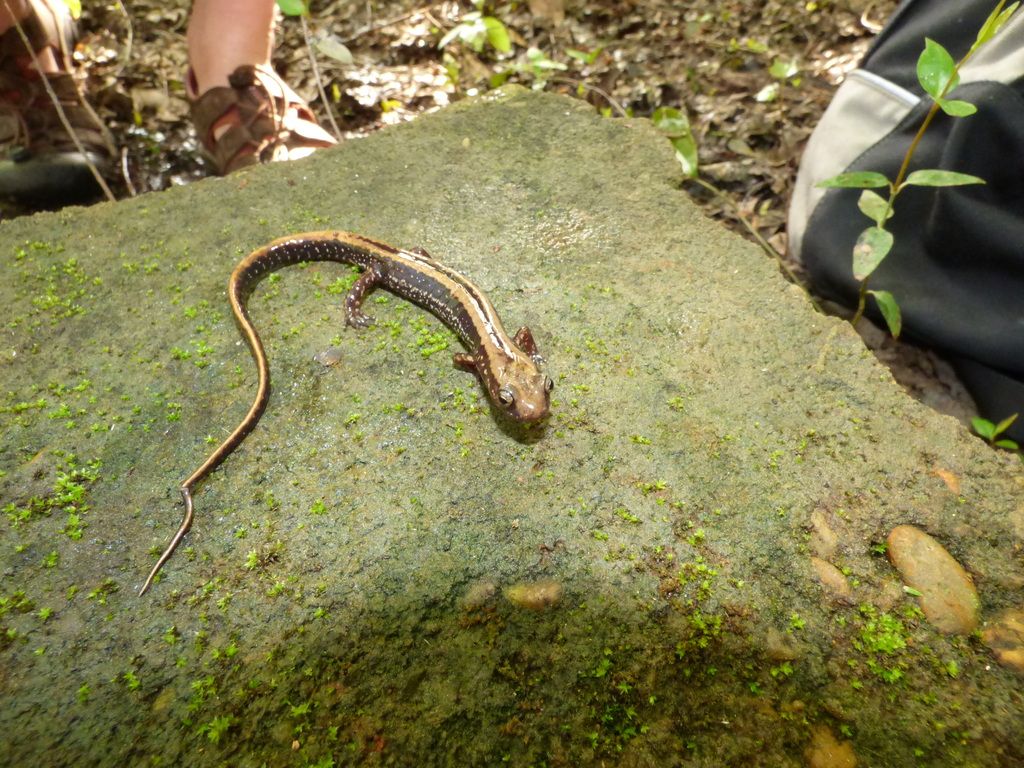 Several two-lined salamanders were also found in the seepages. Of course, being a salamander I have seen tons of, the one photo I took turned out very well: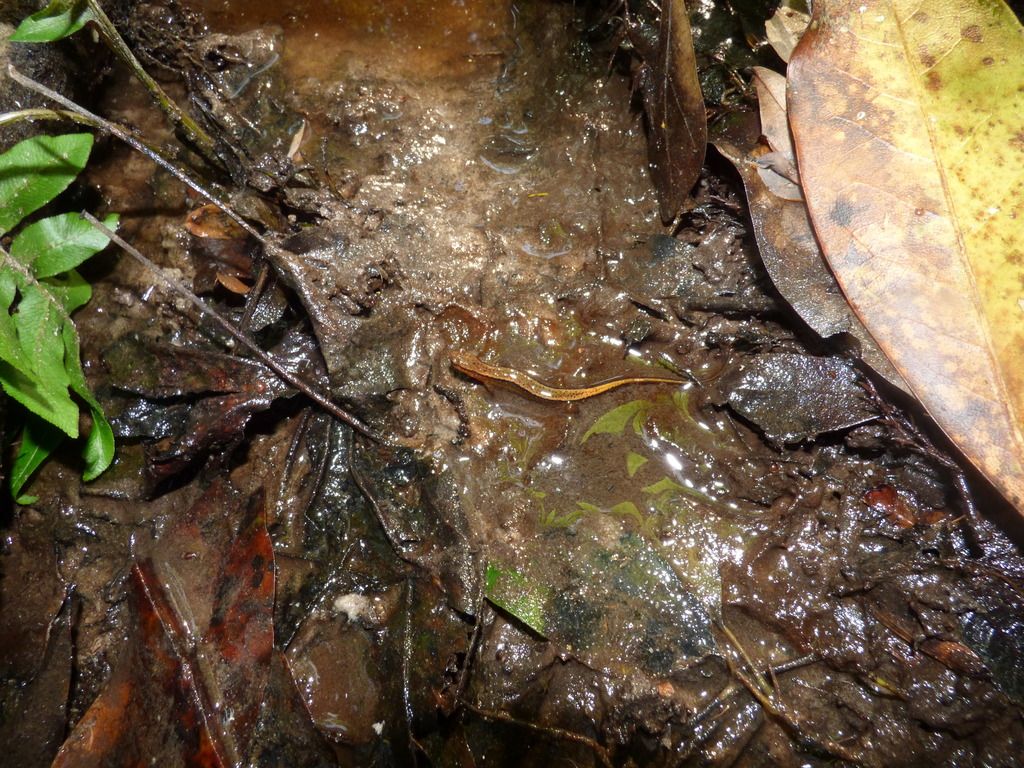 The highlight of that spot was this red salamander found by Kevin: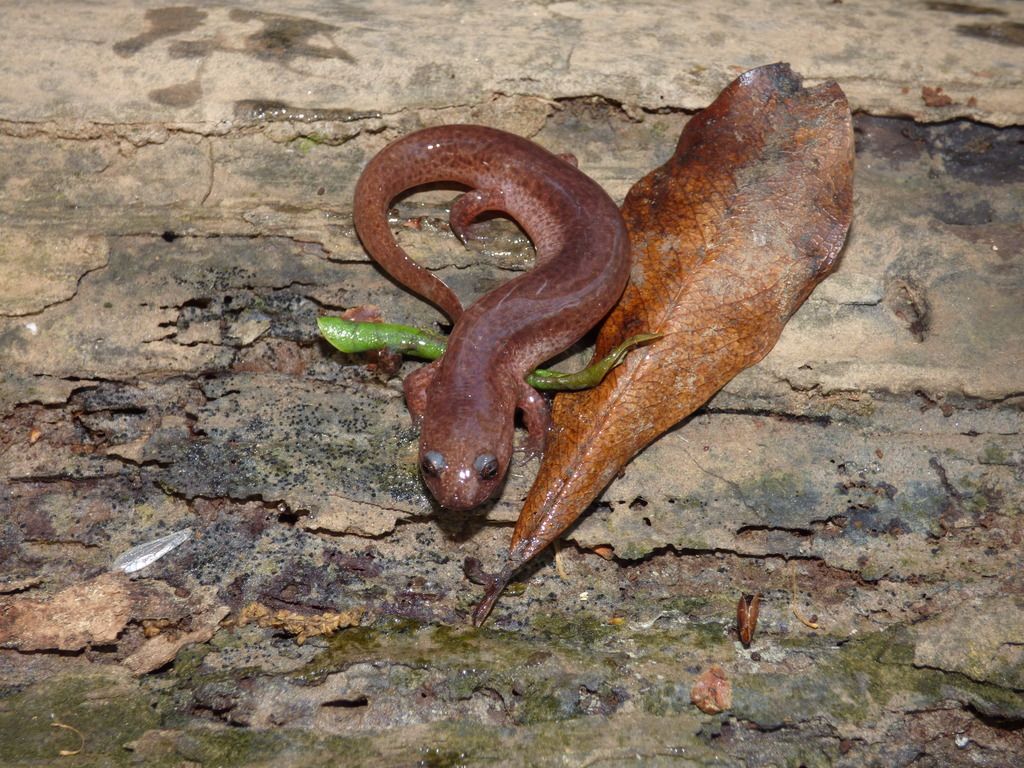 Dirk managed to dipnet this enormous river frog tadpole in a small pool: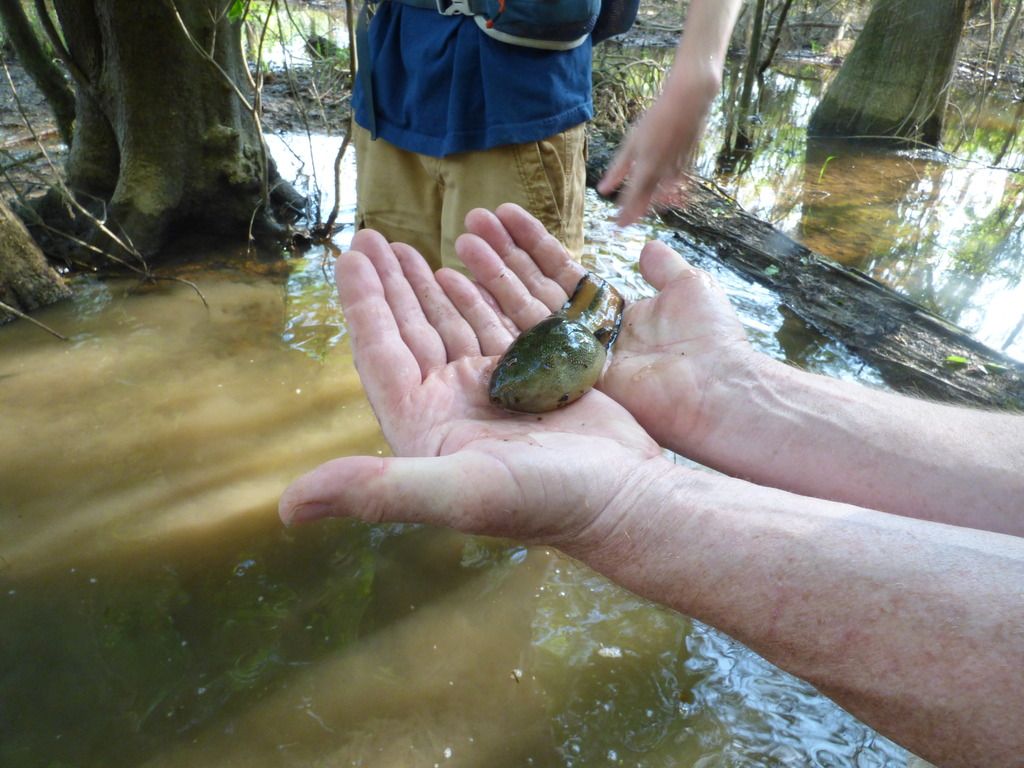 At that spot, ocmulgee slimy salamanders were also found, a lifer for me, but I took no photos due to the mosquitos.
On the way to our next spot, there was a racer in the middle of the road. I grabbed it, then quickly handed it to Dirk, who it bit repeatedly. You can see stains from his blood on the lower portion of the snake's body: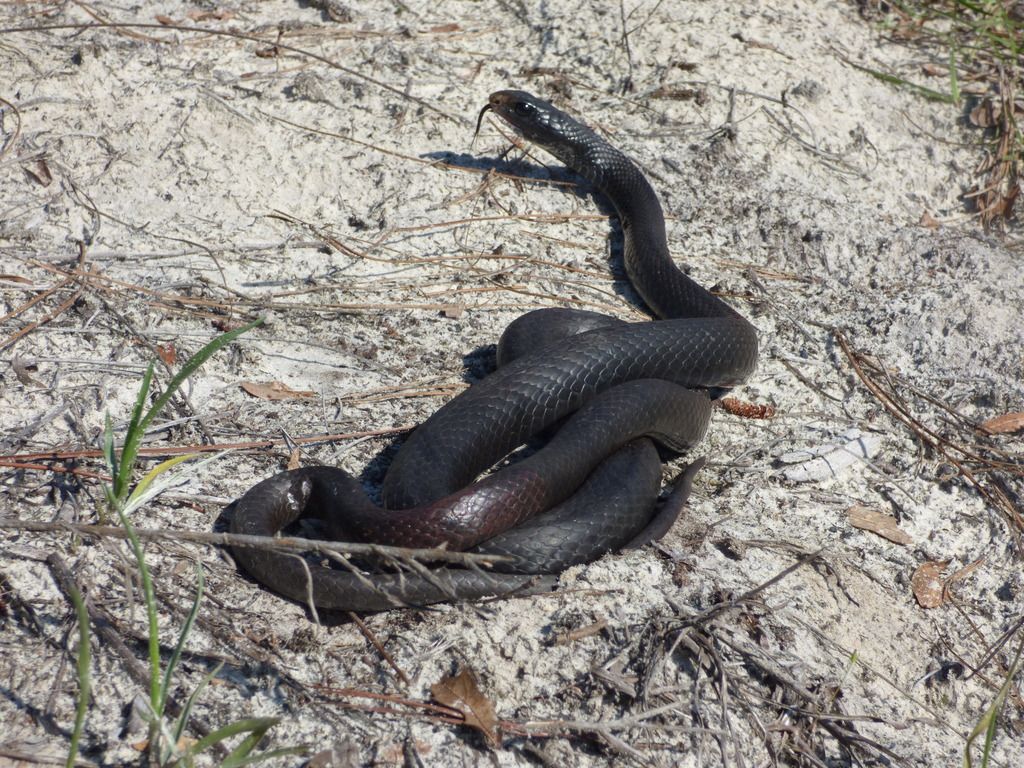 Next, Dirk took us to a small, spring-fed stream with occasional large, shallow, leaf-filled pools. Here Dirk dipnetted up another lifer for us - a two-toed amphiuma: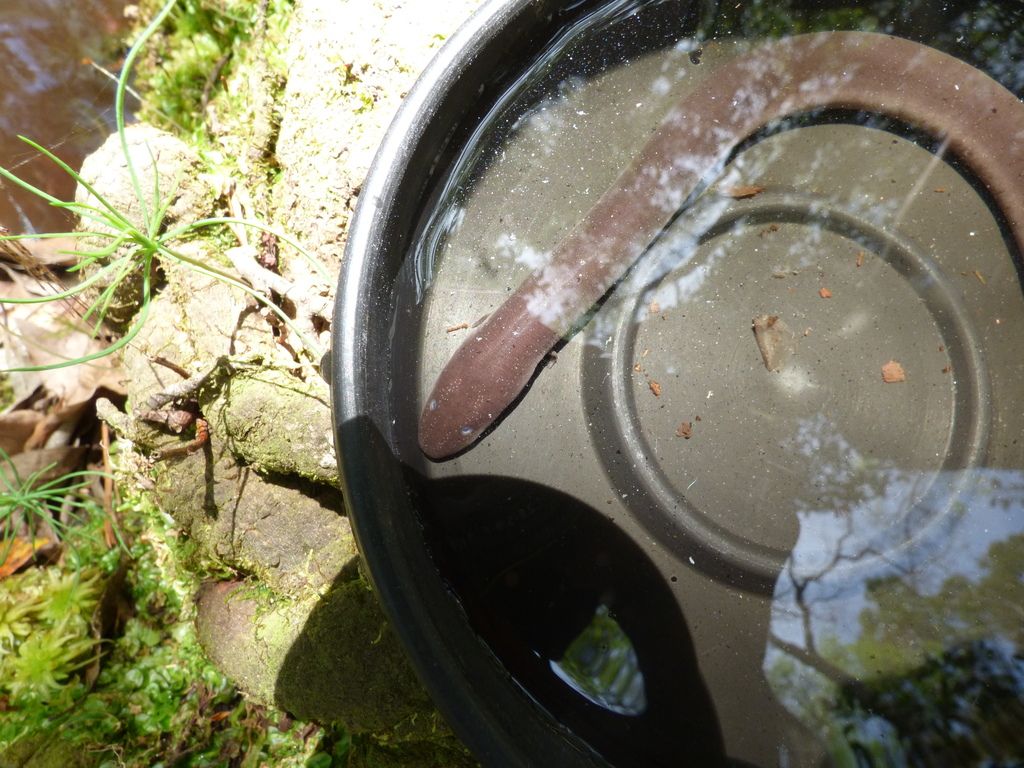 And under a log beside the stream, he made another great find - a gulf coast mud salamander: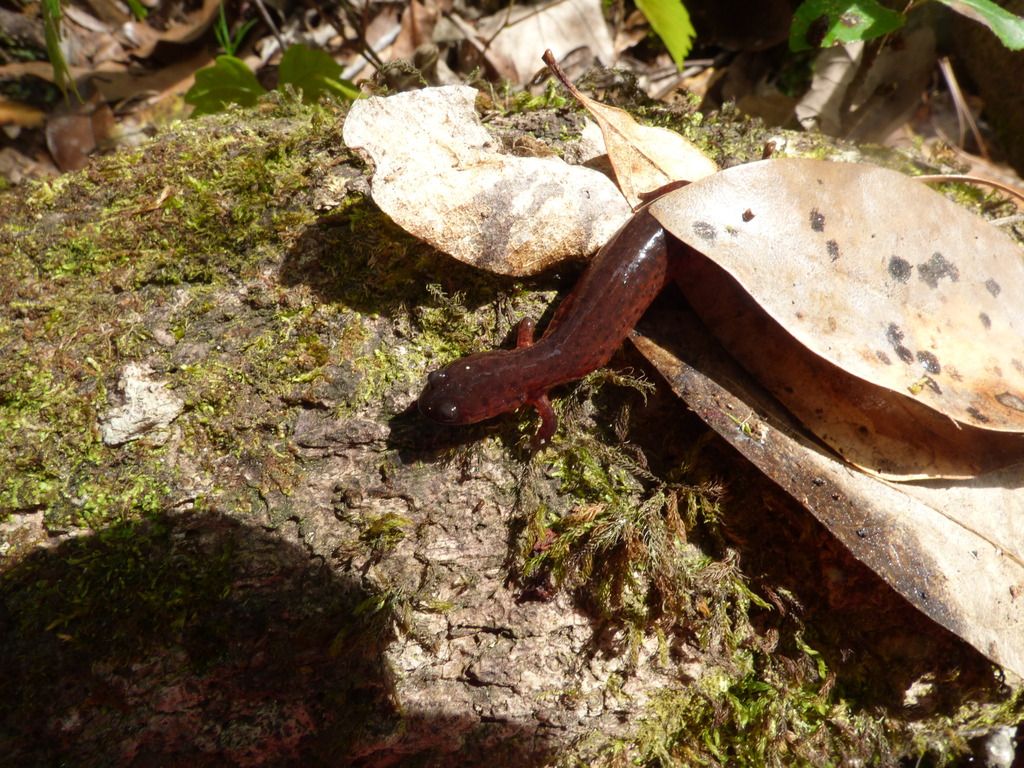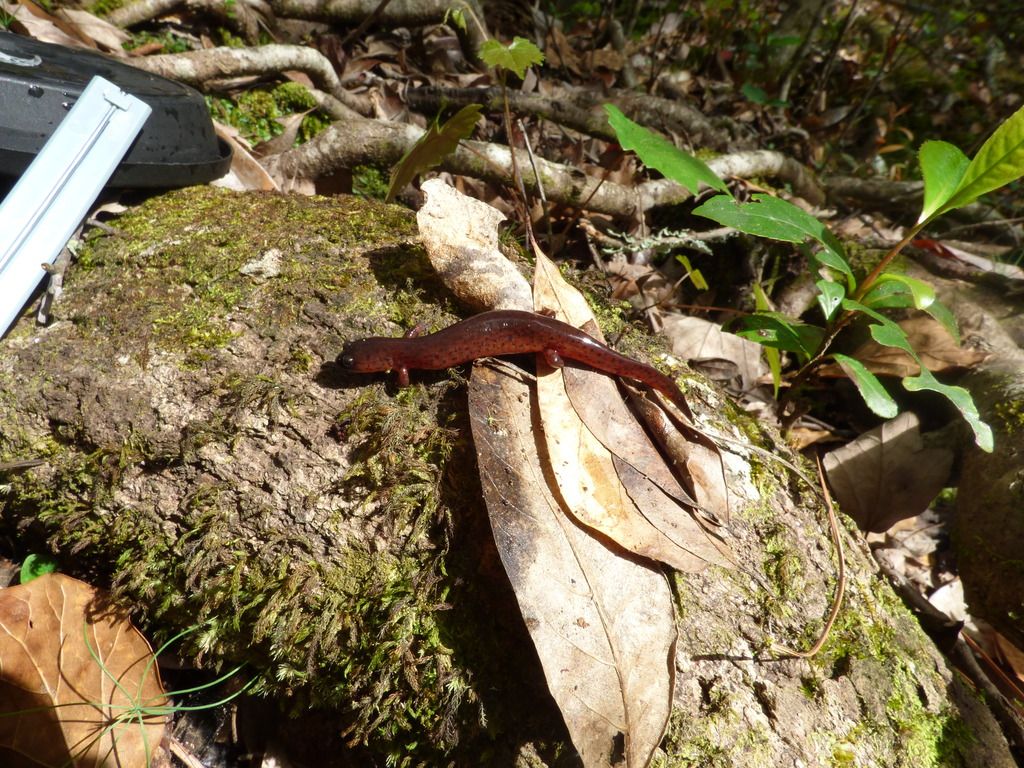 And once again my photos are bad.
On the way to our next spot, Dirk asked us, "Hey, are you guys interested in maybe seeing some barking treefrogs?" We were, of course! So he took us to a small, clear borrow pit pond closeby. He explained to us that, during the barking treefrog's breeding season (the time we were there), they would perch on branches above the water during the day. Sure enough, as we walked around the pond, it was not long before Kevin spotted a large barking treefrog on a palmetto frond overhanging the water: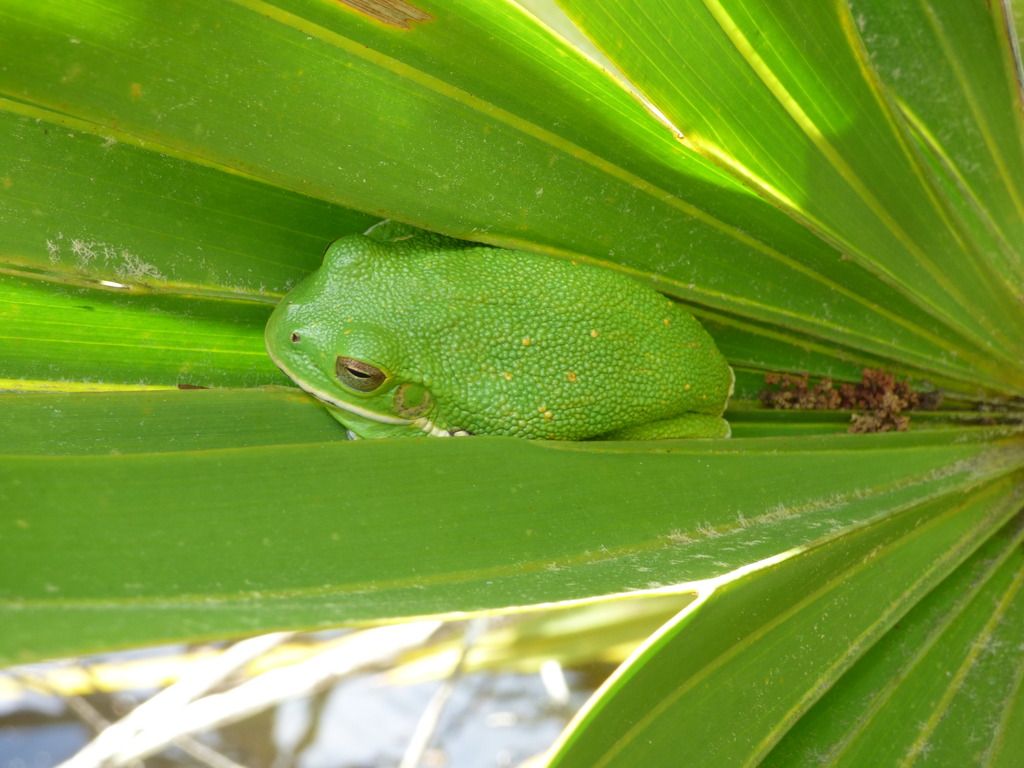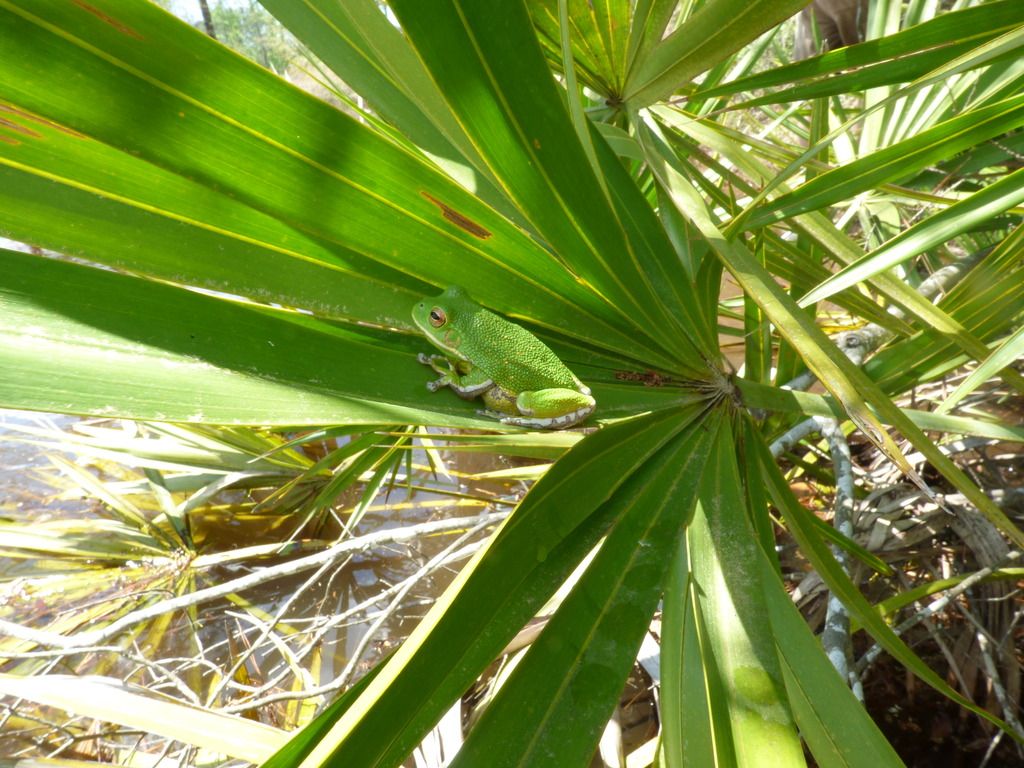 Kevin and Dirk managed to find 6 in total!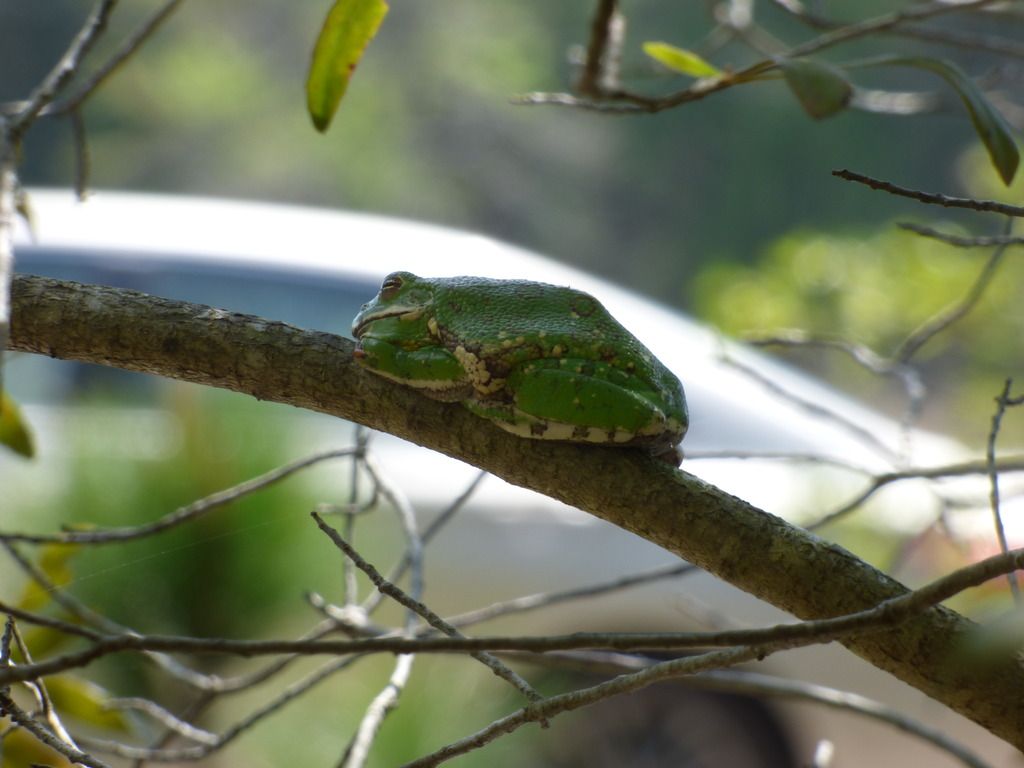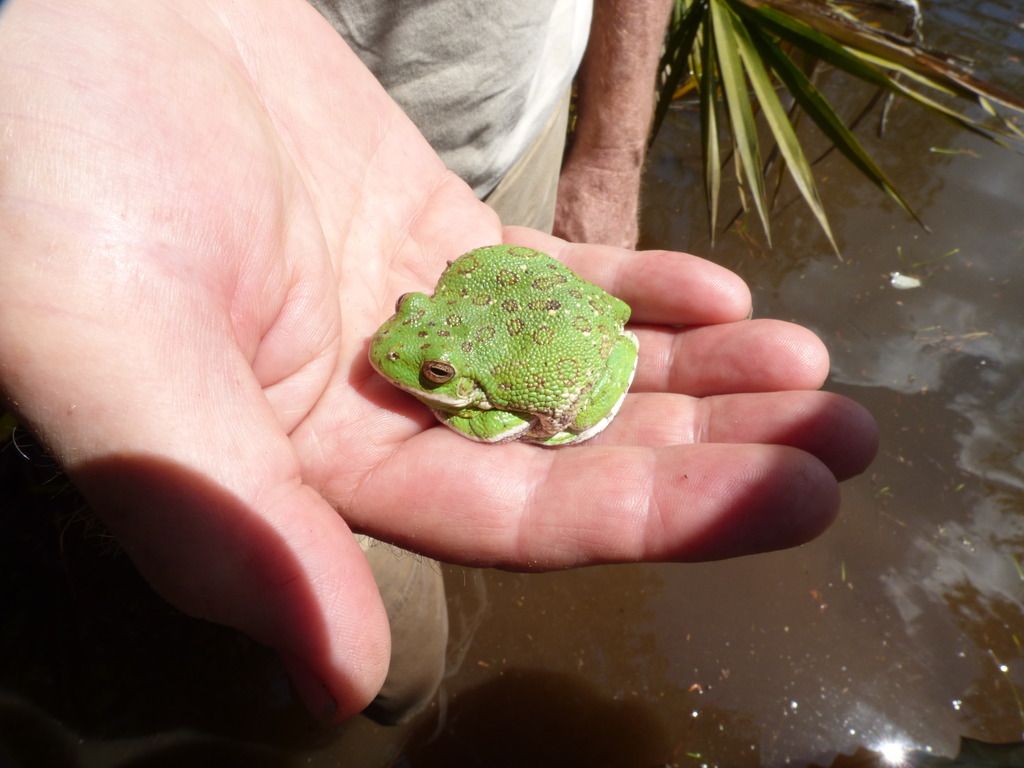 In the meantime, I finally got a good photo of a cricket frog, which we had been seeing everywhere for the past few days: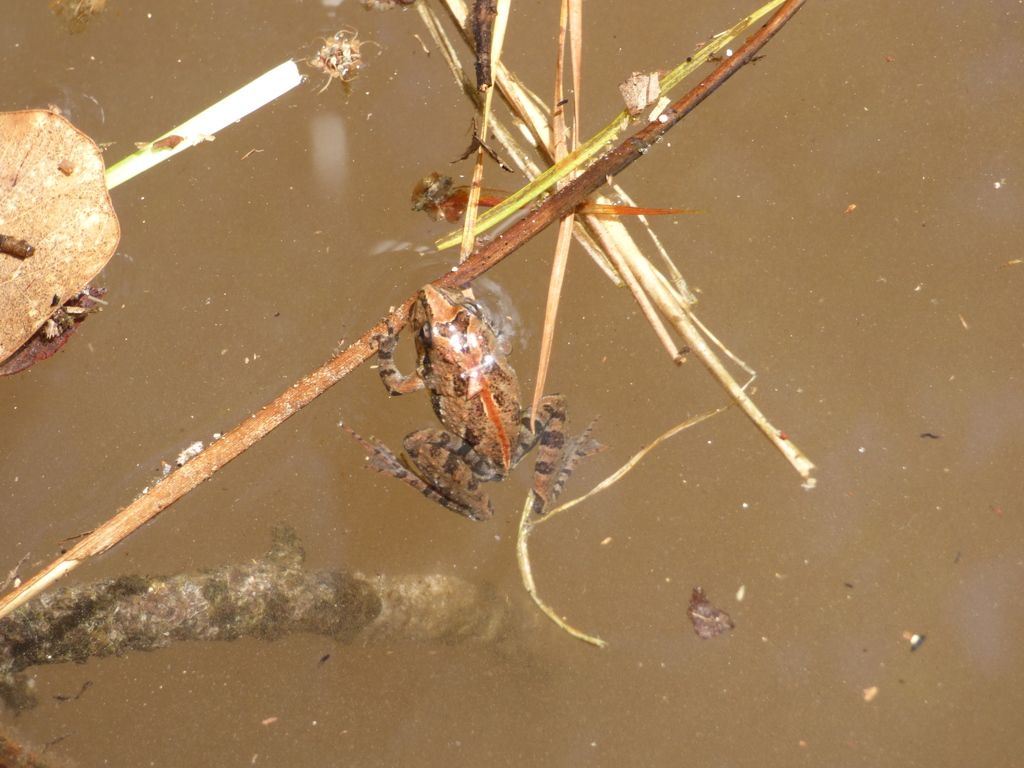 The final spot Dirk took us to was a blackwater creek-swamp. Here, Dirk hoped to find southern dusky and many-lined salamanders to take swabs from to test for chytrid fungus. The water level was high, and we didn't see as many as he had hoped. Nonetheless, Dirk managed to find two southern dusky salamanders under logs and the water's edge, and a many-lined salamander among mud and leaves in shallow water. These were both lifers for us.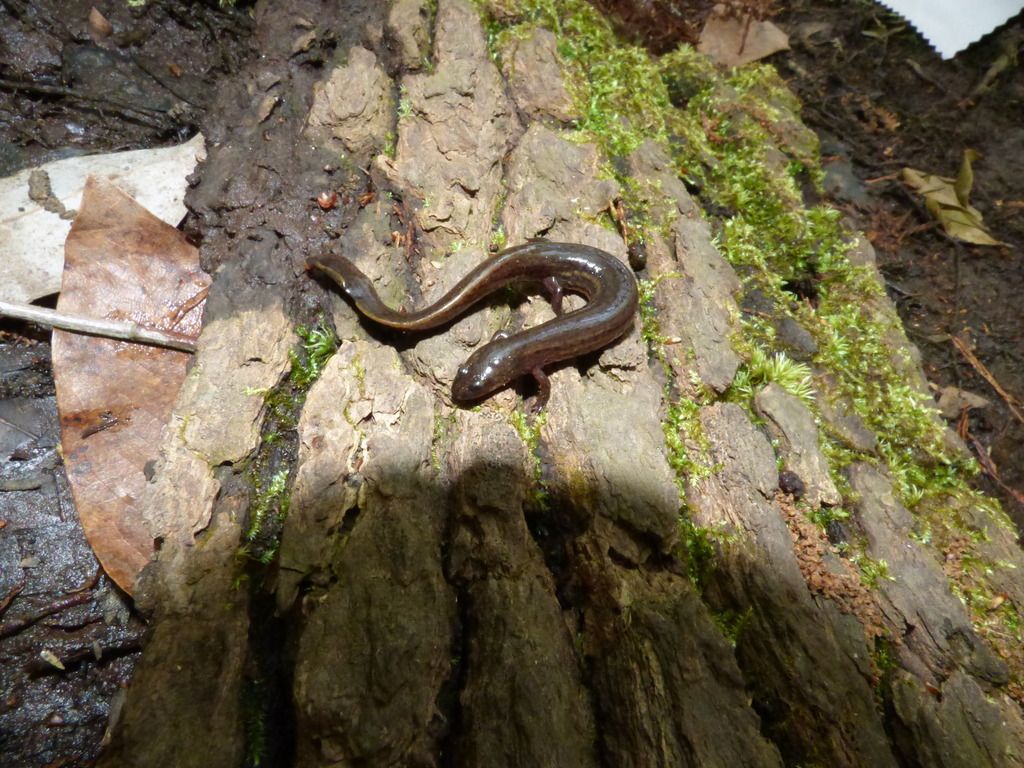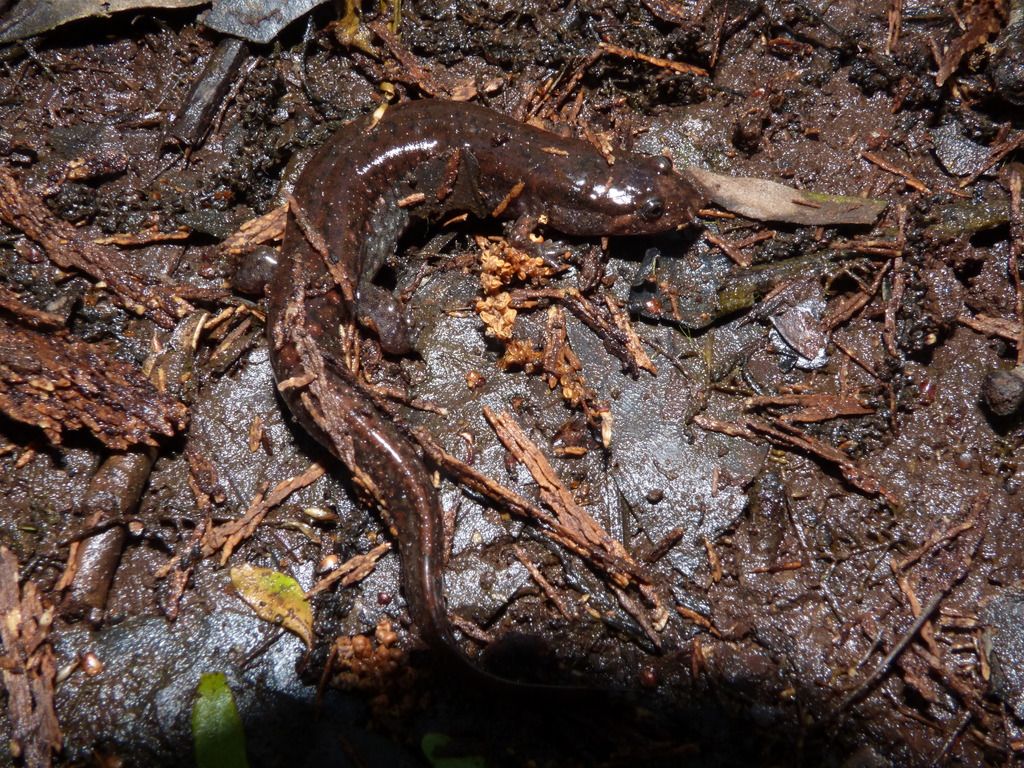 Again I blame mosquitos for my poor photos.
At the end of the day, we parted ways with Dirk. In one day, he had managed to show us nearly every plethodontid in the region, as well as an amphiuma, barking treefrogs, and some very cool habitat! Many thanks to Dirk Stevenson!
The next morning was a bit cold, and we didn't find very many interesting herps. However, we did see a few banded water snakes, and a racer sunning its self. Due to the cool temperatures, the racer was very torpid, and made no attempt to escape when I picked it up. However, it soon warmed up in my hands, and decided it had had enough. It suddenly chomped down on the back of my hand, and refused to let go! Finally, after about 30 seconds of gnawing on my hand, it let go, and I let it go in the bushes. Two hours later, I still bore the mark fo the racer: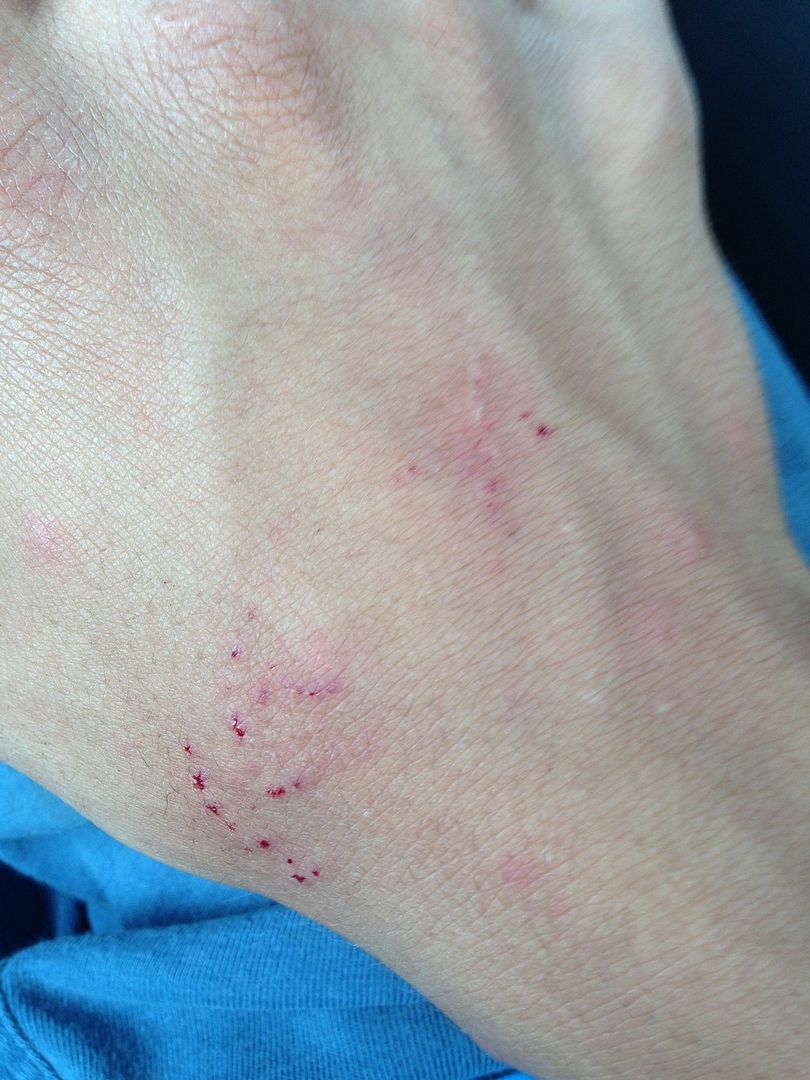 It took days for all signs of the bite to disappear.
Once the day warmed up a little, we went to a floodplain forest in southern South Carolina. Here the most common herps were five-lined skinks: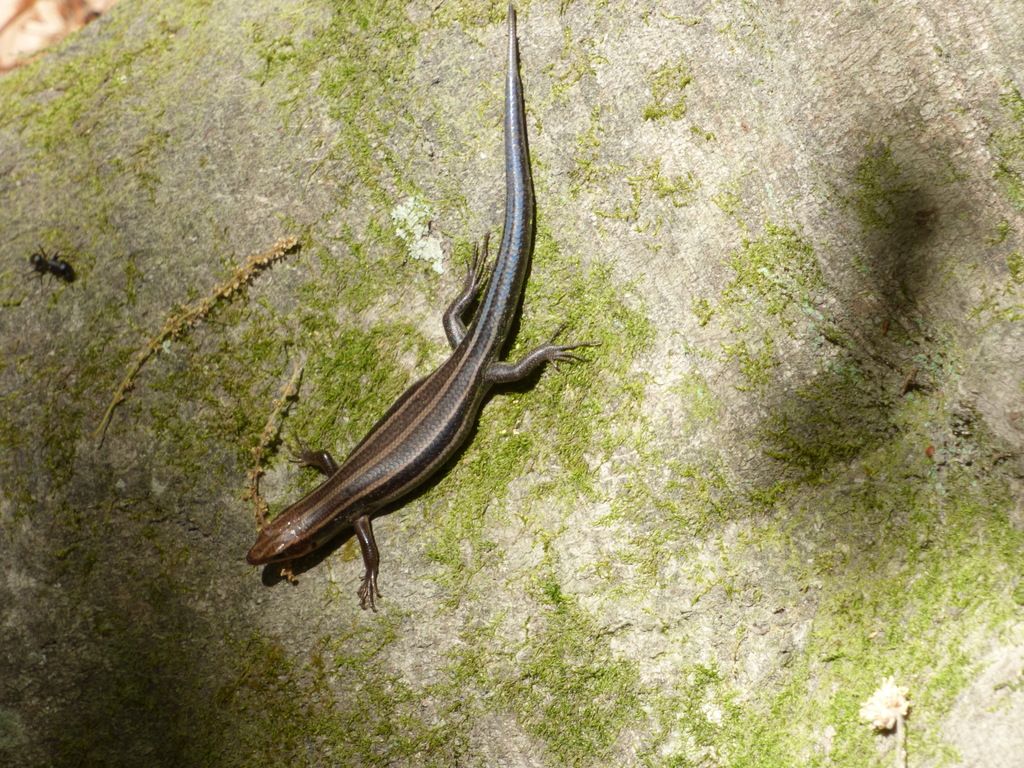 A couple of bronze frogs were also seen: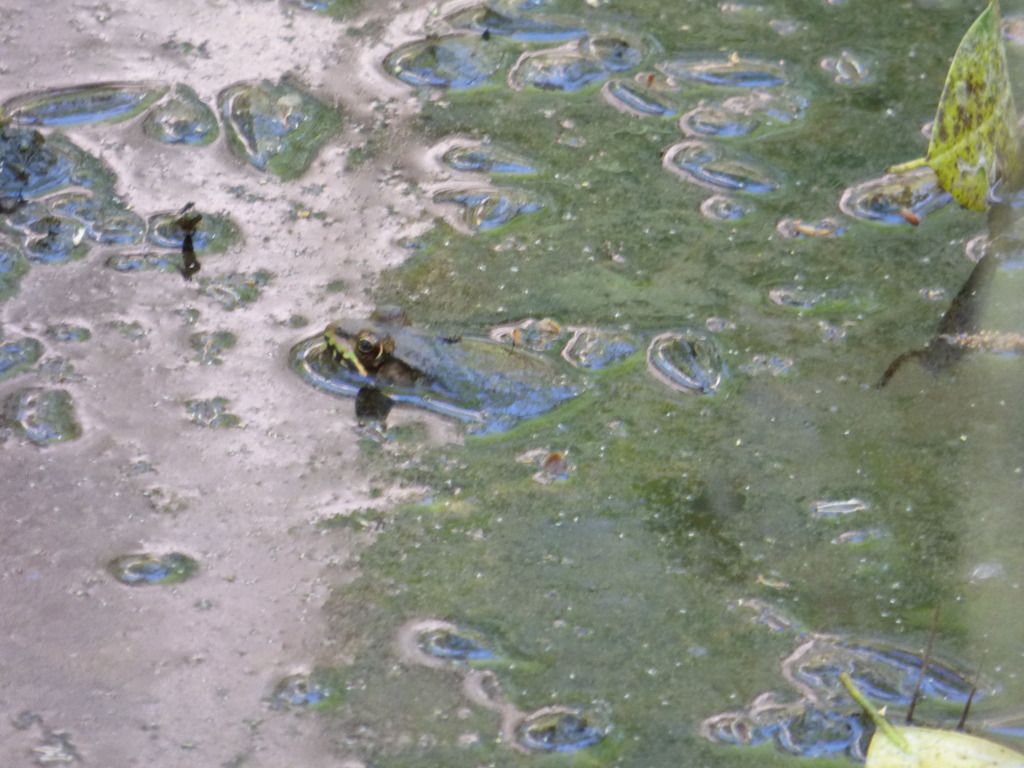 In a small patch of open water, we saw several yellow-bellied sliders: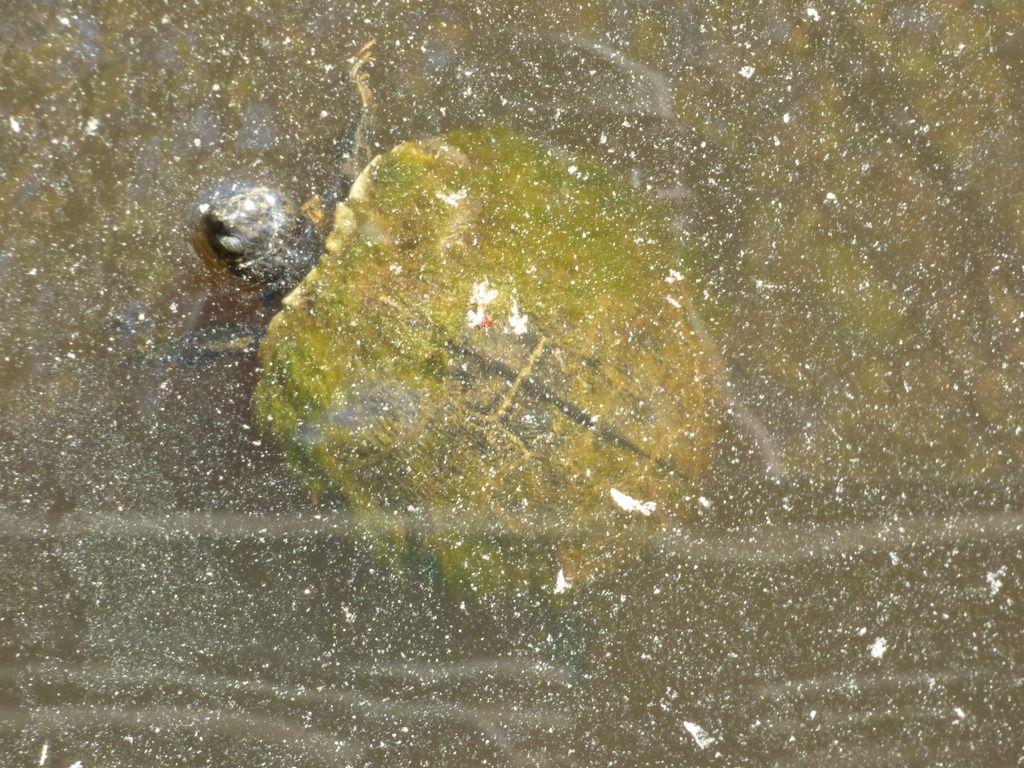 And a florida cooter: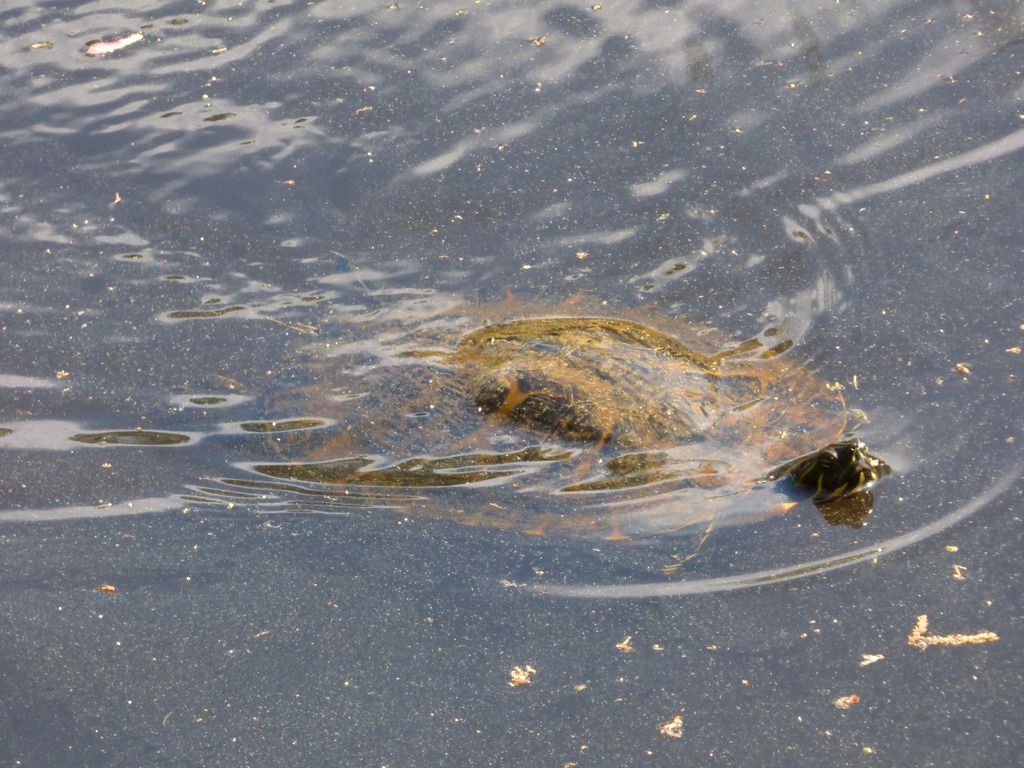 Under logs along the trail, we found a couple of three-lined salamander (again I stupidly got no photos), and several spotted dusky salamanders: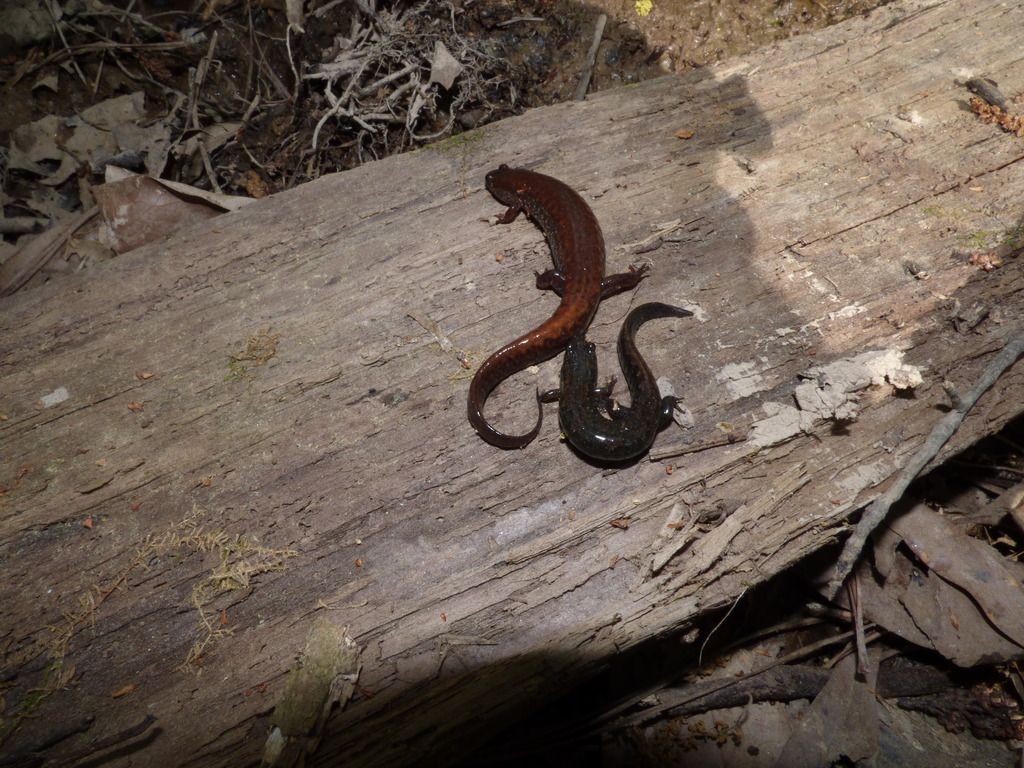 While walking the trail, we met a large group of people walking in the other direction. "Seen any snakes?", we asked. "No, and I sure hope I don't", repied a member of the group. Not ten feet further along, coiled up right beside the trail, was this large eastern cottonmouth: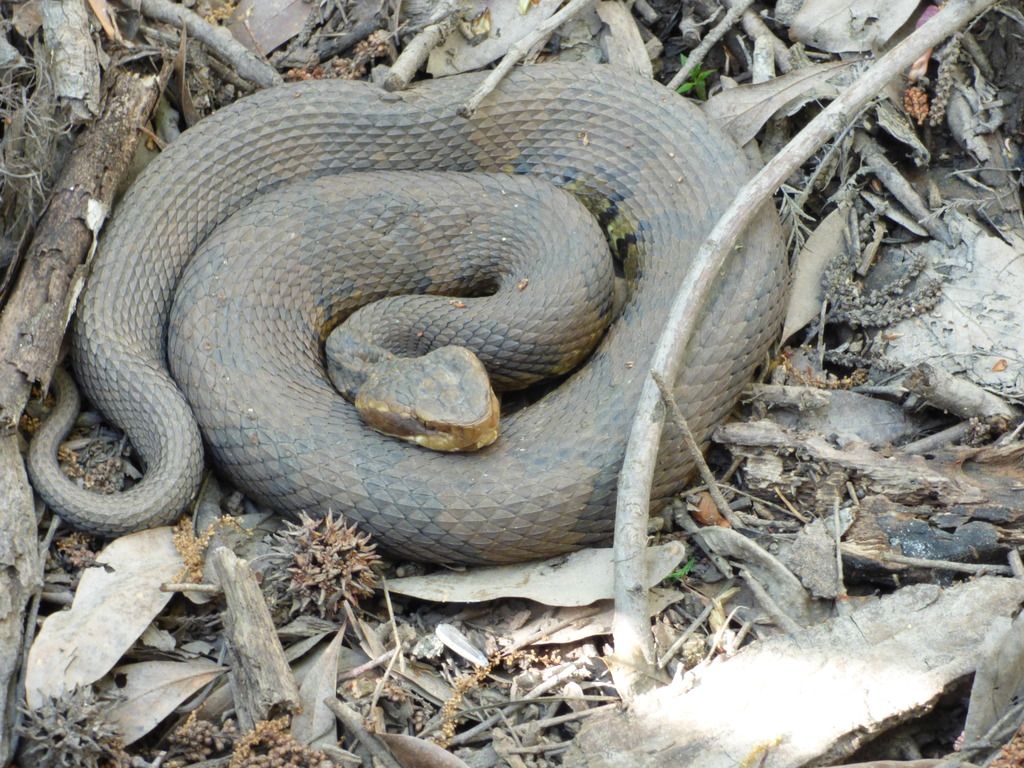 Further along, we noticed a PVC pipe sticking out of the mud. I peered into it with my flashlight, and sure enough...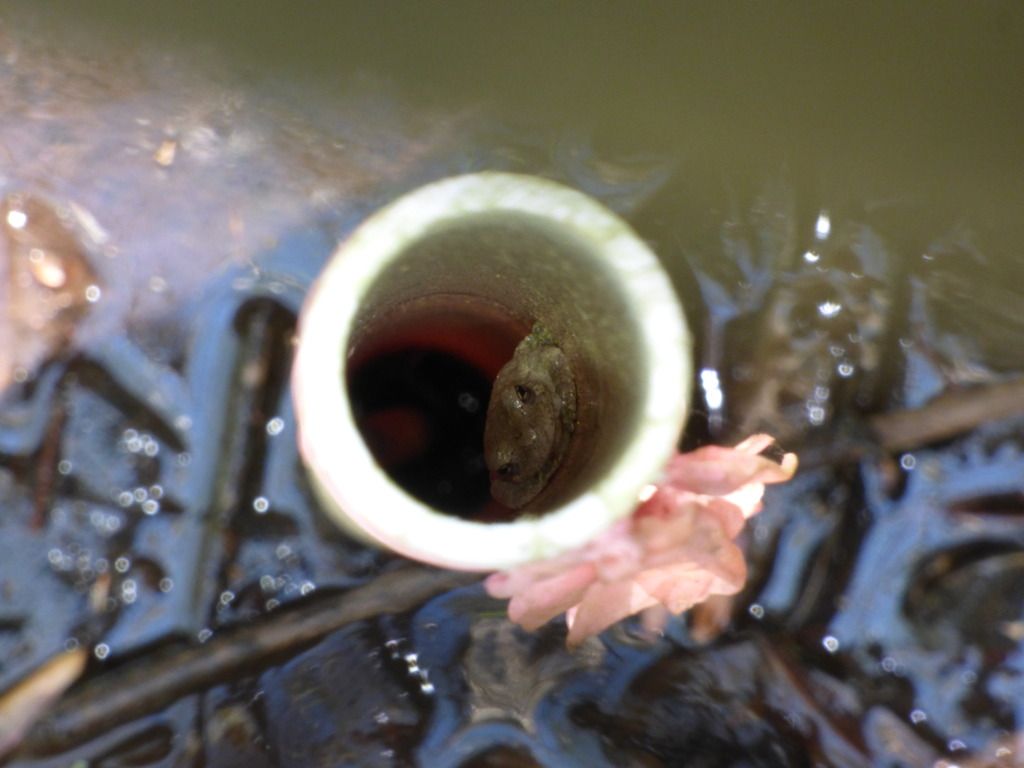 A cope's gray treefrog was perched inside.
We continued to head north, and decided to stop for a bit at Congaree Swamp National Park. The old growth trees there were very impressive: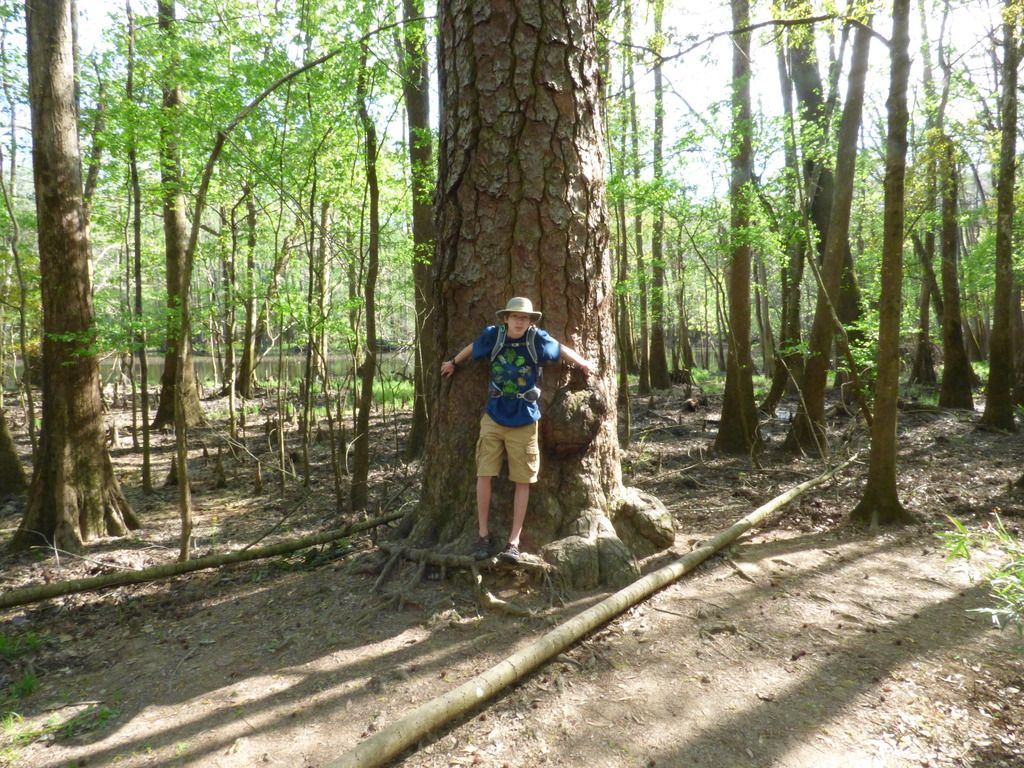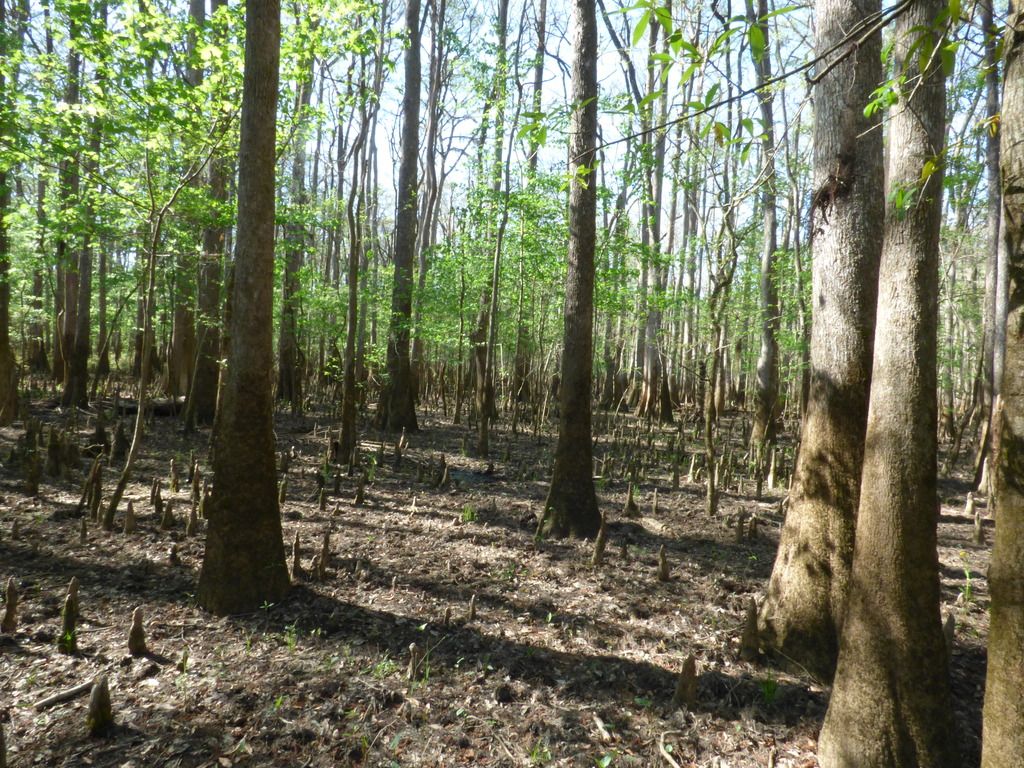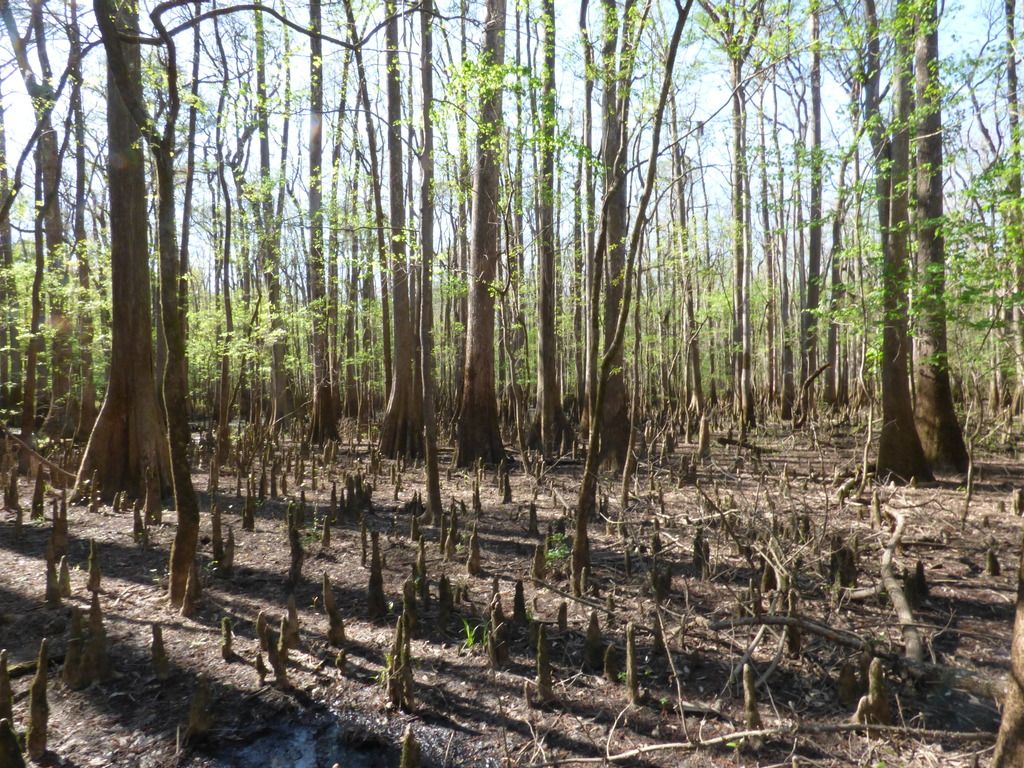 That concluded our final day in the coastal plain. The next day, our route back to Lexington took us right past the Great Smoky Mountains, and since both Kevin and I love the smokies (it is our favorite place on earth), we just had to stop for a bit. It seemed spring had only just come there, but we nonetheless managed to find a few common herps.
Two juvenile southern redback salamanders, found by Kevin: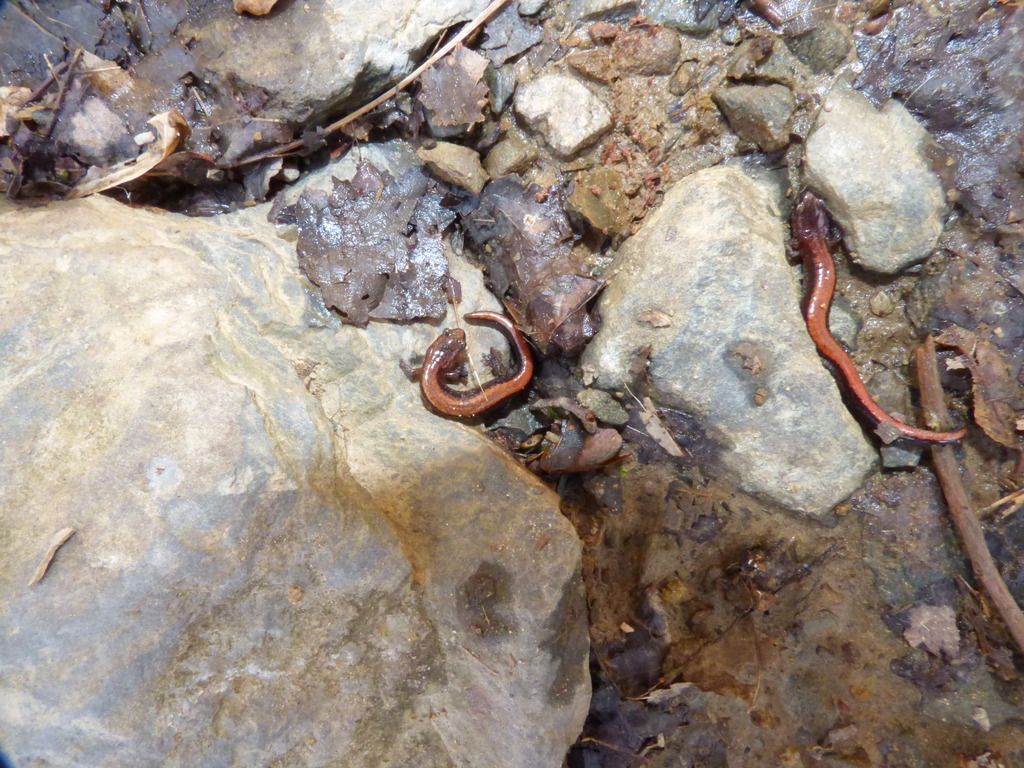 I nearly stepped on this ringneck snake, but Bruce spotted it in time: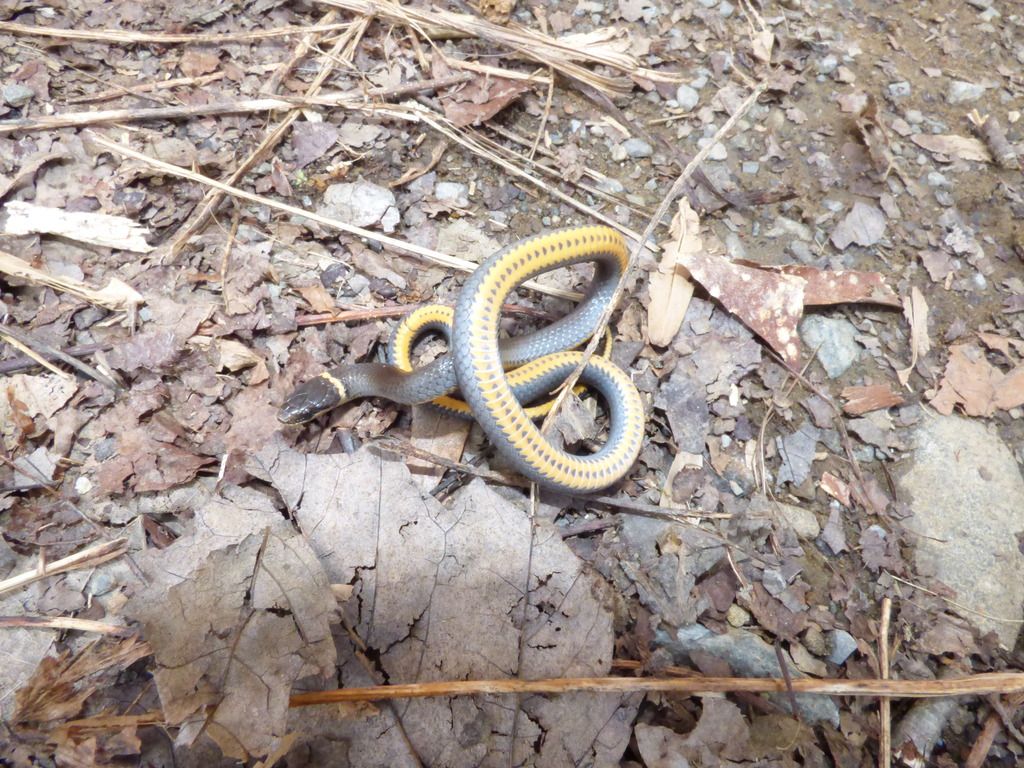 We found this five-lined skink sunning on a log, and when we approached, it dove under the log. We had to roll the log back and forth about 4 times before we caught the skink:
A pretty blue ridge two-lined salamander: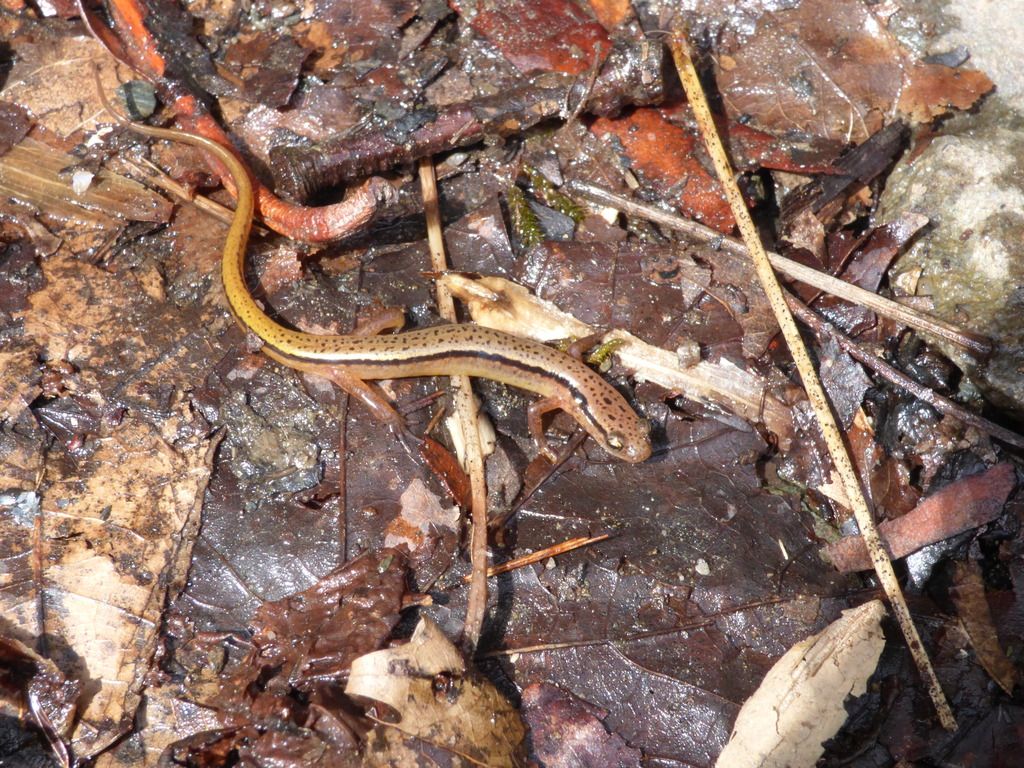 One of many seal salamanders: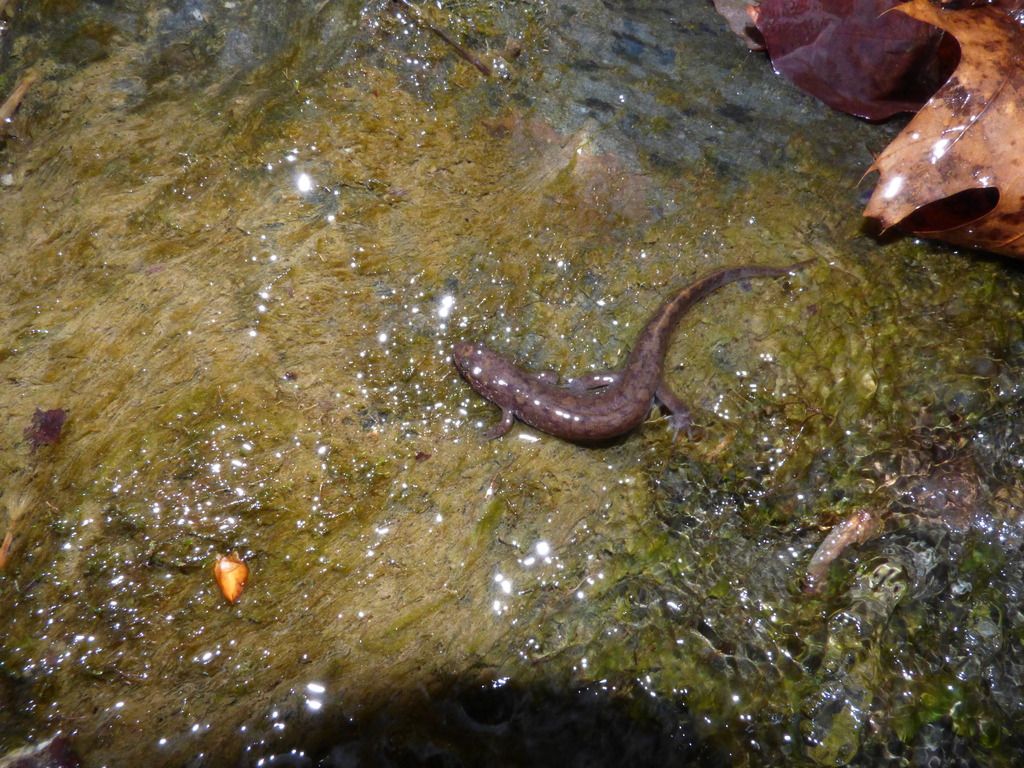 A northern dusky salamander: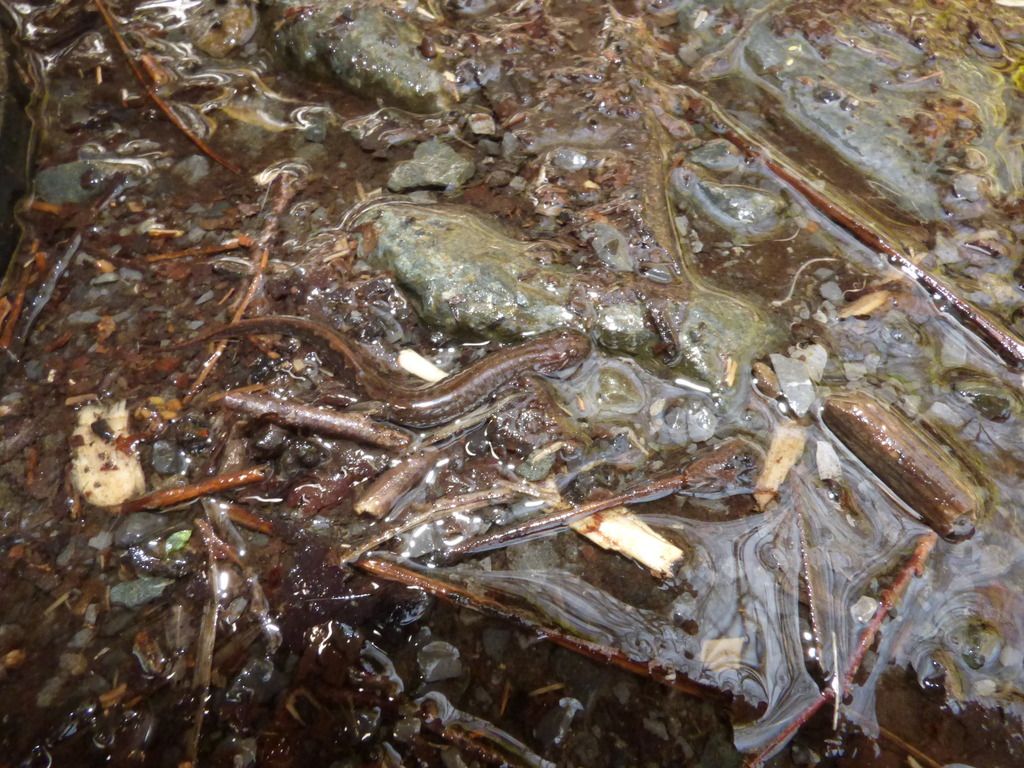 That concludes January through March for us. Hope you all are having a great summer!
-Ananth