When my buddy says he's itching to do some cruising, and he'll drive as far as we need to see some snakes, I'd be a fool not to take that offer. So Thursday afternoon I grabbed a flashlight and a camera and away we went to Dixie County, FL. It has been dry out there, but within the past few days parts of the county have seen 8" of rain. I figured that had to get something moving, and tonight looked to be warm and humid.
The first thing we encountered was the biggest heartbreak in a while. There sprawled out on the road, dead as a rock, was the biggest Eastern Diamondback Rattlesnake I've ever see. It had probably been dead no more than a couple of hours. We figured it had to be close to 5'.
Here it is next to a 40" snake hook.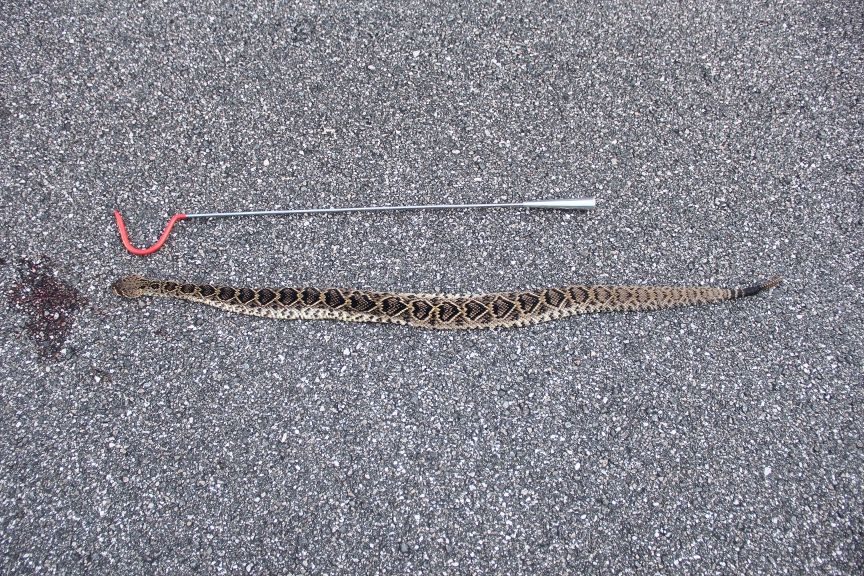 But, this unfortunate circumstance gave me a chance to get a nice shot of the tail, and the pattern.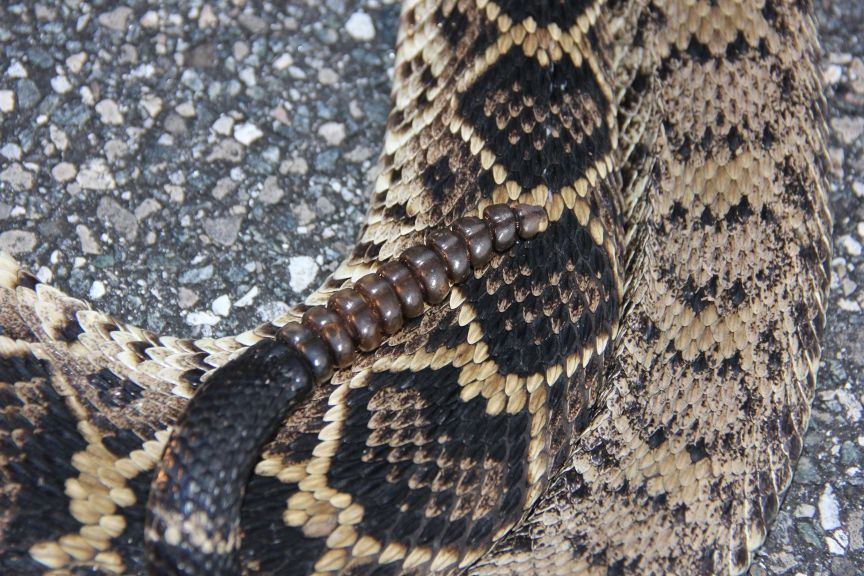 Just gorgeous!
But dead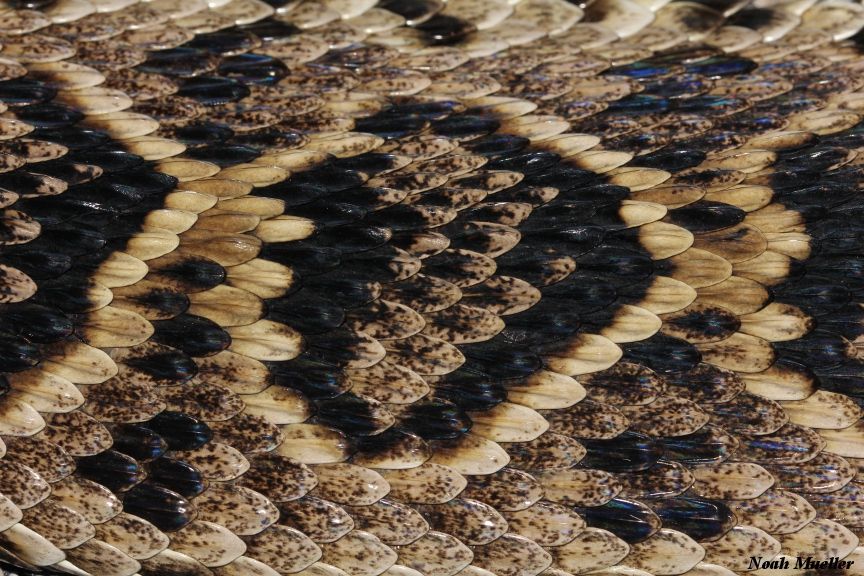 Eager for something alive, we headed on.
The next thing we came across was a beautiful watersnake. And this guy was very aggressive. We took a couple of voucher shots and moved him off the road.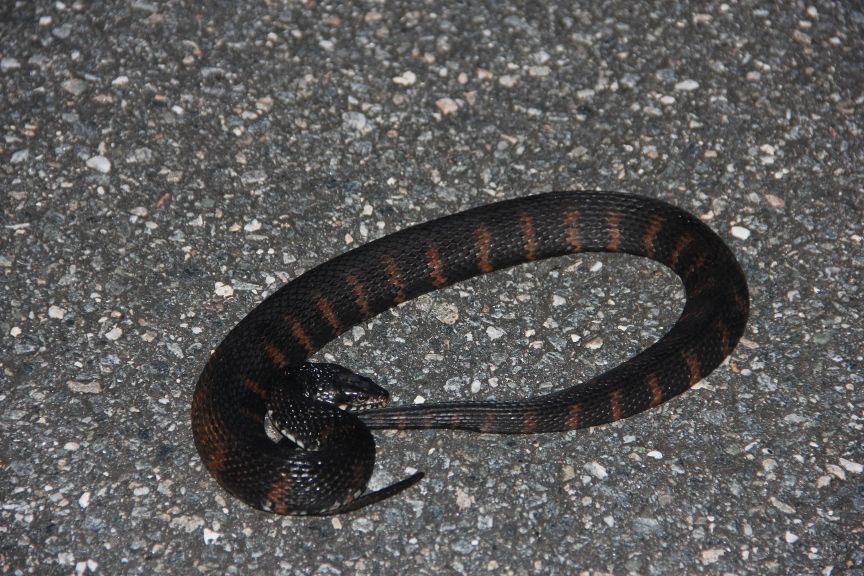 We very quickly realized that even for being so dry, the frogs were going to deafen our ears all night long. I figured this would be a good recipe for several things because every mile of road was a virtual buffet of frogs. Squirrel tree frogs were most abundant, but green tree frogs, oak toads, narrowmouth toads, barking tree frogs, grass frogs, pinewoods tree frogs, southern toads, southern chorus frogs, and Cope's gray tree frogs were all heard throughout the night.
The next thing encountered was this little mud turtle. But we were looking for snakes, so we took a few pics and moved on.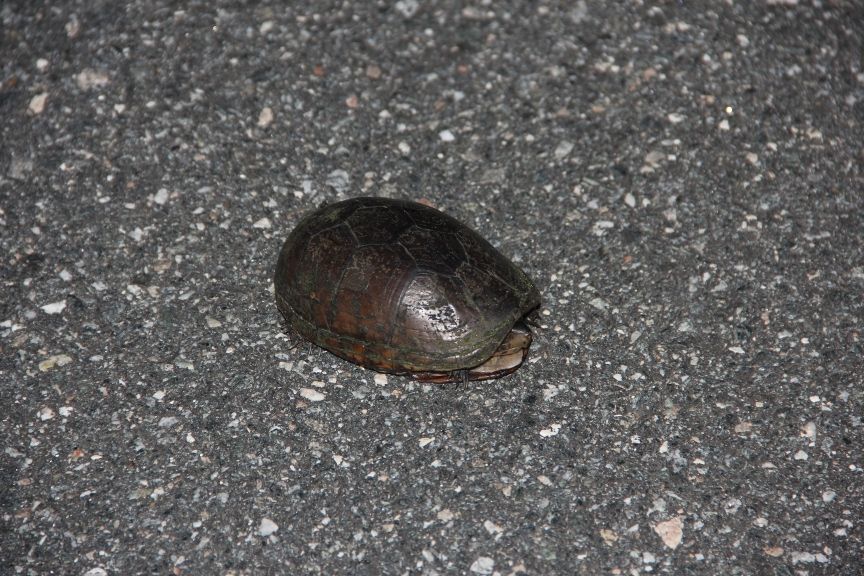 We saw another watersnake and while we heard many frogs I only photographed a few.
Here is a pinewoods treefrog on my friends trunk. I took pictures of this while he was taking pictures of a cottonmouth. I tried finding a Cope's Gray on the road, but only heard them calling from the trees by the flooded ditches.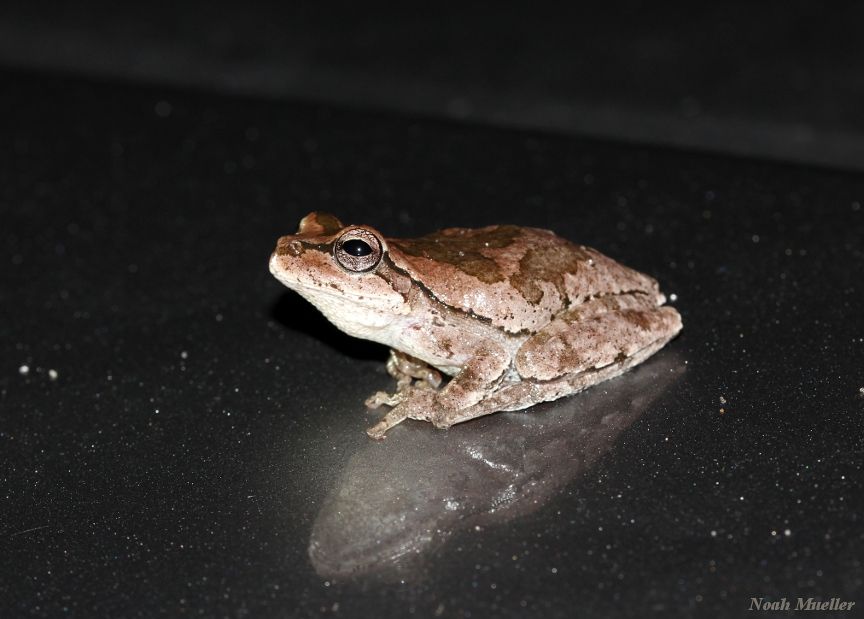 Here is a bullfrog about the size of my foot.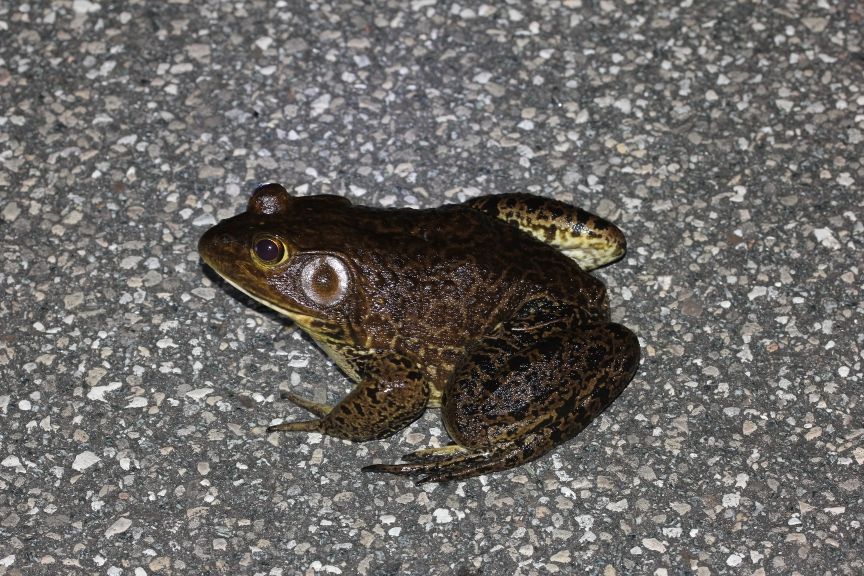 Then somewhere around 9:30 the snakes really began to move. We salf probably half a dozen ribbon snakes and another half dozen cottonmouths. We were right on the edge of the blue-stripe range. Some of the ribbons we saw looked pretty blue, while others showed more characteristics of the peninsular subspecies.The cornucopia of frogs meant that a good number of the snakes we encountered were mid meal. We ended up seeing 3 or 4 snakes chowing down.
Regardless of it being
nitae
or
sackenii
, I thought this one was rather pretty.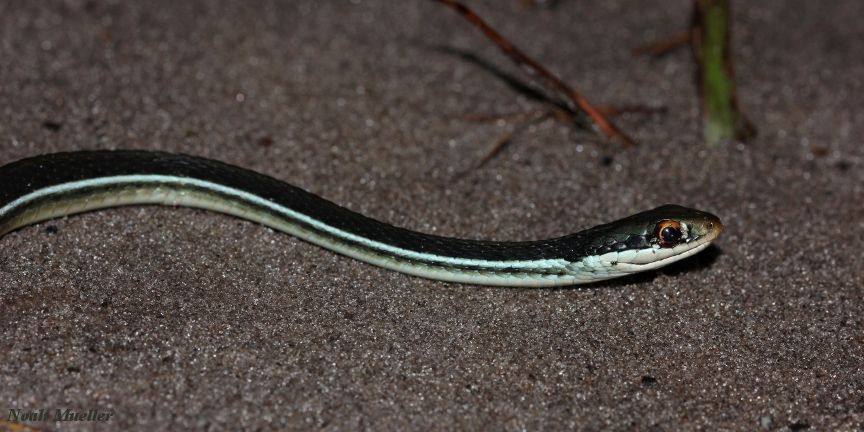 We cruised a pair of cottonmouths. The on one the left was mid meal, while the one on the right was eager to find one himself.
Then we came across this little ribbon inhaling a DOR
squirella
. We were pretty stoked at this point - not one but two snakes eating in the wild.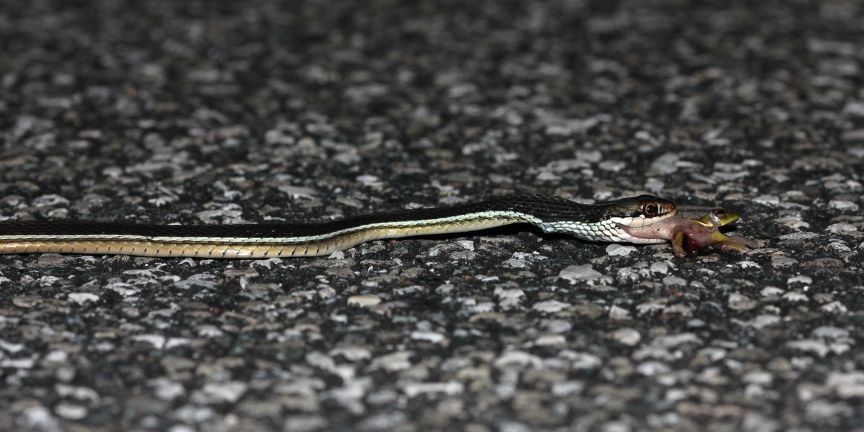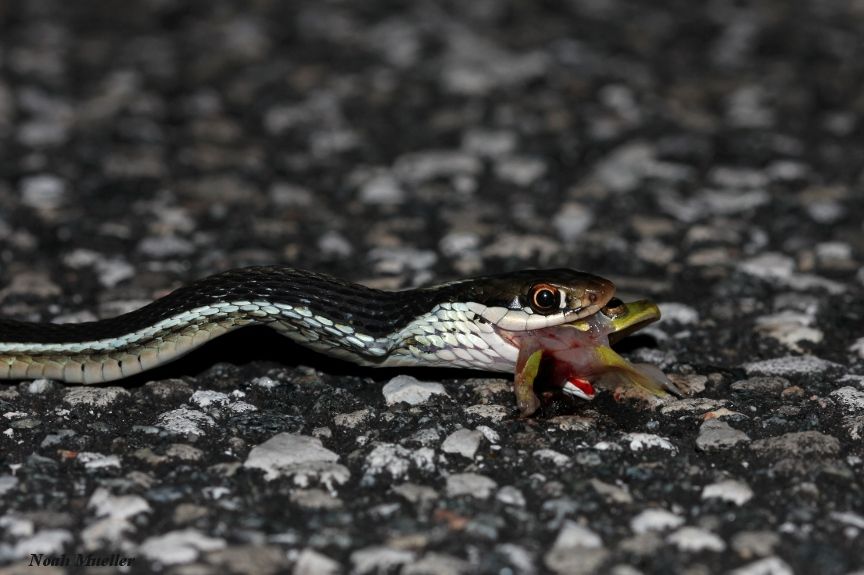 But then, as he finished up his DOR snack, another
H. squirella
hopped by on the road, he snapped it right up, and then slithered over the grass to eat his next meal! We couldn't believe it! The strike took place in the blink of an eye, but the swallowing part took a bit longer.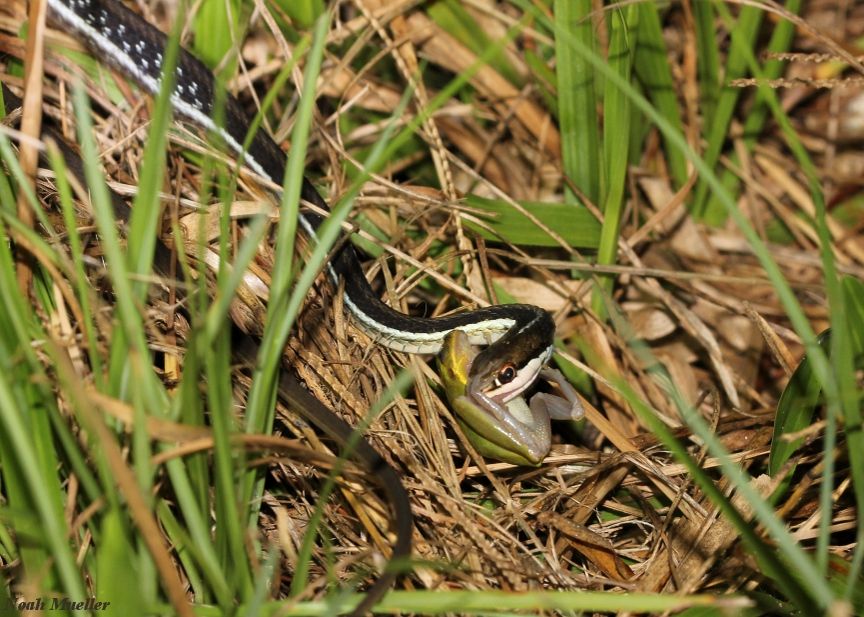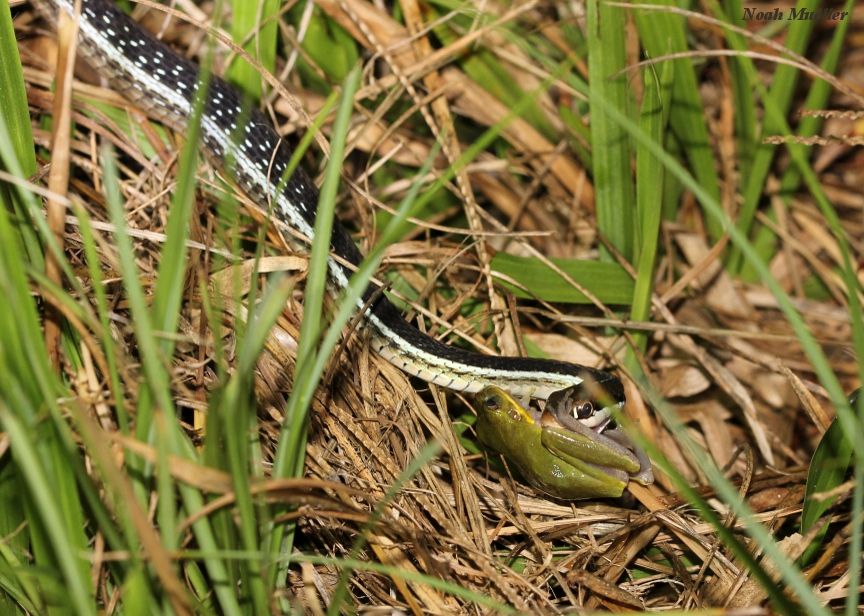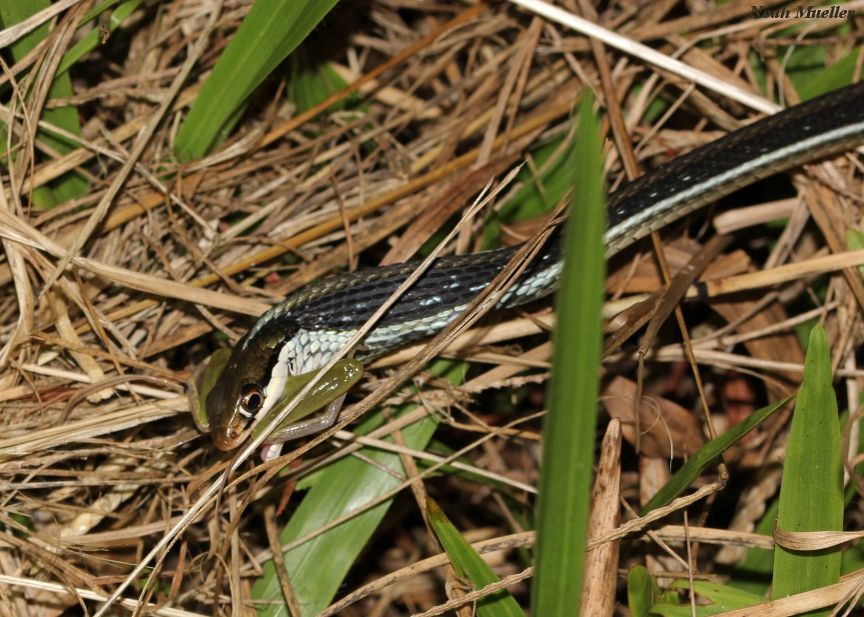 We cruised up yet another ribbon, and this one also had a frog. We wanted to get this one off the road, and when we picked it up to move it, it held on to its meal.
The last thing we cruised was this very pretty garter snake. Just like the ribbons, I'm not sure to call this one
sirtalis
or more
similis
, but either way it sure looks pretty to me!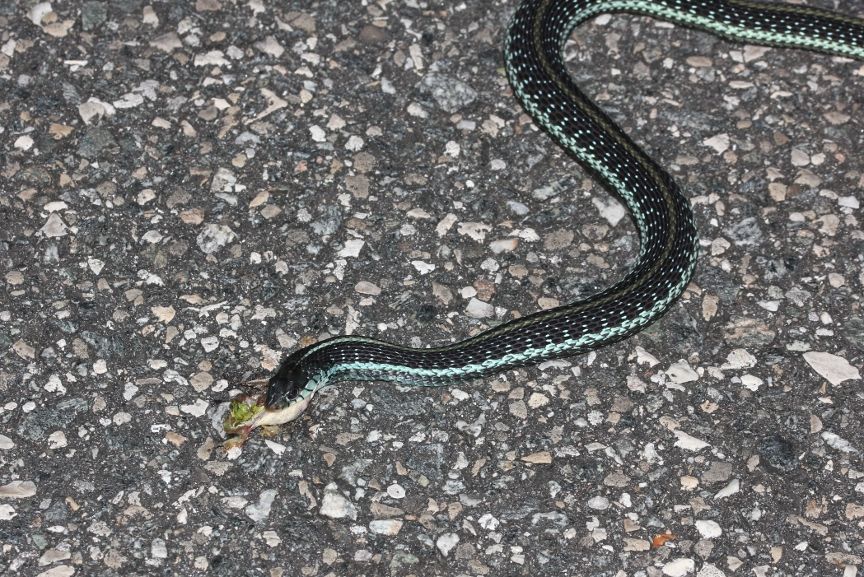 Hope you enjoyed!