Hi all,
I haven't posted anything in a great while. Busy with work, a two-month trip back to the homeland (Taiwan), a few houseguests back here, and other lame excuses. But now I'll make up for this with a post introducing the wonderful parallel universe that is Planet Kinabalu. OK, technically, Kinabalu is not a planet, but a mountain in Sabah, North Borneo. At >4000 meters it's the highest in the region, and by dint of a combination of unique geographical, climatological, and historical factors, the entire mountain is covered with floral wonders found nowhere else on Earth, and teeming with faunal sensations that also only live on The Holy Mountain (as the Chinese call it).
Here it is, as seen from the access road
The entire massif is not only a national park, but also a World Heritage Site, in recognition of its very special life forms, and we spent a week up at around 2000 meters, dividing our time between the Park Headquarters and the Mesilau Resort. Trails to the summit (a two-day trek) lead from both places, and while we didn't subject ourselves to the Summit Experience (well, it was off limits to "overweight persons" anyway), we hiked many of the other trails in the region, day and night, to experience the mountain's natural glory until we all suffered from lockjaw. I'm sure what we saw was a mere glimpse of what's up there, but it was enough to make us true believers (we're already planning our next trip).
Arriving at our hotel after a four-hour drive from steamy, seaside Kota Kinabalu, we got out of the car and marveled at the climate. Twenty degrees Celsius in the middle of the day? In Borneo? I was worried we wouldn't get to see any herps at these chilly temps, but man, was I in for a surprise. There was plenty to enjoy in the forests during the day, and even at night, when the thermometer dropped another seven degrees and our breath billowed from our faces, we were surrounded by geckos, phasmids, frogs, and other tropical animals by the hundreds.
Coming from the Borneo lowlands, everything on Kinabalu was kinda familiar, but still sorta different. The stick insects, the geckos, the birds, the snakes - most of the time I'd do a double take, thinking, "wait, don't we have that one down in Sarawak?", but it always turned out to be a montane analog of a lowland species that occupies the same ecological niche up there.
The forests were not dipterocarps, but mainly oaks and chestnuts - with acorns the size of medium peaches growing in huge clusters, and weapon-grade chestnuts that looked like sea urchins and could only be handled with thick gloves. Everything was covered in mosses and lichens, including eight-inch tall mosses that looked like little Christmas trees. Of course, there were orchids. Lots and lots of orchids wherever you looked. Terrestrial orchids. Epiphytic orchids. Tiny orchids with blossoms two millimeter across. Huge orchids that choked entire trees. There were entire ginger forests towering sixteen feet above us, and acres of begonias, some of them five feet tall.
And then there were the tropical pitcher plants of the genus
Nepenthes
, those meat-munching botanical horrors that are the scourge of all the little critters in the Asian tropics. Mt. Kinabalu is the World Mecca of these creatures, with gigantic species that only grow on its slopes, and I've dreamed of visiting them ever since I murdered my first mass market Nepenthes hybrid hanging from the bookshelf in my office. It's been eleven years since I had that first plant; eight years since my first visit to Borneo and my decision to sell my 350-strong pitcher plant collection and move to Sarawak, and four years since I actually moved to the island. But only last week did I finally make it up the Holy Mountain to see with my own eyes the most glorious flesh-eating plants on the planet.
Let's start the picture show with the Wild Nepenthes Garden in Mesilau (actually a heavily protected mountainside at 2000 m asl where they grow wild) and some other pitchers we found in the nearby forests.
Into the Garden
The Garden from a distance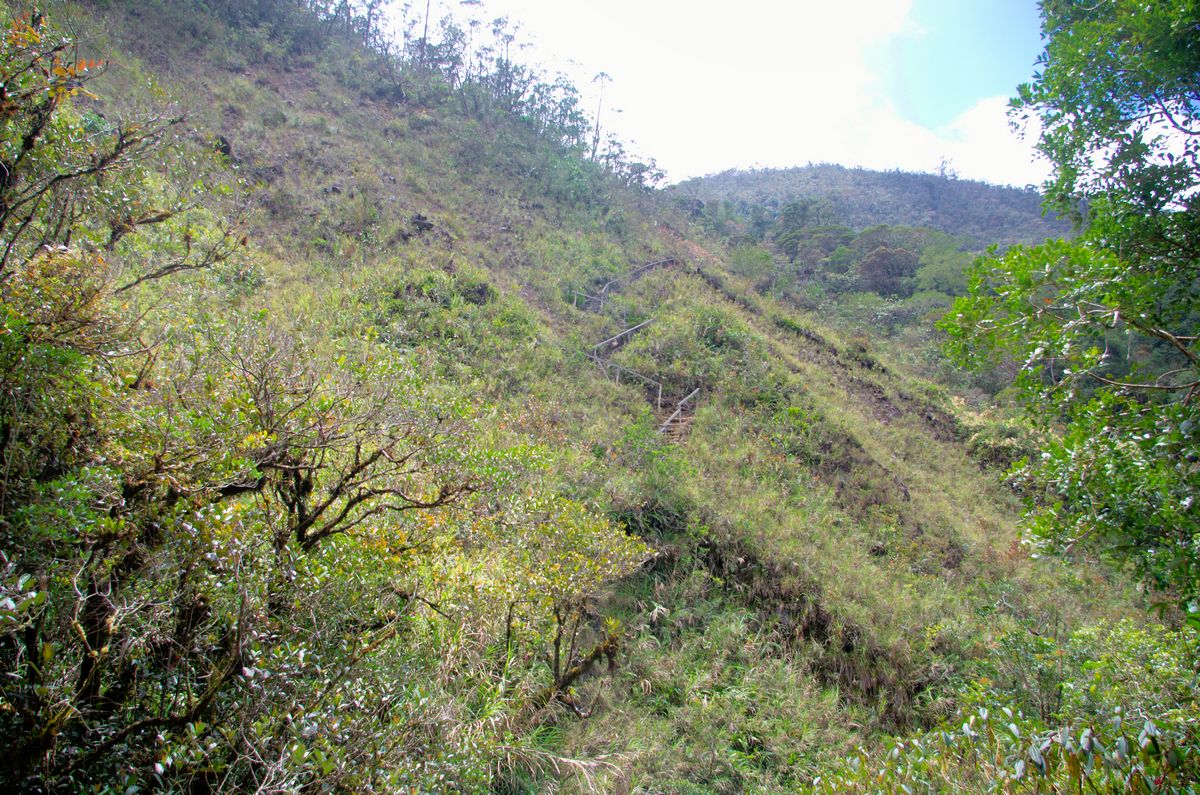 Nepenthes burbidgeae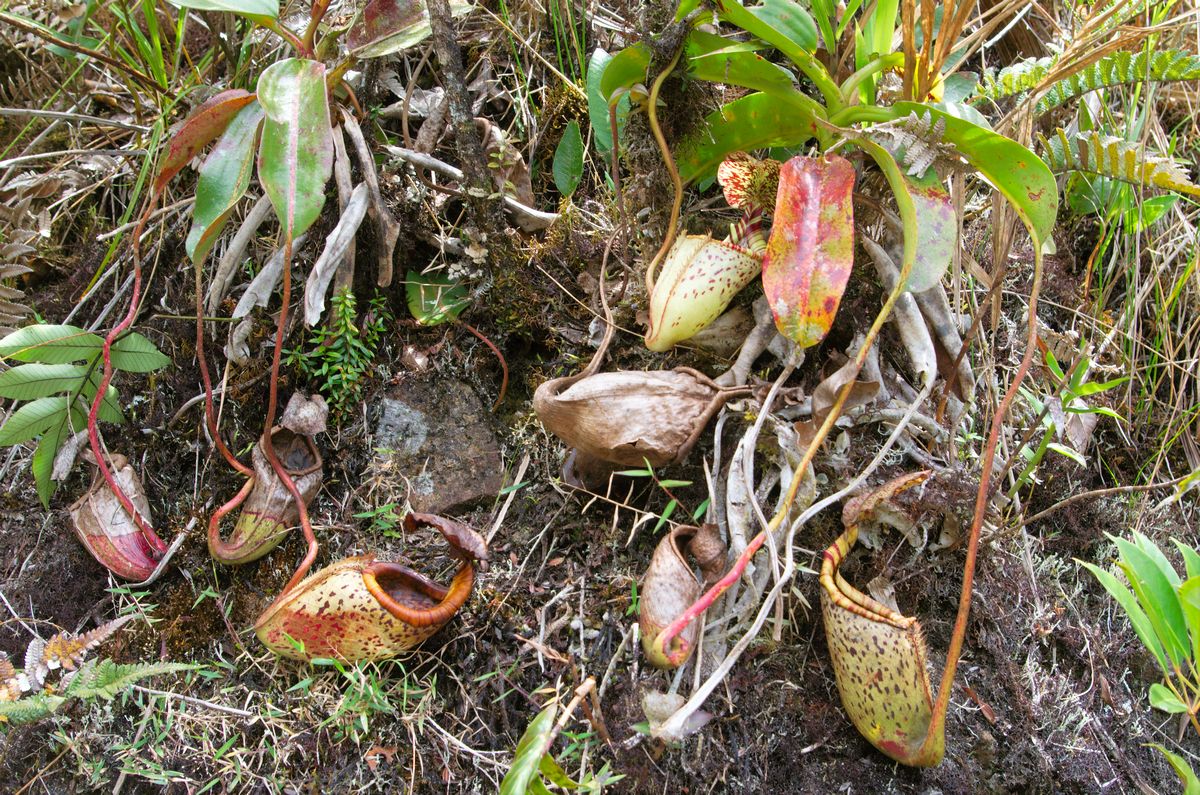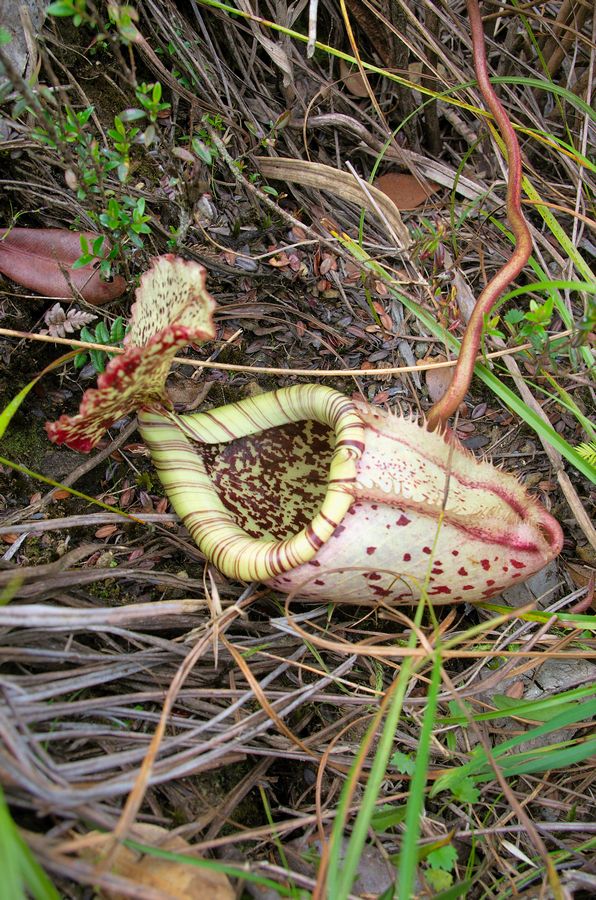 The Garden up close:
Scanning for neps:
N. burbidgeae x fusca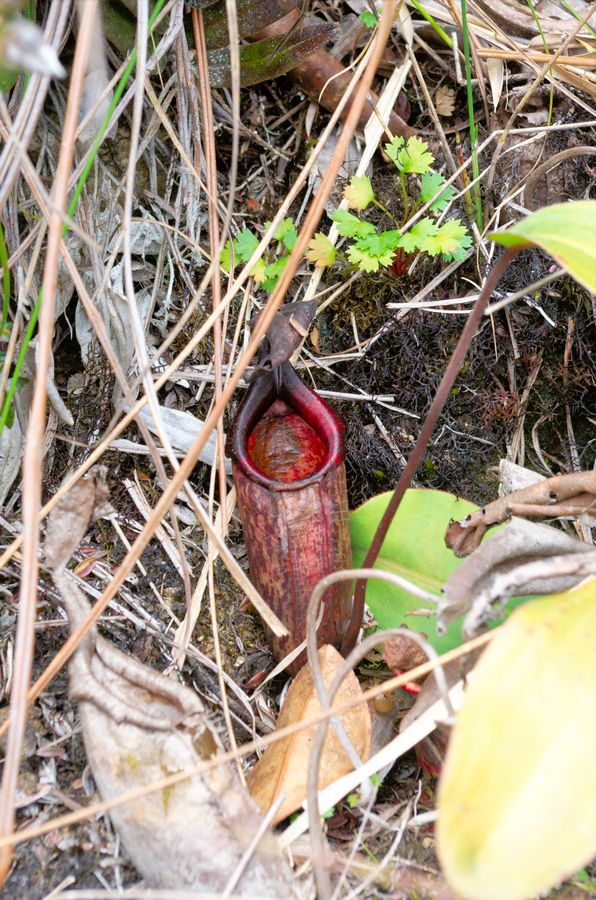 View from the Garden across the valley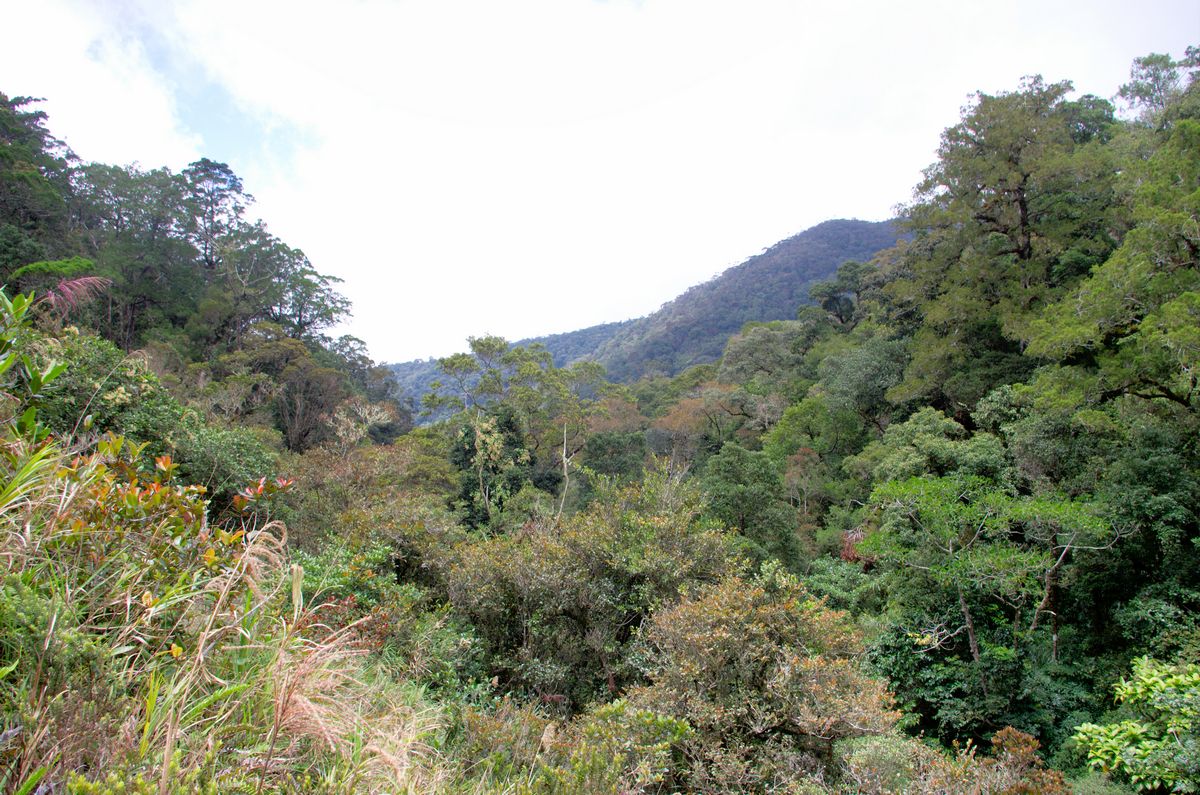 A variety of
Nepenthes rajah
. Much has been sung and written about the King's Pitcher Plant, one of the world's largest species that can hold over one gallon of liquid. Monkeys and rats have been found dead in its traps.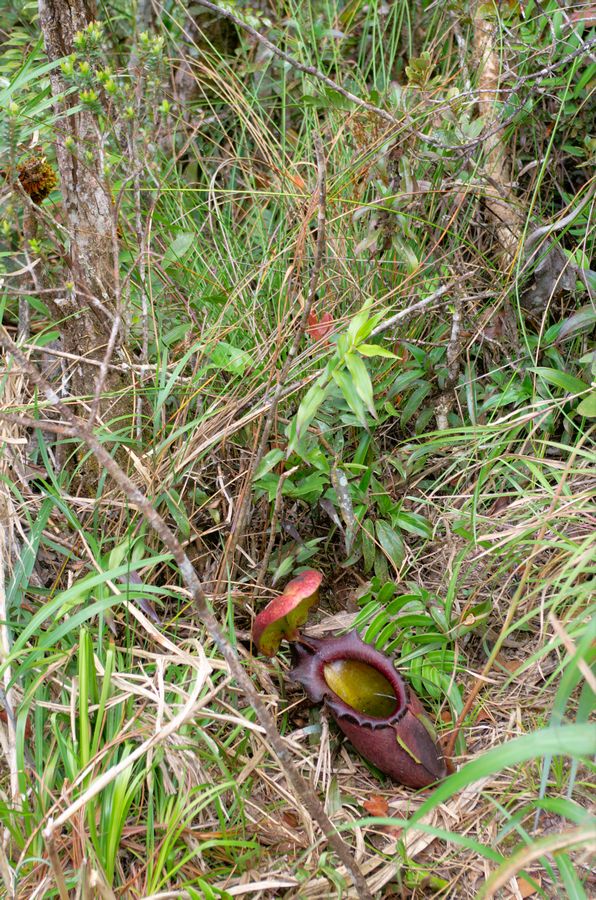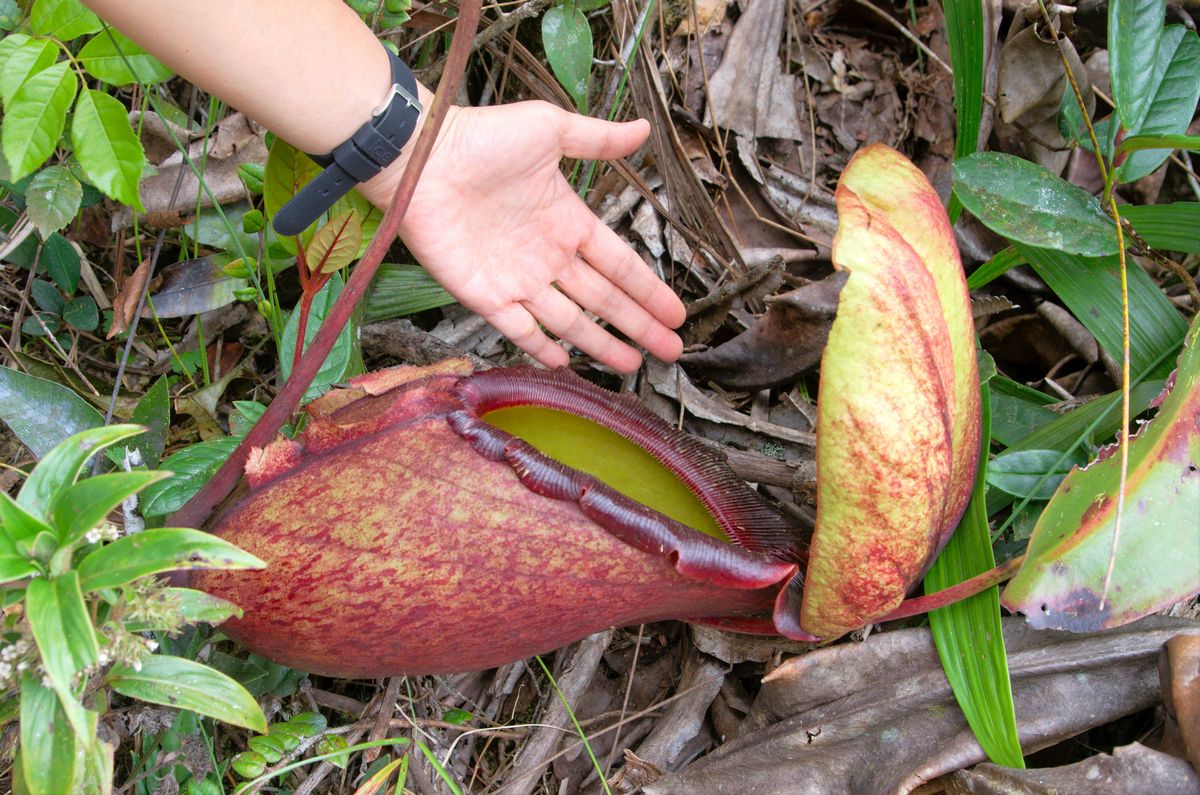 Views inside and from the garden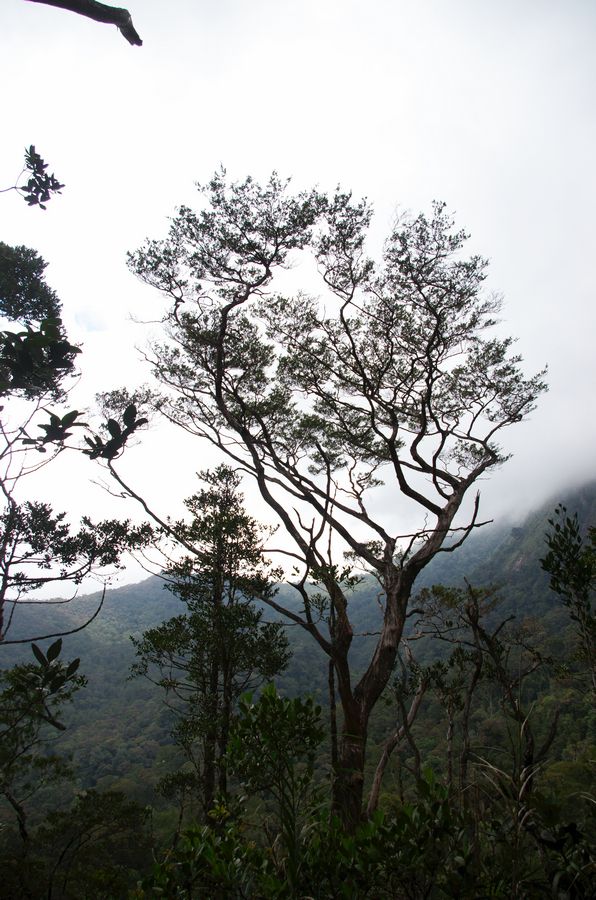 Nepenthes edwardsiana
. This is a ten-inch pitcher. The only places where they still grow in the wild are three to four trekking days from the nearest trail, so we had to make do with this specimen at the Kinabalu Park Headquarters' Botanical Garden. But this plant covered an entire tree, so we got what we came for.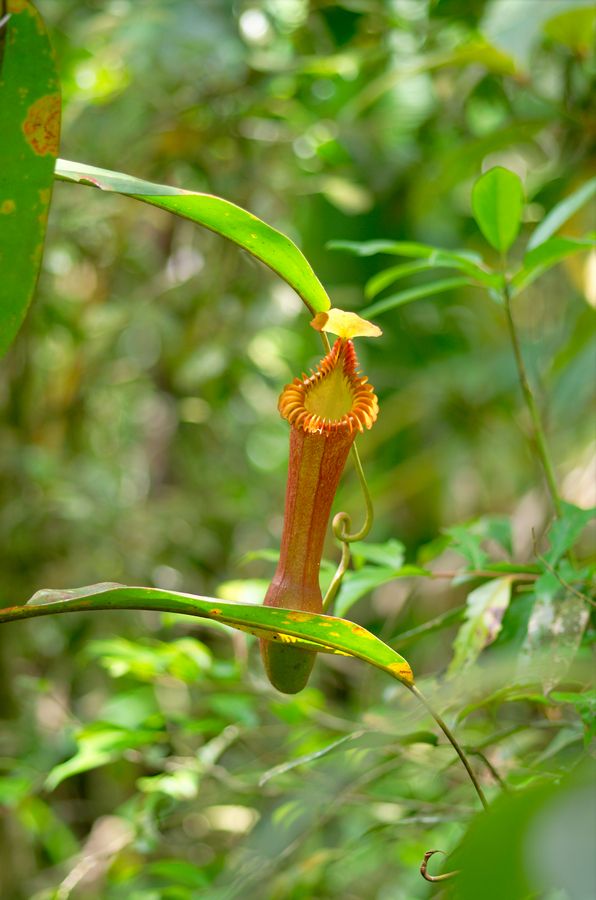 Nepenthes tentaculata
. These cute forest dwarves were everywhere along the lower Summit Trail, up to 2000 meters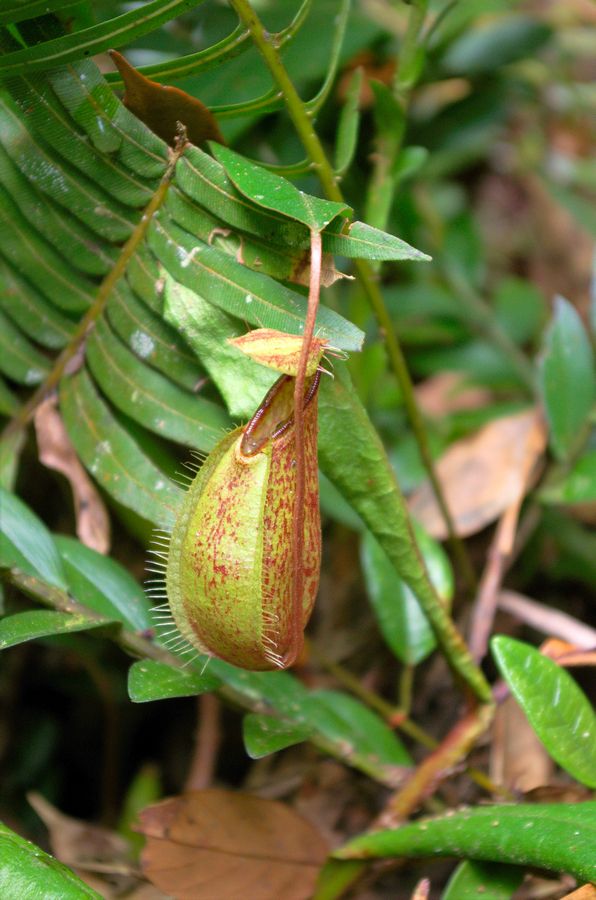 We saw tons of frogs, many of those
Leptobrachium montanum
, which I was too lazy to shoot because they just looked like smaller versions of the
L. abbotti
here in Sarawak. I ignored
Kalophrynus baluensis
for similar reasons. A few
Leptolalax
were also present. Meh. This feller here, however, was beyond awesome. Greater minds than I tell me it's probably a Cinnamon Frog.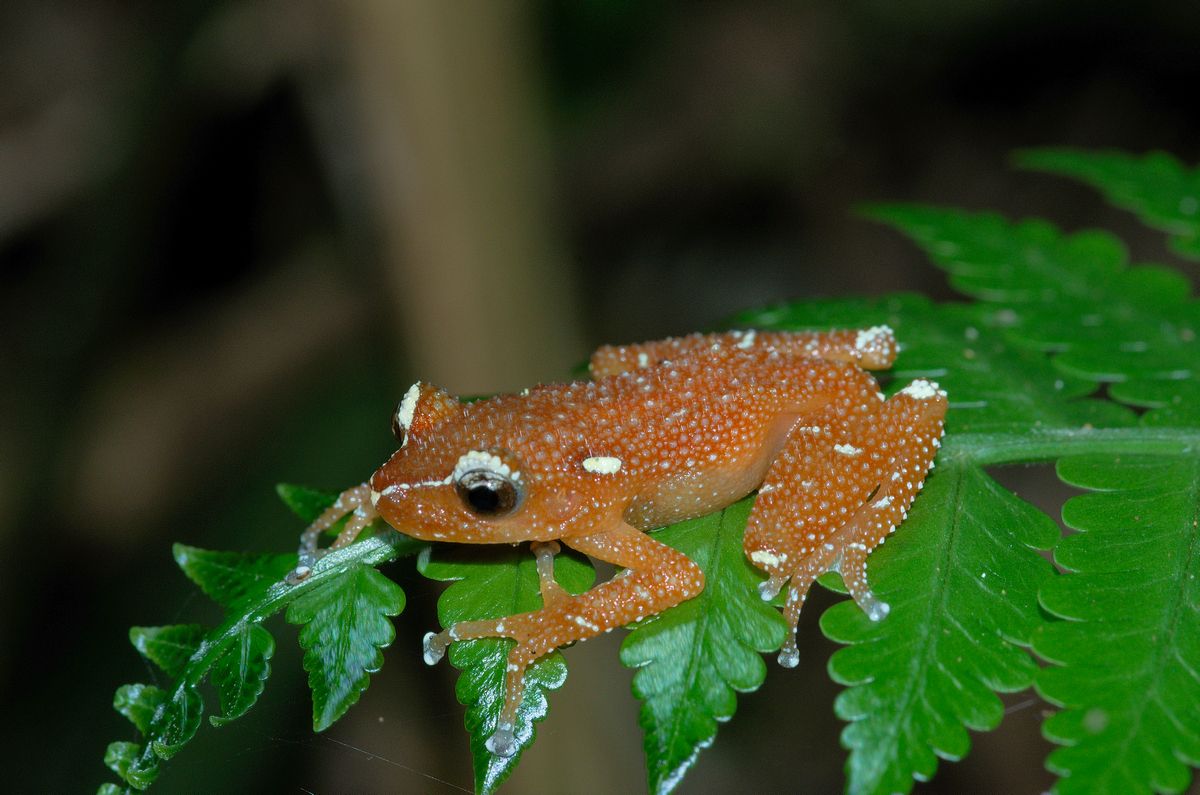 No idea what this was ...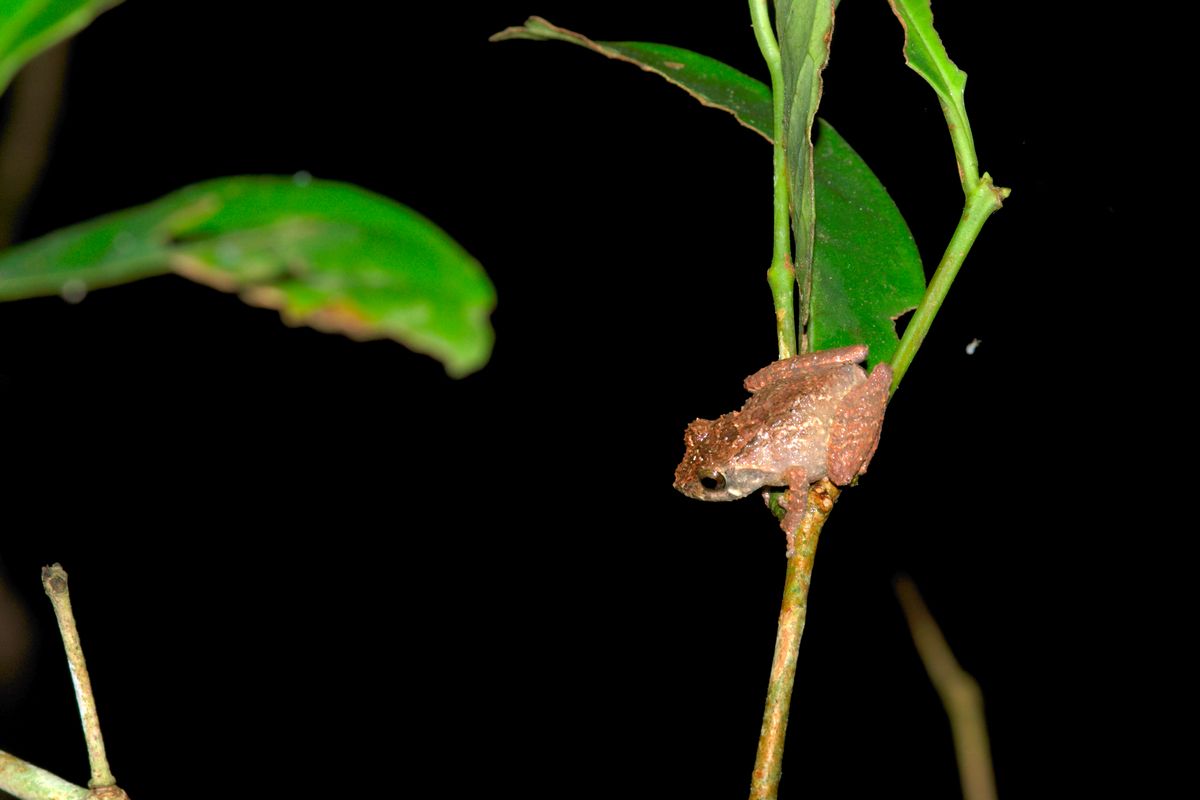 While the sheer mass of orchids in the montane forests boggled my mind to no end, I had little photographical patience for them, always fearing I'd miss something further down the path if I'd hang around for too long to shoot them. But this trailside
Bulbophyllum membranifolium
was too delicious to pass up.
The forest geckos on Kinabalu, on the other hand, were a joy to shoot. They would hang around for ages and let us almost pet them (I suspect the low temps might have something to do with their inertness ... they're reptiles, after all). This here is
Cyrtodactylus baluensis
, a very variable and ubiquitous animal that gave us photo ops galore. Check out the campy blue eye shade.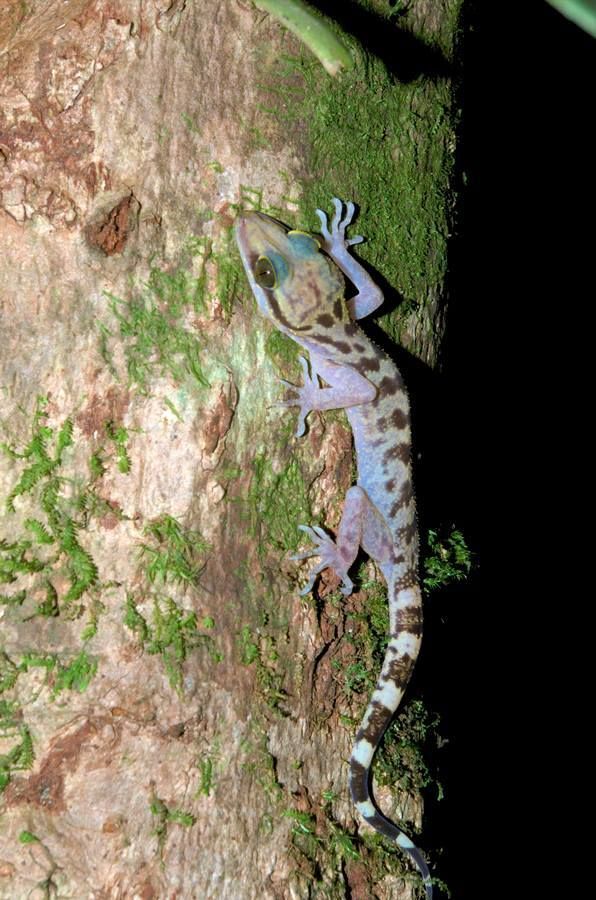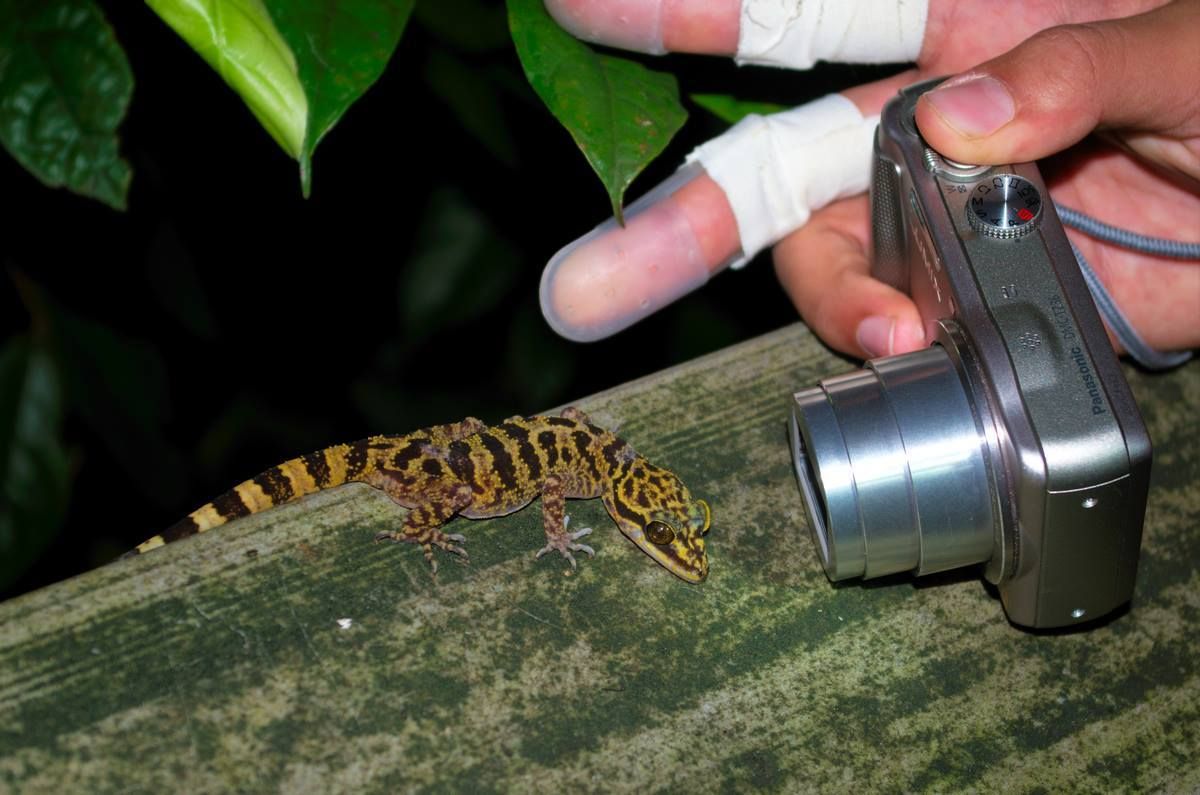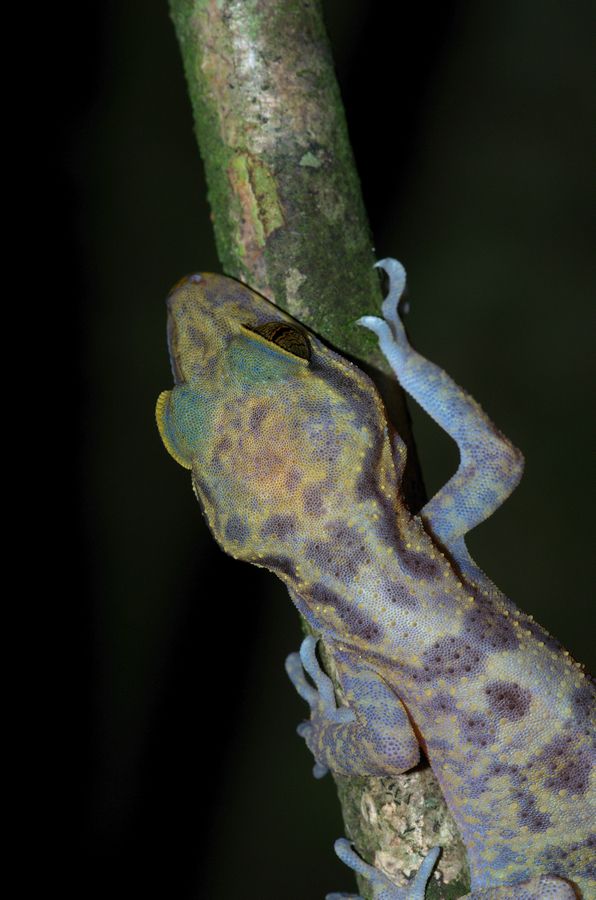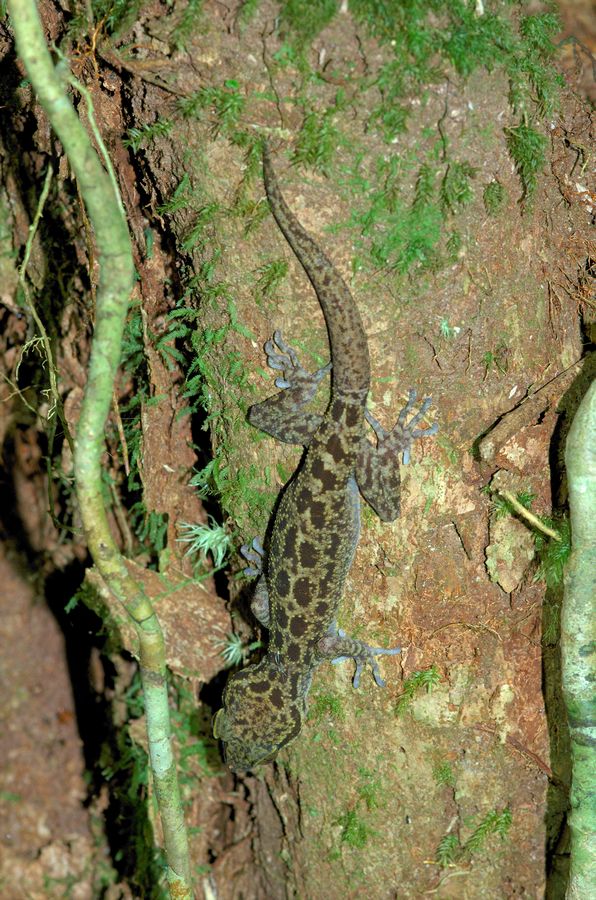 We'd been told there are a few agamids on Kinabalu, but only during the last of our nightly walks we finally found one of them. If I'm not terribly mistaken, this is a young
Phoxophrys cephalum
.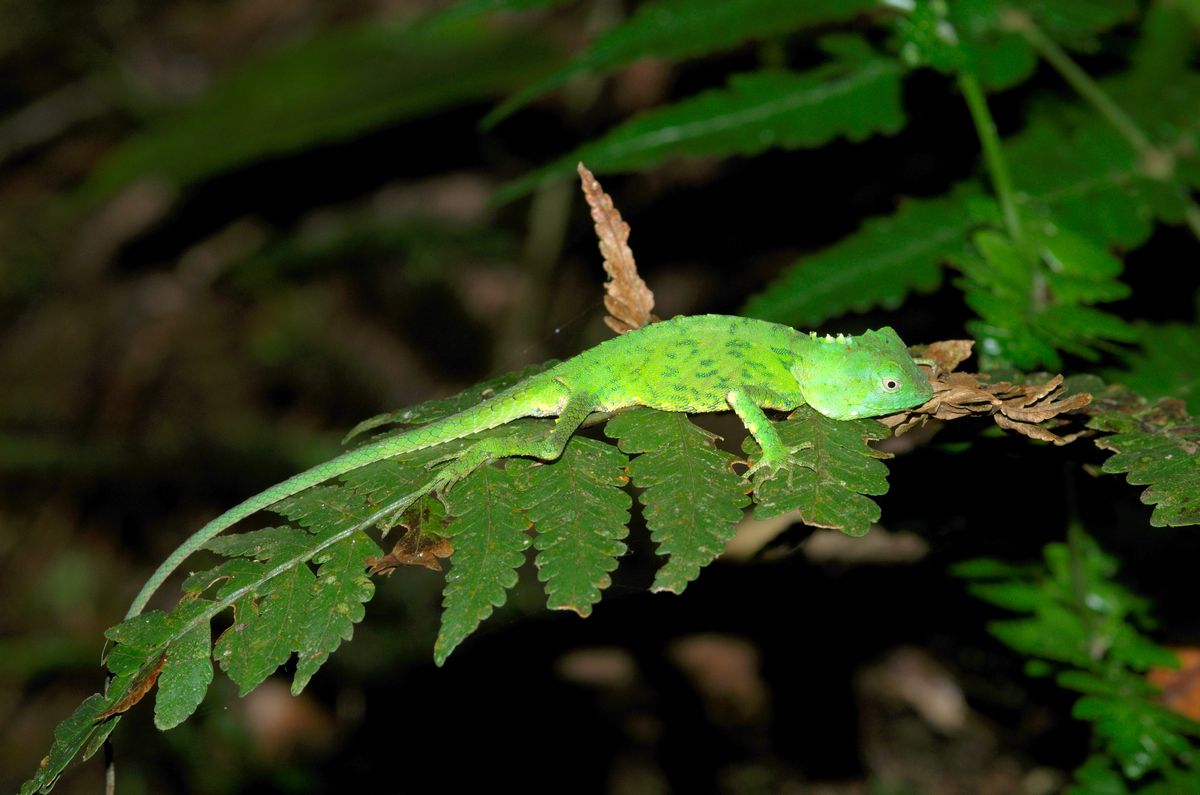 But the ultra-coolest lizard we saw during that week was this one. I'm still not sure if it's a flying gecko (
Ptychozoon
sp.), maybe someone here could shed a light? Everything about this creature was just mesmerizing: the fact that even on that brown signboard he looked just like another splotch of lichen. The fact that he ignored us no matter how close we came, haughty to a fault about his superior camouflage. The fact that, when he finally did move towards his hidey-hole beneath the sign, he did so in cinema-perfect slow motion, his toes curling UPWARDS with every oh-so-slow step, and then back down again just as slowly (check the last photo, the grey undersides of some toes are visible). An incredible show - I think we spent a good half hour just watching this thing.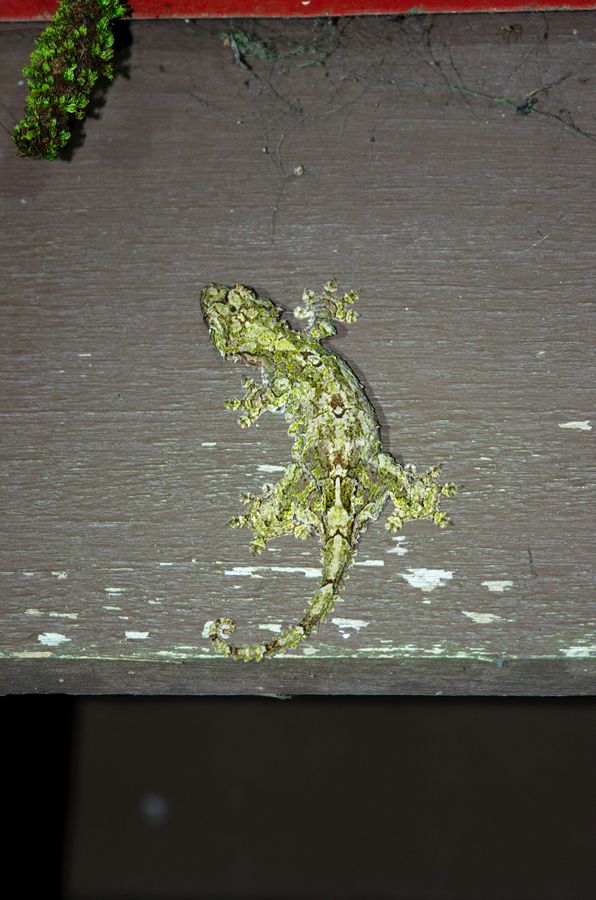 Insects. By Jove, THE INSECTS. Can you imagine a place where you find something like this right when you step out of the car, under the bench at the souvenir shop?
(Golden Emperor Moth,
Loepa megacore
)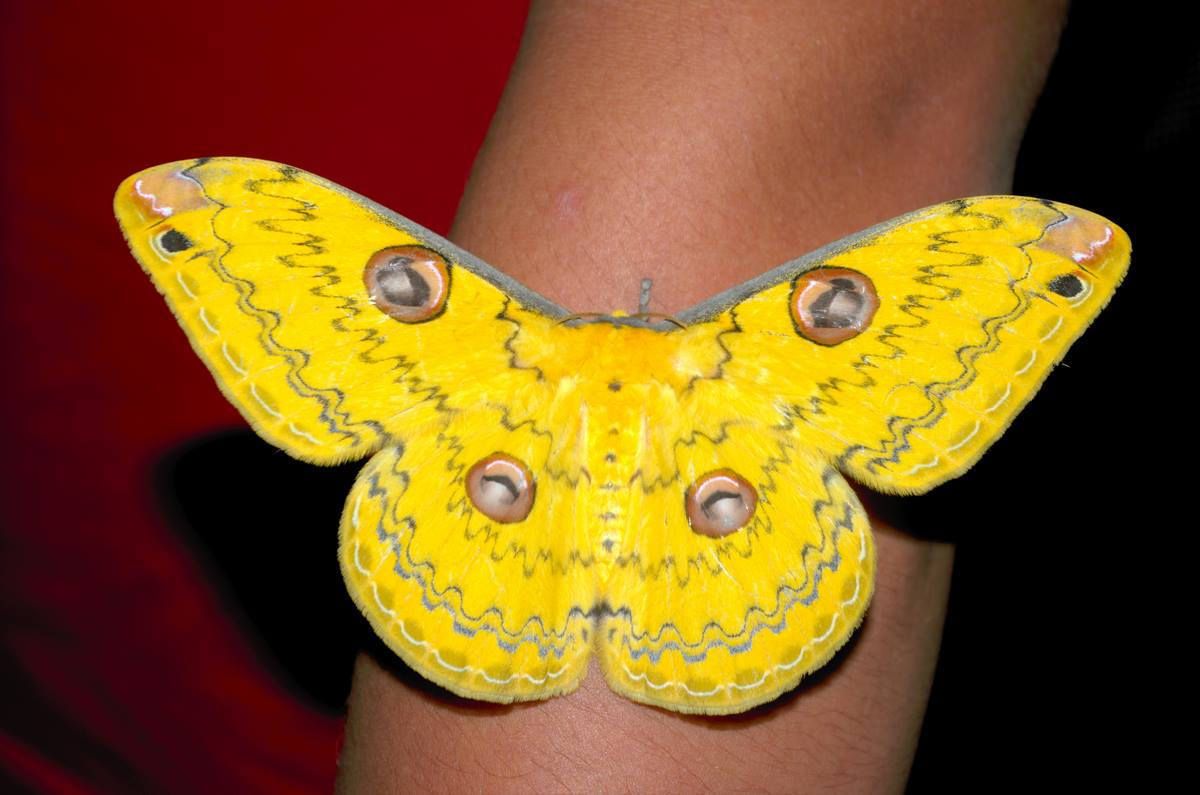 We turned the lights on at the nearby toilet and checked the scene after our return. We were not disappointed. When you tap this little alien on the head, it raises its tail and tries to reach your hand. Not unlike a scorpion, but fluffier (
Dudusa vethi
).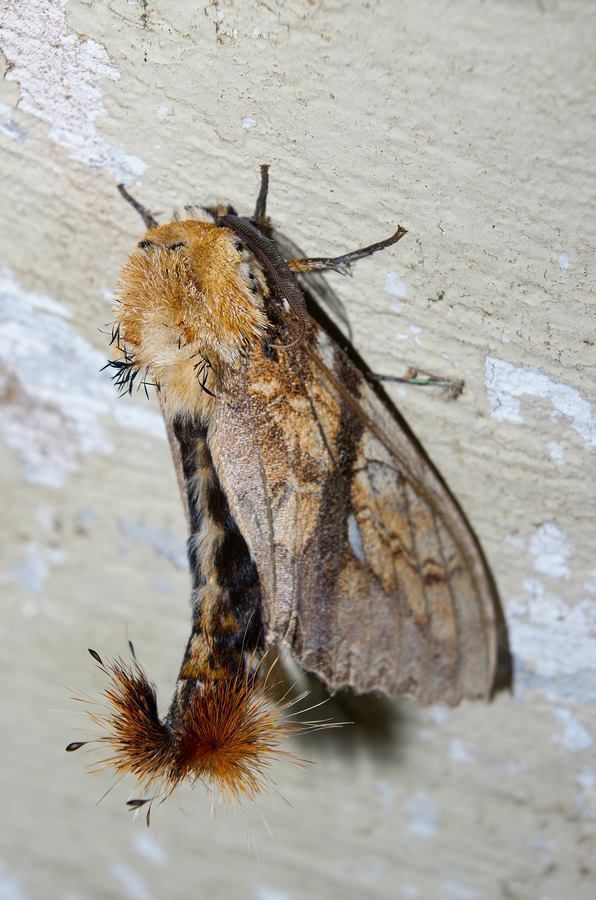 Cicada
Leaf katydid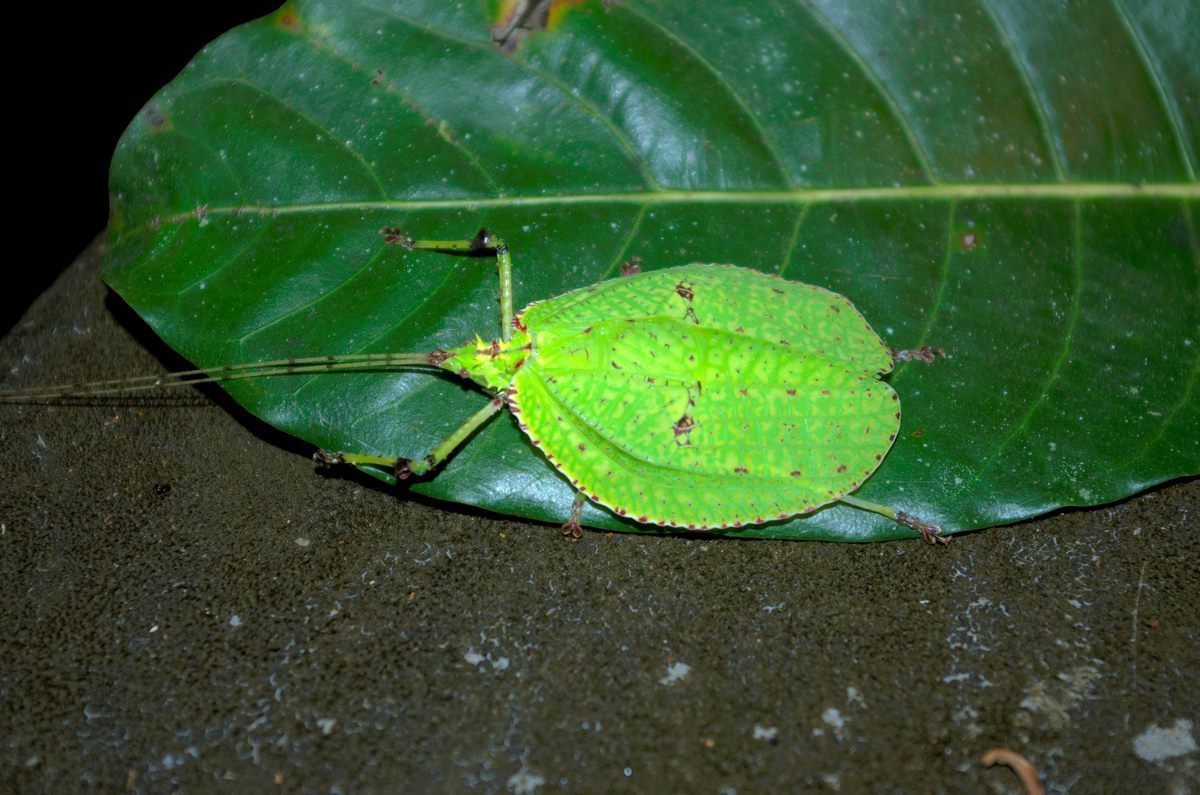 Home Invasion: A wasp once laid its eggs inside this four-inch caterpillar. After hatching and eating the caterpillar from the inside, the little wasps are now pupating. The 'pillar is still alive. (Still believe in a benign god?)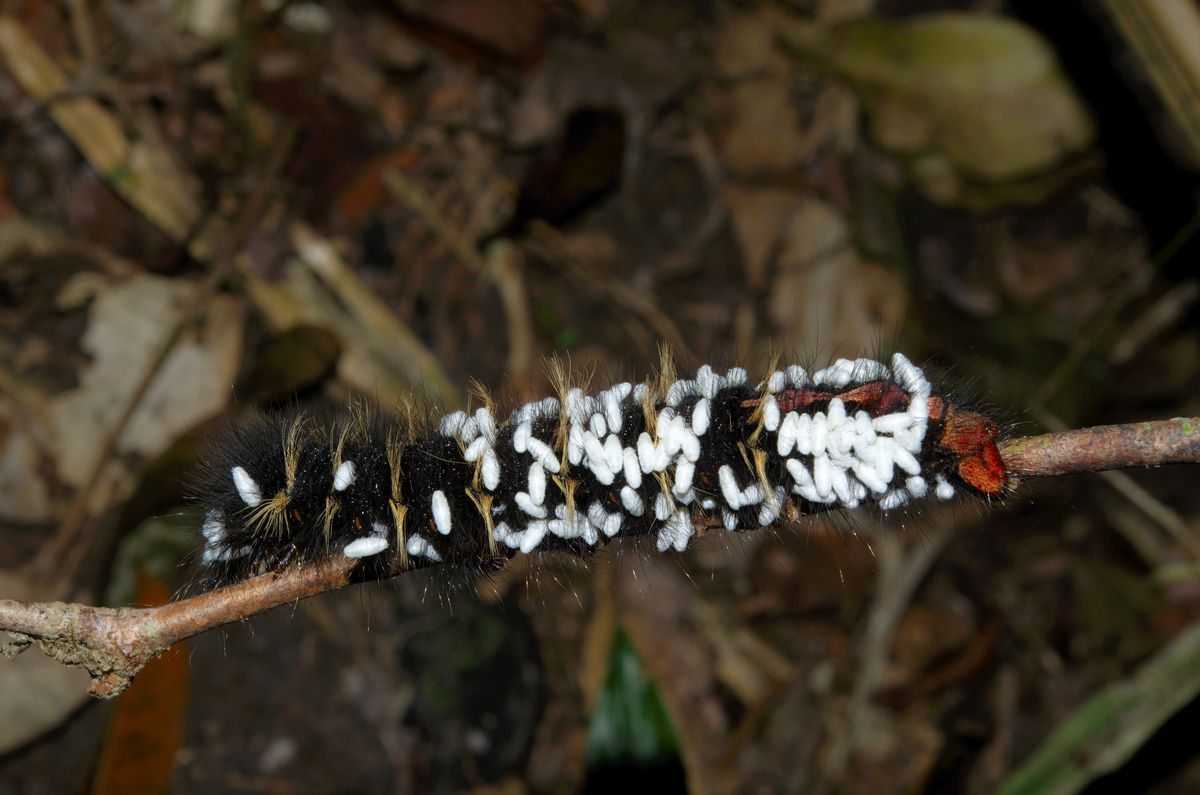 Among the beetles of Kinabalu are the entertainingly named Handsome Fungus Beetles (Endomychidae) and Pleasing Fungus Beetles (Erotylidae). No, I'm not making this up. Sadly, in spite of their brilliant monikers they're not much to look at. On the other side of the spectrum, though, there are a few whose appearances just steal the show. Of course, they have to pay dearly for their beauty with names like
Pseudochalcothea spathulifera
. Check out the reflecting eyes!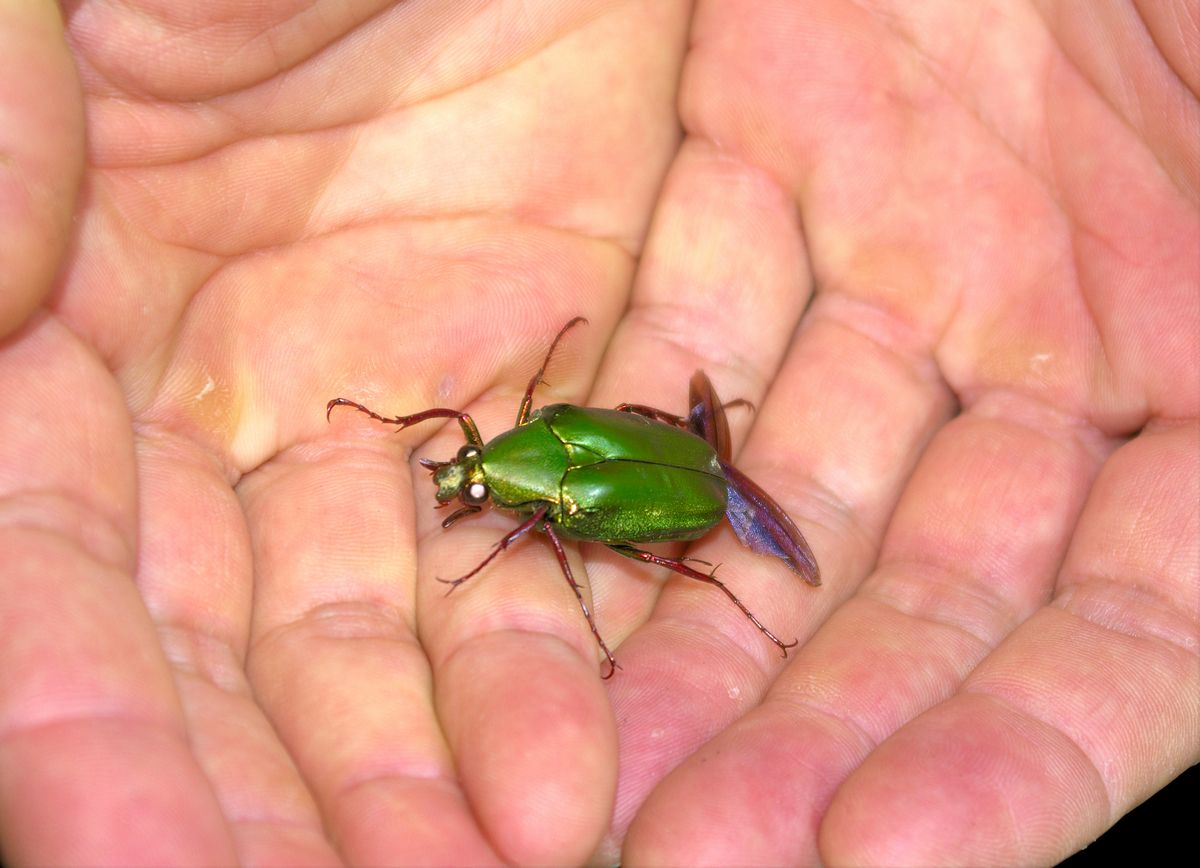 A young member of my favorite crazy-ass moth family, the Limacodidae.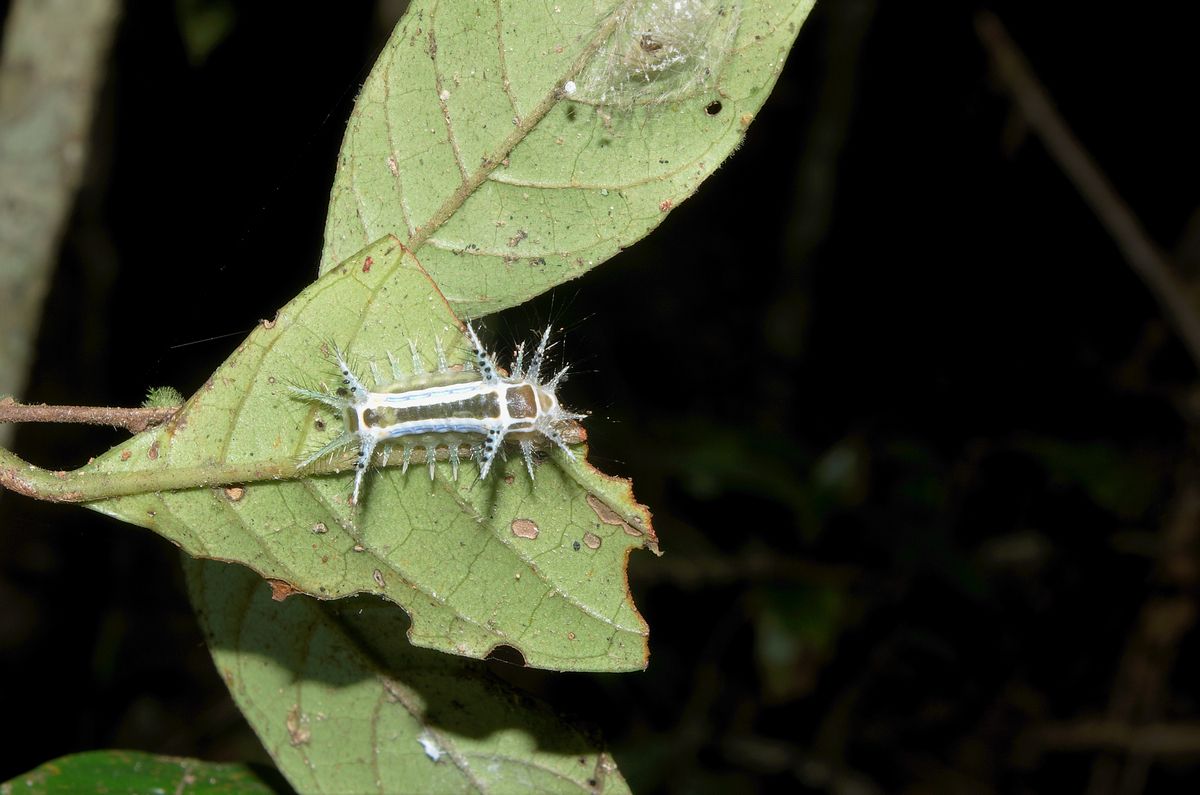 Absolutely no idea what this is. Best guess: slug-shaped Spanish omelette, silk-tied to the underside of a leaf in an S&M play gone wrong. Any takers?
Gingers are an extremely diverse family of plants with stunning inflorescences and fruit. More than 250 named species grow on Borneo, new ones are being discovered all the time, and in Kinabalu's forests they're a dominant presence.
Hedychium cylindricum
, fruit.
Alpinia
sp.
Amomum
sp. (?), fruit
We found three snakes that week. On the way up the Summit Trail in Mesilau, our family split up. I stopped to photograph orchids and bird a little, while the rest of the gang insisted on going another klick up the hill. I slowly made my way back down the very steep and very high steps, and just when I was only minutes away from the gate leading back into the resort, I heard wild running and yelling behind me. "SNAKESNAKESNAKESNAKESNAKE!!" My two sons had found two Fire-lipped Keelbacks (
Rhabdophis murudensis
, lifer) curled up together in the middle of the trail up around 2200 meters, stuffed one of them in a backpack, and raced like mountain goats the entire kilometer back down the trail to find me before I reached the gate. Which closed at 4 PM, and they wanted to avoid me having to shoot the serpent in the parking lot. A truly heroic athletic feat - thank you, Hans and Karl, you've warmed your old herper-dad's heart and are my heroes!
Sadly, the shoot didn't turn out to be any sort of satisfying at all. The snake was just starting to shed, was accordingly pissed, and no amount of hatting or hooking would get it to pose nicely. And of course, it was already close to 4 PM. So here are the least crappy of the dozens of crappy shots I took. At least you can make out the species and see how it flattens the neck in anger, showing the beautiful red color ... which could have been much more beautiful right after a fresh shed ...
On our last walk along the trails around the Park Headquarters, my wife found a cute little natricine:
Amphiesma sarawacense
. Despite its name, it apparently also lives in Sabah's mountains. Again, a hectic and ugly shoot - we were late for our hotel checkout and had to do the entire drive down the mountain back to Kota Kinabalu to return the rental and catch our flight. (Damn, I'm getting good at these excuses!)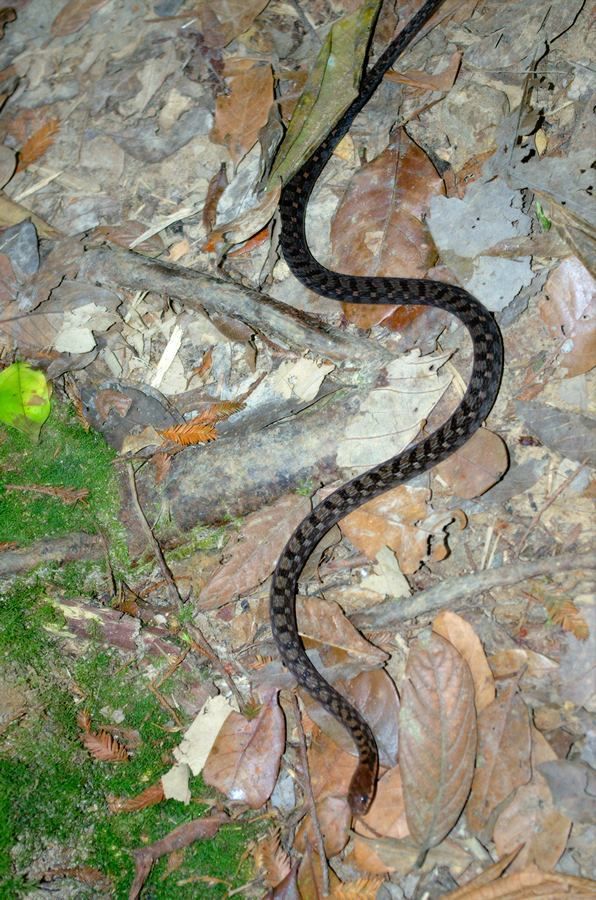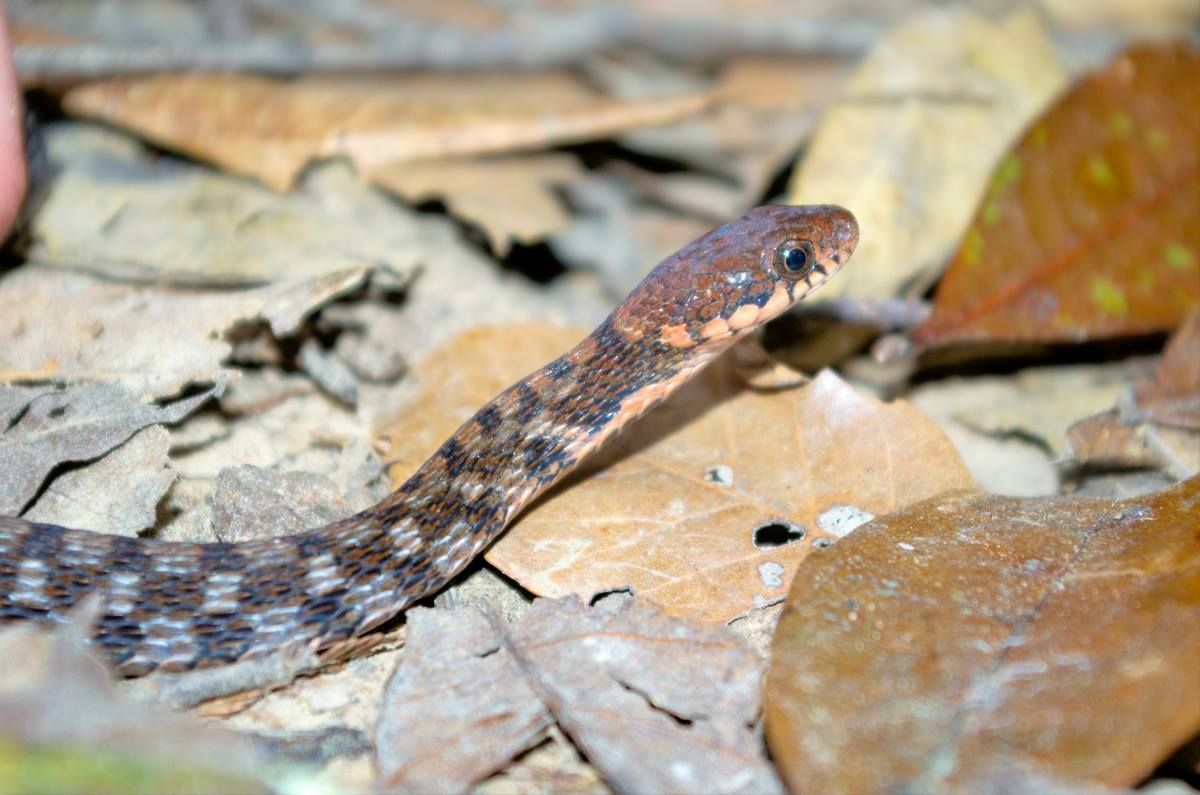 These two alien stormtroopers are Ch'ien C. Lee and his girlfriend/assistant Pearl Ee. Ch'ien is not only my all-time favorite nature photographer (
check out his website and be blown away
), but also an accomplished flora/fauna biologist and jungle guide with twenty years experience on the island. He's also my neighbor in Kuching. By pure chance we met him and Pearl on Kinabalu, and they invited us to join them on a nightwalk. I've been in the forest with Ch'ien before, but that night was unbelievable. Forget leopards and tarsiers - this guy has the original jungle eyes. Apart from spotting from afar, in the pitch-dark, a roosting Temminck`s Babbler, in a place where I still couldn't spot the nest when I stood right in front of it, he also found an incredible amount of wildlife seemingly at every step, among it two dozen different phasmid species.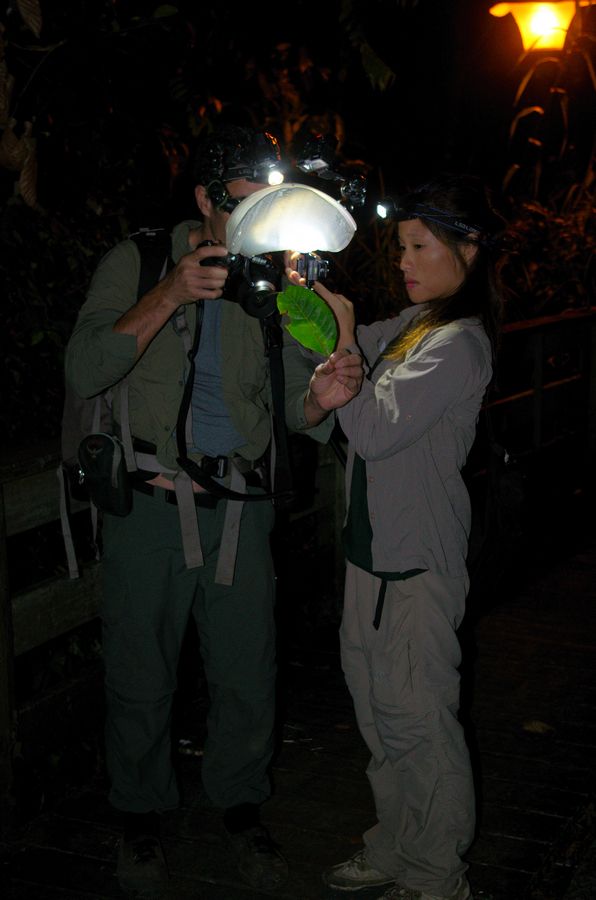 Calvisia
sp. probably an undescribed species
Calvisia conspersa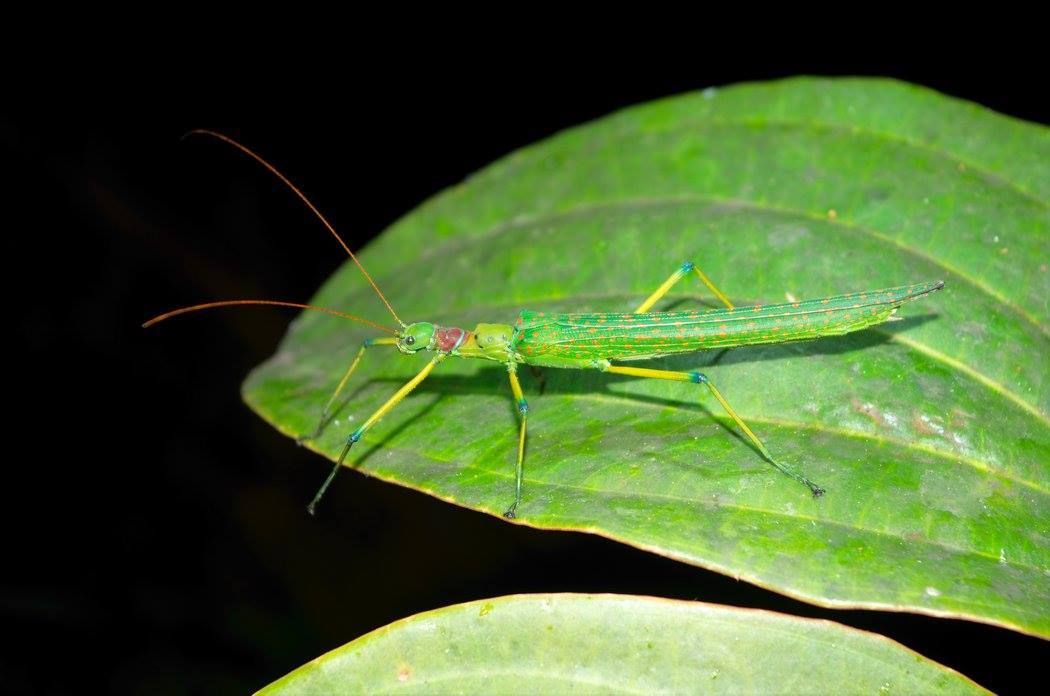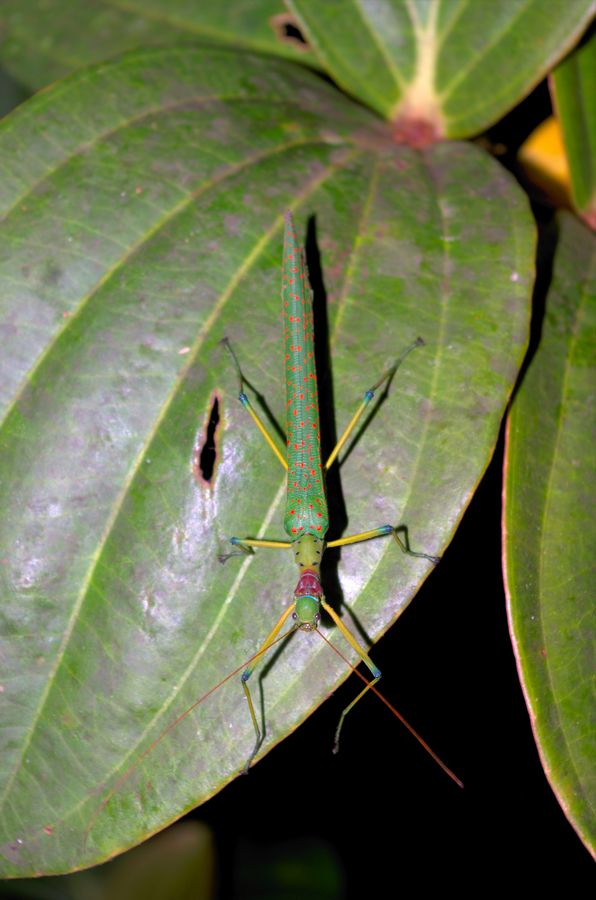 No ID. Anyone?
No ID. Anyone?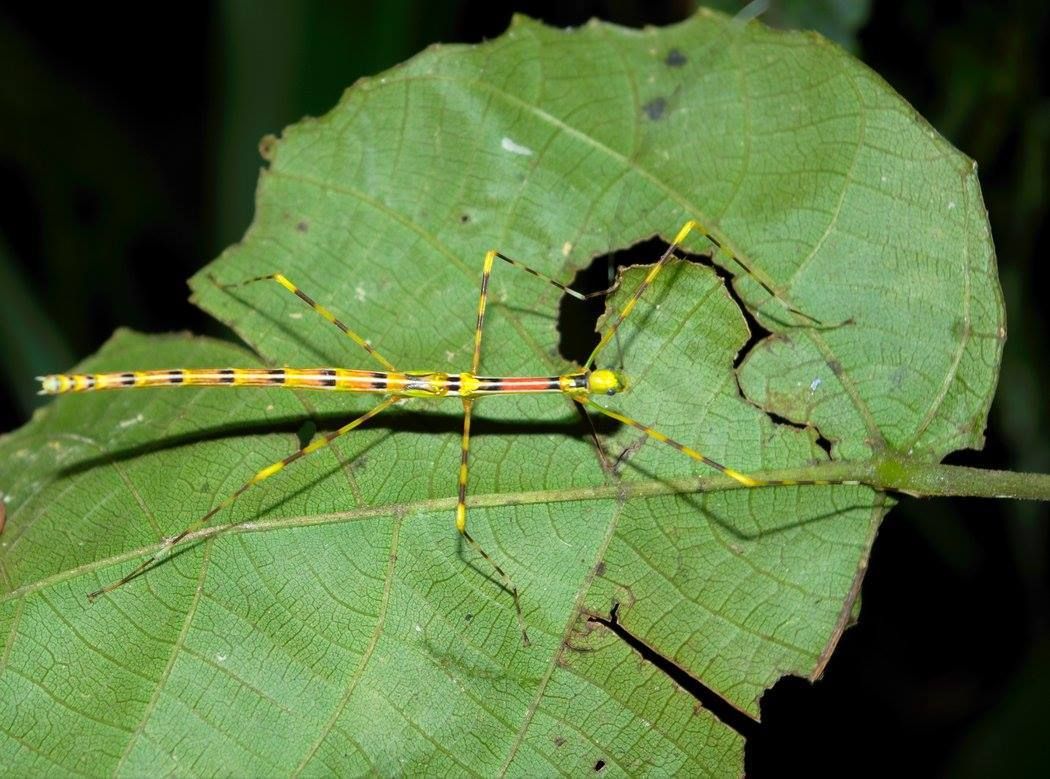 Dinophasma
sp. This one squirts pepper spray.
No ID. Anyone?
No ID. Anyone?
I'll leave you with a few habitat impressions ...
Wife-dwarfing gingers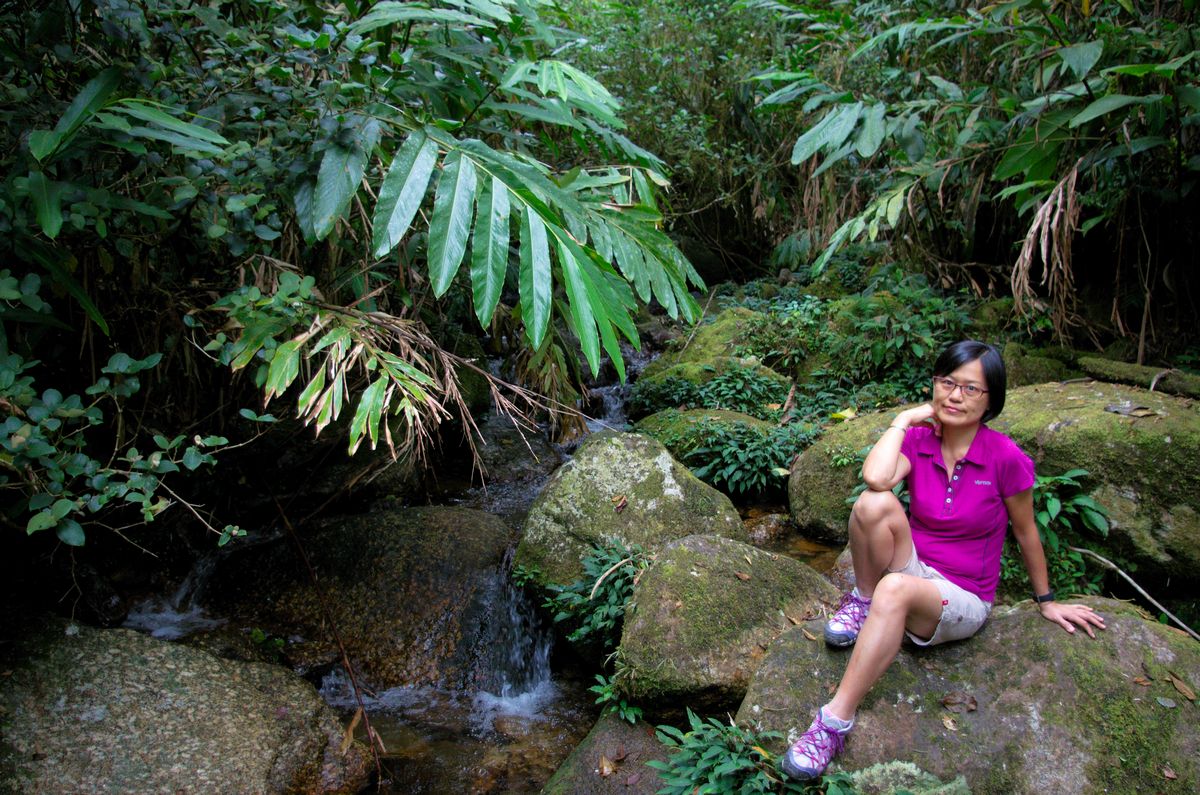 The boys river-tracing next to the Silau-Silau Trail in their new and expensive basketball kicks (
they
paid for them, not me).
Silau-Silau Trail, Park Headquarters (excellent for herps)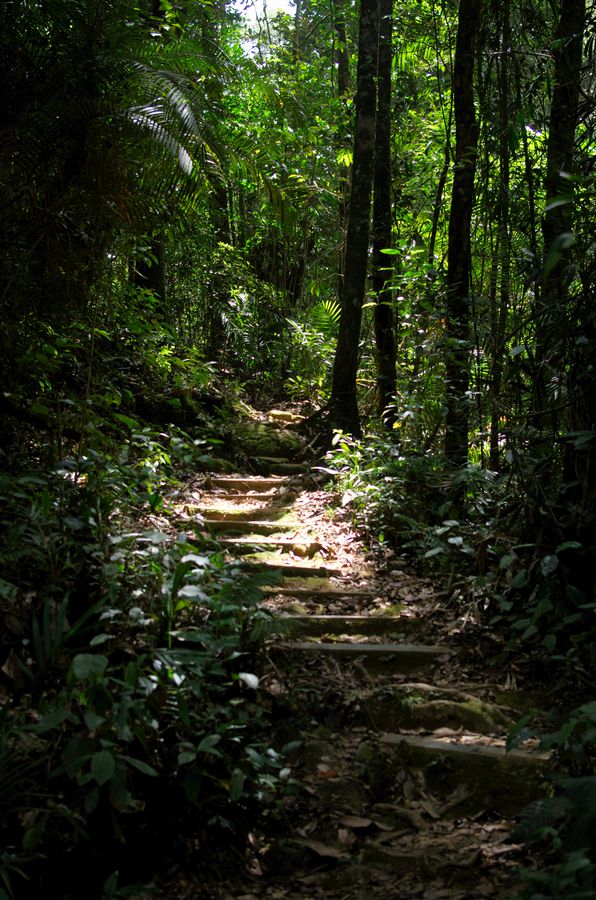 A dipterocarp at 500 meters asl (Poring Hotsprings)
EDIT 15/04/05:
I went through the photos my uncle took on Kinabalu with his P&S camera, and dug up some more goodies I had either missed ore ignored (Yeah, sue me. With so much to see and so little time, you had to do triage ...)
Baby frog. No ID. Anyone?
Four-inch cricket. Seriously. This thing looked like it could take your arm off.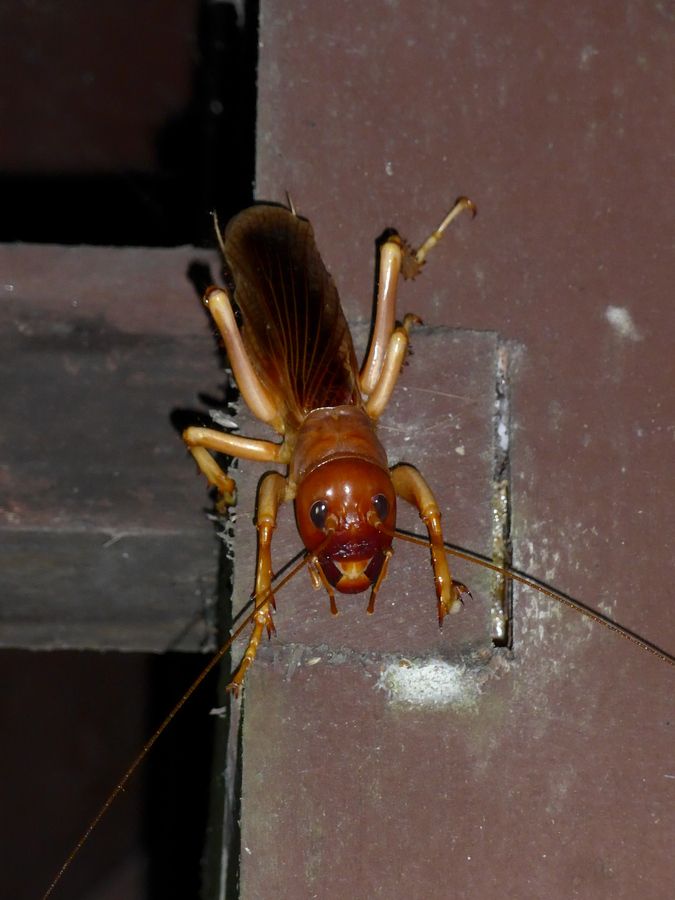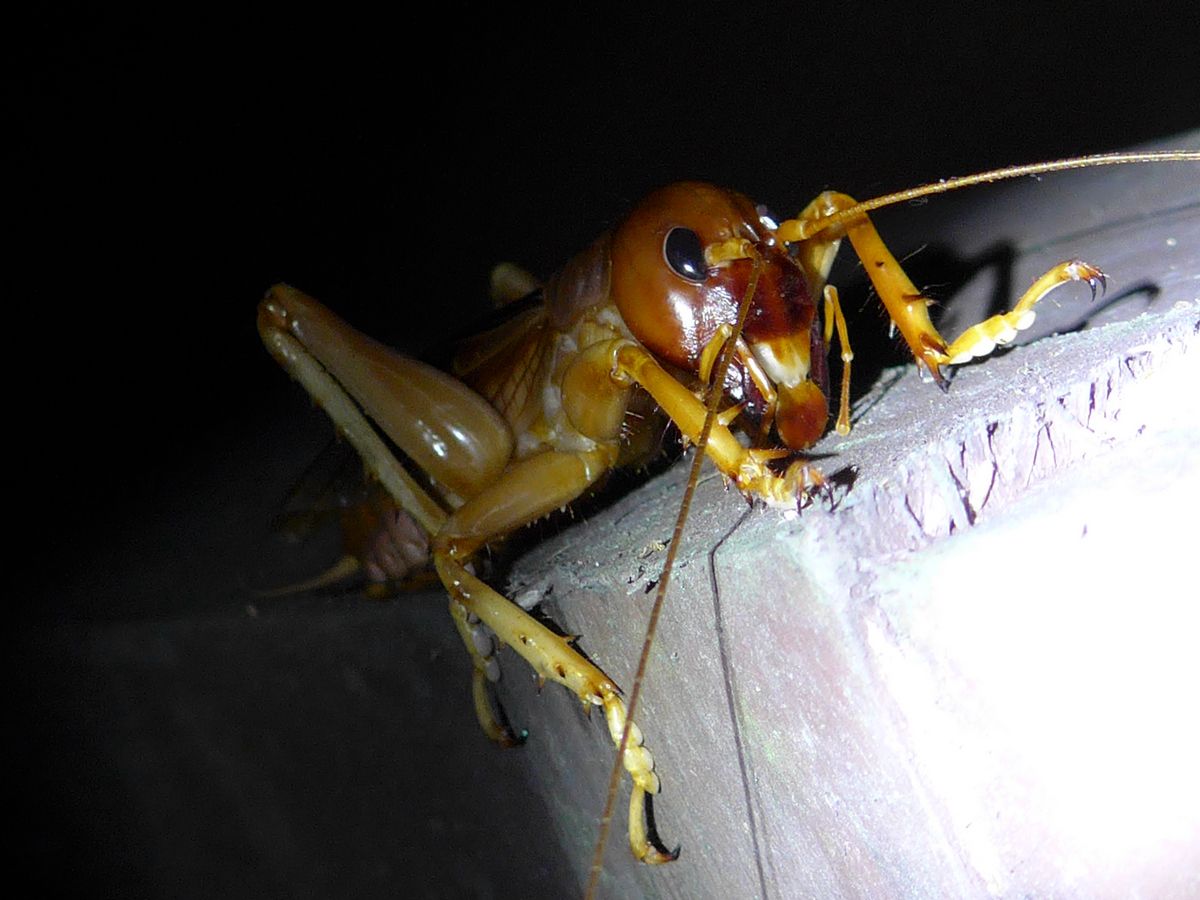 Another cicada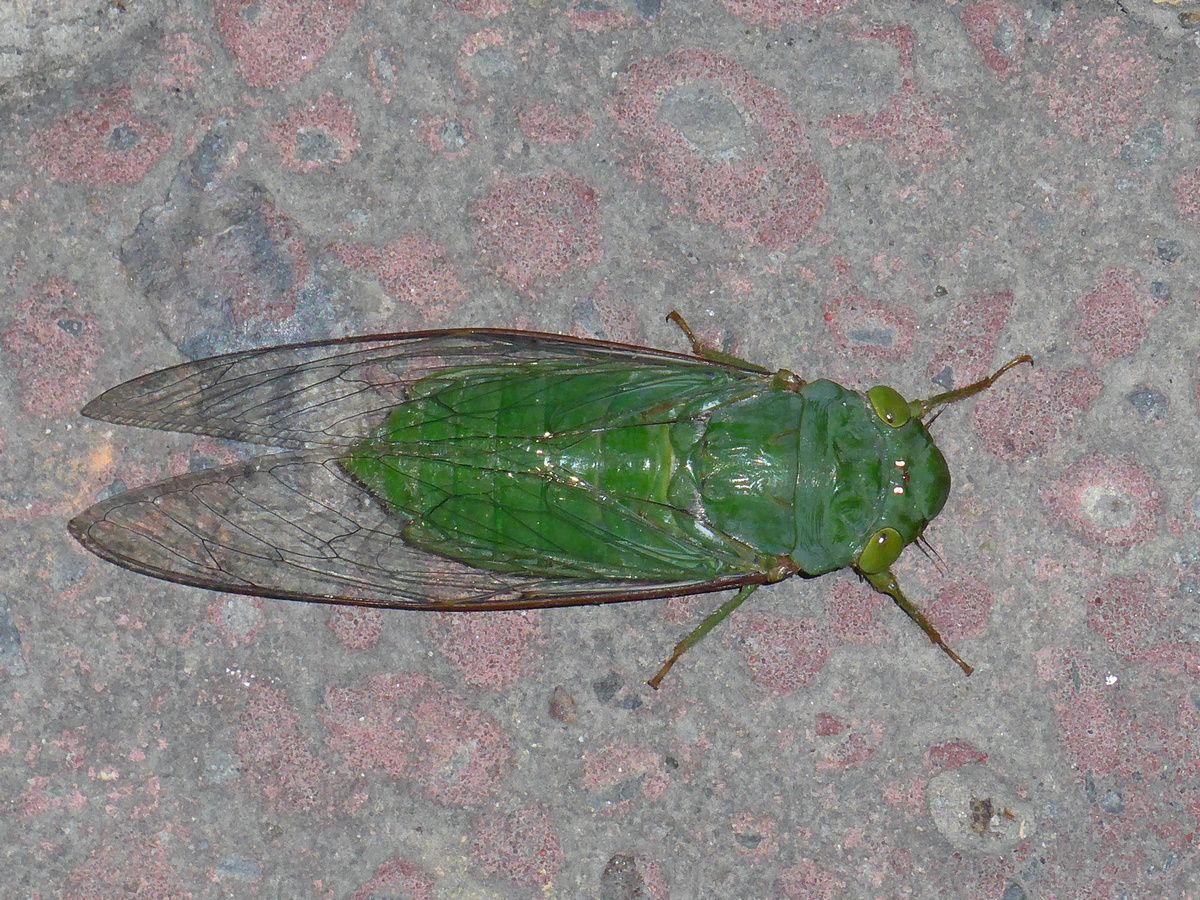 Another Limacodida caterpillar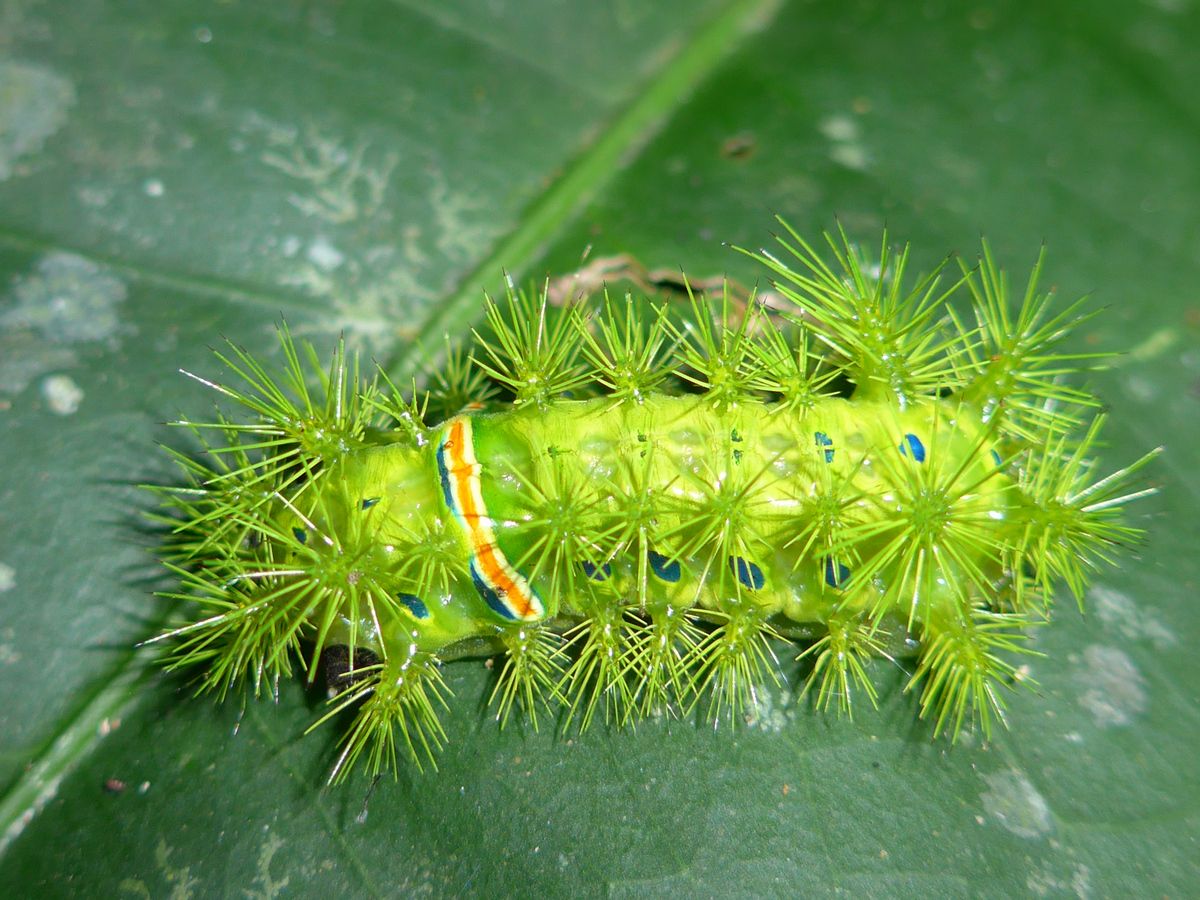 Balanophora papuana
. Very interesting parasitic plant, not unlike rafflesias.
For more see here
.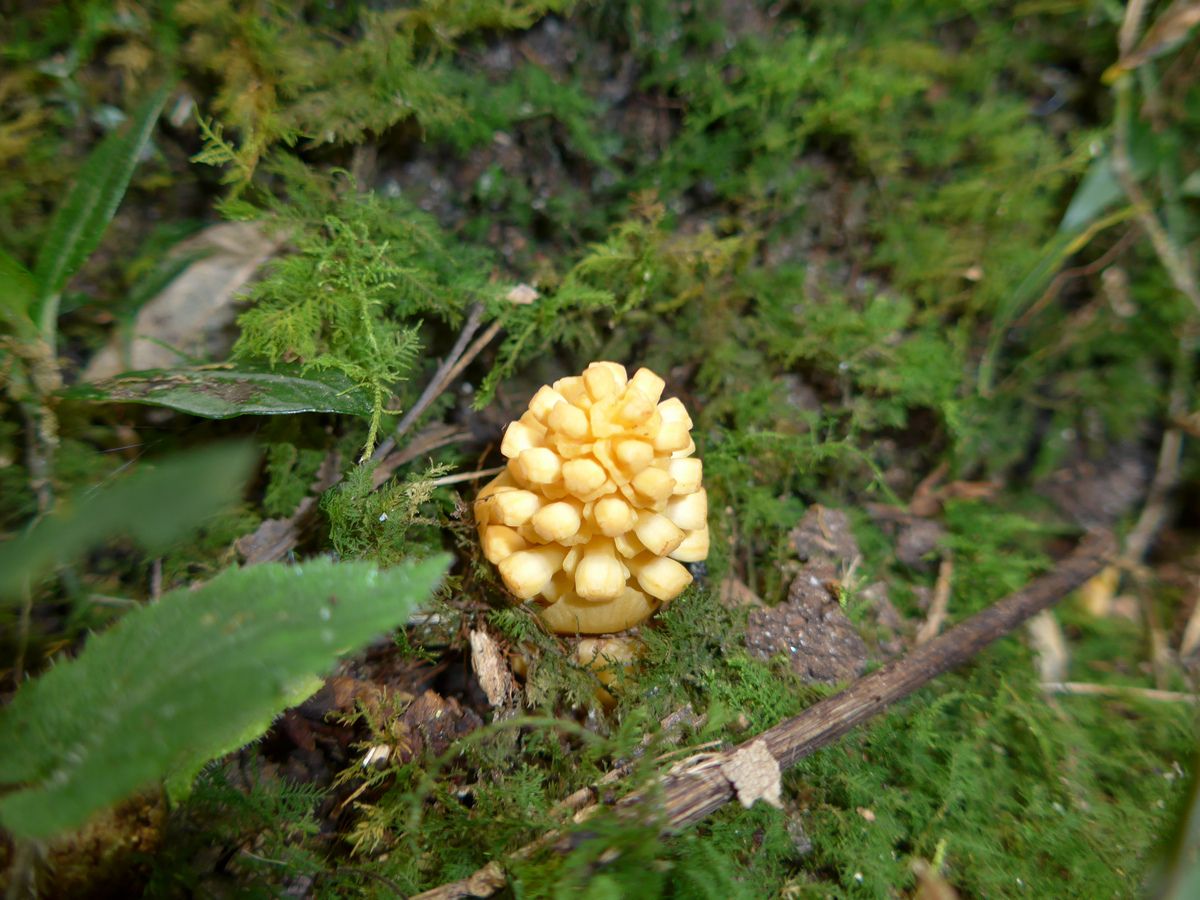 Demon 'pillar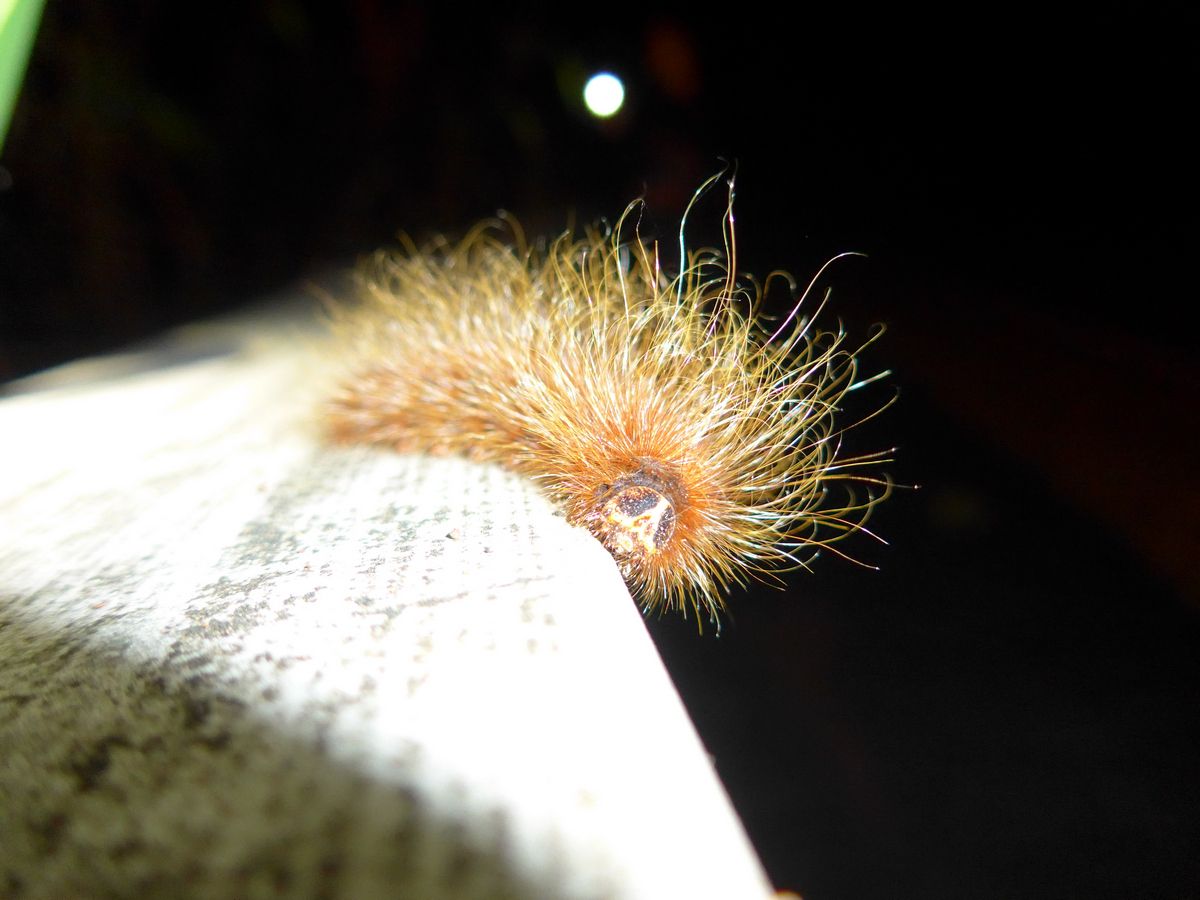 Broad-leaved ferns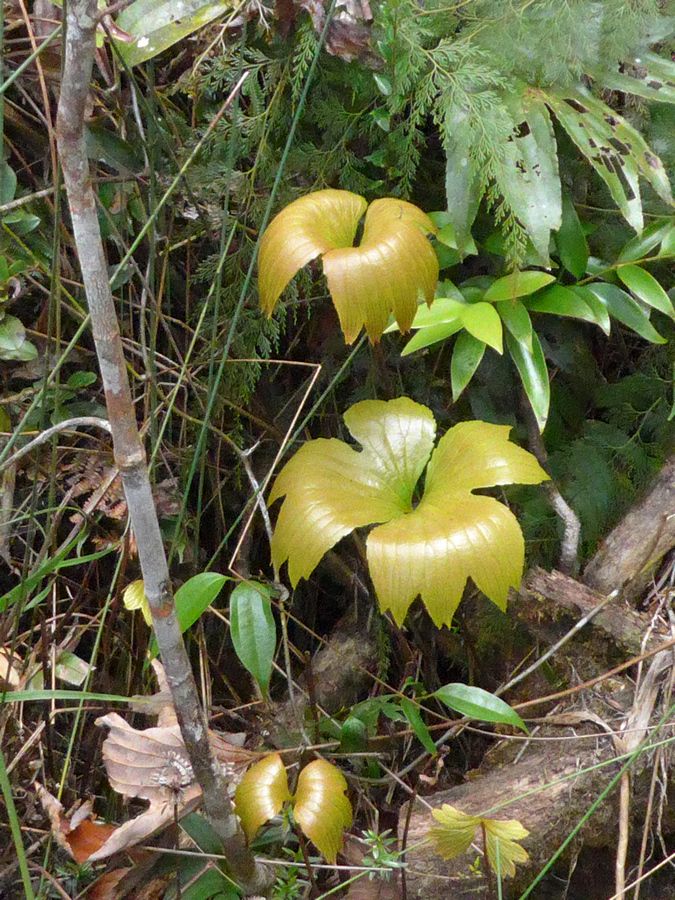 Haaniella scabra
I wasn't lying about everything being covered in mosses and lichens
... and orchids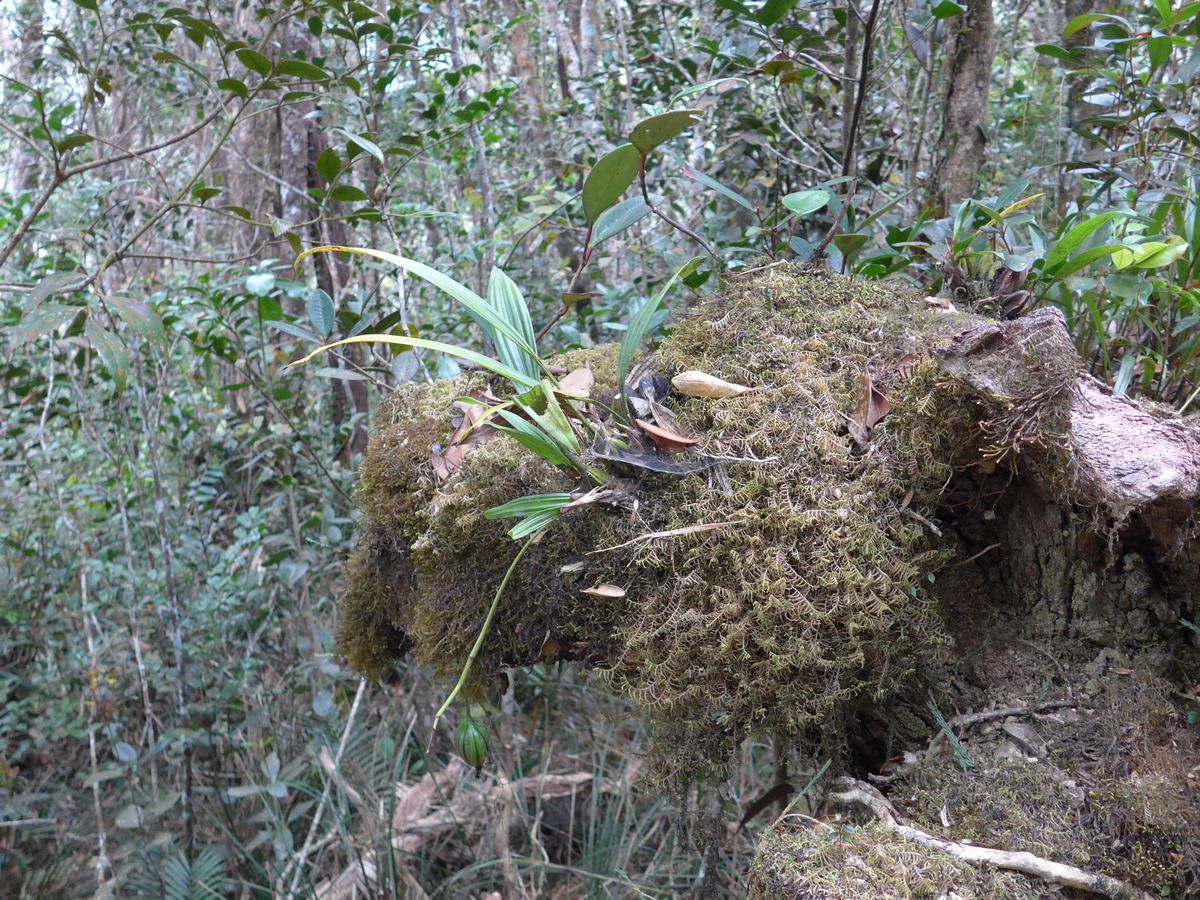 More wild orchids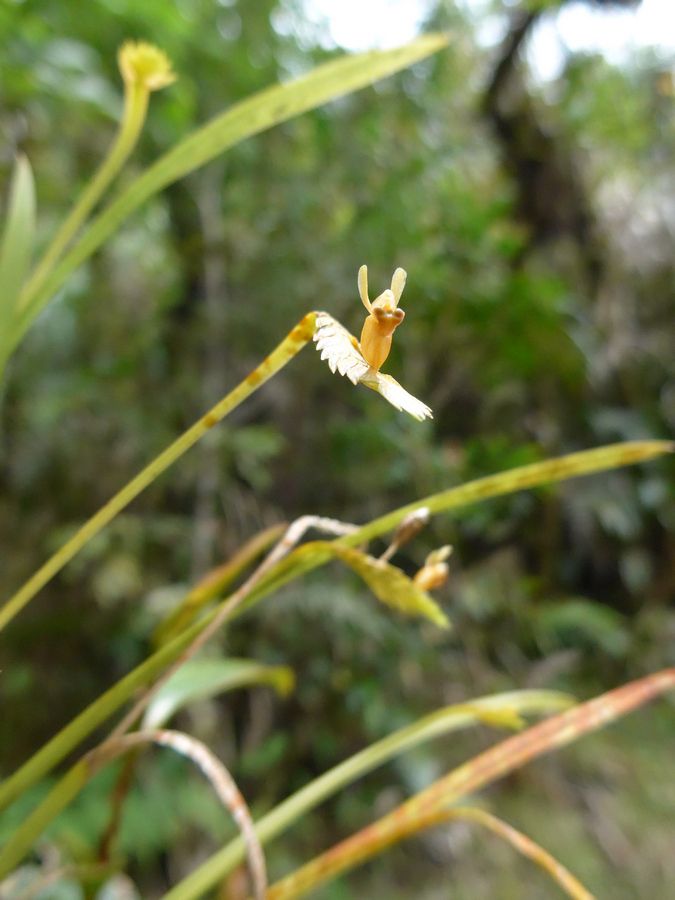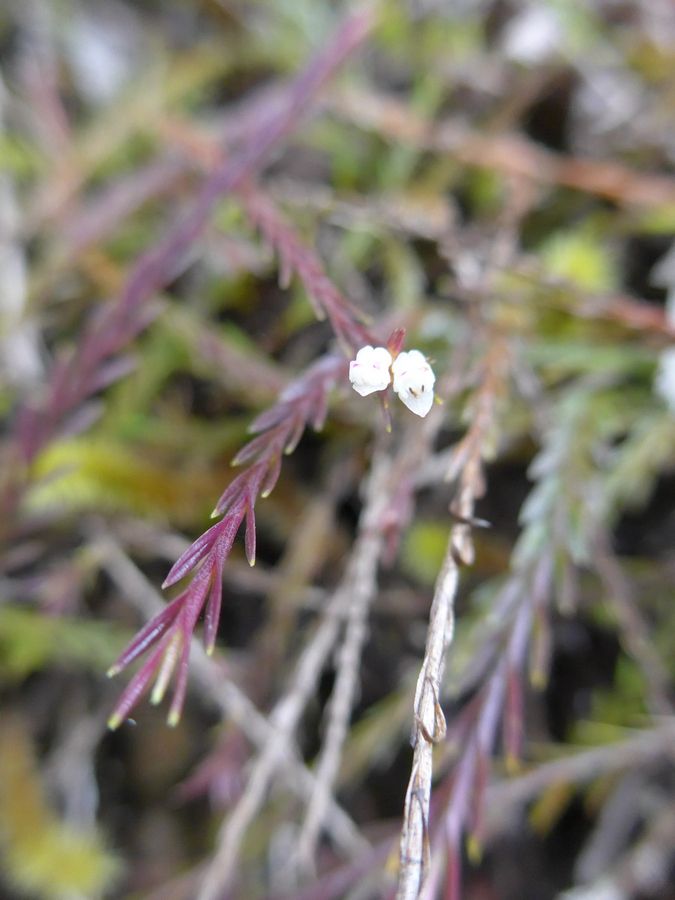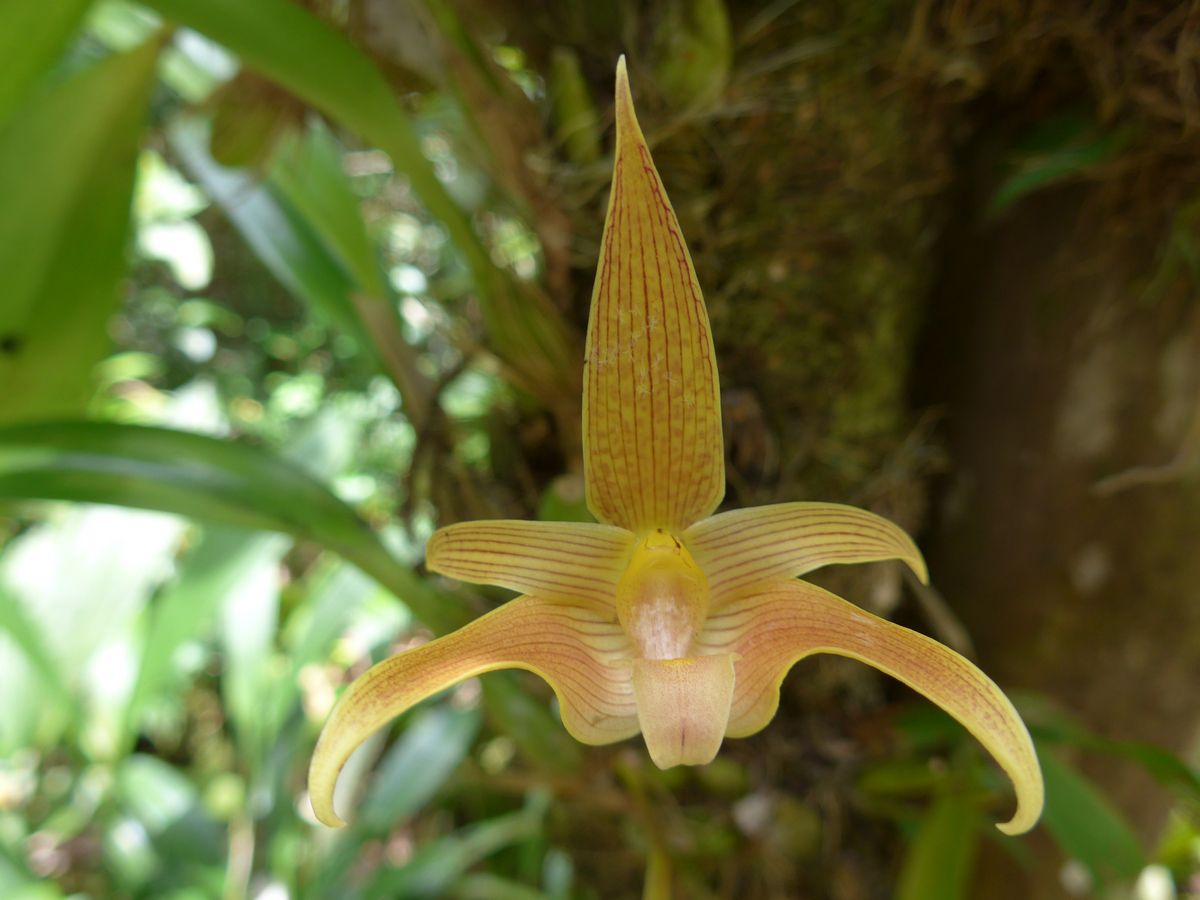 World's Happiest Man