After Borneo, our team split for a while. Moritz was adamant that he wanted to get to Kapong, Thailand, in the next two days because there was some girl he knew when he worked there that was leaving very shortly. Fair enough, but Rich and I had already decided that there was no way we were going to skip our already planned stay in Penang, Malaysia, as well as me revisiting Trang, Thailand, so Moritz booked a separate flight out of Kuching while Rich and I headed off to Penang for a day.
We arrived quite late in the evening and encountered a bit of trouble at the airport regarding how the hell we were going to get into town without spending an extortionate amount on a taxi, not to mention we didn't even know where we could stay anyway. Making matters worse, Rich's phone was not charging and I didn't have a SIM for mine. Luckily, a lovely lady at a spot we decided to get a bite to eat leant us her phone so I could call Evan, who we were meant to be meeting the next day, in order to ask for some advice. To our fortune, the ever-benevolent Evan offered to pick us up if we took a short taxi ride away from the airport, he also knew a few spots where we could find accommodation in Georgetown. It was quite funny actually, he rocked up to this one place, went round the back and started shouting up the stairs. After a little while, a man in his pyjamas drearily appeared and told us that they did actually have room, for a good price too! After that, we settled in, watched Austin Powers Goldmember, and headed off to sleep.
During our drive into Georgetown with Evan the night before, he had told us that he thought he finally had a lead on the extremely rare coral snake, Calliophis gracilis, and the spot was only a 40 minute drive away on the Penang mainland, near Butterworth. We knew that we had come here to experience hunting for fossorial species, so we were pretty keen on hitting any area, especially one which had a higher chance of yielding the mythical C. gracilis, so Evan swung round our place in the morning, took us to breakfast, and off we went!
Crossing the bridge to the mainland:
Destination in sight: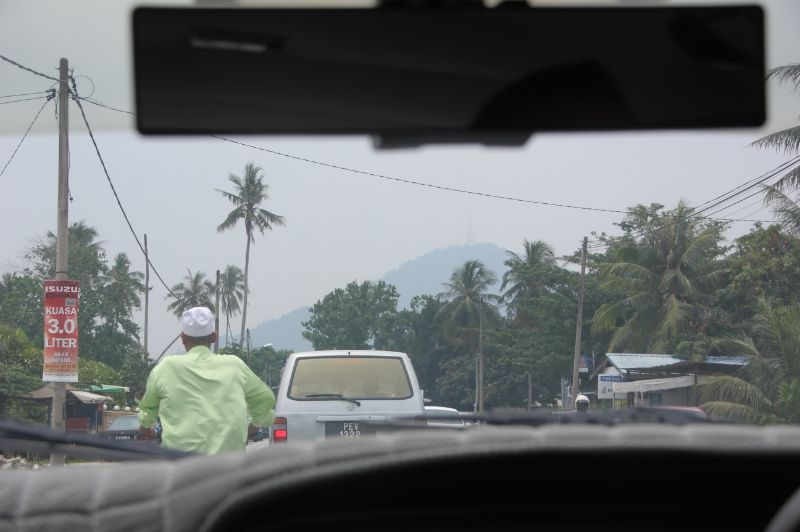 Our task for the day was to climb the road leading to the summit of the hill pictured above, all along the way digging in the leaf litter caught in the irrigation ditches at the side of the road. Evan was pretty confident that we'd find at least one snake using this method, so we were extremely hyped up on our way over.
As we got out of the car on arrival, Evan spotted a Dasia olivacea high in a tree, a new record for the area.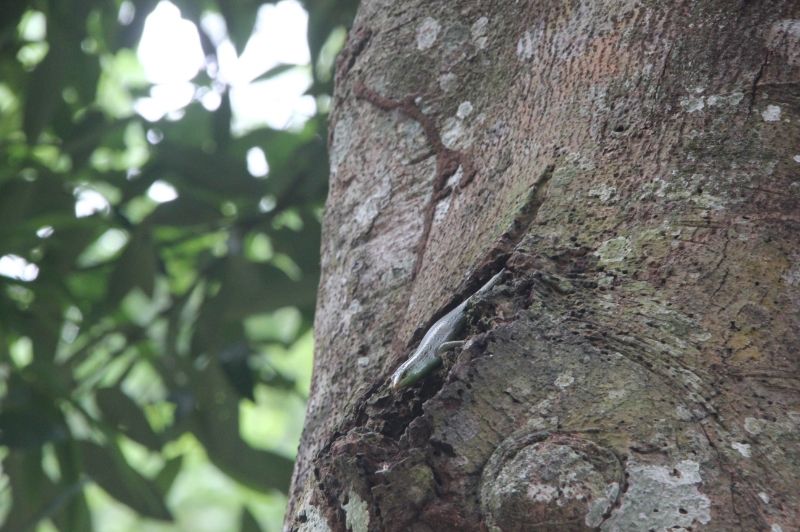 After that, it was down to the digging, which was gruelling work to say the least. The hill was 500m tall, and after not finding anything in the first 200m climb up the road, our motivation was beginning to wain. However, solace was found as Rich called out "Snake." from up the road. Evan and I jogged up to find him looking at a tiny little black snake in the dirt where he had just uncovered it, but I was still hyped because this was one of the main targets I had for our digging trip.
Dwarf Reed Snake (Pseudorhabdion longiceps), a species I had yet to see.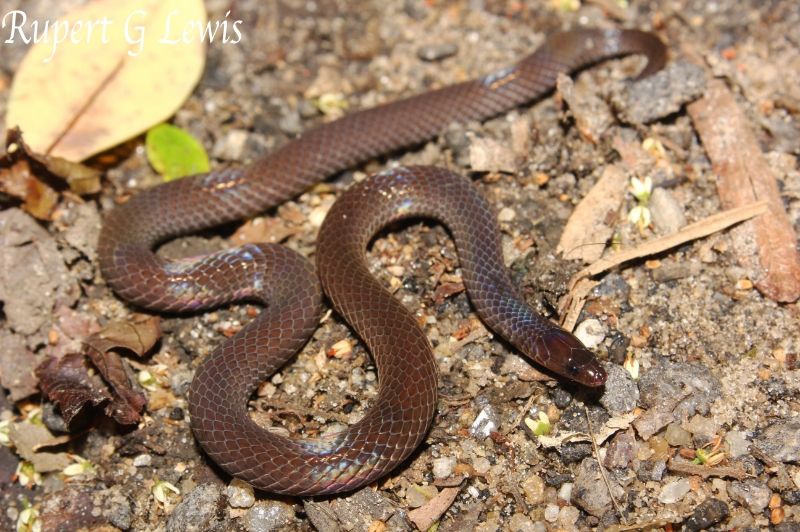 By now we were in a damp mid-elevation area, on the other side of the hill to the sun, and we were finding a lot more worms in the piles of leaves we would investigate. The increased amount of worms is likely why the Pseudorhabdion was there, and to further the trophic link, not 50 meters after Rich's find, I shifted a small pile of leaves to reveal the bright venter of the snake which preys on the Pseudorhabdion.
Not the one we were after, but cool enough anyway: Striped Coral Snake (Calliophis intestinalis). Just when I thought this stretch of road was done, about another 20 meters up the road, I uncovered a second one. I only photographed the nicer looking one.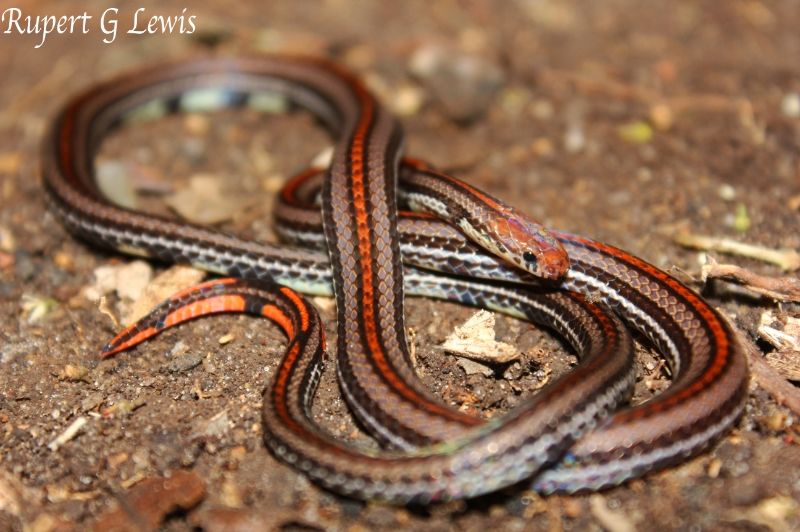 Rich analysing our finds so far: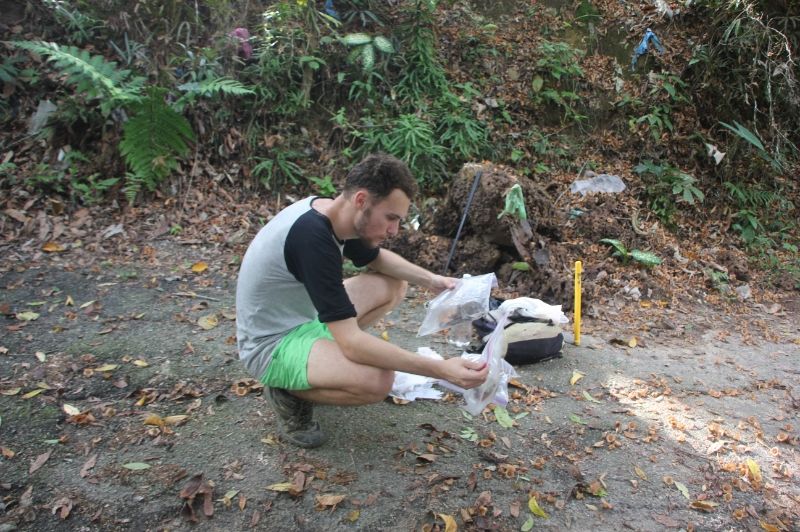 As we climbed higher there were some nice viewpoints, as well as some nice mammals.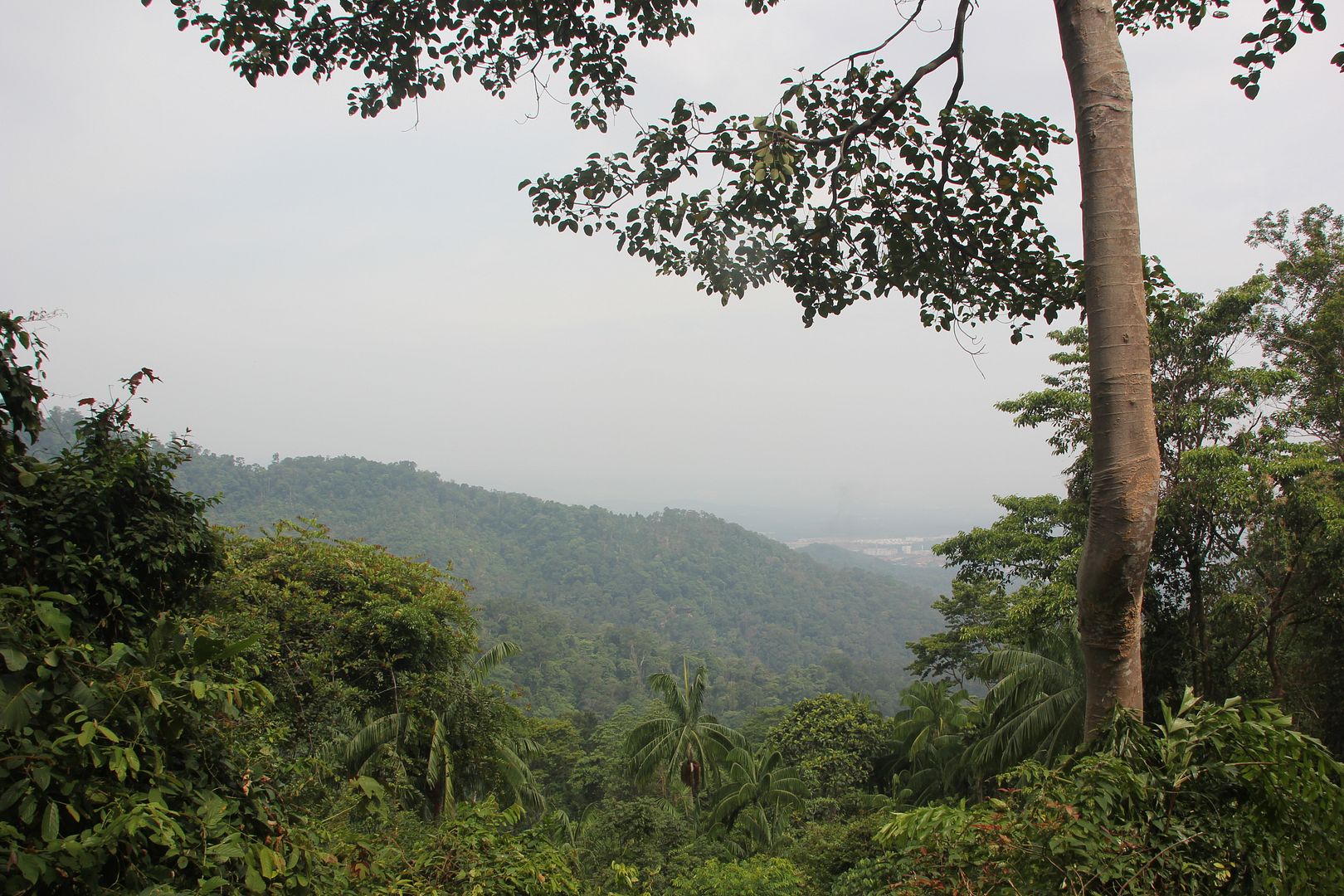 Dusky Langur: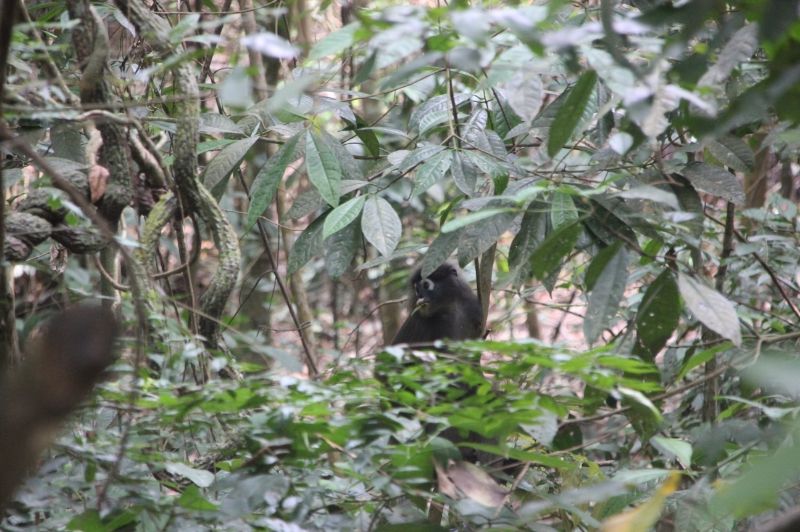 I saw what we believed to be a Speckle-Bellied Keelback (Rhabdophis chrysargos), a little further up the road, but it was extremely fast and disappeared into some thick undergrowth before our eyes could keep up with it. Not long after, I uncovered what I believed to be this undescribed species of skink which has been sighted here a couple times but never caught, I know why now, as it swam through leaf litter faster than I could move and was gone in less than a second. Thankfully, our luck changed at the higher altitudes of the hill when I heard some ecstatic cheering coming from round the corner where Evan and Rich were. I wasn't sure if they were cracking some banter or had actually found something so I sauntered round the corner, and to my disbelief evan was holding a smallish dark snake in his hands. Overexcited, I went to take a close look at it, which Evan took as a sign that I wanted to hold it so he let go of it's neck and it immediately shot out and buried it's teeth in my finger, I quickly retracted my hand so it went for next target and I guess it bit Evan, judging by his cry of "Evil bastard snake!". We were all laughing way too hard after this...
Mock Viper (Psammodynastes pulverentus) - dark phase: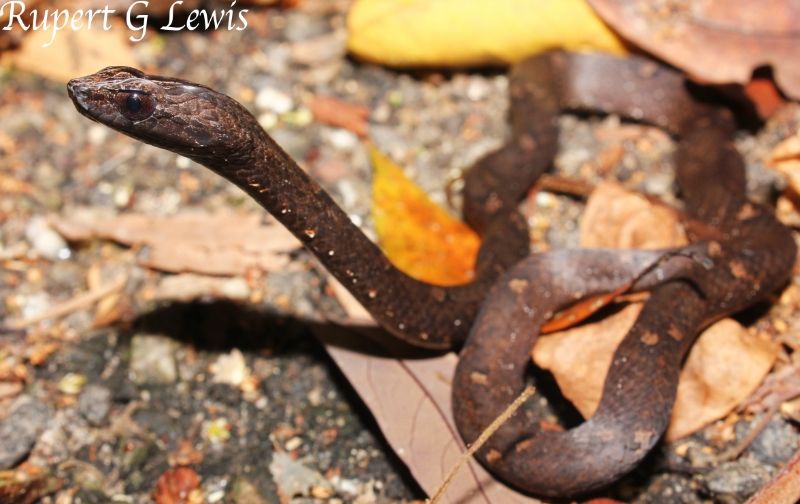 I had seen a couple before in the last 5 years, but this was the first one that I'd been able to photograph. Apparently Evan spotted it on some rocks on the bank of the road, walked up and plucked it off before it even moved. Wicked find!
Habitat: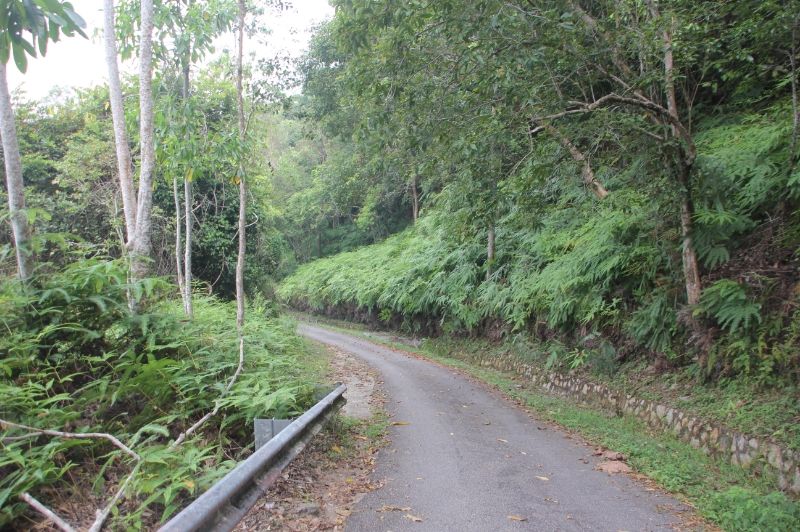 Herpers in habitat: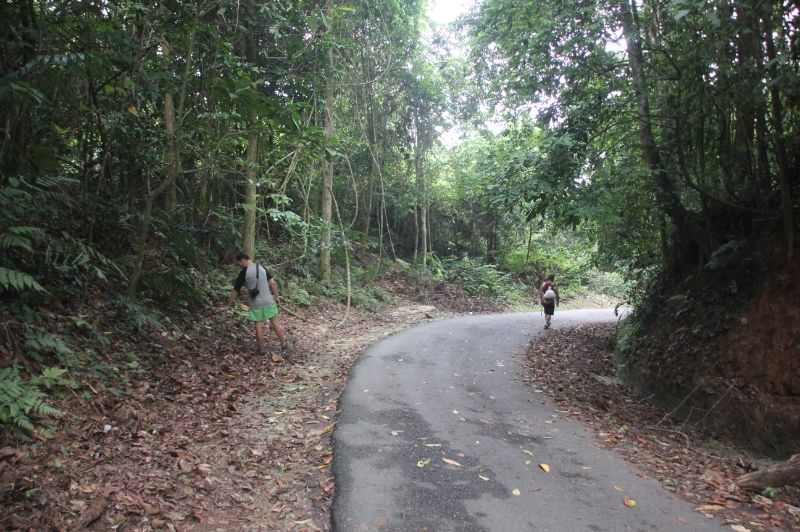 We were extremely hungry and pretty tired after our last photography session, so we paced it down the hill and headed straight into town under the sunset.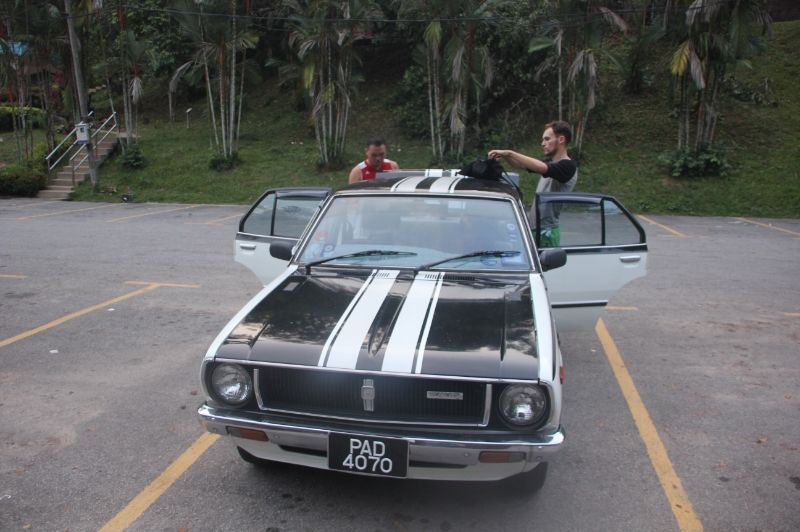 Happy lads!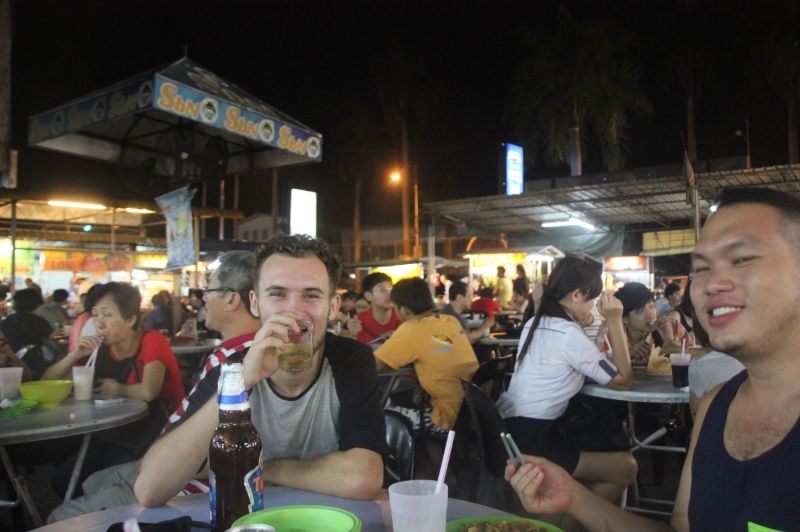 As if Evan hadn't helped us out enough already, he came by the next morning and drove us our to the bus stop where we said a merry farewell and headed off to Trang, Thailand!
I was ecstatic to say the least. For a year I had longed to return, to smell, see, and hear all the familiars, as well as experiencing it as something new - an actual holiday.
Not long after we arrived, Rich and I got a hotel amongst the hustle and bustle of the town centre, hired two bikes for a cheap price since the lady knew me, and headed out to the paddies just in time to catch the sunset, and a bout of footy! That was one of the best things about having Rich around, he always took initiative when it came to interacting with the locals.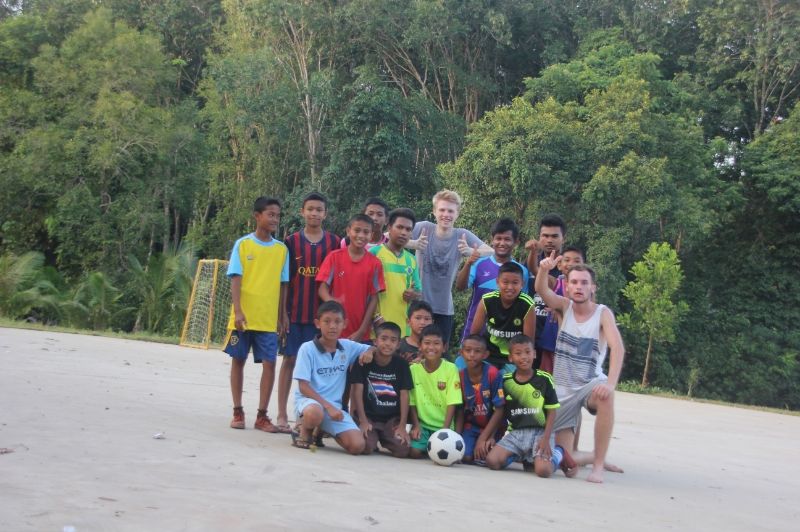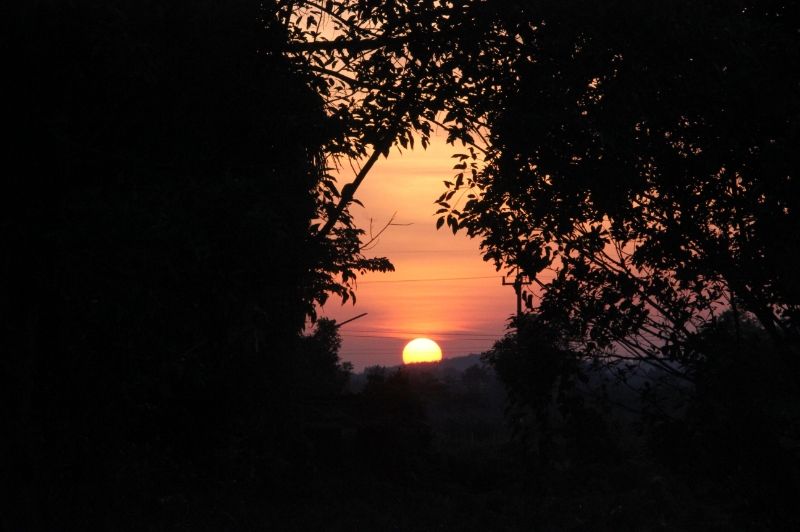 It was good to be back.
That evening, we ate in a spot I used to frequent by our hotel, and unsurprisingly met a whole bunch of the younger teachers which I used to hang out and drink with when I lived there, plus the friendly bunch of older expats which were good mates with my dad. It was great to see them, but herping called so we headed out. Well, it wasn't quite as simple as that, Rich had completely blistered up his foot playing football and was having serious trouble walking, but herping is herping and we were in a new place so he mustered up the strength to get as much walking as he could done.
There was really only one location I had my eyes on, by far the most productive area in terms of rare snakes. However, I had never really done a proper, long night of herping there before, so that was my main goal.
First we took a short detour down a riverside trail where I had found all three species of Ahaetulla in the past, but all we found was a diminutive White-Spotted Slug Snake (Pareas margaritophorus) - in-situ:
I only took about 5 shots of this snake since I'd seen so many before, but another reason why it's great to travel in a group is that everyone has different taste in snakes which influences each others feelings when we find something. For example, Rich is fascinated by Slug Eaters, so he really appreciated this little fellow, thus provoking more interest from myself than I would have shown on my own.
After this, we walked about 2km up the road which leads to the trail into the valley of the hill, stopping by a cabin where I told Rich I commonly saw Gliding Geckos (a species he really wanted to get up close with). While checking out the rooftop, I pointed out a large Tokay gecko, then moved on to look somewhere else. Rich stayed behind (I guessed he was observing the geckos), but then called "I think there's a snake." I questioned whether it was a gecko tail, but he seemed fairly confident so I walked over and sure enough there was the finest slither of a snake's tail visible in the rafters. This was a little out of reach, but luckily there was a chair lying around, so being the tallest, I reached up and began what I though was going to be a struggle of getting the snake down. Turns out, it wasn't even the tail I was seeing, it was the midsection of a tiny juvenile Bridle Snake, which I got down with ease - result!
Malayan Bridle Snake (Dryocalamus subannulatus):
I would have loved to have crossed the river over to the valley, but Rich's feet were killing him and I was happy enough that he had made it this far so we headed home to get a good night's sleep. We ended up watching a film and waking up at something ridiculous like 3pm the next day, but whatever.
We headed out for a brief walk that afternoon to scout out Khao Chong Valley itself. It didn't look like a single person had been through since I last had, but the main trail seemed to be in order minus a single fallen tree. We didn't see any live herps, minus the various
Draco
species which silently flanked us whilst we walked the trail, occasionally catching an eye when they swooped from one tree to another.
Come evening, we went first to the Trang Botanical Gardens, where there was a specific snake Rich really wanted to see which I could guarantee seeing several of. While walking on the pathway entering the gardens (they're more of a forest than a garden) I spotted a small black and white snake slipping off the paving, it was clearly not a a Krait so I swiftly moved over and picked it up.
Juvenile Laos Wolf Snake (Lycodon laoensis) - truly tiny:
I had never seen the white and black juvenile of this species, so I was quite happy.
Further down the path, we encountered the first of our target species, followed by a second, then a third, then a fourth, and even more after that. You really need to watch where you tread, as we literally never see these before they move - in fact I just told Rich to keep his ears out, as hearing them slither into the leaves on the edge of the trail is the best way of getting to see them.
Fairly temperate fellows with a nasty reputation (and venom), Malayan Pit-Viper (Calloselasma rhodostoma):
I was quite disappointed we didn't find anything in the swamp portion of the trail, and to add to this I realised I hadn't charged my torch during the daytime, postponing the night at Khao Chong yet another night! Instead, we went on a very brief road cruise around the outskirts of town for nostalgias sake, hitting the road which I pointed out that I always found the most stuff on. Sure enough, we spotted a snake crossing the road merely a minute after I said this.
Adult Lycodon loaensis, showing the typical (pretty) colours: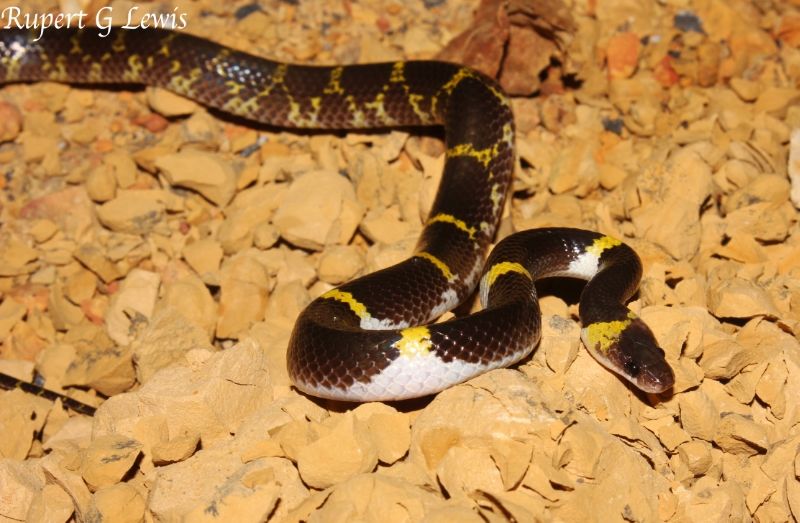 It was interesting that we found two of these in one night, since they weren't particularly common sights around town in the past.
We would've kept cruising, but after I'd taken like 3 photos it began to drizzle and fearing getting caught on the bikes in a torrential downpour, we called it a night and made sure we put our torches on charge!
The next day, we ate some lovely food at a small muslim place by our hotel, then I caught up with Kameron, one of the guys I used to go herping with when I lived in Trang. Afterwards, Rich and I decided to take the bikes out to the coast of Trang province, to check out an small area of Forest I had observed, but never been anywhere near before. This involved entering a maze of backroads through tiny villages, where we encountered this gutting DOR: HUGE Monocled Cobra (Naja kauthia):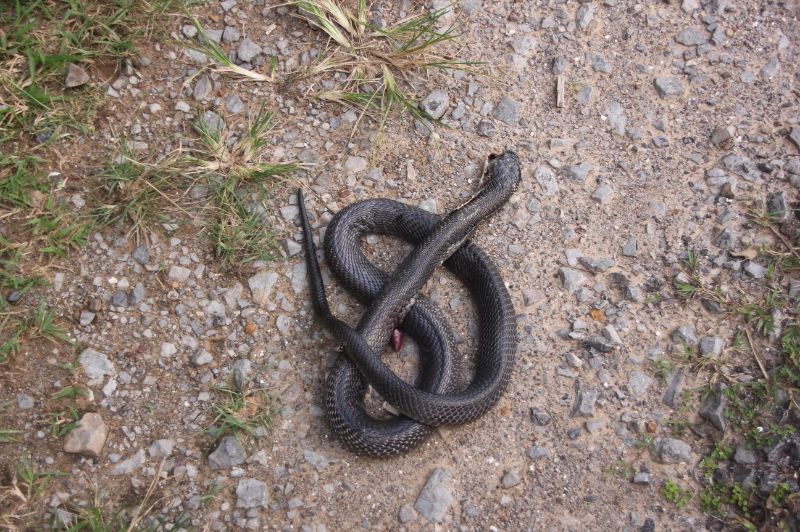 Rich was pessimistic about our chances of finding a way to the hills, but then I spotted a logging truck come out of a shady side road, and knew that was exactly where we needed to go. Sure enough, we wound our way through some beautiful sun dappled rubber plantation roads and eventually spotted a means of accessing the forest area. Alas, it was already getting late, but we still felt like we'd accomplished something, plus it's a spot I might be able to check out in the future.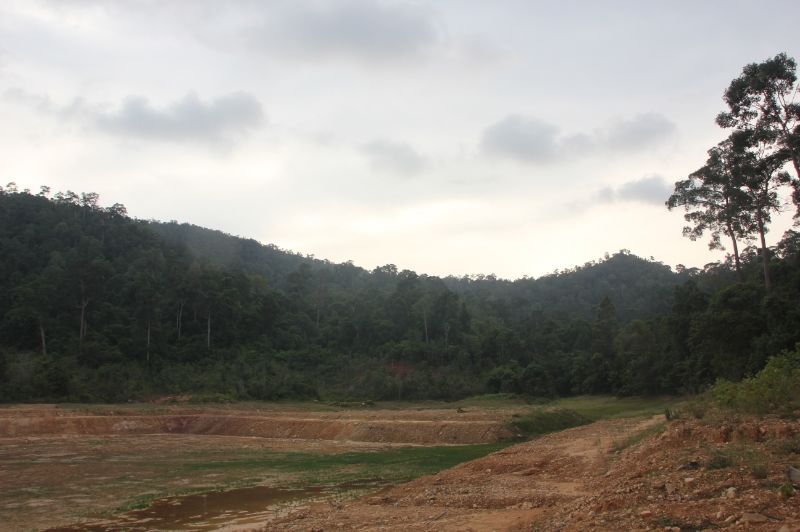 We chilled out there for a bit, saw a tree with Sun Bear claw marks on it, then headed back to town for a munch.
Afterwards, with fully charged torches and high levels of resolve, we headed out to conquer Khao Chong once and for all!
Upon arriving it was clear it had been raining heavily earlier in the day. A haze of evaporating rain rose off the tarmac and trees, occasionally naturally illuminated by the moon, playing peekaboo with us through the clouds. Rich mentioned that he had a really good feeling about tonight, I didn't want to agree at first but I could feel it to.
However, after walking the first riverside trail, then the 2km road up towards the waterfall, we had not made any notable reptilian finds, just this extremely large, and very cool Bird Eating Spider:
This had begun to worry us a little, since we'd been successful so quickly on the previous evenings. No worries though, as once we left the road onto the path into the Valley, I spotted a familiar sight high in a tall sapling. This is exact kind of image you need to drill into your brain in order to herp successfully in Asia, as it's so easy to miss the tons of arboreal snakes when your eyes are straining in the torchlight.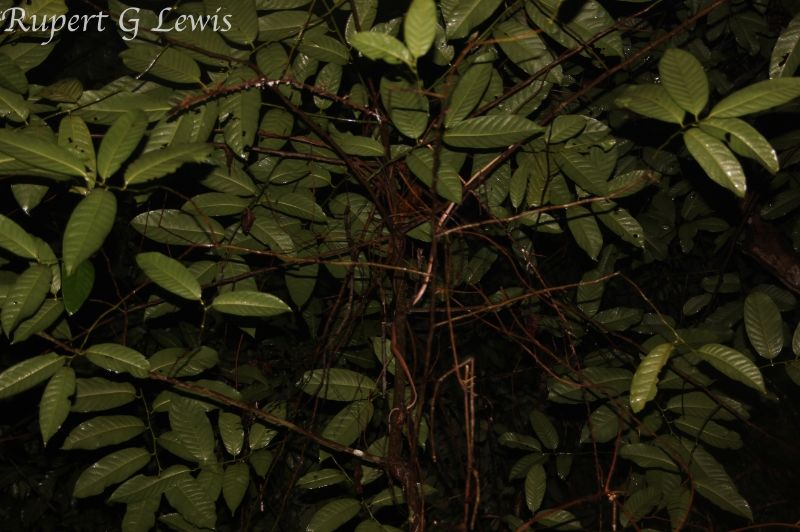 After reviewing the initial pics, I was sure it was either Boiga nigriceps or a young Boiga cyanea, so there was no way I was gonna not get this thing down. Funnily enough, Rich was extremely pessimistic about our chances of getting it, implying that there's no way we could bend the tree over. I remember looking at him as if he was mad, telling him to get the snake hook and prepare to untangle a snake, then walking casually over and bending the tree over until the snake was around shoulder hight. Laughing, Rich wound the snake off the branch so we could revel in finding a really rare and beautiful snake.
Dark-Headed Cat Snake (Boiga nigriceps):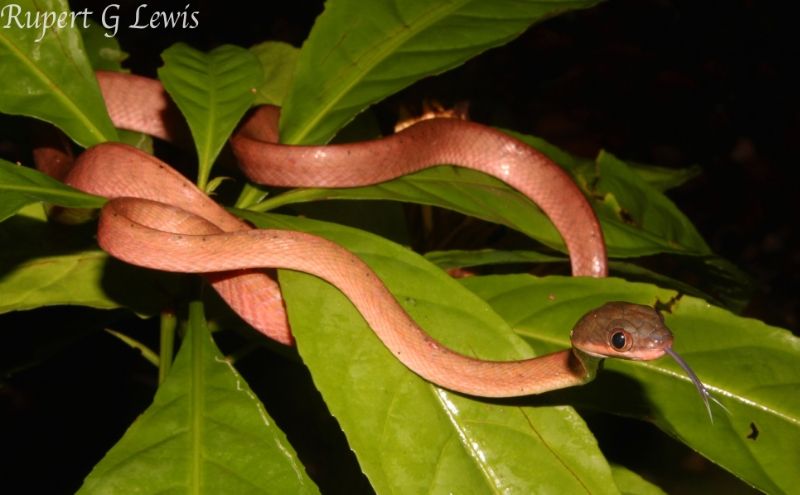 Lovely snake who's nature always appears to be curious. This was a very lovely specimen, and was also very significant to me since the only two I'd seen before had not been found by me, the first had been seen and caught by my father, and the second by my friends Tom and Nick. This was the first I had actively spotted myself.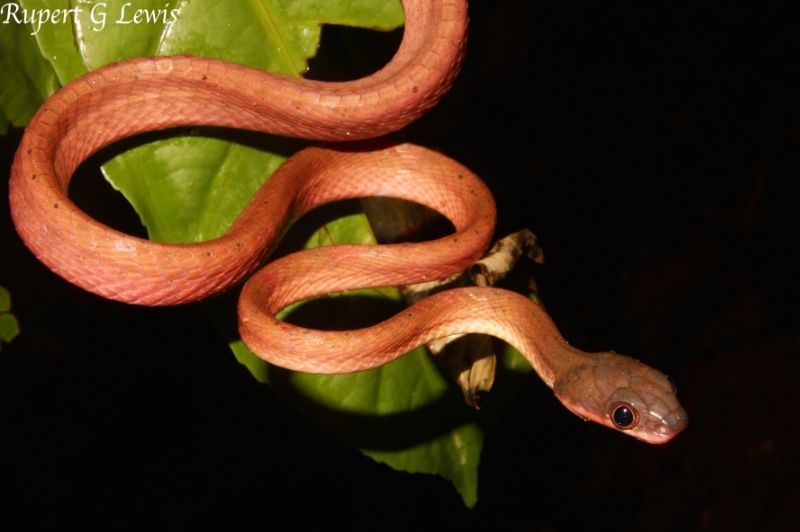 After letting this stunning snake go, we headed deep into the valley of the mountain, making it to and beyond the furthest I had been before, but without seeing anything snake-wise. It was only when we turned back and walked another substantial amount when Rich, who was leading the way, abruptly stopped with the spirit raising shout of 'Snake!'.
Keeled Slug Snake (Pareas carinata) - exactly in-situ: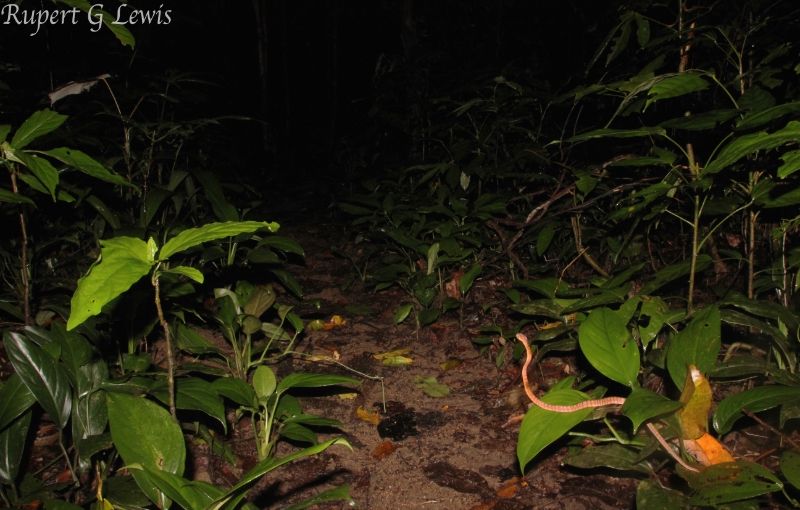 This snake was in such a good pose that we didn't bother touching it throughout the time we spent there, it was just too sweet of a serpent.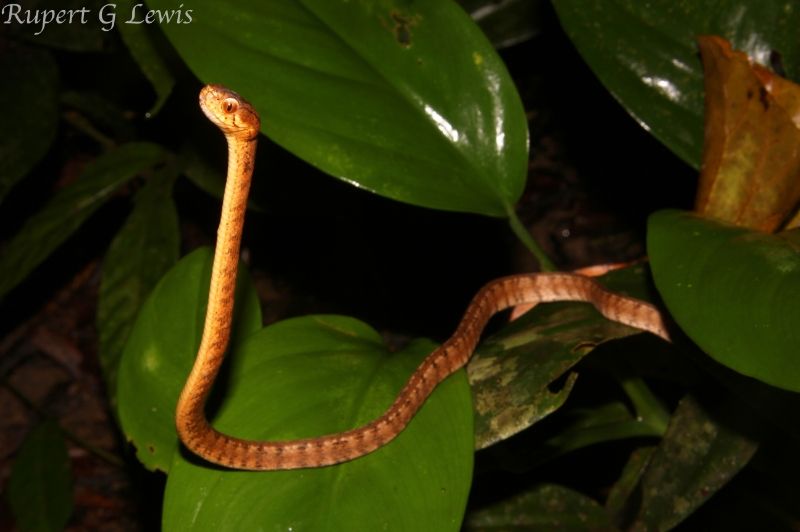 The Slug-Snake Man: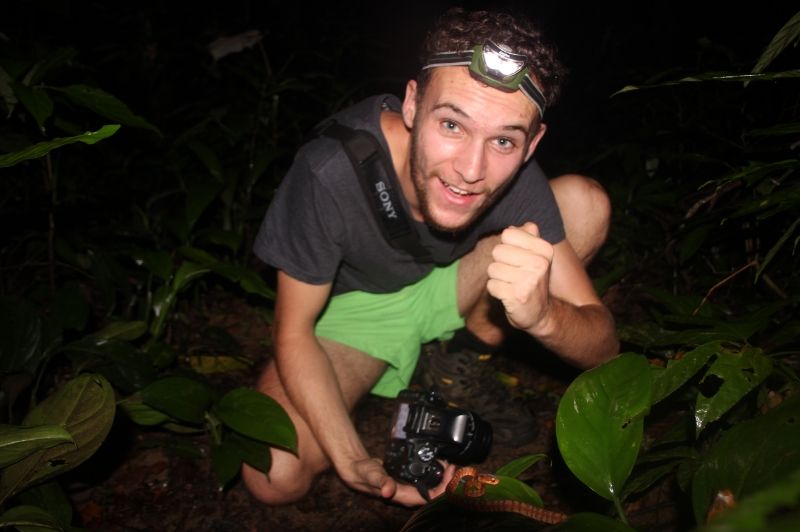 Remember I mentioned that Rich was leading the way, well, while I pride myself on my sense of direction, Rich does not, and after walking a distance on from where we found the Sluggie, the path just ran out and became jungle. We turned back on ourselves, only to find the trail dissipate into forest once again. This was one of the only experiences I've ever had of being truly lost in the jungle, and it took a real solid amount of retracing steps and head scratching before I definitely recognised the correct route again.
Feeling very relieved, we decided to call it a night and head back, keeping our eyes very pealed for snakes of course. Once we got back on the road back to the bikes, my torch was beginning to die so I switched it off and went by Rich's and the moonlight, which had lit up the still soaking ground. There were lots of twigs and leaves on the road, all given a reflective sheen by the water, and one in particular caught my eye up on the road. Thinking it was nothing, I looked away, but once I looked back I clocked that this twig had moved a good 2 meters across the road, and that it was actually a snake. It was moving fast so I paced it over and ecstatically celebrated our third snake of the evening!
Sunbeam Snake (Xenopeltis unicolor):
I'm not sure whether it was the relief after being lost, the fact that it was the first Sunbeam of the trip, or the third snake of the night (which had been our target number), but I don't think anyone has ever been so overexcited after finding a Sunbeam. I've always liked taking self-timer shots for the purpose of ironic humour, but we literally could not keep it together for this one; While I was running back from the camera, I tripped on a root and crashed into Rich, all the while trying to make sure I didn't drop the snake, resulting in these ridiculous photos as I tried to steady myself.
Shortly, after setting the Sunbeam free, we continued in good spirits down the road. I had my flickering torch on now, and shining it down the road, I saw a large stick about 20 meters away, but baring the previous experience in mind, I kept my torch on it and, sure enough, it revealed itself as a snake of some kind through the fluid motion of coils slipping on the wet tarmac. I calmly mentioned this to Rich, telling him to focus his light on it as we got closer. As we approached, the colours became more apparent through the aforementioned haze of water vapour, but I honestly could not begin to believe it until Rich and I silently crouched down where it had frozen in our pathway.
Red-Headed Krait (Bungarus flaviceps):
We weren't really sure what to do at first, and I think this was the first time we'd been almost completely silent when finding an insane snake. It was also so placid when we encountered it, but there was no space for photographs so I carried it a little way down the road to a forest clearing where we got really began to hype up over what we'd found.
For the entirety of the trip, we'd been bantering about finding one, and it became such an obsession that we started referring to Moritz as Flaviceps. Even earlier in the evening, we'd said things such as "C'mon, Flaviceps!", or "Bam! Flaviceps appears on the trail!", even "What if I called 'Flaviceps! Flaviceps!' and it turned out I hadn't found a Krait, but I'd found Moritz in the woods?". Now that we actually had one, we really were pissed off that the man himself wasn't here, still, it's good bragging rights.
Somehow, this is the fourth B. flaviceps I have found during my time in Asia, which is surprising considering that many people that have been herping out East for many more years have consistently run out of luck on this species. This was also the second I'd found at Khao Chong, which just goes to show how thriving the snake population is at that location, as it's able to support an apparently solid population of this highly ophiophagus species.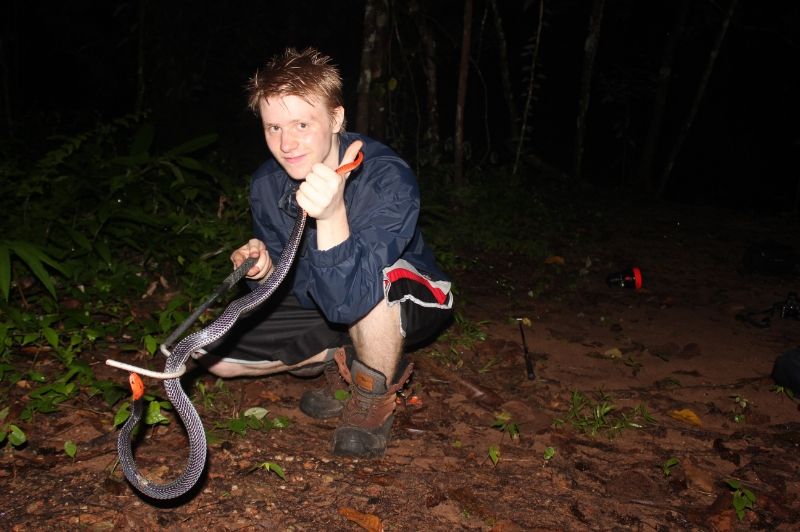 Unbelievable... and I'm not just referring to the B. flaviceps, as another 50 meters down the road, Rich spotted another snake crossing towards the river (the same direction the other two had been travelling), which didn't even seem that unrealistic at this point, as it was clear the entire diversity of snakes in this area of jungle were out to celebrate the evening's previous downpour.
Malayan Krait (Bungarus candidus) - juvenile:
This was another first for the area, and yet another indicator that there is a high concentration of snakes in Khao Chong.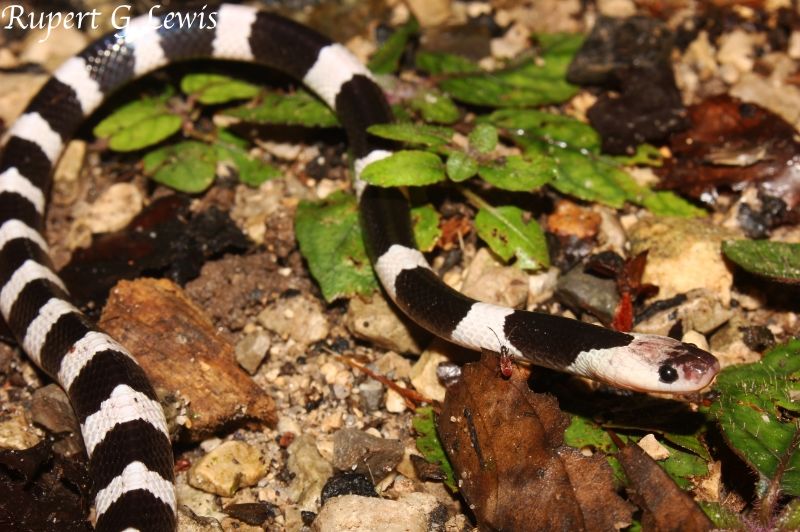 Five snakes is a bloody lot for one evening in primary rainforest, and considering what species we had found, this definitely went down as possibly the best herping night of the entire trip. It also goes to show how anything that seems negative at the time can become wholly positive, for example, getting lost in the extremely creepy depths of the forest and wasting over and hour trying to find our way turned out to be the reason we encountered another three amazing species of snake on our journey back, it's all about being in rhythm with the universe, so to speak, and I'm sure glad we were on that succulent evening in one of my most productive herping destinations of all time. That said, Rich lost his rain jacket and I lost my credit card in that same night, so take that as you may...
After an extensive search for my credit card (to no avail), we jumped on the bus to travel a couple hours north to Krabi Town, where we'd agreed to rendezvous with Moritz. We stayed one night at a place in town, before heading out to check if we could stay at Khao Phanom Mountain Resort, but they were closed for the owner's son's wedding which was coming in the next couple days. However, they did give us a load of free beer and said that we could swing by and herp any evening we liked. This was nice, so we stayed 5 minutes down the road.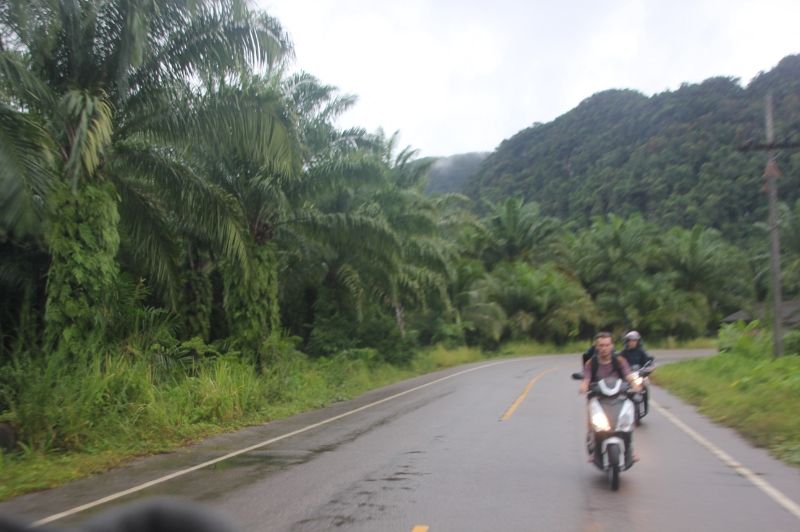 It's six 'o clock somewhere:
Striped Bronzeback (Dendrelaphis caudolineatus), found by Moritz I think: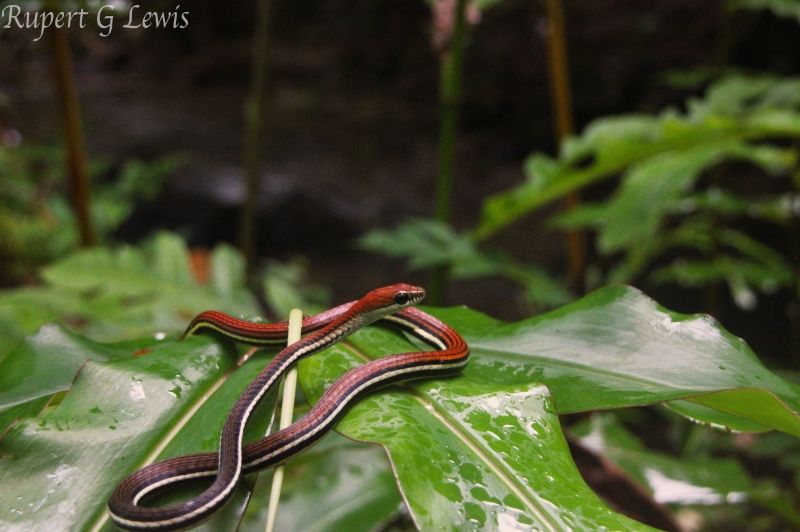 Very pretty, the first Thai specimen I'd had the pleasure of photographing up close.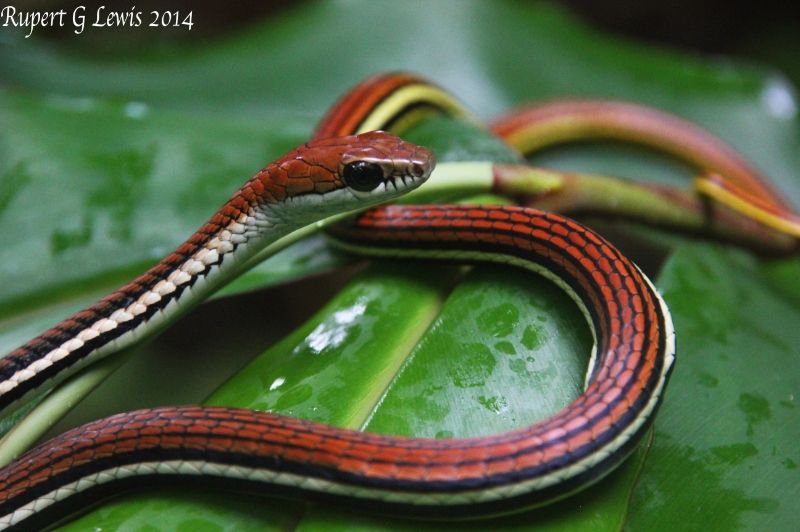 These guys are also very aggressive, with long, sharp teeth to match. I didn't get bit much on this trip but this snake chewed on my hand twice... ouch. (Moritz's photo):
More walking that evening produced a few more snakes, one being this small Ahaetulla prasina which I'm convinced I saw at least twice before in the exact same tree in 2013, when it was younger.
Further walking along the artificial stream produced a monstrous specimen of a species everyone wanted to encounter at some point in this trip. I let Moritz off the leash with this one and I remember being quite impressed by his catching/handling:
Mangrove Cat Snake (Boiga dendrophila melanota):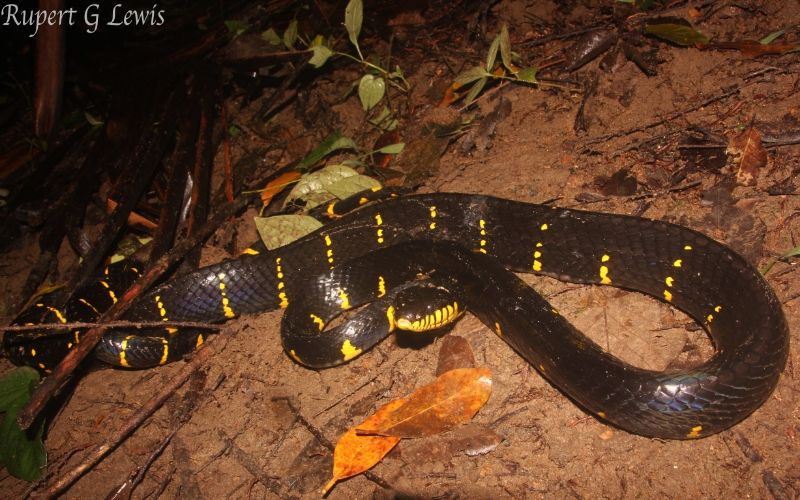 We walked for a fair bit more after this, but didn't find anything so decided to call it a night. However, just as we pulled out of the resort I spotted a very prominently coloured snake crossing the dirt track. I stopped, and Moritz almost crashed into Rich, which would have actually been payback for the times we bumped into his bike on purpose.
Malayan Krait (Bungarus candidus), I'm also sure I've found this particular specimen around the resort before:
2014 seemed to be a good year for these, as everyone was finding them it seemed. Indeed, this was the 3rd of our trip so far: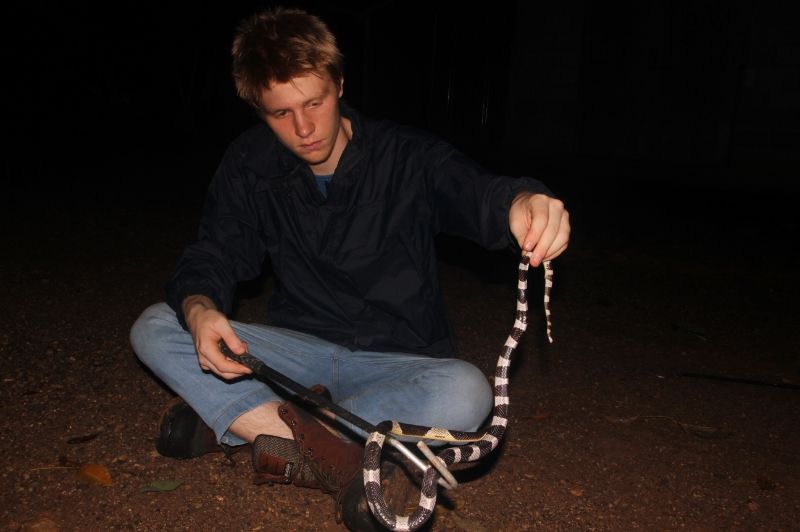 To make the night even better, I spotted this Pipe Snake (Cylindrophis ruffus) not a minute after we released the Krait: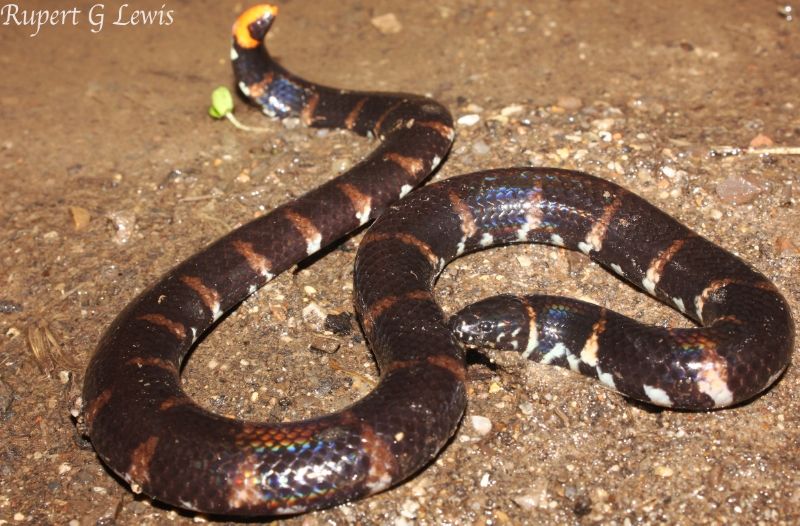 After reassuring the guys that this snake never bites, I had to eat my words as Moritz let out a blood curdling scream, then showed us the piece of skin it hard torn off. Safe to say none of us could stop ourselves from laughing hysterically. Five snakes and Moritz being bit by a Pipe Snake - a good evening to say the least!
The scenery in this part of Thailand is really quite sensational with all the limestone karst formations: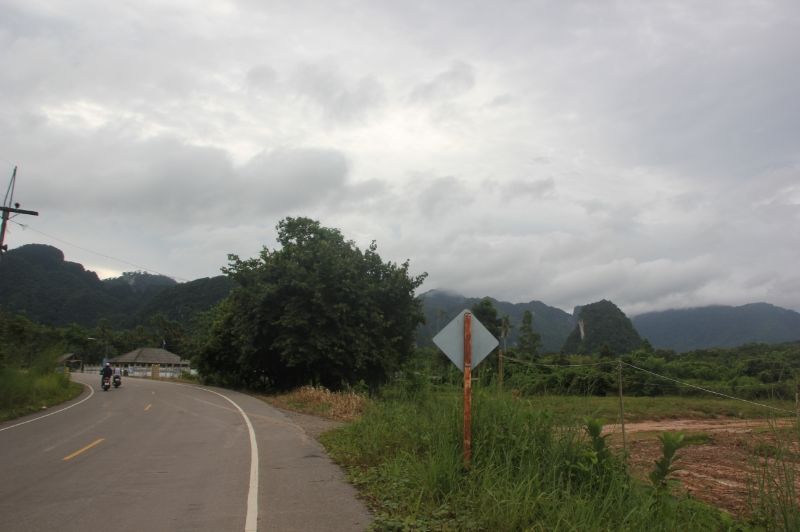 Herping habitat:
It was the evening of the wedding party (well, one of the three), so we considered taking a night off from herping to socialise and immerse ourselves in Thai culture. Picture taken at the beginning of the drinking:
However, my friend Jules (one of the resort owners) was there, and being the ex-drug smuggler he is, we ended up smoking weed and heading out to herp with his nephew. It was pissing down with rain, and we were fairly pissed ourselves, which isn't a responsible situation I know, but Moritz claimed not to be drunk and we didn't expect to find anything anyway. However, we were mistaken as after a few minutes I spotted a Keelback swimming in the midst of the stream. I was pretty happy to be able to show the lad a snake, so I quickly dived in and retrieved it to many cheers! Not long after, we encountered a small Ahaetulla prasina: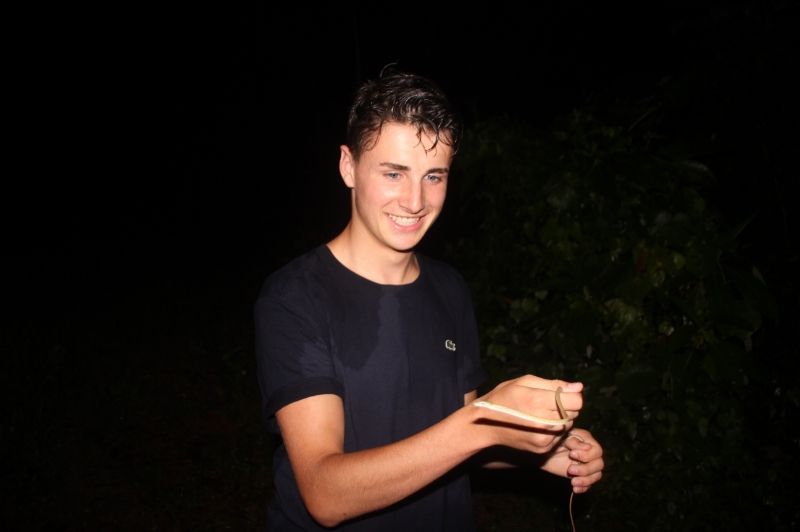 Since our objective had been completed, we headed back to the party to report our findings and continue the drinking! I was trying to keep this post as herp orientated as possible, but I can't not share one or two of the photos taken in the course of the night.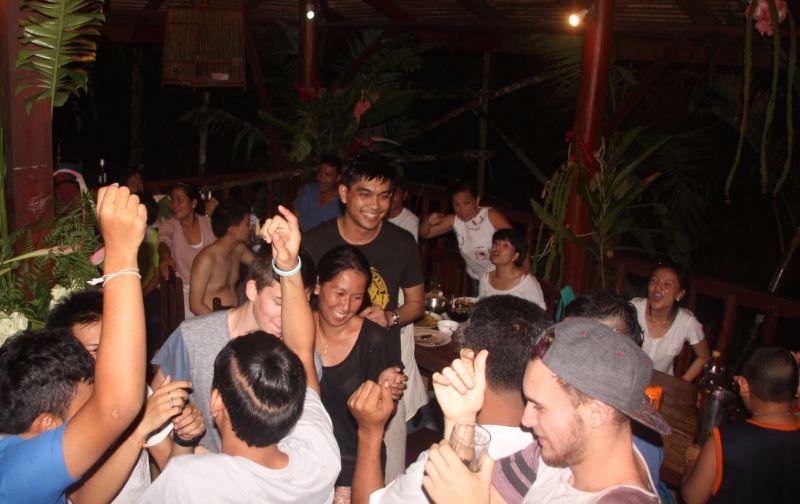 Something really intense going down: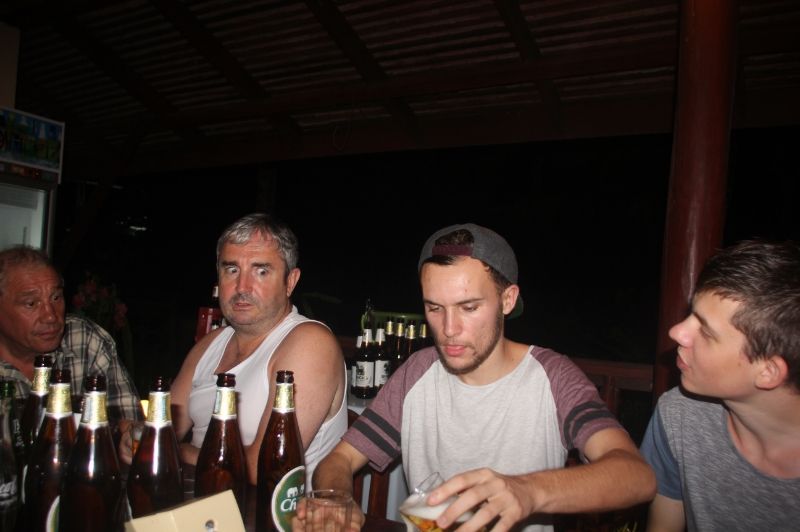 Cheeky bit of Hong Thong for the Brits... or something along those lines:
Moritz also went back out herping after the rain had stopped late at night and brought back a Wolf Snake, as well as reporting that he'd seen a Sunbeam Snake which got away. I don't really remember the snake because I was close to passing out, but I do remember them putting the bag the snake was in on my head and my hands, and telling me there was a Krait inside. Someone took this strange pic of it (and Son) with Rich's phone: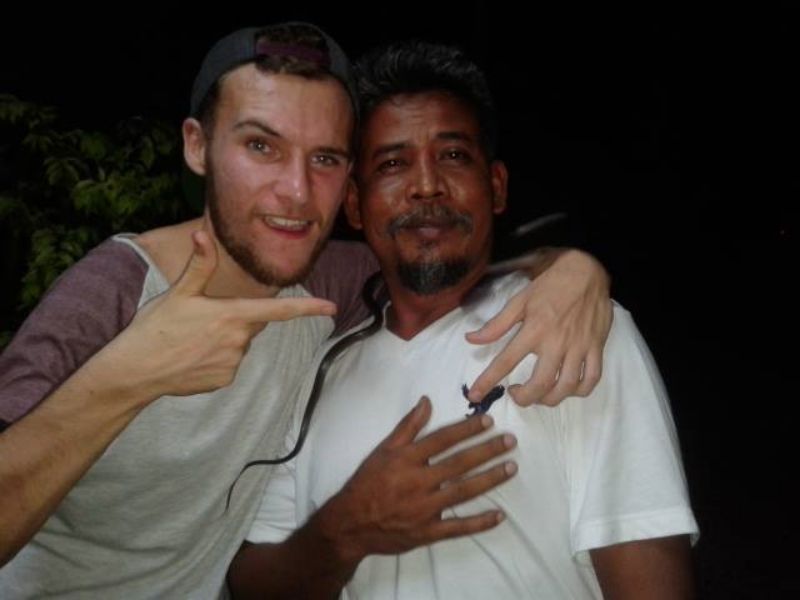 That was the very last photo of the evening, which ties in very well with the next day as Rich had arrived home the latest, the most wasted, and had completely lost his wallet. This left us in somewhat of a predicament, as Moritz had taken the bus back to Kapong that morning, expecting to meet us there tomorrow or the day after (I had booked to take some travellers out herping), but this was before Rich had realised his stuff was gone. If you can remember, I had also lost my credit card in the course of our time in Thailand, so there we were in Krabi with no money and a growing bill to the place we rented the bikes, as well as the accommodation.
I'm not going to go into much more detail on the matter in order to maintain a somewhat reasonable length to this post, but we attended the main wedding reception in order to eat dinner, borrowed some cash off Son, moved back to the place in town and waited for the next day which I'd scheduled to take some Canadians out herping.
Since they were paying, we took them out as soon as they arrived to hunt around the resort. I wanted to show them some iconic snakes so we checked out every building on the resort looking for a particular snake, and actually found it on the very last one.
Ornate Flying Snake (Chrysopelea ornata ornatissima) - in-situ: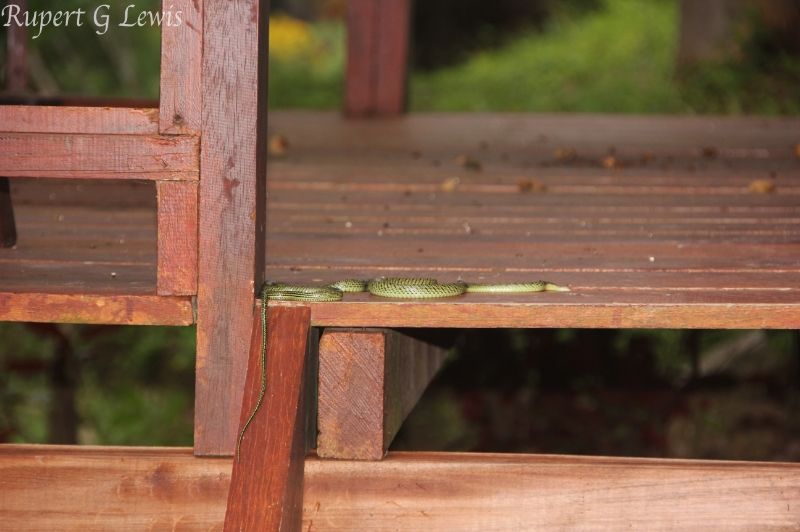 Rich and I photographed it under cover during some heavy rain:
Red-Sided Keelback (Xenochrophis trianguliguerus):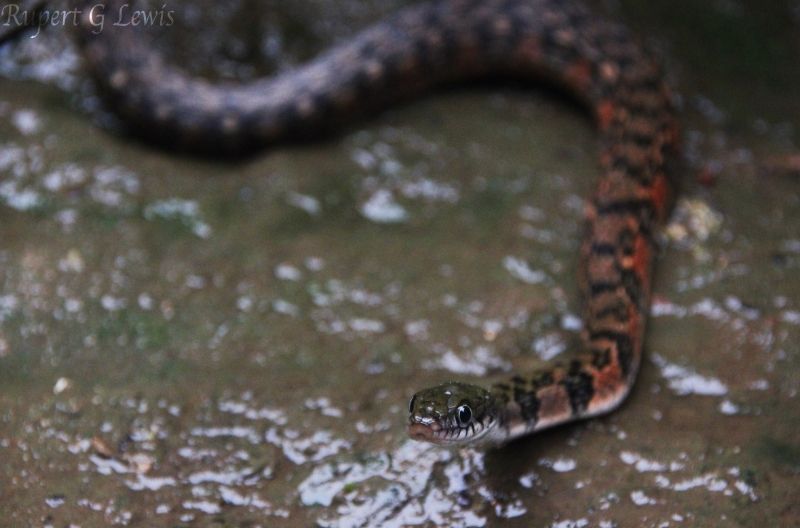 We were to encounter another one that evening when out walking:
After having dinner, we headed back out by night to see what we could find for them. The first find was a very impressive Tarantula of some kind: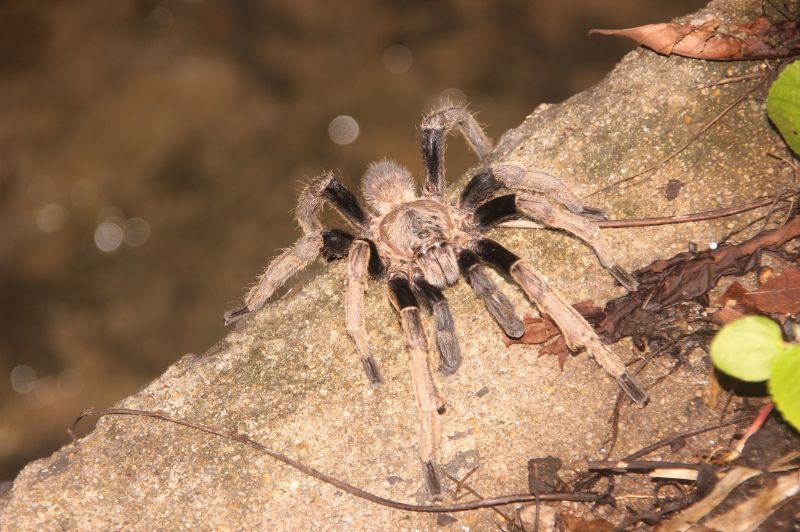 This was very well enjoyed by everyone around: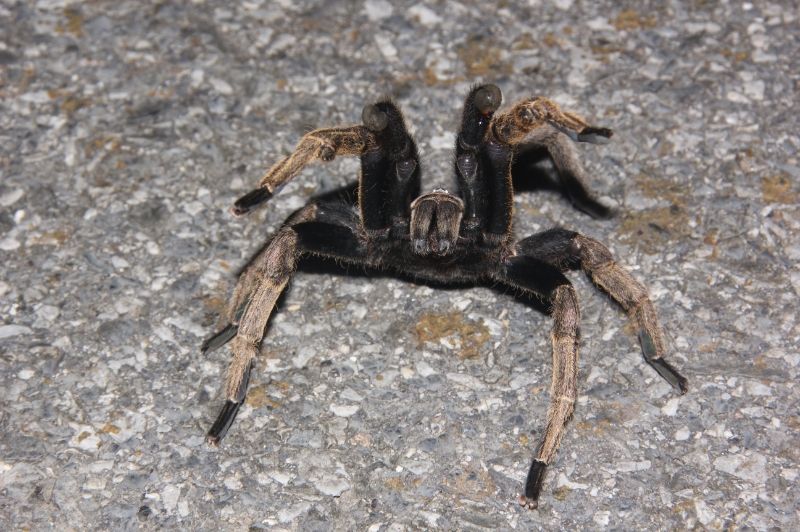 Later we encountered yet another young Ahaetulla prasina, but this one had a lovely yellow colouration: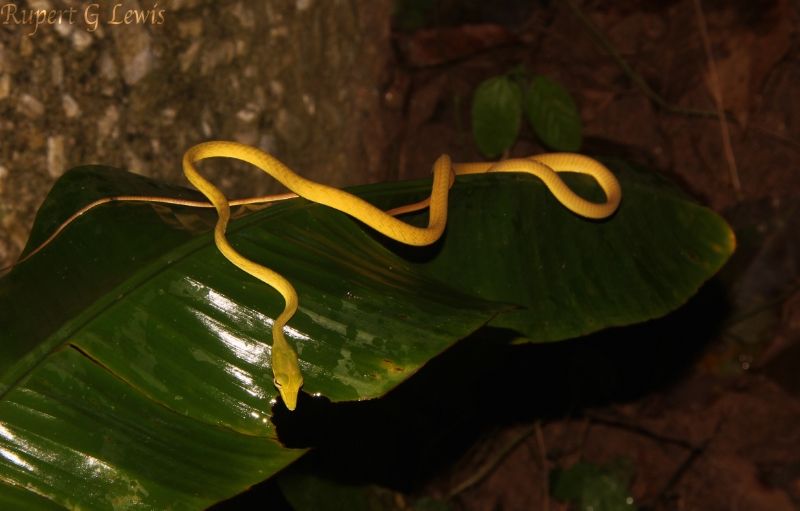 A little later, and a few seconds after spotting the X. trianguliguerus which I mentioned before, I shone my torch up the path and saw a snake moving across it. I sprinted up and gently caught a very large Malayan Wolf Snake (Lycodon subcintus):
This was the last snake of the evening, but showing them 4 snakes was not bad for a full moon night, where often it's difficult to find even 1 snake. One of the steep limestone bluffs in the fog, silhouetted by the moon: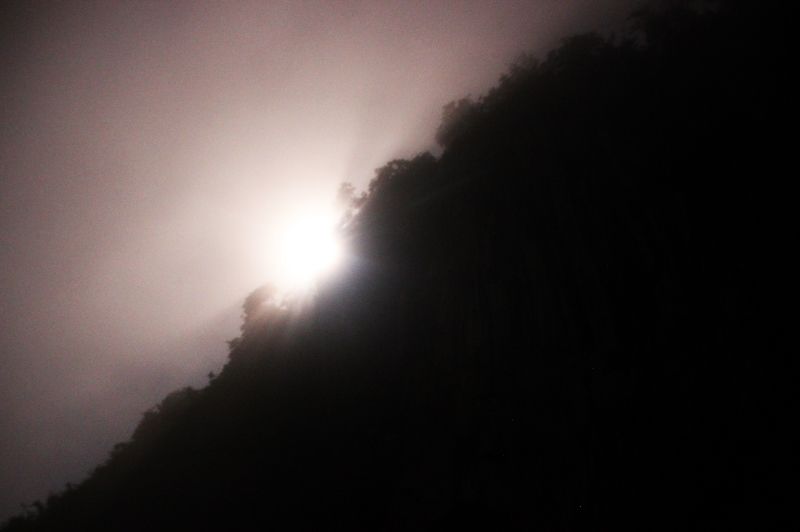 I did take them to one more spot, which turned out to be completely waterlogged. However, we did encounter this awesome Turtle whilst wading in the water.
Asian Box Turtle (Cuora amboinensis) - any freshwater turtle is a rare sight in Southern Thailand: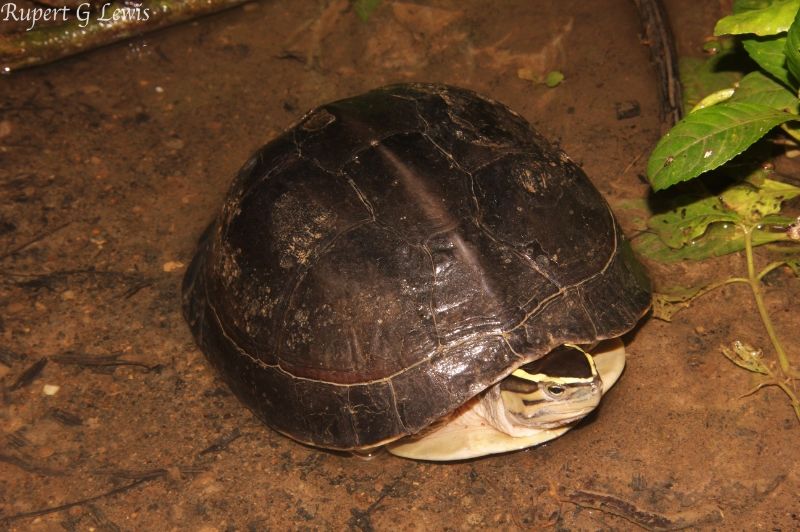 We said goodbye to them the next morning, and spent the next day trying to get money via Western Union, which should have been easy but my family were also on holiday and had no wifi. However, we did get some in the end, and jumped on the very first bus which would take us to Phang Nga Town, the closet stop to our next destination, Kapong. Once we arrived, Moritz and Victor (one of the young employees at Yaoawit) arrived in the truck which the orphanage/hotel we'd be staying at used to shuttle people around. The driver was an Thai ex-drug smuggler, so he drove so ridiculously fast it was almost scary, but very fun sitting in the open back nether the less, it also got us back to Yaoawit in no time.
Oh, I almost forgot to mention, whilst we were wasting away a couple days sitting in the hotel in Krabi trying to get money, Rich had booked his flight home. We all knew he had to leave a week earlier than us, but we didn't know he would book his flight for such an inconvenient time. So there we were, in the middle of nowhere Phang Nga State, and Rich had to find a way to Bangkok for 6pm the next day...
After a hassle of booking flights to Bangkok, we headed out to herp at 1am in the morning because we knew we couldn't not go on Rich's last night.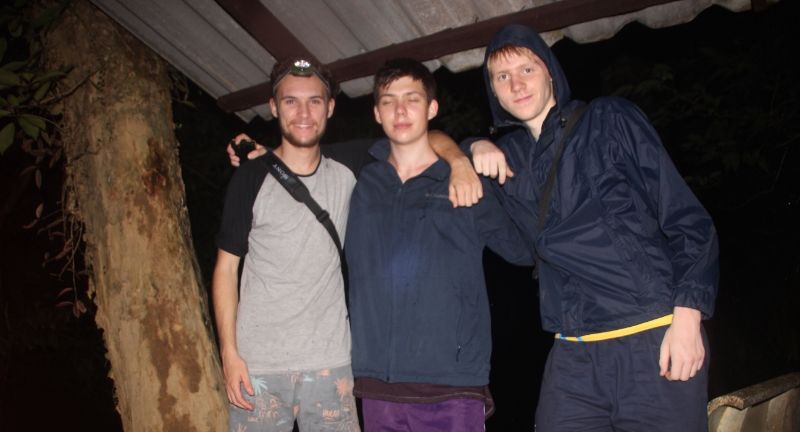 Since Rich had to wake up so early the next day, we could only take a short walk around a waterfall spot Moritz had discovered before we arrived, but we still found some neat stuff.
Firstly, we finally caught a Gliding Gecko - something Rich had been dying to photograph up close all trip long!
Kuhl's Gliding Gecko (Ptychozoon kuhli):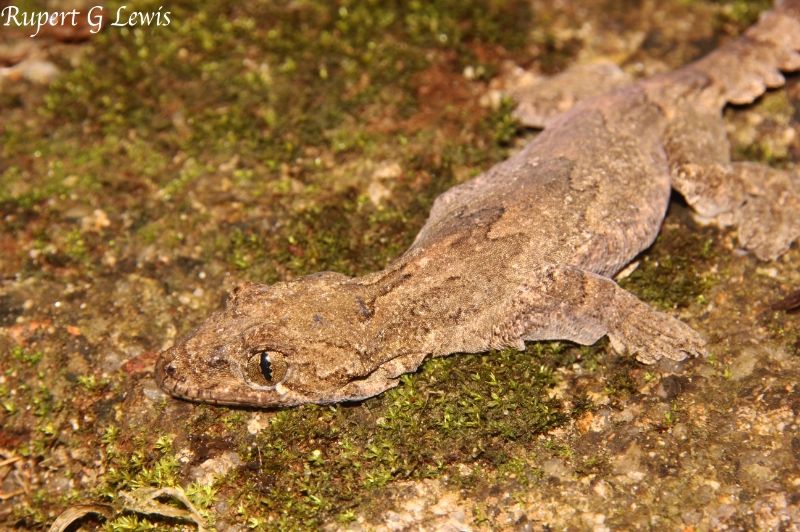 Then a little while later Moritz found this stunning juvenile Ratsnake sleeping on a plant by the water: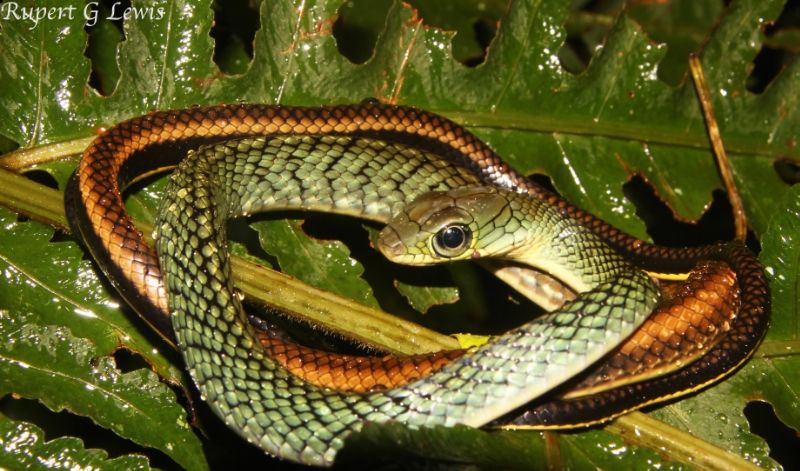 It was great to have found a cool snake before Rich left, so we headed back to the accommodation to sleep. We woke up early the next morning to say goodbye to Rich, went back to sleep, then woke up to fully realise that it was just Moritz and I now.
Once we were awake, we wasted no time in getting the bikes out to check the waterfall which we had herped the night before. This part of Thailand is very pretty in a rural way, plus the weather was fantastic during our stay; glorious sunshine with a little bit of rain once a day.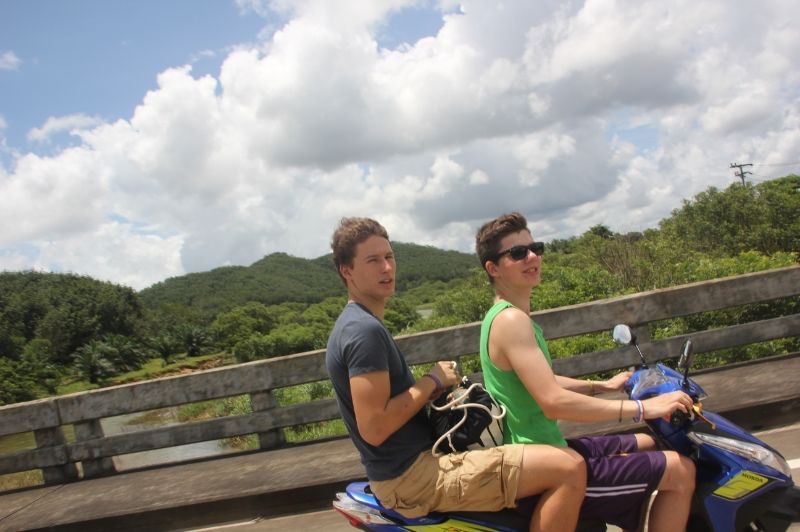 Unfortunately, this place is very untouched by the National Park and Conservation people so the forest is constantly being chopped away at, and the only real access to rainforest areas are the various waterfalls. However, this does mean that almost nobody herps here, and there is lots of potential to find something rare and exciting.
More habitat: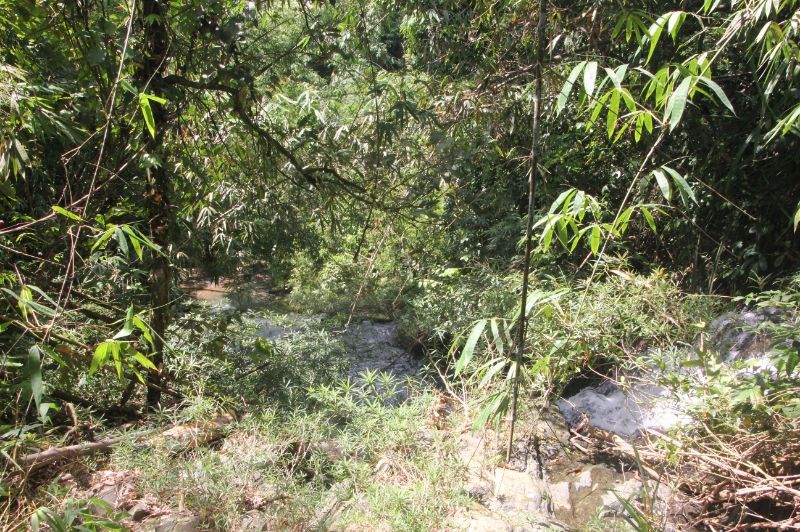 Every evening we would eat delicious Papaya Salad at this little spot on the outskirts of the village.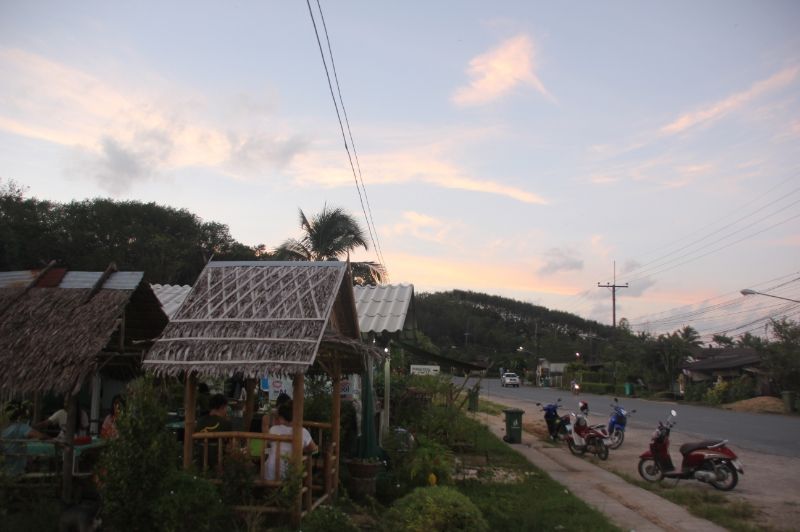 Once nightfall came we went back out to the waterfall we checked earlier. At the base of the waterfall were some large pools of slow flowing water with trimmed grass on the banks. This is what it looked like by day:
Anyway, each night we would find a X. trianguliguerus either swimming, in the grass on the banks, or resting in the shrubs on the bank.
Here's the first, pictured in-situ:
Keeled Slug Snake (Pareas carinata) which we couldn't positively identify, due to it's bland colours and absolutely massive size, at first: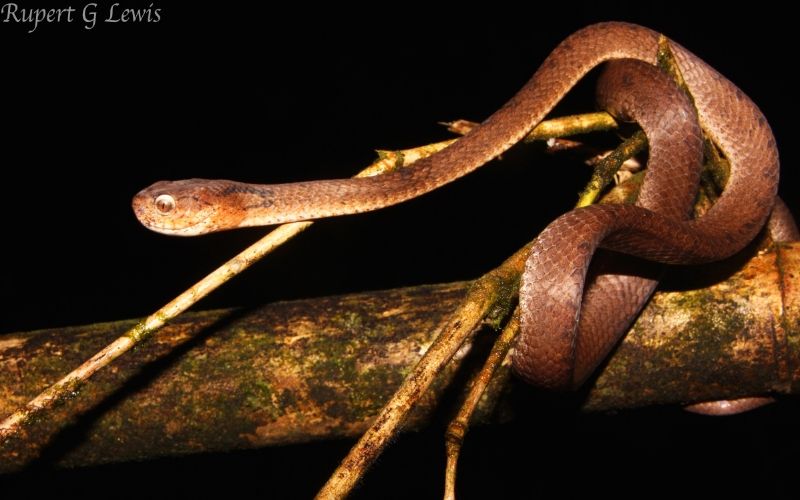 Only a few meters away on the same side of the trail was this very large P. fuscus, although we only spotted it on our way back.
White-Bellied Ratsnake (Ptyas fuscus) - in slough: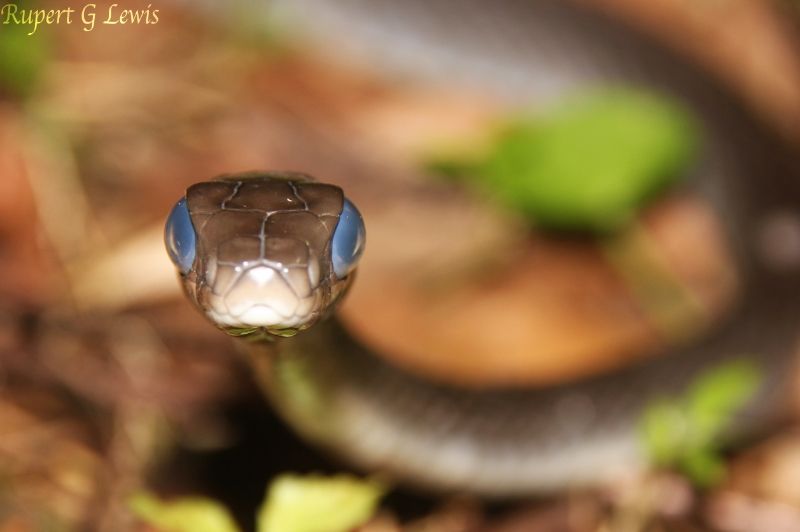 The next day, we headed out to the waterfalls around midday again, this time being a bit more intrepid and hiking a fair while to reach an isolated area of waterfalls.
En-route: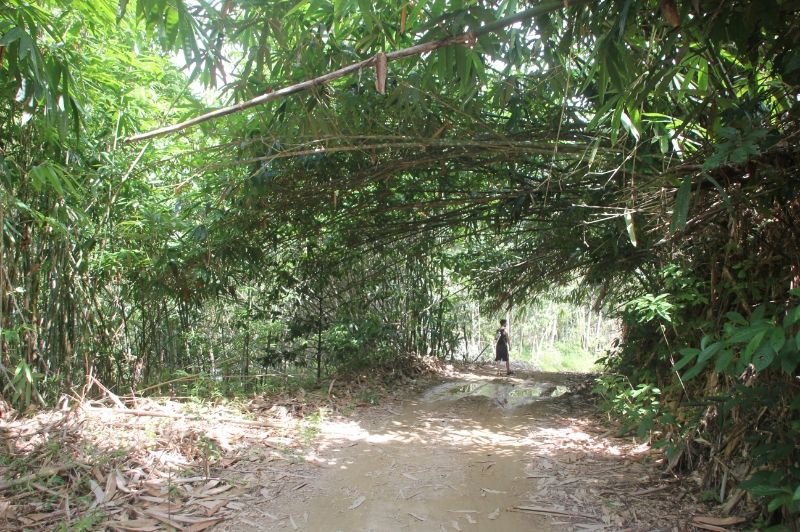 The waterfall spot: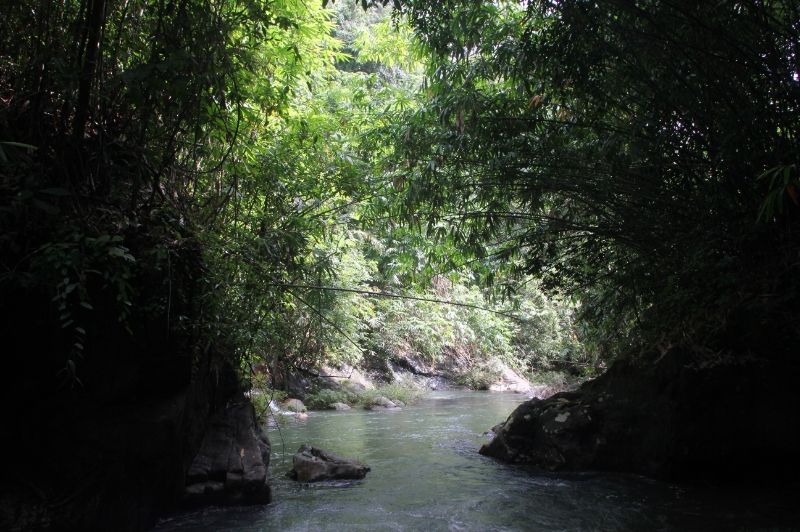 I swam downstream with Moritz for a while before getting paranoid about leaving my camera out of sight and heading back. Once I arrived on the large boulder where I'd left my stuff, I saw a small pink dot moving about on my camera bag. I thought it was some kind of bug at first, but when I got closer I realised it had a greenish serpentine body behind the pink dot. I wish I could have photographed it where it was, but unfortunately I had to move the snake off and open up my camera bag in order to get a photo.
Black-Barred Keelback (Rhabdophis nigrocintuus) - juvenile:
Last year Moritz had caught one of these while I was in town, so it was cool that I found one personally this time.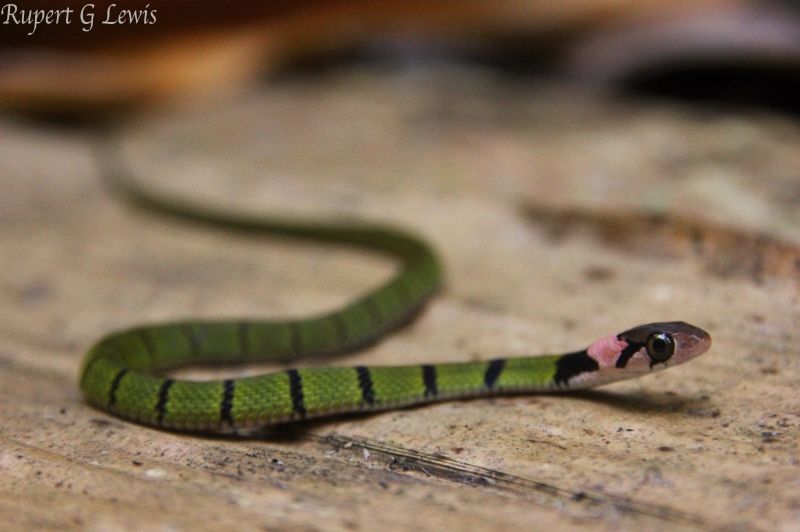 More beautiful Kapong: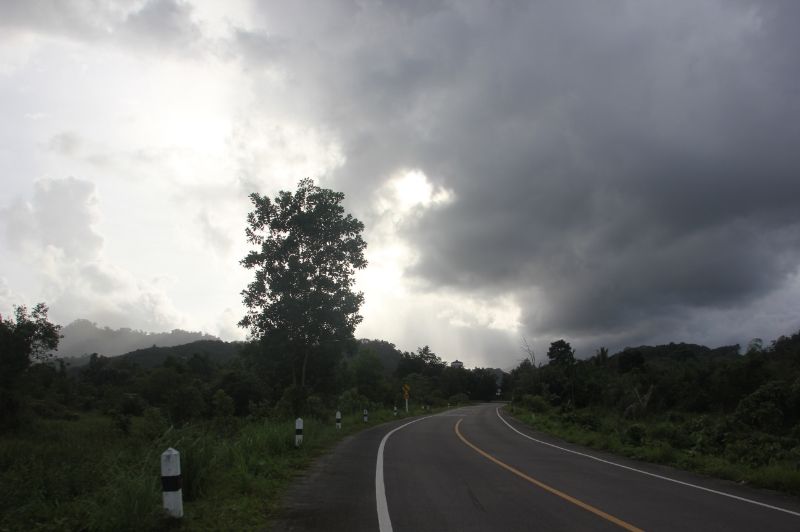 We went out to the same spot where we found the keelback that evening, but only found a couple lizards and another in-slough Ratsnake.
Cyrtodactylus macrotubercalus:
Ptyas fuscus - in-situ:
Back around the pools at the original waterfall, I spotted a Bronzeback resting on a branch of one of the trees overhanging the stream. This was luckily just within reach, so I brought the snake down expecting it to be either Dendrelaphis cyanachloris or D. formosus, but once it was down I though it might just be a pictus, but something was definitely not right. I knew I recognised the species from photos but I didn't want to put the name to in on the spot. Therefore, we took the snake back to the room, messaged some Thai herpetologists, and decided to photograph it in the morning.
Sure enough, it turned out to be the species Moritz and I expected it to be, making it one of the most significant finds of the trip. We took it out to the bank of the pools where it was found for photographs, and it cooperated really well, never biting.
Haas's Bronzeback (Dendrelaphis haasi), a species not officially recorded in Thailand before:
Also one of the Thai-Malay Peninsular Bronzeback species I had yet to see.
After taking a scale-clipping and setting it back, we did some more exploration to no avail and then waited for dinner.
Demolished Papaya Salad: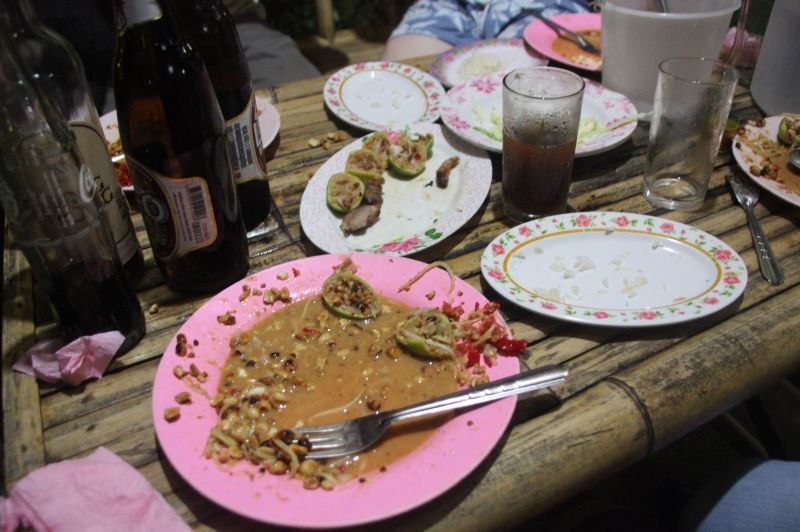 In-situ big X. trianguliguerus:
We walked around that waterfall for a bit more but only saw the D. haasi from earlier sleeping about 5 meters away from where we released it. We had already decided that we were going to wrap up early with just the one waterfall stop tonight, but I really didn't want to go home just yet so Moritz and I strolled up the road which leads to the waterfall. I was checking the holes in concrete the telegraph poles hoping to find some kind of Tarantula or sleeping lizard, when I looked up and to my upmost surprise was looking at a snake staring right back at me - not from inside the holes, but simply clinging onto the side of the pole!
Dog-Toothed Cat Snake (Boiga cynodon) juvenile - in-situ:
This was a nice conclusion to our time in the area, especially as it was so cooperative when it came to photos. I took several very nice photos of this very beautiful specimen: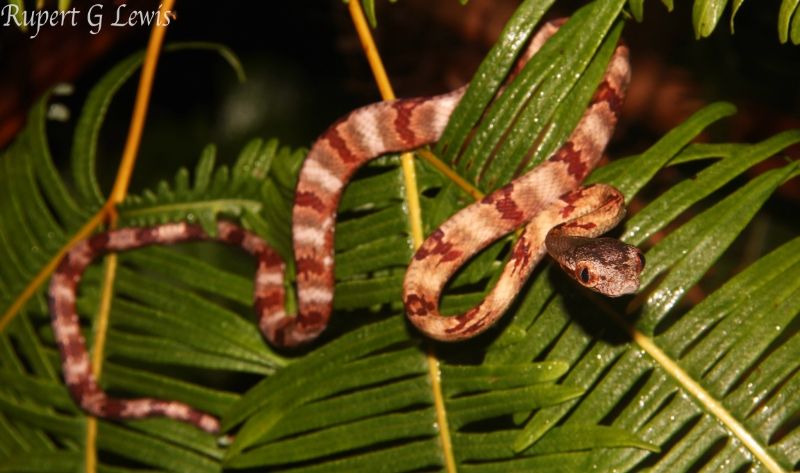 It was a wonderful time we had in Kapong, but it was finally time to journey to our final herping destination of the trip.
The next morning, it was time to leave for the large town of Hua Hin, which should be straightforward right? Well, no. We first took a bus to Phang Nga Town, thinking that the major town of the province would have the most buses. Well, we found out that to get a bus from there to Hua Hin we would have to wait until 8pm in the evening. I checked the time, it was only 11am. Nope. Someone mentioned that we should head to Takua Pa, a town a little north and check for buses there, but once we arrived it was the same situation. To me, there was only one solution: continue taking the nearest bus to the most northerly town until we reached Hua Hin. So, we took a bus a few hours north to Ranong, and from there caught a bus to Hua Hin. Here's a photo from each bus we took in chronological order: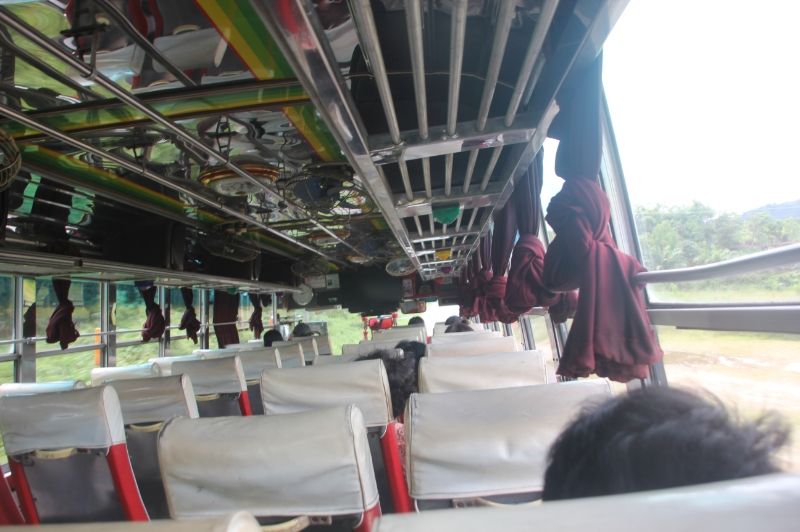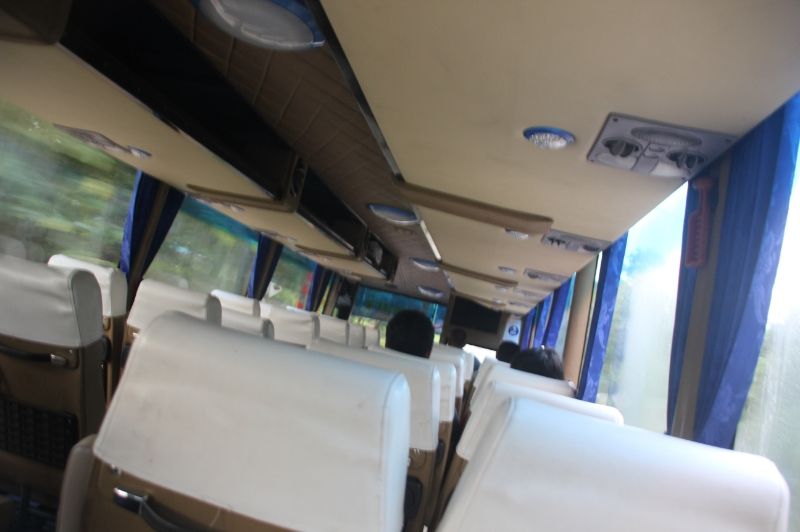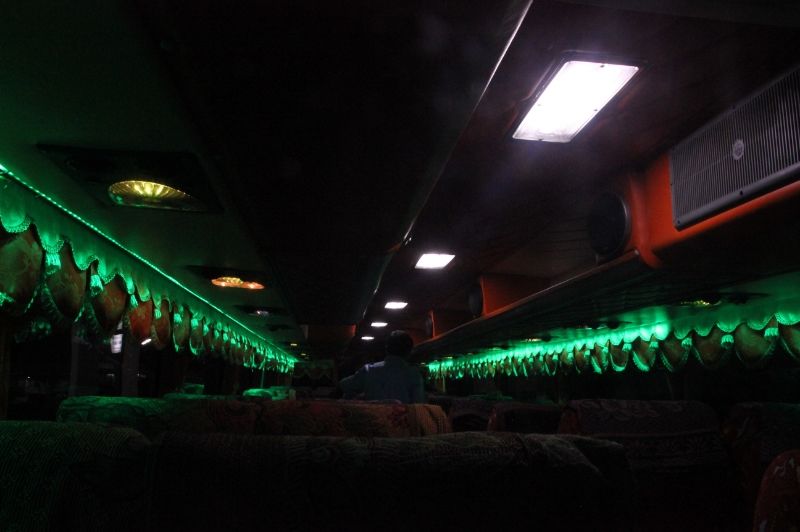 We ended up arriving there at about 3am in the morning, but David Frohlich, our friend who was going to accommodate and show us around, was perfectly fine to get his dad to pick us up and take us back home where we dropped asleep instantly.
The next day, we said our greetings, then David and I went to barter for a moped in town, we came back with one of the new Honda Klicks which was less than two months old. In the early evening, we headed out on the same moped to a spot David knew where we could look for Spitting Cobras. En-route:
Unfortunately we weren't lucky enough to encounter any Naja siamensis, but we stuck around until nightfall and did some walking about. First thing we found was a pretty massive Plumbeous Water Snake, a species we would become very familiar with during our couple days stay in Hua Hin.
Plumbeous Water Snake (Enhydris plumbea):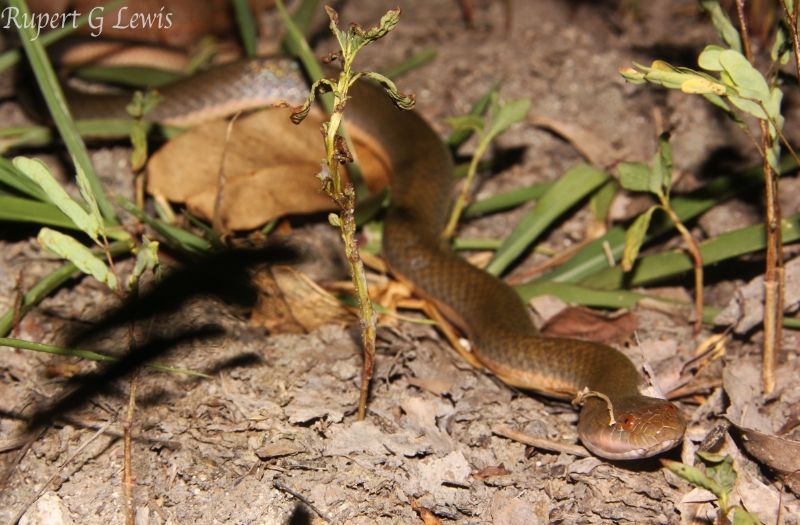 I had told stories before of how I got my worst snake bite ever off one of these, but Moritz was adamant he could conquer the legendary Plumb'. As expected, before his hand had even touched it the snake lashed out viciously and sank it's teeth around his thumb - a really funny situation for everyone involved.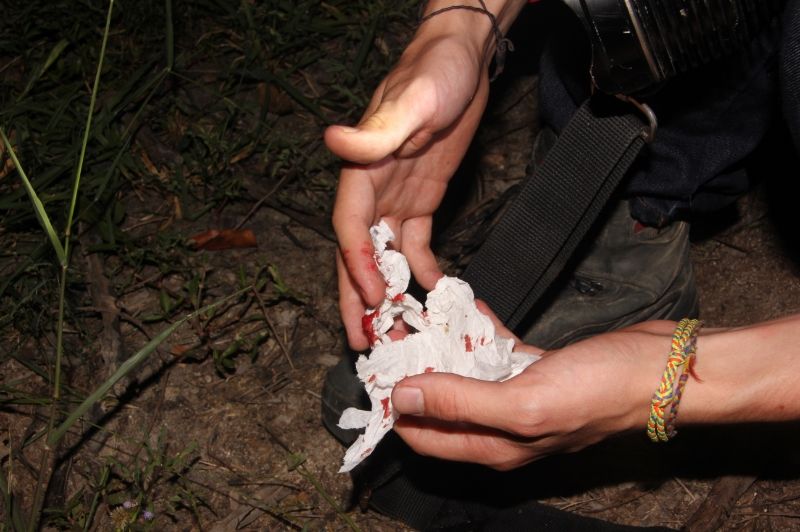 David with a large Tokay - I stopped catching these after I got bit a few years ago.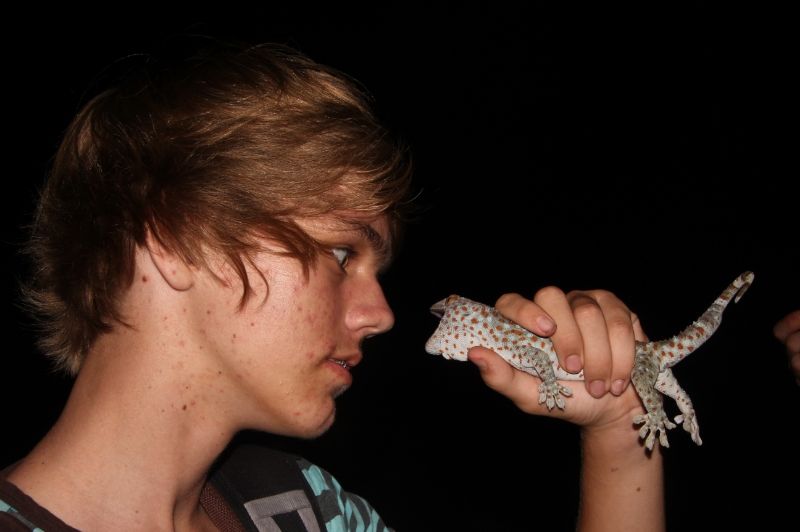 Not long after we found a Ratsnake resting up in one of the trees. We caught it and I was completely stunned by it's beauty; I've seen quite a few of these before but none as golden as this.
Indo-Chinese Ratsnake (Ptyas korros):
We saw a couple more, but none were as impressive or easy to reach as this one. Right by one of the other Ratsnakes, we found this in-slough Sluggie resting on a branch.
Keeled Slug Snake (Pareas carinata):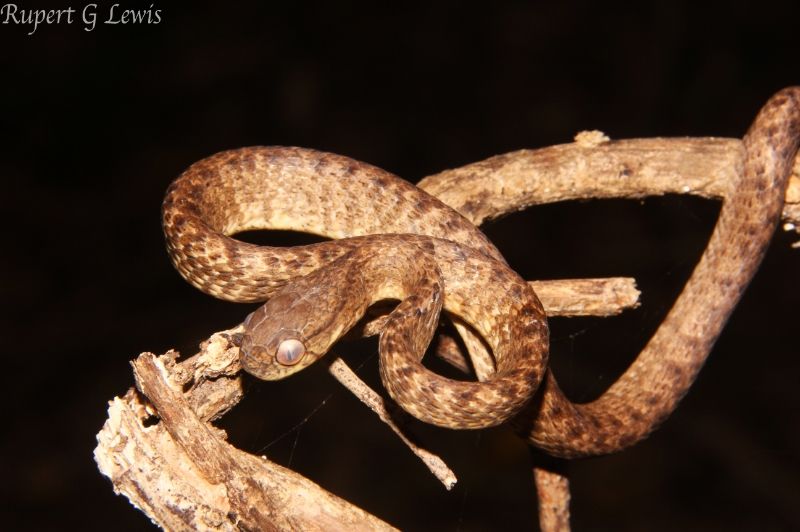 These were also surprisingly common in Hua Hin, whereas they're a fairly unusual sight, restricted to rainforest habitat, in the south.
After that encounter, we took the bikes quite long drive west to the hills where after what seemed like no time we found two really cool Viper species.
First was this Calloselasma, on the edge of a four lane highway. Since nobody liked the look of the habitat, we bagged it and photographed it the next day: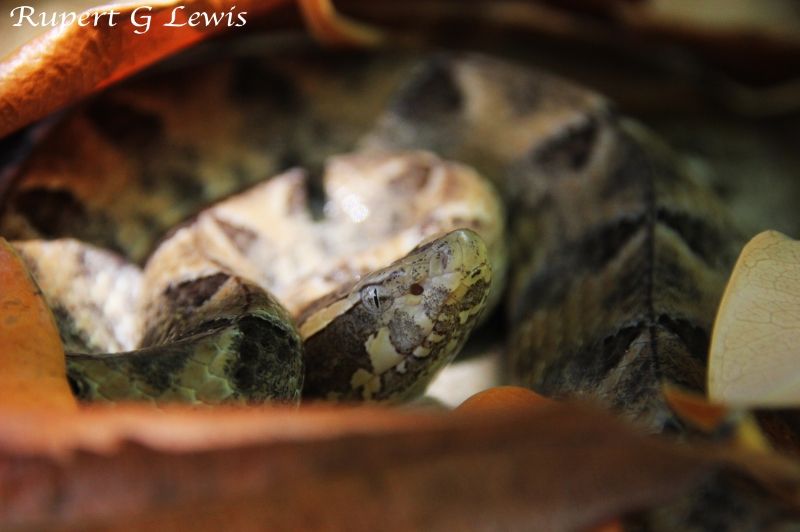 Then, once we reached our destination, we found two White-Lipped Pit-Vipers (Cryptelytrops albolabris) - one male and one female less than 10 meters from each other: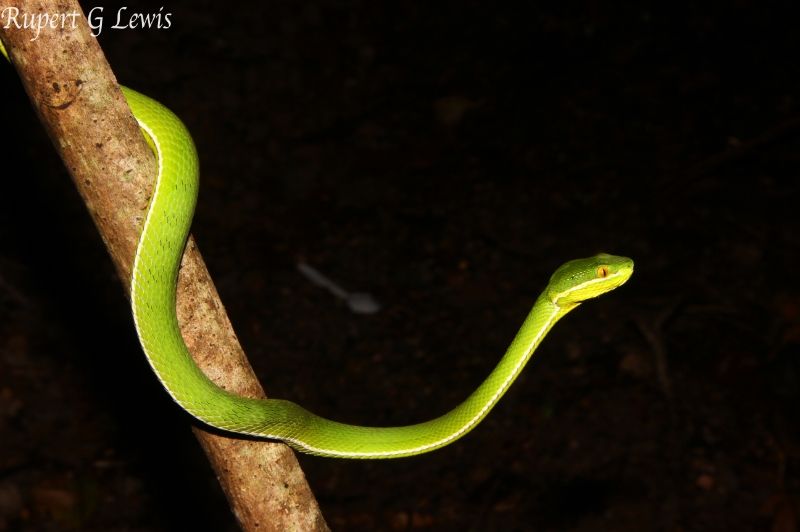 And the female:
A very common sight on the roads were these tiny juvenile Enhydris plumbea, we saw maybe 20 over the two nights we spent herping.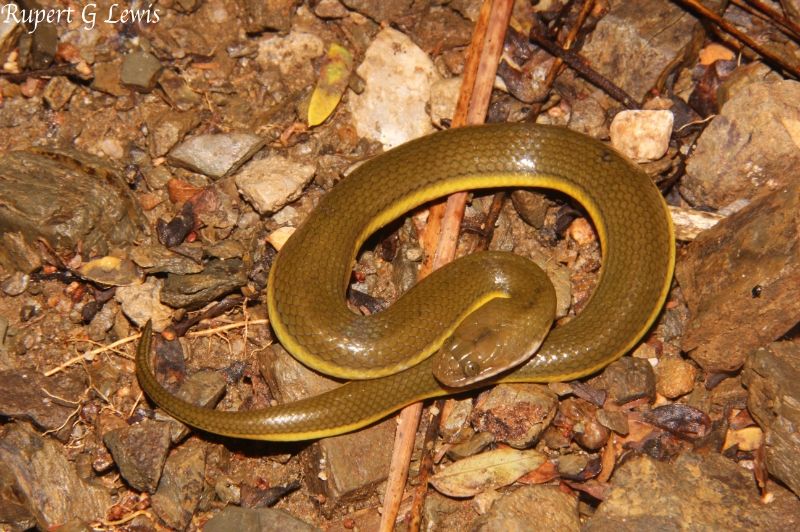 More road cruising yielded a young Sunbeam Snake (Xenopeltis unicolor):
As well as this cool Tarantula:
Cyrtodacylus peguensis complex: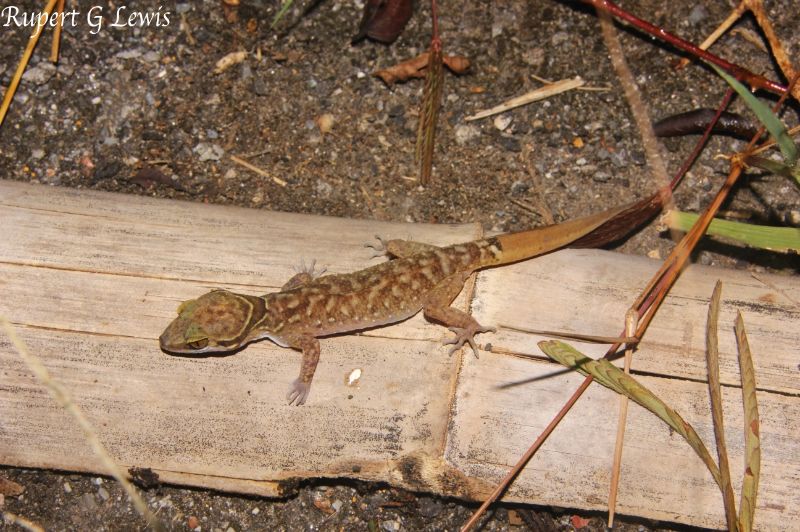 White-Spotted Sluggie (Pareas margaritophorus):
We encountered a couple small Pareas carinata on the road, then returned back to David's place to do a bit of walking. Did I mention he lived in a luxury villa inside Pran Buri Forest Park?
Anyway, while walking around we encountered two Vine Snakes, both very close to his house.
Long-Nosed Vine Snake (Ahaetulla nasuta) - a species I'd only seen once before:
Just when we thought the evening was over, Moritz casually mentioned that he thought he'd seen a Slow Loris crossing the road. 'Crossing the road?!... No way.' I replied, and David showed similar scepticism. However, we shouldn't have doubted the man as once he led us to the area, a few seconds of spotlighting the trees revealed that he was right!
The following morning, and the last herping day of the trip, we were given some dire news. For VISA related issues, David and his family needed to urgently drive to Bangkok, meaning we had lost both our guide and our accommodation. Well, that's what we thought at least. As it turns out, David had to leave but his family were perfectly fine leaving us in charge of their luxury house for the night - awesome! Also, David got us in touch with Henning, a Norwegian herper who lives in town who was happy to take us out to the mountains that evening!
Before that, we went out one last time with David for him to show us a spot to look for my target species of Bronzeback that evening. We bantered about for a bit looking at un-photographable Butterfly Lizards, and a bit later I spotted a Flying Snake static in the bushes - I was quite proud of that find.
Ornate Flying Snake (Chrysopelea ornata) - in-situ:
After saying goodbye to David, we waited for Hening to arrive in the early evening, then got off to an early start so as to maximise the amount of herping time on our last night.
On our way over to the first spot we went off-road across one of the Pran Buri Forest Park hills and witnessed this unbelievable sunset at the crest: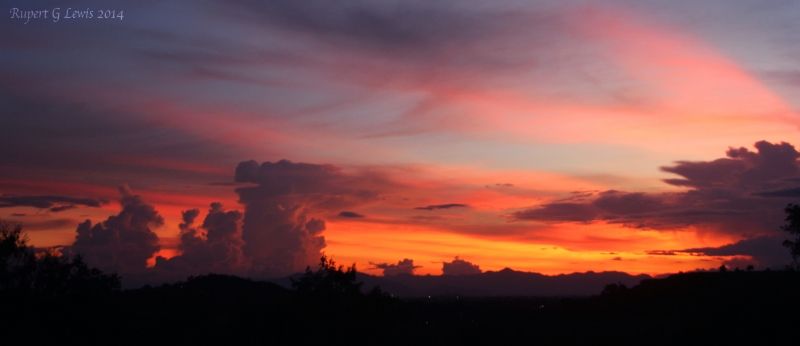 Once we reached the location that I found the Chrysopelea earlier, we got walking and after a little while Moritz spotted exactly what we were after. Result!
Mountain Bronzeback (Dendrelaphis subocularis) - the common name is misleading since it's found in lowland scrub areas, not high altitudes: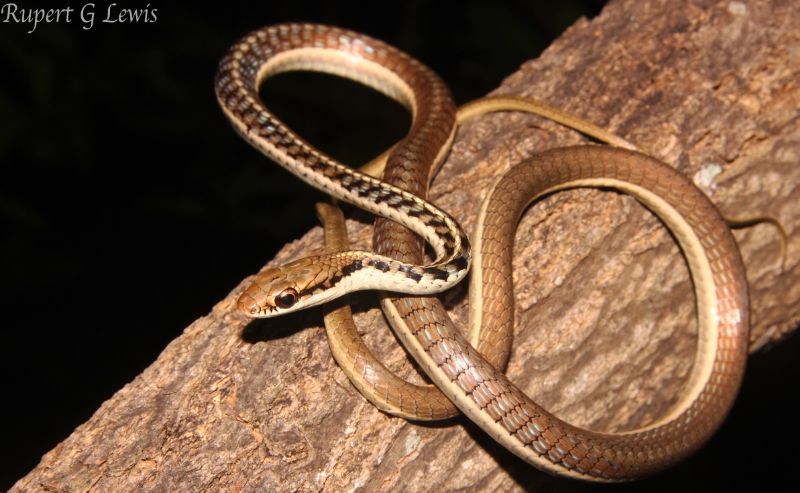 Having seen this, Dendrelaphis kopsteini is now the last out of the species of Bronzeback found on the Thai-Malay Peninsular I have left to find - need to pay a visit to Singapore soon.
Anyway, we looked around that area a bit more for Boiga multomaculata, but only found a Pareas carinata so we headed out to the hills.
Close to our destination, we stopped to check out a DOR. It turned out to be some trash, but as I went to get on my bike I saw something tiny wriggling on the tarmac. I thought it was some kind of flatworm at first, but I picked it up anyway and to my surprise it was a snake. A very common one, but still a species which had somehow evaded me in all my time in Asia up until now.
Brahminy Blind Snake (Ramphotyphlops brahminus):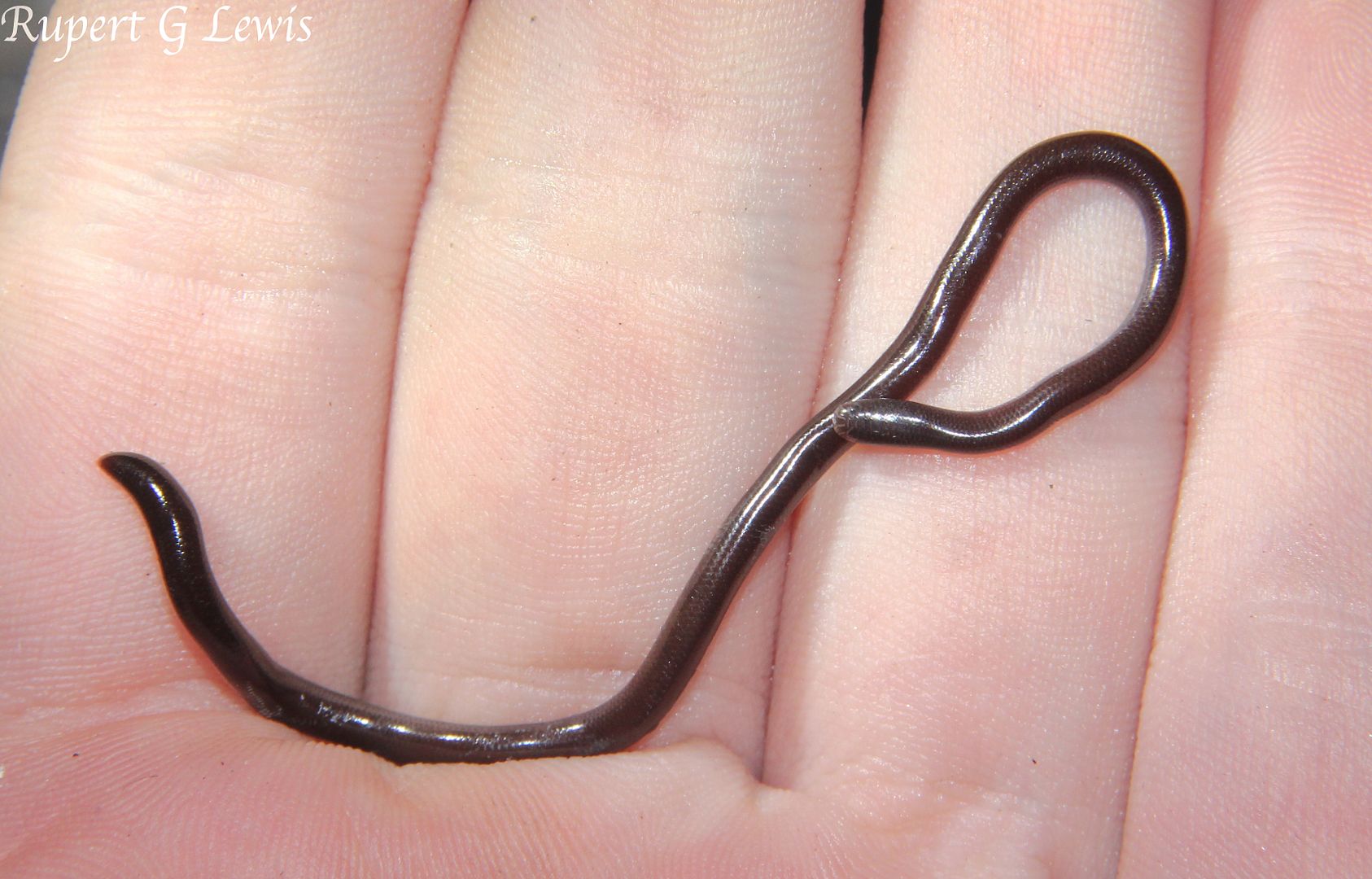 Whilst driving through a village we found this stunning DOR Monocled Cobra (Naja kauthia) with very different patterning to those I've found in the south.
Our luck with Cobras on this trip had me feeling like Tom Charlton...
Henning was a pretty fun guy, completely crazy and half-blind but he spoke pretty fluent Thai which was super helpful at times, especially when we found an old Thai guy passed out drunk on the road. It was quite funny, we picked him up by his arms and legs to carry him off but he woke up in the process, and you can imagine how shocking it would be to be from a small rural village, get drunk, then awake to three white guys carrying you in the air. Luckily we had Henning to calm him down in Thai.
Henning with a C. albolabris we found that evening: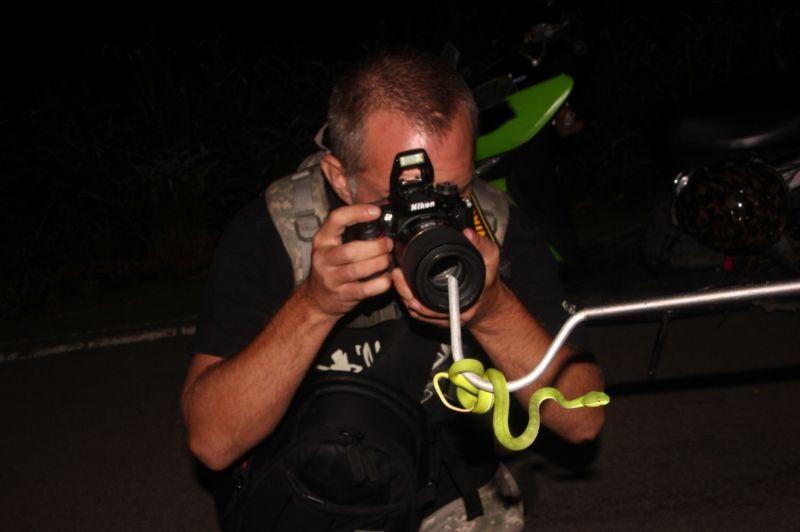 We did more cruising but we seemed to be finding much cooler snakes DOR than alive, which was annoying because we'd had decent luck in our DOR to alive snake ratio so far in the trip. We found a lot of snakes, but nothing I hadn't photographed before in the trip. After a while it came time to go home, but once we returned and Moritz headed off to sleep there was no bloody way I was going to follow suit. So, I headed back out again.
Since I didn't know the area so well, I stayed around the various parts of Pran Buri Forest Park, but didn't see much there minus a couple Ahaetulla nasuta and Dendrelaphis subocularis. However, I did find a little spot of mangrove forest which I went walking in briefly and managed to find a snake I hadn't photographed on the trip before. This was at around 5am.
Cerberus schneideri - in-situ: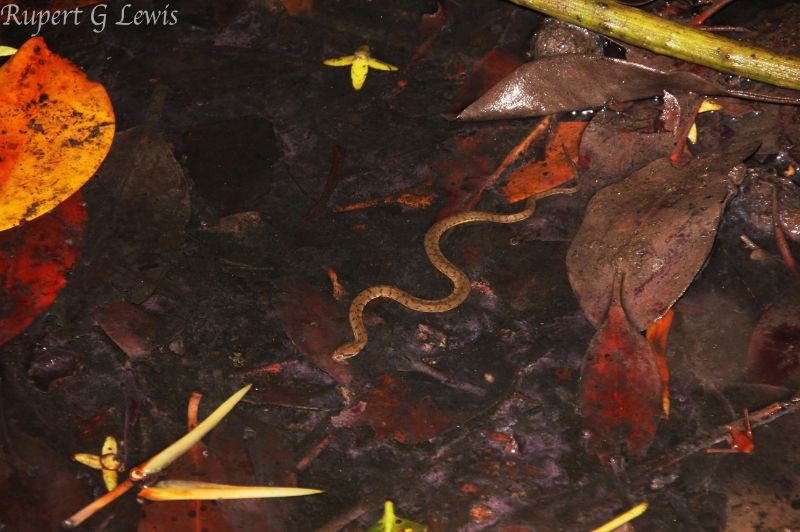 Sunrise: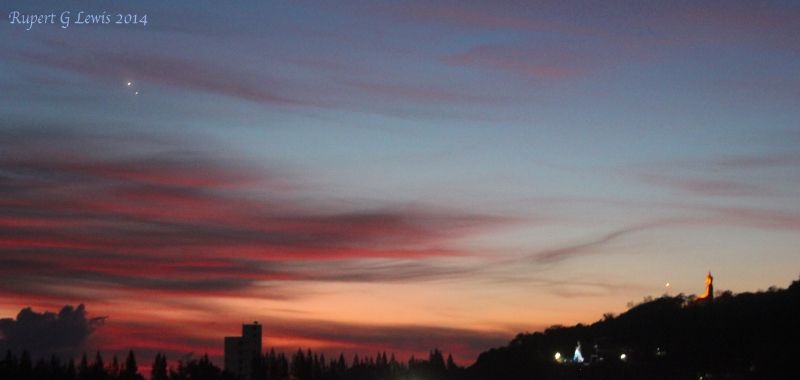 After this I went back to the house to get some breakfast, talk to some people on Facebook, then I decided to set out again at 6am. First I visited the Mangrove Forest Park, but they were closed for some repairs. I snuck in anyway, but only saw a very large Varanus salvator. Whilst driving around a little later, I spotted a particularly tall hill with lots of bamboo habitat on one of the slopes. Thinking of King Cobras, I decided to attempt to reach the hillside. Firstly I had to climb over a fence and walk across some kind of plantation, but before long I was at the base. The vegetation was sparse so I decided to climb and hunt around the bamboo, but this soon turned into a quest to get as high as I could. It was a difficult bit of hiking, and after a while I thought I'd reached the summit, only then did I see that it went up even further than I thought. Some more clambering saw me reach the summit, and I even discovered a little abandoned shrine left by some Monks I presume. Still, the views were absolutely fantastic: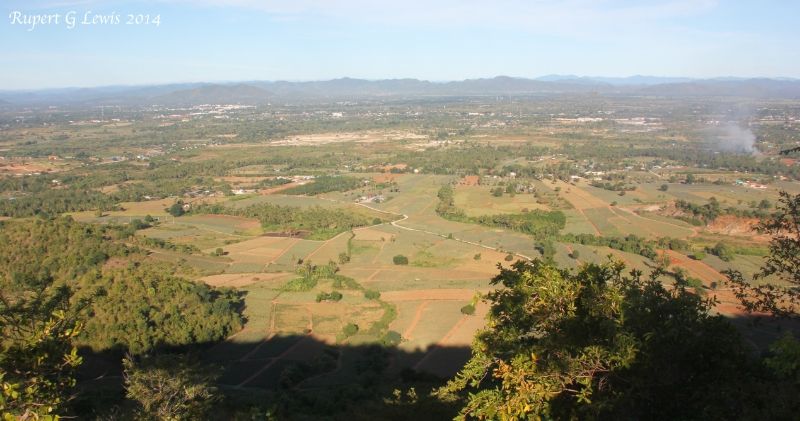 After this, I retreated from the sun back to David's place and swam in their glorious outdoor pool for a while. A bit later, it was time to catch the bus to Bangkok in time for our flights. By the time we reached our hotel I was pretty tired, bearing in mind I hadn't slept for 36 hours, so I crashed out and drearily caught my flight out of Bangkok the following morning.
Of course I really didn't want to go home, but I recognise how lucky I was to have the opportunity to get out for so long in the first place so I'll cut the complaining. Also, it had been a absolutely unforgettable experience, and all good things have to pass because that's when you appreciate them the most. That said, if staying up for 36 hours straight just to find one more snake isn't appreciation, I don't know what is.
Thanks for reading this exceedingly massive post guys, and for following the entire series. It has been a pleasure writing it although I've been pressed for time lately. Better yet, I'm flying out to Malaysia tomorrow morning, so you can expect another one soon - I know I can't wait to write it myself!
Part 1 - Peninsular Malaysia:
http://www.fieldherpforum.com/forum/vie ... =2&t=20649
Part 2 - Borneo:
http://www.fieldherpforum.com/forum/vie ... =2&t=21025