Any closed season, or endangered animals photographed were either not handled, or minimally so to avoid harm (moving them out of peril on a road, or off a busy trail with lots of foot traffic or loose rocks), and we complied with all rules and laws and permit guidelines. We also had valid hunting licenses in both states, so some open season animals were captured and manipulated for photos. With that PSA out of the way, on with the photos! The trip was part vacation, part science, as we were granted scientific collection permits to help survey reptiles in some remote areas for Arizona Fish and Game and New Mexico F&G.
We spent 12 days destroying our bodies and a rental SUV. We started in Phoenix just after the first wave of floods about a month ago (not NEARLY as bad as what just happened), and it made the reptiles scarce. The first 2 days were a lot of walking and photographing stuff other than snakes.
Some washes around Phoenix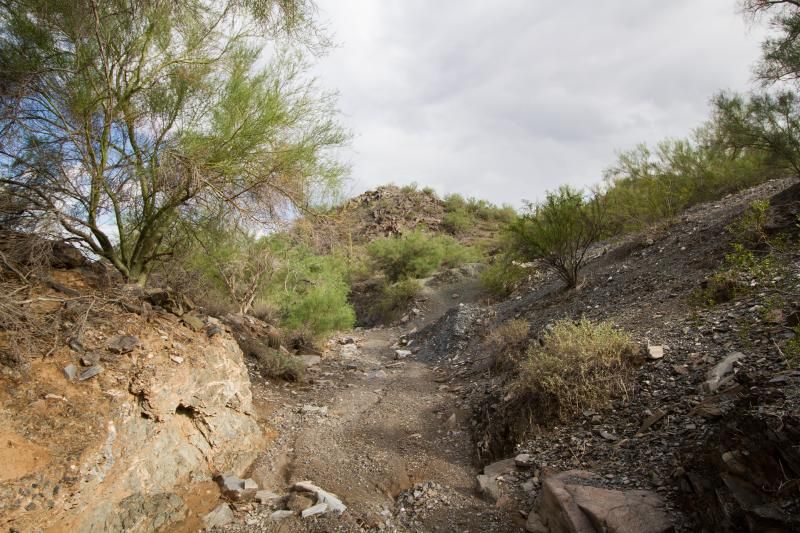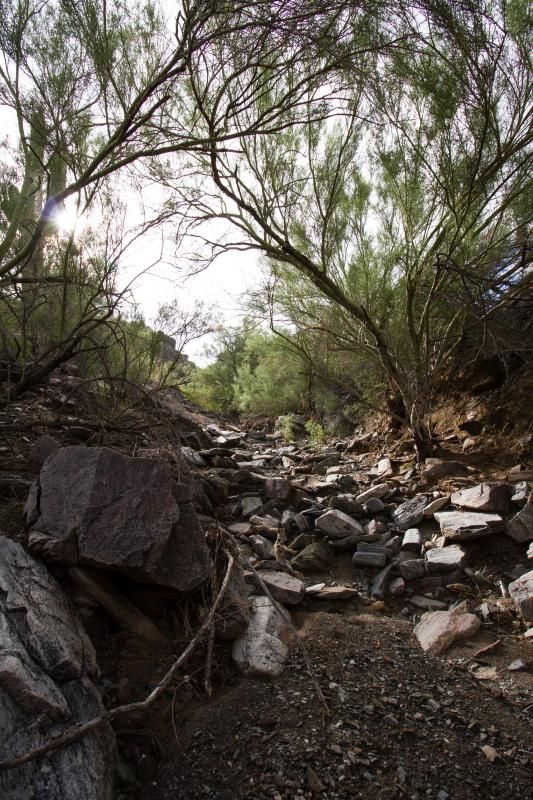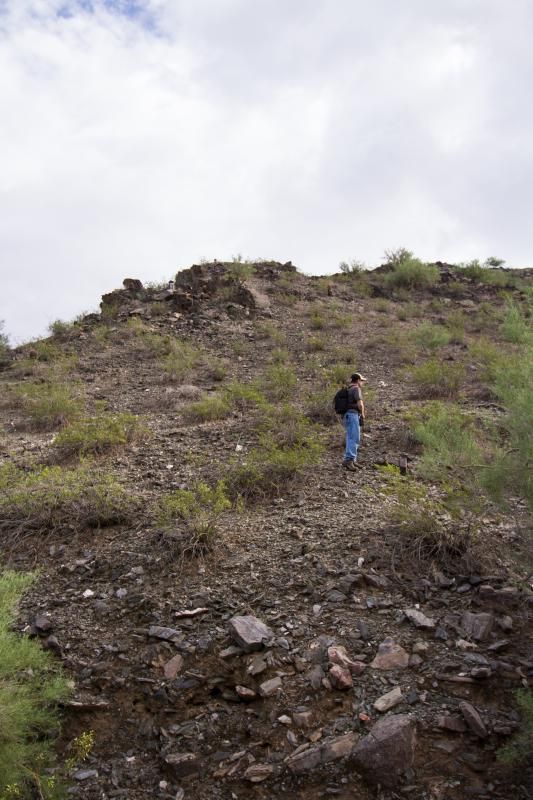 A velvet ant, also known as a cow killer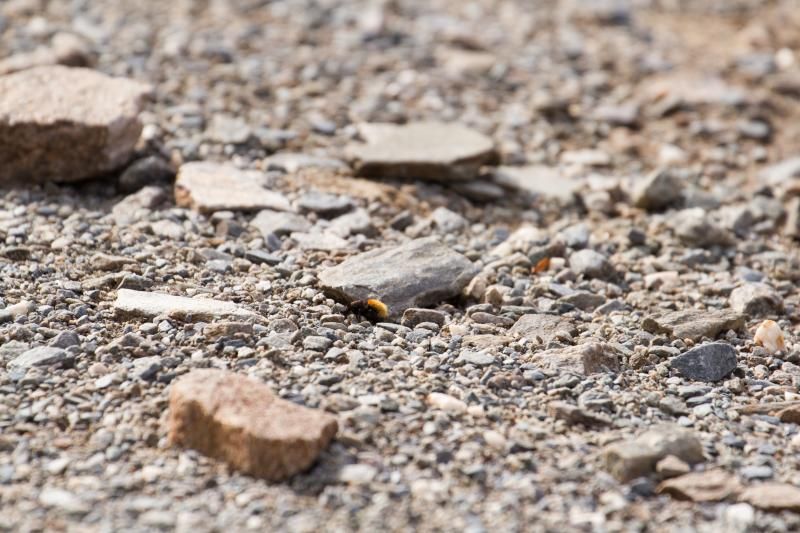 Pin cushion cactus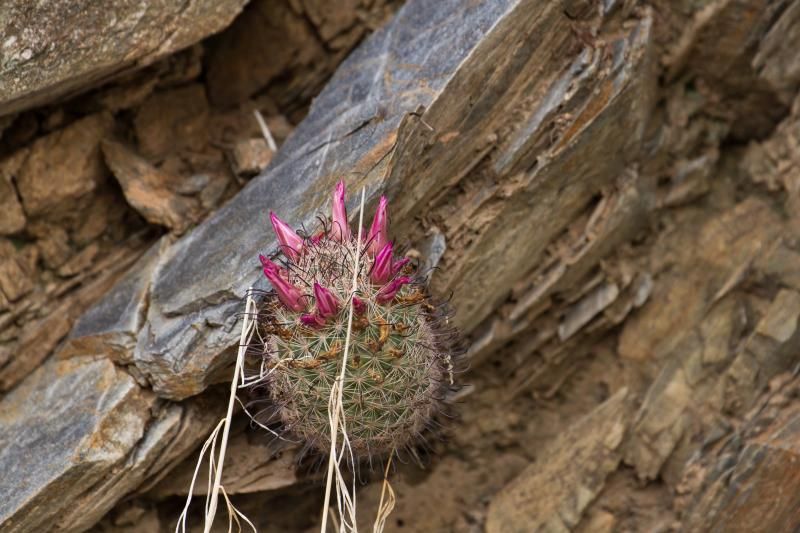 Anna's hummingbird
The search is on!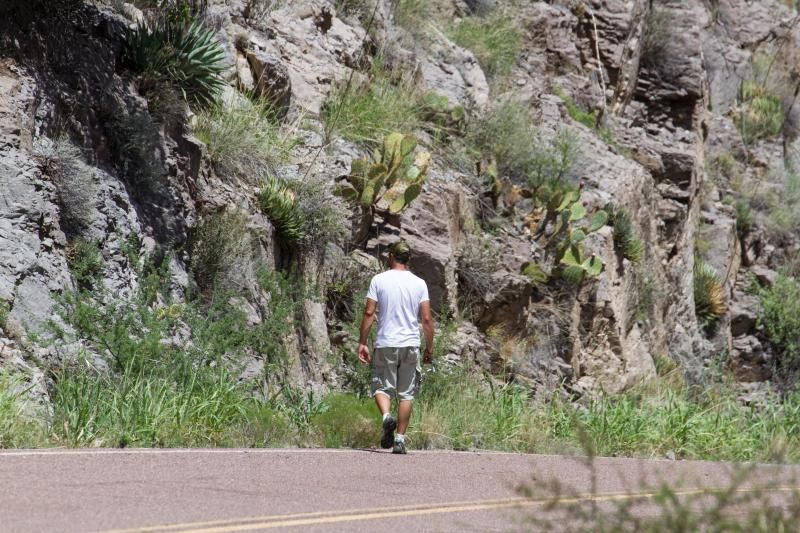 Pokey stuff, seriously everything scratches or stabs you in Arizona.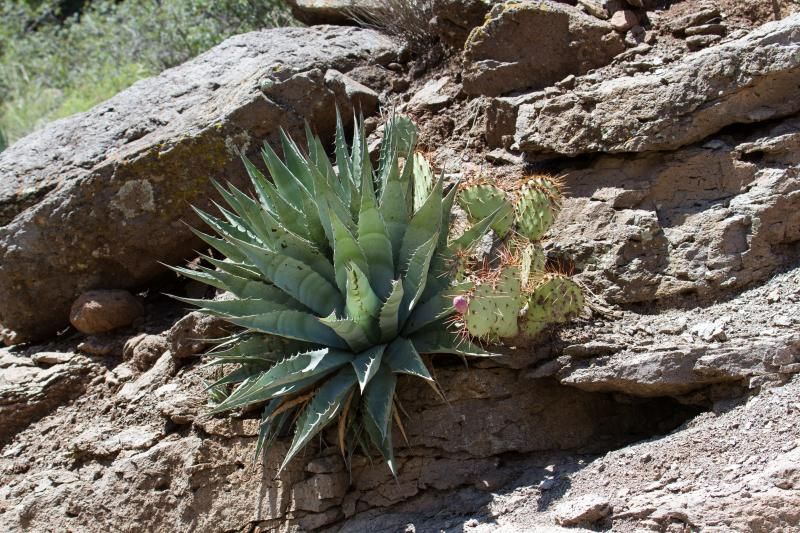 Gila spotted whiptail
Fence lizard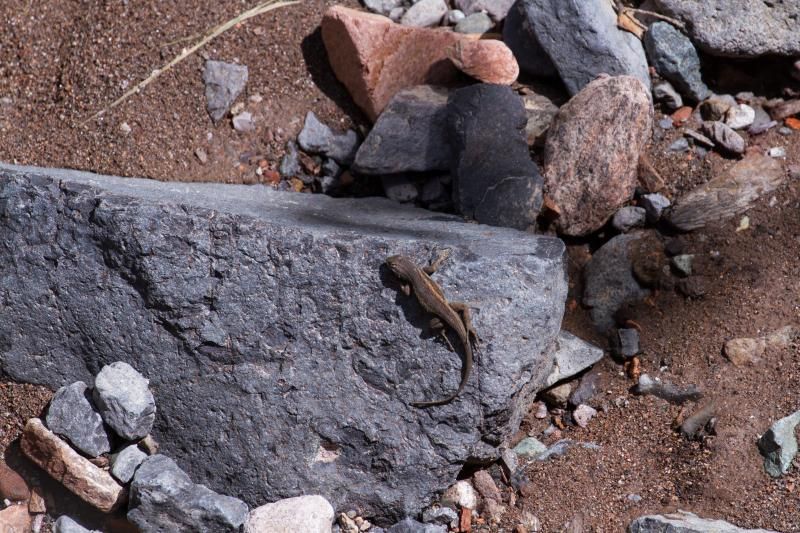 Another creek walk
Tree lizard. On a rock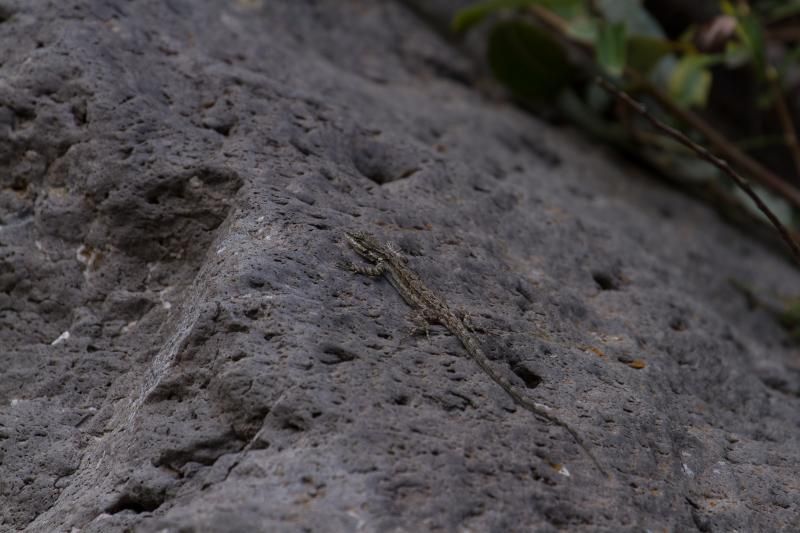 Our first snake, a huge 6 foot gopher snake. We came around a bend in the road that we'd already made a couple of passes on, and suddenly there was a large tree limb in the road, but there were no trees it could have fallen from…
In the road, as found
And this is why we call him the hobbit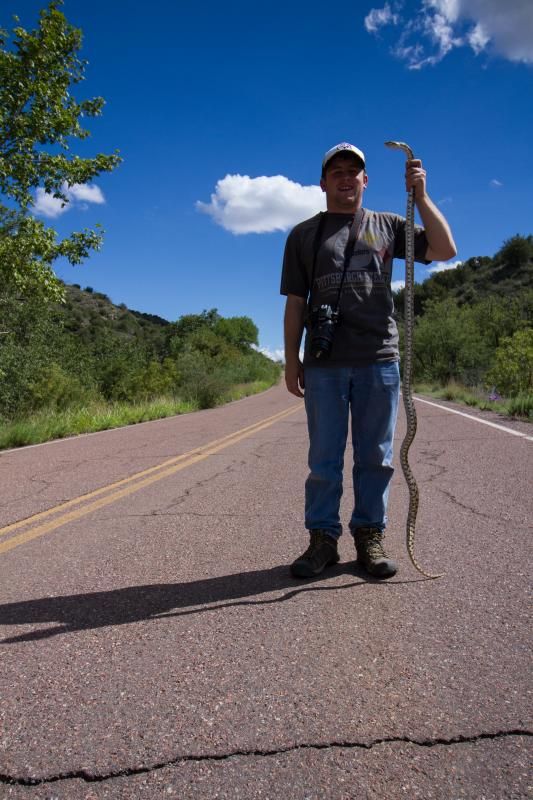 Praying mantis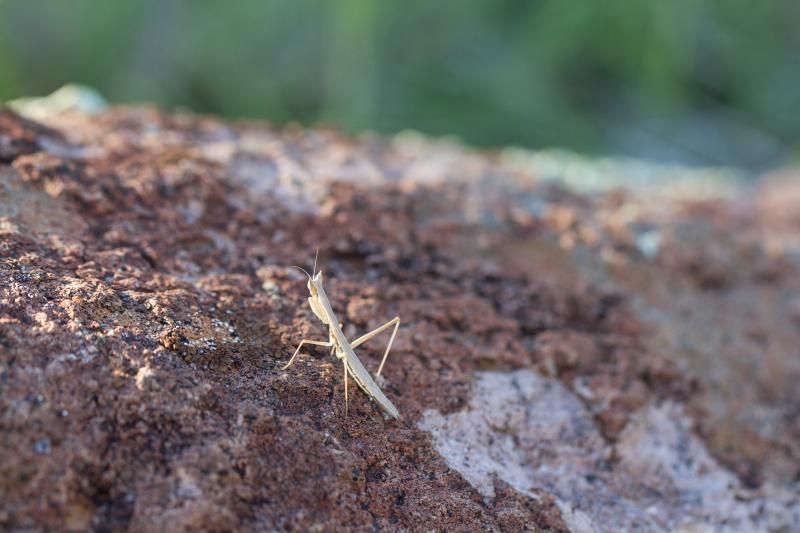 Great Plain skink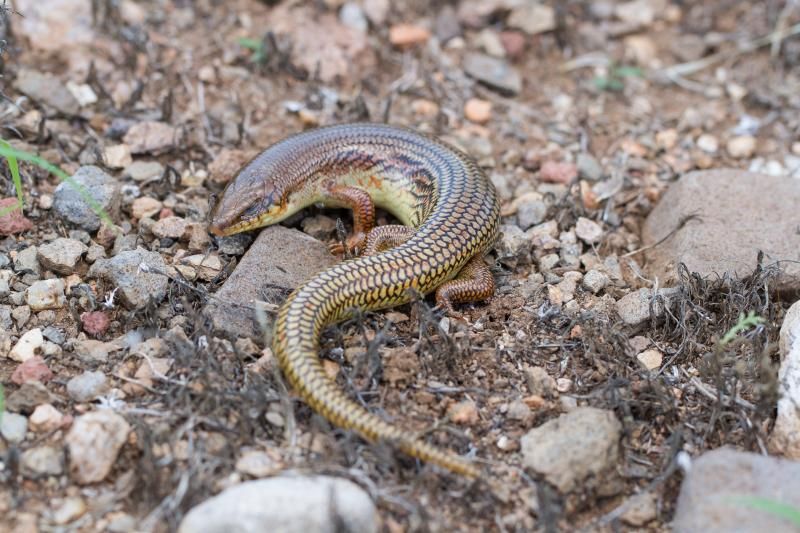 Nerf football sized Sonoran desert toad
Red rocks near Sedona, AZ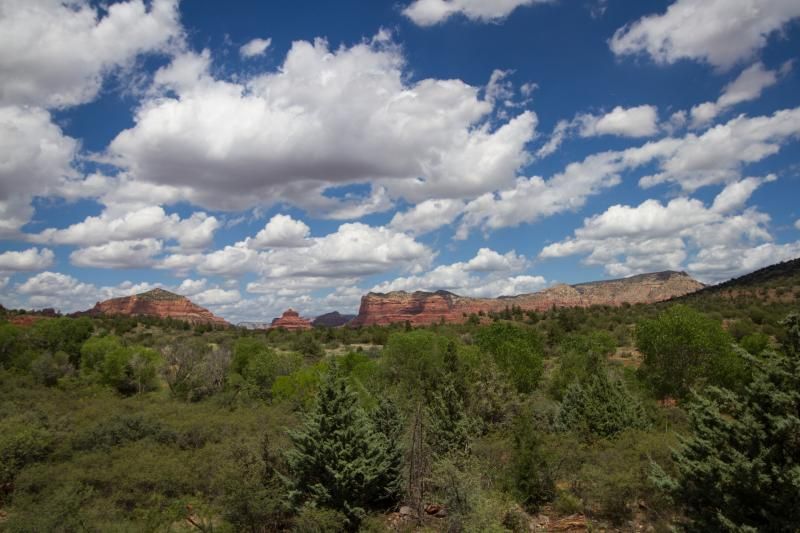 Another whiptail lizard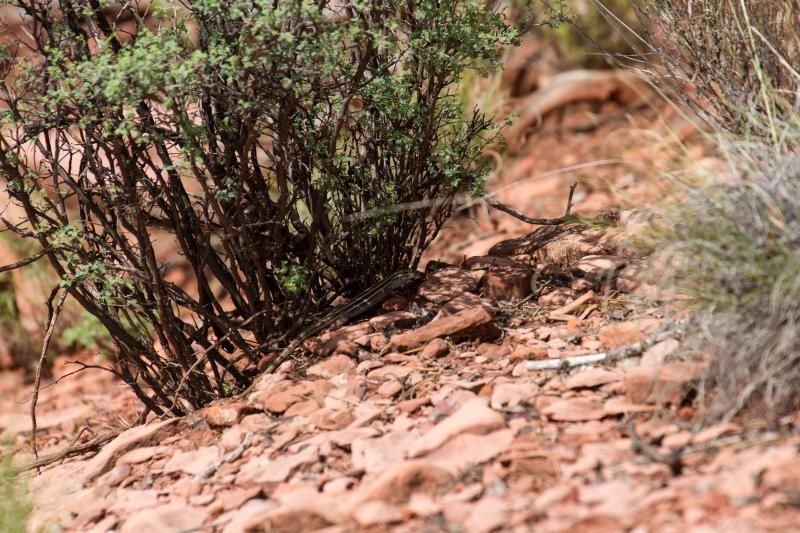 Earless lizard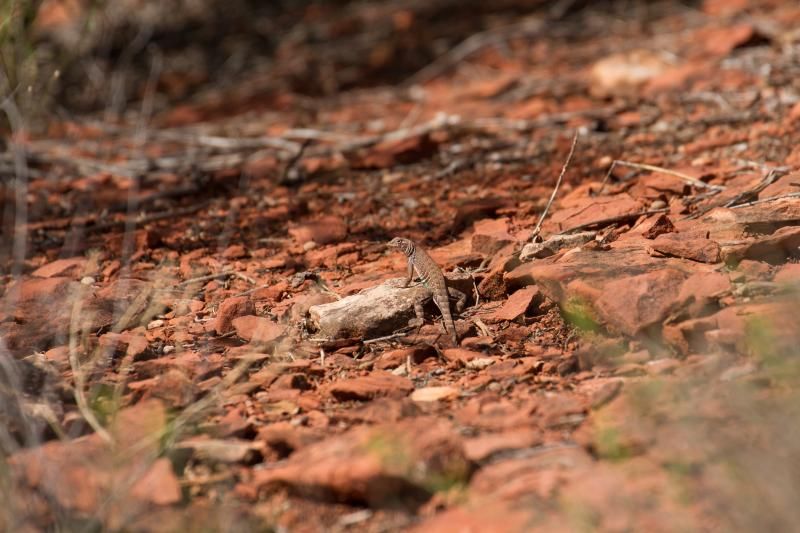 Sonoran whipsnake in the reeds. Never had a chance to catch this guy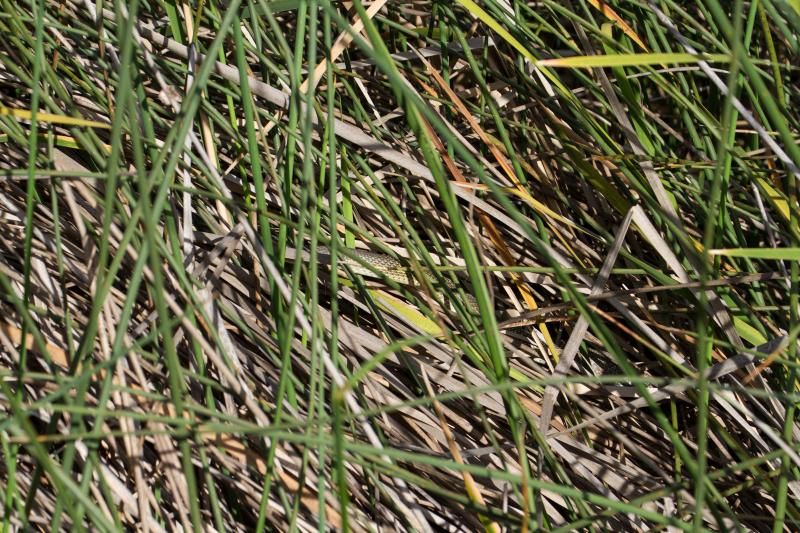 Mexican garter snake. Flipped under a board, photographed, and released under the same board. An endangered species due to habitat loss and invasive species.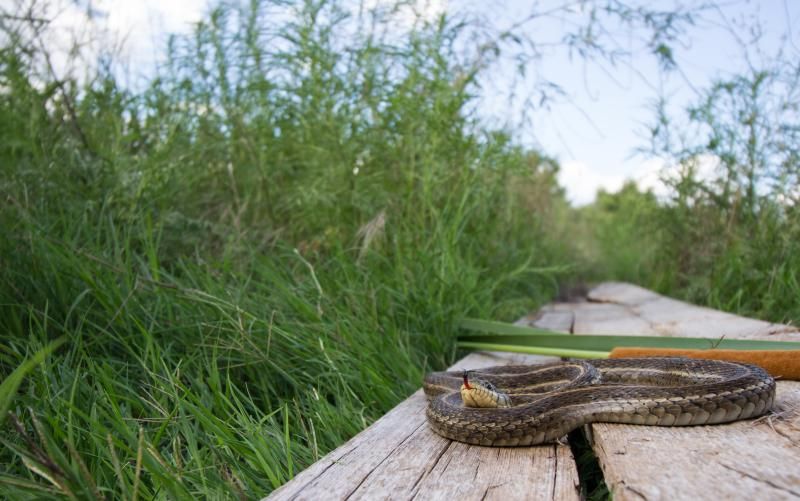 Some might think we take finding snakes a little too seriously…
Madrean alligator lizard portrait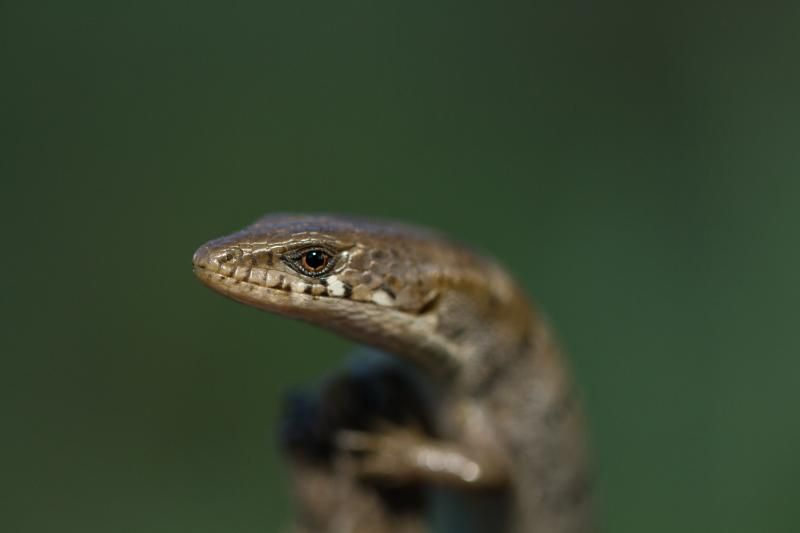 Roadrunner. They eat a lot of lizards and snakes, and DO run along roads. I almost hit one that was running down my line, zig-zagging but not leaving the road.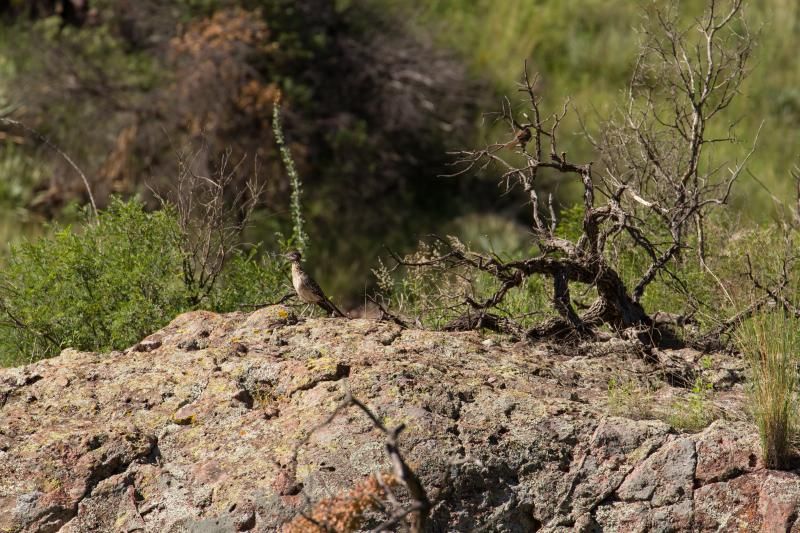 Baby blackneck garter snake
Looking across the border to Mexico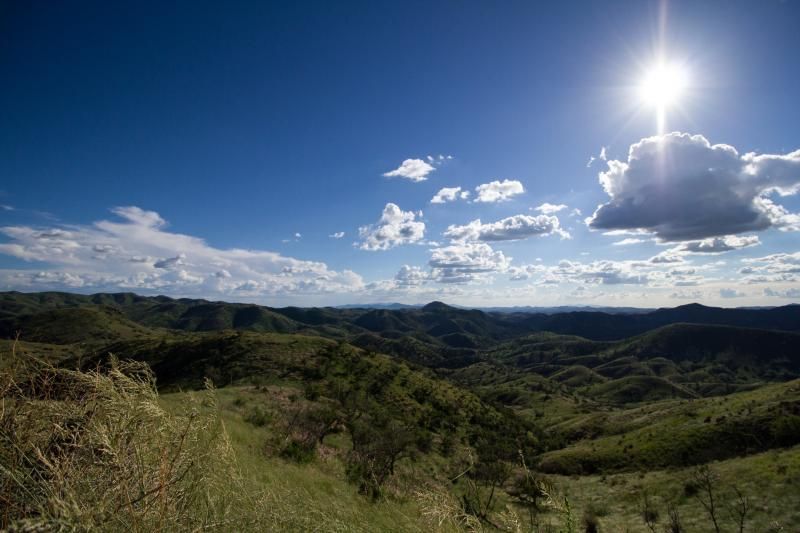 Before we wrecked our bodies and dirtied the rental
Sunset over Mexico. You can see some monsoon storms in the distance.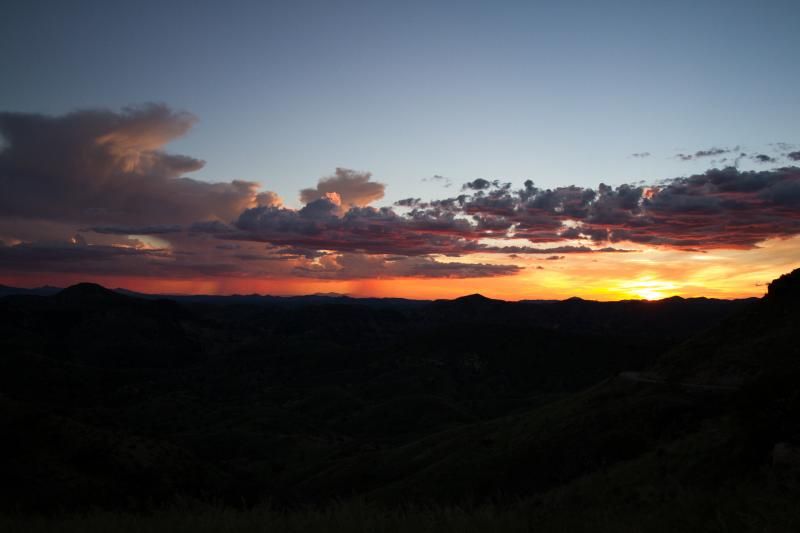 Baby whipsnake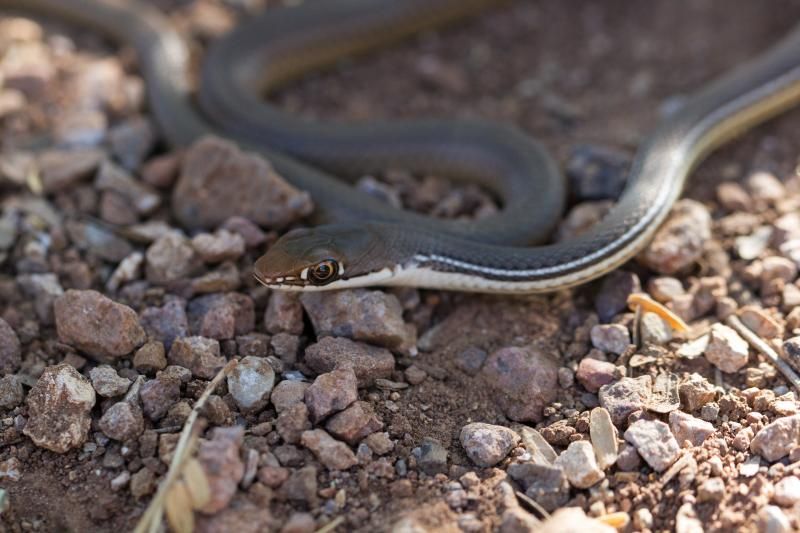 I like their binocular vision, makes for funny pictures.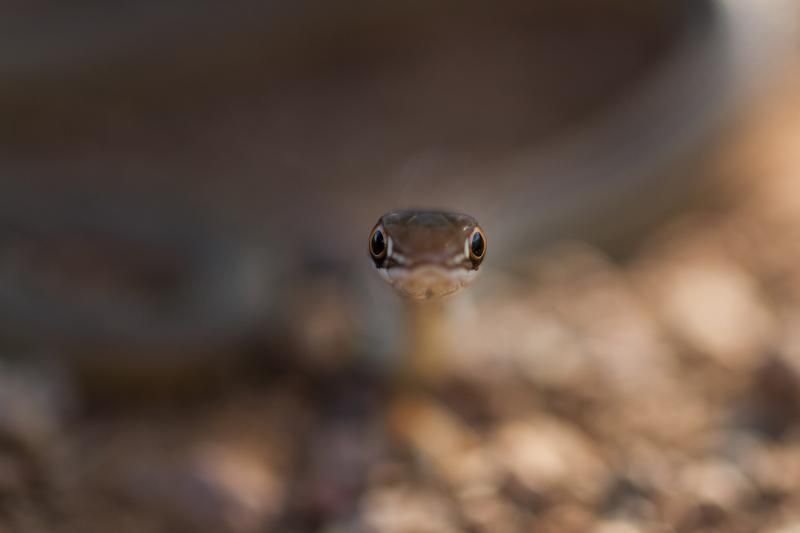 Baby patchnose snake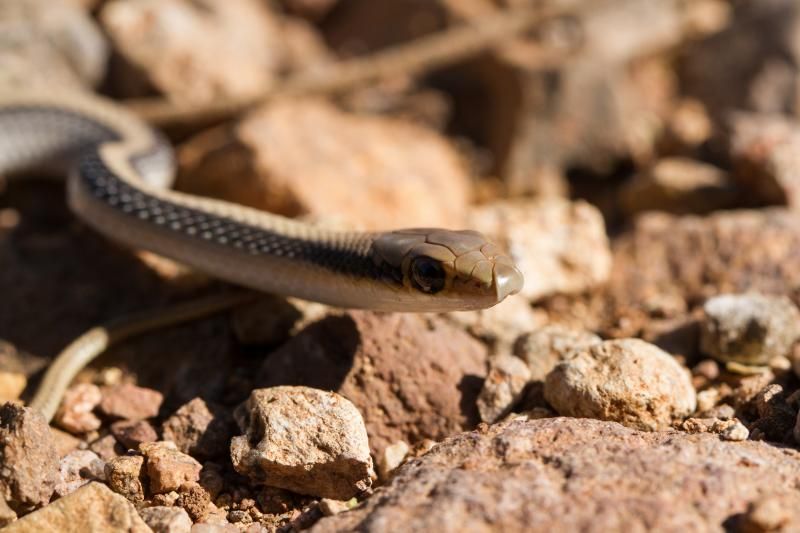 What we do when our hands are full…
One of my favorite shots of the trip, a Black-tailed rattlesnake
The boys trying to get theirs
Arizona ridge-nosed rattlesnake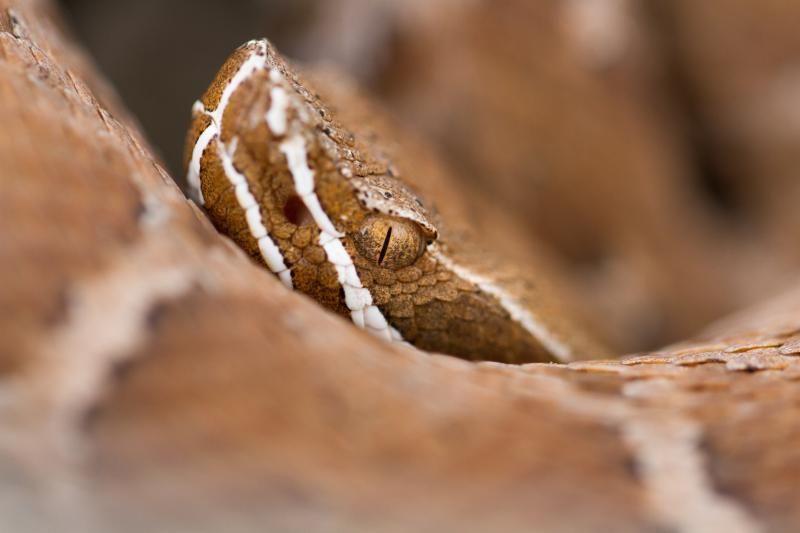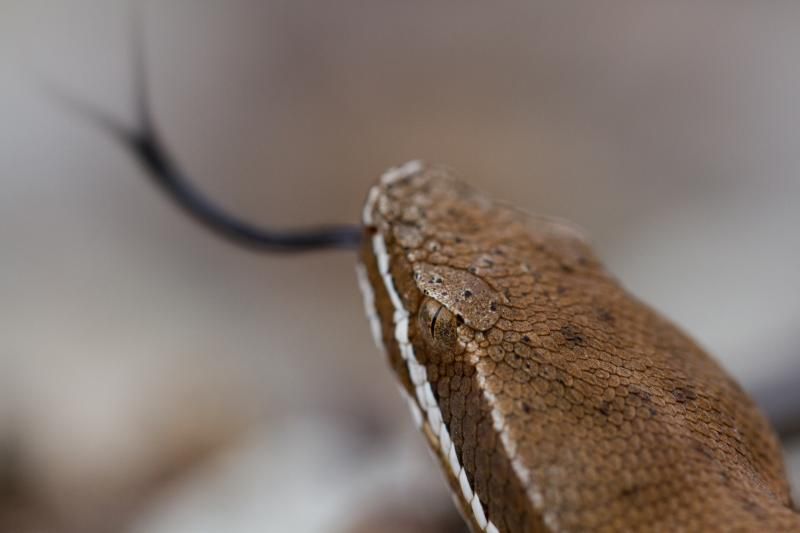 Greater short horned lizard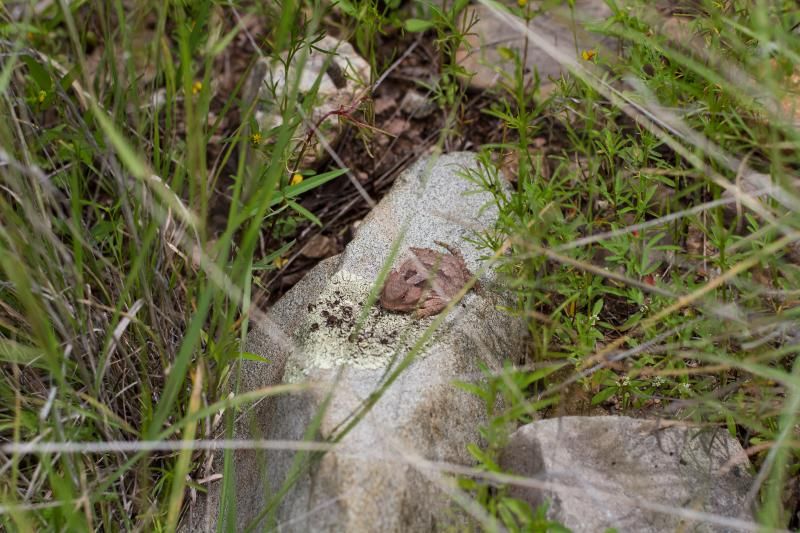 Another, of a different color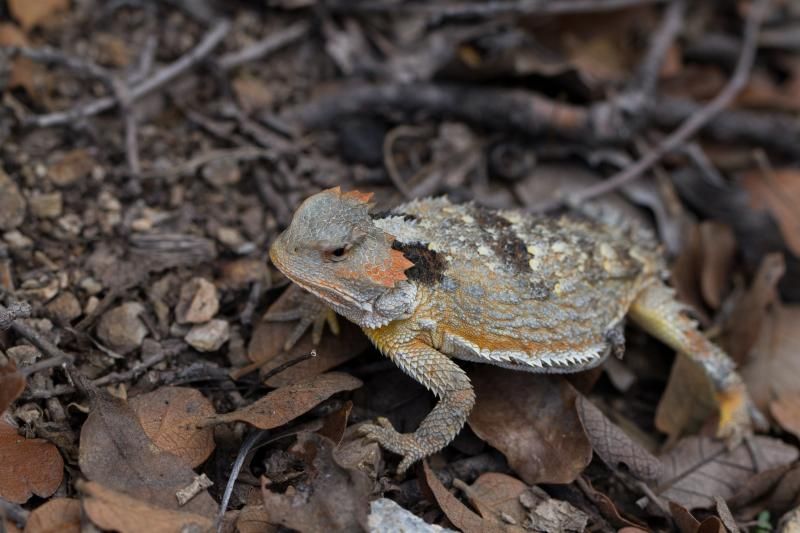 One of my top targets of the trip was a coral snake. We were driving down an old highway at about 4pm, going 65, and I see one crossing our lane. I locked up all 4 tires and yelled CORAL!!! The tire smoke was drifting passed us before I could get out and run back to the guys who were trying to keep it on the shoulder to not lose it in the grass. They are deadly venomous, related to cobras, the only dangerously venomous snake in the U.S. that is not a viper (rattlesnakes, copperheads, cottonmouths) and this was a big one, so getting bit would be very bad. We managed to capture it without incident. Their fangs are very small, so thick leather gloves are safe for them. These are the snakes that spark the boy's scout rhyme red meets black, you're ok Jack. Red meets yellow, deadly fellow.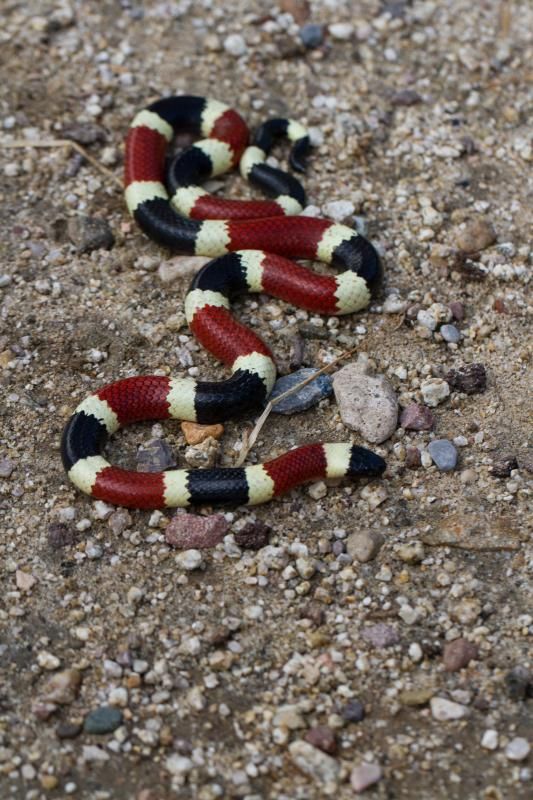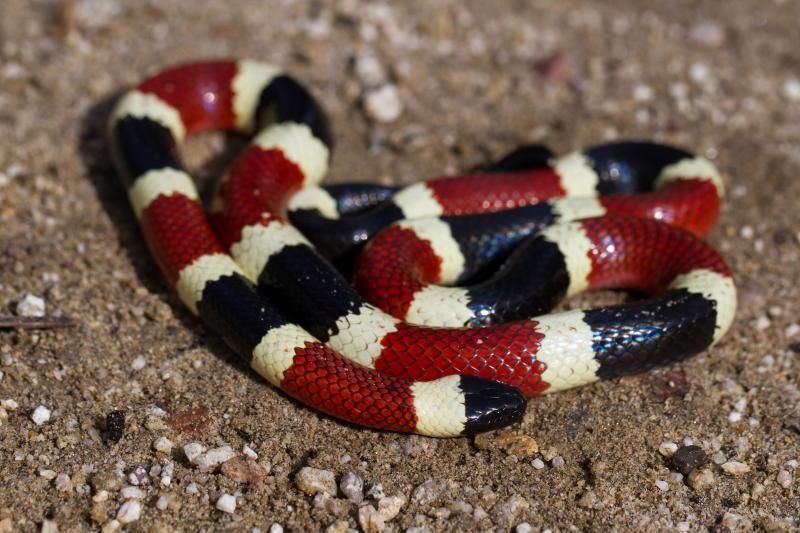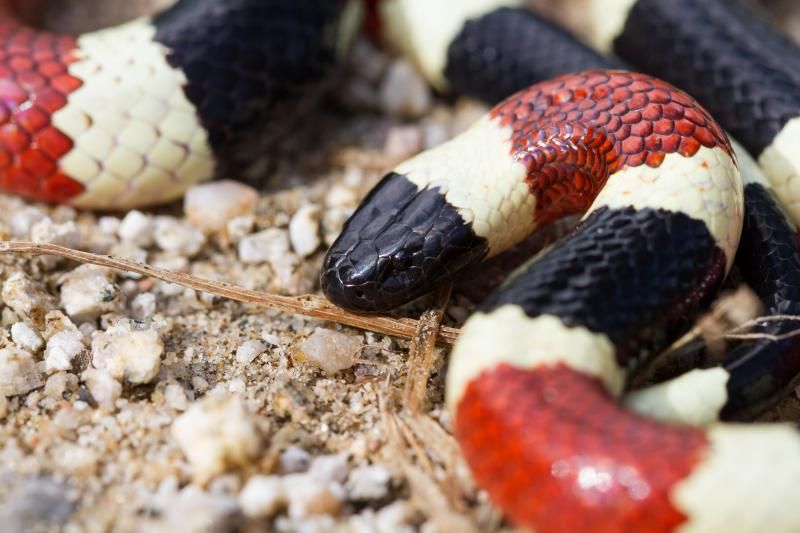 Tucson from 9000 feet
We hiked up to 9000 feet looking for a twin spotted rattlesnake (only found at high elevations in 4 mountain ranges of southern Arizona) but we did not see any. We did find a couple more ridge-nosed rattlesnakes though.
Fence lizard?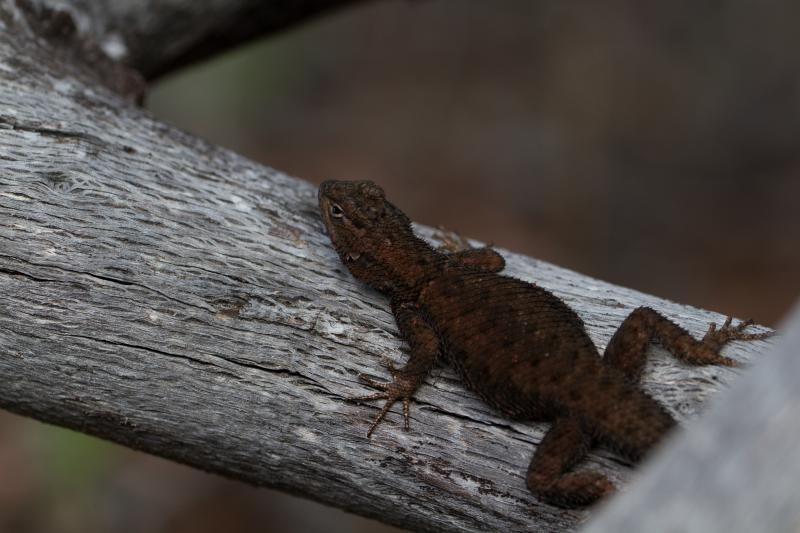 I'm not dead yet
Spiny lizard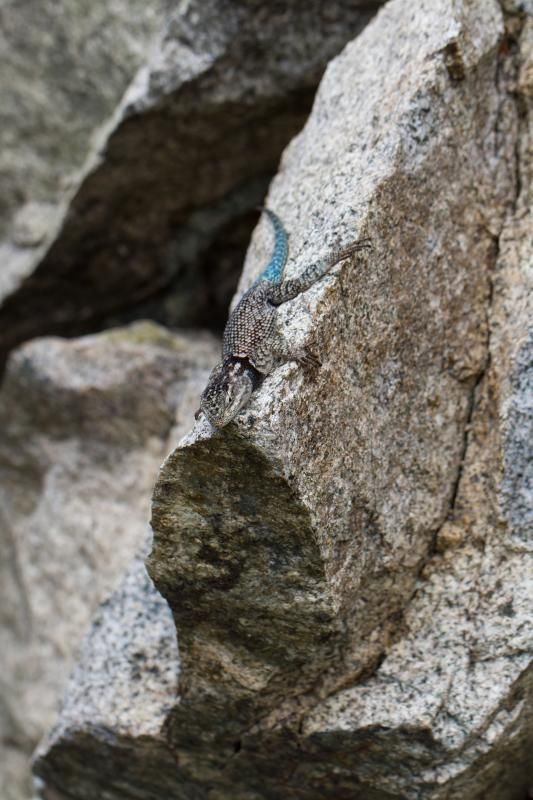 We hiked up through the clouds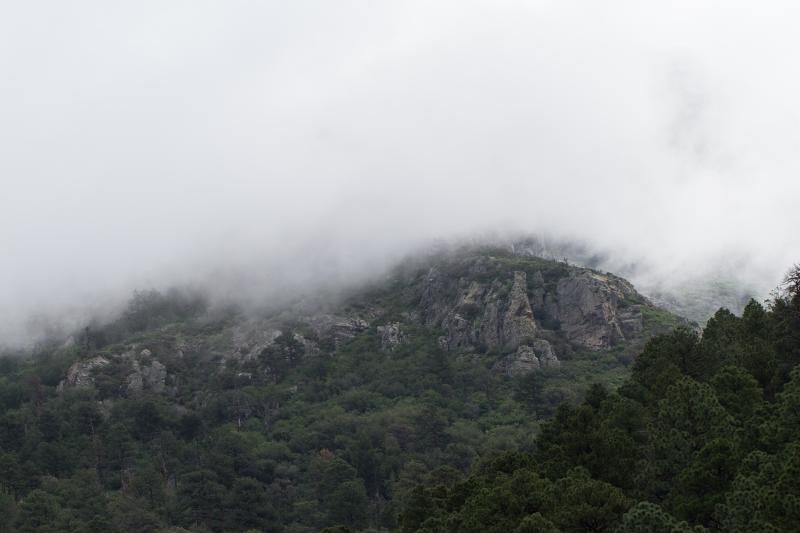 I do stop and smell the roses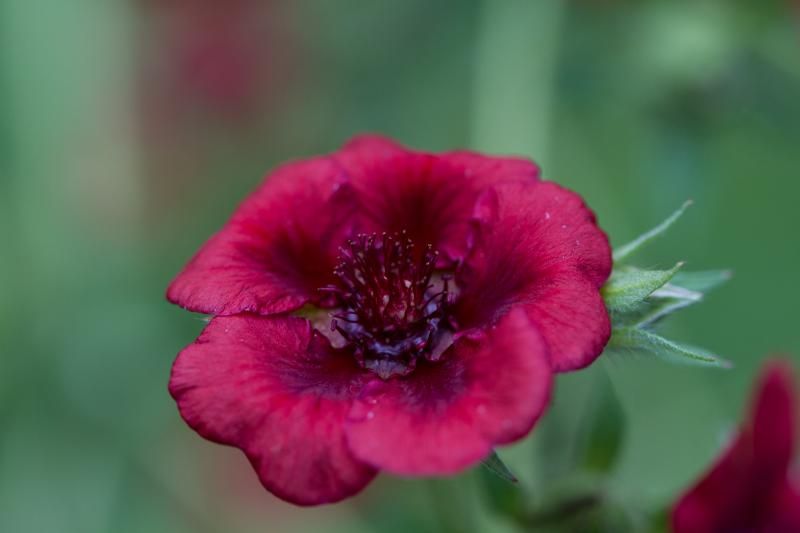 I hope I get a plaque some day, but not any time soon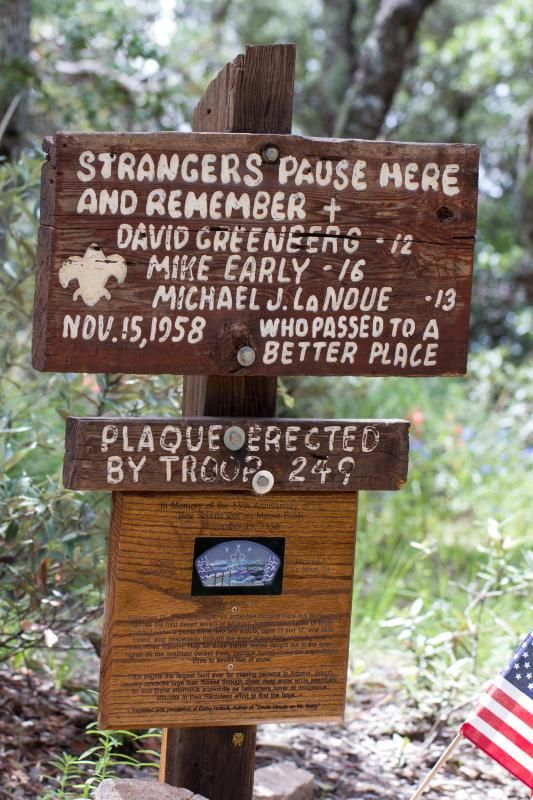 Baby horned lizard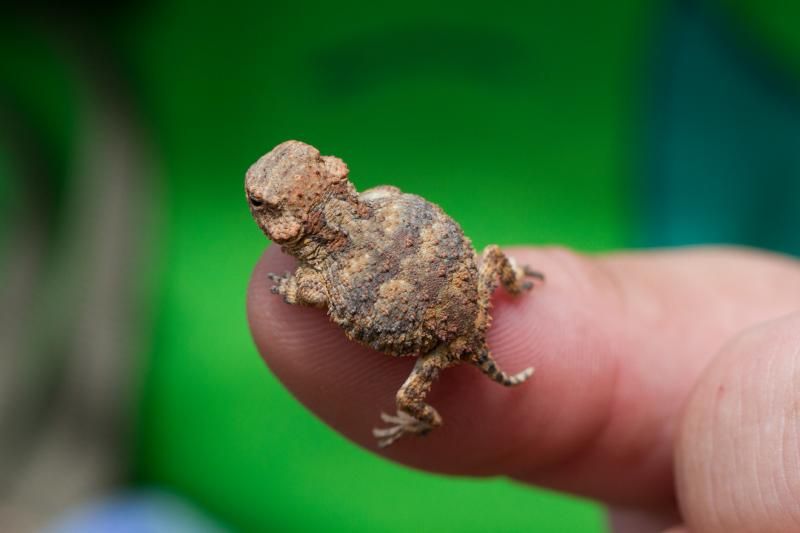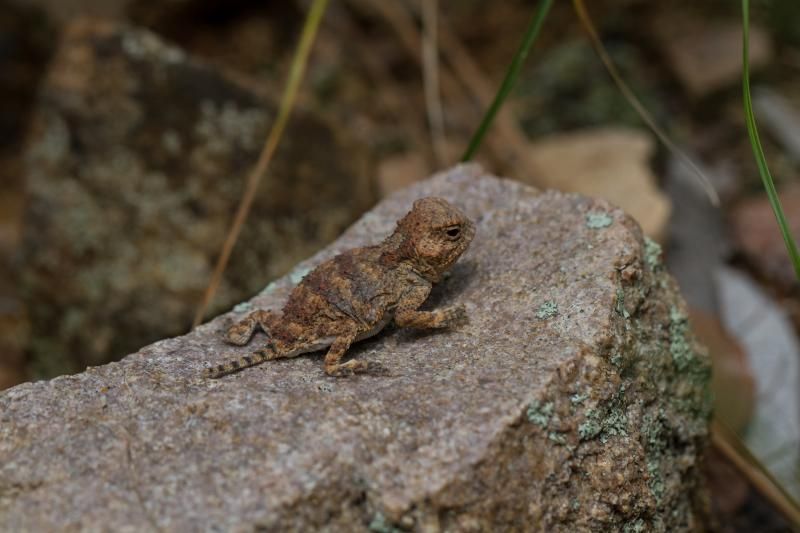 Spiny lizard
Another madrean alligator lizard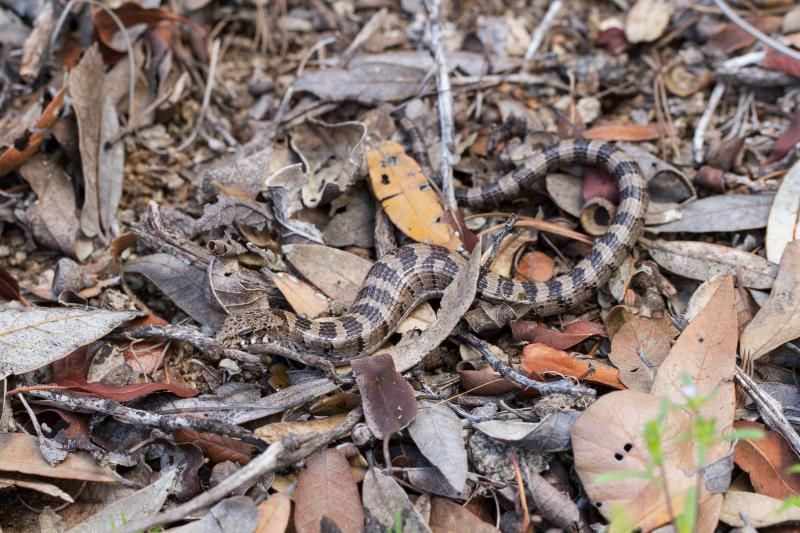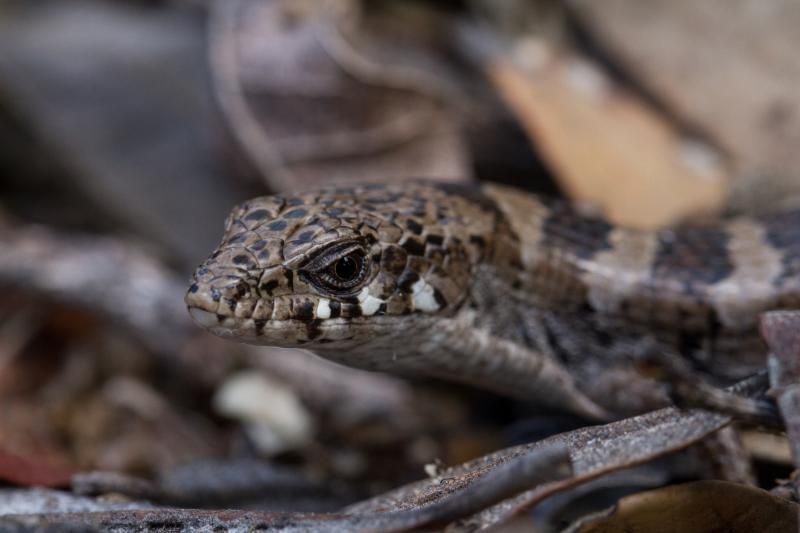 And another. These are very cool lizards IMO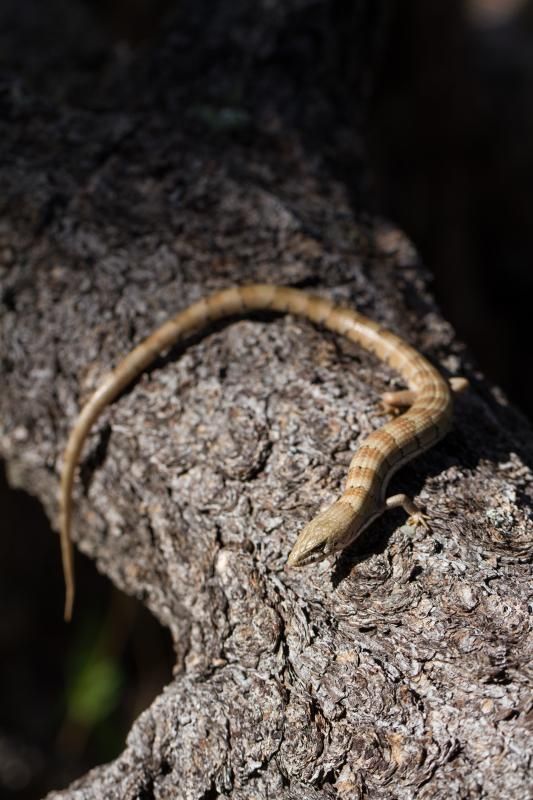 Canyon treefrog camo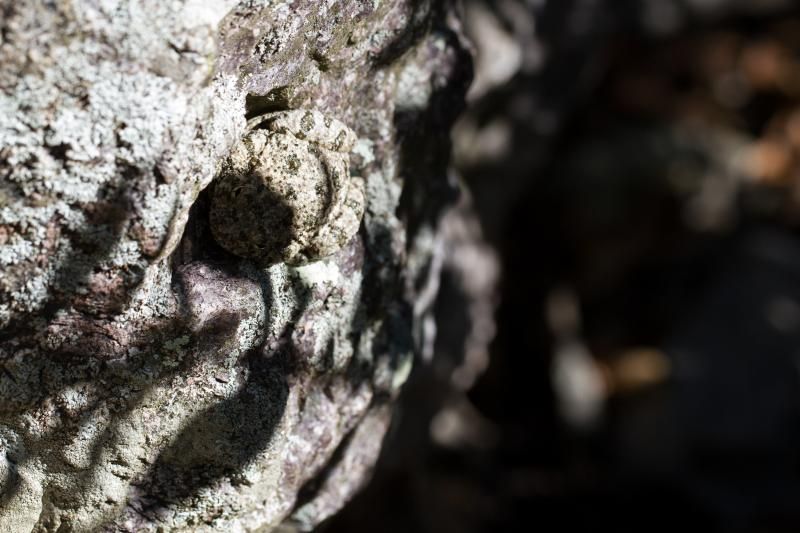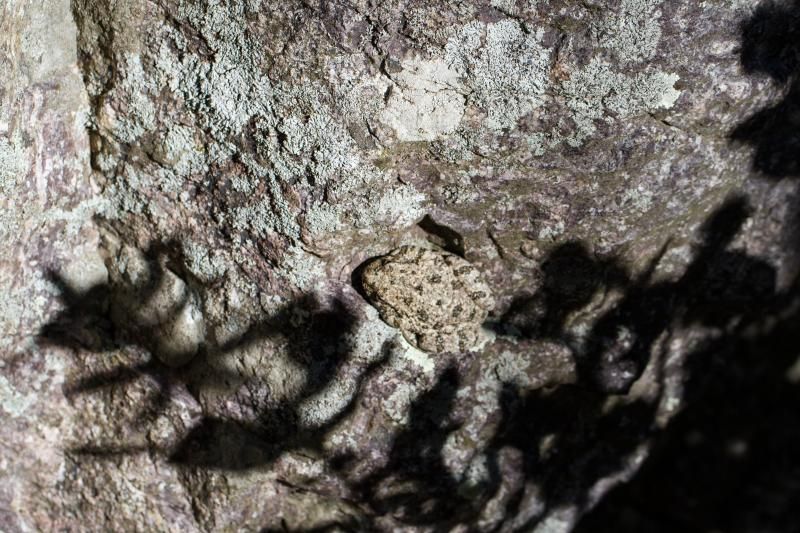 Another pretty spiny lizard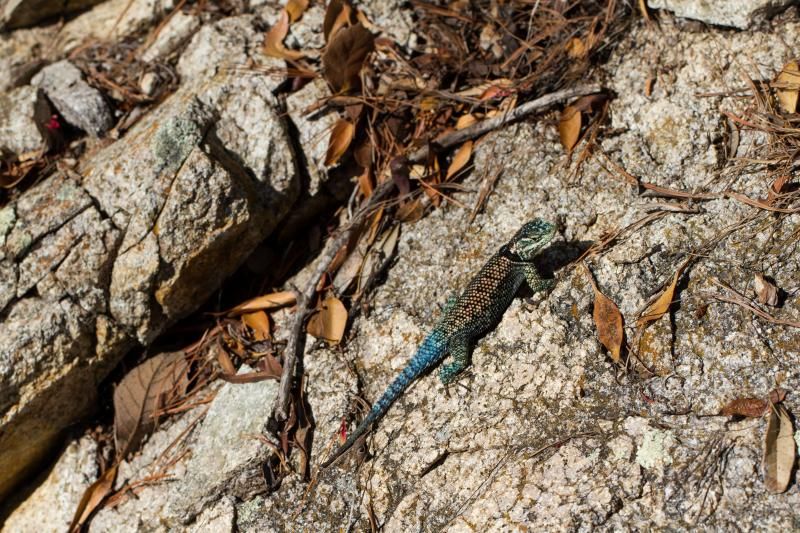 After we were hiking down, and the clouds had burned off.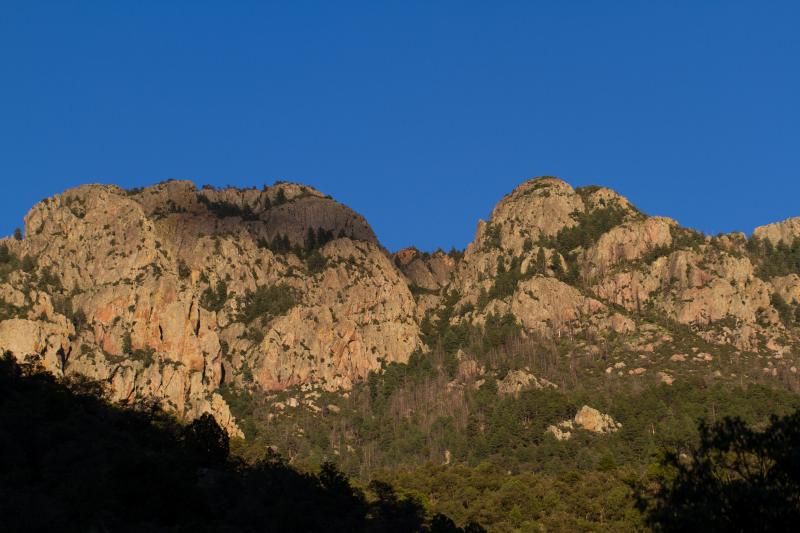 From here, we headed towards New Mexico, hoping to find more new species.
Here's my buddy Mack with a whipsnake. Remember the binocular vision I mentioned, they have excellent eye sight, and aim for your eyes. And they bite, a lot.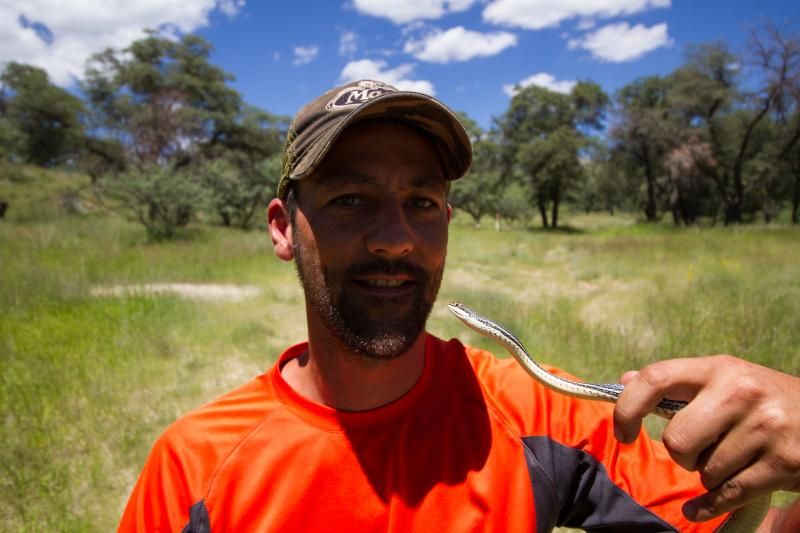 You can't see the blood, but this is right after it bit his cheek.
A fun view to photograph, if only we'd seen a different snake in a tree like this...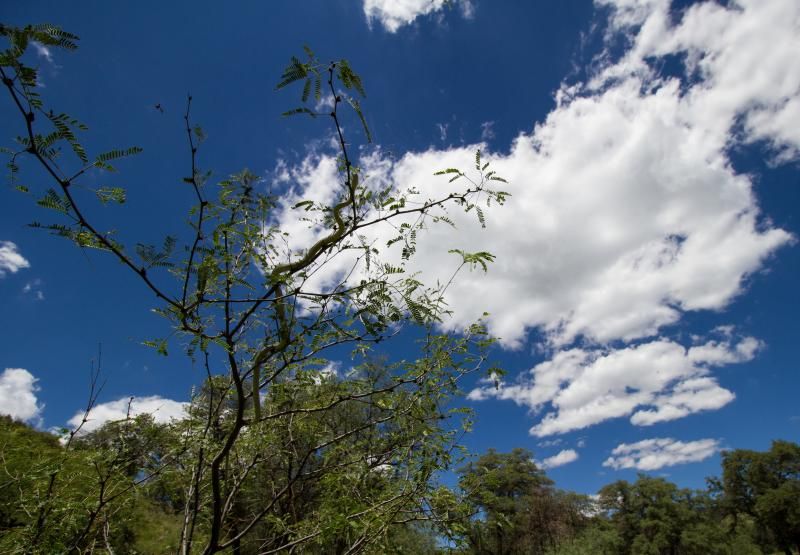 A rarely seen snake, many people we met this weekend were jealous we found one on our first night of looking, some people go to this area for years before they see their first. It was hooked off the road as semi-trucks were coming, and this is exactly as it was set down, no further manipulation took place. A desert massasauga rattlesnake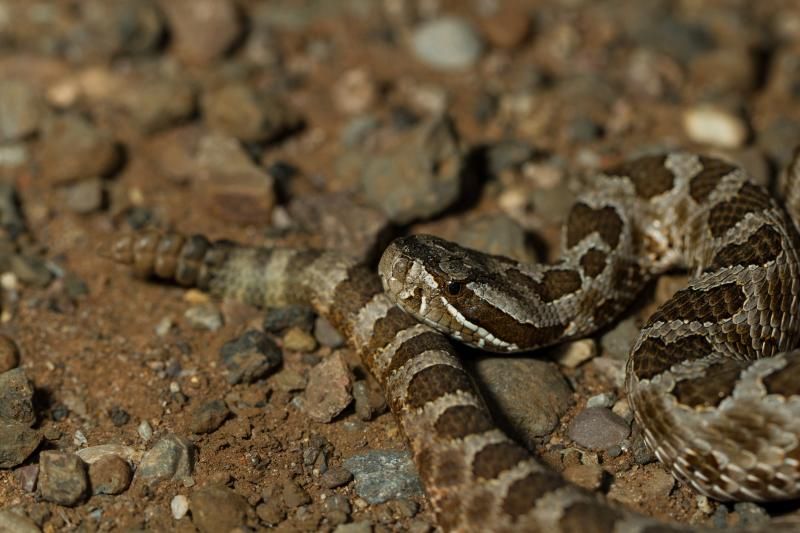 A Mojave rattlesnake, although I thought it was a prairie at first glance.
"Dude, get that light out of my face!"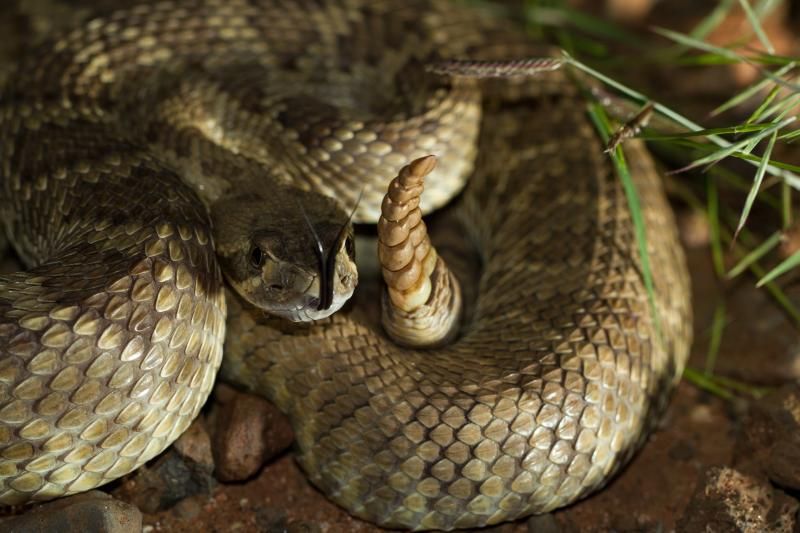 I woke up to this at camp in the Chiricahuas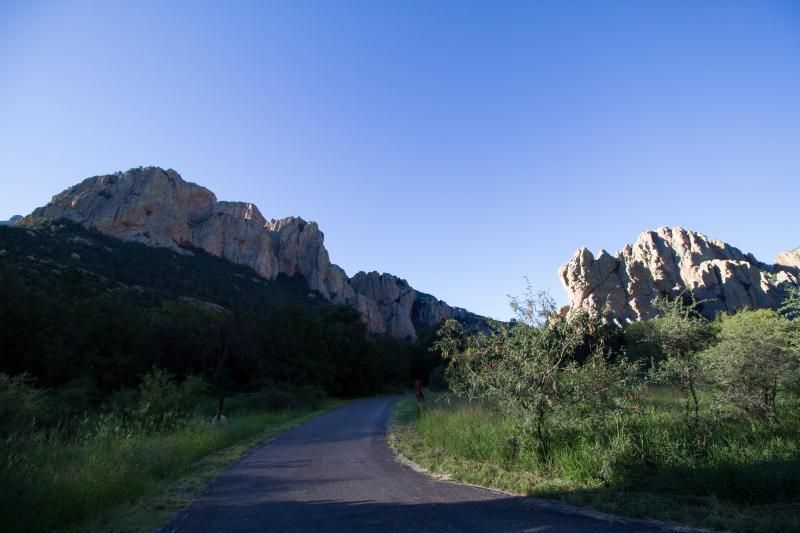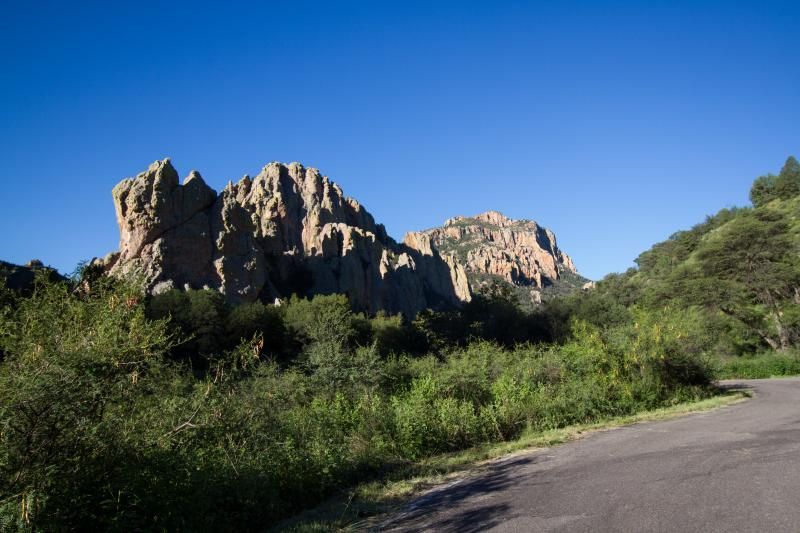 We made another hike uphill, and this time found some twin spotted rattlesnakes. And you CAN photograph them as found, without tearing the hill apart.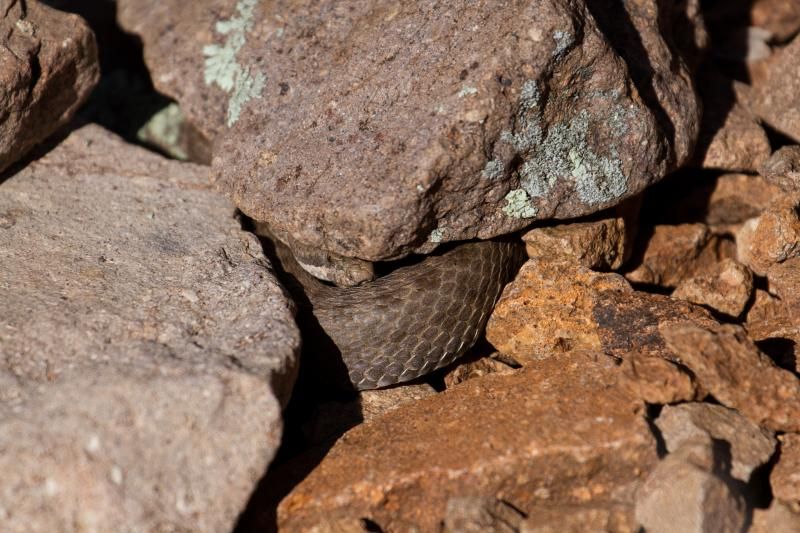 A spotted skunk. One of the coolest finds on the trip. Sorry for the many photos, I was busy with this while others were finding my lifer rock rattler. We hung out together for awhile, before my CF card got full...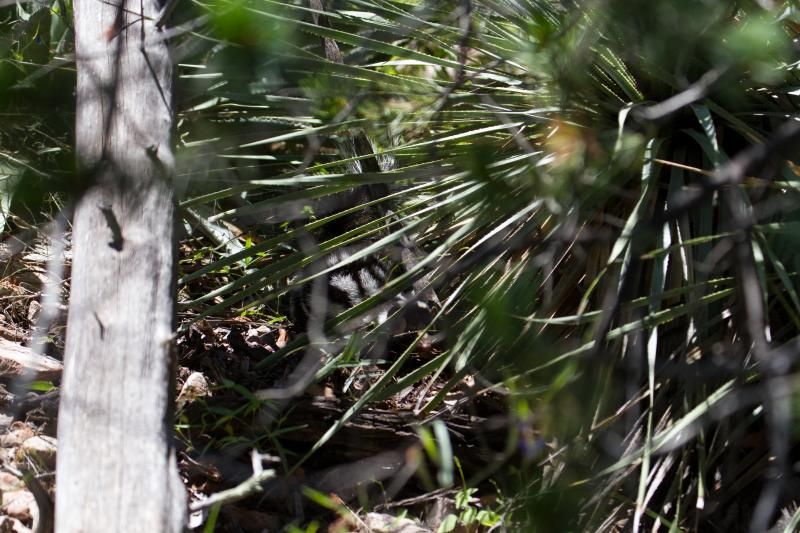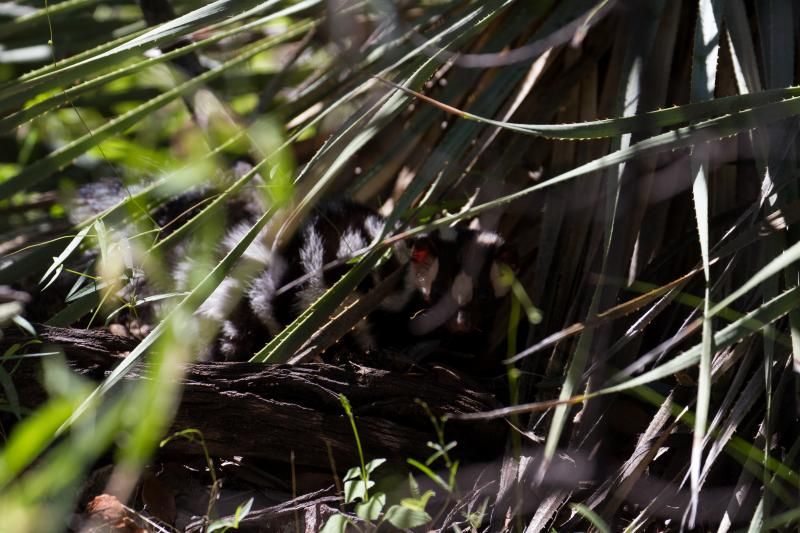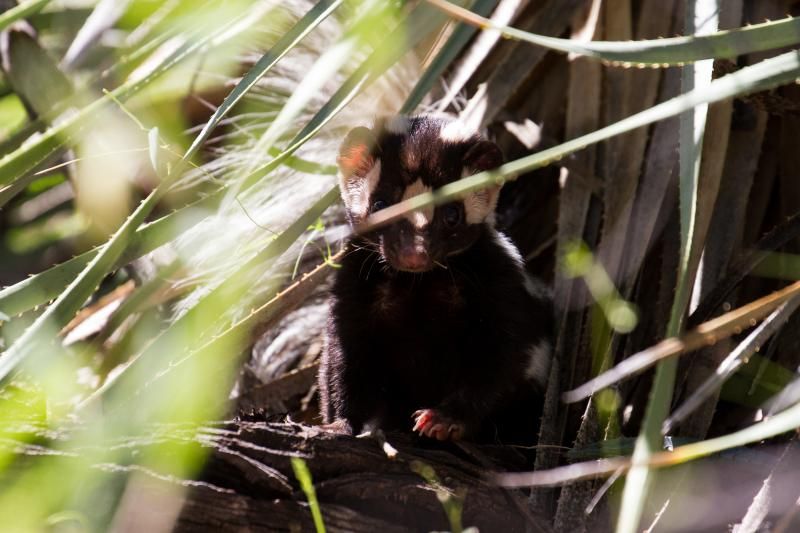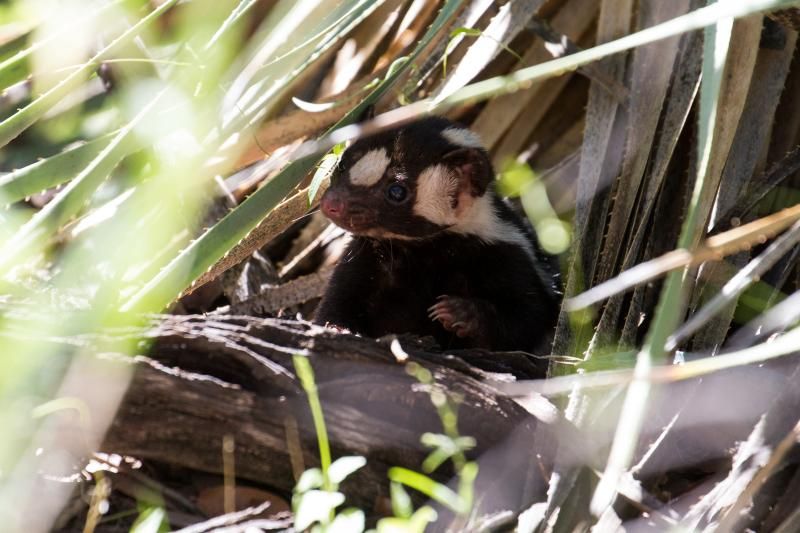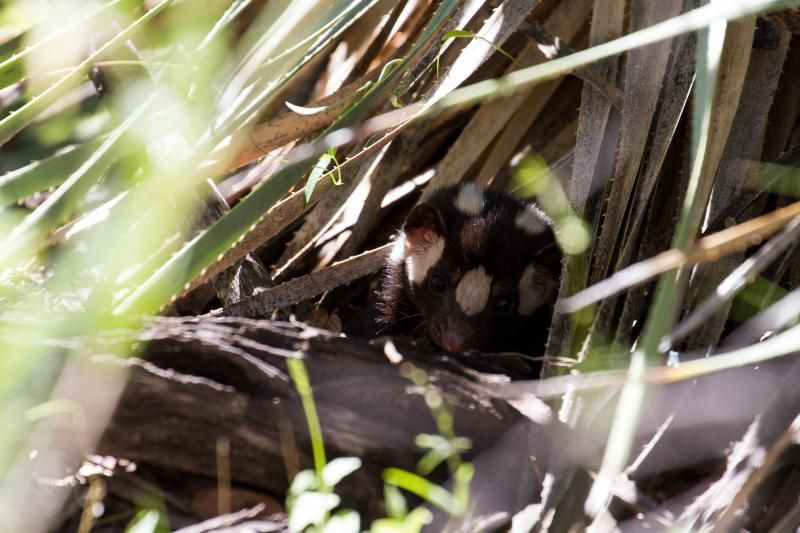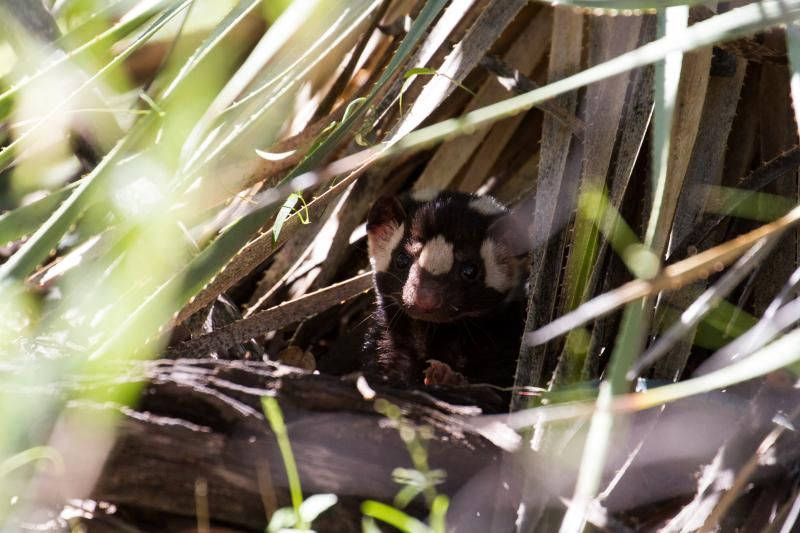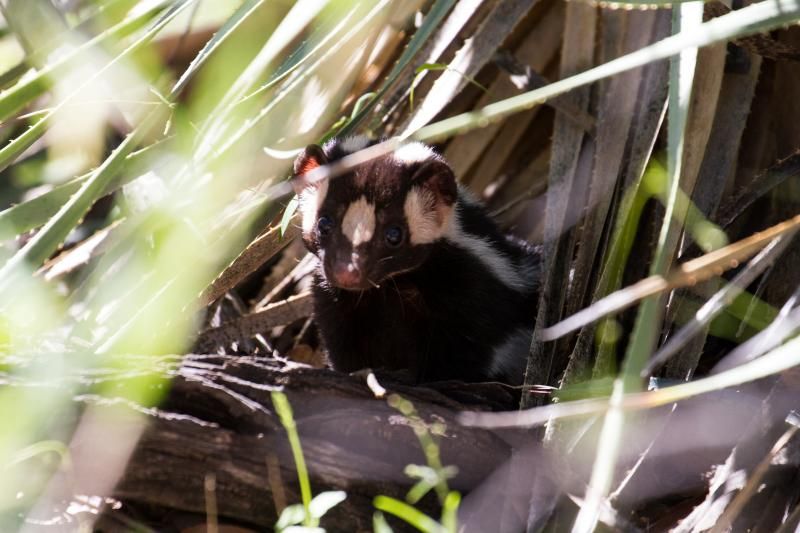 Arizona woodpecker
Striped plateau lizard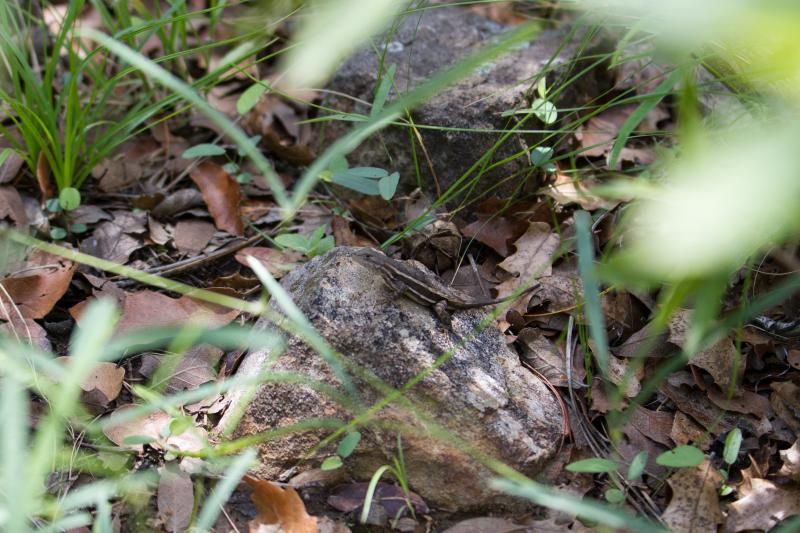 Banded rock rattlesnake, the one I didn't find since I had to go back to the car to get another memory card. Still photographed it in case I didn't see another, and it closed out the montane trifecta!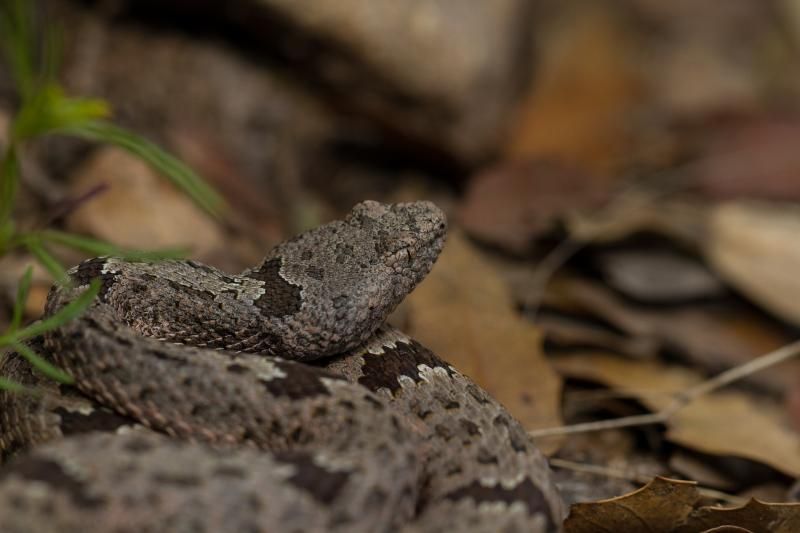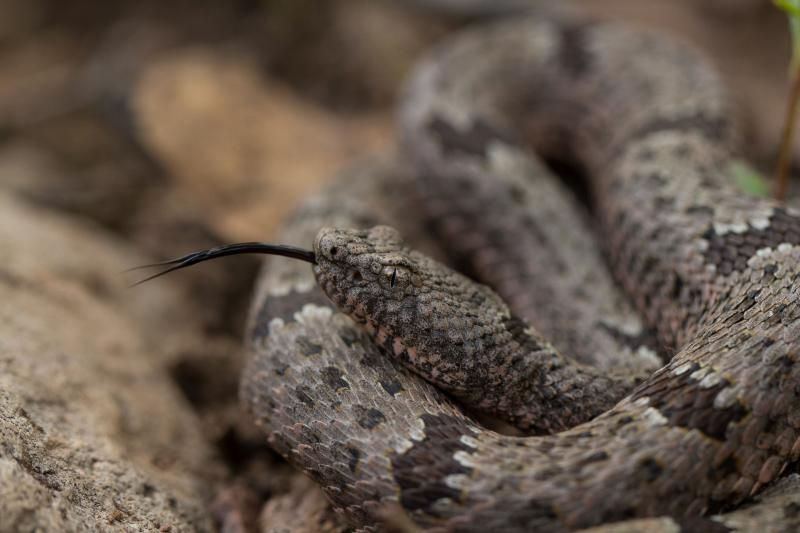 A blacktailed rattlesnake taking refuge from the hot sun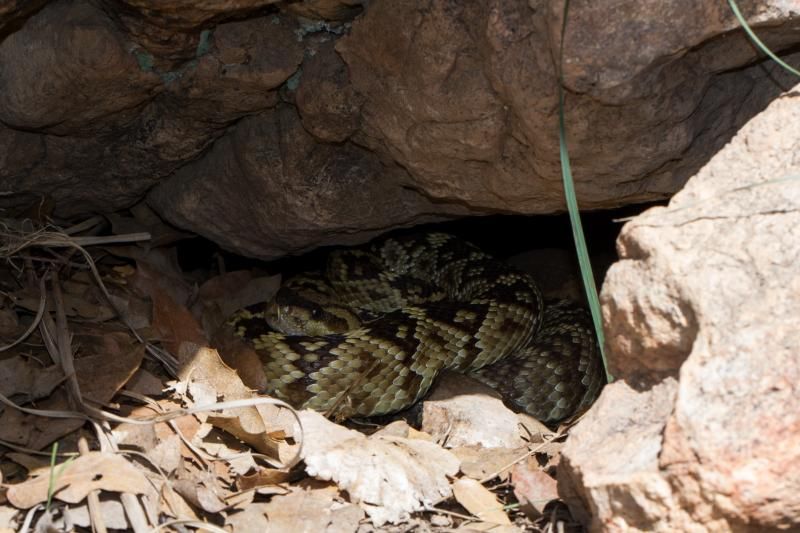 Desert box turtle
"Uh, dude, get off the ground and stop taking my picture, there's a car coming"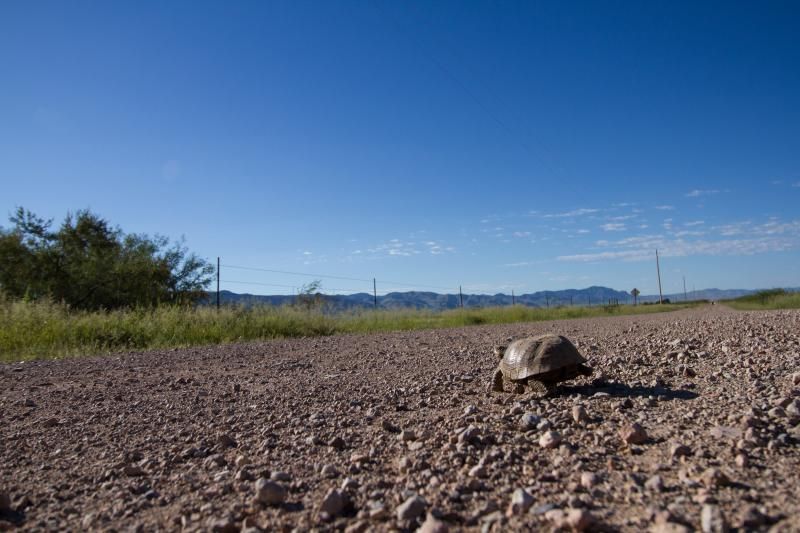 I was going to climb up there, but that's the direction the mama bear with two cubs ran after Mack almost bumped into her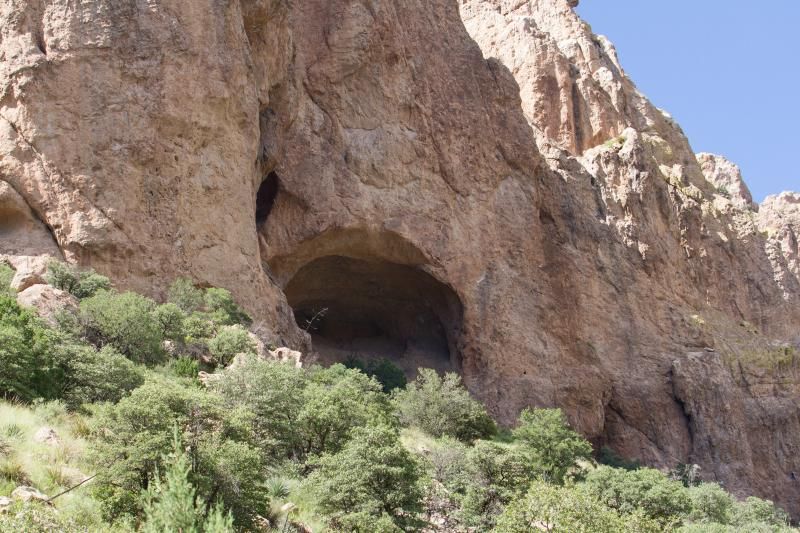 I was taking this picture while he was staring her in the face. He was about 30 yds to my right, smelling the angry mom's breath.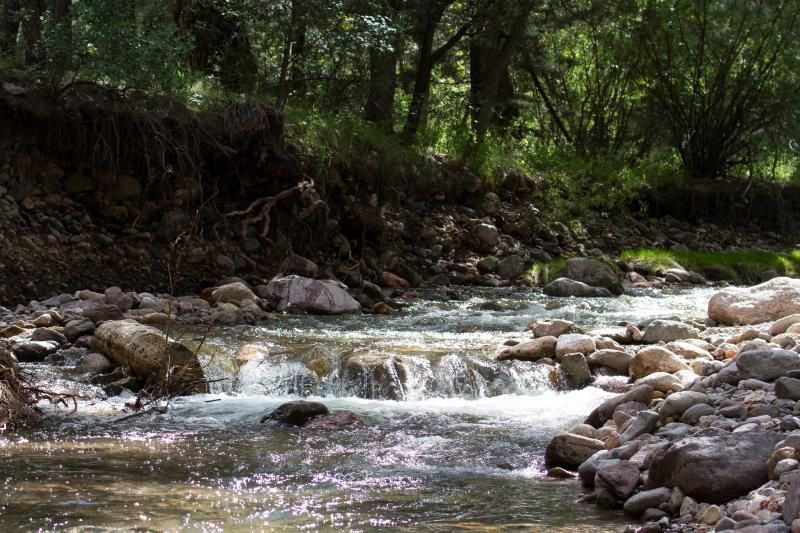 One night while driving around, we were stopped by NMFG to make sure we weren't poachers. They searched our whole car, and the whole thing took about 40 minutes. We were saying our goodbyes when Mack said, "Hey! There's been a rattlesnake sitting here the whole time." This is not a posed picture.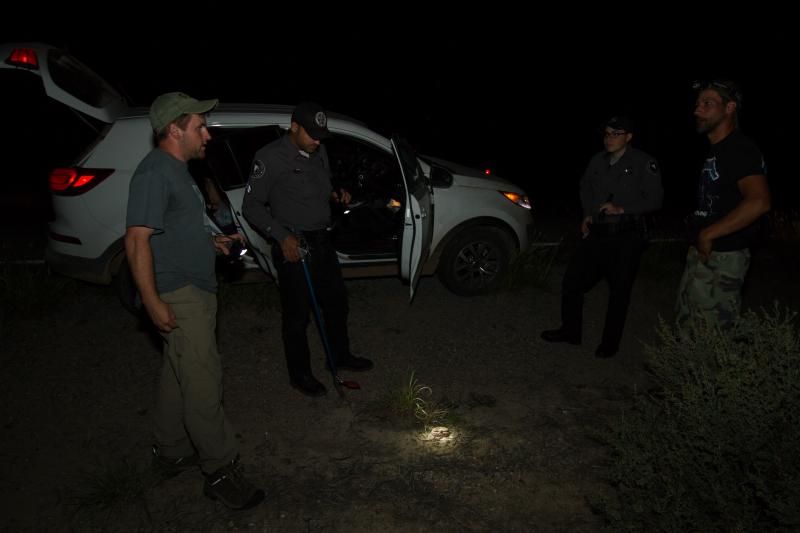 Another rock rattlesnake, this one was much more attractive, and I could actually count as my lifer
Pink and lavender. This is not photoshopped, it really was this color.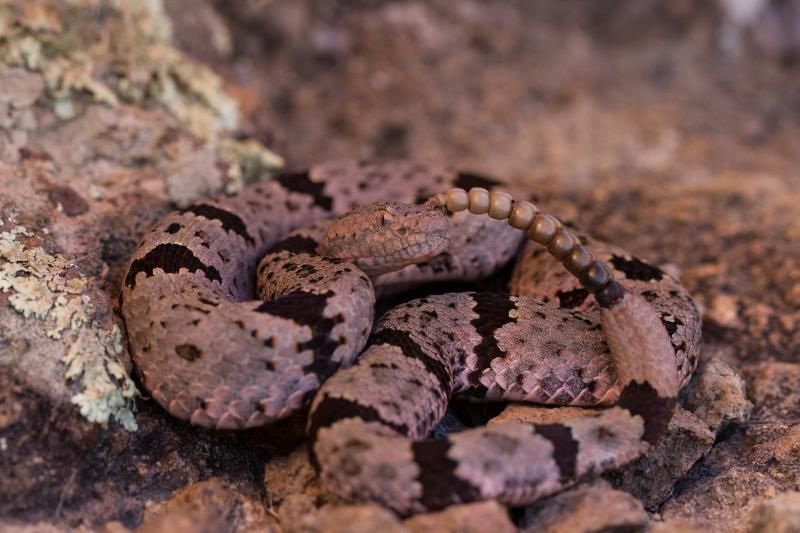 Different lighting with flash, kinda washed out the colors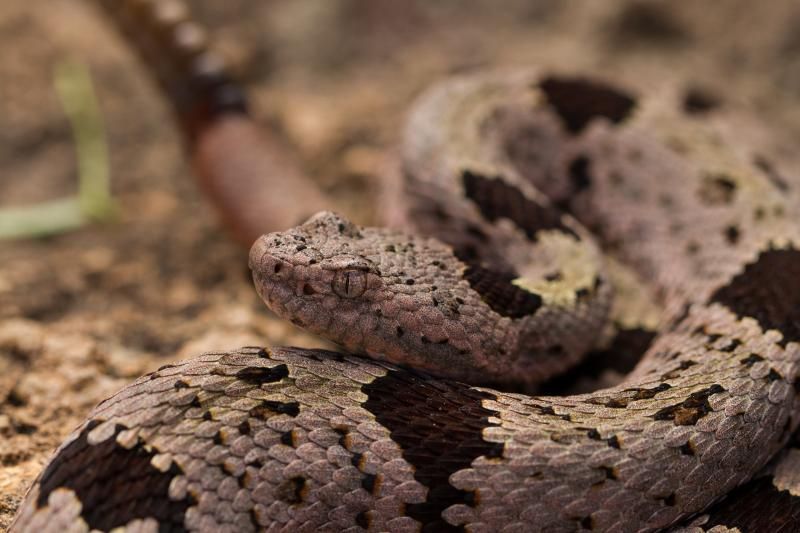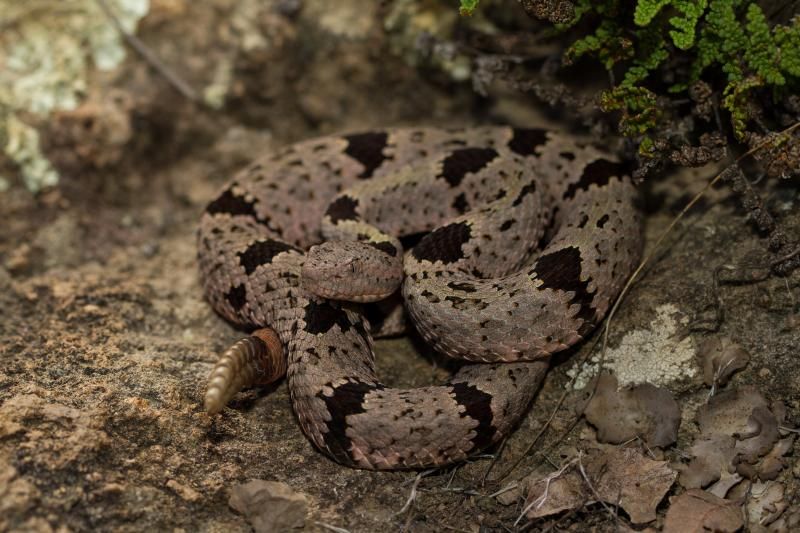 A road to a magical place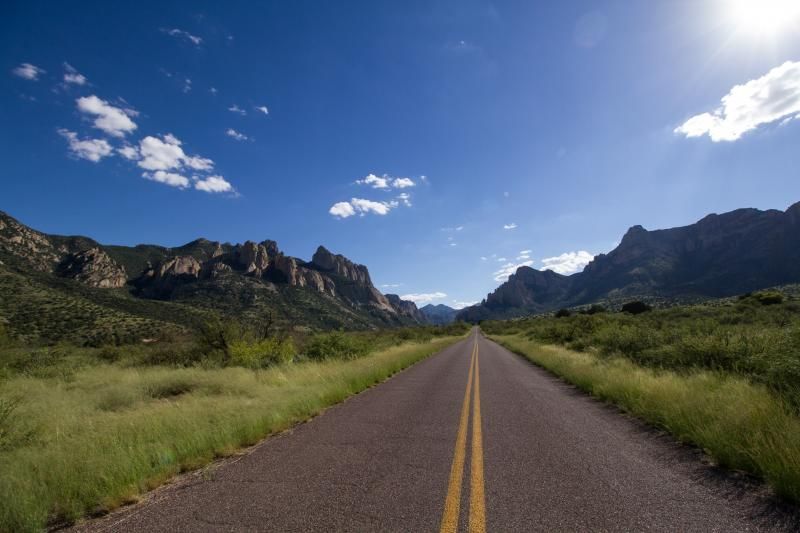 Texas horned lizard at sunset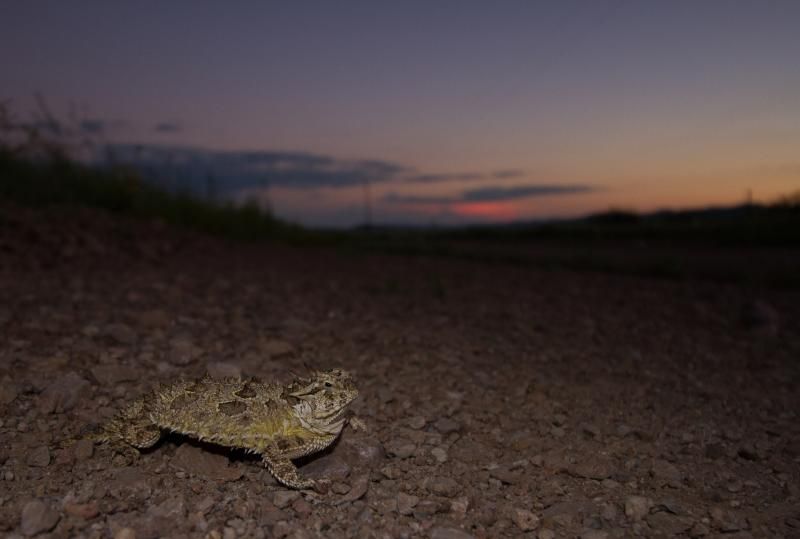 A longnosed snake that was hit by a car the night before, but showed signs of improvement and was released away from the road.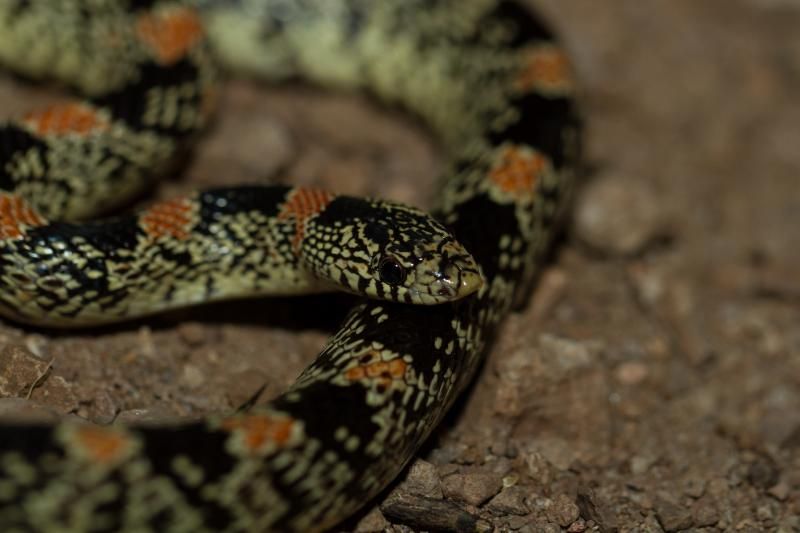 Another rarely seen snake (at least at that time of year), the Chihuahuan hooknose snake. They are shy, live underground, and don't hold still much for photos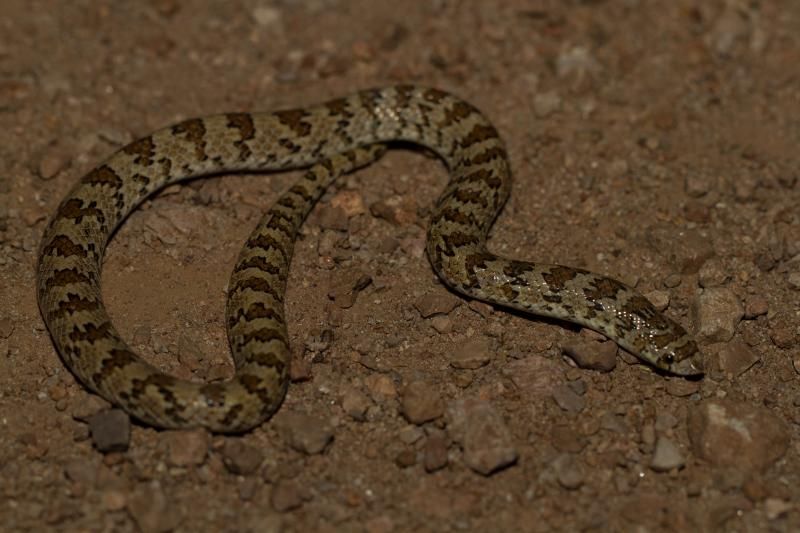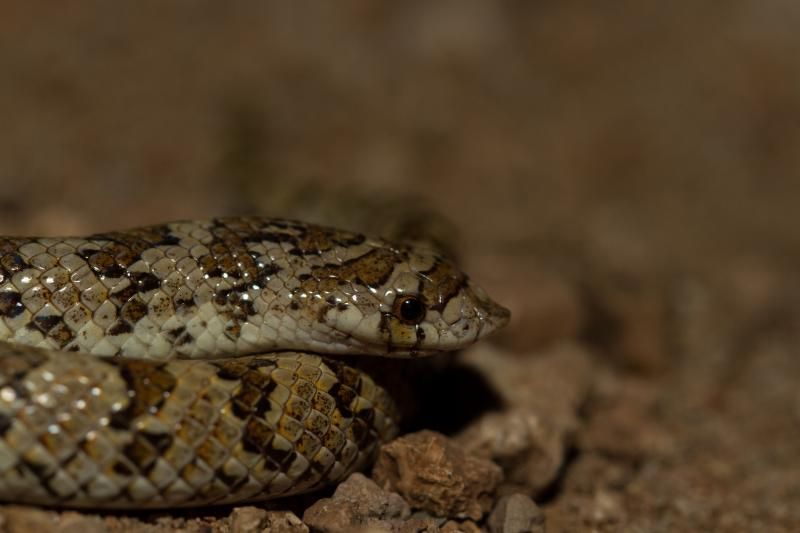 Juvenile great horned owls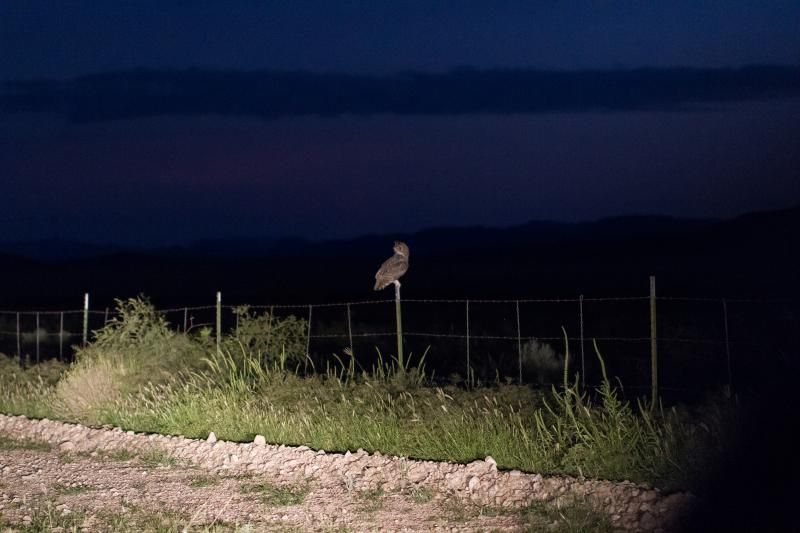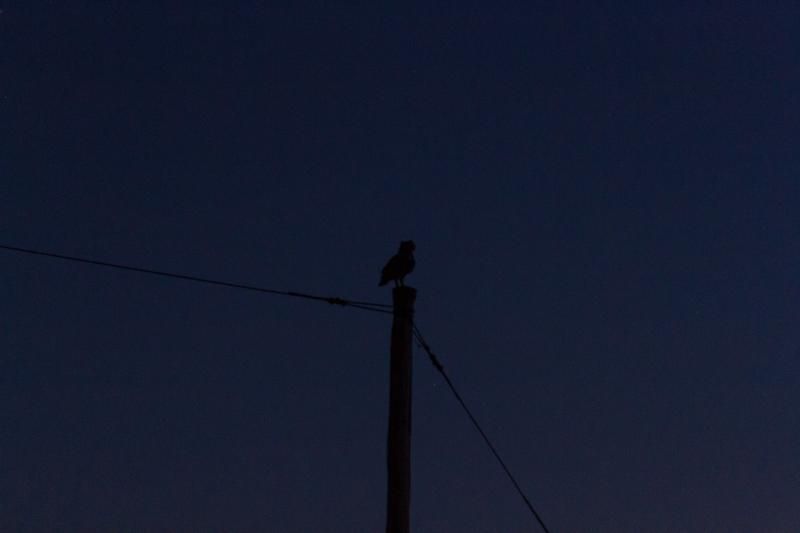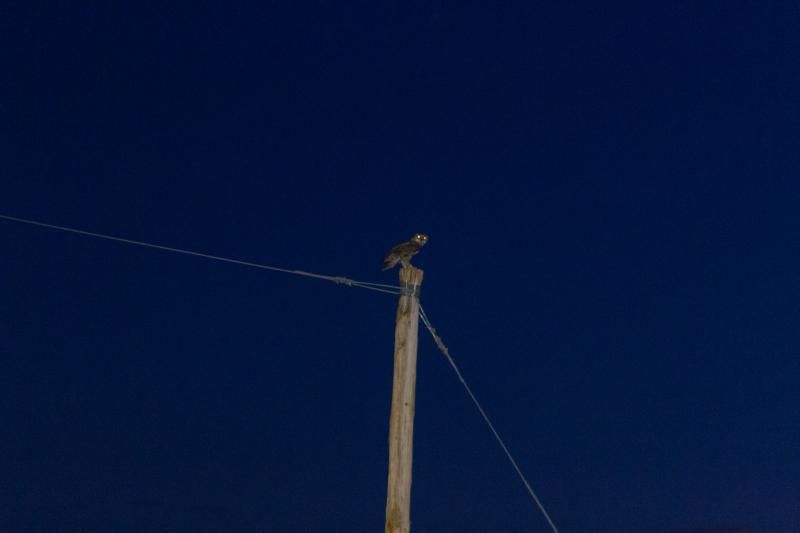 Great Plains toad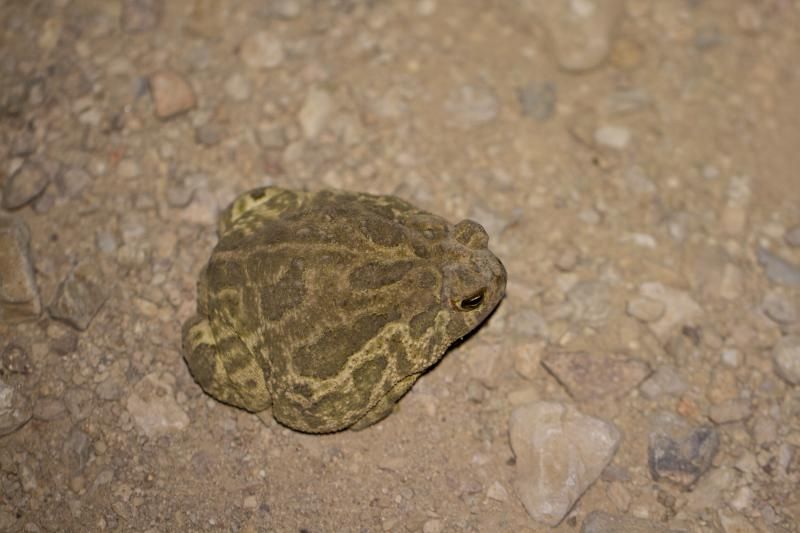 A Mojave rattlesnake with an interesting striped neck
Baby Lyre snake
Adult Lyre snake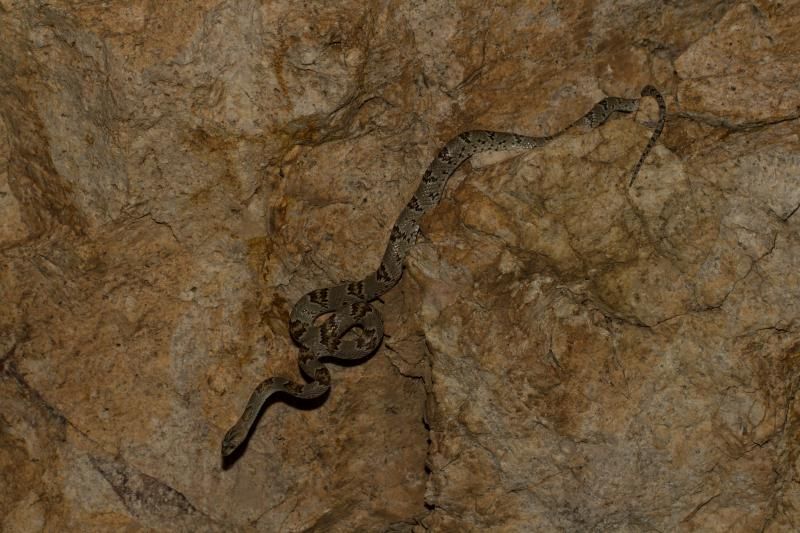 Gila Monster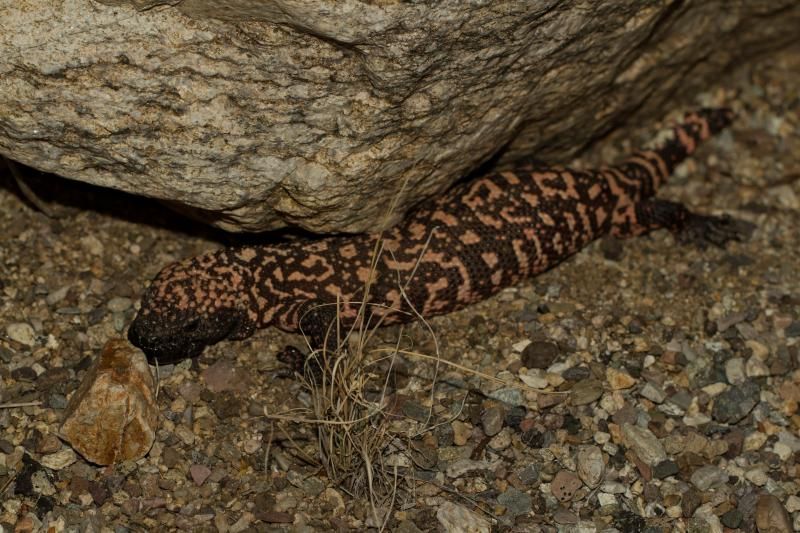 Tailless whip scorpion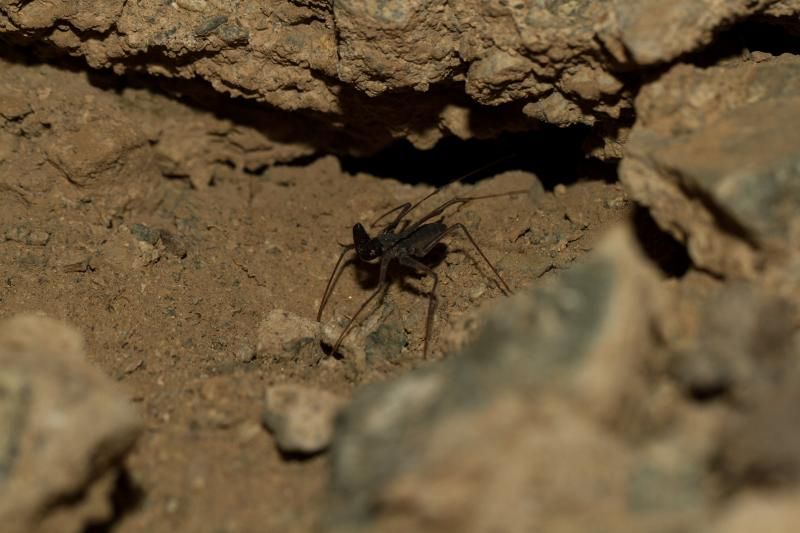 Desert packrat
Wind scorpion, also known as camel spiders
Killer bees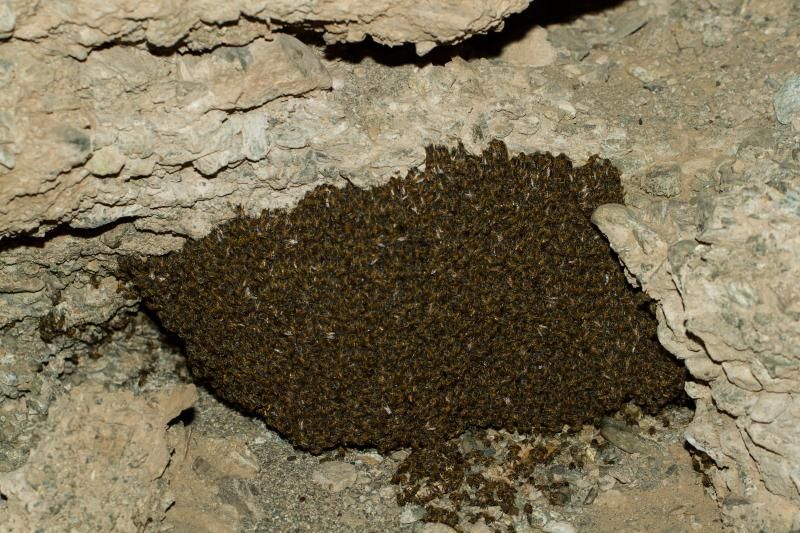 Yellow horned worms
And we ended our trip in the same wash, looking for the same snakes we previously missed at the beginning. 4 hours before we needed to be at the airport, Mack found one. A speckled rattlesnake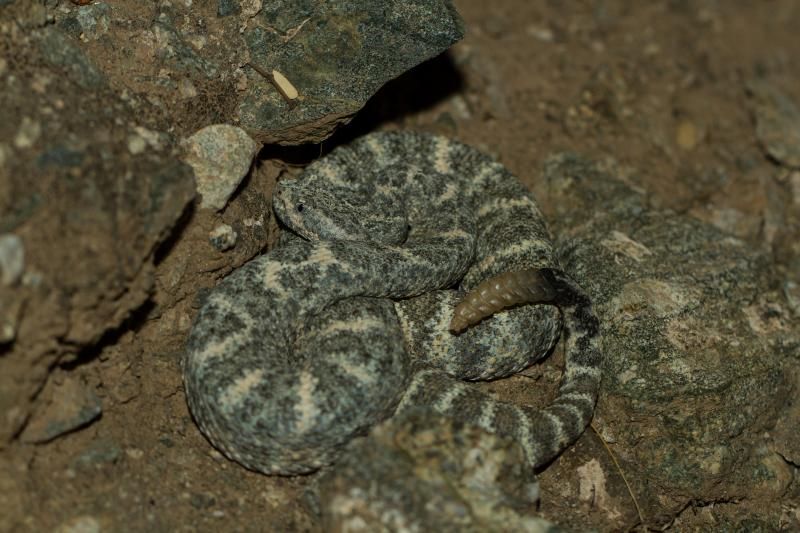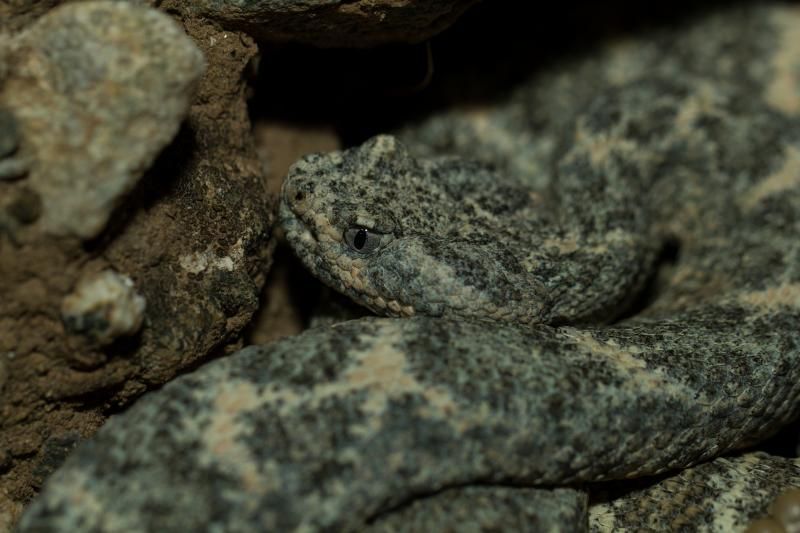 Thanks for looking! Snake Totals (Josh is still working on lizard IDs) for the trip are as follows;
31 Atrox 11dor
20 Mojave 4dor
4 sidewinders
5 Black-tail
3 Arizona ridge-nosed
1 massasauga
8 twin spot
4 rock rattlesnakes
2 viridis 1dor
1 speckled rattler
1 Coral
12 Sonoran Gopher 1dor
2 Regal Ringneck
9 Sonoran Whip 2dor
1 Red Coachwhip 1dor
2 sonoran coach 1dor
2 Mexican Garter
3 checkered 1dor
5 Black-neck 1dor
4 Eastern Patchnose 3dor
3 Big Bend patch 2dor
1 Cal King
3 western long-nosed
2 texas long-nosed 1dor
2 Chihuahuan hooknose 1dor
3 plains blackhead
4 sonoran lyre snake
1 painted desert glossy 1dor
1 night snake
5 Misc DOR