(A link to Part 1:
http://www.fieldherpforum.com/forum/vie ... =2&t=20175
)
Southmost Cameron County is, without over-complicating things, the southernmost tip of the state of Texas. Here, the Rio Grande winds up and down near the end of its delta, and at one time deposited seasonal floods from its mountainous headwaters over a forty-to fifty-thousand-acre Sabal Palm (
Sabal mexicana
) forest, the only one of its kind in the entire United States. Today, the Rio Grande is bound by dams and over-allocated for agricultural and residential use - and the original palm forest has been reduced to two main parcels perhaps totaling only a hundred acres in Texas. Of these two parcels, the largest, most compact, and most mature lies within the Sabal Palm Sanctuary, famous among herpers for its large population of Speckled Racers (
Drymobius margaritiferus
). The other parcel is spread out around the neighboring Southmost Preserve, which, though less famous, also harbors
Drymobius
. The Southmost area is also home to
Coniophanes
,
Drymarchon
, and
Leptodeira
, along with a number of other snakes, the most abundant of which appear to be Gulf Coast Ribbon Snakes (
Thamnophis proximus orarius
) and Rough Green Snakes (
Opheodrys aestivus aestivus
). Still, the primary target for herpers visiting the area are
Drymobius
, perhaps the most beautiful and frustratingly elusive snake in South Texas.
Drymobius margaritiferus margaritiferus
, the Northern Speckled Racer, is an aptly named serpent:
Drymobius
means "forest dweller," and
margaritiferus
means "bearing pearls." At least in Texas, the "forest-dwelling" portion of the name seems to almost invariably hold true. This is a snake that enjoys shade; I have seldom found them far from cover, be it a fallen palm leaf or other, more typical South Texas scrub.
In fact, they are known in Texas from only two main historic forested localities: in and around the Sabal Palm forests of Southmost Cameron County, and in the hackberry forest of the southeasternmost corner of neighboring Hidalgo County. Today, in the first locality, they are known from the open-to-all-visitors Sabal Palm Sanctuary, in the open-by-appointment-only Southmost Preserve, and in adjacent areas, usually those containing canals and ditches. In the latter locality, they have not been recorded with absolute certainty since probably the 1930s. Since then, all but one tiny parcel of forest along that stretch of the river has been cut down. This parcel is now the El Zacatal unit of the Lower Rio Grande Valley National Wildlife Refuge. Since this unit is closed to the public, I was unable to check as to whether or not the population persists. However, Blake Tyler (mentioned in my previous post) claims to have gotten a good look at one in the adjacent, revegetated Anacua Unit of the Las Palomas Wildlife Management Area in southwesternmost Cameron County. Since the Anacua Unit was, at one time, farmland, any racers that might now live there must have repopulated from close by, meaning that the El Zacatal unit may indeed contain a population in Hidalgo County (which would make sense; it borders the river, is cut by a canal, and is near a resaca; given the riparian habits of this snake, racers would probably find the place a good home indeed). As far as being "pearl-bearers," well, all you have to do is look at them.
Anyway, like the Cat-eyed Snake, this species ranges from South Texas to the Yucatan Peninsula and into South America. It is also found along Mexico's west coast up to southern Sonora. Throughout much of its range, this is a largely green snake with black-edged scales. In Texas and adjacent Mexico, racers are more black with a light spot at the base of each scale. This spot can range in color from white to yellow to green to blue, and younger individuals often appear to be a brilliant turquoise. Further south this snake is considered semiaquatic and eats mostly anurans. In Texas, where anurans can occasionally be scarce (though the Southmost area usually has sufficient water to keep leopard frogs around), lizards probably also make up much of the diet, with skinks and whiptails being common in the leaf litter that the snakes inhabit. Listed as threatened by the state of Texas, these active diurnal snakes are lightning fast and surprisingly camouflaged, and the most common glimpse of them is from behind, at the last possible moment, as they escape into the brush.
And that was pretty much my only experience with them. In 2011, on my first visit to the Sabal Palm Sanctuary, Gus Rentfro was able to capture one for my dad and I to see more closely and photograph. On every subsequent visit my dad and I either failed to locate any or saw one as it would slither off before we even knew what it was. It was very frustrating. But all of that changed this summer. I made visits to the Sabal Palm Sanctuary, hereon referred to affectionately as "Sabal," whenever I could. Because, without fail, I could find snakes there during the morning. It became a sort of second home – which was difficult, considering I live an hour and fifteen minutes away. In total, I've made ten trips to Sabal this summer, which may not seem like much, but it's a substantial number. This post is about my adventures at Sabal. Because I can't chronicle all ten visits to you in one post, I'll simply describe a few of the more memorable experiences.
On June 12th, I visited Sabal with my grandfather. We arrived at about eight o'clock, and stopped by the butterfly garden to check the water feature for snakes. Nothing. As we were leaving, however, I saw a moderately-sized, brilliant green speckled racer escaping into the brush at the edge of the garden. Darn. Still, it was my first sighting that summer (my second visit). We then walked down the Forest Trail, and at about 8:15 I looked to my right and saw a small Texas Coral Snake (
Micrurus tener tener
), my lifer, weaving through the leaf litter. My camera was not set up properly to take decent in situ shots, so I did what little I could before it crawled off. Still, a very cool experience.
Then, at 8:45 as we rounded a bend on the Resaca Loop Trail, I found a little Tamaulipan Black-striped Snake (
Coniophanes imperialis imperialis
), my first for the summer. And I suppose the time has come for my discussion of this species in Texas. Dirty like a little fossorial bugger: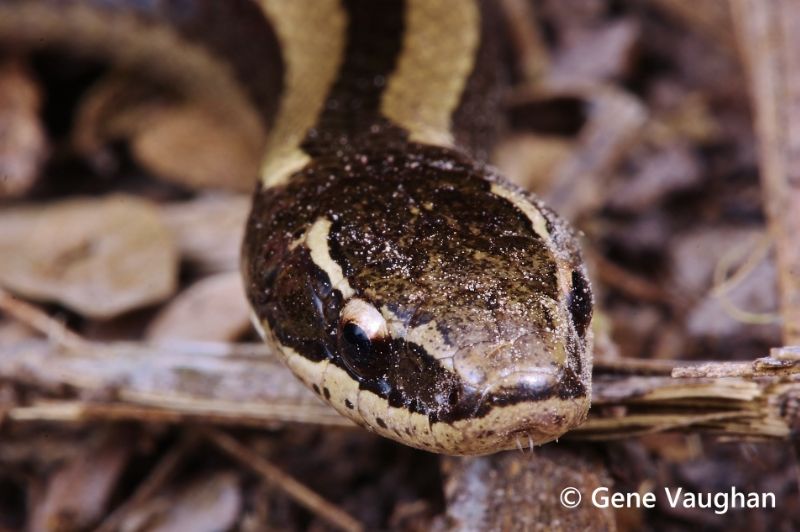 The Regal Black-striped Snake (
Coniophanes imperialis
) or Tamaulipan Black-striped Snake (as the nominate race is called), is another specialty species largely restricted to the Rio Grande Delta, and its range in Texas includes Cameron, southern Hidalgo, southeastern Starr, and southern Willacy counties. Outside of Texas it ranges along the Gulf of Mexico to the Yucatan Peninsula and from there to Honduras. It appears to be largely fossorial, and may be either crepuscular, nocturnal, or even diurnal on the right days. Mildly venomous, frantic when handled, and sporting a bright orange "warning sign" belly, this small snake makes the most of whatever defenses it has (though it doesn't always bite). Of the four Neotropical snake species in Texas, this snake is perhaps the least picky as far as habitat goes: I used to see them with regularity around my house, well inside the city of Mission (though I haven't seen any recently, probably due to the exploding cat population in my neighborhood). They are listed as Threatened by the state of Texas, but not much is really known about their population numbers here. Here is a specimen found at 9pm on June 28th at Bentsen-Rio Grande Valley State Park in Hidalgo County: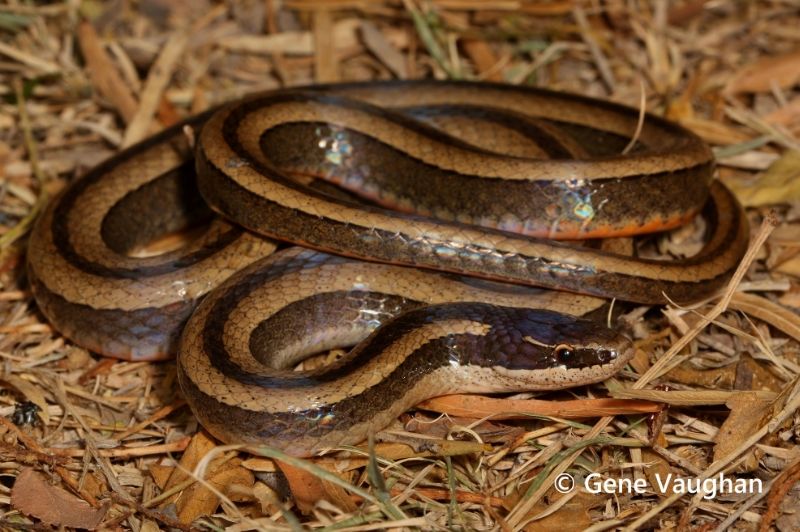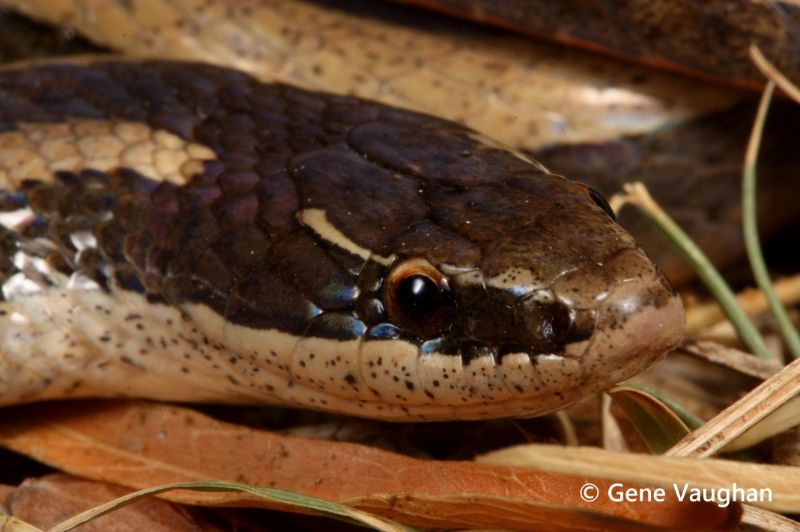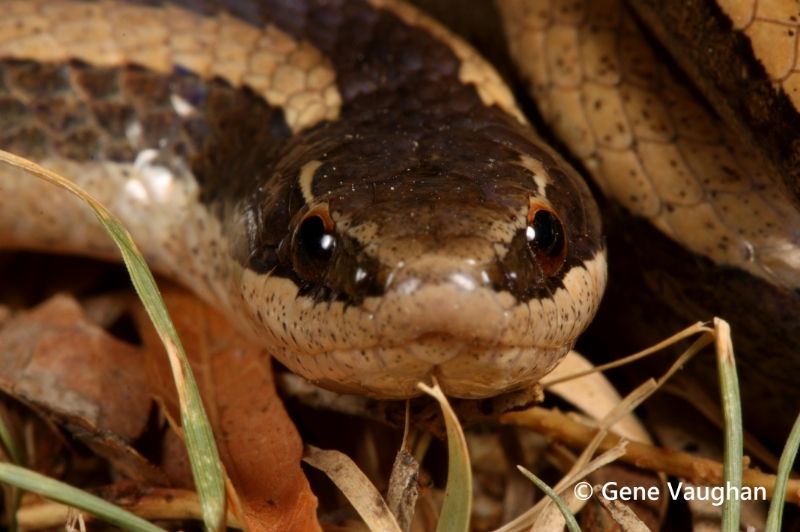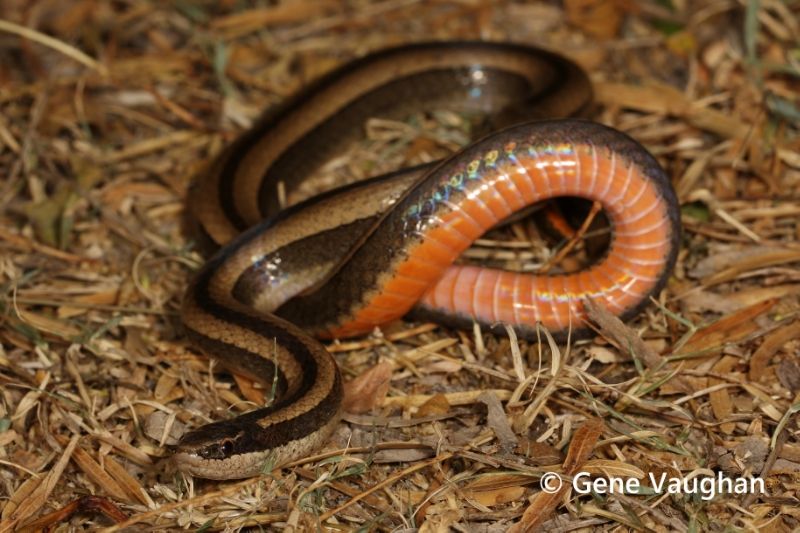 Back to the story: After seeing the
Coniophanes
(and running into Gus Rentfro), we saw two ribbon snakes and were on our way out when we saw yet another speckled racer. We got a good look at this one, which eyed me from behind a palm tree before slithering off behind the barbed wire which runs along the Resaca Loop Trail. It had been a good trip.
My next interesting adventure took place on June 21st. That morning I went to Sabal alone, and was having a pretty unsuccessful first thirty minutes. I decided to walk down the Resaca Loop Trail, and at the spot where it turns just before the boardwalk that stands over the resaca, was (lo and behold) a beautiful speckled racer rooting around some fallen palm branches. Using all of my concentration and determination, I caught it – finally! Now I know it's against the rules to capture them, but bear with me; I know the sanctuary employees pretty well and have a "just don't collect anything" understanding with them. Anyway, after a great photo session with the surprisingly cooperative snake, I walked back to the spot to release it where I found it. When I rounded the bend (at about 9:15), my eyes were met with a sight that I will never forget. Within about a twenty-foot stretch of trail ahead of me, there were FIVE OTHER SPECKLED RACERS all either stretched out and completely still or quietly cruising around the leaf litter, one of them in exactly the same place where I captured the first one. I released the first one and caught the one that had been in its place, but I thought better of it and released it instantly. I had gotten what I wanted that day. Still, I had some time remaining, so I kept walking around the Resaca Loop Trail, and stumbled across a little
Coniophanes
. I won't even begin to describe how difficult they are to photograph, I'll simply say that the bottom shot, with which I am immensely satisfied, is the only picture that I was able to take.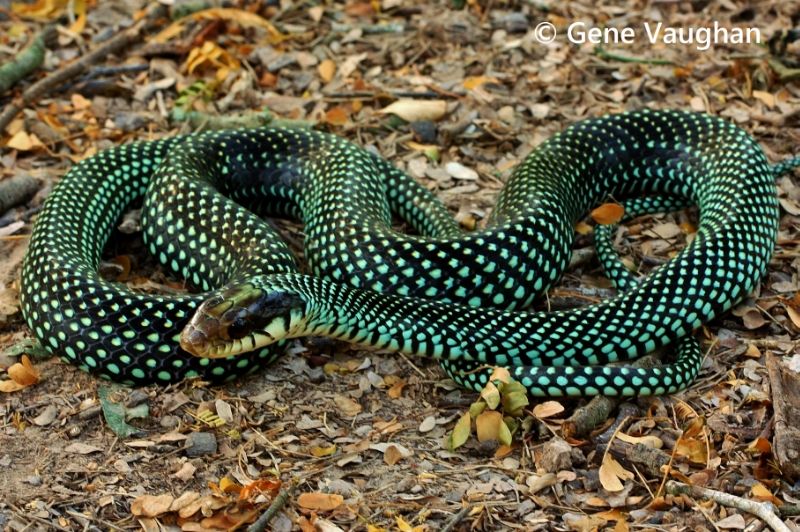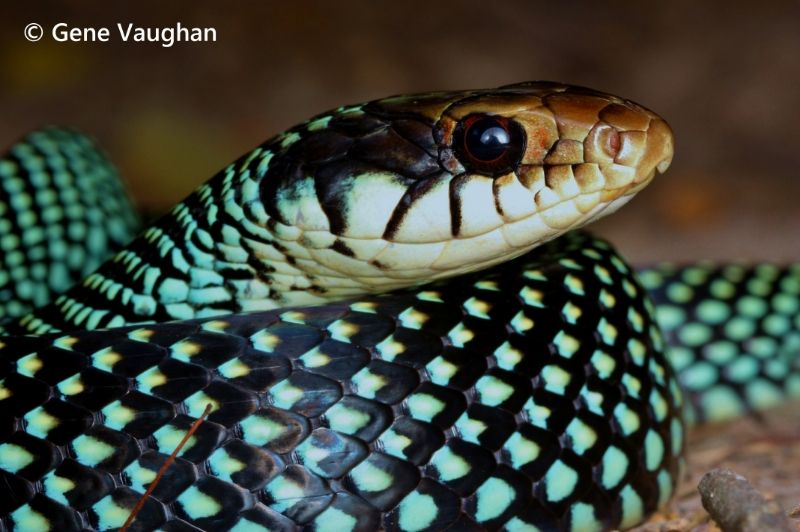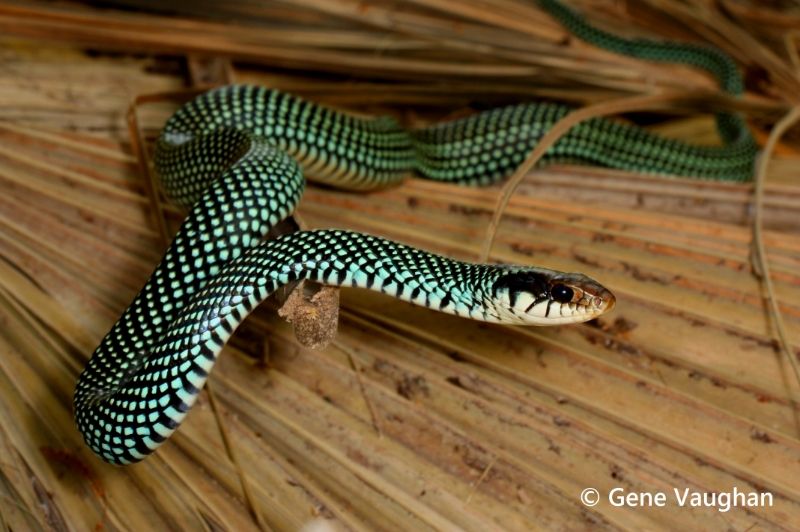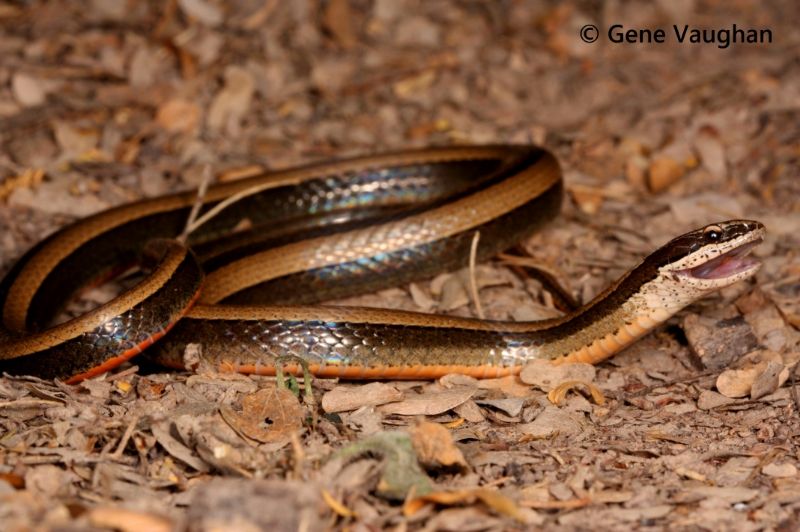 On subsequent trips with my dad I photographed a Rough Green Snake (which my dad has a knack for spotting in trees), another speckled racer, ribbon snakes (which can be found readily in the trees above the resaca), and a decent-sized Texas Indigo Snake (
Drymarchon melanurus erebennus
). Because most of you are more familiar with indigoes than with the other Neotropical reptiles in Texas, I'll spare you my quick discussion of their local natural history. Suffice it to say that I haven't seen many of them, but the four that I've seen this summer (ranging in size from 3 feet to over 5 feet) have all been at Sabal.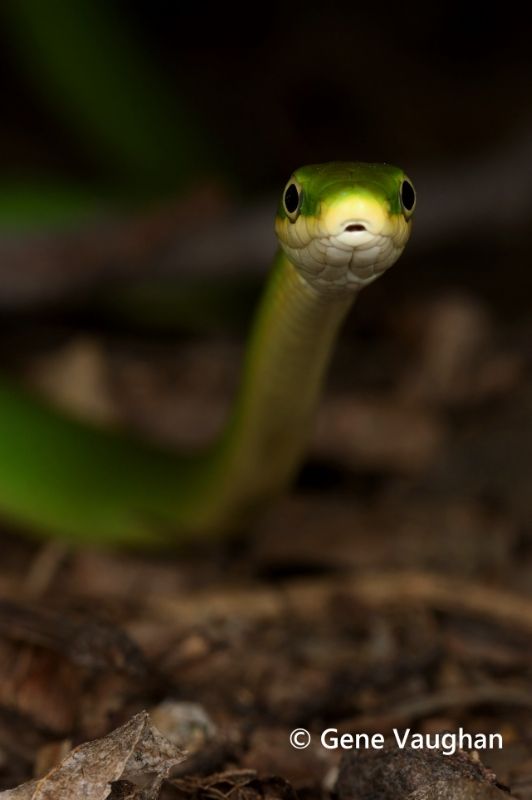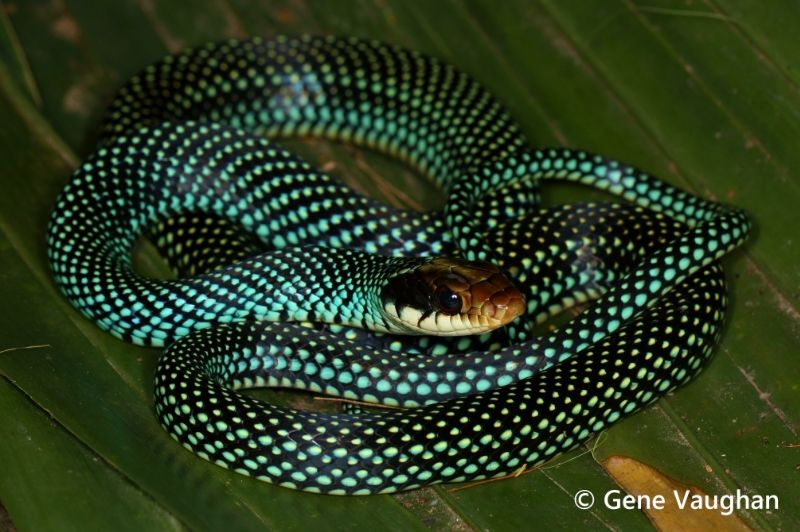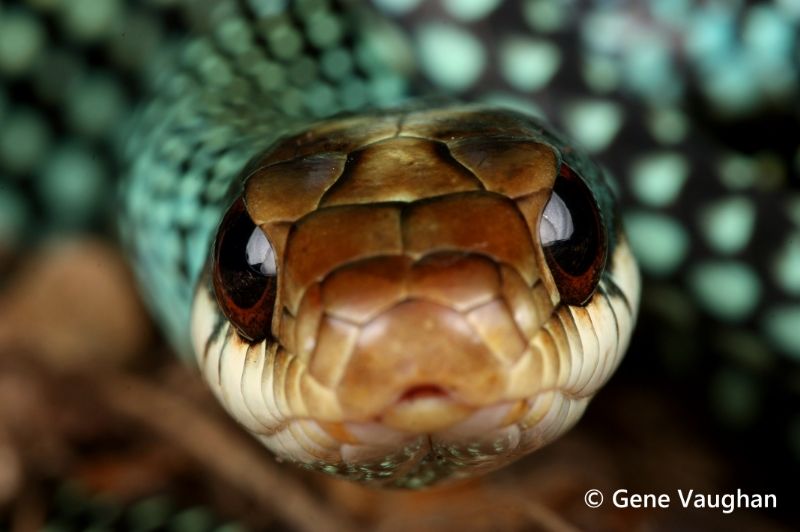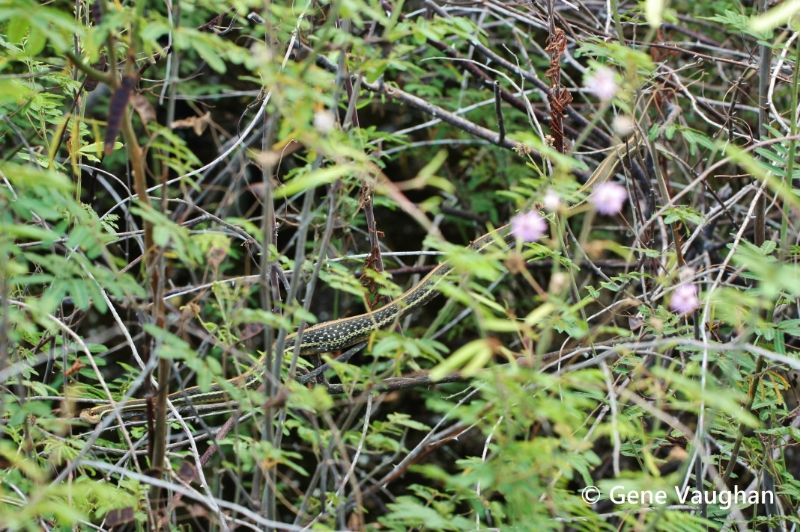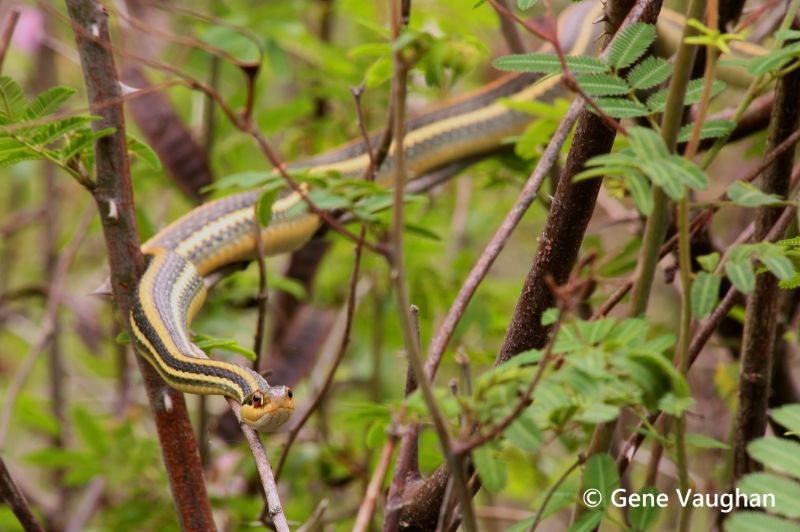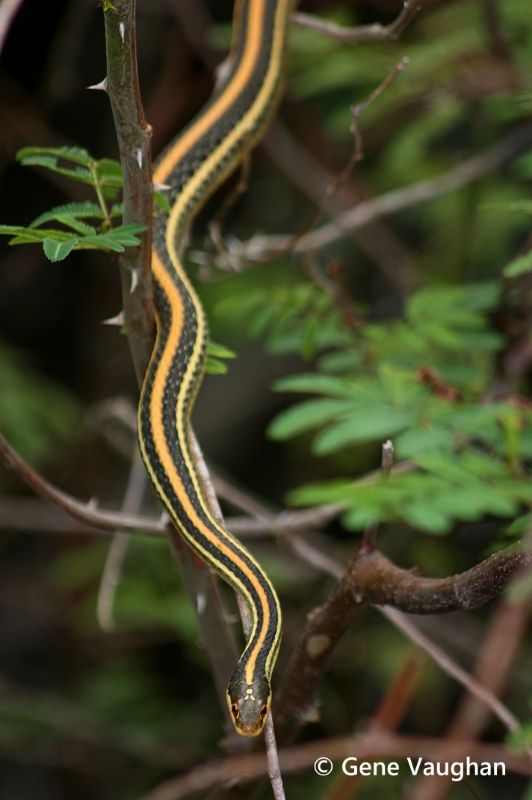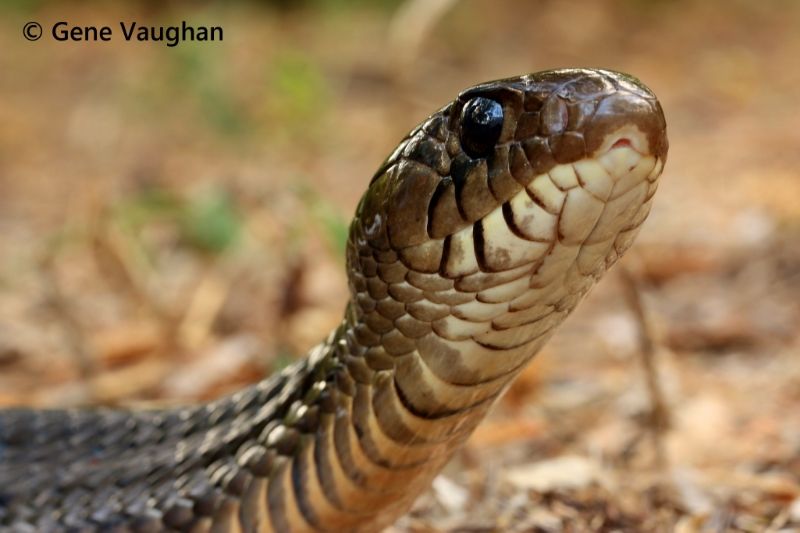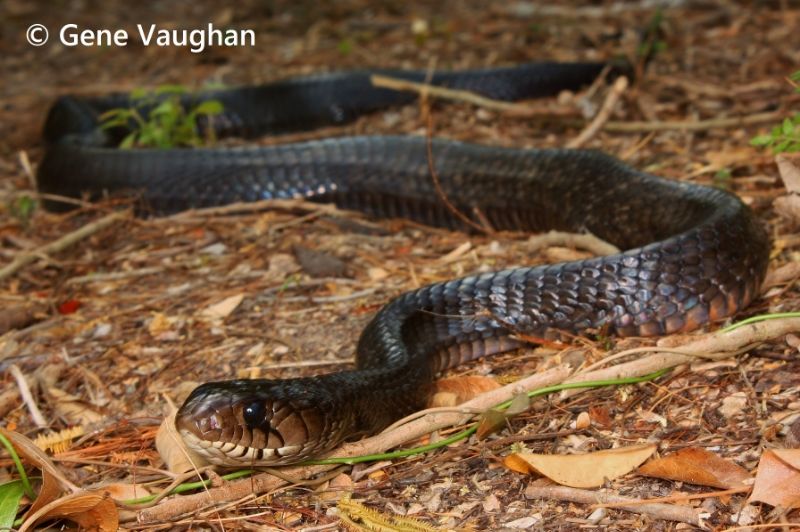 Perhaps the most fascinating encounter with a
Drymobius
that I've had this summer was almost two weeks ago, when I took my friend Angel with me to Sabal. We found five or six ribbon snakes around the resaca before finally trying the butterfly garden a second time. In the garden's water feature, amid fairly thick bushes, I spotted a small Speckled Racer. I then ran around to the other side of the feature so that Angel and I effectively had it surrounded. We then simply watched it for a while. What I noticed amazed me. The snake, perhaps wary of our proximity, would lift up its head (in the manner of racers and coachwhips) and (holding its head and body in place) create a sort of wave-like motion with its neck. Best of all, at one point it slowly crawled out of the brush towards me, and when it was so close I could have touched it, it looked up at me and waved its neck again. If my camera were capable of video, I would have made an Academy Award-winning film out of this guy. Instead, we waited until it was far enough out of the brush and into the garden and captured it for some quick photos before releasing it back into the water feature. What a snake.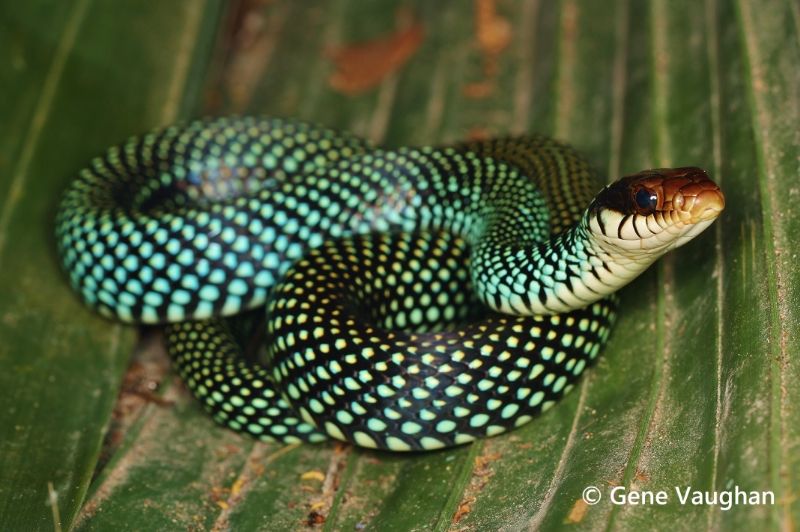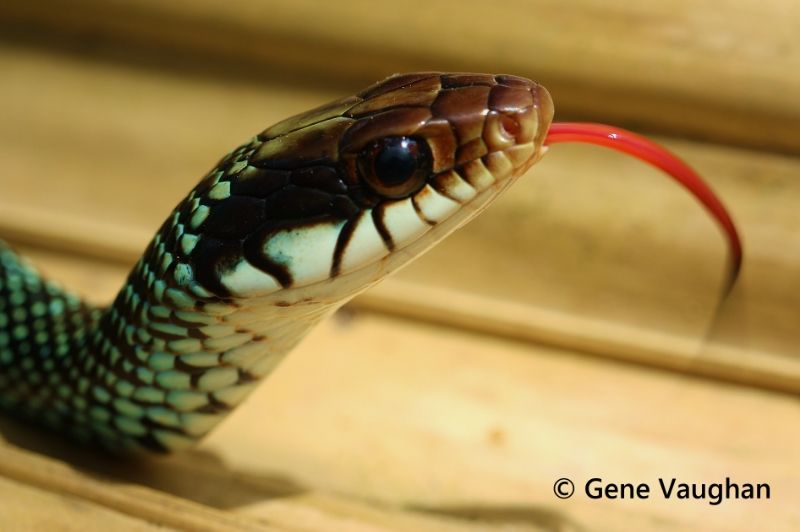 My most recent trip to Sabal was
almost
devoid of snakes. Granddaddy and I walked along the Resaca Loop Trail, and turned around a little while after we had passed the boardwalk once. On our second pass of the boardwalk, I really scanned hard for ribbon snakes. At about 8:45, I spotted one in a tree. Almost immediately, I spotted yet another one right below the first. I then walked a little bit around the tree and found another snake, this time a small indigo, also in the branches of the same tree! I didn't see anything else, but those snakes were enough. The three-snake tree will be hard to beat.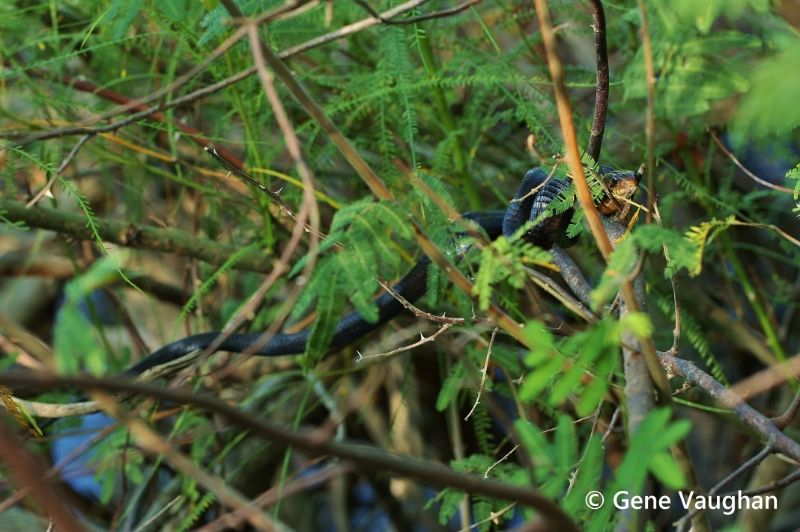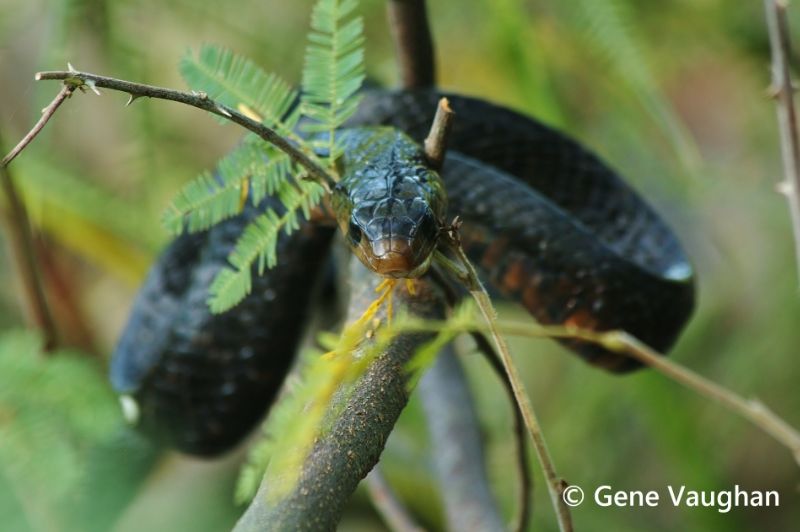 First ribbon: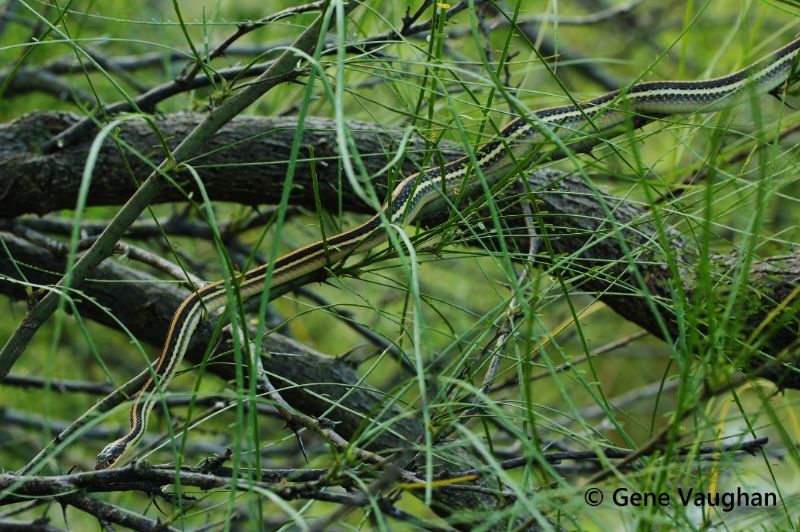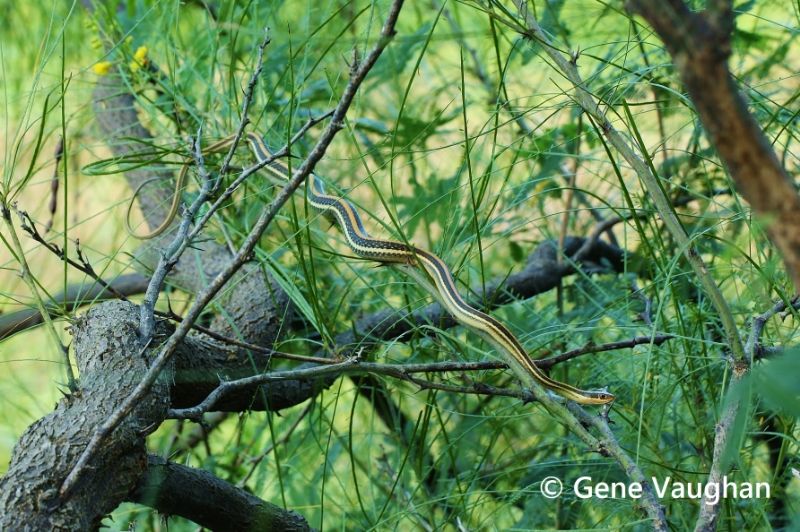 Second ribbon: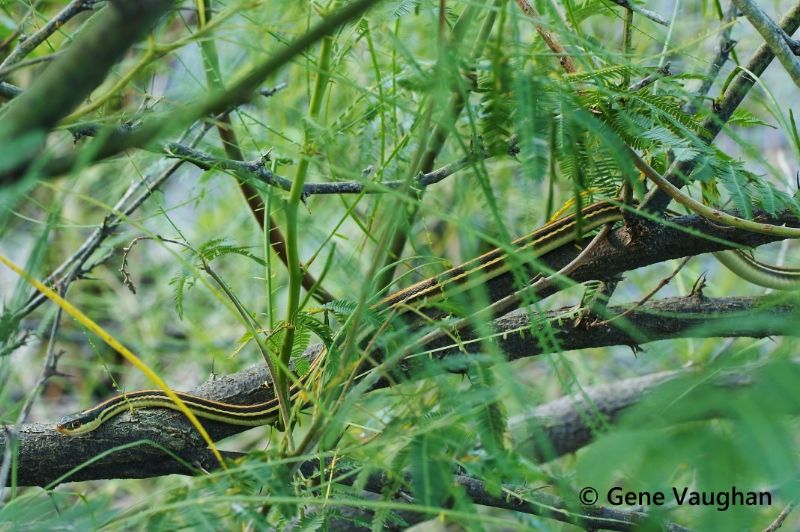 That's it for now. I know it was long, but I hope there were enough good photos to keep you interested. There may be an up-date posted tomorrow if my next (and probably final) trip to Sabal goes well. Other than that, the road-cruising portion of my summer, part three, will end my series here pretty soon. Until then, happy herping!
-Gene