Well, once again, thank you to everyone who gave me some advice prior to this trip. Typically I travel alone or with just one other person, but this time around I had the whole gang with me. Overall the trip went very well and the older and young crowds had fun and everyone got along which I considered a big win. Inspite of being pulled in a lot of differing directions I still managed to pull off a bit of herping and birding while we were there. I would have liked to have done more, but compromises had to be made. Anyway, let's get to it.
After flying into San Jose I rented an SUV for us to get around in. I must say, the GPS navigation system that came with the car was wonderful for getting us out of the city with ease. I highly recommend it. Once on our way we headed down the slope to the Caribbean. FYI- Route 32 is open and has been repaired since the bridge washout earlier in 2013. Anyway, we drove down to Puerto Viejo and stayed in a wonderful spot at Totem Hotel right across the street from Playa Cocles. The place is south of town a bit and is nice for getting out of the business of the Puerto Viejo proper. Especially since a nice swell was rolling in so the place was hopping with hungry surfers. I surf, but Salva Brava in town is over my abilities. We settled in and I promptly let the kids relax while I headed out with my girlfriend to find what we could.
We quickly turned up a beautiful little fellow on the hotel grounds.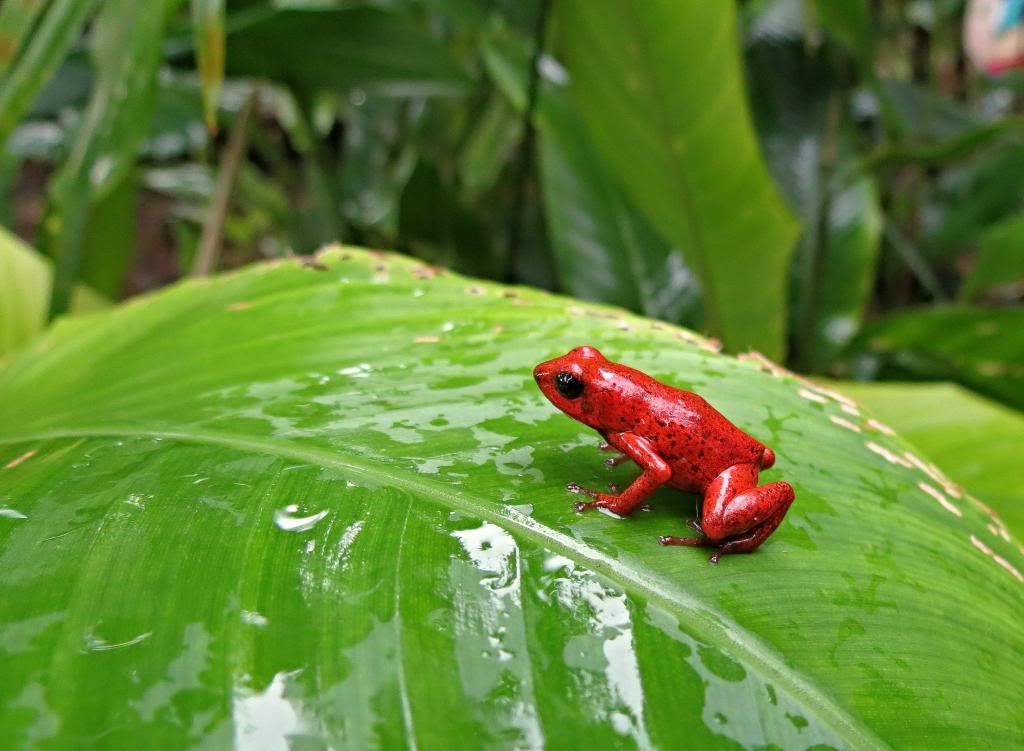 Strawberry poison dart frog (Oophaga pumilio)
And another.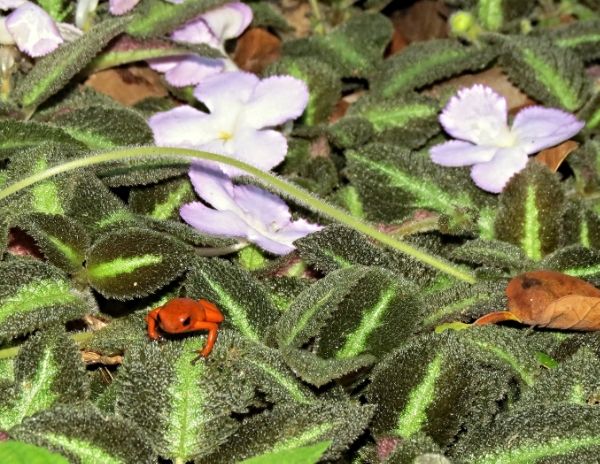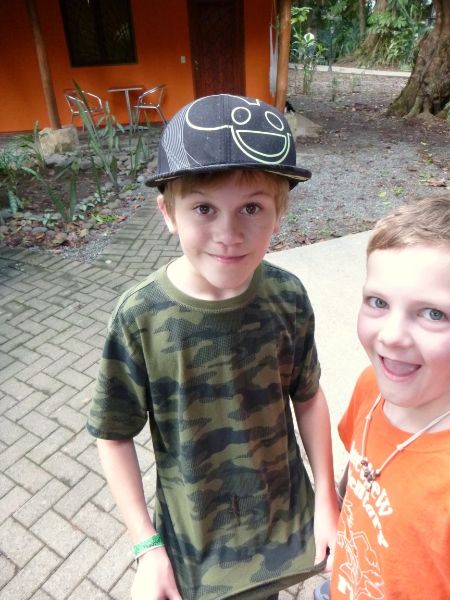 The boys were constantly entertained with the geckos and anoles that were plentiful near the hotel.
One of our reasons for heading to this side of the country was that the teenager with us wanted desperately to see sloths. So we figured we would hit up Cahuita National Park and the local animal rescue center (the Jaguar Rescue Center). I had also been wanting an excuse to get over to these areas myself to search for eyelash vipers, strawberry dart frogs, and collared aracaris. As some on this site might remember, a few folks on here have come down to this area with great success. We were hoping for the same. For some species we really did well with and others remained elusive.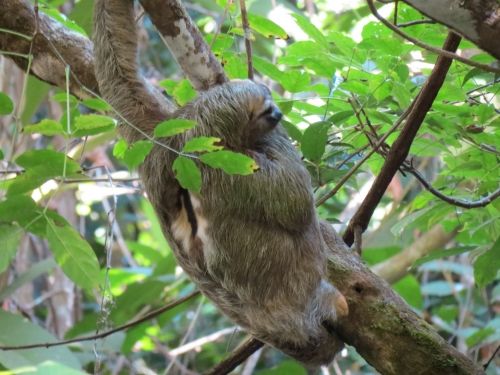 Well we ended up doing quite well on finding sloths.
And yellow phase eyelash pit-vipers (Bothriechis schlegelii) as well.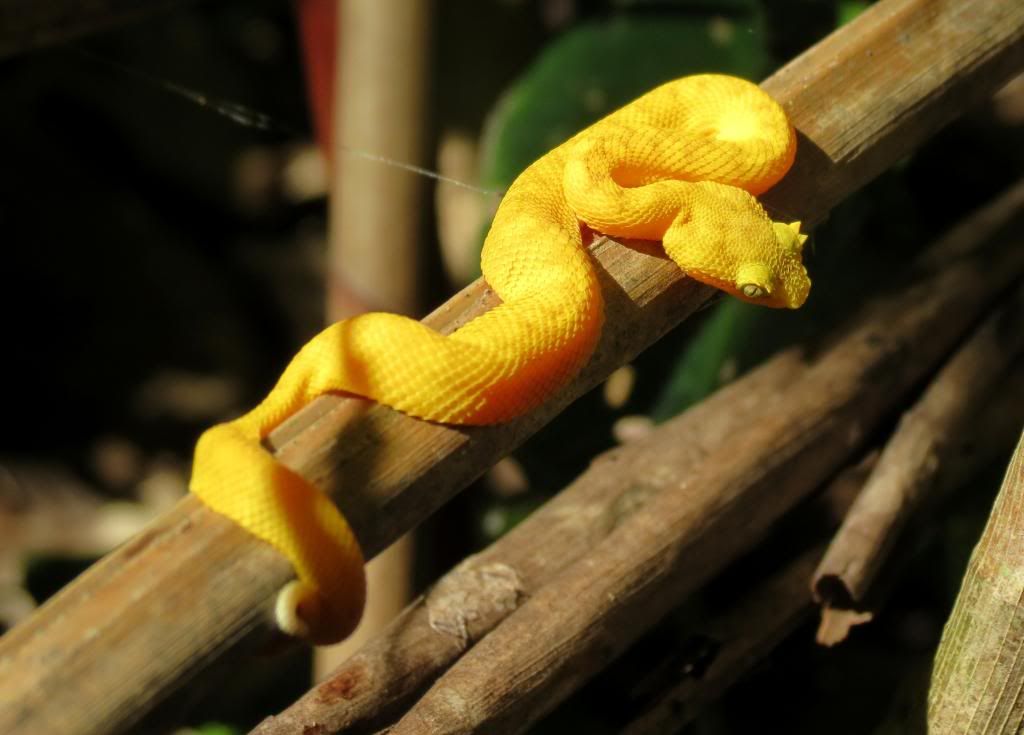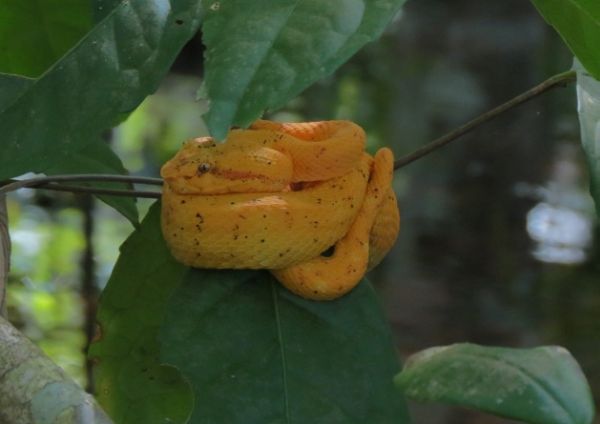 Once we started looking we found them everywhere.
We also saw a few narrow-headed vine snakes (Oxybelis aeneus).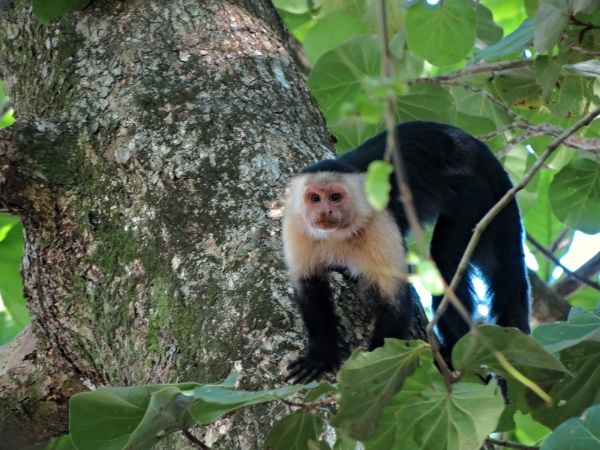 The Capuchin monkeys and howler monkeys seems to also be common within the park.
The howlers tended to be a bit further out and thus made getting good shots of them difficult.
The sloths also tended to be quite high up and made photographing them tricky, but there were enough to afford plenty of chances to see them.
Really Cahuita was loaded with wildlife. Anyone heading to the Caribbean should take a day and enjoy it.
Plumed basilisk (Basiliscus plumifrons)
Striped Basilisk (Basiliscus vittatus)
I think if I had been kid and teenager free, I could have easily tripled the species found during our time here. That being said, I still felt we did pretty well.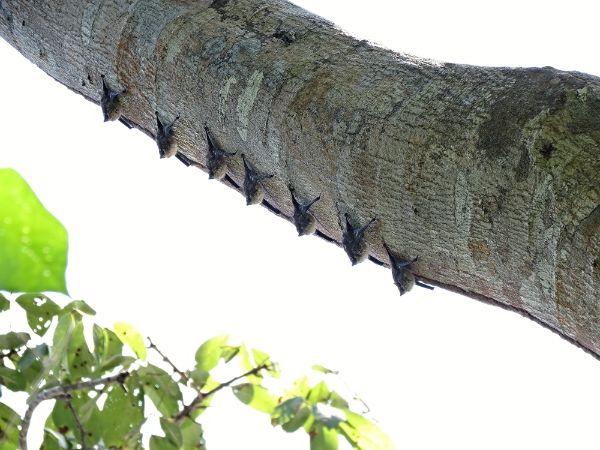 Long-nosed Bats (Rhynchonycteris naso)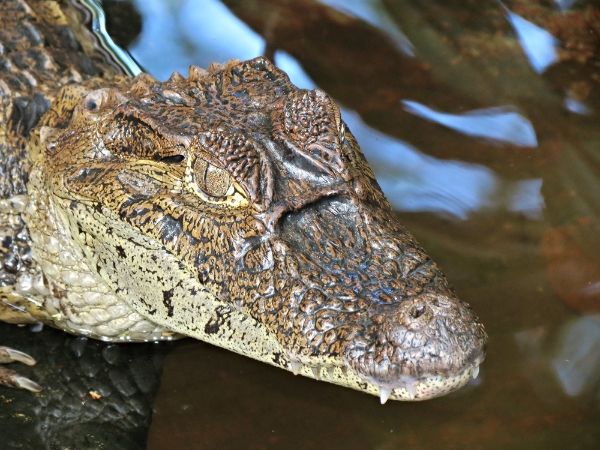 Spectacled Caiman (Caiman crocodilus)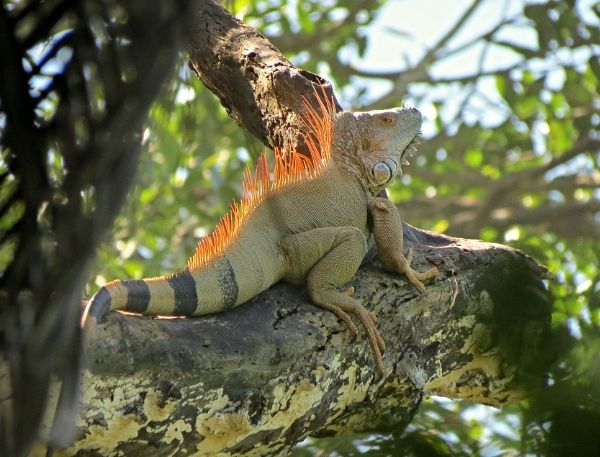 Green iguanas were also common.
In addition to the park we hit the local pockets of habitat, a botanical garden, and the Jaguar center. One of my failures on my part this trip was failing completely to find any red-eyed tree frogs at the center or in any surrounding areas. I found egg masses, and green parrot snakes (Leptophis ahaetulla), but no red-eyeds. I honestly thought I could turn them up with relative ease in this area.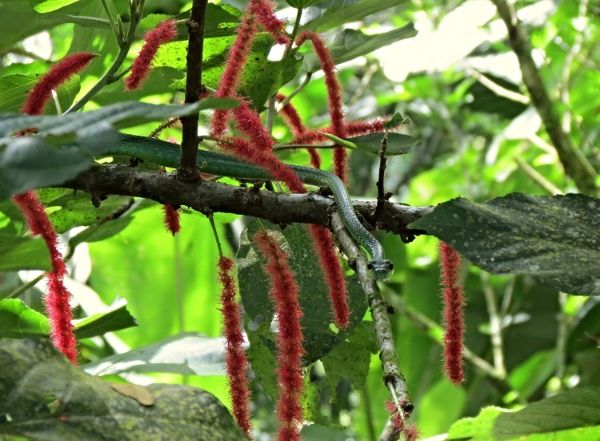 Other natives that come and go that were found at the Animal center included.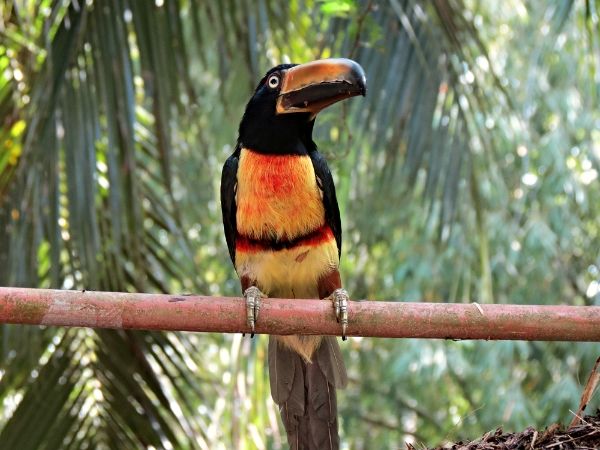 Collared Aracari (Pteroglossus torquatus)
Chestnut-mandibled Toucan, or Swainson's Toucan ( Ramphastos ambiguus swainsonii)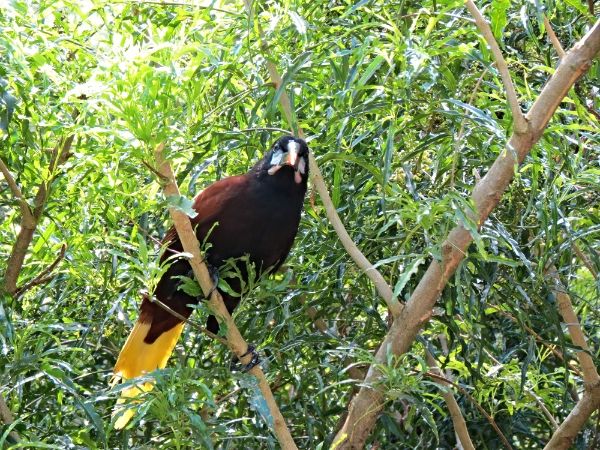 Montezuma Oropendola (Psarocolius montezuma)
Also some of the injured animals at the center included sloths and Kinkajous.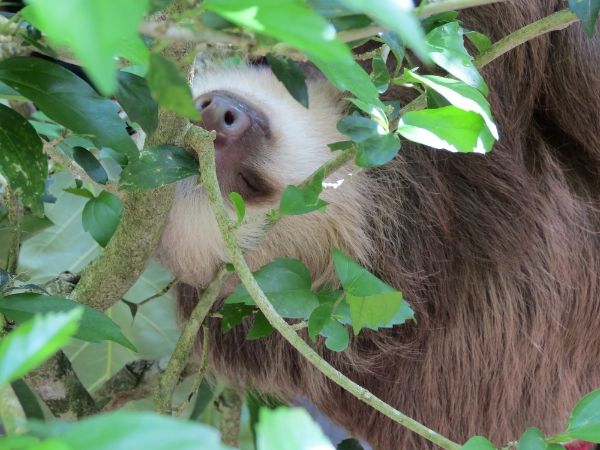 My other, even more humiliating failure this trip was find and catching the most beautiful metallic green and black (Dendrobates auratus) I have ever seen and I found a nice spot of flat ground to photograph it on and boom...gone. The little guy slipped into some ground cover that was much deeper than I though and vanished. One of those moments you literally have in your hands and poof. I was glad the kids had gotten pooped out earlier and had decided to play in the hotel pool while the adults went on our species photo hunts. A few choice words got thrown around in the jungle that afternoon. Ha, directed very much at myself. To those frogs that got away, I know where you live, I will be back with my camera in hand. I did however later find another one in a deep little nook and managed to at least get one shot of a less colorful one.
The afternoon was redeemed upon finding some tent bats (Uroderma bilobatum).
While we were there the Caribbean was going off. Saw a lot of great rides. Catch a few smaller ones myself. With the beach across the street, the boys were in heaven.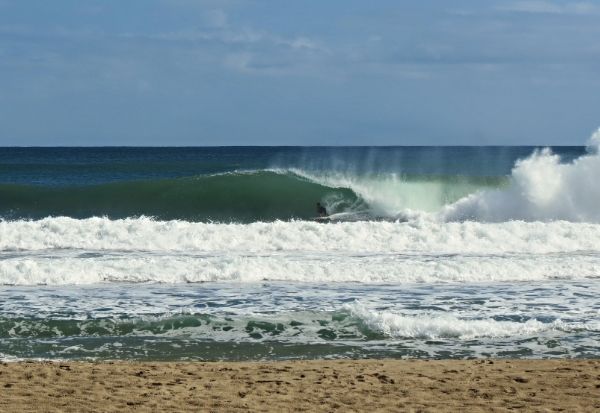 A few nights we got out around the hotel area and turned up a few things.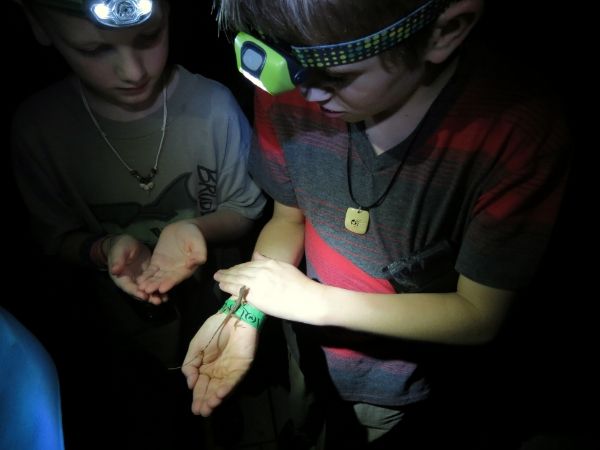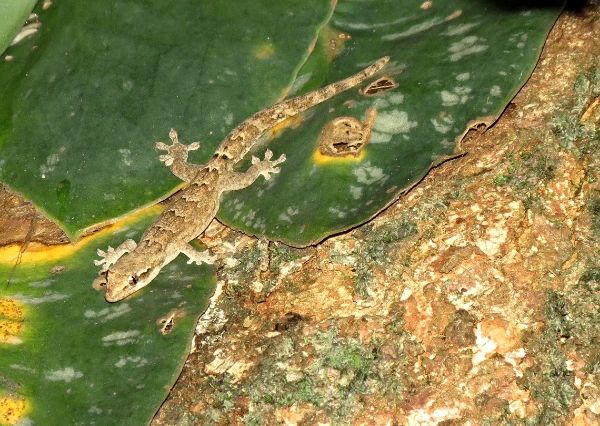 Mourning Geckos (Lepidodactylus lugubris) were commonly found.
Smilisca phaeota
The common tink frog (Eleutherodactylus diastema) is one of the major contributors to the nightly symphony in the jungle.
During our time here it hardly rained which made finding the frogs a bit trickier with the drier conditions. However, everyone else loved the lack of rain. It made for and easy time for the kids and girlfriend to enjoy themselves.
Overall our time on the Caribbean side was a great time and thankfully all the kids got along. From here we headed out across the country to the little town of San Gerardo de Dota. Much higher altitude, so cooler, far less herp, but great birding. I will cover this in the next post along with our time down in the Uvita area. I hope everyone enjoyed the post and I wil be getting the next one up shortly.
Cheers,
Roki