Well hello everyone, this isn't exactly a 'Year in Review' post but just happened to come at the beginning of 2014. Anyways, we're going to take a couple of steps back to September – the 2013 NAFHA Annual Meeting. Although it was in the southeast, it was well outside of my usual stomping grounds, I managed to see a couple of lifers and a couple more species that I rarely turn up. And of course, most importantly I got to see a lot of old and new friends.
Part of the group checking out 8 or 9 baby Cottonmouths under a board:
The man that took the helm in putting it together, Tim W.
During this trip Daniel Dye, Mike Dye, Jake Scott, Don Filipiak, Kyle Loucks and myself stuck together and concentrated on the more aquatic herpetofauna, henceforth dubbing ourselves a "Team Aquatica." Two of our group photographing a Copperhead that waylaid us on the way to our swampy haunts.
The venomous beast itself:
Notice the superhero-like garb of Jake, aka "Ambystoma"
Some of the aquatic finds:
Almost immediately upon our arrival, Kyle got into action and turned up several Chamberlain's Dwarf Salamanders.
And a Slimy too:
We spent a good bit of time around a single wetland looking for some rarities. Carpenter Frog:
Southern Dusky:
One of the small wetlands was in the process of drying up, and filled with little Lesser Sirens
And one of the main targets for Dan and Jake:
Don and I hiked around a bigger pond for a while and came up with one very photogenic Eastern Cottonmouth:
Some other finds from the weekend:
Twas a swell weekend indeed. On my return, Tim joined me in search of a few loose ends in Florida. High on his list was the Atlantic Saltmarsh Snake (Nerodia clarkia taeniata). The only problem was that conditions were bad (torrential rain inbound) and the area we were looking was 3 or 3.5 hours to the north of us. We were tired after a weekend of intense herping (or like 40 days for Tim), and we almost canceled it. We finally decided to forget the odds and to go for it – it was the determination that epic nights were made of, so Tim, Mike Rochford, Don and I, (with help from my clarkii-expert friend Jason) got hopped up on caffine and hit the road. Within 5 minutes of arriving at the site, we saw our first snake.
Success! Most of our 5 snakes were weird Nerodia clarkii taeniata x N. c. compressicauda x N. fasciata pictiventris mixes:
But finally we spied this looker – another lifer for me, N. c. taeniata:
A splendid evening, one I'll not soon forget.
And of course there was the ever-time-consuming Thesis work. It was hard word and a few cool finds turned up, some incidental, some in the traps: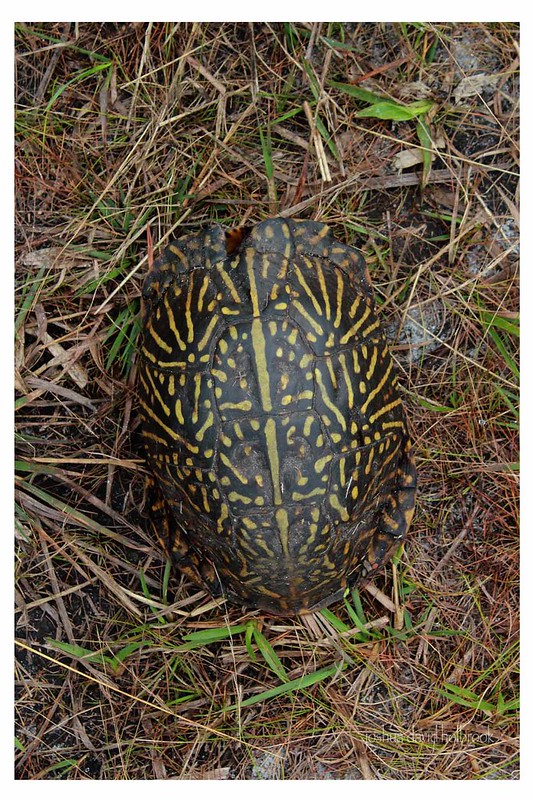 The rangers at the park said that Diamondbacks were the third most common snake they see. Despite this I didn't see a single one all summer. This finally changed last October-ish. I was on my way through one of my wetlands, when I looked up and saw this:
My wife was my field minion that day and so I got a picture of her with it:
And one final parting shot of it:
And of course, I've done my share of looking for Mangrove Saltmarsh Snakes this year for a couple of research projects I'm working on. On one particular evening I joined up with a friend from UCF named Jason and a few others to hunt some clarkii.
We did well this particular evening:
That's about it for this post. Next one is coming soon.
Thanks all,
-JDH