I decided to steal a great SE Chapter forum idea this weekend and call a random day on our local survey site in East Baton Rouge Parish this morning.
Here's how it turned out:
---
**With the weatherman calling for rain, my dSLR was tucked away safely at home, so you're all going to have to suffer through some poor handheld P&S shots below. Sorry.**
----
8:00 AM: We made our way onto the trails with temps in the low 70s and 40% chance of T-storms.
8:10 AM: First two herps of the day came under a railroad tie.
Lithobates clamitans
(Bronze Frog)
And
Gastrophryne carolinensis
(Eastern Narrowmouth Toad) not photographed.
8:12 AM: The next log produced our first
Eurycea guttolineata
(3-lined Salamander).
8:15 AM: A few minutes later, our only
Hyla cinerea
(Green Tree Frog) of the day was observed hopping through the undergrowth.
8:20 -8:25 AM: As we began moving upslope, the first of many
Scincella lateralis
(Ground Skink) and
Ollotis nebulifer
(Gulf Coast Toad) were spotted in the leaf litter and an
Ambystoma opacum
(Marbled Salamander) turned up under a log we were hoping would produce a slimy salamander.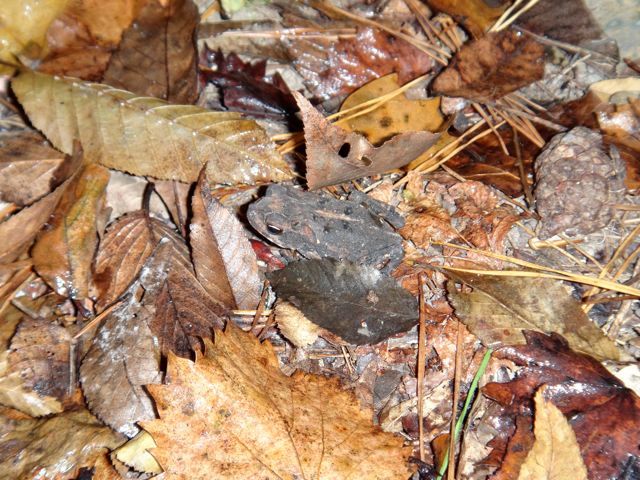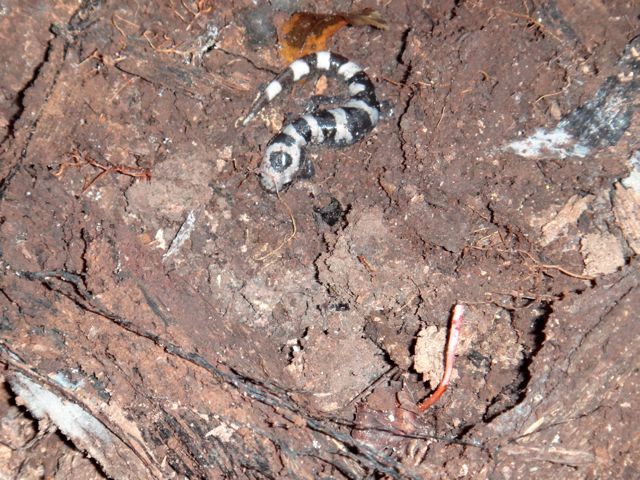 8:35 – 8:40 AM: Our second
Eurycea
species turned up as we moved into one of our marbled salamander hotspots, as did approximately half a dozen of the anticipated marbleds.
Eurycea quadradigitata
(Dwarf Salamander)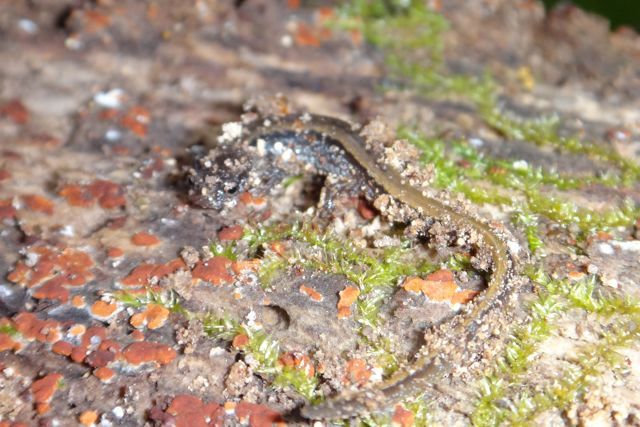 Ambystoma opacum
(Marbled Salamander)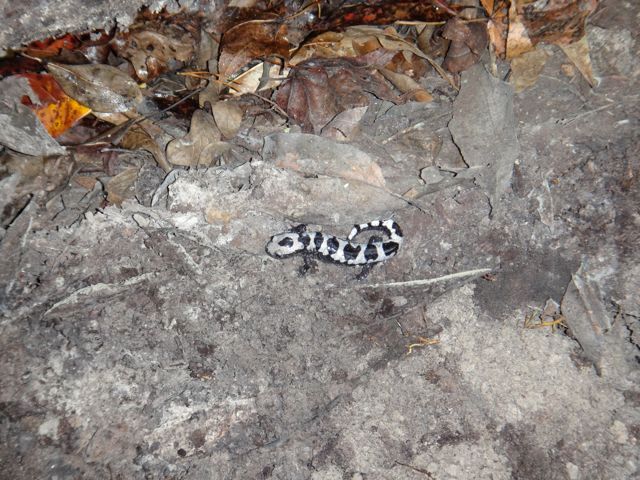 About this time we also began hearing intermittent choruses of Pseudacris
crucifer
(Spring Peepers) calling in the distance.
8:50 – 9:15 AM: Once again making our way to higher, drier ground, we switched gears and gave artificial cover flipping a try. The first piece of tin produced a snake. Unfortunately, it was a victim of near freezing temps we had experienced a few nights before.
Thamnophis sirtalis
(Eastern Garter Snake) dead under tin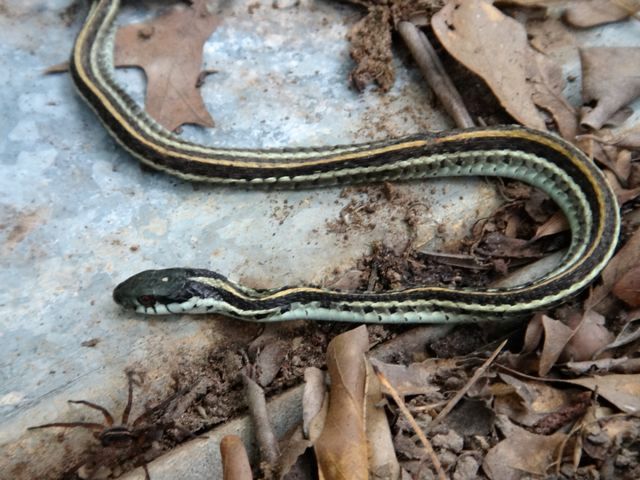 The next few pieces of A/C produced a string of
Diadophis punctatus
(ringnecks)
Until, a new species for the site,
Virginia valeriae
(Smooth Earth Snake) broke the monotony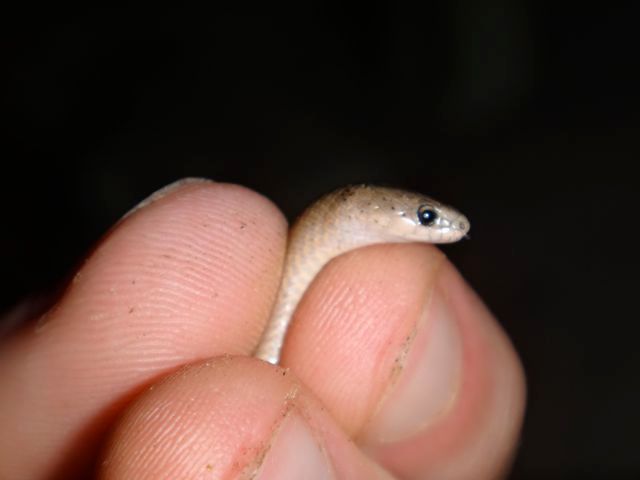 A cinder block produced our only
Plestiodon laticeps
(Broadhead Skink) of the morning; likely the same individual we've been flipping at this spot since early spring.
And finally, some shaded tin produced two more amphibian species:
Ollotis nebulifer
(Gulf Coast Toad)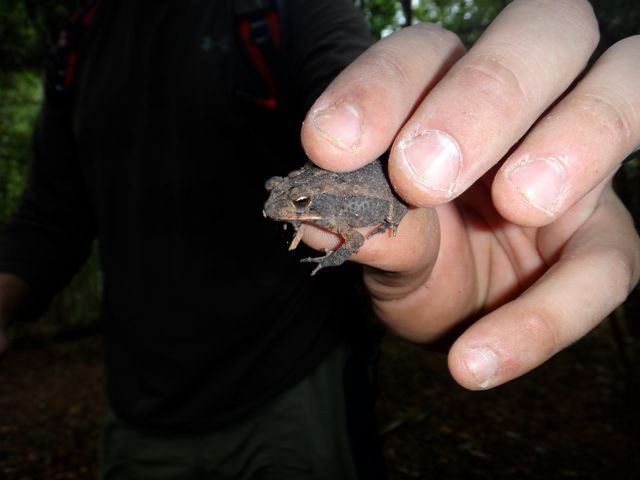 And the invasive,
Eleutherodactylus cystignathoides
(Rio Grande Chirping Frog)
9:25-9:30 AM: Up the trail, we decided to check in on our
A.talpoideum
pool even though it seemed a little early for this species. This proved true, but a few other winter breeders were present under the surrounding logs.
Pseudacris fouquettei
(Cajun Chorus Frog) showed up first;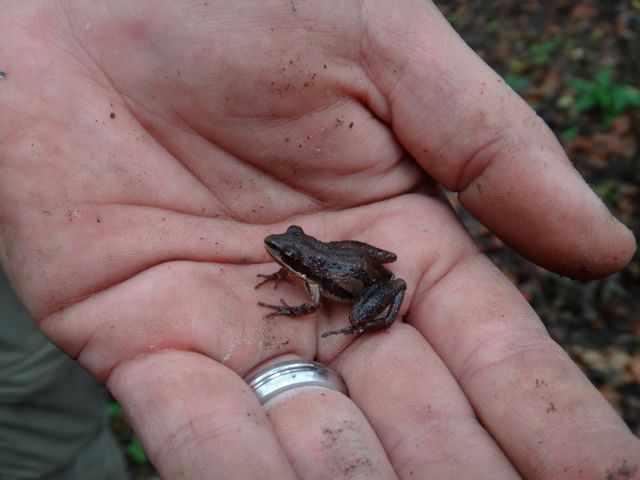 Followed by our only
Notophthalmus viridescens
(Central Newt)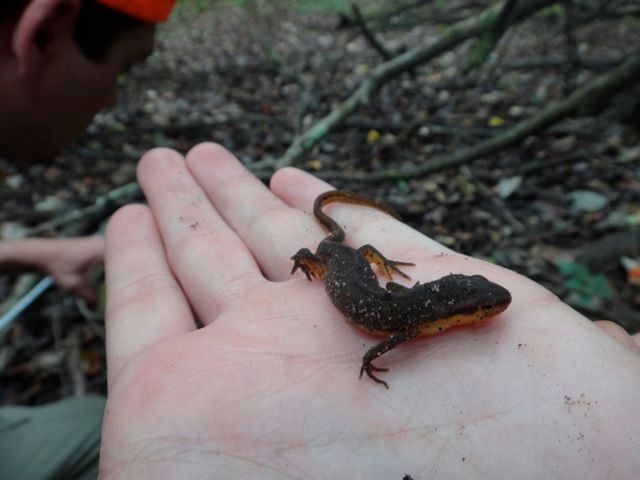 And three more
Ambystoma opacum
(Marbled Salamander)
9:40 AM: Doubling back, we flipped a small
Thamnophis proximus
(Western Ribbon Snake);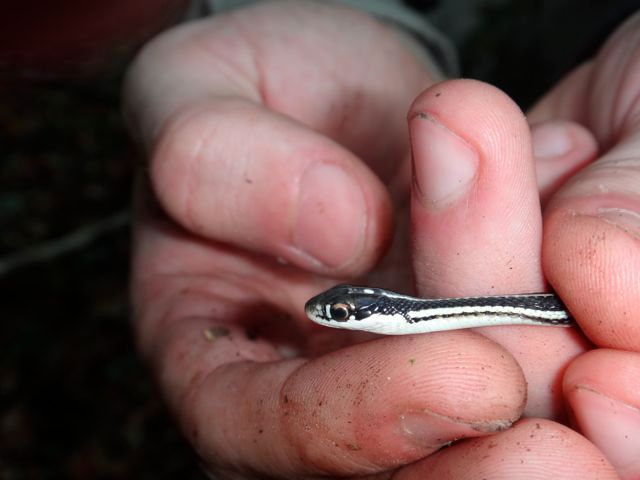 And spotted a basking
Anolis carolinensis
(Green Anole)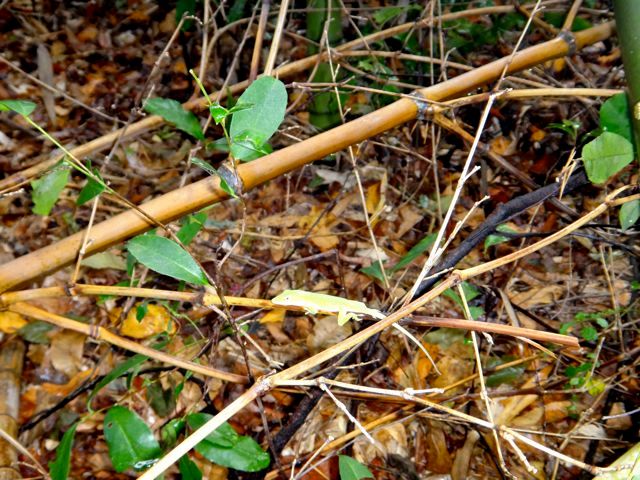 9:55 AM: After finding only fowler's toads and
Eleutherodactylus
at our next flipping spot, we began to cover more ground, until Jeff spotted this
Nerodia fasciata
(Broadbanded Watersnake)
10:05 – 10:25 AM: Our first, and only,
Agkistrodon piscivorus
(Cottonmouth) came as we detoured along a slough and Brennan spotted it basking on a fallen limb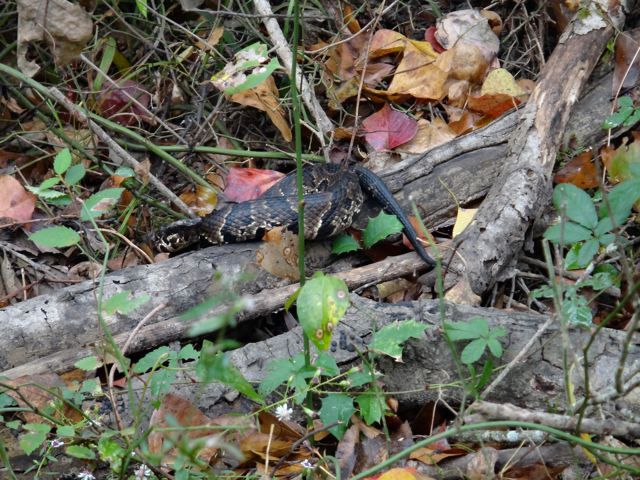 Log flipping along the slough produced more bronze frogs,
Eurycea
sp.,
Acris crepitans
(Northern Cricket Frog; not vouchered), and three other new anurans for the day.
Lithobates catesbeianus
(Bull Frog);
Lithobates sphenocephalus
(Southern Leopard Frog);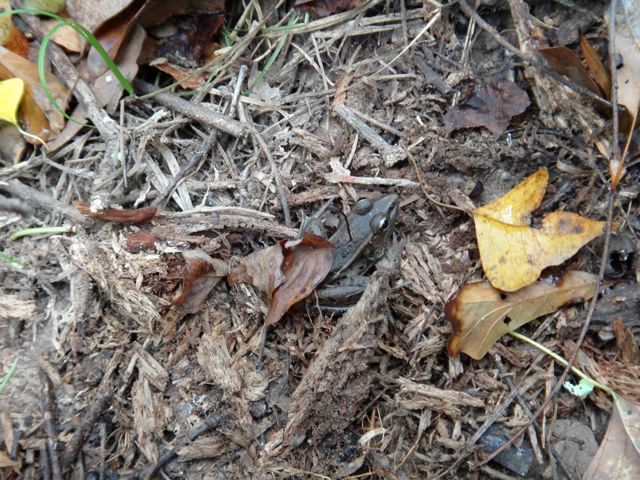 And
Hyla chrysoscelis
(Cope's Gray Tree Frog)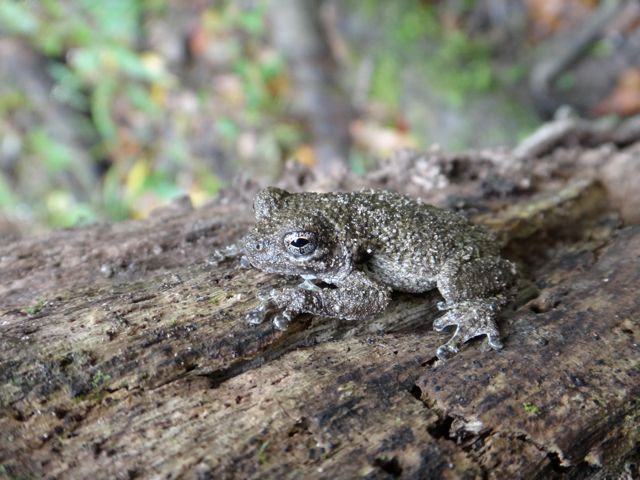 As we exited the slough, we noticed this on the ground:
Terrapene carolina
(Eastern Box Turtle) or at least the remains of one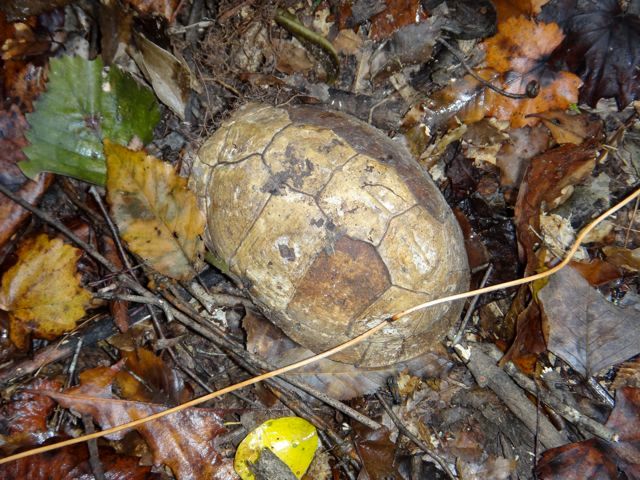 11:00 AM: After another 20 minutes of ground skinks and bronze frogs, we managed to add a box turtle to our live herp list with this trail side beauty
Terrapene carolina
(Eastern Box Turtle)
11:15 – 11:25 AM: Back near the cars, we wrapped up by adding a few more species and vouchering one that I'd missed earlier in the day.
Sceloporus undulatus
(Eastern Fence Lizard)
Gastrophryne carolinensis
(Eastern Narrowmouth Toad)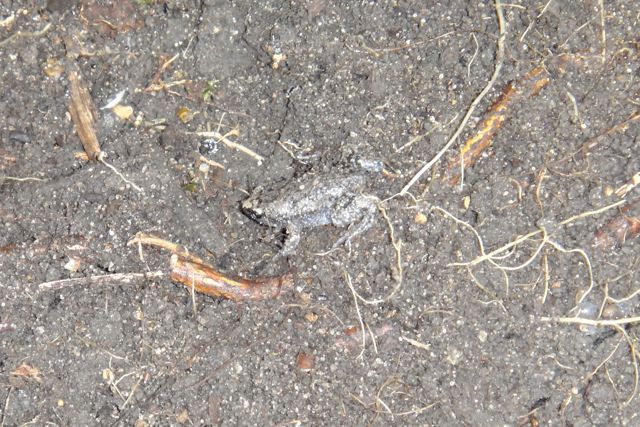 And
Sternotherus odoratus
(Musk Turtle)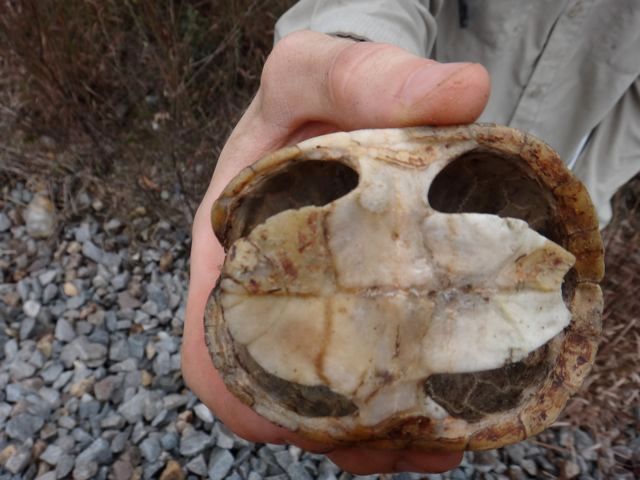 11:30 AM – 12:00 PM: We finished up the day flipping railroad ties along a slough with only
Eurycea
sp and
Lithobates
sp. to report and called it a day.
In total, we observed/heard 28 species of herp in just under 4 hours of field time.
Again, sorry for the poor shots.
Chris