Last week I went back to my former home of Taiwan for ten days. The official reason was to pick up my wife Lisa and our younger son Karl after two years of quasi-separation. Karl just finished his Chinese elementary school in Taipei and will now join his older brother Hans at the international school in Kuching. Although I hadn't really planned on any snake hunting around Taipei, herping always has a way to get in the way. After two years of oftentimes maddeningly frustrating herping in Borneo (all those phantasmagoric species,
few of which you'll ever actually see
), La Ilha Formosa once again lived up to its name: within 45 minutes, we found three quality snakes during a casual, spur-of-the-moment scooter ride that started out as a romantic spin with Lisa through the moonlit fields by the ocean and ended with sightings of a slug eater (
Pareas formosensis
), a nice, fat Many-banded Krait (
Bungarus multicinctus
), and, spotted on the way back down from the mountain, a really chunky King Ratsnake (
Elaphe carinata
). Although I wasn't able to catch the krait or the King Rat, just observing them really rendered my heart toasty with fond memories.
Taiwan Slug Snake (
Pareas formosensis
). Like many endemics everywhere, it's quite abundant. A second species with red eyes is currently being described.
Action shot of the week: Many-banded Krait (
Bungarus multicinctus
), "Where's Waldo" style. (Hey, I had neither flashlight nor snake hook, the camera kept jamming, and my wife was yelling from the back of the scooter "IF YOU FREEHANDLE IT, I'M GONNA DIVORCE YOU!!"
Finding those three snakes close to our house also instilled much hope for the reunion herping weekend on the Northern Cross-Island Highway which my good friend Bill (Onionsack on FHF) had organized for our last weekend.
[The] Northern Cross-Island Highway [is] a slim stretch of mountain road 50 miles south of the capital Taipei, not even 20 miles long, but hands-down the best road-cruising blacktop in all of Taiwan. About 40 of Taiwan's 51 snake species can be found here, where the northernmost reach of many species overlaps the southernmost reach of others. At elevations ranging between 1800 and 3000 feet, the highway runs through a vast tract of uninhabited forest, the only breaks in the green wall being a multitude of waterfalls, creeks, and the occasional small, man-made canal.
(excerpt from
A Cobra Hijacked My Camera Bag
)
Bill had prepared the big herping night in the mountains in grand style: we would meet in a little aboriginal village at the start of the road, hook up with a dozen other herpers Bill had called to arms via a Facebook Event (called, to my embarrassed delight, "The Return of the King"), fuel up with an eight-course Chinese dinner, and then herp the living crap out of the place. The drive out to the mountains was promising: the rain came down in almost typhoonish proportions, the valleys were filled with colossal cloud formations, and the first landslides were beginning to stir along the road. The dinner, even though less intimate than I had hoped, thanks to the drunken tour group murdering Taiwanese folk songs on the in-house karaoke at two hundred decibels, was extremely delicious (then again, what isn't extremely delicious in Taiwan?), and as soon as we had sucked clean the last wild boar bones, the rain stopped, and we saddled up and headed out and up the hill in (and on) a variety of motorized vehicles.
The next six hours yielded eighteen snakes from ten or eleven species - none of them really special, but enough to feel a satisfying pang of warm fuzziness. There was the usual gang of
Viridovipera s. stejnegeri
, three or four
Lycodon r. ruhstrati
, a
Calamaria pavimentata
(horror for old eyes), a couple of
Dinodon rufozonatum
, a cute False Habu (
Macropisthodon r. rudis
), and - for me the highlight of the night - a
real
habu: a fully grown
Protobothros mucrosquamatus
, the "Fer-de-Lance of the East".
Also in attendance were a scops owl feeding a bat to its two young, a civet (
Paguma larvata taivana
), a bevy of giant (and not-so-giant) squirrels of the flying as well as the standard persuasion, and, at least for me, millions of flashbacks to way back when
Here's a bunch of pix taken that night. The crappy ones are all mine, as I hadn't bothered to bring my Pentax gear and relied on my wife's Canon PowerShite.
Piggin' Time:
Scops Owl:
(Photo: Chen Po-yen)
Taiwan Habu (
Protobothrops mucrosquamatus
). That's one area where Borneo is seriously lagging behind: BIG vipers! The chap in the rubber boots wasn't trying to squash the snake; on the contrary, he discovered that the beast tried to climb onto his foot, so he lifted the foot further and further into the air, until the snake, following what it probably thought to be a small tree, was standing upright. Instant snake charming boots!
(Photo: Kong Tiao)
Another Taiwan Slug Snake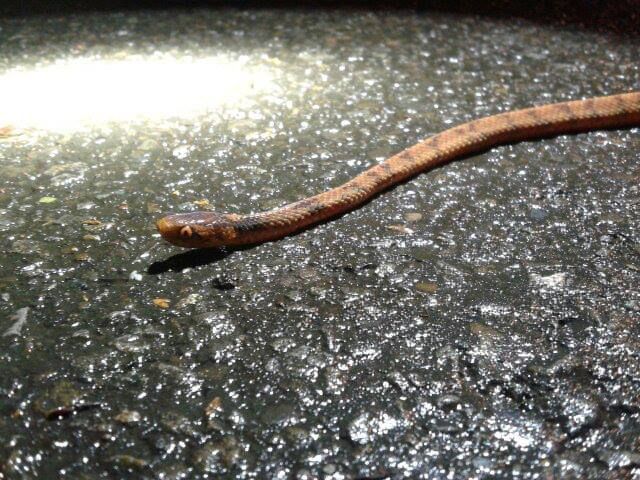 (Photo: Nai Pang Chou)
An especially emotional moment came when one of the guys brought ten copies of my book from his car for me to sign, and when I did so under the full moon, in those wondersome mountains of which I have so many pleasurable memories, serenaded by a few endemic Orange-bellied Tree Frogs (
Rhacophorus aurantiventris
), I almost choked up and began regretting my move to Borneo...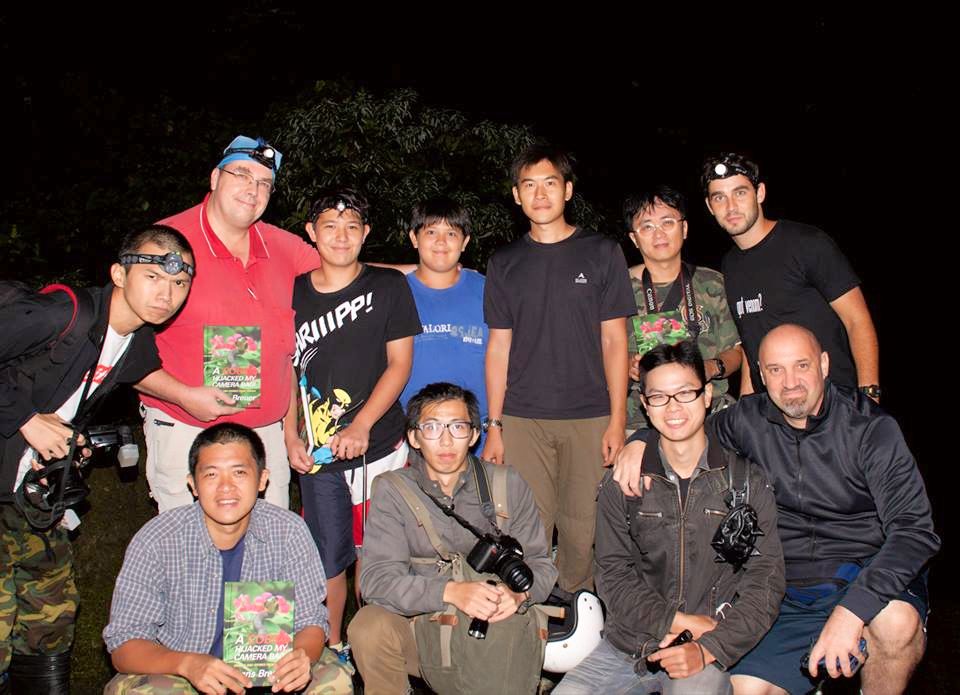 But then I remembered the clammy winters in Taiwan that make you wish you were at least in Cleveland, and the second-rate import durians, and soon my outlook on life stabilized again. But I'm looking very much forward to the years when the kids will be off to college...then Lisa and I will spend our winters in Borneo, and summer on the world's most amazing little island ...
The morning after
Going to bed at 0400 should not become a regular thing for some people
Our rental car: Toyota Wish. It was probably given that name because you keep wishing it was a car.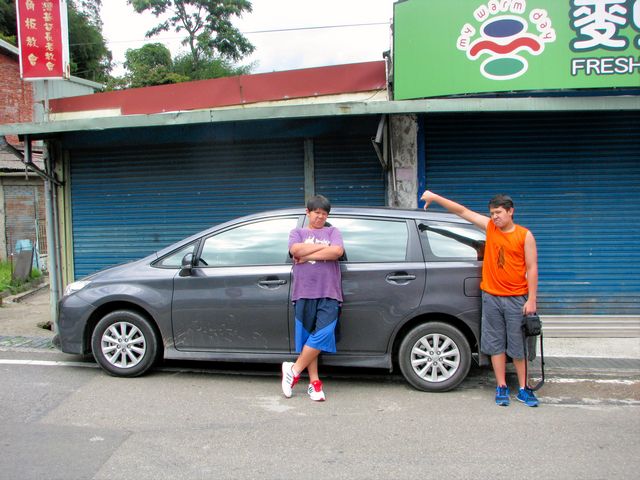 PS: For a potpourri of nice pix from my other island home, check out this story:
The traveling translator ...reporting from Kuching, Malaysia