A link to the previous post, #49, HK pre-Noel:
http://www.fieldherpforum.com/forum/vie ... =2&t=15648
These last two posts I think will be comparatively smaller. Just trying to finish these before I leave again. One more after this one, Thailand.
10 September 2012
Noel (Thomas) flies in today. Noel and I have an interesting past. We met when I came to Alabama A&M University in the spring of 2011, just prior to leaving for China, not enrolled in grad school yet, but rather an assistant helping out with the university's China program that summer (see post #33, "2011, re-introduction"
http://www.fieldherpforum.com/forum/vie ... 60#p104060
).
So since I wasn't enrolled, I had no lodging. Dr. Wang gave me one of his camper's (where many of the field techs stay, for various projects) – one night, Noel came and knocked on my door of the camper, saying something like "I heard you were a herper?" We went out for beers, and started a conversation. Noel is from Singapore originally, did his undergrad at Texas A&M, then traveled the country doing various tech jobs, finally winding up at Alabama A&M as a herp tech on one of my friend's projects. As we were drinking, and talking herps, we got into talking about camera gear. Noel was also big into photography and was another Canon user (my experience has been Canon users are more common than Nikon. I only know a few Nikon users, only a single Sony user, everyone else is Canon). So we talked Canons, photography, herps, herping, and beer. It was a great night. It was unfortunate that I only had a day or two before leaving for China.
I told him I would return in the fall, and we'd do some herping then. When I got back, we took a trip to the Great Smoky Mtns, found him a bunch of salamanders, including his first hellbender, then we took a trip down to De Soto NF in MS, then curved south and east toward Apalachicola NF. We found a bunch of pigmies (both locations) and a mishmash of a few other species. Camping out, beer, herping, photography, fire – just about the best things in life. This trip was his "going away" party. At the end of the trip he drove back to Texas, hung out for a day or two there, and then was off back home to Singapore. That was September 2011. Since he headed back to Singapore, we've obviously stayed in touch, as he would send me pics of finding various vipers, pythons, monitors, and other tropical herping. He was able to "complain" (brag) about his tropical conditions while I was truthfully in pain sitting around in sub-zero (Celsius) conditions.
So when 2012 rolled around, and I knew I was going to Asia for 4.5 months, we tossed around the idea of trying to meet up in some location and getting in the field again. We settled on Noel coming up to Hong Kong while I was there. It is a place that I know pretty decently by now, and it is loaded with snakes, and lodging (via a connection of friends, would be very cheap – an important staple in any herpetologists' way of life). We didn't want to both go to an unknown location where neither of us is experienced, neither has connections as far as cheap lodging goes, and we would be wasting days of just trying to figure out where the best places are to go. That is definitely not very efficient and is a massive waste of money, which is ok to do when operating domestically, but not internationally.
So Noel flew in, and jumped on the train to Hong Kong where I met him and we waited for Abdel. Abdel was gonna let Noel crash at his place for the first half of his stay, then Noel would transfer over to Dan's. Anne's place was already packed, what with me living in the living room and what not.
(bedroom, office, living room)
Once Abdel arrived we grabbed a taxi and headed up the mtns to his extremely nice apartment.
(a view from his living room window)
There wasn't much in the way of restaurant s in the area, so we grabbed some Subway subs, and then once we got to the apartment, there was a grocery store just around the corner, so we stopped there to pick up some beer:
A very nice stout that I've never had:
We caught up on herp talk while drinking our various beers, and started planning the next week. Which places to hit up, and how to try and maximize his time here.
I could only stay until about 11pm, because that's when the last bus to the subway was leaving. The subways also stop around midnight, any time after that and you have to do a taxi.
11 September 2012
Today during the daytime we helped with the HK macaque sterilization project. About a dozen to 19 animals were trapped, and the project is set up in teams, one team drugs the animals, then they walk them over to triage area (weight, temp, all of that jazz, shaving, tattooing, prep for surgery), and then the 3rd group is the surgery group. Lots of pics, but we're not supposed to post them.
That night we decided to hike the small Tai Mo Shan conduit (the one that's supposed to have the golden kukri snakes) – we found a small krait. Then we went across the street where we were meeting up with Abdel to walk the Shing Mun conduit. This is the conduit that had the baby pythons the week before.
We found a drowned viper, then a juvenile cobra: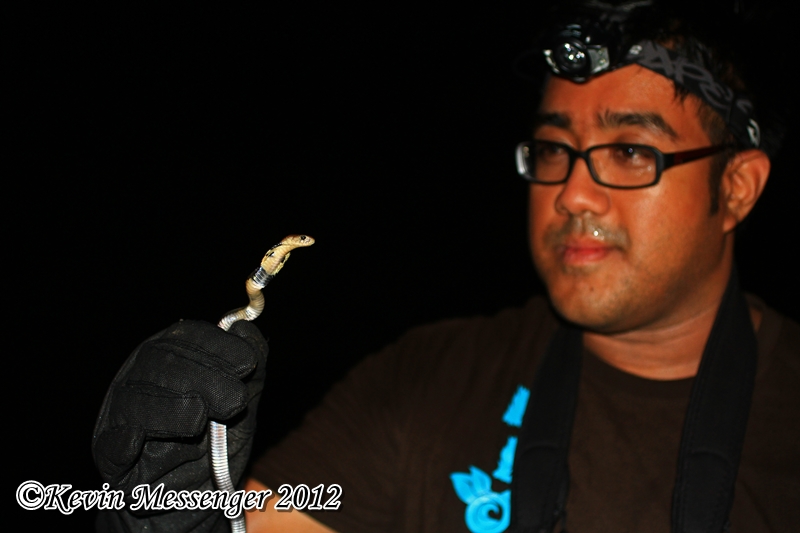 The next spotting was pretty awesome. Noel spotted a leopard cat resting in a tree:
All of these images were taken with my 50mm macro lens, as soon as I asked to borrow Noel's 100mm L lens, as I was putting it on, the leopard cat decided to leave… of course.
Next was another juvenile
Boiga multomaculata
, followed by a lifer, the striped stream snake,
Opisthotropis kuatunensis
: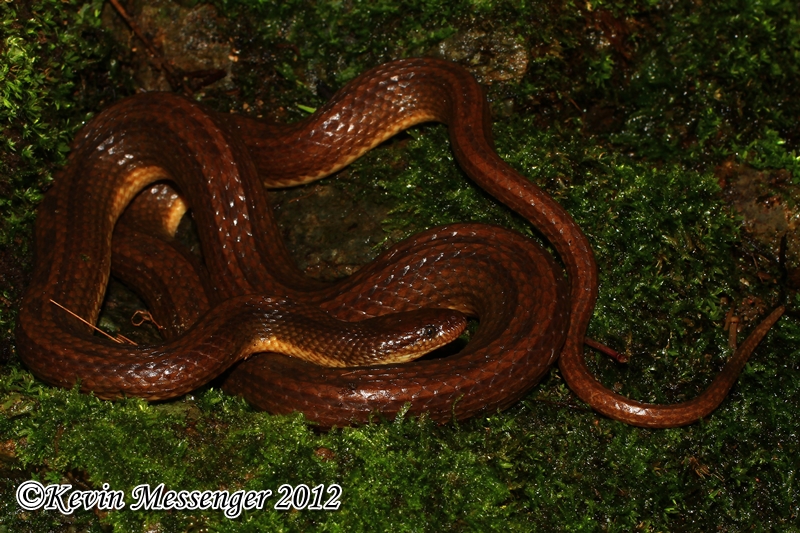 I love the supralabial scales on this genus
I've now seen 3 of the 4 species of
Opisthotropis
in HK, the only one that evades me is the super rare
O. balteata
.
12 September 2012
Tracking with Anne at Kam Tin
Anne's car in the distance
There are sporadic graves throughout the area:
Noel and Anne releasing a telemetered viper:
More of the surrounding habitat:
More graves:
Anne releasing another viper:
This animal was a PAIN. It stayed in this super dense "cane" (not sure if it is actually cane, but seems very similar) for about 2 weeks.
That night we had a Dim Sum dinner.
Bamboo scaffolding for construction:
Here's a crappy shot of the menu that didn't come out as well as I hoped. The dim sum place was pretty nice, lots of variety:
After dim sum, we headed over for drinks at Chris' place. Chris was a rock climbing friend of Anne's and Lee's.
13 September 2012
Doing pretty decent with Noel's limited time. A krait,
Boiga
, cobra, leopard cat, one of the rarer stream snakes, then we did the academic thing with Anne and helped her track some animals, did some volunteer work sterilizing some monkeys before that. So tonight I suggested we shoot for Lantau. A king cobra is a big one on Noel's list (as is should be on any herper's list), and since it was the weekend, that meant Dan could venture out a bit further than normal (Lantau takes the longest to get to, it is usually an all-day thing, as opposed to most of the conduits which we just try to get to by nightfall, plus since Lantau has the tunnels, it gives us a chance to do some "daytime" conduits, and still have a chance at seeing stuff.
So for the day it was Noel and I doing tunnels until nightfall. Prior to beginning, we stopped at The Kitchen to have some awesome pizza for lunch. Aside from one pizza place in Raleigh, NC, the pizza from here is one of the best I've ever had anywhere. Then later that evening we'd be meeting up with Rob, Dan's boss, and Timmy, one of his co-workers.
Entrance to the first tunnel, water was moving pretty fast – so I was worried we wouldn't be seeing much:
A shot inside the tunnel: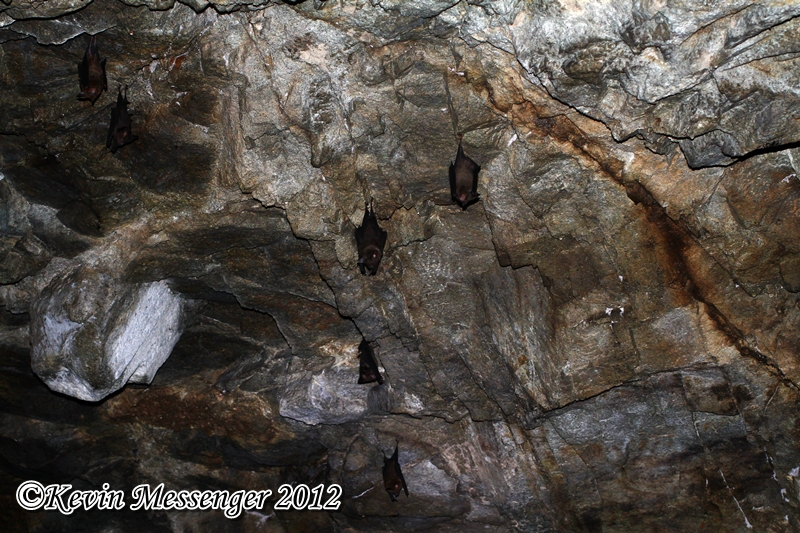 In the upper tunnel we found 4
Trimeresurus
vipers and 2
Cyclophiops major
.
All shots in-situ:
Then we walked over to the entrance of the "long conduit" (~8 km). We met up with Rob, Dan's boss, and Timmy, one of Dan's co-workers.
The first snake of the night was a small krait that Rob almost stepped on when he was getting on the ladder to get down in the conduit.
Rob with his first cobra:
The next snake was rather impressive and got my heart racing, on par with the super krait from a few nights before, a 5' Chinese cobra:
Noel with the big guy:
Rob (Dan's boss) with the big cobra:
Timmy on the left:
Then we caught a decent sized
Ptyas mucosus
– the racers of Asia. When they aren't in a conduit and trapped, they are extremely hard to catch.
Rob getting some video:
Tonight ended up being another great night on Lantau. The night started off with a juvenile krait that Rob almost stepped on. Then shortly after that was our first cobra for the night.
Long Conduit: 4 cobras (3 juv 1 adult), 2 juv vipers, 1 juv krait, 1 Ptyas mucosus, 1 DOR Sibynophis
Rob of course took video of the evening, and was a bit dramatic in some of the soundtrack:
14 September 2012
Today was Abdel's last day, after tonight he was heading to Borneo or Indonesia for some birding with his parents. We hiked a small conduit around his apartment complex, found another lifer,
Achalinus rufescens
! But otherwise that was about all.
These guys are a pain to photograph, and I am not the least bit happy with any of my shots, but this is the best I got (I was on a time table to get to the bus before it left, otherwise I would be stuck with getting a cab all the way back to Anne's)
15 September 2012
Tonight we hiked the Shek Kong Conduit. We found two
T. albolabris
vipers, the skeletal remains of a
Bungarus fasciatus
!! ugh, such a downer:
A drowned
B. multicinctus
and
T. albolabris
.
And lastly, a live
Pareas margaritophorus
Other odds and ends, a
Ferjevarya limnocharis
frog with eyes bigger than its stomach:
Sphenomorphus
Odorrana livida/ chloronota
16 September 2012
During the day, Noel, Kevin and I hiked TaiMoShan. The site was known for
Ovophis monticola
. It is also the only known location in HK for
Amphiesma atemporale
.
A corgi:
Jordi-LeForge style sunglasses:
Trail from the top down to the bottom:
Ovophis is known to occur in the rocky, grassy hillsides:
A view of the new territories:
Photographing the
Ptyas mucosus
from the night before. Very displeased with all shots….
Sunset over TaiMoShan
Tonight we hiked the small TaiMoShan conduit, the one that will one day hopefully yield a golden kukri... The only thing we found was a krait:
Enlarged vertebral scale row
After the hike we opted to visit the awesome Indian restaurant again that Kevin introduced me to the week before:
(Kevin told me that this was northern India-style food)
View of the MTR, just in case anyone was curious:
17 September 2012
Noel went with Anne to implant some new snakes with radio telemetry devices. That evening we tracked. I definitely prefer tracking at night to the day. In the day, the heat can be quite unbearable, at night the temps were actually kind of cool.
We found a fairly interesting situation. One of her vipers died next to a live male. It looked like the male was probably interested in mating with the female. She got a necropsy, but no cause of death could be determined. It was very strange.
18 September 2012
Noel's time is almost up. We opted to do a non-herp thing, and be somewhat touristy. We decided to go visit Macau, another "China." Hong Kong was originally British, and so everything in HK is very different, money, cars, thought, the citizens, EVERYTHING – Macau is similar in that regard. It was originally Portuguese, and as such the languages are Chinese, Portuguese, English, and the interesting local dialect. All the signage is tri-lingual (Portuguese, Chinese, English). The décor is very European, flashy colors like one would expect in a Hispanic country, very not-Chinese.
Macau is also the "Las Vegas" of Asia. Tons of casinos and such. They have helicopter rides from Macau to HK for the big winners. So, I got a new passport stamp, got my hands on a 4th type of Chinese currency (Renmenbi – mainland China, Taiwan New Dollar, Hong Kong Dollar, and now Macau Dollar).
I was hoping for more history and cool city streets. But overall Macau was not that interesting. It was cool to do once, but I think I'm good for the rest of my life.
Macau has a ton of beef jerky:
Civet cat coffee (those that know about coffee should know this is considered the best coffee in the world (prices around $600/lb for the beans)
I think a cup was around $50 USD or so. I did not partake.
We wanted a unique lunch, something Portuguese. We found diner nearby and tried it out. The inside décor was quite different from most Asian restaurants:
Awesome painting!
This beer was one of the worst beers I've ever had. Like water with a touch of alcohol:
Lunch was not super impressive either:
It was fine, I was just expecting more….
Shirts like this are common in Asia, I think it says "Let's Goal Ribs!"
Chinese, Portuguese, English:
The ruins of St. Paul:
The local fort:
For the most part, Macau had very little to offer. I was hoping for more European-esque city streets and architecture. But the vast majority of Macau looked like this:
(that's China across the water by the way)
Unfortunately, casinos seem to be the main draw of the country.
Messing with the camera:
Well, that was pretty much it for Macau. We satisfied our curiosity within a few hours. We caught a ferry back to Hong Kong, then went to walk around some famous street where you can buy a bunch of electronics.
More playing around with the camera:
19 September 2012
Our last herping day. We opted for Lantau again. Typically, whenever we herp Lantau, we always stop at the grocery store/ deli called "Taste." Here they make fresh deli subs that are great. Great meat, great cheese.
I could eat here daily.
Once we got to Lantau, with sandwiches in our book bags, we hit the tunnels. We had a new idea this time. We wanted to start at the conduit beyond the upper tunnel, check it during the daytime. Last time I did this conduit during the day with Dan and Kevin we found a viper and a
Sibynophis
. One end of this conduit abuts to the back end of the first tunnel, unfortunately there's no way to get there easily. So prior to heading to Lantau we bought a bunch of rope.
The daytime conduit didn't yield a thing. So we headed to the backside of the upper tunnel. We tied the rope to a concrete pillar, put some knots in the rope and repelled down to the backside of the upper tunnel, effectively saving us probably an hour or more of walking had we gone the long way around.
We found nothing for the most part. We took our time messing around with some long exposure shots, trying to mess with strobe flashing, bunch of other things.
At the very end of the tunnel (normally the beginning), we found a
Rhabdophis subminiatus
! Awesome. When we captured it, it didn't do any cool behaviors though…
From here we walked down to the backside of the king cobra tunnel. It was empty again… My experience in 2012, this tunnel has yielded two animals; a 9 foot king cobra, and a 4 inch blind snake… oh well.
I took a long exposure shot, in hopes of getting a "habitat" shot of where the king cobra was found, as many people still don't have a clear idea when I saw we found it in a tunnel:
We walked a little bit beyond the tunnel exit, Noel wanted to see where we had released the king back in July.
From here we walked all the way over to the long conduit, probably a 30-45 min walk from where we were. The day would end up being a lot of walking….
When we arrived at the conduit, we met up with Dan and Kevin. While we were walking from the king cobra tunnel, Dan sent me a text, telling me about some other herpers that were there in line for taxi cabs. They knew because some of them were holding some tongs… Dan asked if I knew anything about them. "No clue" I responded. When we got to the conduit, Dan (and party) was already there. We walked on the main road instead of inside the conduit to catch up. When we got up to the group, it turned out to be Paulo (the vet that did the monkey sterilizations and implanting Anne's snakes – he was also a mutual friend of Noel's, one that Noel met many years ago as a teenager when Paolo lived and worked in Singapore. Paolo is from Italy originally) and 3 members of the KFBG (Kadoorie Farms and Botanical Garden; an excellent research organization that conducts a lot of herp work in HK and south China). So it was a big group for the night to say the least.
The rest of the evening yielded:
2
R. subminiatus
,
2
Sibynophis
,
1
Xenochrophis
,
1 dead
Achalinus rufescens
,
1
Lycodon capucinus
(formerly
aulicus
),
1 Blind snake,
1 dead
Naja atra
All the Rhabdophis from the night:
Noel and Paolo, no flash:
With flash:
20 September 2012
day of rest. Last night for Noel.
Saw another corgi today. A super cute tri-colored puppy that was ecstatic when it saw anyone. I tried to get some shots of it for some friends back home. It would jump toward me when I tried to take its pic with my little point and shoot:
Tomorrow Noel flies back to Singapore. Dan took us both out to a German restaurant, which was excellent as well:
Very good:
Group shot
Weird road near the German place:
A link to the final 2012 post, #51 Thailand:
http://www.fieldherpforum.com/forum/vie ... =2&t=15818