Part 1 of my honeymoon can be found here:
viewtopic.php?f=2&t=1233
This should have been the herp-intense part of our trip, but a few unforseen events got in the way, as you will see. Be forewarned that there are only a couple snakes.
Also, this was 2008, when my photography really really sucked, as opposed to its current mediocre state.
A long day on the bus took us from Playa del Carmen to Chetumal to Belize City, and then a water taxi brought us to Caye Caulker. The caye was tiny, but had few people living on it, so decent stretches of the island were still wild. I didn't have a lot of time to hike around, but did see more Black Iguanas and a variety of anoles, several of which looked different than any I had seen to this point. The shore life was neat too – huge frigatebirds in the air constantly and brightly colored sting rays and conch shells in the shallows. Unfortunately, a later memory card issue erased all of the pictures from the caye, so I don't have the slightest idea what species of anoles I may have seen there.
On our second day there we took a spectacular snorkeling tour through Coral Gardens, Hol Chan Marine Preserve, and Shark Ray Alley. To make a long story short, we snorkeled with a huge eagle ray, a number of large southern stingrays, numerous nurse sharks and barracuda, a large green moray eel, a brittle star, three green sea turtles cavorting together, and plenty of other sea life. I took a few pictures of everything with the underwater disposable, which came out poor, but not quite worthless. Unfortunately, the only one I can find is the turtles.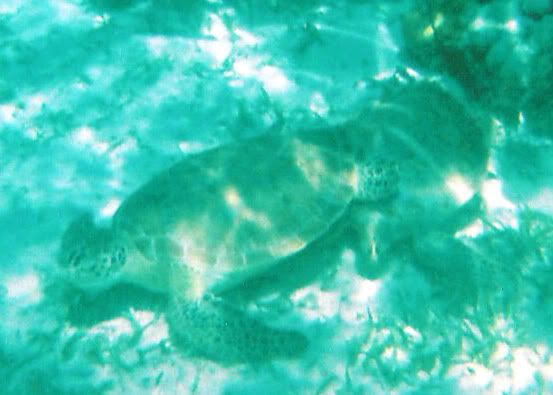 The next morning we headed back to Belize City and then embarked on an all-day bus ride to Tikal, Guatemala. It probably took the cake for sketchy public transportation in my life so far, but we made it without issue. I liked Tikal a lot. It is adjacent to some large protected lands, so the forest there just felt deeper than anything we'd seen up until that point. We had time for a quick rainy hike that first evening, and in that time were able to see spider monkeys (my first new world monkey!) and white-tailed deer.
We camped outside the restaurant and woke up at 4am for an early-morning tour we had signed up with. Due to the tour we were able to enter the park before visiting hours, and were greeted by the booming calls of howler monkeys before the sun rose. The early morning was a great time to see the jungle come alive and the ruins rise up out of the mist.
An orange-breasted falcon landed just above me on restoration scaffolding and peered down for a while:
Black vultures, black hawks, and swallow-tailed kites glided above us, toucans and parrots flitted through the trees, huge walking sticks and land snails crawled on the trunks, and ocellated turkeys and coatimundis roamed around the ground.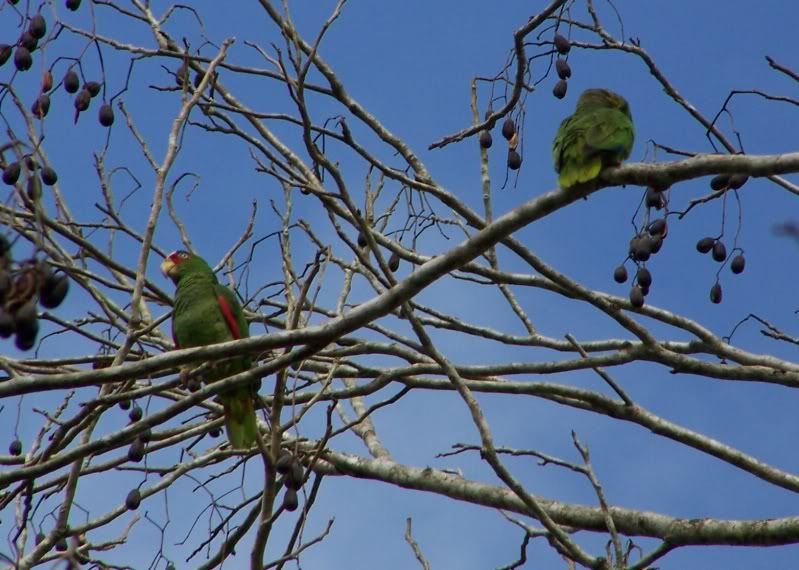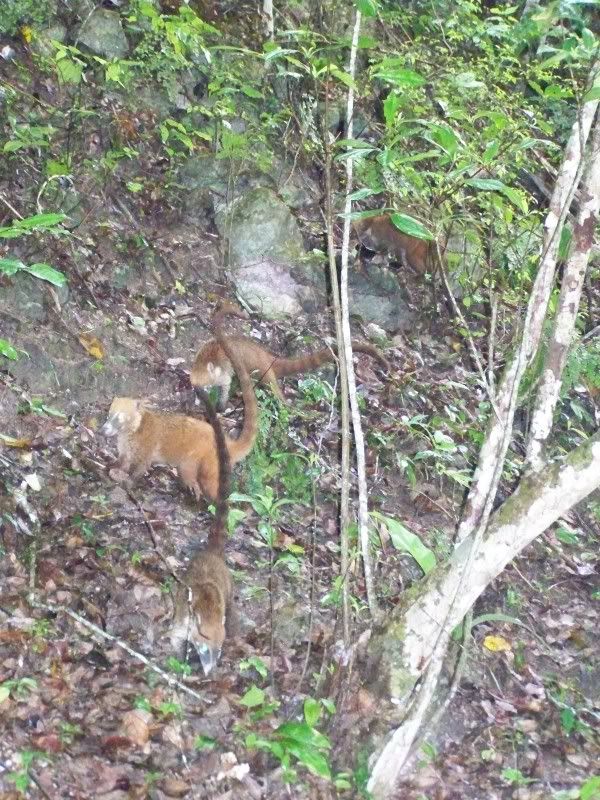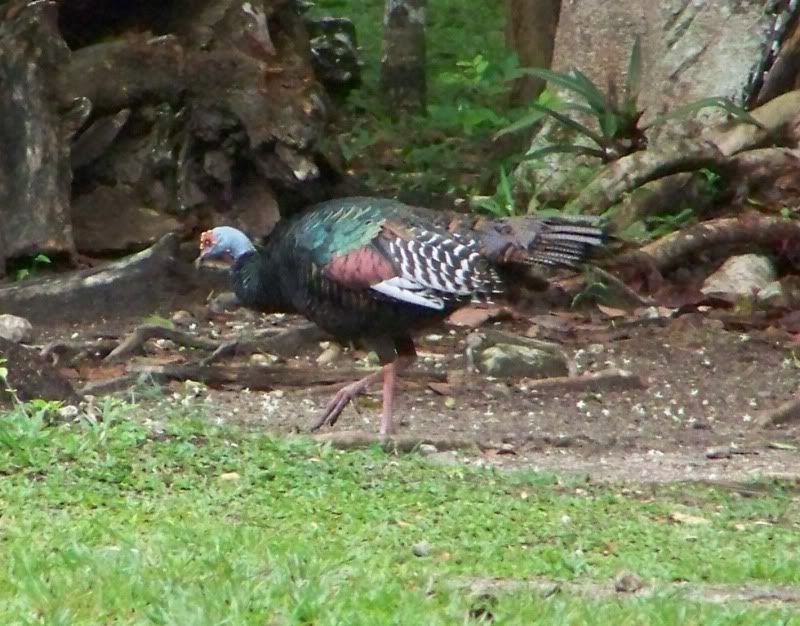 The ruins were striking too – the expanse, size, and complexity of the many temples, pyramids, and other buildings dwarfed Coba, Tulum, and Muyil combined.
A ruin pre-excavation - there are something like 10,000 of these in Tikal alone:
After the tour my wife and I continued to explore the area on our own. We saw more spider monkeys, the howlers that we had heard in the morning, a few basilisks and anoles along with numerous Rosebelly Lizards, and I flipped a tarantula: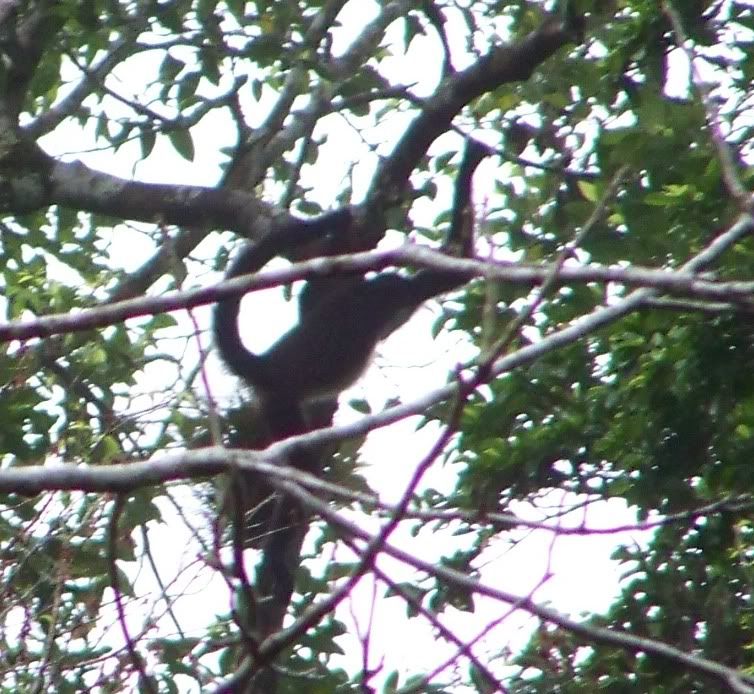 Rosebelly Lizards (
Sceloporus variabilis
)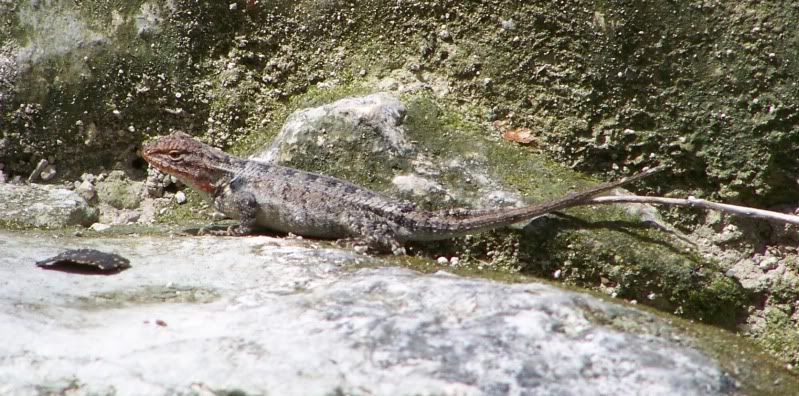 Anole sp.?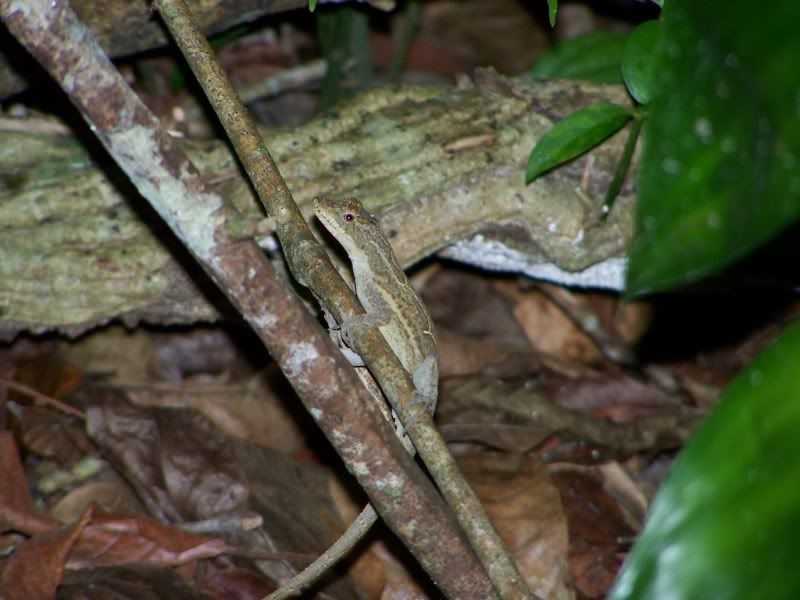 But the big sighting of the day was when I finally flipped a snake:
Black-striped Snake
Coniophanes imperialis imperialis
I thought when I caught it that it was a rear-fanged species, and the impression was confirmed when the little guy started chewing on my ring finger for all he was worth. I was impressed, and while trying to get him off without hurting him, explained to my wife why his actions showed he was a rear-fanged species and what that meant. That worried her more than I intended it to. When I got him off my wife tried to get a decent pic, but he just latched right back on. She was definitely was not happy about that. I ended up being forced to release him without getting the nice picture I was hoping for, and though it showed no effects from the venom my finger was definitely the worse for wear.
The only real disappointing thing about our Tikal time was that it was cut too short and heavy rainstorms had begun to hit us, like this:
http://www.youtube.com/watch?v=aFMdSqKLfEg
Many times we were forced to wait under cover, and even when we walked it looked like much of the wildlife was taking shelter. What we didn't know was that Tropical Storm Alma had just hit from the Pacific
http://en.wikipedia.org/wiki/Tropical_Storm_Alma_(2008)
and was being called a "rainmaker". It should have been great for amphibian life near the ponds in front, but our schedule got screwed up in such a way that I really wasn't able to spend time exploring them the first evening and we had to leave before the second.
When I was able to look at the ponds in midday, I saw a few basilisks, numerous sliders, 4-5 Morelet's Crocodiles, and some really cool wading birds.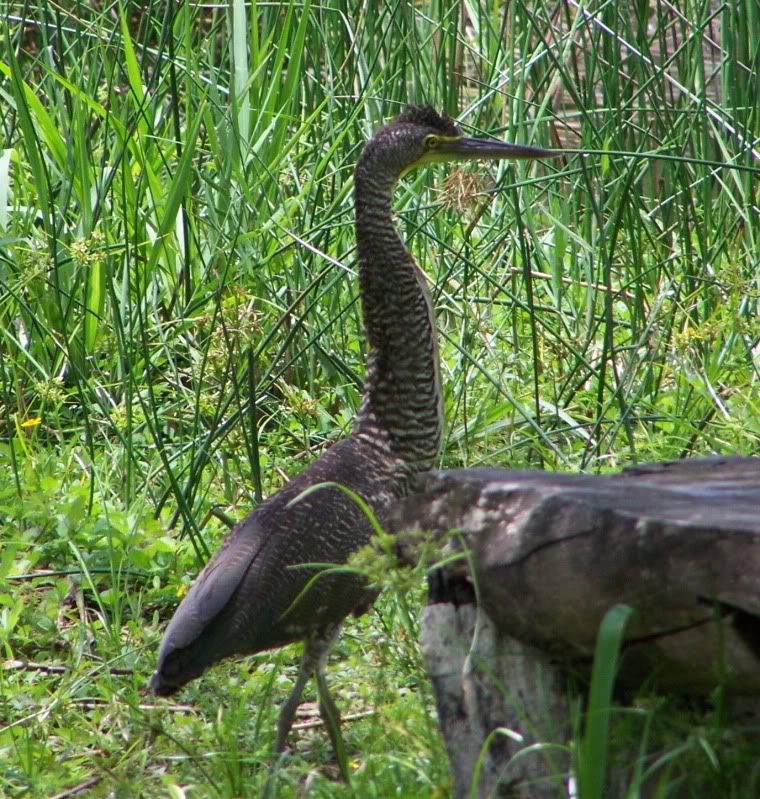 Meso-American Slider
Trachemys venusta
Morelet's Crocodiles
Crocodylus moreletii
I would highly recommend getting at least two full days in Tikal if you go there – it was the only place that we left feeling like we really should have stayed longer. In the evening we jumped on a shuttle and headed back towards civilization, and the rains kept pouring down…
After a shuttle ride, hotel stay, walk, bus trip, walk across the border, and some hitchhiking, we made it to San Ignacio, Belize. And it rained and rained and rained. We had been planning to go on an ATM cave tour (which got cancelled), then switched to a cave tubing tour (which got cancelled) and soon found that everything else was cancelled too. Places that absolutely guaranteed they wouldn't cancel on us were cancelling. And it kept raining and raining and raining. With no business left in San Ignacio, we jumped on the bus a day early and headed to Cockscomb Wildlife Sanctuary on May 31st. We finally heard about Tropical Storm Alma coming ashore from the Pacific, but unbeknownst to us, Tropical Storm Arthur (
http://en.wikipedia.org/wiki/Tropical_S ... hur_(2008)
) had just formed in the Caribbean Sea.
Cockscomb had been a dream of mine since youth – I'd heard Alan Rabinowitz speak when I was just a kid, read
Jaguar
soon after it came out, and reread it again with my wife when we made the decision to go to the Yucatan. In terms of remoteness, it was just as I had imagined. There was a single staff member and a single other guest in the place when we got there, and the facilities basically felt like a well-staffed research station. And the jungle was real. Things had been cool in Muyil and Tikal, but the jungle here was definitely the best.
Unfortunately, the rain was awful. From the moment we arrived in Cockscomb, the sun was hiding. Hiking favorability was determined by the degree of rainfall, though even the light drizzles usually intensified within a few minutes. I was rarely brave enough to pull out my camera, fearing it could be ruined. Once a large tree branch came crashing down onto the trail about 80 feet behind us, and another time a tree fell about 40 feet in front of us. While the plant life was beautiful, the animal life stayed hidden. I managed to flip a brown forest skink (
Sphenomorphus cherriei
), a whip scorpion, and a tarantula
and we saw a few very wet basilisks and anoles:
Possible Lesser Scaly Anoles?
Anolis uniformis
?
Brown basilisk
Basiliscus vittatus
I also saw an adult Speckled Racer next to a lagoon, but managed to perfectly cut off the head in my one picture (there was only one picture because I was going to go grab it before my wife and I had a short discussion re: the last time I'd grabbed a snake, and he got away while we were talking):
Northern Speckled Racer
Drymobius margaritiferus margaritiferus
The only herps that actually seemed to enjoy the weather were the toads, which I believe are Rainforest Toads:
Rainforest Toads
Bufo campbelli
Due to the rain, which only seemed to get harder, we spent a lot of time back in the very cheap cabin room we had rented. Around there we did saw a Staffer's Treefrog, some Gulf Coast toads, and an animated Cane Toad.
Cane Toad
Bufo marinus
Unfortunately, this was when the error hit both sides of the memory card, so I lost a number of those pics along with all the Caye Caulker pictures. The nights were a desperate struggle of trying to defend ourselves from bugs – besides the mosquitoes, I was nailed at some point by something with significant mass that bit down hard on my shoulder before I slapped it away. Any guesses what that might have been? On the second night, it STORMED. That video from Tikal was a joke compared to the rain/lighting/thunder storm that came down on our heads in Cockscomb.
When we woke up, the rain appeared to finally be letting up. We tried to do one hike, but found that the trail was flooded. So we tried another hike, and found that trail to be flooded as well. On a third hike, the stream had washed out a footbridge. We finally got through a short trail on the fourth try, and saw the mammalian highlight of the whole trip – a jaguarondi!!!
You may have noticed that picture was taken at the Belize Zoo. Our wild jaguarondi didn't stick around for the photo op, so our only evidence was the paw print he left behind:
We tried one more trail, and found another footbridge completely swamped by a flooded stream. This was crazy….so we went back to camp. And it looked like camp was leaving. Radio communications were down, the last word was that highway bridges were washed out and there was flooding and landslides everywhere, and Cockscomb was being shut down and evacuated. Honestly, if we had stayed out in the forest another hour or two, I'm not sure if we would have had a way out.
The next 48 hours were an adventure in themselves. Basically, the back-to-back tropical storms had caused flooding everywhere, and nine people were killed. This is a situation report posted at one point during recovery:
http://www.cdera.org/cunews/sitrep/beli ... e_2117.php
The major bridge on the Southern Highway just 1 mile north of us was completely gone (picture is the next day, when the water got calmer).
.
7 miles to the south of us (in a direction that's a dead-end anyways) the highway was flooded and impassable. With absolutely nowhere to possibly go, we slept in the back guesthouse of a very kind Mayan family in Maya Center.
The next morning, locals had started canoe shuttles across the heavily flooded Sittee River. We risked it (against the strong advice of one tour guide) and made it across in one of the more nerve-wracking boat trips of my life.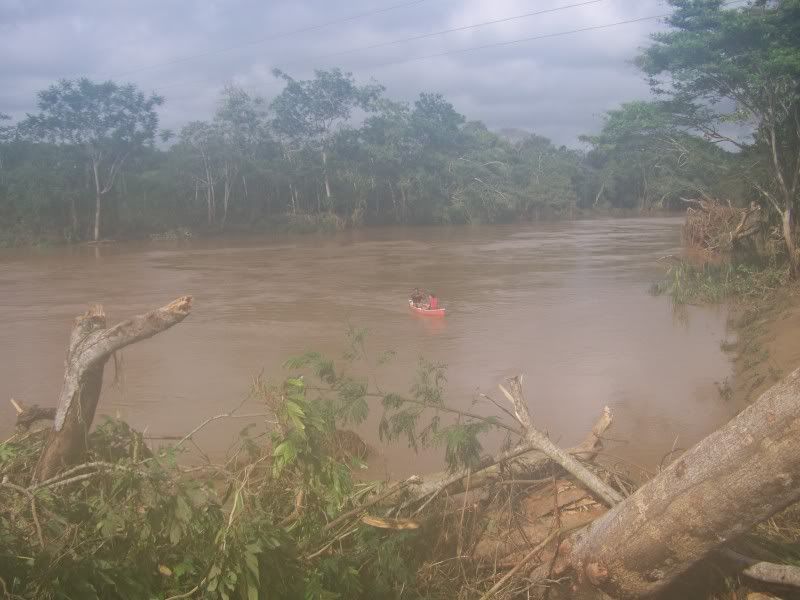 Here's a video (later in the day when our convoluted trip took us back to the bridge) to give you an idea:
http://www.youtube.com/watch?v=HgzQ6QAE900
A bus on the other side tried to take us to Dangriga (which is a dead end anyways), but was forced to stop due to the heavily flooded highway.
The bus refused to turn around and go west because the highway was washed out and impassible in that direction. We (me, my wife, a number of Belizeans, and two European tourists) started hiking west on the Hummingbird Highway, simply because we were out of options.
After two miles of hiking, a kind Belizean man named Pio we had befriended flagged down a Ministry of Agriculture pickup, driven by a friend of his from college who was high up in government. We jumped in the back and began touring the damage with them.
The truck eventually drove west up the Hummingbird Highway around several landslides and partial washouts, but was forced to stop where the highway was completely gone.
My wife and I said our good-byes and thank yous, walked around the obstruction, and caught a bus to Belmopan. And we were safe and sound.
Belmopan was just an emergency stop for recovery, but I was determined to make the best of it. We had planned to do night-driving for herps in the area (I had expected it to be the herp highlight of the trip), but road conditions forced us to rule it out. Instead, we washed our nasty laundry and my wife rested from the exhausting ordeal. But I was surrounded by post-storm flooding! So I walked the ditches and had my best amphibian night of the whole trip:
Gulf Coast Toads
Bufo valliceps
Brown's Leopard Frog
Rana brownium
White-lipped Frog
Leptodactylus labialis
Common Mexican Treefrog
Smilisca baudinii
Stauffer's Long-nosed Treefrog
Scinax stafufferi
There were also a few lizards, including house geckos and this lifer that I scared out from under a concrete slab:
Dwarf Gecko
Sphaerodactylus glaucus
I take pride in my ability to hand-catch lizards, managing to snag a few things (whiptails, fringe-toed lizards, leopard lizards, desert iguanas) that aren't easy to catch by hand. But I think this one takes the cake:
Brown Basilisk
Basiliscus vittatus
Not only is it the only one I caught while it was asleep, he's the first lizard I've ever accidentally grabbed while trying to climb into a culvert. Well, I guess it could have been either that or a
Bothrops
. I did find that
Scinax
, a few toads, and a huge wolf spider in the culvert though, so it was worth it.
We visited the Belize Zoo the next day, a wonderful little place, though it has very few herps. Their real focus was on educating children in a manner that children would actually pick up on - and they're working on a program that would ensure that every child in Belize visits the zoo at least once during their education. It was a decent place for wild herps too - there were agoutis all over the grounds, and we also saw a pair of guans and my first wild Green Iguana.
Classic Belizian Zoo signs: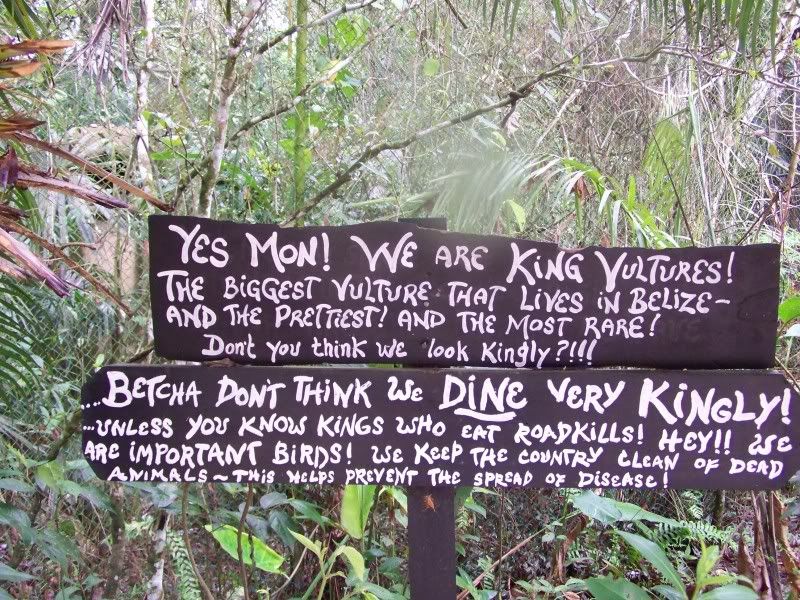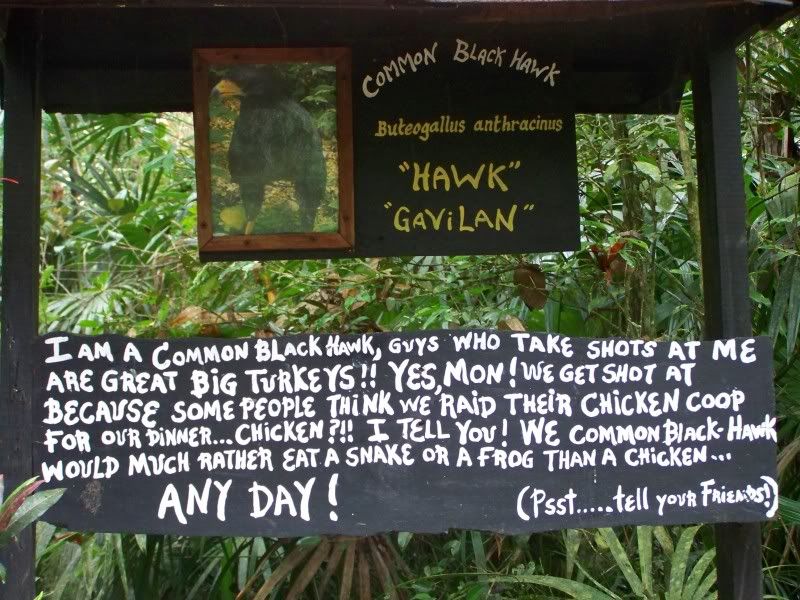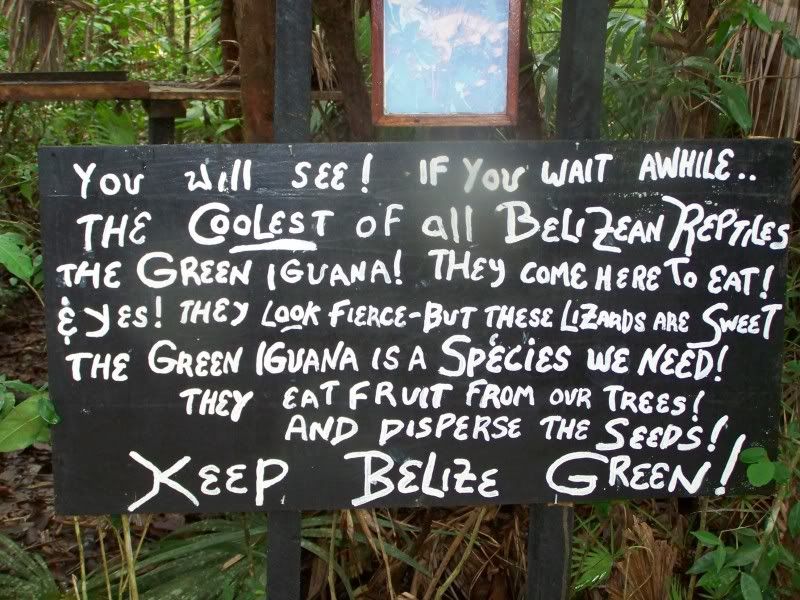 Rose with ocelot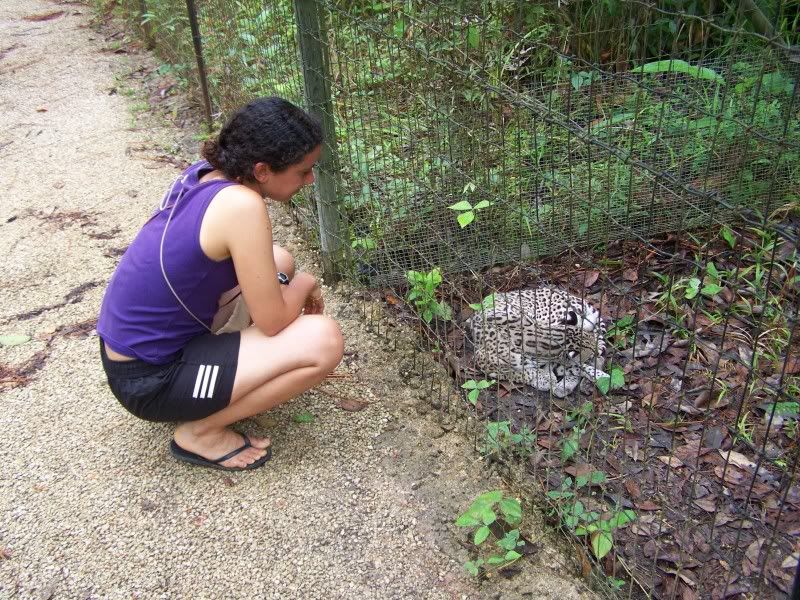 Zoo Howler displaying:
http://www.youtube.com/watch?v=2Q_L07DL0lc
Zoo Coatimundi family:
http://www.youtube.com/watch?v=D2grfvPYThc
Wild guan and agouti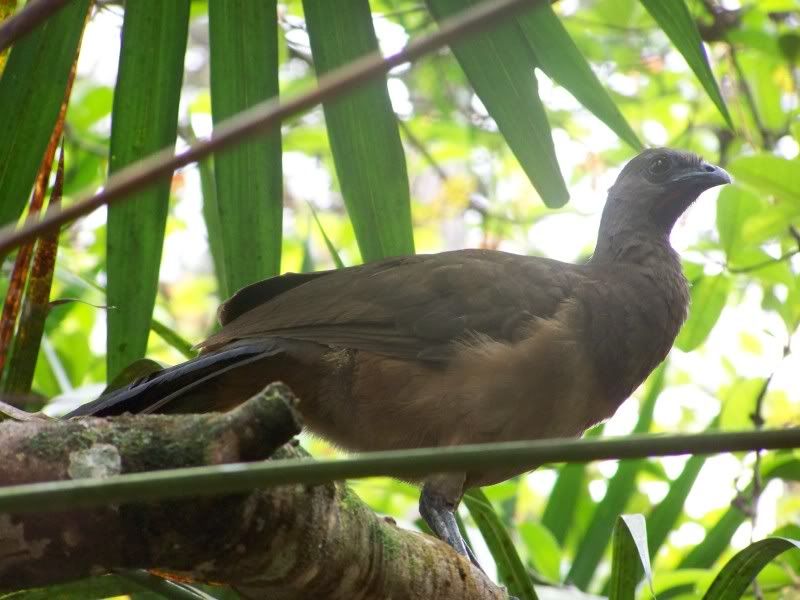 Terrible picture of a Green Iguana (
Iguana iguana
)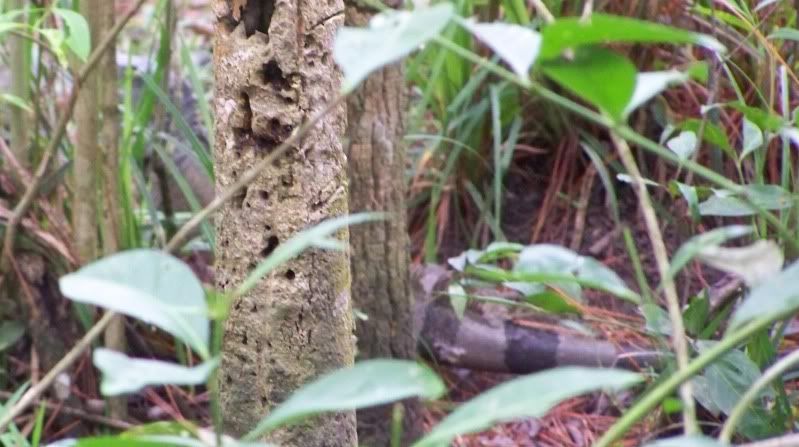 After that it was a night in Chetumel, night in Playa del Carmen, night in Cancun, and then flying back to the States to enjoy life together.
Thank you much for reading.
Total herp count for Belize and Guatemala
2 White-lipped Frogs
3 Brown's Leopard Frogs
2 Stauffer's Treefrogs
4-5 Common Mexican Treefrogs
TMTC Gulf Coast Toads
3 Rainforest Toads
1 Cane Toad
8-10 Meso-American Sliders
3 Green Sea Turtles
4-5 Morelet's Crocodiles
1 Brown Forest Skink
1 Dwarf Gecko
10-15 Common House Geckos
Several Cuban Brown Anoles
1 Bourgeae's Ghost Anole
2 Lesser Scaly Anoles?
Several unidentified anoles
15-20 Rosebelly Lizards
14-15 Brown Basilisks
1 Green Iguana
several Black Iguanas
1 Speckled Racer
1 Black-striped Snake
Total count for trip: 30 species, every one of them a lifer. Just about everything I saw was a common Mayan region herp, and none of the best herping attempts worked out, but I'm happy with what we saw. Herping wasn't the primary focus anyways.