There's only one person in the world that has ever landed a double front flip on a mountain bike.
There's only one woman in the world to have named a planet.
There's only one person in the world who has been cured of AIDS.
And since last Tuesday morning, I believe I now also belong to the exclusive club of "world's onlies":
I'm the only person in the world whose pet snake was liberated by a pangolin.
But let's start at the beginning.
Our favorite herping road is an hour's drive from Kuching, and since I work until nine PM during the week, we can only take trips there on the weekend. We rarely cruise anywhere else anymore, as that road keeps giving us a cornucopia of ultra-cool animals: Flying and Horned Frogs, Red-headed Kraits and Short-tailed Pythons, Leopard Cats and Fish Owls, to name just a few members of the bestiary we've been able to tick off there so far. Rare species being common, and common species being rare around here, we don't find a great number of beasties, but the ones we do find usually make up for the three previous hours of not seeing anything.
Take last Friday, for example. Most of Sarawak had been without rain for two weeks, a semi-catastrophe this close to the equator – huge ditches dried out within the first three days, people in the hinterland ran out of drinking water and rivers to commute on, and all my terrestrial pitcher plants in the garden kicked the pitcher (luckily, the epiphytes know how to conserve water). Obviously, this situation is hell on herping, but I had learned to turn crap into chocolate and approached the cruising area with serenity: I probably wasn't going to find anything but bats, but hey, it's always therapeutic just to be in the forest.
Things have a way of straying from the anticipated outcome, though, and the first animal I found was nothing less than awesome. Not the critter in itself, that was common enough, but the fact that I had found it in this weather: It was a foot-long earthworm, as thick as my thumb, worming its way across the bone-dry road! The next two hours I had plenty of time to muse about this weird encounter, since I didn't see anything else but bats doing aerobatics (nice pun, by the way
), occasionally getting too frisky in their pursuits and smacking into the windshield, then tumbling back onto their intended flight path like drunken skywriters. Just when I had pointed the truck back in the direction of Kuching, I saw a long, dark snake on the opposite lane. I got out, tonged it back onto the middle of the road, and recognized it by the shape of its head as some sort of
Boiga
. From the markings, it seemed to be a Dog-toothed Cat Snake (
B. cynodon
), but I wasn't familiar with the dark olive base color. Better to check back at headquarters, I felt, and I was too tired to monkey around with the camera anyway, so I bagged the snake and took it with me for further inspection and leisurely photos over the weekend.
That was a nice end to an otherwise unspectacular cruise… I thought. However, two miles later I witnessed something even cooler. I was driving through the middle of a
kampong
(Malaysian village), when I saw, but didn't really notice, a big white village mutt chasing what looked like a small white village mutt across the road. Only when the little one headed straight for my car to seek shelter underneath, I realized what it was: a huge Moonrat!
Echinosorex gymnura alba
is the biggest species in the family formerly known as Insectivora, which also contained hedgehogs, moles and shrews (for more on their new taxonomic adventures
see here
). The Moonrat does indeed look like a rat, but it's as big as a large cat, stinks to high heaven of ammonia (not unlike gym rats, probably also due to their high protein diet), and is wrapped in a pelt as white as the driven snow. It's not an uncommon animal in lowland Sarawak, but hard to find, and this was my first ever! By the time I'd gotten out of the car, prey and predator had already taken their chase into the next cucumber patch, so no photos. But who cares - I'd finally seen a Moonrat!!
Thus is the nature of roadcruising in the inner wet tropics – much like the work of an actor on set, or that of an infantry unit in war, it consists of very long stretches of ball-scratching, nose-picking tedium, peppered with a few all-too precious, sudden moments of high action and adventure (sometimes laced with terror). The next night was not much different. Intensified by the drought, the monotony droned on, bats were again the only visible wildlife, and again, things took a dramatic turn just when I was about to call it a night. I had reached a relatively busy stretch of the road, just between two villages, and traffic was heavy for the area. Every three minutes I'd pass or was passed by a moped, and there were a few cars, too (this is rural Sarawak, mind you, this was almost approaching rush hour conditions).
And presently, there was even a Sunda Pangolin.
A pangolin's silhouette is unmistakable. You immediately
know
you're not looking at yet another suicidal stray dog or some feral feline, and it drowns you in adrenaline like you wouldn't believe. At a recent talk by an American mammal researcher working with camera traps all over Borneo, I had learned that statistically, the chance of meeting a wild
Manis javanica
is slimmer than encountering a Sun Bear in the forest. The reason is that in Malaysia, pangolin meat currently sells for USD80 per kilogram, and the scales for much more, because the Chinese believe them to have all sorts of medicinal powers, and their meat is considered a delicacy far beyond China's borders. Pangolins are almost impossible to breed in captivity, so the unquenchable Asian greed for pangolin products needs to be fed through poaching. And while hunting, keeping, etc. of these animals is illegal in Peninsular Malaysia, the Malaysian states of Sabah and Sarawak still issue hunting licenses for
M. javanica
. Also, at best, pangolins only bear one young per year, so all of the above will most likely lead to their extinction within this decade if nothing drastic happens. In Vietnam, pangolins are now practically extinct, and every year, South-East Asian law enforcement nabs tens of thousands of pangolins earmarked for the pharmacies and restaurants of Greater China and a few surrounding countries. In this light,
websites like this
just make your blood boil. Like rhino horn, the scales are pure keratin, the stuff hair and fingernails are made of. If all the hype about rhino horn and pangolin scales were true, people could cure their malign tumors just by biting their nails….
But believe it or not, this was the
second
pangolin we had seen in six weeks. The first one got away because my son had been reluctant to grab it: "I was afraid he'd bite me!" Clearly, I had neglected my parental duties by not teaching him during our
last session with a scaly anteater
back in Taipei, that these animals have no teeth (hence the classification
Edentata
) – in fact, they don't even have jaws: their mouth is merely a hollow bone structure through which the tongue travels from deep inside the abdominal cavity (that's where they store it - it's that long!) out into the night forest to pick up ants and water.
For all the above-mentioned reasons, I was determined not to let this one slip through my fingers. Not that it's difficult – being mostly arboreal, pangolins knuckle-walk the Earth on their claws, which makes for a rather ungainly, plodding gait. Of course, me being me, I couldn't just get out and grab the thing – no, I had to let it slide into the roadside ditch first, clamber after it, banging my shin something awful in the process, and finally, just before PangBoy could disappear into the bush, I managed to grab him by the tail. Twoton, the Drama Queen - my son probably wouldn't even have left the damn car to catch it…
So now I had my first Malaysian Anteater. Yabba-Dabba-Doo!! Now, where to photograph it? The high frequency of passing motorcycles made a photo session on the spot impossible. Every time a bike buzzed by, I had to swivel the headlamp away from the pangolin – now lying in a ball on the truckbed cover – to avoid entrepreneurial locals from sensing a business opportunity plus a spot of barbeque. The little stinker (boy, these things
reek
!) was a juvenile, just about the size of a large tomcat, and fitted nicely into a medium snake bag. Fearing he would tear the cotton apart with his formidable claws, I put the bag on the passenger side floor and kept a keen eye on it for the rest of the drive. The Chinese Pangolin (
Manis pentadactyla
) that overnighted in my garage back in Taiwan readily gave a nice floor show even in daylight, so I planned to take some pictures of this one in my backyard, later to release it in Kubah National Park, a patch of rainforest more or less devoid of poachers. I called a friend who runs a pet & reptile shop and beggared him to lend me a dog cage for a few nights. That he did, I moved the ant fiend inside, placed the cage in the little storage room under the stairs in our house, and went to bed content as a child on six Christmas mornings.
The next day was a Sunday, and on Sunday mornings I always take my son to the Batman Wall in Bau, 40 minutes outside Kuching, where he and his rock climbing buddies monkey up and down one of South-East Asia's finest limestone walls, while I scour the nearby forests for critters. But that morning I had other plans. We had brought the anteater, and after showing it to the climbers (to the unanimous chorus of "how cuuuute – but make sure the villagers don't see it!!") , I took it to an abandoned orchard full of pretty little craggy rocks to photograph it. I placed it on one of the mini-crags, hid behind a tree and waited. After half an hour of waiting for
Manis godoti
to do something exciting - actually, just
something
would have sufficed! - I switched tactics and hung the pangolin on a low tree branch by the tip of his prehensile tail, hoping he would give up the ball (another excellent pun, folks!
). But again, the only one that gave up anything was me. Pangolins are so all-over muscular that they can probably hang from trees for years… The pangolin was still tightly wrapped up in itself, and the sun had already gone noontime-scorchy, so I figured I'd take the ant freak back home again and photograph it at night in my backyard. I reckoned they're nocturnal, so they should be more active by night.
That didn't pan out as planned, either – after picking up Hans at the Wall, I gave him his weekly driving lesson (we're in the bush a lot, and should I twist an ankle or worse, he needs to be able to drive me at least as far as the next house. There are lots of deserted roads in the bush to practice on, and as a bonus, bouncing in four-wheel drive over Mars-like tracks in oil palm plantations is every 13-year-old boy's dream). Then we topped off the day with a bit of (fruitless) cruising, and when we came home, we were too bushed (pun not intended) to photograph anything. I caged the pangolin again, hoped for tomorrow, and turned off the lights.
The following morning I opened the door to the storage room and found the cage empty and the pangolin sleeping in a dark corner. There were no visible clues pointing towards how in tarnation the beast had escaped from its prison – no twisted wires, no busted door, no ripped-up floor, absolutely nothing (and to this day I still don't have the foggiest!). Against better judgment, I put the animal back in its dog prison, took my son to school, and started my workday.
Later that night a few friends came over to witness the photo shoot. Around eight PM we took the pangolin ball into the backyard, placed him on the grass, stepped back ten paces and waited. After twenty minutes, even the most rabid optimist amongst us had to admit that the critter had no intentions of gracing us with his unfolded presence. Maybe these Sundalins are more introverted than the Chinalins – we had no way of knowing. There was no point in waiting any more days for the animal to do his song & dance for us, because they do not keep well in captivity – and not just because they don't take to man-made ersatz termites, as I would find out later. I felt terribly guilty about keeping him in such an unnatural environment for two days, so instead of putting him back in the cage – from which he would have Houdinied anyway - I gave him the run of the storage room and bade him good night.
It was not to be a good night.
At exactly the stroke of midnight, I woke up and went to the bathroom. I was just pulling my pants back up, when I heard a tremendous crash from downstairs. With great trepidation, I tiptoed down the stairs, fearing a gang of
parang
-wielding meth heads tearing apart the living room in search for valuables. But the den was quiet. Instead, faint noises were coming from the storage room. I opened the door and stepped into Armageddon. Along the left wall of the storage room run three tiers of wooden boards that serve as hold-alls for rarely-used stuff. The top tier is also where we keep the big transparent plastic crate-on-wheels in which we stash large snakes overnight. That evening, the crate was occupied by the above-mentioned
Boiga cynodon
I had bagged the previous Friday (and identified the next day). Only it wasn't on the shelf anymore. An exceptional and powerful climber, the pangolin had pulled himself up to the top tier, clambered onto the snake crate, and then overbalanced, pulling the crate into the abyss with him. Now the crate was upside down on the floor, the snake was zooming around inside, hissing and inflating its neck in great agitation, while the pangolin was sitting next to it, shaking like a leaf from the fall. After putting things back in order, I discovered a little gift the pangolin had left me in the corner – a turd pile that would have made any fully-grown Great Dane very proud. It boggles the mind how such a small animal can produce such a massive mound of crap - and on an exclusive diet of ants and termites! Clearly, more pangolin research is needed. I cleaned up that mess, too, removed the old TV set that was sitting on the floor and which I suspected of facilitating the pangolin's ascent onto the shelf, and went to bed again.
At 0700 the next day, I went straight to the storage room to see if everything was in order.
It wasn't.
Exactly the same End-Of-Days scene I had witnessed the night before had rematerialized again, as if I had never picked up the midnight mess (there's a movie idea: "Pangolin Day" – with Bill Murray in a cameo). Only this time, apart from just being upside down on the floor, the lid of the snake crate had popped off, and the Boiga was nowhere to be seen. Plus, every single item that had formerly populated the shelves was now on the floor, thoroughly shattered. The culprit himself was snoring sweetly at the far end of the upper tier, rolled up in a most adorable little scaly sphere. The snake, on the other hand, was a goner. Boigas can be very long, but most of them are also very slender, so my house guest had slithered under the door into my office, and thence under the garden door to freedom.
In spite of my failure to produce usable images of this rare animal, I now quite relished the idea of getting rid of the little wrecking ball (so to speak). As much as I'm infatuated with
Manis
spp., that much mischief paired with that much power (you should have seen what he did to the veneer of the storage room door) made me realize my affliction with the Sergeant Murtaugh Syndrome (aka "Getting Too Old For This Shit"). Into a snake bag the little devil went, and off it was to Kubah National Park. Sarawak's national parks and nature preserves are not exactly free of poachers, but due to the lack of trails, intensive poaching is usually limited to the forest edges. In Kubah I have found crude hides in trees, made for wild boar hunting, but they're on the perimeter of the park, so I walked deep into the jungle to release the pangolin. On the way there I crossed a little stream. It was very shallow, thanks to the drought, and right then and there I had the most wonderful idea. Although the pangolin had always been in reach of a full water bowl, it hadn't drunk much during its stay at our house. And pangolins need and love to drink a lot. Why not put him in the stream and see what would happen? The water was less than two inches deep, so I placed the beast on his back in the creek, making sure the head stayed above the surface. Then I stepped back and waited.
This time I struck pay dirt. After just a few seconds, a long, pink, ropy tongue emerged from the keratin ball and began lapping up the cold stream water. Slowly, the animal began to unfold, then walked around, moving in and out of the water (pangolins are surprisingly good swimmers), and I took more than two hundred photos of this fantastic creature in a lovely, natural setting.
It is believed that pangolins are some of the earliest mammals, having evolved about sixty million years ago, and not changed a bit since. Living fossils like these allow us a glimpse into a world unimaginably far back in the past, and whenever I'm in the presence of such a creature, I remember what
awesome
once really used to mean…
Here are a few images of the two main players in this this epic:
THE PRISONER
Dog-toothed Cat Snake (
Boiga cynodon
). I'd been procrastinating the production of proper photos, then got sidetracked by the anteater, and in the end the only images I had were the two that I took the morning after its capture, to have it identified here on FHF. I had never seen an olive
cynodon
, so my thanks go out to Björn Lardner (Lardman) who explained:
"
Some (or even all??) subadults may have a olive-grey "basic" color (and then the usual darker crossbands etc.) In addition, B. cynodon is THE Bornean Boiga sp. known to often be partially melanistic. Normally it is just a matter of the snake being densely speckled with small black dots, as is the case in your specimen.
"
THE LIBERATOR
(photos in chronological order)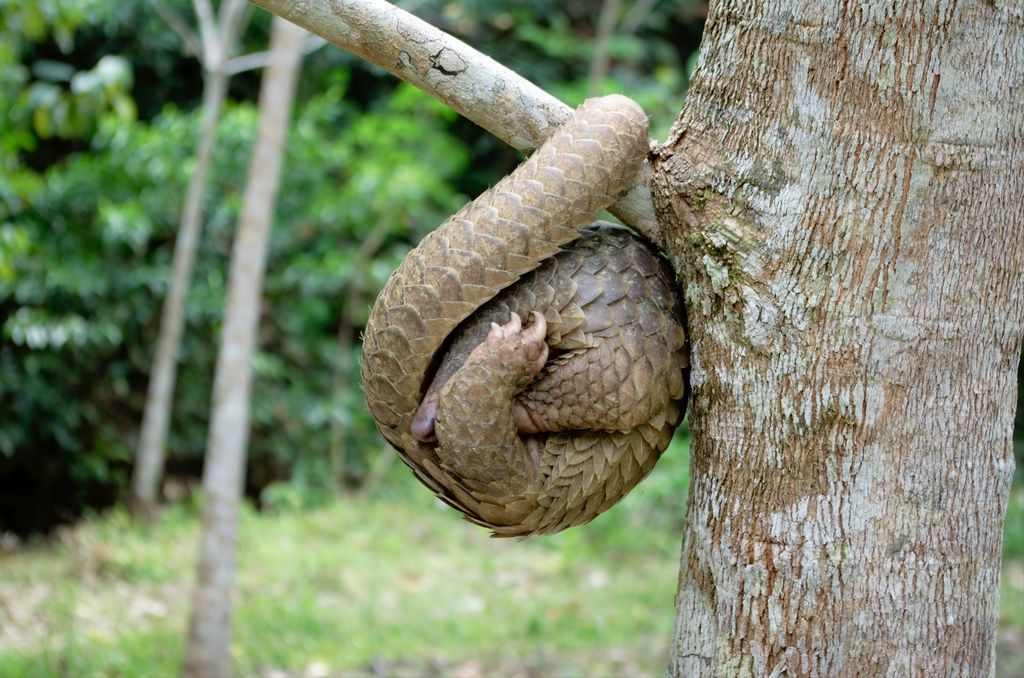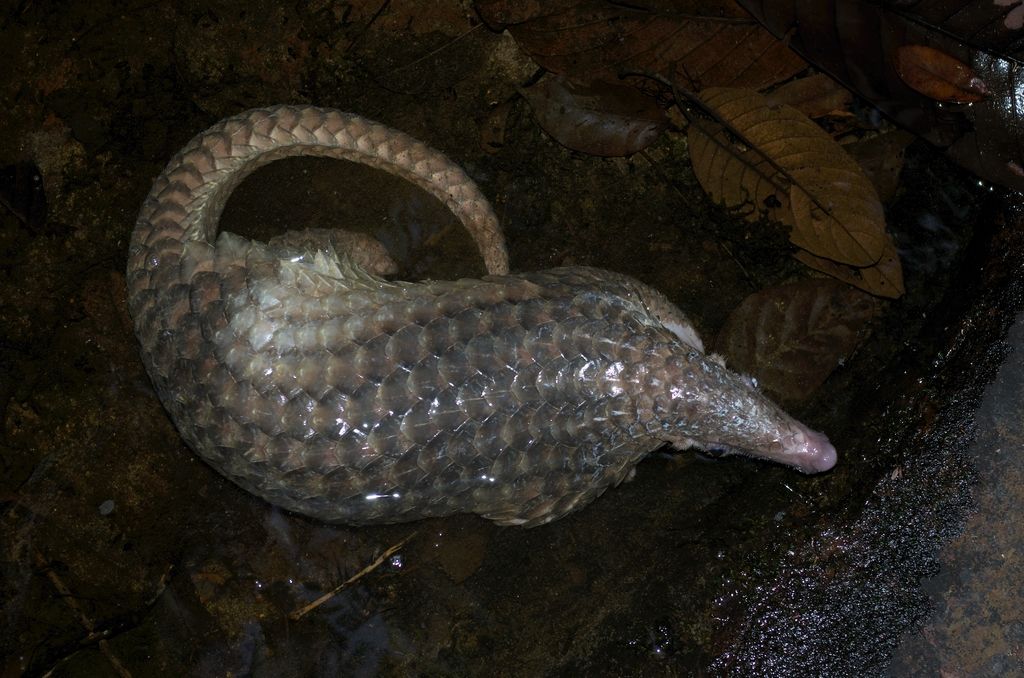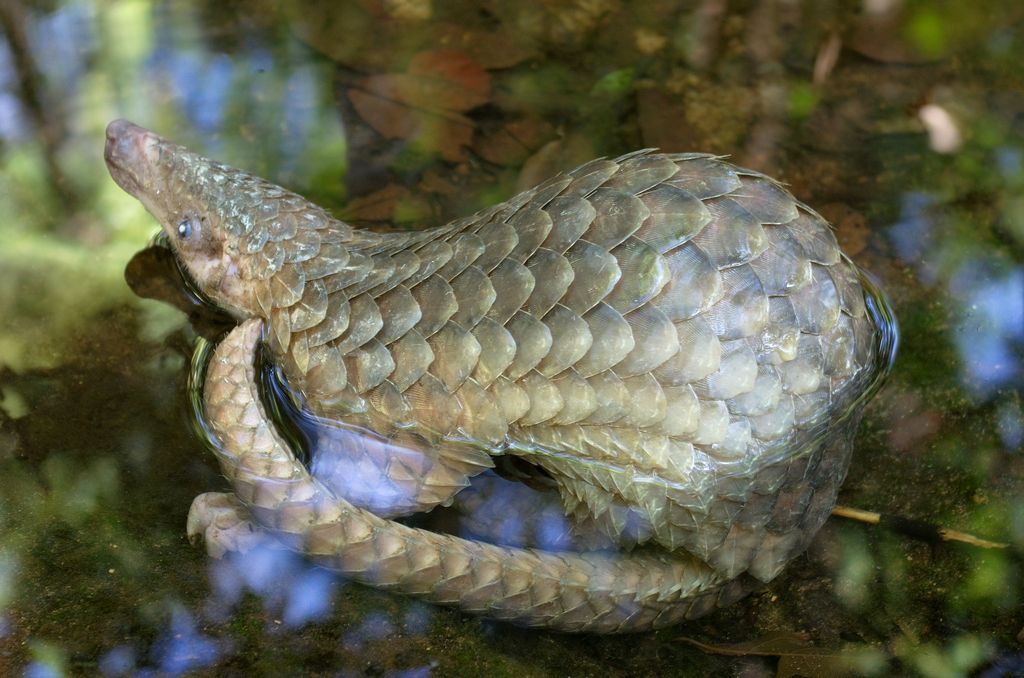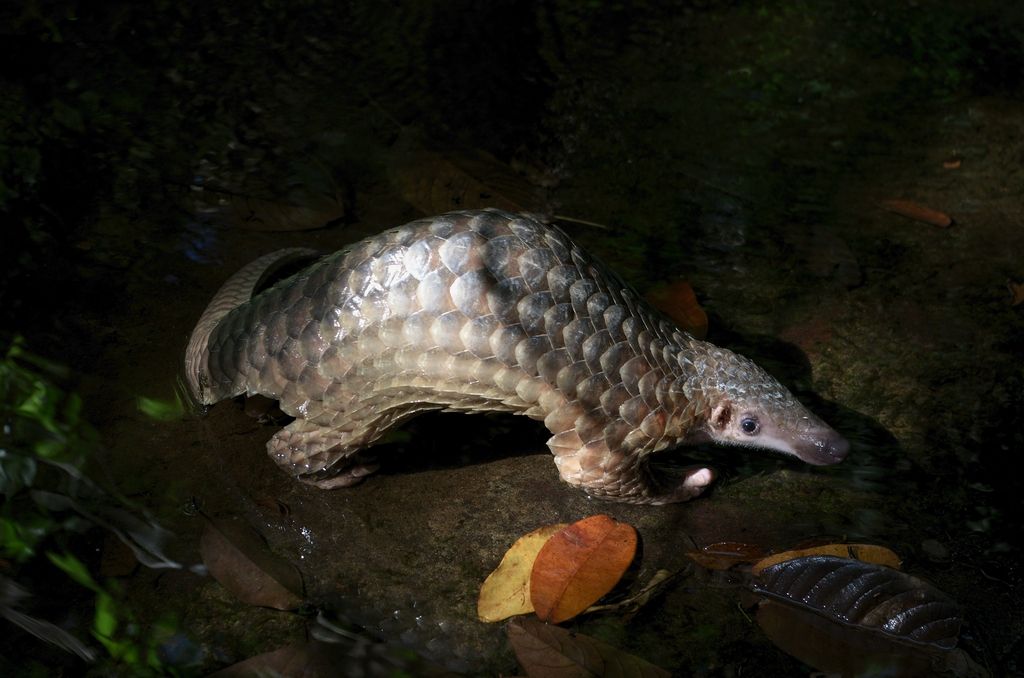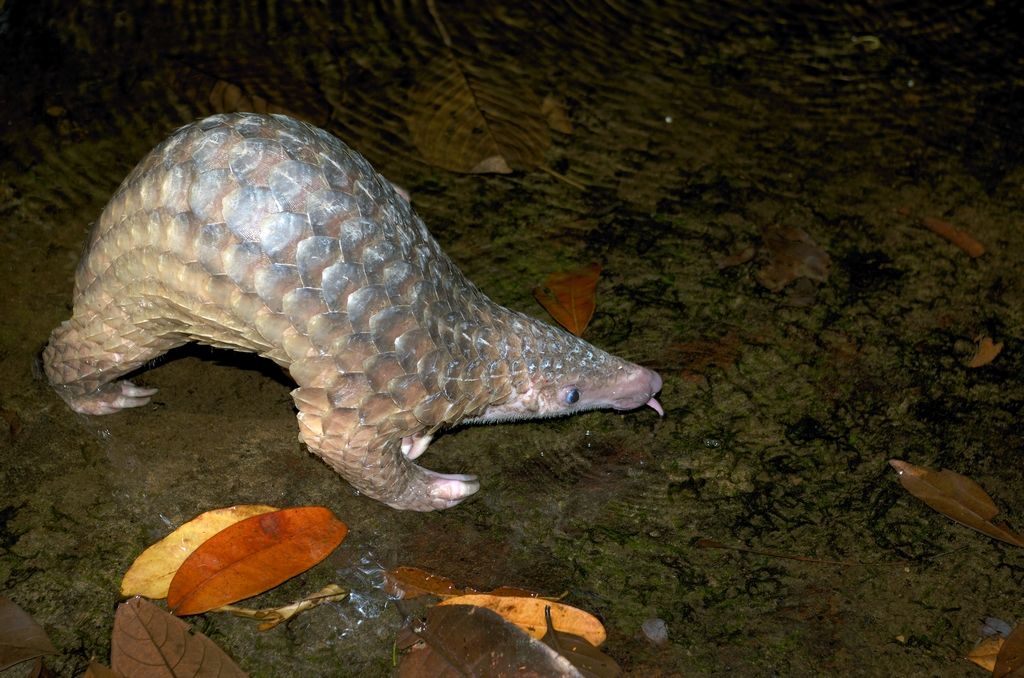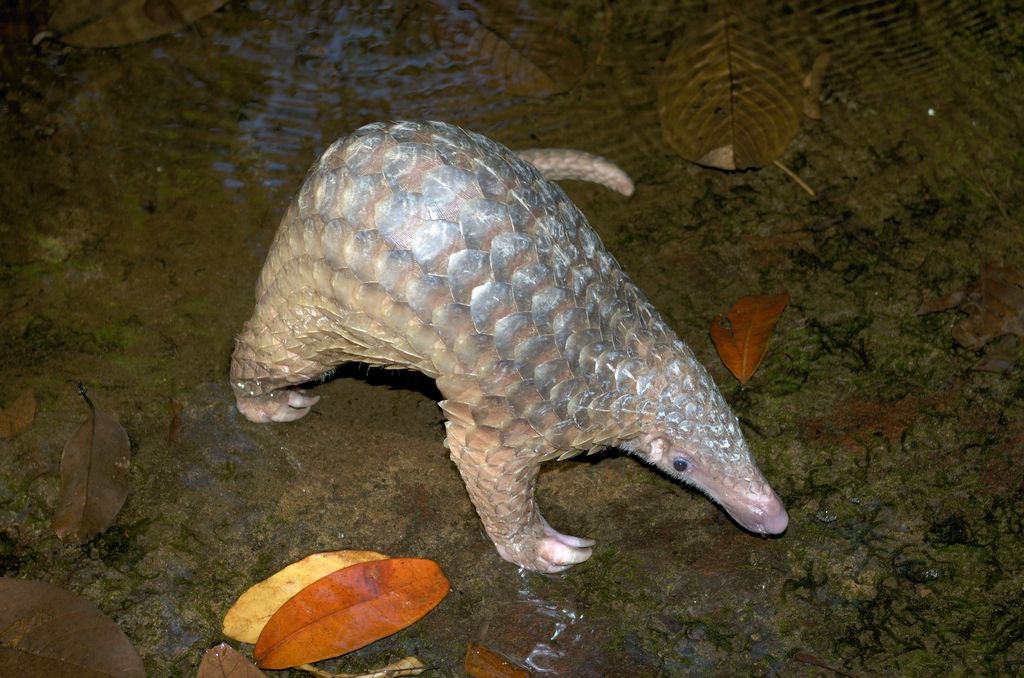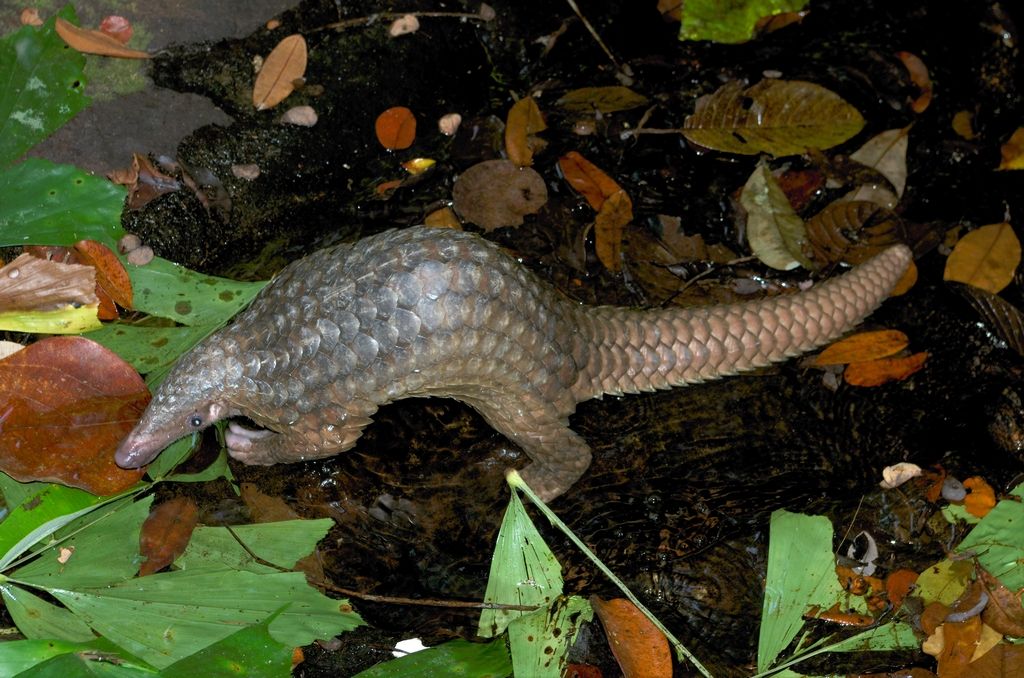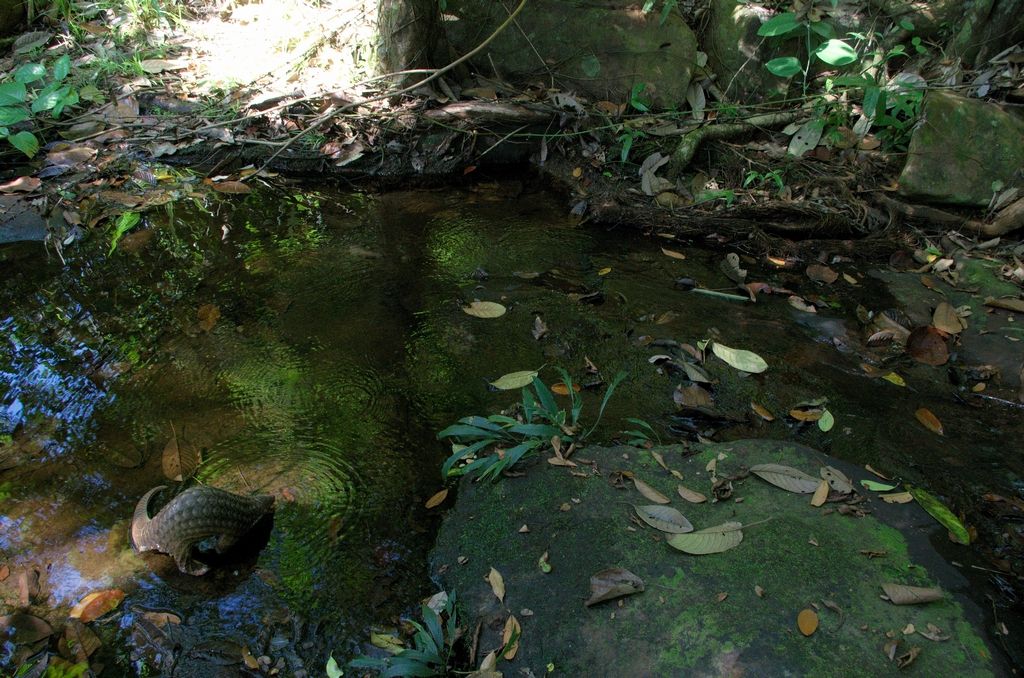 For more info on the Plight of the Pangolin, I recommend these two sites:
Make sure to click on all the links in the second paragraph:
http://saumitramathur.com/ogp/animalsan ... d-species/
This one's in Indonesian, but some of the photos are quite graphic:
http://iwandahnial.wordpress.com/2008/0 ... ng-diburu/