Those of you who have no life and are therefore inclined to follow my assorted drivel here on FHF might recall member that over the past few weeks I've posted a number of pieces mentioning the Bornean Short Python,
Python breitensteini
. You might have noticed that those pieces, while initially full of
omygodifoundtheholygrailofborneoherps!!!
gradually deteriorated into SSDD (Same Species, Different Day).
Before we moved to Sarawak, I followed with great interest and sweaty palms any and all reports from herpers who had visited Borneo. Inevitably, at the top of everyone's to-do list was the Borneo Shorty, but while most people managed to find a lot of cool stuff through sheer persistence (sometimes of the superhuman sort - FHF member Jason Luke comes to mind here), almost all of them went home without ever spotting the almost mythical Fat Lady of the Jungle. Over the years, this created a little billboard in my brain that said "Short Pythons Are Very Rare". So you can imagine our insane elation when we roadcruised, caught and brought home our first Shorty a while ago. I still remember the gleeful glow I felt when I wrote
the pertaining post
a few days later. I also remember calling Indraneil Das, herpetology lecturer at a local university and author of "A Field Guide to the Reptiles of South-East Asia", and asking him if he wanted the snake for his studies after we were done with our photos. Neil is a fine, mellow chap, occasionally given to gentle snickering that camouflages his wicked sense of humor, and I should have taken notice when he politely declined my offer, adding "we do find them once in a blue moon, and we have a pet shorty at the lab". Clearly, he just didn't have the heart to brutally pop my bubble by telling me the bitter truth, namely "Sorry, buster, but that's actually a trash snake. Outside of Kuching, people find them in their yards and fields all the time. Suck it up."
But he didn't say all that, and for the next week I kept riding the high that comes from finding something colossally awesome, the kind of rush that seems to last forever and a day. The following weekend, we found the next
breitensteini
- on the same road, just a few klicks away from the place where the first one had popped up. The high was even more intense this time, since we believed we had won the lottery AGAIN! The next week we didn't find any snakes, but we did meet a Chinese gentleman who told us that he sees shorties at least twice a year - they putter around the pond that sits in the middle of his mushroom farm. He even learned not to alert his indigenous workers to this species anymore, because he'd figured out that they were all terribly fond of python curry. And a few days later I met a French lady who's lived in the Sarawak countryside for 35 years. "Mais naturellement - le short python!", she chirped. "Vee see zese oll ze time - just ze ozzer day, zere vos one on our verandah!". The photo she showed me proved her right: in fact, it hadn't just been on the verandah, but sleeping on her rattan porch sofa - all glorious six feet of it!
But I didn't take the hints. Stubbornly, I kept telling myself that we were blessed with special luck - those folks run farms, for crying out loud: if you sit on your porch for 35 years and watch your banana fields, you'll eventually see everything! But three days later finally came the night when our notions of being God's Own Chosen Herpers were finally and solidly trampled into the red Bornean clay, where they died a very miserable and thorough death.
We were cruising our favorite road again, it had rained nicely all afternoon, and now a nice, fine drizzle was coming down. Right during the first run along the road, we saw tons of frogs, squadrons of bats, armies of tarantulas and huntsmen spiders crossing the road, and then we saw another
Python breitensteini
, our third in four weeks. This one was an adorable foot-long baby, and Hans caught it bare-handed (thus elevating himself - in his own mind at least, and with great fanfare - to the pantheon of "real python hunters"....as opposed to those pussies who mess around with hooks and tongs. That boy watches wayyyyy too much NatGeo...).
That was at 2118 hours. Exactly one little pitviper, a gargantuan bee (which flew into the car, searched shelter in my crotch, then brutally stung me in the ass when I gently tried to remove it), and twelve minutes later, we found the second Short Python of the night. This one was the largest we had seen so far: just about three feet long, but girth-wise a veritable elephant seal bull.
I didn't know what to feel. So this was the legendary, elusive beast of tropical herping lore? And another seventy minutes later, the remaining shreds of optimism to which I tenaciously tried to cling to, finally went out the window when we found the third shorty. This one was neither very small nor very big, just two feet long, so we merely guided it across the road, already
très blasé
about the species....
Lessons learned:
1. Just because you don't see something, doesn't mean it ain't there.
2. Don't believe everything you read on the Internet.
3. Like the Reticulated Python,
Python breitensteini
also has four rows of curved, sharp teeth in the upper jaw. I now have proof on my left wrist, in form of four neat rows of bloody lacerations, administered by the three-footer.
Here be some pix of the baby and the big one. Yeah, yeah, yeah, they all look the same. Sue me - it's all we ever seem to find on the cursed island!
You wouldn't believe the snappiness of this species. Retics seem practically lobotomized in contrast.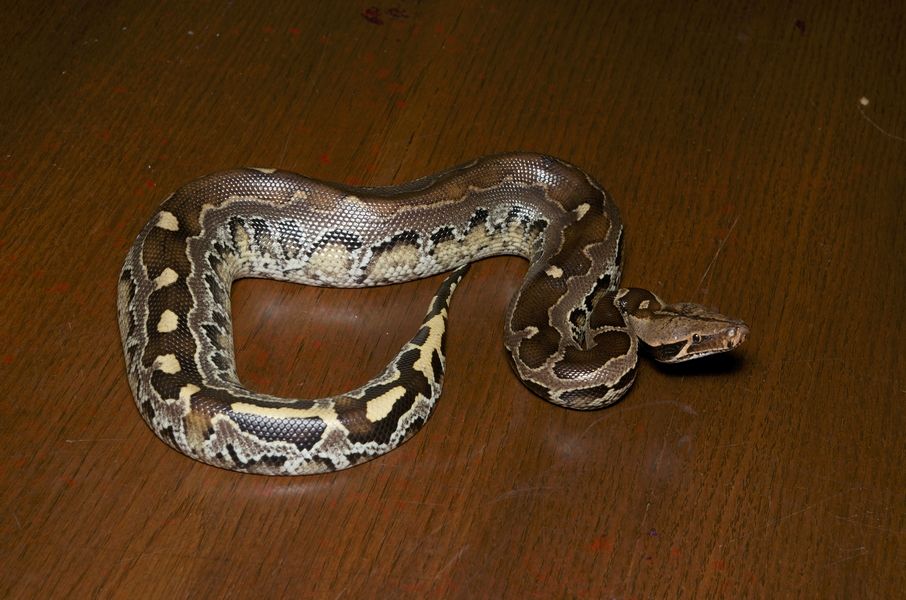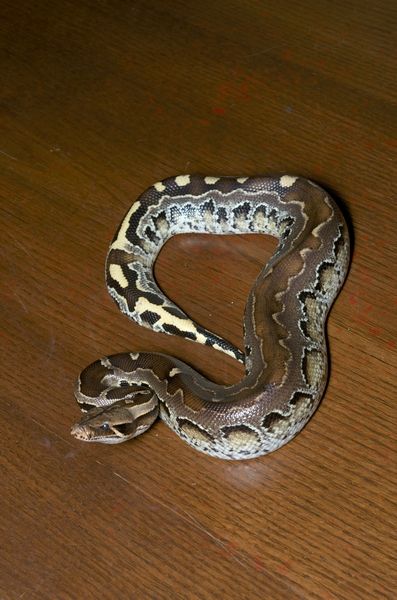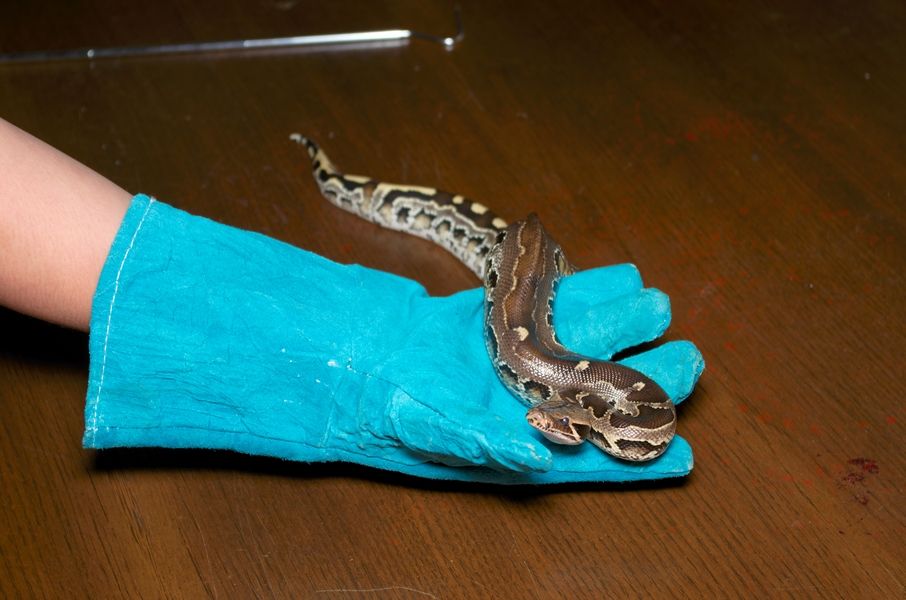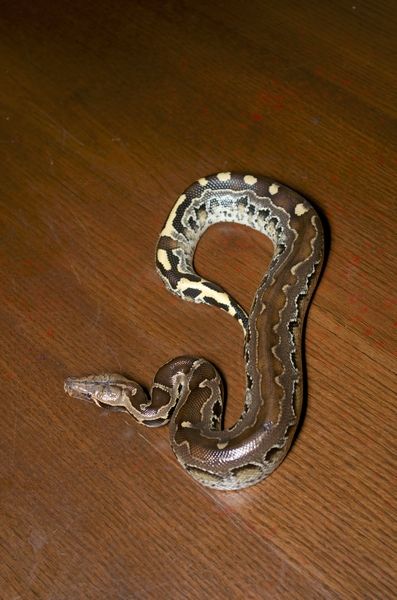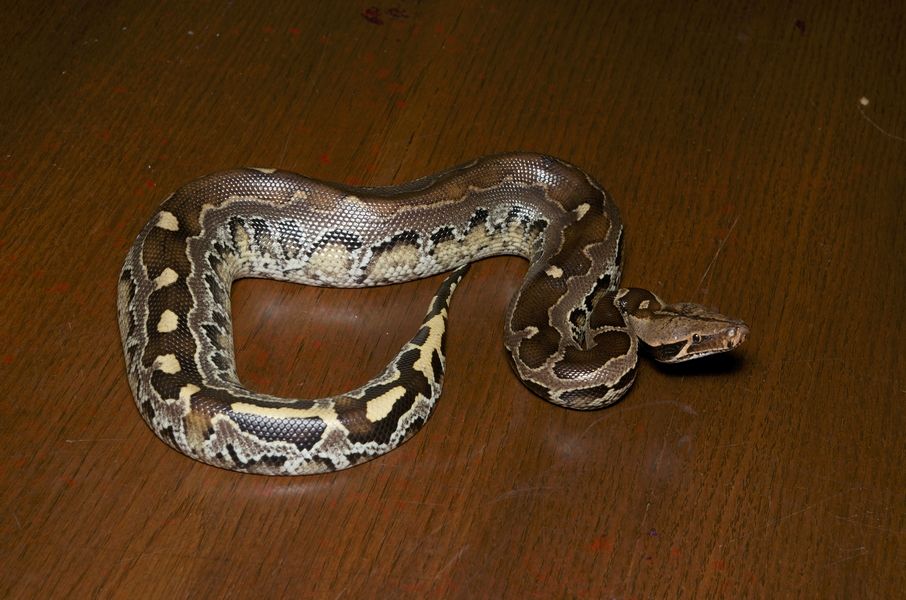 Big Bro: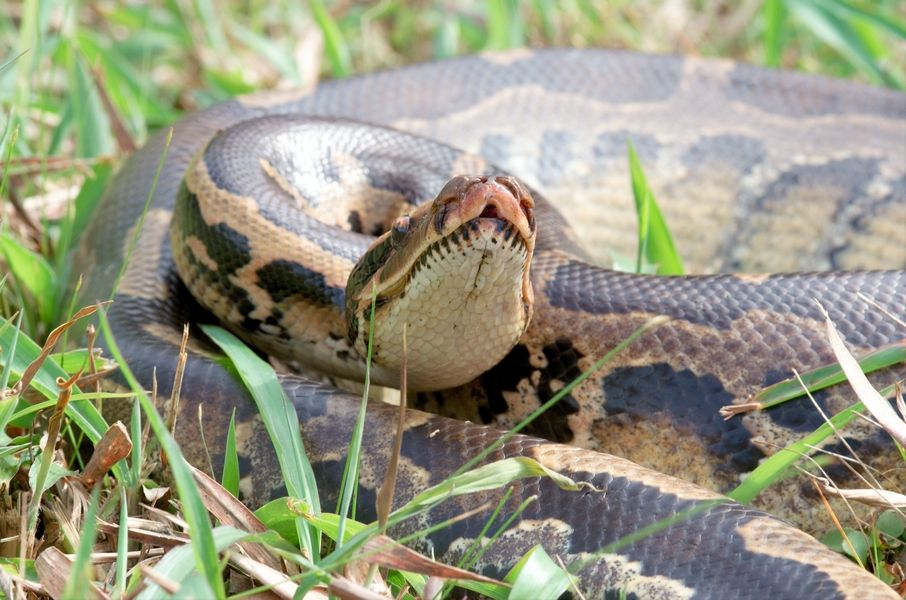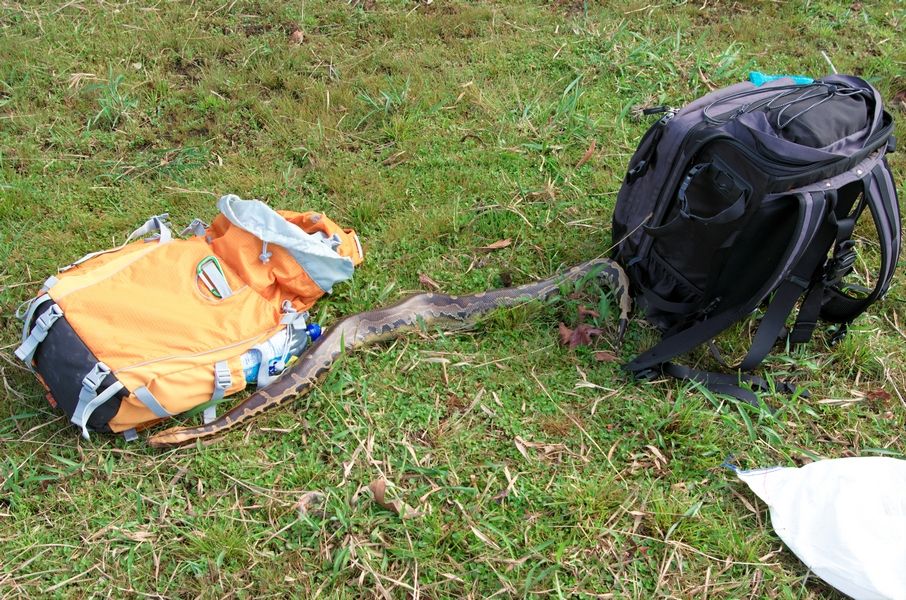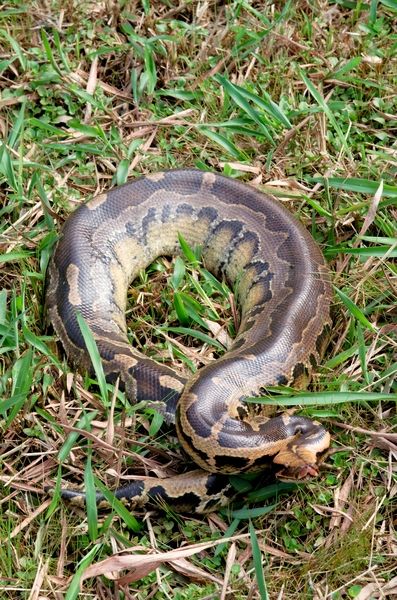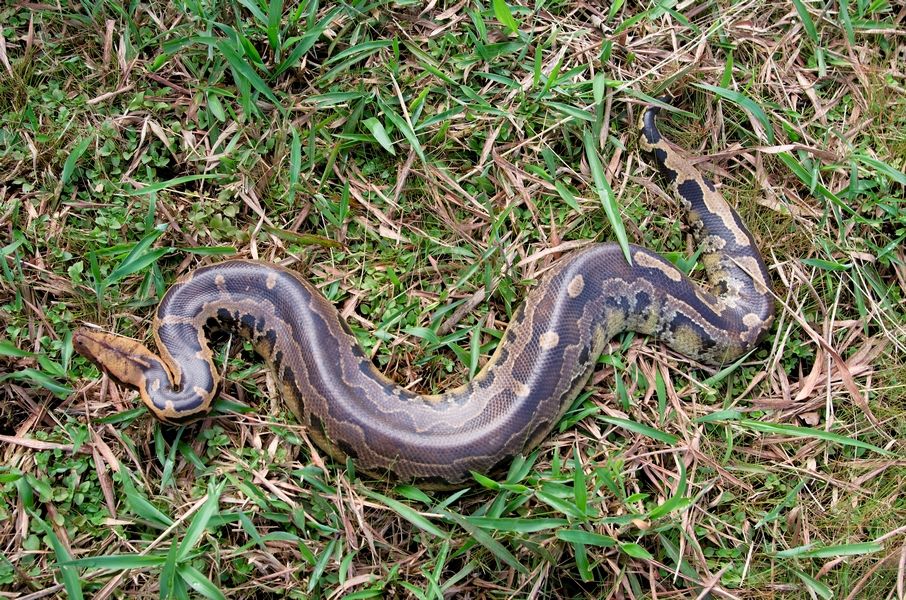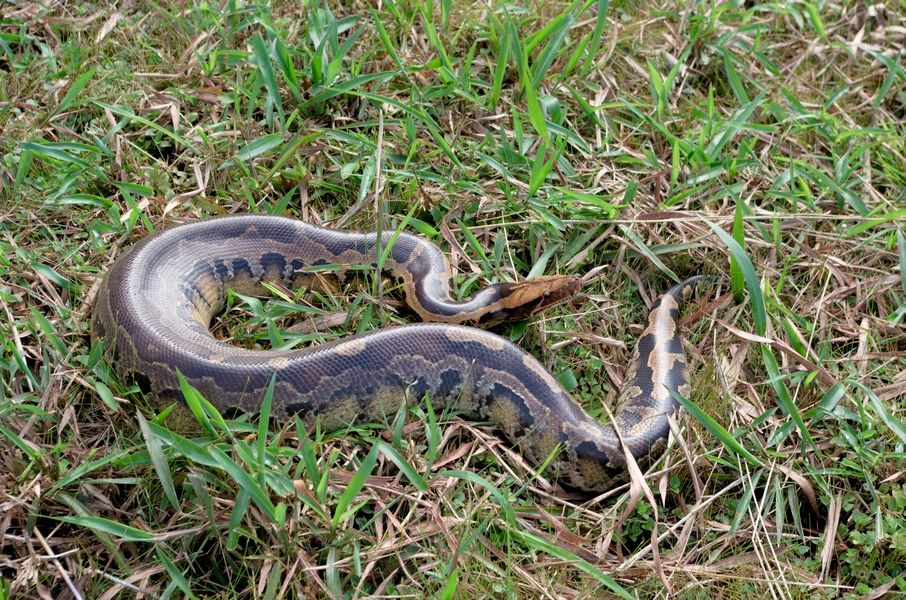 Government welcomes initiative!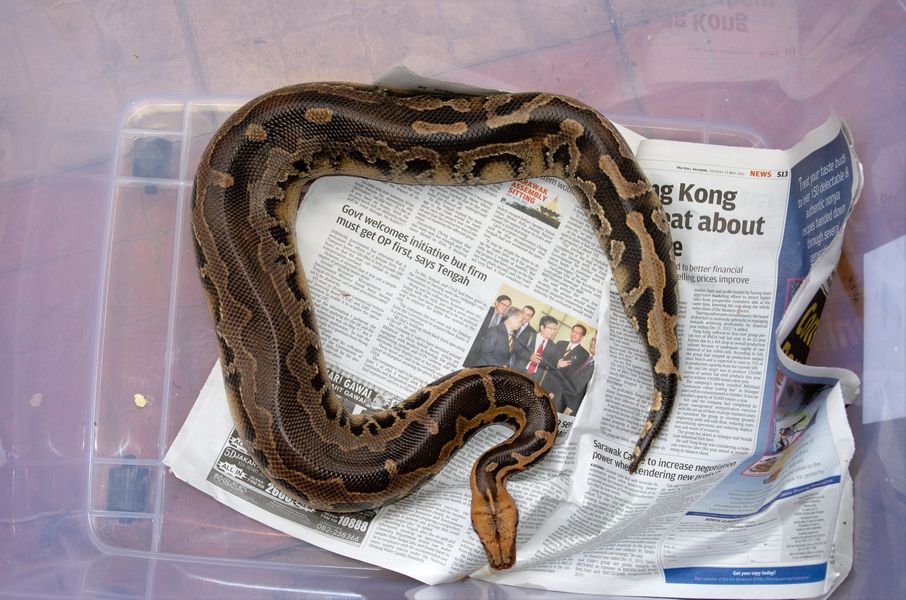 Damn birders everywhere: