In January I went to Peru with Amazon Eco-Tours (Margarita Tours) for 10 days in the Amazon. We were a small group on this trip- myself, a friend of mine, our group leader Matt Cage, and part owner Lorrie Smith. We had a great time and shared some experiences I will never forget. The amazon is an incredible place, and full of herps. The pics are basically in chronological order for my ease of posting them. I did my best with IDs using multiple resources but some things, especially the frogs, were difficult and have changed recently/frequently. If anyone thinks any of my IDs should be changed, please let me know. Sit back and enjoy because here we go
I flew from the US nonstop to Lima, spent the night in the airport, and then flew to Iquitos. Iquitos is said to be the largest city inaccessible by car. There are half a million people that live in the city which is a gateway to the Amazon rainforest. This is Matt's photo from the plane nearing Iquitos because I didn't get any pics from the plane. Hope he doesn't mind me using it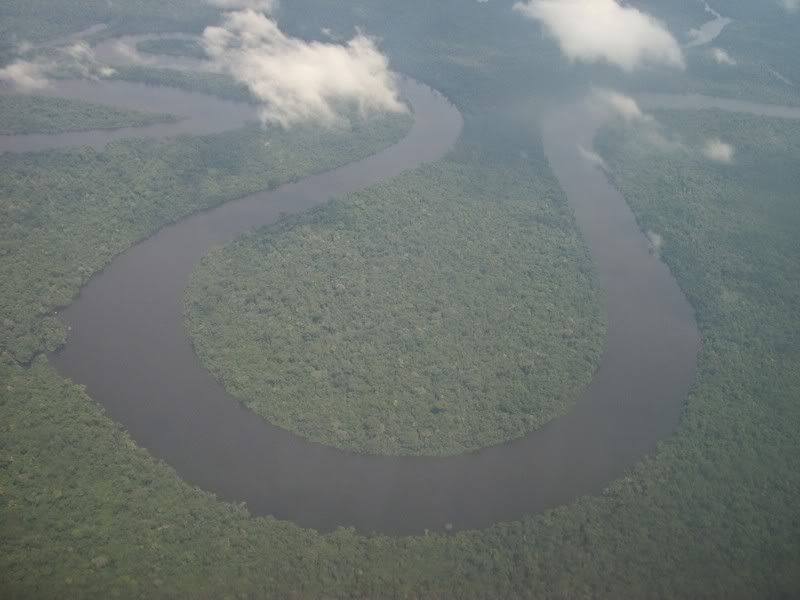 The primary mode of transport in Iquitos
We had 2 days to kill in Iquitos before departing for the trip. We visited a butterfly farm and found our first herp of the trip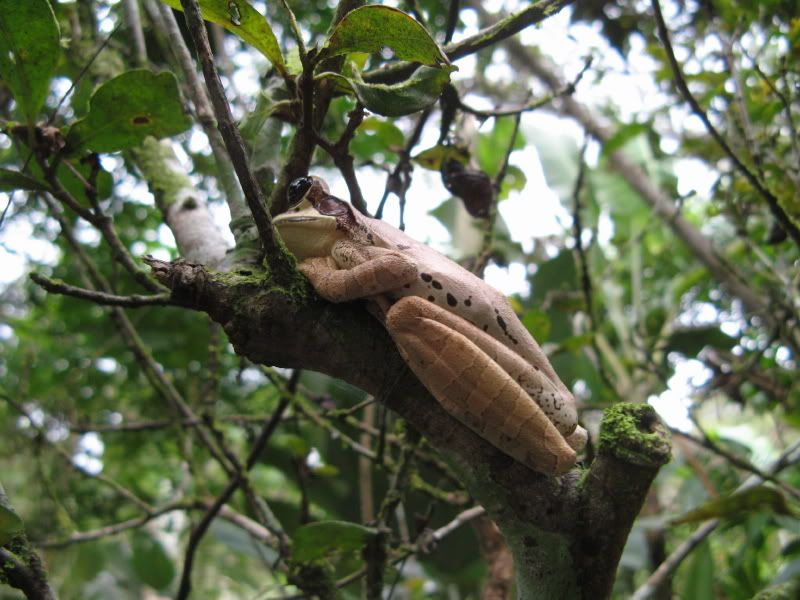 Osteocephalus planiceps
We secured a car to go road cruising one night outside the city and were able to find a few frogs and 2 snakes. A Helicops angulatus and this 7 foot beast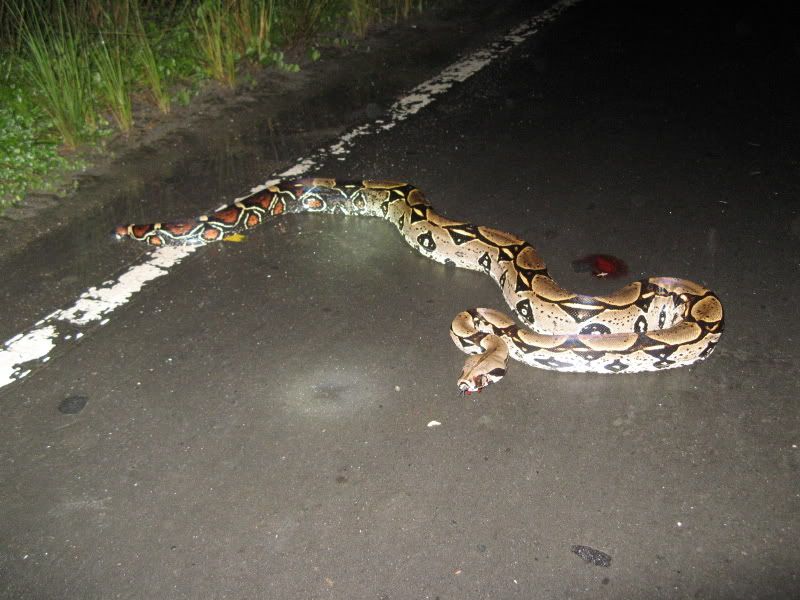 Boa constrictor
Unfortunately he was hit but seemed to be ok and made his way off the road. We all thought he would make it. That was the only species we did not see later in the trip.
The next day we went to the Iquitos Zoo which had some interesting exhibits. Here is a lawsuit waiting to happen if it was in the US. An open concrete vat with large electric eels.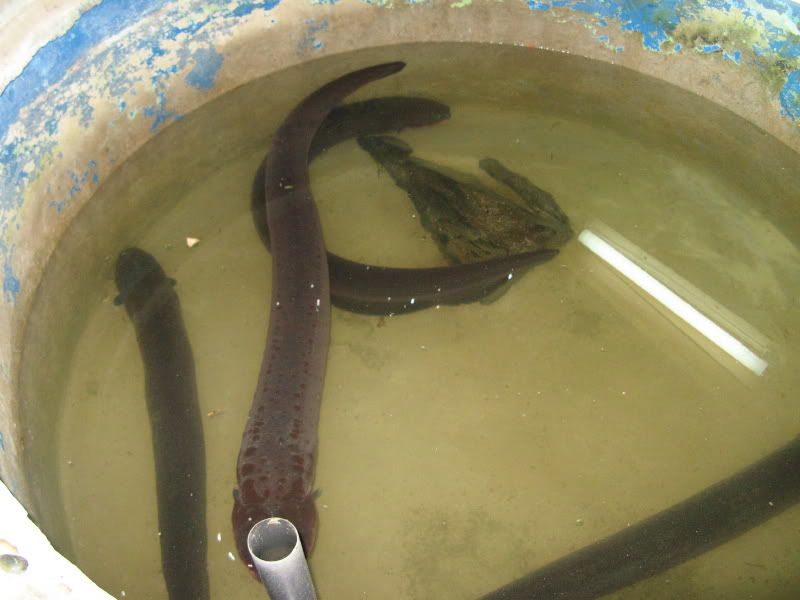 We did not see a single wild turtle the entire time I was in Peru. My guess is that they are over hunted. This one is captive at the zoo.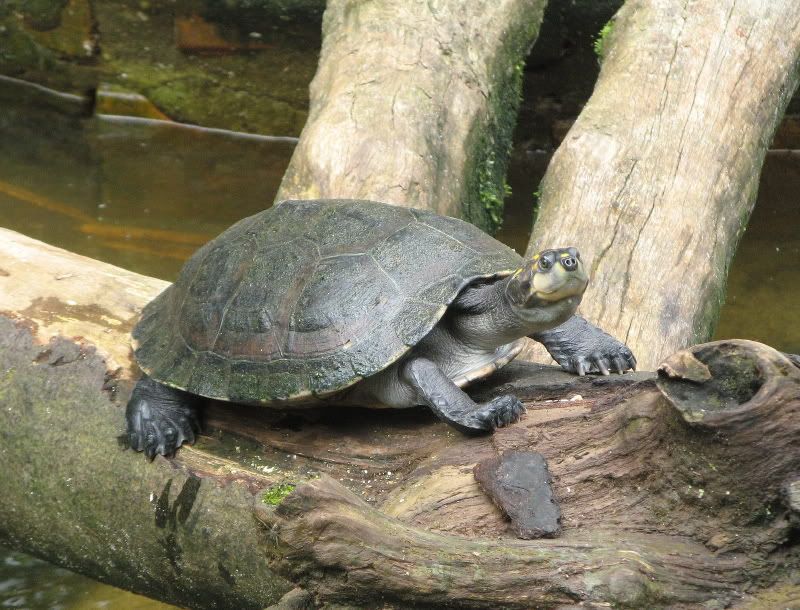 Podocnemis unifilus- Yellow spotted amazon turtle
The zoo had its share of wild herps to be found as well. In addition to a couple dart frogs we lost in the leaf litter, here are some others we found roaming the grounds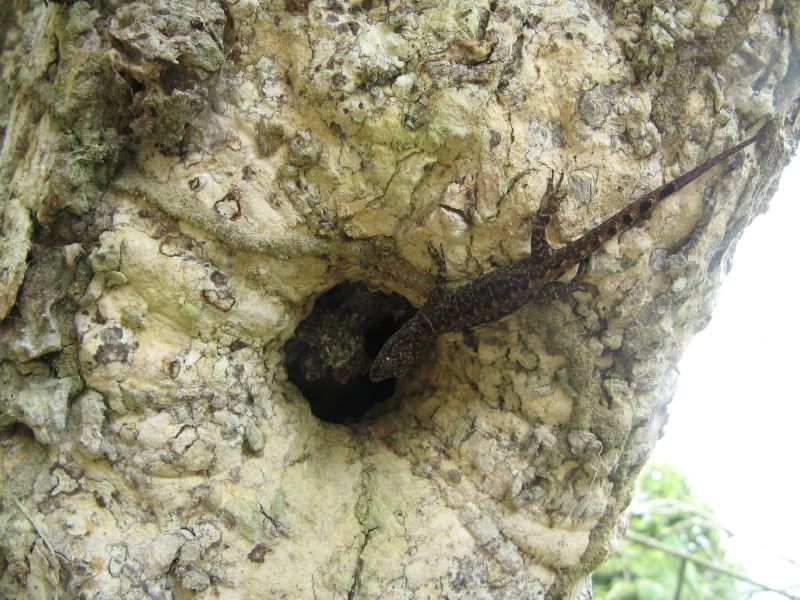 Gonatodes concinatus
Iquana iquana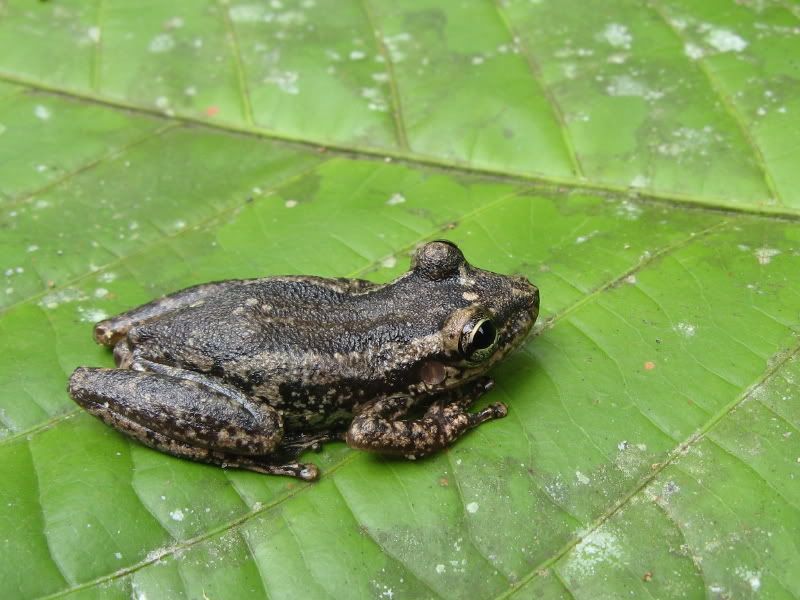 Scinax rubra found in a bromeliad.
We left Iquitos by speedboat in the am to head to Madre Selva, one of the lodges run by Project Amazonas (the parent organization of Margarita Tours). Madre Selva is on the Rio Orosa about 70 miles from Iquitos as the crow flies. The water was very high when we were there which allowed us to take a shortcut through a side channel. I was very happy we did because we were able to spot this from the boat. Can you tell what it is?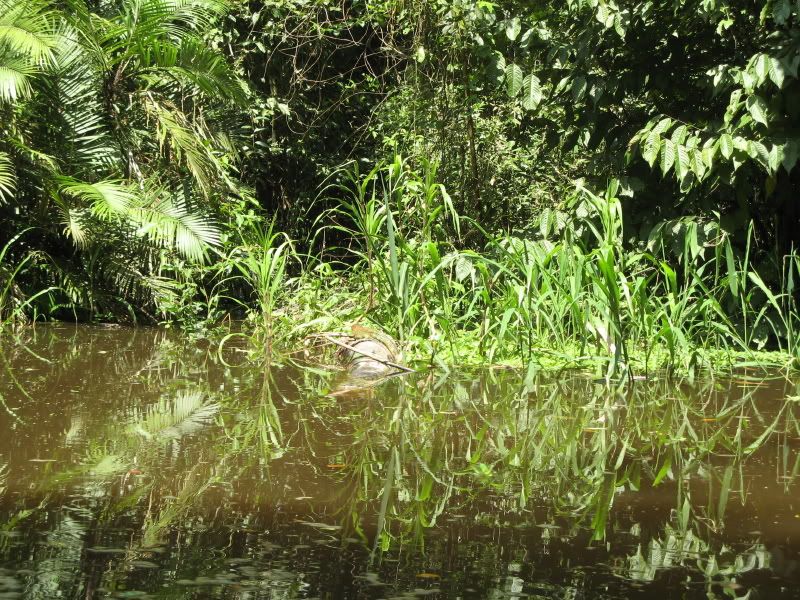 After shouting over the motor noise and some sharp turning we got a little closer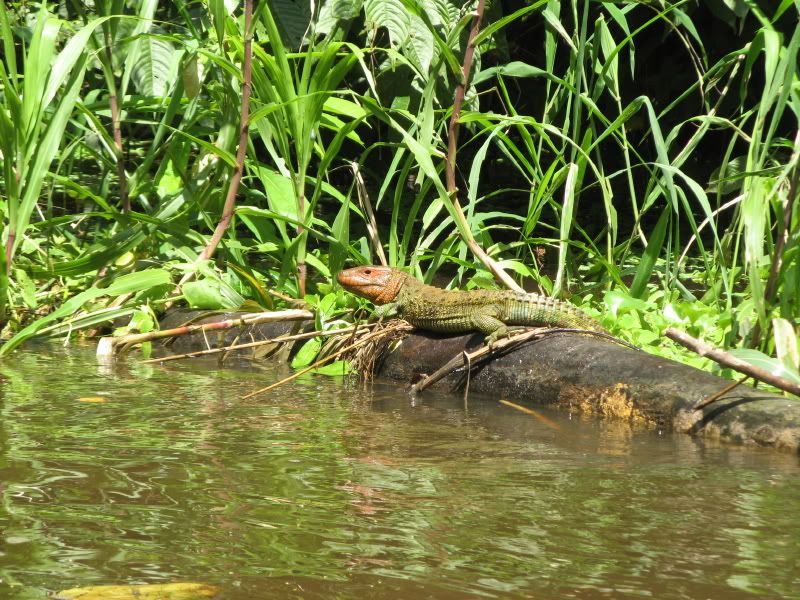 And even closer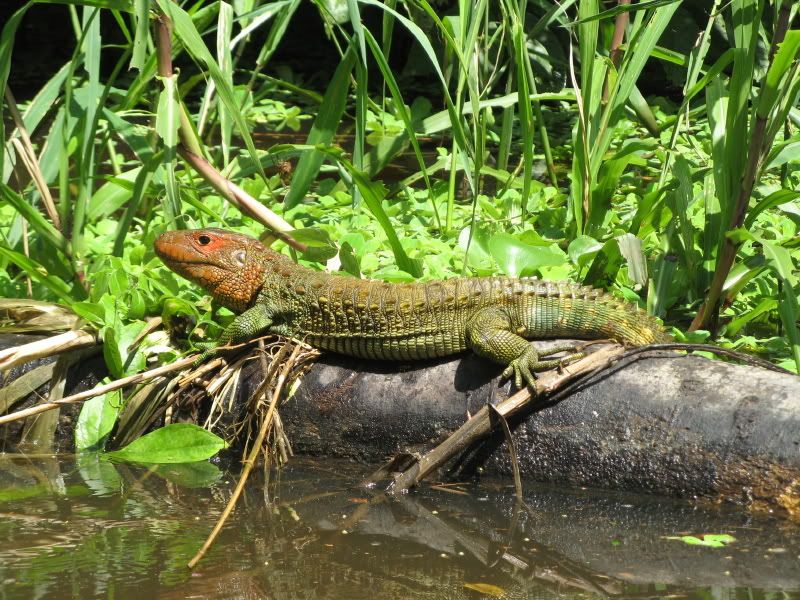 That's right, a Dracaena guinanesis! (Caiman lizard) And a better picture than I was able to get of a captive one at the zoo. This was a species near the top of my want to see list and I got a great picture before we officially arrived at our lodge. A fantastic start for sure.
The sleeping quarters of Madre Selva
We spent the next 5 or so days walking the trails at Madre Selva both day and night with an evening boat cruise and a couple kayak forays mixed in.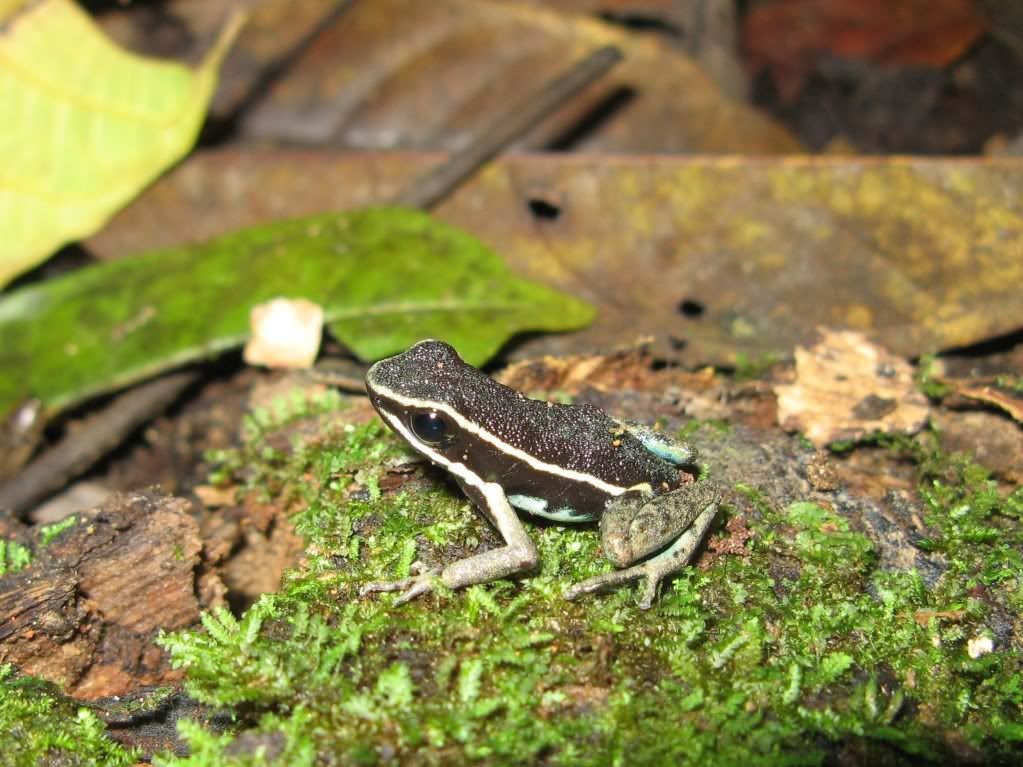 Ameerega hahneli
I think I only found these toads perched on leaves.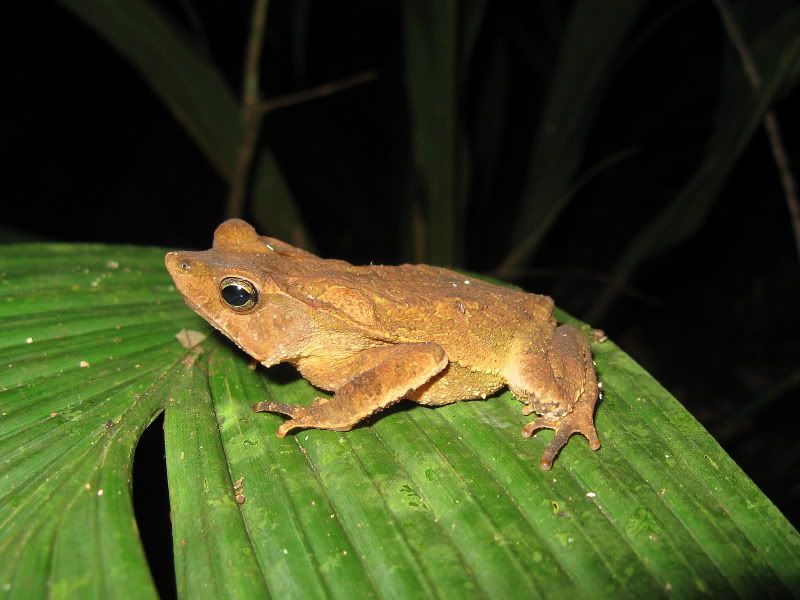 Rhinella margaritifera complex. -Crested Toad/Sharpnosed Toad Does anyone know what is going on with this species group?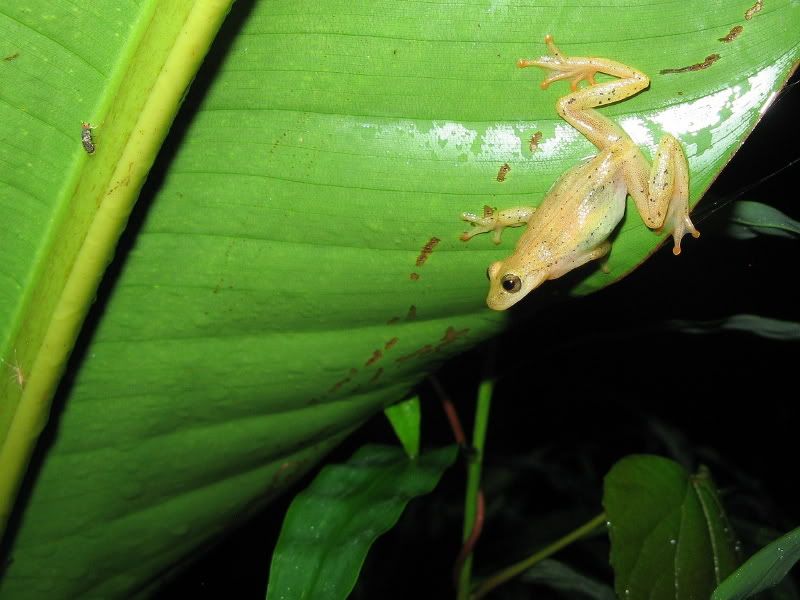 Dendropsophus haraldshultzi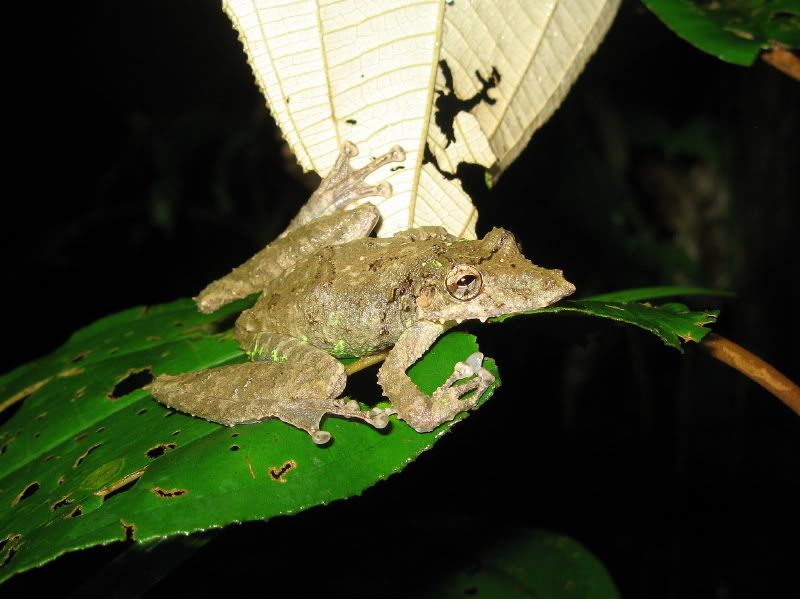 Scinax garbei. Very cool frogs that we found with both green and red flash marks.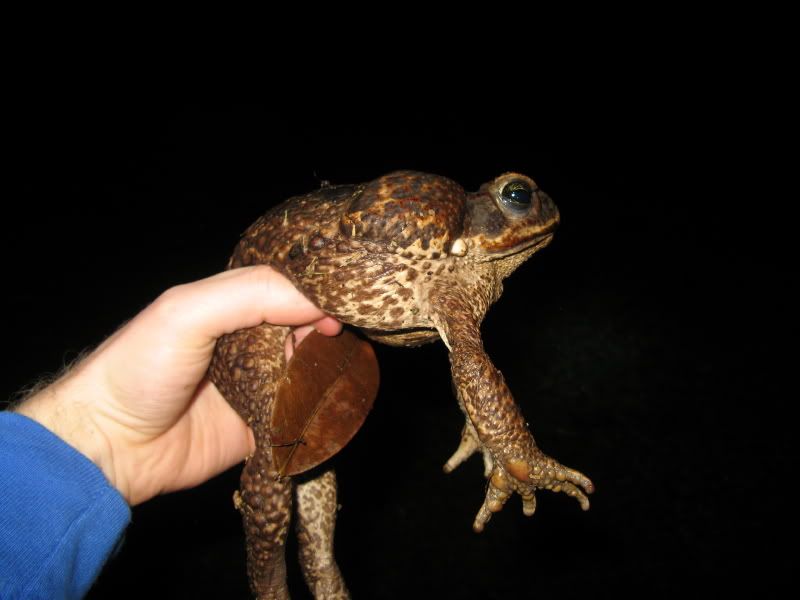 Rhinella marinus. -Cane/Marine Toad Nice to see these where they belong
The next toads were another species high on my want to see list. Matt led us to an area he commonly finds them and we ended up seeing two of them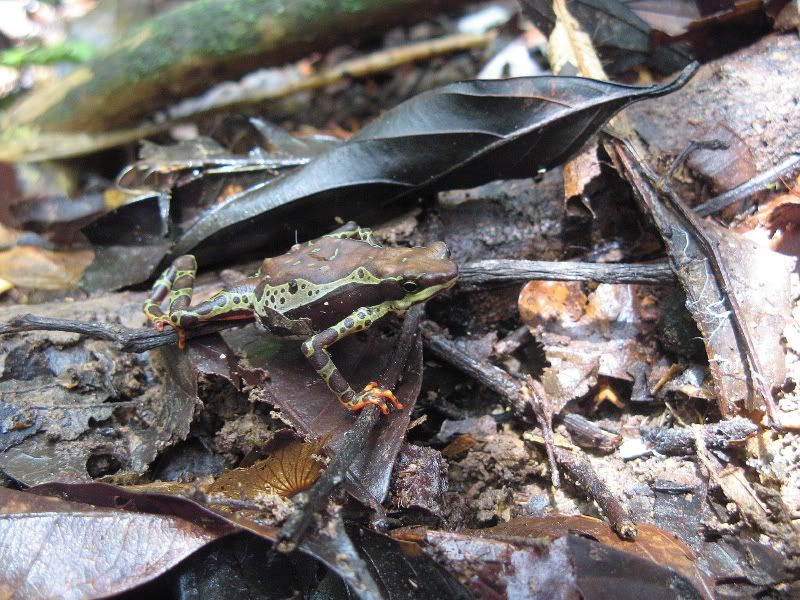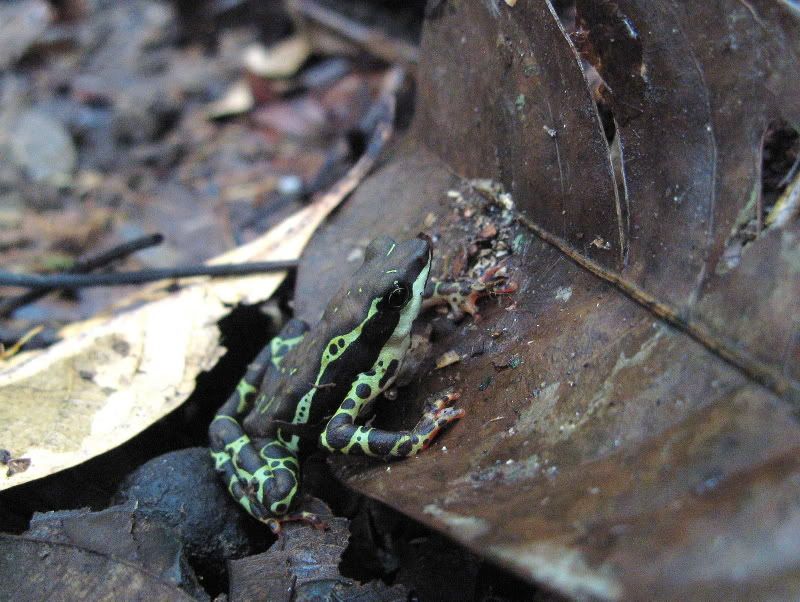 Atelopus spumarius -Harlequin Toad
These guys were very fast and I never did get a very good photo of one
Ranitomeya uakarii?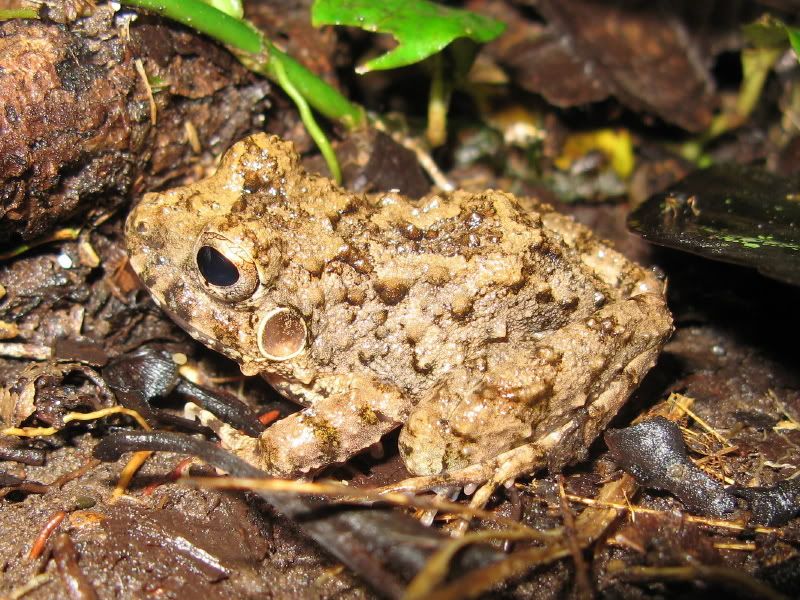 Oreobates (Ishnocnema) quixensis
I like how this photo turned out:
Rhinella sp
There was an almost steady stream of local kids that would paddle up in their dug out canoes with critters for us to see. In return we would give them t-shirts and candy. This is another of Matt's photos.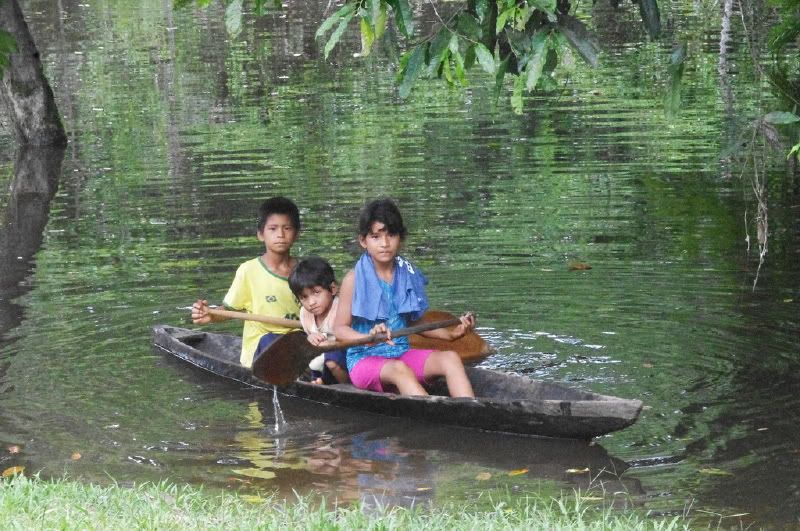 Good thing dyfs doesn't operate in Peru-haha
They brought us this guy whom they found swimming across the river. We put him in a tree so he could rapidly escape.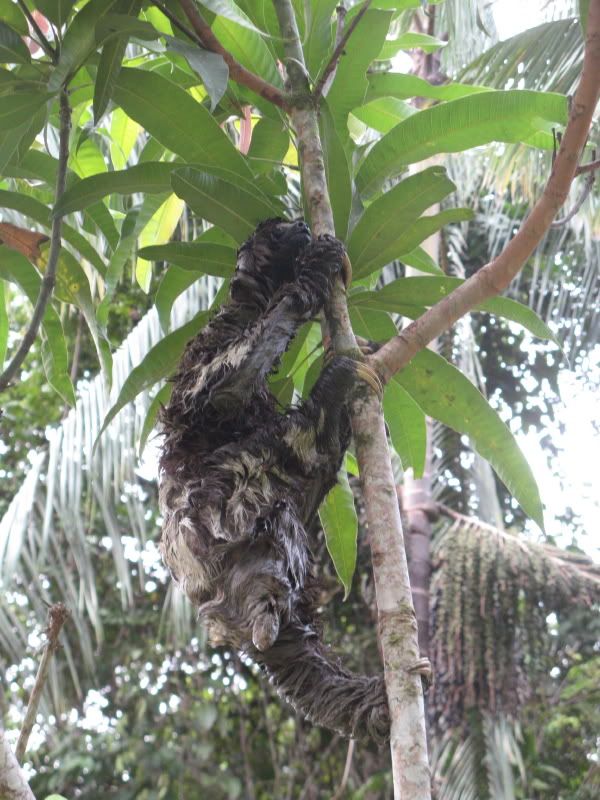 Apparently he didn't like that tree because we found him the next day crawling across the ground in the middle of camp to go somewhere else. He looks better dried off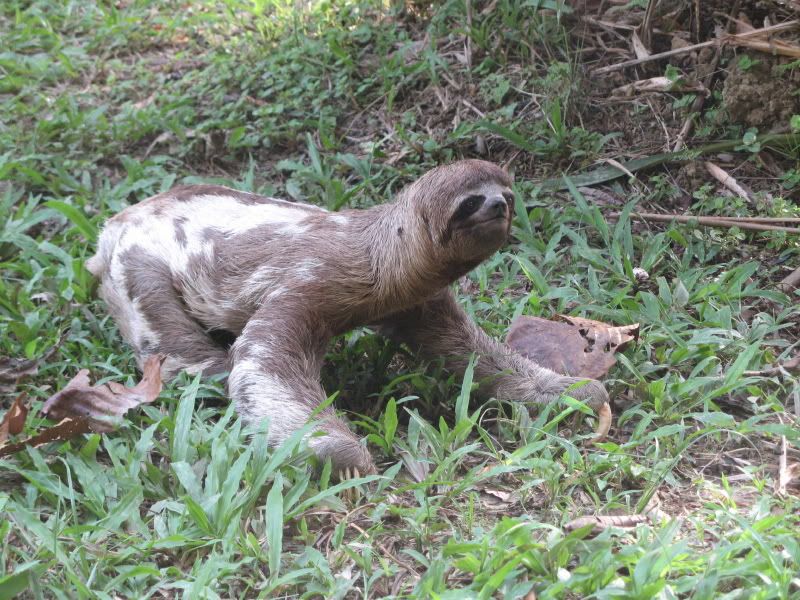 Someone said Brown throated sloth
I didn't spend much time photoing things the locals brought in because I wanted to find my own. I made an exception for the sloth and a couple others:
Drymoluber dichrous
Eunectes murinus- Green anaconda
I really wish I would have been able to find one of these myself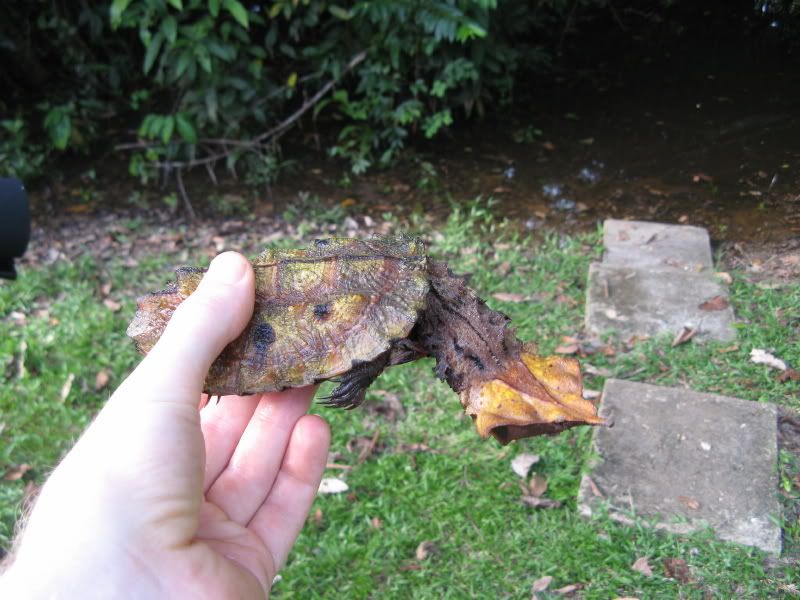 Only a face a mother(or herper) could love:
Chelus fimbriatus -Mata mata
Ok back to species our group found: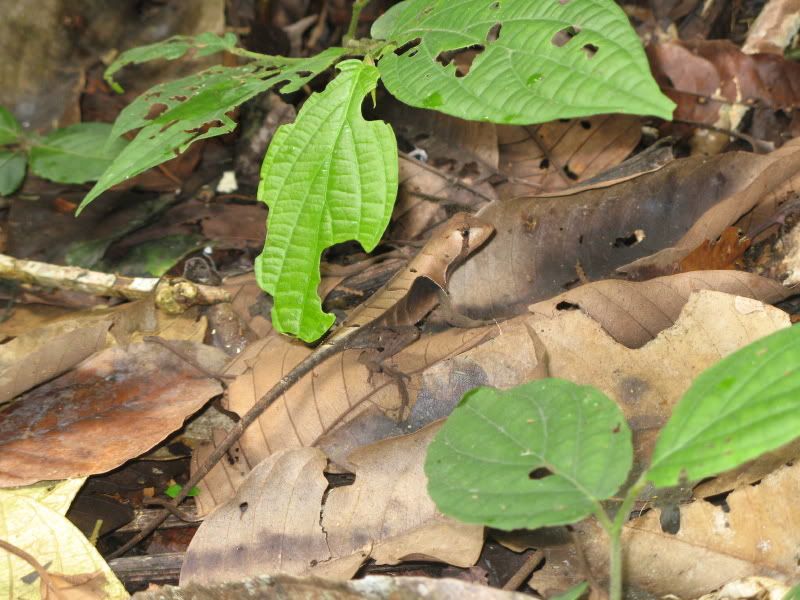 Stenocercus fimbriatus- Leaf lizard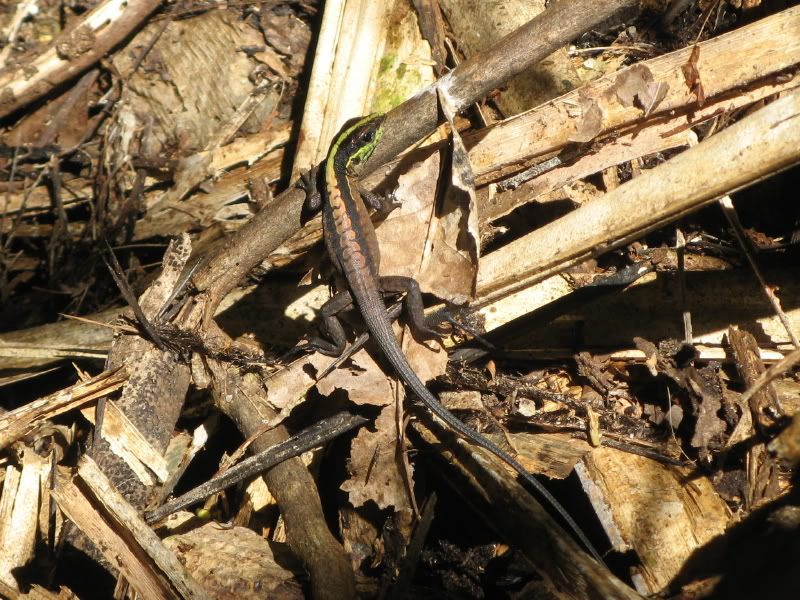 Kentropyx pelviceps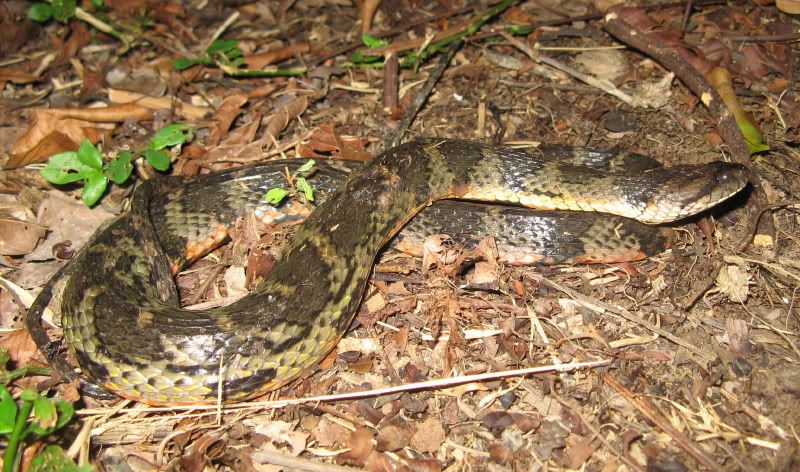 Helicops angulatus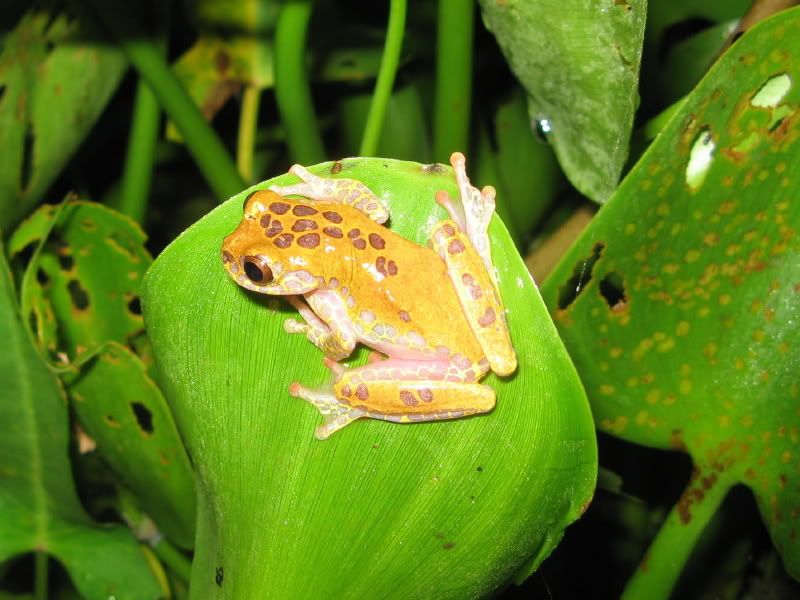 Dendropsophus triangulum- found while kayaking through some floating vegetation at night, along with the next one:
Hypsiboas punctatus
Whip Scorpion
I found this on the bottom of my boot when I went to shake it out in the morning. Most likely a stowaway from the night before
Some kind of flat worm
We saw quite a few of these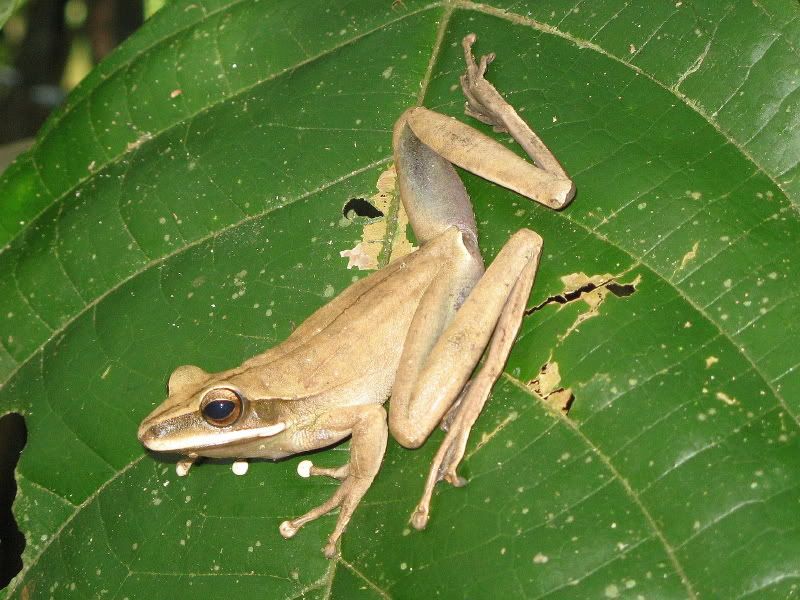 Hypsiboas lanciformis- Rocket Treefrog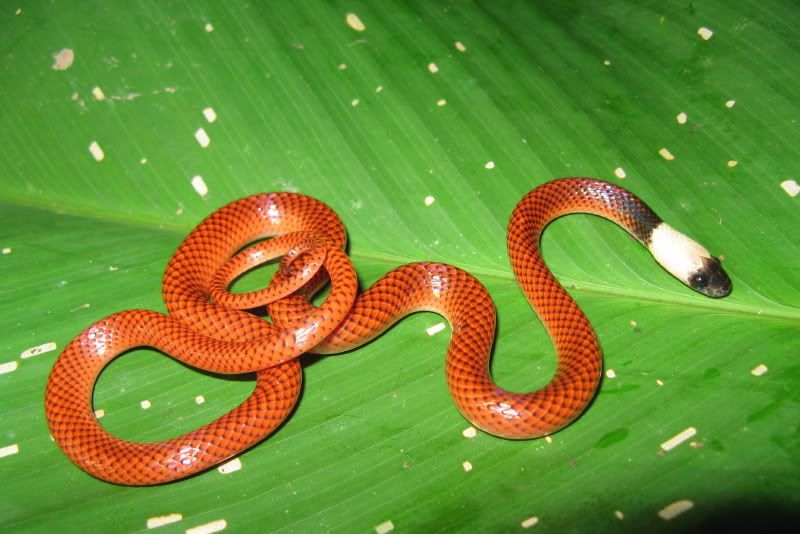 Drepanoides anomalus- Amazon Scarlet snake
Mouse opossum- saw a couple of these little guys during night hikes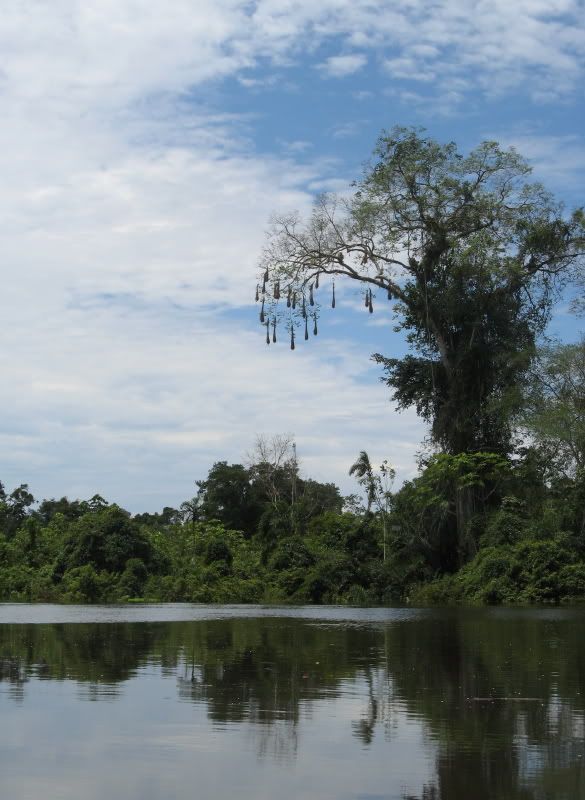 Oropendula nest along the Rio Orosa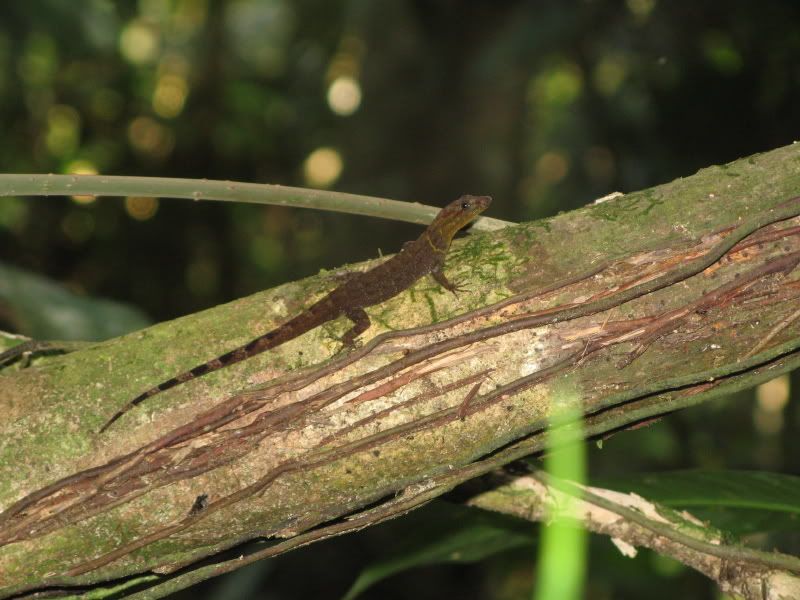 Gonatodes humeralis
This was flying around our sleeping area one night. At first I thought it was a bat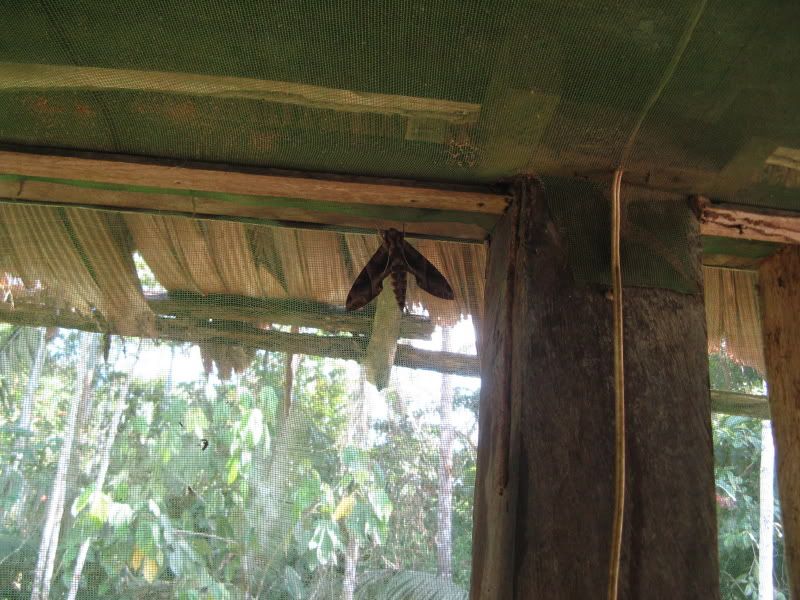 Giant moth
Oxyrhopus petola- Calico snake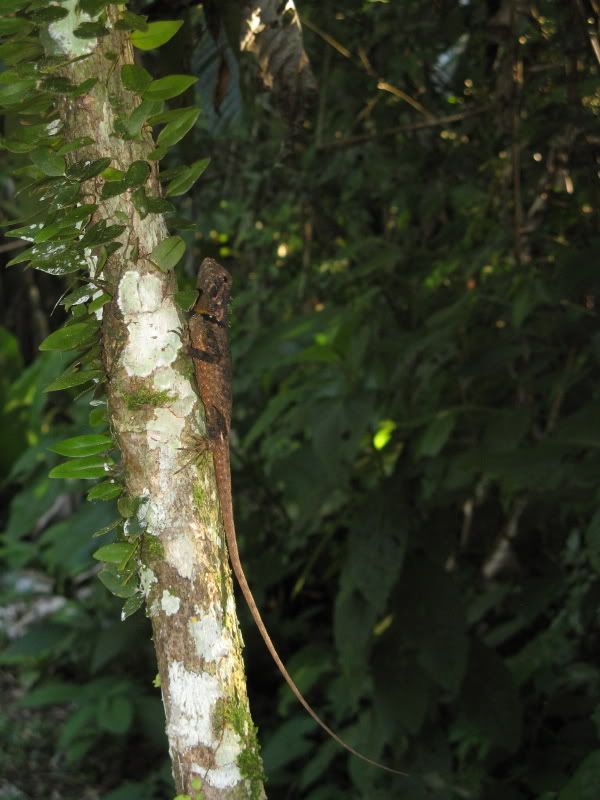 Plica umbra
Found this crossing a trail at night during a downpour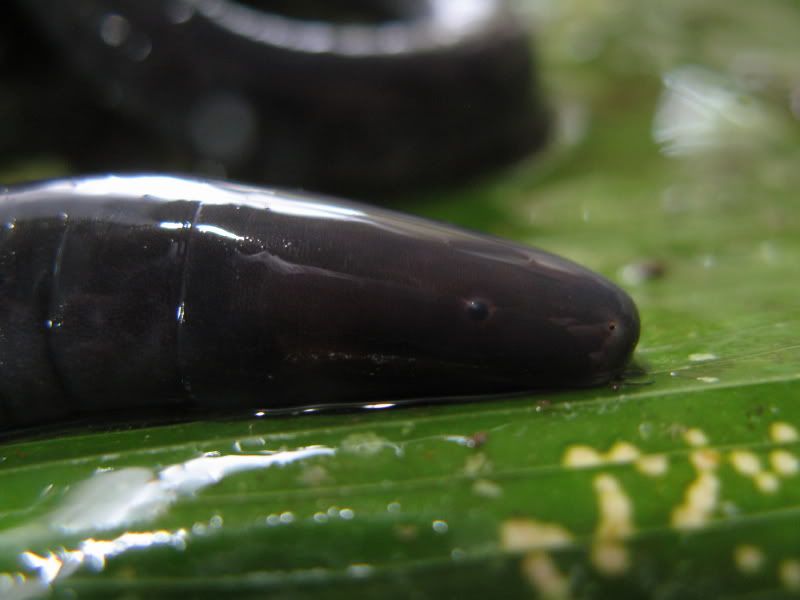 Caecilia gracilis? If anyone can verify or has other thoughts…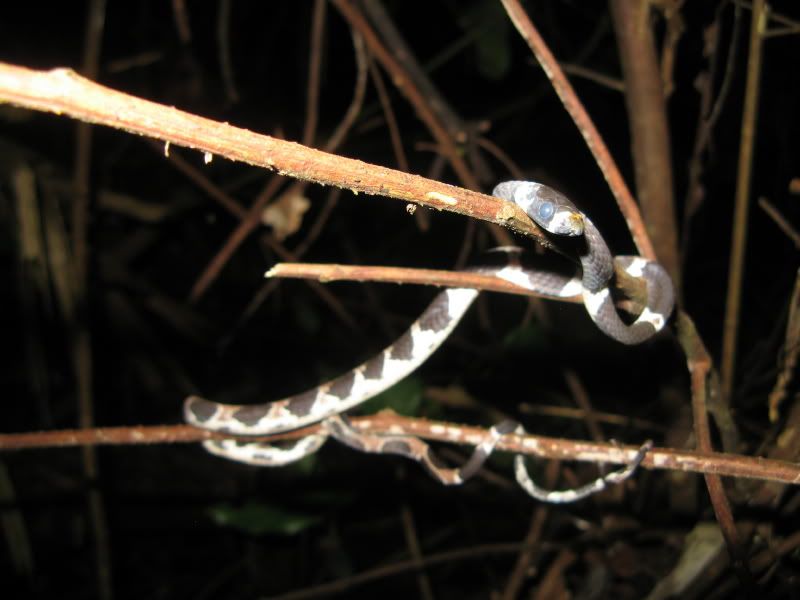 In shed in situ Dipsas catesbyi- Snail sucker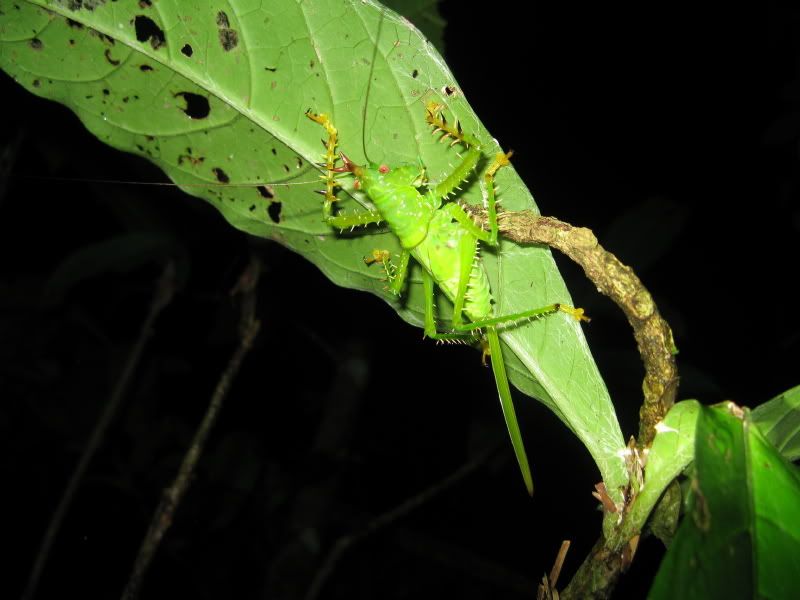 Carnivorous katydid
Engystomops (Physalaemus) petersi
Strong flashlights are a must in the tropics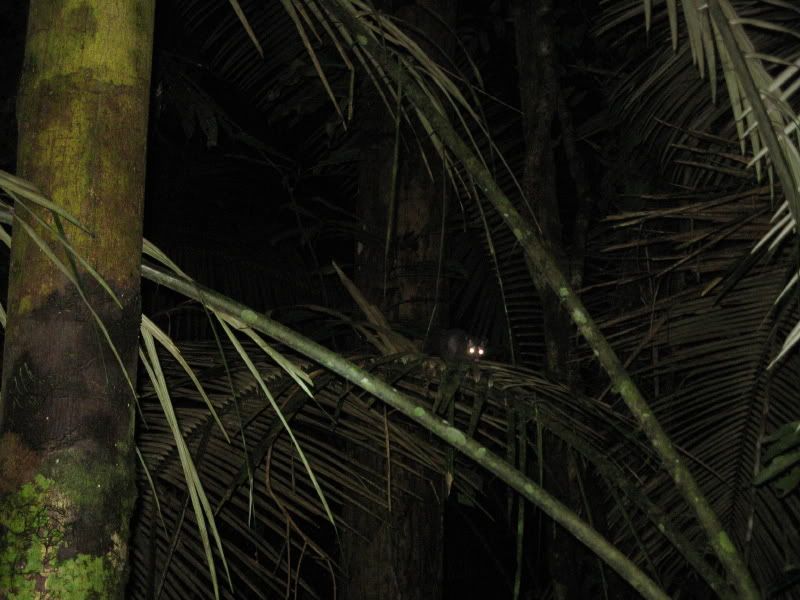 A little closer
Four eyed opossum?
I had not realized how big or beautiful these lizards could be until I found my first one. It was spectacular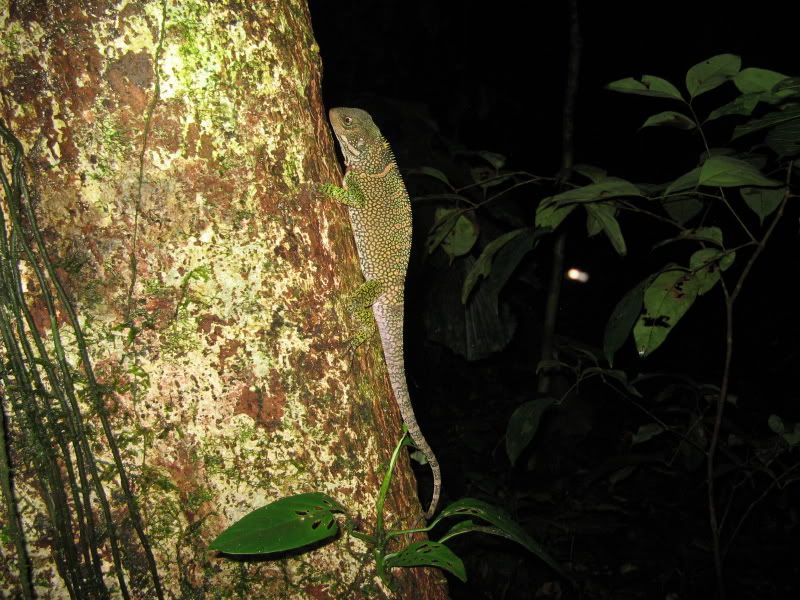 Enyaliodes laticeps
Saw this guy's eye shine from across a stream from about 50 feet away. Had my friend keep the light on him while I tried to make my way over to it. One of my favorite finds of the trip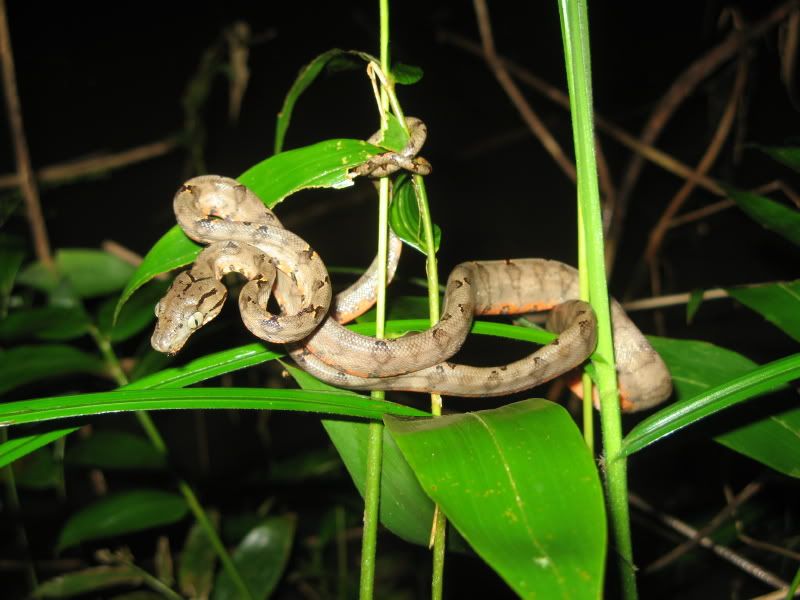 Corallus hortulanus- Amazon tree boa
Right after that boa we found a few species of cool frogs and I got some photos I am very happy with. All around a very memorable night.
Hypsiboas calcarata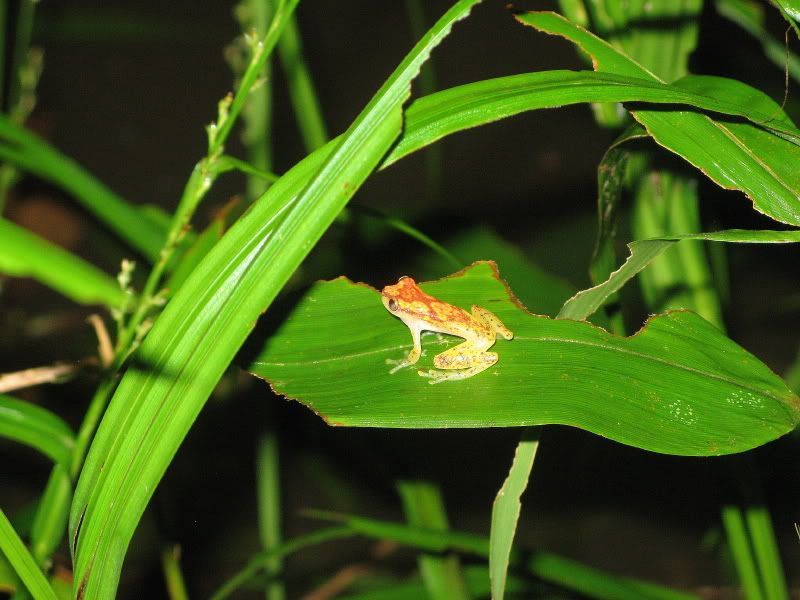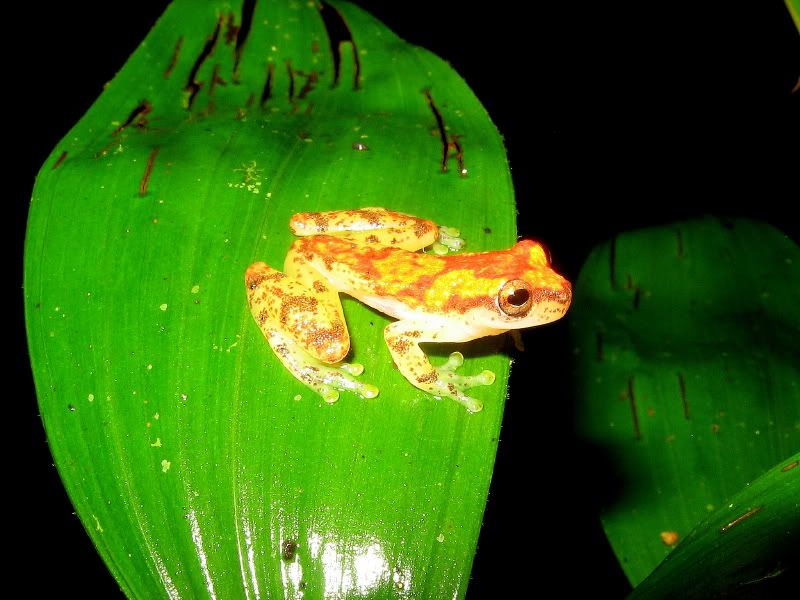 Dendropsophus miyatai
I love how this frog was perched.
Phyllomedusa vaillantii- Vailant's Monkey frog
These are supposed to be very common, I was only around for the finding of one, which I did not get photos of. This one was brought in by the one of the guides and photoed in camp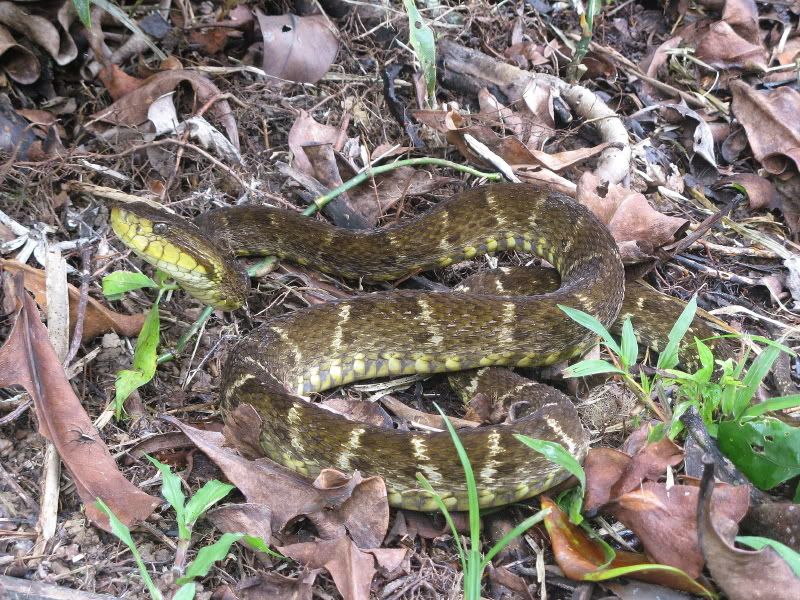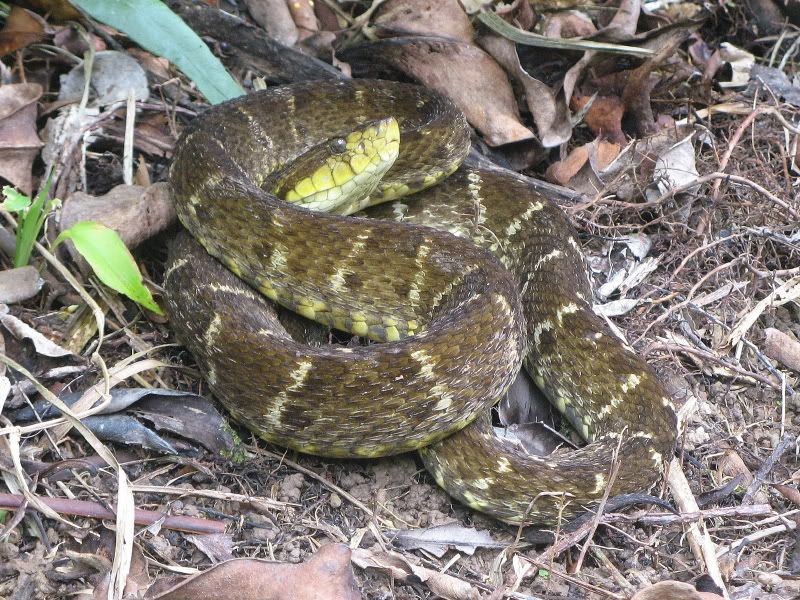 Bothrops atrox- Jergon
This was the only caiman we saw while out spotlighting from the boat. But fortunately we were able to catch it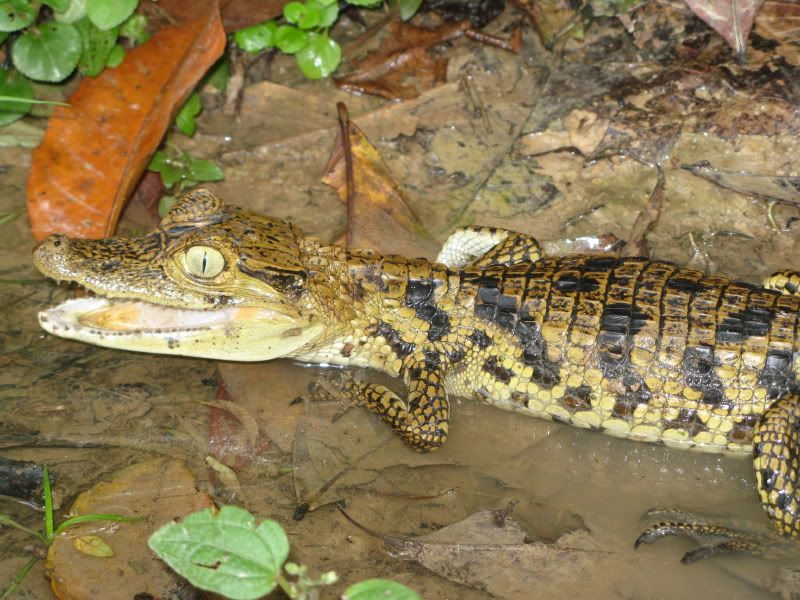 Caiman crocodilus- Spectacled Caiman
We actually found this snake with a Phyllomedusa in its mouth.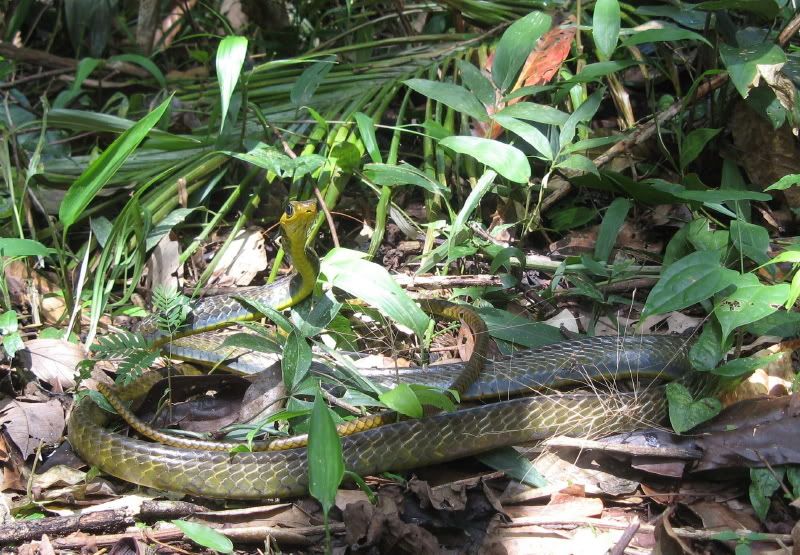 Chironius fuscus
Matt says he regularly sees(or hears) these guys go crashing through the forest. I had to use my ninja like skills to sneak up behind some vegetation and get a photo of this one. (read that "get lucky")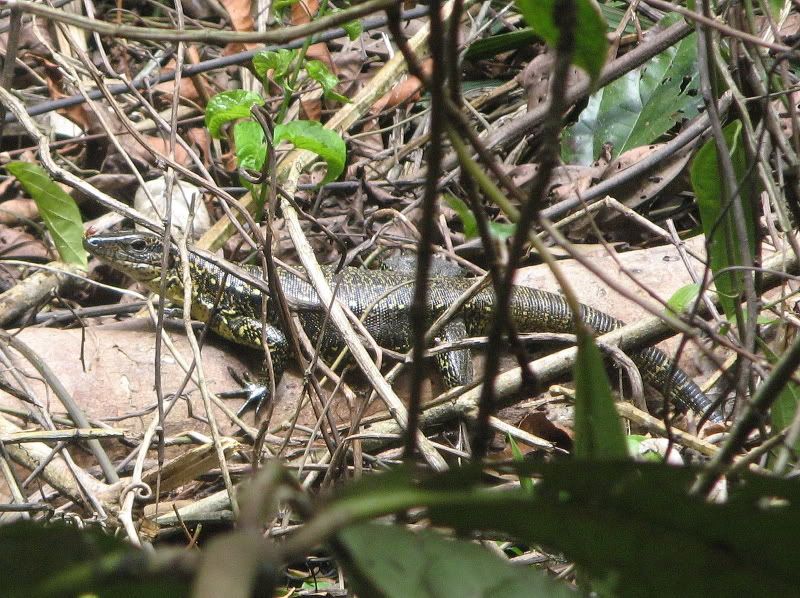 Tupinambis teguixin- Gold tegu
We saw one of these in a small creek behind the camp. Even though it sat floating at the surface in a very picturesque way, no one managed to take a photo before I tried unsuccessfully to catch it. Snake baggers do not make good dip nets. I was kicking myself for missing it for quite awhile but a few days later the locals brought one in. This was one animal I was happy they did since I missed my opportunity with the one we found. So weird!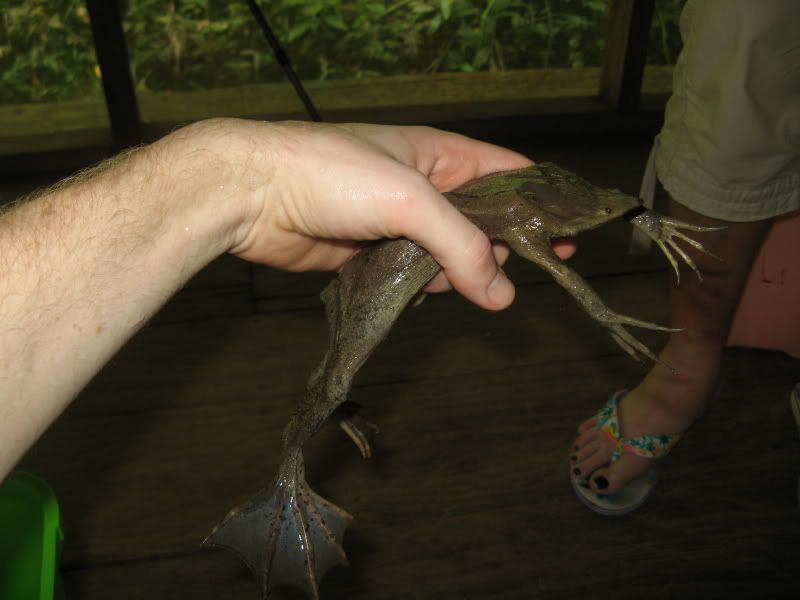 Pipa pipa - Suriname Toad
Anolis bombiceps with the ever present mosquito. In reality the mosquitos weren't as bad as I thought they were going to be. They were definitely a nuisance, but were manageable.
Saw several of these calling from floating vegetation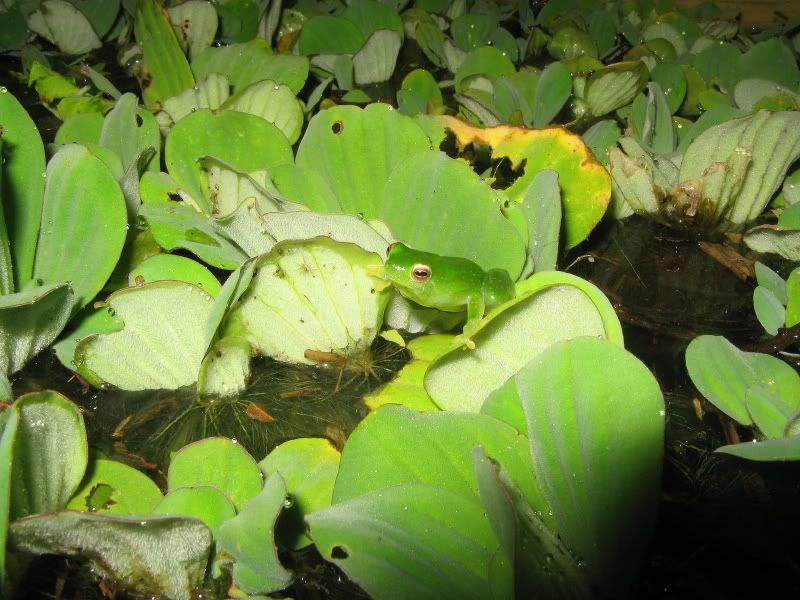 Spaenorhynchus dorisae- Hatchet faced frog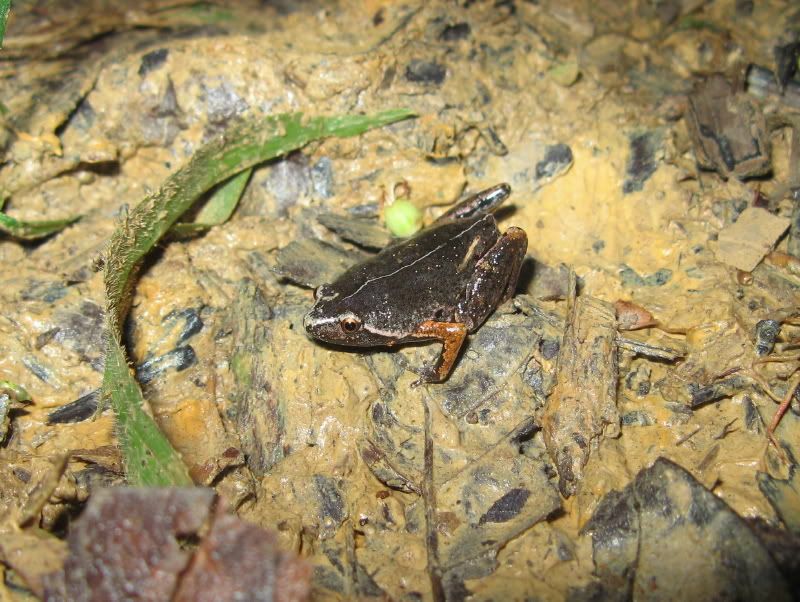 Chiasmocleis bassleri- Sheep frog
Then it was off too Santa Cruz, another lodge owned by Project Amazonas, this one along the Rio Napo. We stayed in a new building they had just built on the river. The balcony was a great place for relaxing, watching the storms, and birding. As you can see from the photo, it was a constant struggle trying to dry clothes in the humid and very rainy tropics.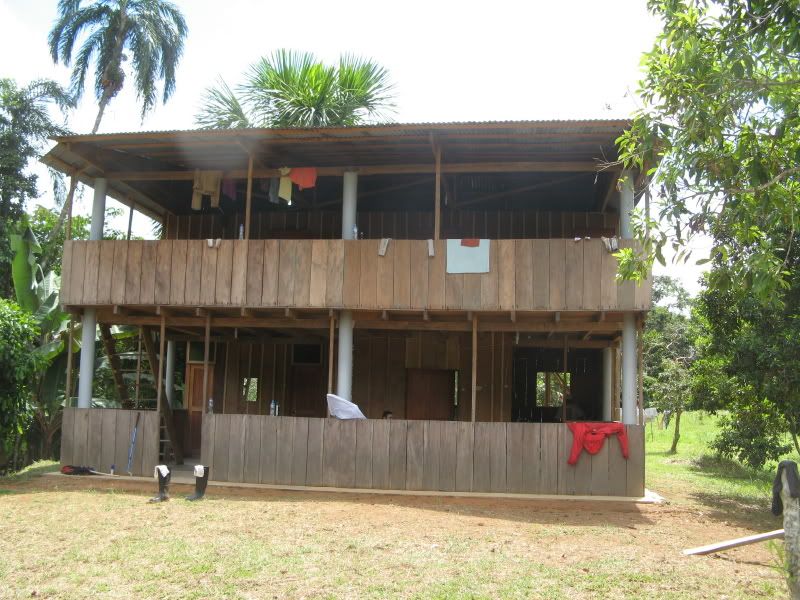 And rain it did. This was quite the downpour. It rained for at least a few minutes every day we were there, some days multiple times, and sometimes for hours.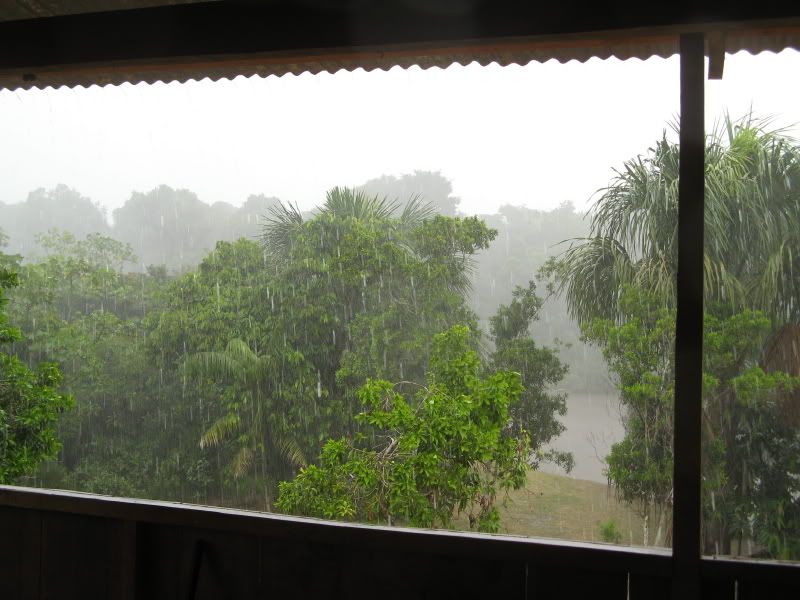 This is how we often saw anoles at night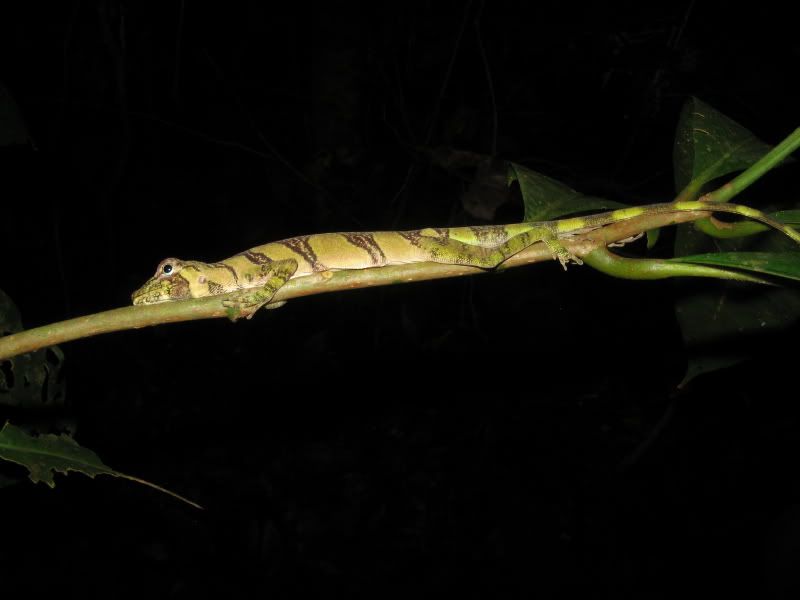 Anolis transversalis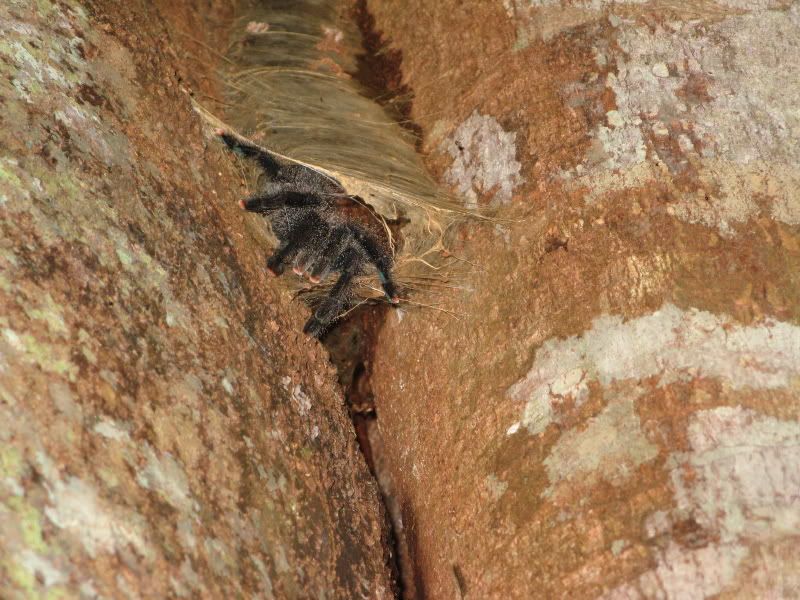 I'm calling this a pink toe tarantula
I should have taken more pics of this snake that Matt somehow spotted weaved in a pile of branches after 2 of us had walked right by.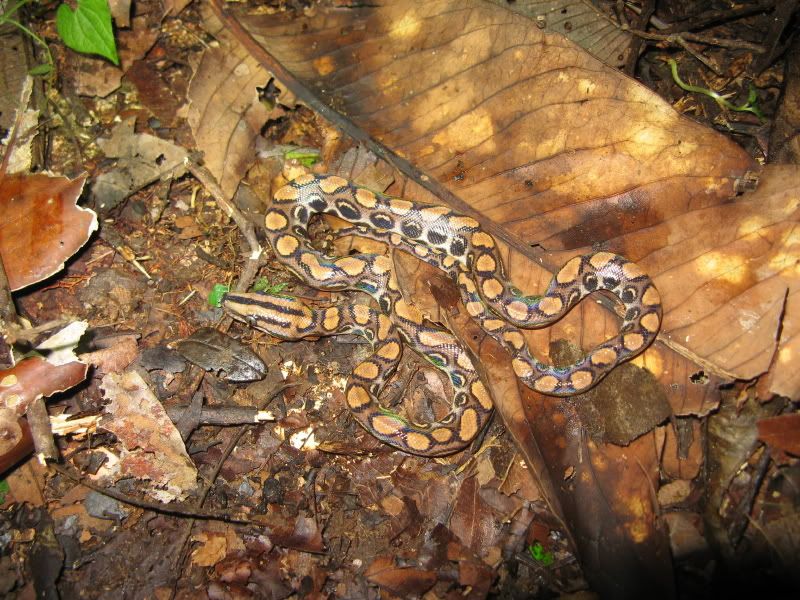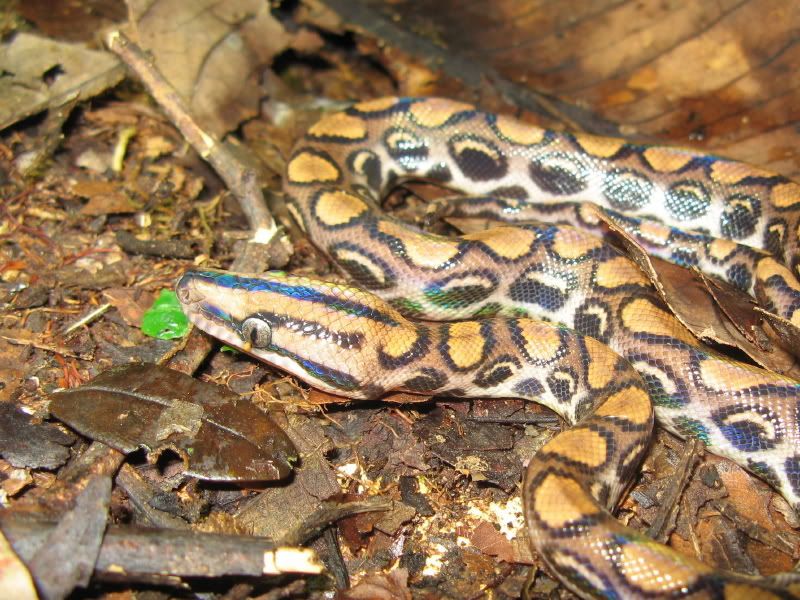 Epicrates cenchria- Rainbow boa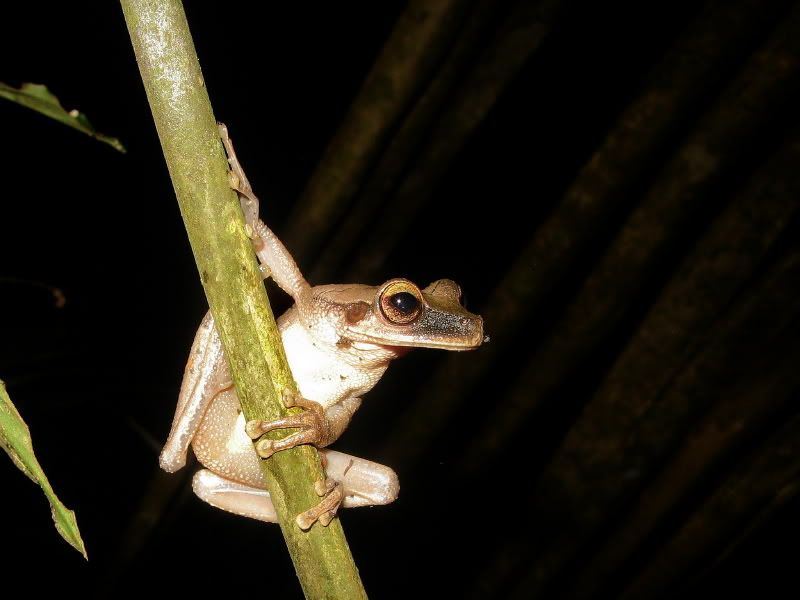 Osteocephalus yasuni?
Along a pond margin we saw a few of these calling. It was a real treat to see these in the wild. This was the first one:
Followed by one a little closer to the ground
Phyllomedusa bicolor- Giant Monkey Frog
Also near the pond was another calling monkey frog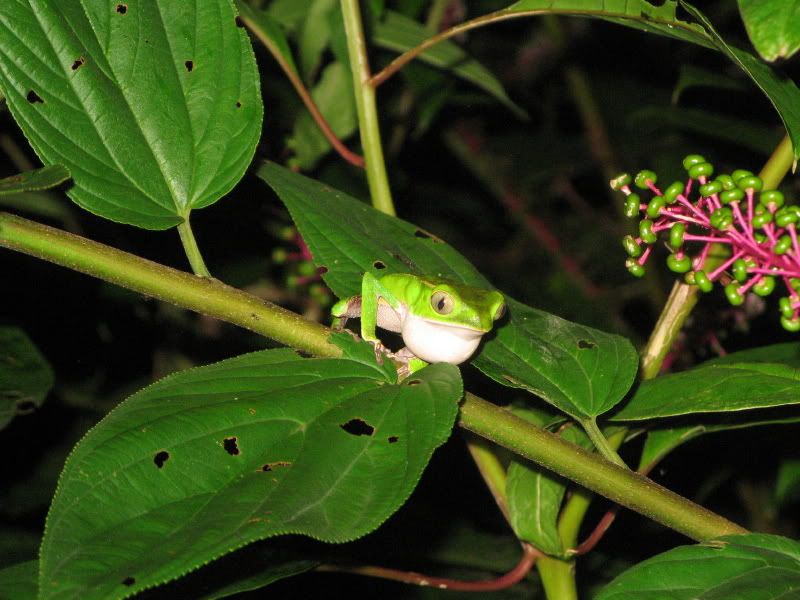 Phyllomedusa vaillanti- Vaillant's Monkey frog
I could probably do a whole post with variations of Dendropsophus leucophyllatus and triangulum but here are just a couple more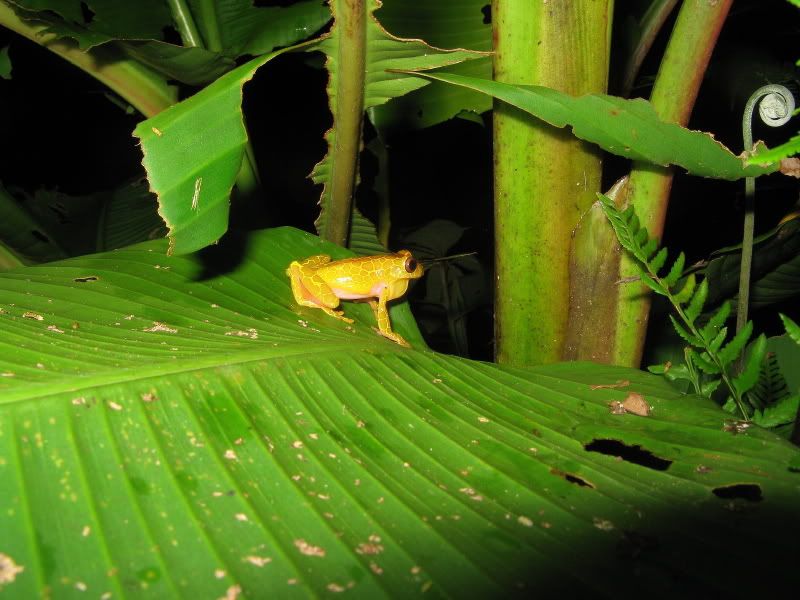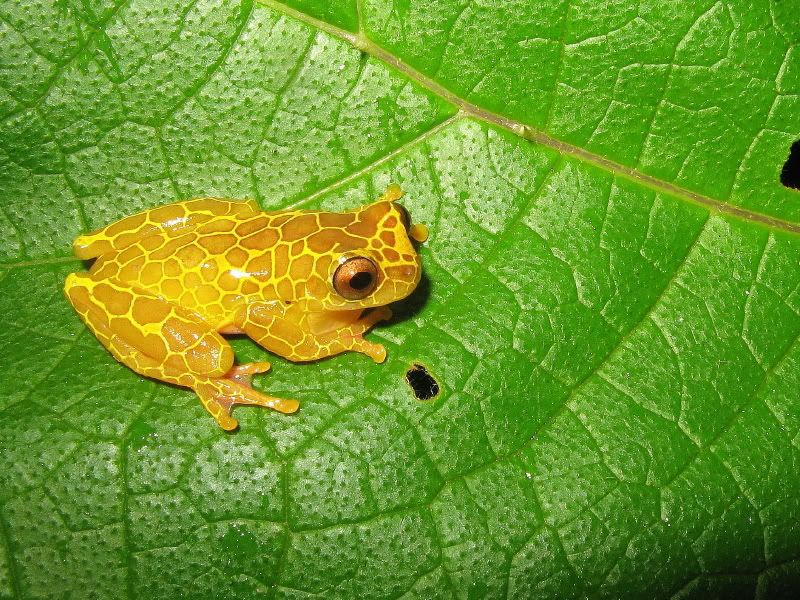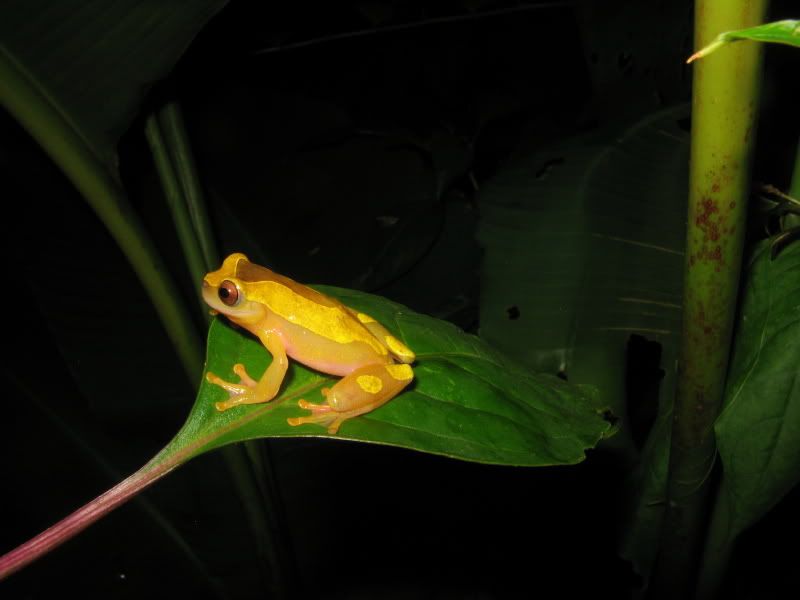 Clown Treefrogs
Try to id this one-lol
I never did got a good picture of these as they would tear ass up the trees when we spotted them
Plica plica- Tree Runner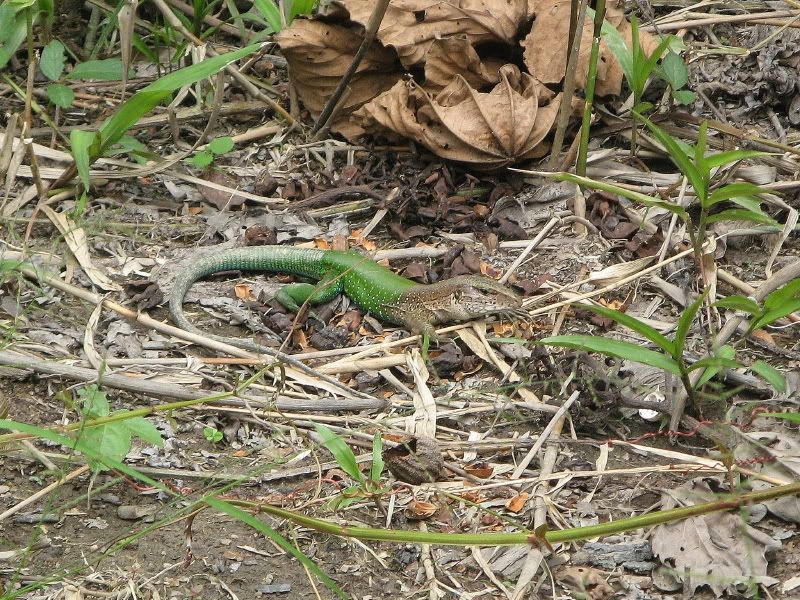 Ameiva ameiva
This frog had some of the best camouflage I have ever seen. Can you find it?
Here it is
And its bright ventor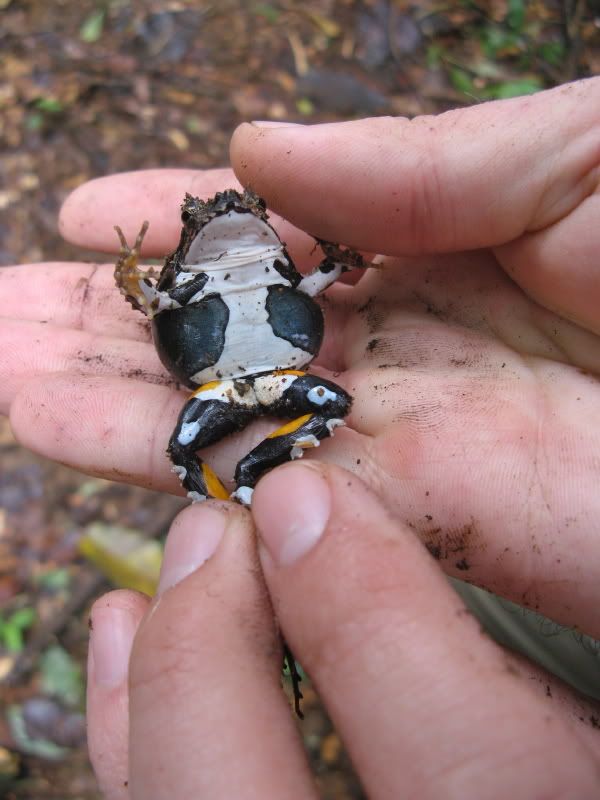 Edolorhina perezi
I walked up on a tarantula hawk trying to subdue its prey. It eventually dragged the spider into its burrow, after chasing us off when we got too close with our cameras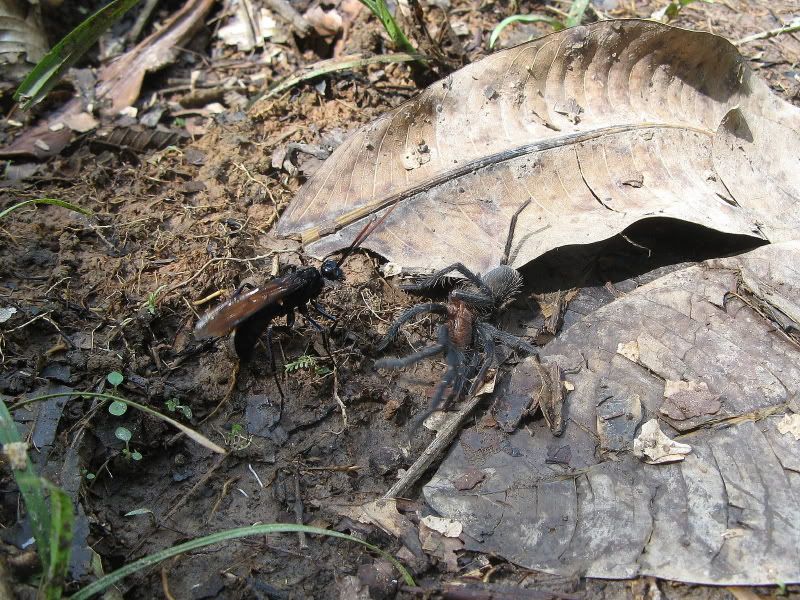 A dart frog mimic:
Leptodactylus (Lithodytes) lineatus - Antnest frog
I had this frog mis-ided as pentadactylus until I got home and took a closer look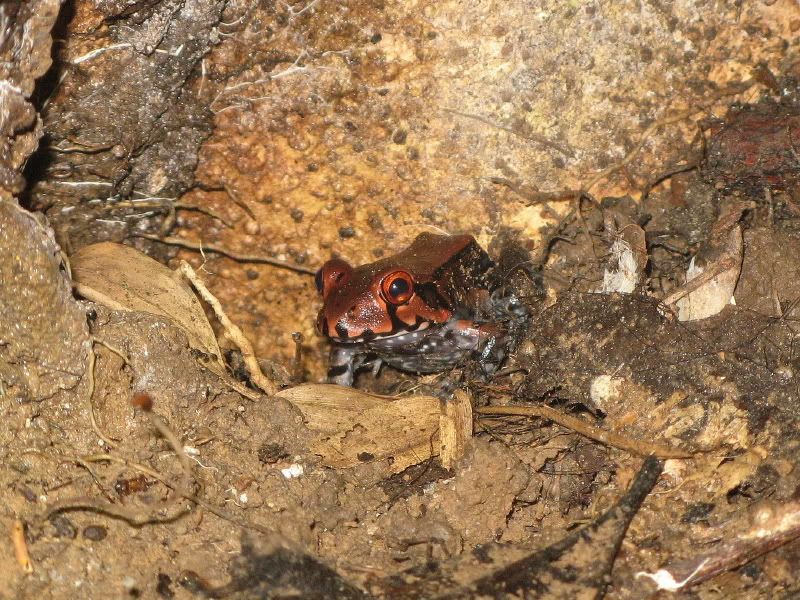 Leptodactylus stenodema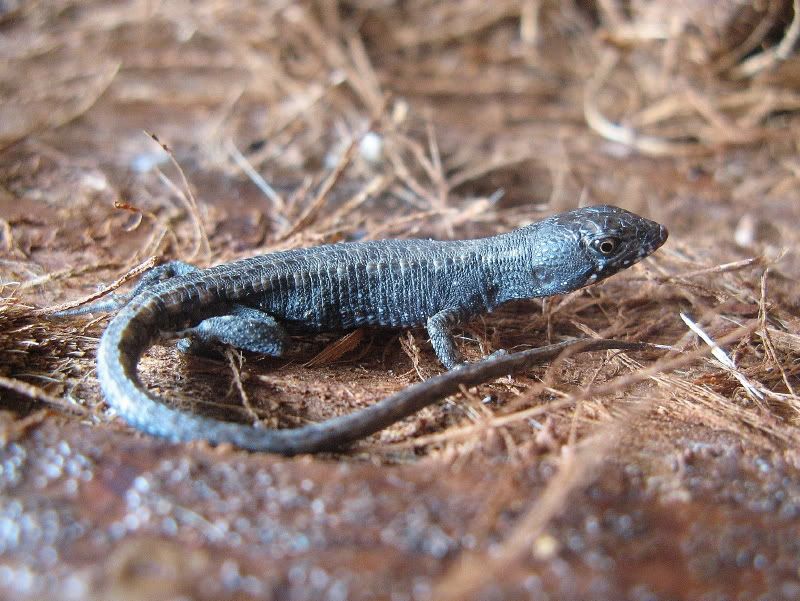 Neusticurus ecpleopus- Streamside Lizard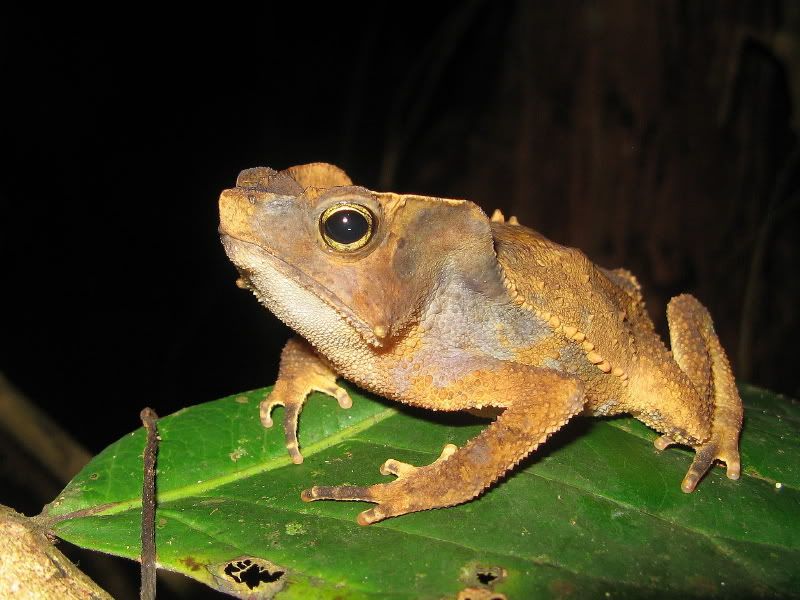 Another Rhinella margaritifera complex- Crested Toad
My friend found this on a solo night hike and brought it back to show us. These are pics taken upon release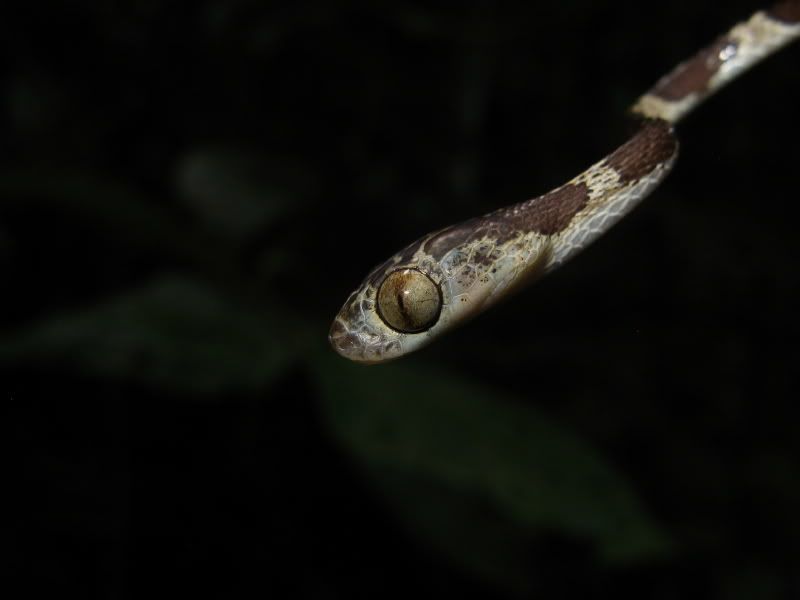 Imantodes cenchoa- Blunt headed tree snake
We saw a few of these monster treefrogs bellowing along the river's edge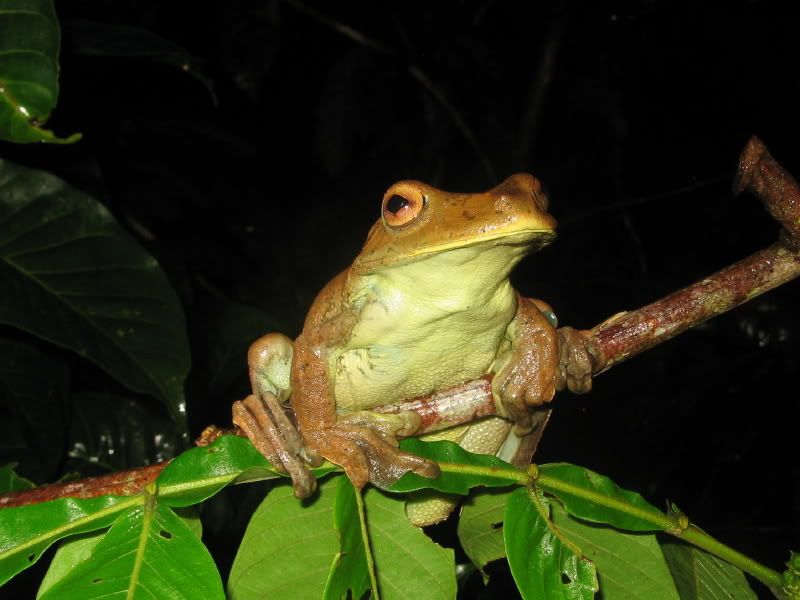 This pic would have been awesome if he was turned back toward me just a little more
Hypsiboas boans - Gladiator Treefrog
This guy was spotlighted from the boat along the river's edge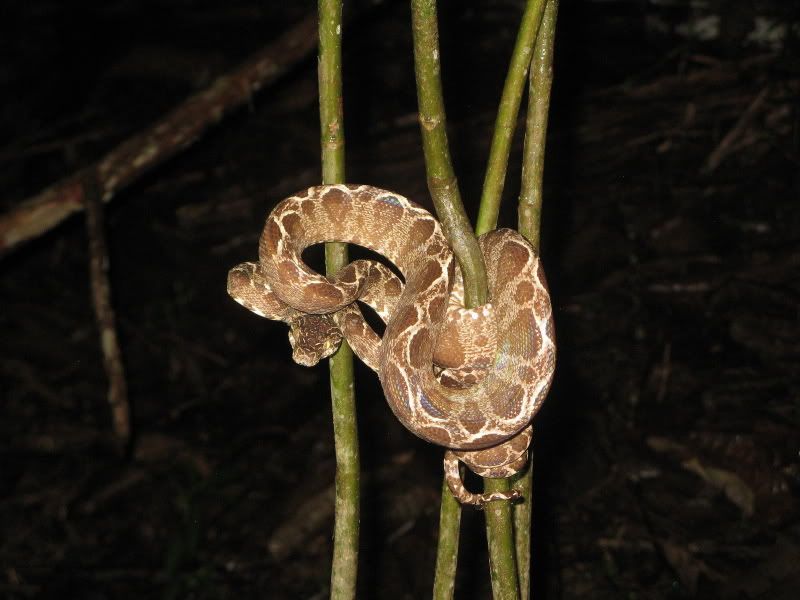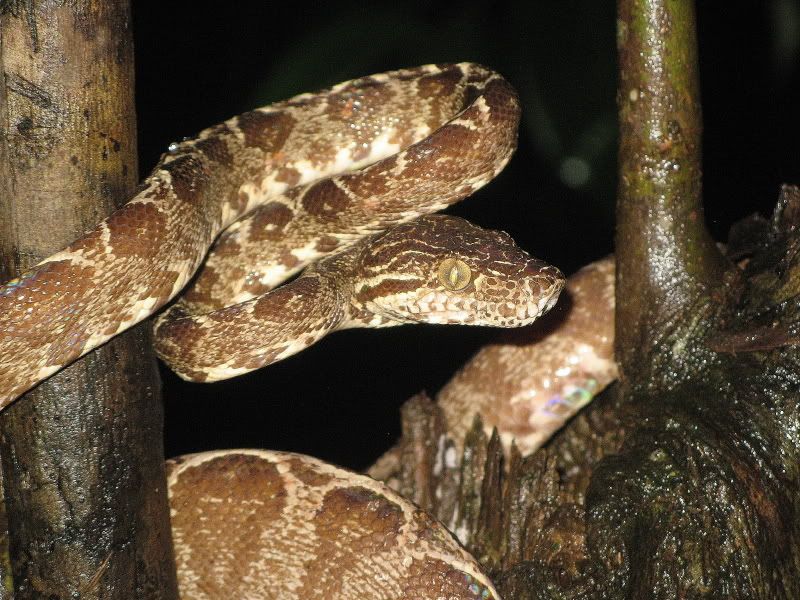 Corallus hortulanus- Amazon tree boa
We lost a couple of these before I was able to snag a picture of this one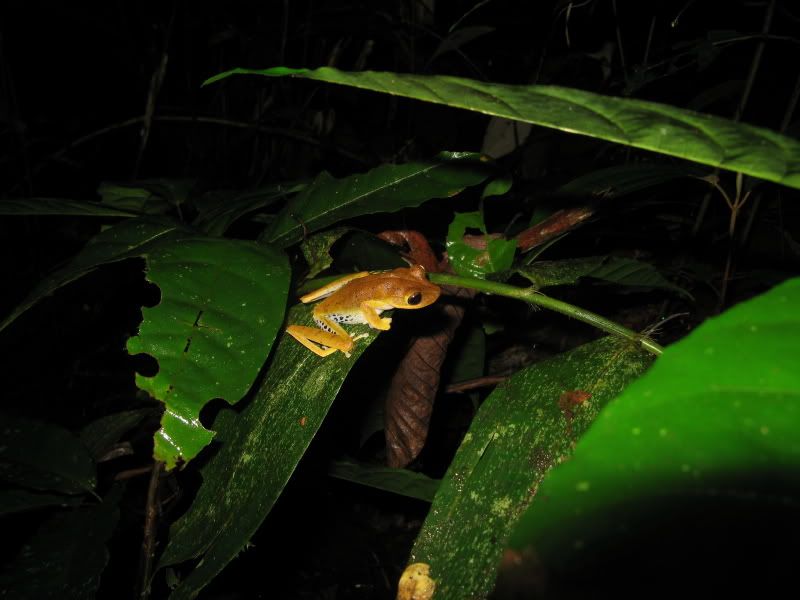 Hypsiboas fasciatus
My friend and I got lost following the calls of these frogs into the forest on our last night there. I imagine we would have made it out eventually but thankfully the gps worked despite the dense canopy cover. I'm glad I had marked the lodge when we first arrived. It was worth the few minutes of fear though because we hadn't seen this species in the field yet, only some specimens the locals brought in.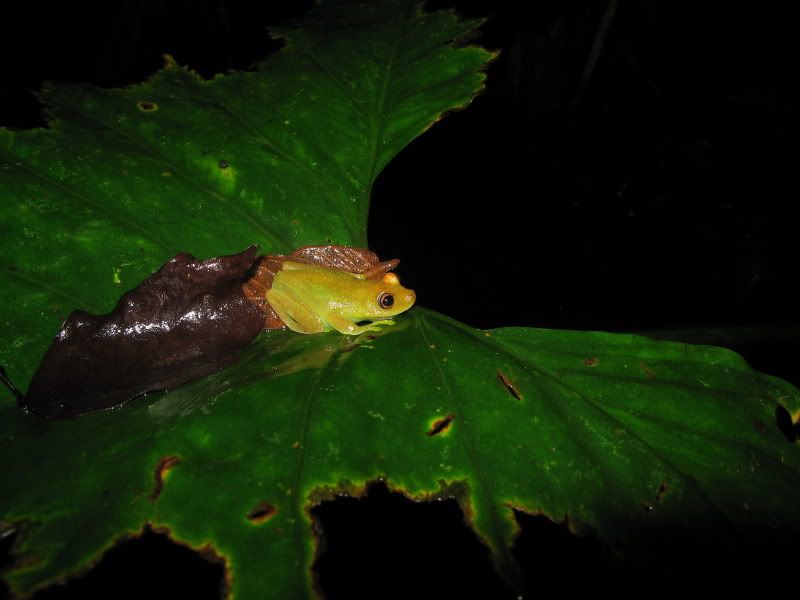 Hypsiboas cinerascens (granosa)
I love the long antennae on this insect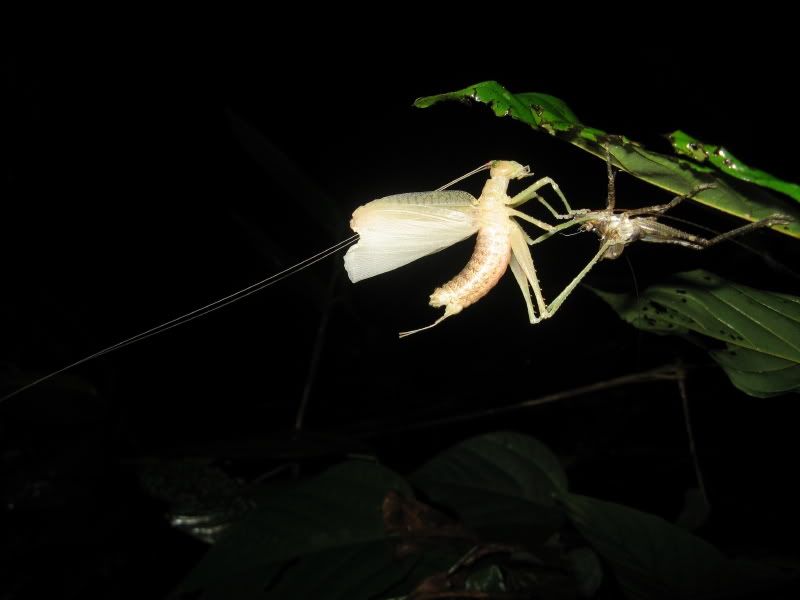 I was really hoping to find an aquatic coral snake on this trip. Matt had seen them on his previous 4 trips so it seemed like a good prospect. One of the locals brought one in so it only fueled my desire more. We were nearing the camp on our very last hike on the very last night and I thought my coral snake curse was plaguing me once again. We had given up hope for any more snakes when this was seen glowing in the middle of the trail. Not the surinamensis I was hoping for, but a less commonly seen species and good enough prize for me.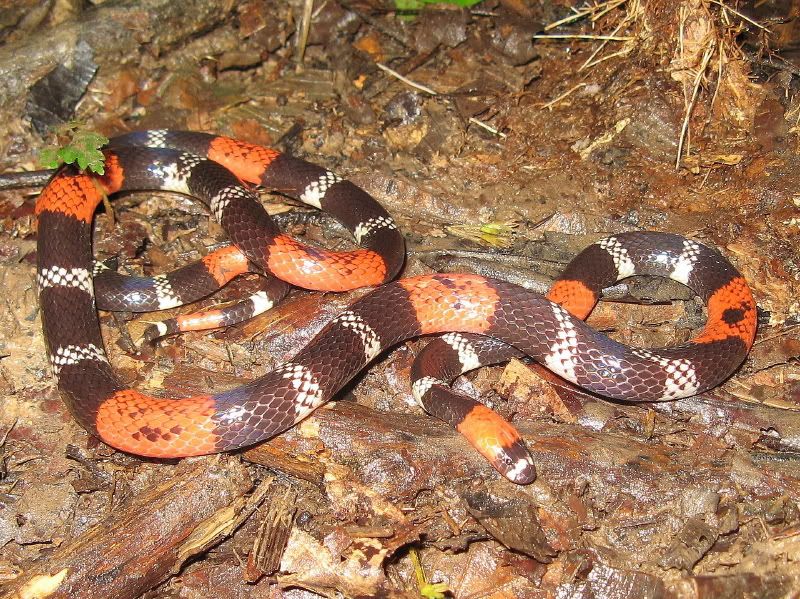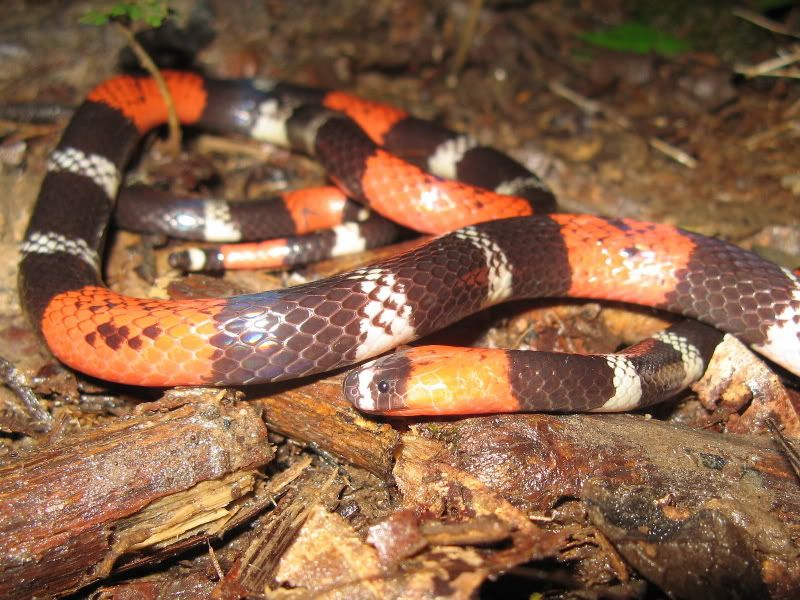 Micrurus lemniscatus- Ribbon Coral Snake
Also at the eleventh hour, Matt found this beauty on the trail near the camp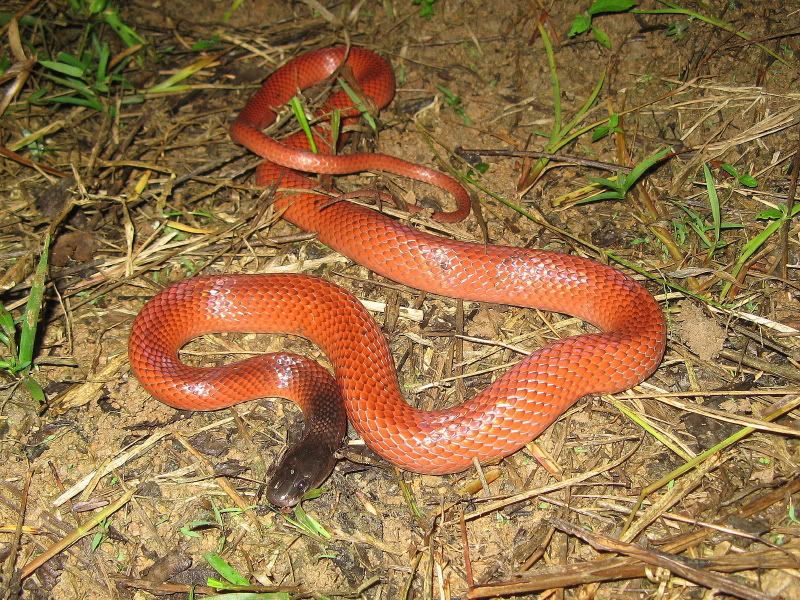 Psuedoboa coronata
I have tons more photos but that paints a pretty good picture of our trip. Hopefully Matt will post some of his photos as well. Matt and Lorrie were great leaders and made this trip a huge success and tons of fun. We may not have seen as many snakes as they normally do, but I think we did very well overall. I hope I can make it back down to the Amazon again. For those keeping score at home, here is our species list that our immediate group found. There were an additional 15-20 species not listed that were either brought in by the locals or found by the guides when they were off on their own.
Caecilia gracilis??
Adenomera andreae
Ameerega (Epipedobates) hahneli
Atelopus spumarius
Rhinella (Bufo) marinus
Chiasmocleis bassleri
Dendropsophus marmaratus (DOR only)
Dendropsophus miyatai
Dendropsophus haraldshultzi
Dendropsophus leucophyllatus
Dendropsophus leali
Dendropsophus triangulum
Edalorhina perezi
Engystomops (Physalaemus) petersi
Hamptophryne boliviana
Hypsiboas boans
Hypsiboas calcarata
Hypsiboas (Hyla) cinerascens (granosa)
Hypsiboas fasciatus
Hypsiboas punctatus
Hypsiboas lanciformis
Leptodactylus pentadactylus
Leptodactylus stenodema
Leptodactylus wagneri complex
Lithodytes lineatus
Oreobates (Ischnocnema) quixensis
Osteocephalus planiceps
Osteocephalus yasuni
Phyllomedusa bicolor
Phyllomedusa vaillantii
Pipa pipa
Ranitomeya (Dendrobates) ventrimaculata
Rhinella (Bufo) margaritifer complex
Scinax garbei
Scinax rubra
Sphaenorhynchus dorisae
Boa constrictor
Bothrops atrox
Chironius fuscus
Corallus hortulanus
Dendrophidion dendrophis
Dipsas catesbyi
Drepanoides anomalus
Epicrates cenchria
Helicops angulatus
Imantodes cenchoa
Micrurus lemniscatus
Oxyrhopus petola
Pseudoboa coronata
Ameiva ameiva
Anolis bombiceps
Anolis ortonii
Anolis trachyderma
Anolis transversalis
Cercosaura ocellata
Dracaena guianensis
Enyalioides laticeps
Gonatodes concinatus
Gonatodes humeralis
Hemidactylus mabouia
Iguana iguana
Kentropyx altamazonica
Kentropyx pelviceps
Mabuya nigropunctata
Neusticurus ecpleopus
Plica plica
Plica umbra
Psuedogonatodes guianensis
Stenocercus fimbriatus
Thecadactylus solimoensis
Tupinambis teguixin
Caiman crocodilus