What you are about to see and read happened last year in October, but for various reasons I never got around to post it. The first reason was shame. When I finally got over that, it was lack of time. And finally I had a bad cold.
Shame? Yes, shame. At the time of the encounter, the snake pictured here was a species unbeknownst to us. We found it in Bako National Park by the trailside, up on the "Nepenthes Prairie" plateau. We hooked it onto the trail, played around with it, hatting and hooking it for a good twenty minutes, as it wouldn't calm down, all the while trying to identify it. We had zero idea what we were looking at. Our field guide was sitting pretty in the glove compartment of my car ten miles away, so all we could do was guess:
"Hmmm....looks like some kind of reed snake. Look at that blunt, neckless head." "Or maybe a kukri snake? Look at it curling that tail, and flashing the orange underside." "Or a coral snake?" "Aw, now you're being silly. Everyone knows those are nocturnal!" Still, we didn't dare to touch it. Maybe it was a sleepwalking coral snake, who knew? Six hundred feet above and two miles of steep, root-infested jungle trail away from the next boat that could get us back to a hospital in Kuching (weather permitting, which was hardly the case that day), this was not the place to get bitten by an unidentified elapid.
But the snake was relentlessly trying to get away, and the muddy environs didn't exactly help with the photography either, and the rain had started again....and I'm not famous for my patience. At the same time, the more we racked our brains about the serpent's identity, the less it seemed possible to us that this could be anything venomous. So Kukri-like! So Reedy! So....uh...cute! Also, it finally seemed to tire a little. All those factors slowly, but inexorably culminated in my decision to pick it up and let it sit on my arm for a few close-ups. Coral, schmoral. Every child knows that those do not run around in the rain on early afternoons. As soon as I had tailed the beast and placed it on my forearm, it tried to bury its head sideways under my skin. See? It's fossorial! I was right about the kukri/reed thing! Ha!
Of course, coral snakes are also fossorial, but somehow I chose to ignore that fact. Upon my return home the next day, I immediately ripped all my snake guides off the bookshelf and dug in. To my mild dismay, I couldn't find either a reed or a kukri snake that would match my photos. The dismay quickly turned into blank horror when I finally turned to the section on coral snakes, where I was greeted by a large photo of an orange-black tail tip adorning the end of a black & white venter....a photo bearing the caption

MALAYAN STRIPED CORAL SNAKE - CALLIOPHIS INTESTINALIS
A small but deadly species of elapid.
(Yes, "deadly" in bold)
I'll never forget the wobbly feeling in my knees and the sick sensation in my stomach. Or the tongue lashing I received from my son when I finally walked over to him in the living room and announced "Uh...dude? I think I know what that snake was..."
I had broken every single rule of engagement. I had been stupendously stupid and insanely irresponsible, and it was a lesson that I'll never forget. Let's hope it will serve as a warning to others - it's the only reason why I finally overcame my embarrassment and came out with the truth.
There. I admitted it. Now kindly suppress whatever smartass remarks you were about to let loose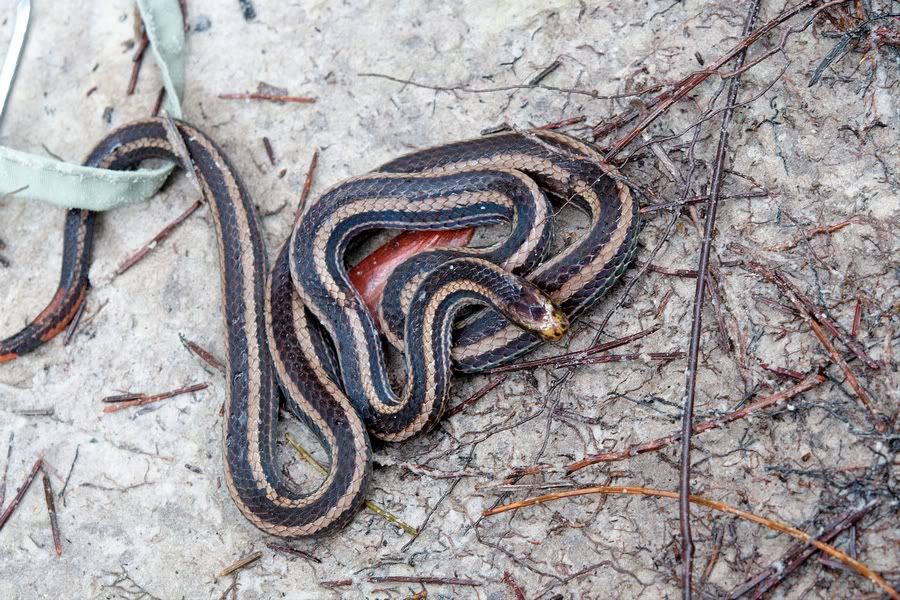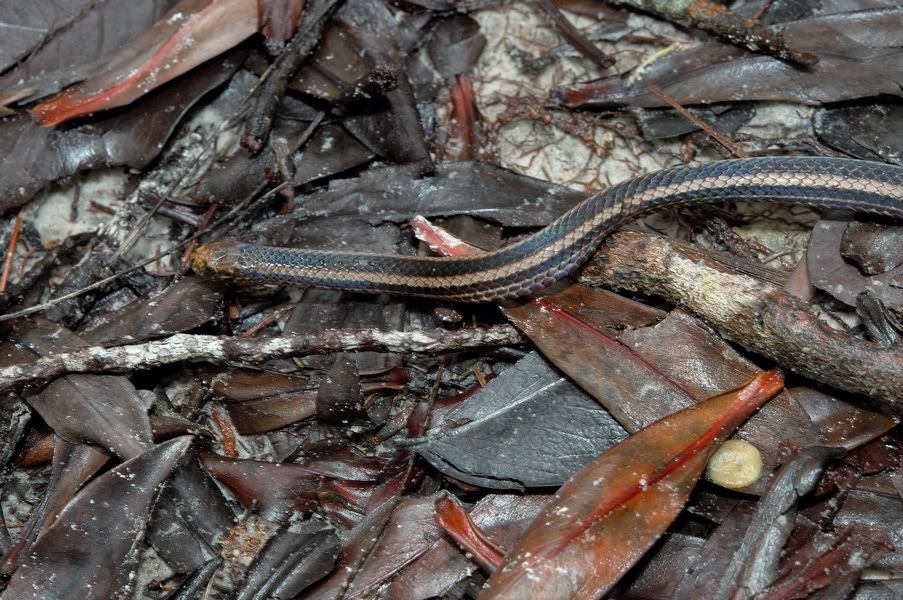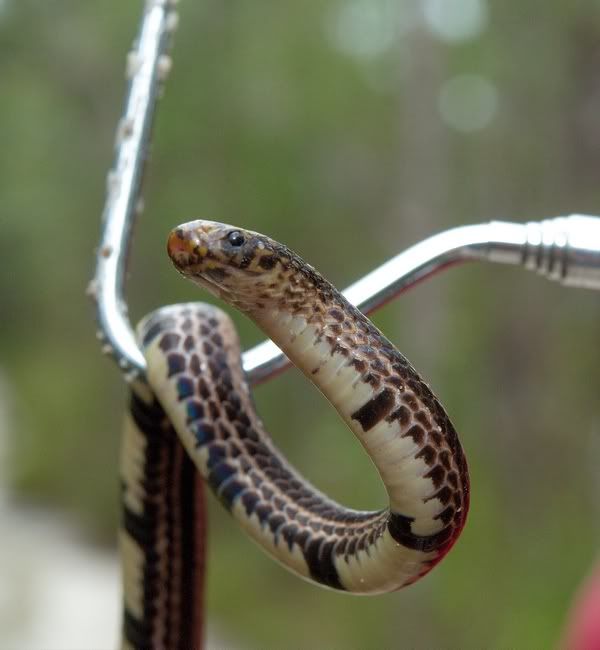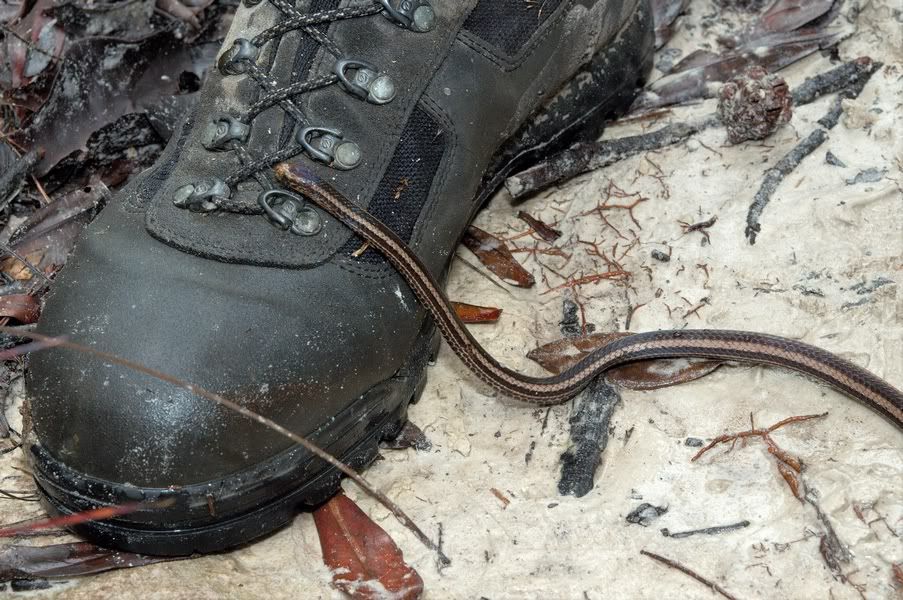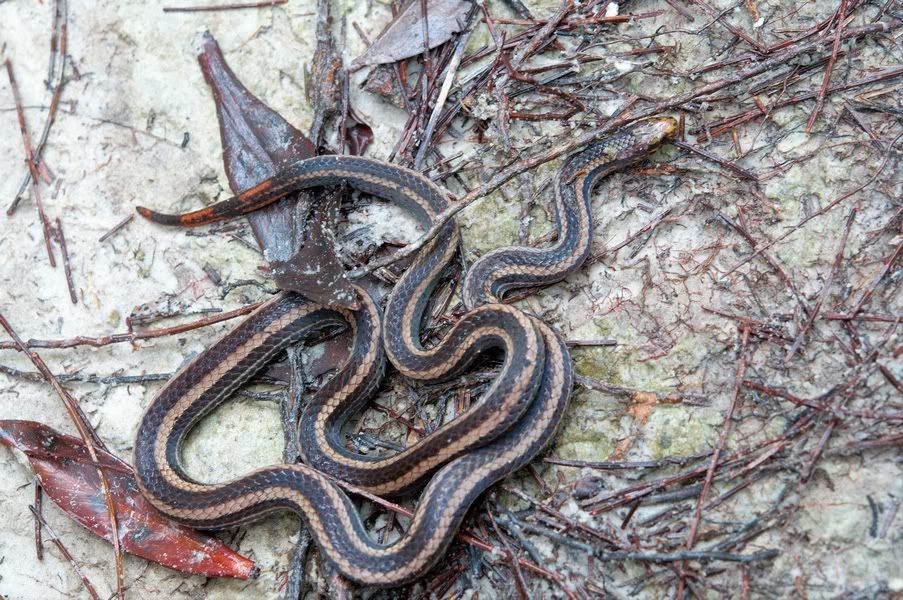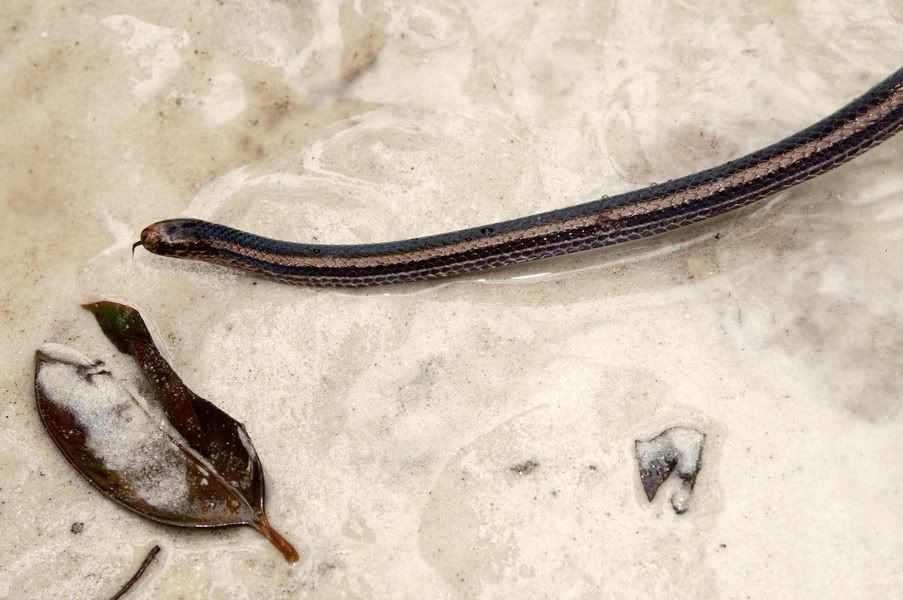 The trail, and Mr. Marcus Kloft, who did all the camerawork.